Part 1 of 2
T.S. Eliot
by Wikipedia
Accessed: 4/12/19
NOTICE: THIS WORK MAY BE PROTECTED BY COPYRIGHT
YOU ARE REQUIRED TO READ

THE COPYRIGHT NOTICE AT THIS LINK

BEFORE YOU READ THE FOLLOWING WORK, THAT IS AVAILABLE SOLELY FOR PRIVATE STUDY, SCHOLARSHIP OR RESEARCH PURSUANT TO 17 U.S.C. SECTION 107 AND 108. IN THE EVENT THAT THE LIBRARY DETERMINES THAT UNLAWFUL COPYING OF THIS WORK HAS OCCURRED, THE LIBRARY HAS THE RIGHT TO BLOCK THE I.P. ADDRESS AT WHICH THE UNLAWFUL COPYING APPEARED TO HAVE OCCURRED. THANK YOU FOR RESPECTING THE RIGHTS OF COPYRIGHT OWNERS.
The tulkus were learning English and their lessons on the modern world with varying degrees of success.

Freda's star student, Trungpa Rinpoche, however, was making exceptional progress, and Freda's aspirations for him became increasingly ambitious. He had a natural aptitude for English and had taken to reading the poets that Freda presented him with, especially T.S. Eliot.

He was keen on history and geography too. Freda decided that he was ready to try to get into Oxford, her own university, where he would receive the finest education the West had to offer. With such credentials he would be perfectly equipped and have the clout to bring the sacred Buddhist teachings to the outside world in a language it could understand.

With the help of John Driver, an Englishman who was also tutoring Trungpa, Freda set about getting a Spalding Scholarship for Trungpa, and succeeded. In early 1963 Trungpa set sail for England accompanied by Akong Rinpoche, to enter into the arcane, privileged, and hallowed halls of Oxford University. It was another epic journey into the unknown, heralding as many adventures, pitfalls, and triumphs as they had met in their escape from Tibet.

-- The Revolutionary Life of Freda Bedi, by Vicki Mackenzie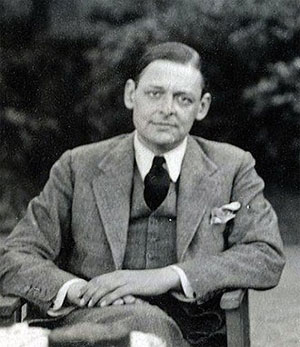 T. S. Eliot
Eliot in 1934
Born Thomas Stearns Eliot
26 September 1888
St. Louis, Missouri, U.S.
Died 4 January 1965 (aged 76)
Kensington, London, England
Occupation Poet, dramatist, literary critic, editor
Citizenship American (until 1927)
British (1927–1965)
Education AB in philosophy (Harvard, 1909)
PhD (cand) in philosophy (Harvard, 1915–16)[1]
Alma mater Harvard University
Merton College, Oxford
Period 1905–1965
Literary movement Modernism
Notable works "The Love Song of J. Alfred Prufrock" (1915), The Waste Land (1922), Four Quartets (1943), "Murder in the Cathedral" (1935)
Notable awards Nobel Prize in Literature (1948), Order of Merit (1948)
Spouse Vivienne Haigh-Wood
(m. 1915; sep. 1932)
Esmé Valerie Fletcher
(m. 1957–1965)
Signature
Thomas Stearns Eliot, OM (26 September 1888 – 4 January 1965), "one of the twentieth century's major poets" was also an essayist, publisher, playwright, and literary and social critic.[2]
Born in St. Louis, Missouri, in the United States, to a prominent Boston Brahmin family, he moved to England in 1914 at the age of 25, settling, working, and marrying there. He became a British subject in 1927 at the age of 39, renouncing his American passport.[3]
Eliot attracted widespread attention for his poem "The Love Song of J. Alfred Prufrock" (1915), which was seen as a masterpiece of the Modernist movement. It was followed by some of the best-known poems in the English language, including The Waste Land (1922), "The Hollow Men" (1925), "Ash Wednesday" (1930), and Four Quartets (1943).[4] He was also known for his seven plays, particularly Murder in the Cathedral (1935) and The Cocktail Party (1949).
He was awarded the Nobel Prize in Literature in 1948, "for his outstanding, pioneer contribution to present-day poetry"
.[5][6]
Life

Early life and education
The Eliots were a Boston Brahmin family with roots in Old and New England.
Thomas Eliot's paternal grandfather, William Greenleaf Eliot, had moved to St. Louis, Missouri,[4][7] to establish a Unitarian Christian church there
. His father, Henry Ware Eliot (1843–1919), was a successful businessman, president and treasurer of the Hydraulic-Press Brick Company in St Louis. His mother, Charlotte Champe Stearns (1843–1929), wrote poetry and was a social worker, a new profession in the early 20th century.
Eliot was the last of six surviving children; his parents were both 44 years old when he was born. Eliot was born at 2635 Locust Street, a property owned by his grandfather, William Greenleaf Eliot.[8] His four sisters were between 11 and 19 years older; his brother was eight years older. Known to family and friends as Tom, he was the namesake of his maternal grandfather, Thomas Stearns.
Eliot's childhood infatuation with literature can be ascribed to several factors. First, he had to overcome physical limitations as a child.
Struggling from a congenital double inguinal hernia, he could not participate in many physical activities and thus was prevented from socializing with his peers. As he was often isolated, his love for literature developed. Once he learned to read, the young boy immediately became obsessed with books and was absorbed in tales depicting savages, the Wild West, or Mark Twain's thrill-seeking Tom Sawyer.
[9] In his memoir of Eliot, his friend Robert Sencourt comments that the young Eliot "would often curl up in the window-seat behind an enormous book, setting the drug of dreams against the pain of living."[10] Secondly, Eliot credited his hometown with fuelling his literary vision: "It is self-evident that St. Louis affected me more deeply than any other environment has ever done. I feel that there is something in having passed one's childhood beside the big river, which is incommunicable to those people who have not. I consider myself fortunate to have been born here, rather than in Boston, or New York, or London."[11]
From 1898 to 1905, Eliot attended Smith Academy, where his studies included Latin, Ancient Greek, French, and German. He began to write poetry when he was fourteen under the influence of Edward Fitzgerald's Rubaiyat of Omar Khayyam, a translation of the poetry of Omar Khayyam.
He said the results were gloomy and despairing and he destroyed them.[12] His first published poem, "A Fable For Feasters", was written as a school exercise and was published in the Smith Academy Record in February 1905.[13] Also published there in April 1905 was his oldest surviving poem in manuscript, an untitled lyric, later revised and reprinted as "Song" in The Harvard Advocate, Harvard University's student magazine.[14] He also published three short stories in 1905, "Birds of Prey", "A Tale of a Whale" and "The Man Who Was King". The last mentioned story significantly reflects his exploration of the Igorot Village while visiting the 1904 World's Fair of St. Louis.[15][16][17] Such a link with primitive people importantly antedates his anthropological studies at Harvard.[18]
Eliot lived in St. Louis, Missouri for the first sixteen years of his life at the house on Locust St. where he was born. After going away to school in 1905, he only returned to St. Louis for vacations and visits. Despite moving away from the city, Eliot wrote to a friend that the "Missouri and the Mississippi have made a deeper impression on me than any other part of the world."[8]
Following graduation, Eliot attended Milton Academy in Massachusetts for a preparatory year, where he met Scofield Thayer who later published The Waste Land. He studied philosophy at Harvard College from 1906 to 1909, earning his bachelor's degree after three years
, instead of the usual four.[4] While a student, Eliot was placed on academic probation and graduated with a pass degree (i.e. no honours). He recovered and persisted, attaining a B.A. in an elective program best described as comparative literature in three years, and an M.A. in English literature in the fourth.[2] Frank Kermode writes that
the most important moment of Eliot's undergraduate career was in 1908 when he discovered Arthur Symons's The Symbolist Movement in Literature. This introduced him to Jules Laforgue, Arthur Rimbaud, and Paul Verlaine.
Without Verlaine, Eliot wrote, he might never have heard of Tristan Corbière and his book Les amours jaunes, a work that affected the course of Eliot's life.[19] The Harvard Advocate published some of his poems and he became lifelong friends with Conrad Aiken, the American writer and critic.
Few have embodied the "haunted poet" bit better than French poet Jean Nicolas Arthur Rimbaud (1854 – 1891), an early pioneer of the Symbolism art movement, who helped lay the groundwork for Surrealism. He pulled that off by writing his major works in a five year stretch between the ages of 16 and 21. After finishing one of his major works, a collection known as Illuminations, Rimbaud quit writing altogether, and dove headfirst into a lifelong pursuit of sex, drink, drugs, and violence.

Done with poetry, a restless Rimbaud wandered through Europe, before sailing to the Dutch East Indies (modern Indonesia), and spending the rest of life in a variety of pursuits all around the world. They included a stint as a Dutch colonial soldier in Sumatra; a cashier at a German circus; a stone quarry construction foreman; a coffee merchant in Yemen; and a mercenary and gun runner in Africa. He then capped off his restless life in fittingly romantic style, by dying young.

-- Arthur Rimbaud's Roller Coaster Life, from Sensitive Poet to Mercenary and Arms Dealer, by Khalid Elhassan
After working as a philosophy assistant at Harvard from 1909 to 1910, Eliot moved to Paris where, from 1910 to 1911, he studied philosophy at the Sorbonne. He attended lectures by Henri Bergson and read poetry with Henri Alban-Fournier.
[4][19]
From 1911 to 1914, he was back at Harvard studying Indian philosophy and Sanskrit.[4][20] Eliot was awarded a scholarship to Merton College, Oxford, in 1914.
He first visited Marburg, Germany, where he planned to take a summer programme, but when the First World War broke out he went to Oxford instead. At the time so many American students attended Merton that the Junior Common Room proposed a motion "that this society abhors the Americanization of Oxford". It was defeated by two votes, after Eliot reminded the students how much they owed American culture.[21]
Eliot wrote to Conrad Aiken on New Year's Eve 1914: "I hate university towns and university people, who are the same everywhere, with pregnant wives, sprawling children, many books and hideous pictures on the walls ... Oxford is very pretty, but I don't like to be dead."[21] Escaping Oxford, Eliot spent much of his time in London. This city had a monumental and life-altering effect on Eliot for several reasons,
the most significant of which was his introduction to the influential American literary figure Ezra Pound. A connection through Aiken resulted in an arranged meeting and on 22 September 1914, Eliot paid a visit to Pound's flat. Pound instantly deemed Eliot "worth watching" and was crucial to Eliot's beginning career as a poet, as he is credited with promoting Eliot through social events and literary gatherings. Thus, according to biographer John Worthen, during his time in England Eliot "was seeing as little of Oxford as possible". He was instead spending long periods of time in London, in the company of Ezra Pound and "some of the modern artists whom the war has so far spared... It was Pound who helped most, introducing him everywhere."
[22] In the end, Eliot did not settle at Merton and left after a year. In 1915 he taught English at Birkbeck, University of London.
Between 1908 and 1914 The New Age was the premier little magazine in Britain. It was instrumental in pioneering the British avant-garde, from vorticism to imagism, and its contributors included T.E. Hulme, Wyndham Lewis, Katherine Mansfield, Ezra Pound and Herbert Read.

Orage

's success as an editor was connected with his talent as a conversationalist and a ″bringer together″ of people. The modernists of London had been scattered between 1905 and 1910, but largely thanks to Orage a sense of a modernist ″movement″ was created from 1910 onwards.[8]

-- Alfred Richard Orage, by Wikipedia
By 1916, he had completed a doctoral dissertation for Harvard on "Knowledge and Experience in the Philosophy of F. H. Bradley", but he failed to return for the viva voce exam.[4][23]
Marriage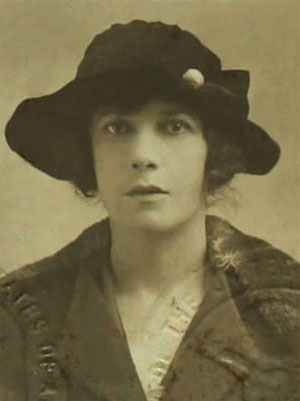 Vivienne Haigh-Wood Eliot, passport photograph from 1920.
In a letter to Aiken late in December 1914, Eliot, aged 26, wrote, "I am very dependent upon women (I mean female society)."[24] Less than four months later, Thayer introduced Eliot to Vivienne Haigh-Wood, a Cambridge governess. They were married at Hampstead Register Office on 26 June 1915.[25]
After a short visit alone to his family in the United States, Eliot returned to London and took several teaching jobs, such as lecturing at Birkbeck College, University of London. The philosopher
Bertrand Russell
took an interest in Vivienne while the newlyweds stayed in his flat. Some scholars have suggested that she and Russell had an affair, but the allegations were never confirmed.[26]
The marriage was markedly unhappy, in part because of Vivienne's health issues. In a letter addressed to Ezra Pound, she covers an extensive list of her symptoms, which included a habitually high temperature, fatigue, insomnia, migraines, and colitis.[27] This, coupled with apparent mental instability, meant that she was often sent away by Eliot and her doctors for extended periods of time in the hope of improving her health, and as time went on, he became increasingly detached from her.
The couple formally separated in 1933 and in 1938 Vivienne's brother, Maurice, had her committed to a mental hospital, against her will, where she remained until her death of heart disease in 1947.
Their relationship became the subject of a 1984 play Tom & Viv, which in 1994 was adapted as a film of the same name.
In a private paper written in his sixties, Eliot confessed: "I came to persuade myself that I was in love with Vivienne simply because I wanted to burn my boats and commit myself to staying in England. And she persuaded herself (also under the influence of [Ezra] Pound) that she would save the poet by keeping him in England. To her, the marriage brought no happiness. To me, it brought the state of mind out of which came The Waste Land."[28]
Teaching, Lloyds, Faber and Faber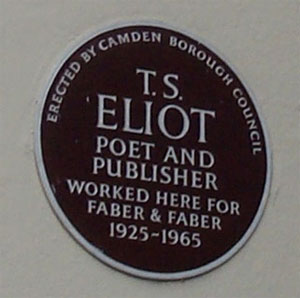 A plaque at SOAS's Faber Building, 24 Russell Square, London
After leaving Merton, Eliot worked as a schoolteacher, most notably at Highgate School, a private school in London, where he taught French and Latin—his students included the young John Betjeman.[4] Later he taught at the Royal Grammar School, High Wycombe, a state school in Buckinghamshire. To earn extra money, he wrote book reviews and lectured at evening extension courses at the University College London, and Oxford.
In 1917, he took a position at Lloyds Bank in London, working on foreign accounts
. On a trip to Paris in August 1920 with the artist Wyndham Lewis, he met the writer
James Joyce
. Eliot said he found Joyce arrogant—Joyce doubted Eliot's ability as a poet at the time—but the two soon became friends, with Eliot visiting Joyce whenever he was in Paris.[29] Eliot and Wyndham Lewis also maintained a close friendship, leading to Lewis's later making his well-known portrait painting of Eliot in 1938.
—I'm the queerest young fellow that ever you heard.

My mother's a jew, my father's a bird.

With Joseph the joiner I cannot agree.

So here's to disciples and Calvary....

—Of course I'm a Britisher, Haines's voice said, and I feel as one. I don't want to see my country fall into the hands of German jews either. That's our national problem, I'm afraid, just now....

—Mark my words, Mr. Dedalus, he said. England is in the hands of the jews. In all the highest places: her finance, her press. And they are the signs of a nation's decay. Wherever they gather they eat up the nation's vital strength. I have seen it coming these years. As sure as we are standing here the jew merchants are already at their work of destruction. Old England is dying....

—I just wanted to say, he said. Ireland, they say, has the honour of being the only country which never persecuted the jews. Do you know that? No. And do you know why?

He frowned sternly on the bright air.

—Why, sir? Stephen asked, beginning to smile.

—Because she never let them in, Mr. Deasy said solemnly.

A coughball of laughter leaped from his throat dragging after it a rattling chain of phlegm. He turned back quickly, coughing, laughing, his lifted arms waving to the air.

—She never let them in, he cried again through his laughter as he stamped on gaitered feet over the gravel of the path. That's why.

On his wise shoulders through the checkerwork of leaves the sun flung spangles, dancing coins....

—What was their civilisation? Vast, I allow: but vile. Cloacae: sewers. The Jews in the wilderness and on the mountaintop said: It is meet to be here. Let us build an altar to Jehovah. The Roman, like the Englishman who follows in his footsteps, brought to every new shore on which he set his foot (on our shore he never set it) only his cloacal obsession. He gazed about him in his toga and he said: It is meet to be here. Let us construct a watercloset.

—Which they accordingly did do, Lenehan said. Our old ancient ancestors, as we read in the first chapter of Guinness's, were partial to the running stream.

—They were nature's gentlemen, J. J. O'Molloy murmured. But we have also Roman law.

—And Pontius Pilate is its prophet, professor MacHugh responded....

FROM THE FATHERS

It was revealed to me that those things are good which yet are corrupted which neither if they were supremely good nor unless they were good could be corrupted. Ah, curse you! That's saint Augustine.

—Why will you jews not accept our culture, our religion and our language? You are a tribe of nomad herdsmen: we are a mighty people. You have no cities nor no wealth: our cities are hives of humanity and our galleys, trireme and quadrireme, laden with all manner merchandise furrow the waters of the known globe. You have but emerged from primitive conditions: we have a literature, a priesthood, an agelong history and a polity.

Nile.

Child, man, effigy.

By the Nilebank the babemaries kneel, cradle of bulrushes: a man supple in combat: stonehorned, stonebearded, heart of stone.

—You pray to a local and obscure idol: our temples, majestic and mysterious, are the abodes of Isis and Osiris, of Horus and Ammon Ra. Yours serfdom, awe and humbleness: ours thunder and the seas. Israel is weak and few are her children: Egypt is an host and terrible are her arms. Vagrants and daylabourers are you called: the world trembles at our name.

A dumb belch of hunger cleft his speech. He lifted his voice above it boldly:

—But, ladies and gentlemen, had the youthful Moses listened to and accepted that view of life, had he bowed his head and bowed his will and bowed his spirit before that arrogant admonition he would never have brought the chosen people out of their house of bondage, nor followed the pillar of the cloud by day. He would never have spoken with the Eternal amid lightnings on Sinai's mountaintop nor ever have come down with the light of inspiration shining in his countenance and bearing in his arms the tables of the law, graven in the language of the outlaw.

He ceased and looked at them, enjoying a silence.

OMINOUS—FOR HIM!....

Mr. Bloom turned at Gray's confectioner's window of unbought tarts and passed the reverend Thomas Connellan's bookstore. Why I left the church of Rome? Birds' Nest. Women run him. They say they used to give pauper children soup to change to protestants in the time of the potato blight. Society over the way papa went to for the conversion of poor jews. Same bait. Why we left the church of Rome.....

Sir Frederick Falkiner going into the freemasons' hall. Solemn as Troy. After his good lunch in Earlsfort terrace. Old legal cronies cracking a magnum. Tales of the bench and assizes and annals of the bluecoat school. I sentenced him to ten years. I suppose he'd turn up his nose at that stuff I drank. Vintage wine for them, the year marked on a dusty bottle. Has his own ideas of justice in the recorder's court. Wellmeaning old man. Police chargesheets crammed with cases get their percentage manufacturing crime. Sends them to the rightabout. The devil on moneylenders. Gave Reuben J. a great strawcalling. Now he's really what they call a dirty jew. Power those judges have. Crusty old topers in wigs. Bear with a sore paw. And may the Lord have mercy on your soul.....

—And the sense of property, Stephen said. He drew Shylock out of his own long pocket. The son of a maltjobber and moneylender he was himself a cornjobber and moneylender, with ten tods of corn hoarded in the famine riots. His borrowers are no doubt those divers of worship mentioned by Chettle Falstaff who reported his uprightness of dealing. He sued a fellowplayer for the price of a few bags of malt and exacted his pound of flesh in interest for every money lent. How else could Aubrey's ostler and callboy get rich quick? All events brought grist to his mill. Shylock chimes with the jewbaiting that followed the hanging and quartering of the queen's leech Lopez, his jew's heart being plucked forth while the sheeny was yet alive: Hamlet and Macbeth with the coming to the throne of a Scotch philosophaster with a turn for witchroasting. The lost armada is his jeer in Love's Labour Lost. His pageants, the histories, sail fullbellied on a tide of Mafeking enthusiasm. Warwickshire jesuits are tried and we have a porter's theory of equivocation. The Sea Venture comes home from Bermudas and the play Renan admired is written with Patsy Caliban, our American cousin. The sugared sonnets follow Sidney's. As for fay Elizabeth, otherwise carrotty Bess, the gross virgin who inspired The Merry Wives of Windsor, let some meinherr from Almany grope his life long for deephid meanings in the depths of the buckbasket.

I think you're getting on very nicely. Just mix up a mixture of theolologicophilolological. Mingo, minxi, mictum, mingere.

—Prove that he was a jew, John Eglinton dared,'expectantly. Your dean of studies holds he was a holy Roman.

Sufflaminandus sum.

—He was made in Germany, Stephen replied, as the champion French polisher of Italian scandals.

-- Ulysses, by James Joyce
Charles Whibley recommended T.S. Eliot to Geoffrey Faber.[30]
In 1925 Eliot left Lloyds to become a director in the publishing firm Faber and Gwyer, later Faber and Faber, where he remained for the rest of his career.
[[31][32] At Faber and Faber, he was responsible for publishing important English poets like W. H. Auden, Stephen Spender, and Ted Hughes.[33]
Conversion to Anglicanism and British citizenship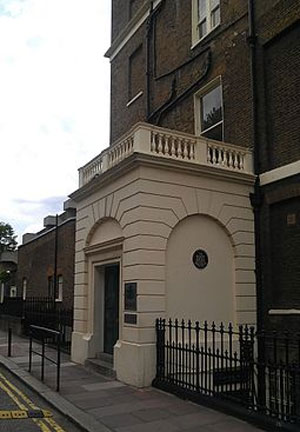 The Faber and Faber building where Eliot worked from 1925 to 1965; the commemorative plaque is under the right-hand arch.
On 29 June 1927, Eliot converted to Anglicanism from Unitarianism, and in November that year he took British citizenship. He became a warden of his parish church, St Stephen's, Gloucester Road, London, and a life member of the Society of King Charles the Martyr.[34][35] He specifically identified as Anglo-Catholic, proclaiming himself "classicist in literature, royalist in politics, and anglo-catholic [sic] in religion".[36][37] About 30 years later Eliot commented on his religious views that he combined "a Catholic cast of mind, a Calvinist heritage, and a Puritanical temperament".[38] He also had wider spiritual interests, commenting that "I see the path of progress for modern man in his occupation with his own self, with his inner being" and citing Goethe and Rudolf Steiner as exemplars of such a direction.[39]
The Society of King Charles the Martyr is an Anglican devotional society dedicated to the cult of King Charles the Martyr, a title of Charles I of England (1600–1649).[1] It is a member of the Catholic Societies of the Church of England, an Anglo-Catholic umbrella group. It is also active in the Scottish Episcopal Church and North America, and has international members elsewhere....

The Society of King Charles the Martyr was founded in 1894 with the stated purpose of "intercessory prayer for the defence of the Church of England against the attacks of her enemies." Since then, the objectives have extended to religious devotion in keeping with the traditions of Anglo-Catholicism.

-- Society of King Charles the Martyr by Wikipedia
One of Eliot's biographers, Peter Ackroyd, commented that "the purposes of [Eliot's conversion] were two-fold. One: the Church of England offered Eliot some hope for himself, and I think Eliot needed some resting place. But secondly, it attached Eliot to the English community and English culture."[33]
Separation and remarriage
By 1932, Eliot had been contemplating a separation from his wife for some time. When Harvard offered him the Charles Eliot Norton professorship for the 1932–1933 academic year, he accepted and left Vivienne in England. Upon his return, he arranged for a formal separation from her, avoiding all but one meeting with her between his leaving for America in 1932 and her death in 1947. Vivienne was committed to the Northumberland House mental hospital, Stoke Newington, in 1938, and remained there until she died. Although Eliot was still legally her husband, he never visited her.[40]
From 1938 to 1957 Eliot's public companion was Mary Trevelyan of London University, who wanted to marry him and left a detailed memoir.[41][42][43]
Mary Trevelyan was born on 22 January 1897, the daughter of the Reverend George Philip Trevelyan (1858–1937) and Monica Evelyn Juliet Phillips. She was educated at Grovely College Boscombe and the Royal College of Music, London.[2] She was founder and Governor of the International Students' House, London, Warden Student Movement House, first Advisor to Overseas Students London U 1949–65 in 1932. In the New Year Honours 1956 Trevelyan was appointed an Officer of The Most Excellent Order of the British Empire[3] and on 31 May 1968 was promoted to Commander of The Most Excellent Order of the British Empire.[4] Trevelyan was appointed organist and choir trainer at St Barnabas, Oxford. She later joined the music staff at Radley and Marlborough Colleges.

Student Movement House (SMH):

She returned to Britain in 1932, after a private tour of India and Ceylon

and began to look for a job. She had intended to return to a musical profession but

began to wonder if she could help groups of Indian students she noticed on the streets 'looking lost in the wintry rain'.

From 1932 to 1946, Mary Trevelyan was the warden of Student Movement House, first on Russell Square then nearby at Gower Street,[5] and it was there that she conceived and developed the interest in students from overseas to which virtually the rest of her life was to be devoted. In 1936 and 1937 she travelled extensively to investigate the problems encountered by students from Far Eastern countries returning home from Europe and America. She also visited the International Houses of the USA. The journey convinced her of the need for a similar organisation in London as the overseas student population continued to grow. By the beginning of 1942, membership of SMH had increased to a total of 1,183 and by 1944 to 1,200 from 54 countries.

In 1944, after nearly 12 years as Warden of the House, Mary felt the need for a break and resigned from her position. Mary went on to work with the YMCA in France and in 1945 she spent her time organising a reception centre for returning prisoners of war, outside Brussels.

From 1946 to 1948 she accepted an invitation to become Head of the Field survey bureau in the UNESCO Department of Reconstruction in Paris

. She spent part of this time visiting and making surveys on priority needs in education after the war in Burma, Malaya, Singapore, Hong Kong, North Borneo and the Philippines.

From 1938 to 1957 she was friend and companion of T. S. Eliot.[6] Trevelyan wanted to marry him, and left a detailed memoir.[7][8]

-- Mary Trevelyan, by Wikipedia
From 1946 to 1957, Eliot shared a flat at 19 Carlyle Mansions, Chelsea, with his friend John Davy Hayward, who collected and managed Eliot's papers, styling himself "Keeper of the Eliot Archive".[44][45] Hayward also collected Eliot's pre-Prufrock verse, commercially published after Eliot's death as Poems Written in Early Youth. When Eliot and Hayward separated their household in 1957, Hayward retained his collection of Eliot's papers, which he bequeathed to King's College, Cambridge, in 1965.
On 10 January 1957, at the age of 68, Eliot married Esmé Valerie Fletcher, who was 30
. In contrast to his first marriage, Eliot knew Fletcher well, as
she had been his secretary at Faber and Faber since August 1949
. They kept their wedding secret; the ceremony was held in a church at 6:15 am with virtually no one in attendance other than his wife's parents. Eliot had no children with either of his wives. In the early 1960s, by then in failing health, Eliot worked as an editor for the Wesleyan University Press, seeking new poets in Europe for publication. After Eliot's death, Valerie dedicated her time to preserving his legacy, by editing and annotating The Letters of T. S. Eliot and a facsimile of the draft of The Waste Land.[46] Valerie Eliot died on 9 November 2012 at her home in London.[47]
Death and honours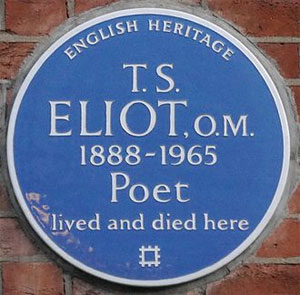 Blue plaque, 3 Kensington Court Gardens, Kensington, London, home from 1957 until his death in 1965
Eliot died of emphysema at his home in Kensington in London, on 4 January 1965,[48] and was cremated at Golders Green Crematorium.[49]
In accordance with his wishes, his ashes were taken to St Michael and All Angels' Church
, East Coker, the village in Somerset from which his Eliot ancestors had emigrated to America.[50] A wall plaque in the church commemorates him with a quotation from his poem East Coker: "In my beginning is my end. In my end is my beginning."[51]
In 1967, on the second anniversary of his death, Eliot was commemorated by the placement of a large stone in the floor of Poets' Corner in London's Westminster Abbey. The stone, cut by designer Reynolds Stone, is inscribed with his life dates, his Order of Merit, and a quotation from his poem Little Gidding, "the communication / of the dead is tongued with fire beyond / the language of the living."[52]
The apartment block where he died, No. 3 Kensington Court Gardens, has had a blue plaque on it since 1986.[53]
Poetry
For a poet of his stature, Eliot produced a relatively small number of poems. He was aware of this even early in his career. He wrote to J.H. Woods, one of his former Harvard professors, "My reputation in London is built upon one small volume of verse, and is kept up by printing two or three more poems in a year.
The only thing that matters is that these should be perfect in their kind, so that each should be an event."[54]
Typically, Eliot first published his poems individually in periodicals or in small books or pamphlets, and then collected them in books. His first collection was Prufrock and Other Observations (1917). In 1920, he published more poems in Ara Vos Prec (London) and Poems: 1920 (New York). These had the same poems (in a different order) except that "Ode" in the British edition was replaced with "Hysteria" in the American edition. In 1925, he collected The Waste Land and the poems in Prufrock and Poems into one volume and added The Hollow Men to form Poems: 1909–1925. From then on, he updated this work as Collected Poems. Exceptions are Old Possum's Book of Practical Cats (1939), a collection of light verse; Poems Written in Early Youth, posthumously published in 1967 and consisting mainly of poems published between 1907 and 1910 in The Harvard Advocate, and Inventions of the March Hare: Poems 1909–1917, material Eliot never intended to have published, which appeared posthumously in 1997.[55]
During an interview in 1959, Eliot said of his nationality and its role in his work: "I'd say that my poetry has obviously more in common with my distinguished contemporaries in America than with anything written in my generation in England. That I'm sure of. ... It wouldn't be what it is, and I imagine it wouldn't be so good; putting it as modestly as I can, it wouldn't be what it is if I'd been born in England, and it wouldn't be what it is if I'd stayed in America. It's a combination of things. But in its sources, in its emotional springs, it comes from America."[56]
Cleo McNelly Kearns notes in her biography that Eliot was deeply influenced by Indic traditions, notably the Upanishads. From the Sanskrit ending of The Waste Land to the "What Krishna meant" section of Four Quartets shows how much Indic religions and more specifically Hinduism made up his philosophical basic for his thought process.
[57] It must also be acknowledged, as Chinmoy Guha showed in his book Where the Dreams Cross: T S Eliot and French Poetry (Macmillan, 2011) that he was deeply influenced by French poets from Baudelaire to Paul Valéry. He himself wrote in his 1940 essay on W.B. Yeats: "The kind of poetry that I needed to teach me the use of my own voice did not exist in English at all; it was only to be found in French." ("Yeats," On Poetry and Poets, 1948).
The Love Song of J. Alfred Prufrock
In 1915, Ezra Pound, overseas editor of Poetry magazine, recommended to Harriet Monroe, the magazine's founder, that she publish "The Love Song of J. Alfred Prufrock".
[58] Although the character Prufrock seems to be middle-aged, Eliot wrote most of the poem when he was only twenty-two. Its now-famous opening lines, comparing the evening sky to "a patient etherised upon a table", were considered shocking and offensive, especially at a time when Georgian Poetry was hailed for its derivations of the nineteenth century Romantic Poets.[59]
The poem's structure was heavily influenced by
Eliot's extensive reading of Dante
and refers to a number of literary works, including Hamlet and those of the French Symbolists. Its reception in London can be gauged from an unsigned review in The Times Literary Supplement on 21 June 1917. "The fact that these things occurred to the mind of Mr. Eliot is surely of the very smallest importance to anyone, even to himself. They certainly have no relation to poetry."[60]
The Waste Land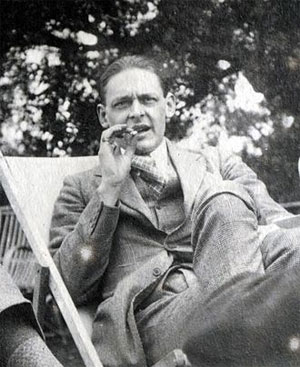 T. S. Eliot in 1923, by Lady Ottoline Morrell
In October 1922, Eliot published The Waste Land in The Criterion. Eliot's dedication to il miglior fabbro ("the better craftsman") refers to
Ezra Pound's significant hand in editing and reshaping the poem from a longer Eliot manuscript to the shortened version that appears in publication.
[61]
It was composed during a period of personal difficulty for Eliot—his marriage was failing, and both he and Vivienne were suffering from nervous disorders. The poem is often read as a representation of the disillusionment of the post-war generation. Before the poem's publication as a book in December 1922, Eliot distanced himself from its vision of despair. On 15 November 1922, he wrote to Richard Aldington, saying, "As for The Waste Land, that is a thing of the past so far as I am concerned and I am now feeling toward a new form and style."[62]
The poem is known for its obscure nature—its slippage between satire and prophecy; its abrupt changes of speaker, location, and time. This structural complexity is one of the reasons why the poem has become a touchstone of modern literature, a poetic counterpart to a novel published in the same year, James Joyce's Ulysses.[63]
Among its best-known phrases are "April is the cruellest month", "I will show you fear in a handful of dust" and "Shantih shantih shantih". The Sanskrit mantra ends the poem.
The Waste Land
BY T. S. ELIOT
FOR EZRA POUND
IL MIGLIOR FABBRO

I. The Burial of the Dead

April is the cruellest month, breeding
Lilacs out of the dead land, mixing
Memory and desire, stirring
Dull roots with spring rain.
Winter kept us warm, covering
Earth in forgetful snow, feeding
A little life with dried tubers.
Summer surprised us, coming over the Starnbergersee
With a shower of rain; we stopped in the colonnade,
And went on in sunlight, into the Hofgarten,
And drank coffee, and talked for an hour.
Bin gar keine Russin, stamm' aus Litauen, echt deutsch.
And when we were children, staying at the arch-duke's,
My cousin's, he took me out on a sled,
And I was frightened. He said, Marie,
Marie, hold on tight. And down we went.
In the mountains, there you feel free.
I read, much of the night, and go south in the winter.

What are the roots that clutch, what branches grow
Out of this stony rubbish? Son of man,
You cannot say, or guess, for you know only
A heap of broken images, where the sun beats,
And the dead tree gives no shelter, the cricket no relief,
And the dry stone no sound of water. Only
There is shadow under this red rock,
(Come in under the shadow of this red rock),
And I will show you something different from either
Your shadow at morning striding behind you
Or your shadow at evening rising to meet you;
I will show you fear in a handful of dust.
Frisch weht der Wind
Der Heimat zu
Mein Irisch Kind,
Wo weilest du?
"You gave me hyacinths first a year ago;
"They called me the hyacinth girl."
—Yet when we came back, late, from the Hyacinth garden,
Your arms full, and your hair wet, I could not
Speak, and my eyes failed, I was neither
Living nor dead, and I knew nothing,
Looking into the heart of light, the silence.
Oed' und leer das Meer.

Madame Sosostris, famous clairvoyante,
Had a bad cold, nevertheless
Is known to be the wisest woman in Europe,
With a wicked pack of cards. Here, said she,
Is your card, the drowned Phoenician Sailor,
(Those are pearls that were his eyes. Look!)
Here is Belladonna, the Lady of the Rocks,
The lady of situations.
Here is the man with three staves, and here the Wheel,
And here is the one-eyed merchant, and this card,
Which is blank, is something he carries on his back,
Which I am forbidden to see. I do not find
The Hanged Man. Fear death by water.
I see crowds of people, walking round in a ring.
Thank you. If you see dear Mrs. Equitone,
Tell her I bring the horoscope myself:
One must be so careful these days.

Unreal City,
Under the brown fog of a winter dawn,
A crowd flowed over London Bridge, so many,
I had not thought death had undone so many.
Sighs, short and infrequent, were exhaled,
And each man fixed his eyes before his feet.
Flowed up the hill and down King William Street,
To where Saint Mary Woolnoth kept the hours
With a dead sound on the final stroke of nine.
There I saw one I knew, and stopped him, crying: "Stetson!
"You who were with me in the ships at Mylae!
"That corpse you planted last year in your garden,
"Has it begun to sprout? Will it bloom this year?
"Or has the sudden frost disturbed its bed?
"Oh keep the Dog far hence, that's friend to men,
"Or with his nails he'll dig it up again!
"You! hypocrite lecteur!—mon semblable,—mon frère!"

II. A Game of Chess

The Chair she sat in, like a burnished throne,
Glowed on the marble, where the glass
Held up by standards wrought with fruited vines
From which a golden Cupidon peeped out
(Another hid his eyes behind his wing)
Doubled the flames of sevenbranched candelabra
Reflecting light upon the table as
The glitter of her jewels rose to meet it,
From satin cases poured in rich profusion;
In vials of ivory and coloured glass
Unstoppered, lurked her strange synthetic perfumes,
Unguent, powdered, or liquid—troubled, confused
And drowned the sense in odours; stirred by the air
That freshened from the window, these ascended
In fattening the prolonged candle-flames,
Flung their smoke into the laquearia,
Stirring the pattern on the coffered ceiling.
Huge sea-wood fed with copper
Burned green and orange, framed by the coloured stone,
In which sad light a carvéd dolphin swam.
Above the antique mantel was displayed
As though a window gave upon the sylvan scene
The change of Philomel, by the barbarous king
So rudely forced; yet there the nightingale
Filled all the desert with inviolable voice
And still she cried, and still the world pursues,
"Jug Jug" to dirty ears.
And other withered stumps of time
Were told upon the walls; staring forms
Leaned out, leaning, hushing the room enclosed.
Footsteps shuffled on the stair.
Under the firelight, under the brush, her hair
Spread out in fiery points
Glowed into words, then would be savagely still.

"My nerves are bad tonight. Yes, bad. Stay with me.
"Speak to me. Why do you never speak. Speak.
"What are you thinking of? What thinking? What?
"I never know what you are thinking. Think."

I think we are in rats' alley
Where the dead men lost their bones.

"What is that noise?"
The wind under the door.
"What is that noise now? What is the wind doing?"
Nothing again nothing.
"Do
"You know nothing? Do you see nothing? Do you remember
"Nothing?"

I remember
Those are pearls that were his eyes.
"Are you alive, or not? Is there nothing in your head?"

But
O O O O that Shakespeherian Rag—
It's so elegant
So intelligent
"What shall I do now? What shall I do?"
"I shall rush out as I am, and walk the street
"With my hair down, so. What shall we do tomorrow?
"What shall we ever do?"
The hot water at ten.
And if it rains, a closed car at four.
And we shall play a game of chess,
Pressing lidless eyes and waiting for a knock upon the door.

When Lil's husband got demobbed, I said—
I didn't mince my words, I said to her myself,
HURRY UP PLEASE ITS TIME
Now Albert's coming back, make yourself a bit smart.
He'll want to know what you done with that money he gave you
To get yourself some teeth. He did, I was there.
You have them all out, Lil, and get a nice set,
He said, I swear, I can't bear to look at you.
And no more can't I, I said, and think of poor Albert,
He's been in the army four years, he wants a good time,
And if you don't give it him, there's others will, I said.
Oh is there, she said. Something o' that, I said.
Then I'll know who to thank, she said, and give me a straight look.
HURRY UP PLEASE ITS TIME
If you don't like it you can get on with it, I said.
Others can pick and choose if you can't.
But if Albert makes off, it won't be for lack of telling.
You ought to be ashamed, I said, to look so antique.
(And her only thirty-one.)
I can't help it, she said, pulling a long face,
It's them pills I took, to bring it off, she said.
(She's had five already, and nearly died of young George.)
The chemist said it would be all right, but I've never been the same.
You are a proper fool, I said.
Well, if Albert won't leave you alone, there it is, I said,
What you get married for if you don't want children?
HURRY UP PLEASE ITS TIME
Well, that Sunday Albert was home, they had a hot gammon,
And they asked me in to dinner, to get the beauty of it hot—
HURRY UP PLEASE ITS TIME
HURRY UP PLEASE ITS TIME
Goonight Bill. Goonight Lou. Goonight May. Goonight.
Ta ta. Goonight. Goonight.
Good night, ladies, good night, sweet ladies, good night, good night.

III. The Fire Sermon

The river's tent is broken: the last fingers of leaf
Clutch and sink into the wet bank. The wind
Crosses the brown land, unheard. The nymphs are departed.
Sweet Thames, run softly, till I end my song.
The river bears no empty bottles, sandwich papers,
Silk handkerchiefs, cardboard boxes, cigarette ends
Or other testimony of summer nights. The nymphs are departed.
And their friends, the loitering heirs of city directors;
Departed, have left no addresses.
By the waters of Leman I sat down and wept . . .
Sweet Thames, run softly till I end my song,
Sweet Thames, run softly, for I speak not loud or long.
But at my back in a cold blast I hear
The rattle of the bones, and chuckle spread from ear to ear.

A rat crept softly through the vegetation
Dragging its slimy belly on the bank
While I was fishing in the dull canal
On a winter evening round behind the gashouse
Musing upon the king my brother's wreck
And on the king my father's death before him.
White bodies naked on the low damp ground
And bones cast in a little low dry garret,
Rattled by the rat's foot only, year to year.
But at my back from time to time I hear
The sound of horns and motors, which shall bring
Sweeney to Mrs. Porter in the spring.
O the moon shone bright on Mrs. Porter
And on her daughter
They wash their feet in soda water
Et O ces voix d'enfants, chantant dans la coupole!

Twit twit twit
Jug jug jug jug jug jug
So rudely forc'd.
Tereu

Unreal City
Under the brown fog of a winter noon
Mr. Eugenides, the Smyrna merchant
Unshaven, with a pocket full of currants
C.i.f. London: documents at sight,
Asked me in demotic French
To luncheon at the Cannon Street Hotel
Followed by a weekend at the Metropole.

At the violet hour, when the eyes and back
Turn upward from the desk, when the human engine waits
Like a taxi throbbing waiting,
I Tiresias, though blind, throbbing between two lives,
Old man with wrinkled female breasts, can see
At the violet hour, the evening hour that strives
Homeward, and brings the sailor home from sea,
The typist home at teatime, clears her breakfast, lights
Her stove, and lays out food in tins.
Out of the window perilously spread
Her drying combinations touched by the sun's last rays,
On the divan are piled (at night her bed)
Stockings, slippers, camisoles, and stays.
I Tiresias, old man with wrinkled dugs
Perceived the scene, and foretold the rest—
I too awaited the expected guest.
He, the young man carbuncular, arrives,
A small house agent's clerk, with one bold stare,
One of the low on whom assurance sits
As a silk hat on a Bradford millionaire.
The time is now propitious, as he guesses,
The meal is ended, she is bored and tired,
Endeavours to engage her in caresses
Which still are unreproved, if undesired.
Flushed and decided, he assaults at once;
Exploring hands encounter no defence;
His vanity requires no response,
And makes a welcome of indifference.
(And I Tiresias have foresuffered all
Enacted on this same divan or bed;
I who have sat by Thebes below the wall
And walked among the lowest of the dead.)
Bestows one final patronising kiss,
And gropes his way, finding the stairs unlit . . .

She turns and looks a moment in the glass,
Hardly aware of her departed lover;
Her brain allows one half-formed thought to pass:
"Well now that's done: and I'm glad it's over."
When lovely woman stoops to folly and
Paces about her room again, alone,
She smoothes her hair with automatic hand,
And puts a record on the gramophone.

"This music crept by me upon the waters"
And along the Strand, up Queen Victoria Street.
O City city, I can sometimes hear
Beside a public bar in Lower Thames Street,
The pleasant whining of a mandoline
And a clatter and a chatter from within
Where fishmen lounge at noon: where the walls
Of Magnus Martyr hold
Inexplicable splendour of Ionian white and gold.

The river sweats
Oil and tar
The barges drift
With the turning tide
Red sails
Wide
To leeward, swing on the heavy spar.
The barges wash
Drifting logs
Down Greenwich reach
Past the Isle of Dogs.
Weialala leia
Wallala leialala

Elizabeth and Leicester
Beating oars
The stern was formed
A gilded shell
Red and gold
The brisk swell
Rippled both shores
Southwest wind
Carried down stream
The peal of bells
White towers
Weialala leia
Wallala leialala

"Trams and dusty trees.
Highbury bore me. Richmond and Kew
Undid me. By Richmond I raised my knees
Supine on the floor of a narrow canoe."

"My feet are at Moorgate, and my heart
Under my feet. After the event
He wept. He promised a 'new start.'
I made no comment. What should I resent?"

"On Margate Sands.
I can connect
Nothing with nothing.
The broken fingernails of dirty hands.
My people humble people who expect
Nothing."
la la

To Carthage then I came

Burning burning burning burning
O Lord Thou pluckest me out
O Lord Thou pluckest

burning


IV. Death by Water

Phlebas the Phoenician, a fortnight dead,
Forgot the cry of gulls, and the deep sea swell
And the profit and loss.
A current under sea
Picked his bones in whispers. As he rose and fell
He passed the stages of his age and youth
Entering the whirlpool.
Gentile or Jew
O you who turn the wheel and look to windward,
Consider Phlebas, who was once handsome and tall as you.


V. What the Thunder Said

After the torchlight red on sweaty faces
After the frosty silence in the gardens
After the agony in stony places
The shouting and the crying
Prison and palace and reverberation
Of thunder of spring over distant mountains
He who was living is now dead
We who were living are now dying
With a little patience

Here is no water but only rock
Rock and no water and the sandy road
The road winding above among the mountains
Which are mountains of rock without water
If there were water we should stop and drink
Amongst the rock one cannot stop or think
Sweat is dry and feet are in the sand
If there were only water amongst the rock
Dead mountain mouth of carious teeth that cannot spit
Here one can neither stand nor lie nor sit
There is not even silence in the mountains
But dry sterile thunder without rain
There is not even solitude in the mountains
But red sullen faces sneer and snarl
From doors of mudcracked houses
If there were water
And no rock
If there were rock
And also water
And water
A spring
A pool among the rock
If there were the sound of water only
Not the cicada
And dry grass singing
But sound of water over a rock
Where the hermit-thrush sings in the pine trees
Drip drop drip drop drop drop drop
But there is no water

Who is the third who walks always beside you?
When I count, there are only you and I together
But when I look ahead up the white road
There is always another one walking beside you
Gliding wrapt in a brown mantle, hooded
I do not know whether a man or a woman
—But who is that on the other side of you?

What is that sound high in the air
Murmur of maternal lamentation
Who are those hooded hordes swarming
Over endless plains, stumbling in cracked earth
Ringed by the flat horizon only
What is the city over the mountains
Cracks and reforms and bursts in the violet air
Falling towers
Jerusalem Athens Alexandria
Vienna London
Unreal

A woman drew her long black hair out tight
And fiddled whisper music on those strings
And bats with baby faces in the violet light
Whistled, and beat their wings
And crawled head downward down a blackened wall
And upside down in air were towers
Tolling reminiscent bells, that kept the hours
And voices singing out of empty cisterns and exhausted wells.

In this decayed hole among the mountains
In the faint moonlight, the grass is singing
Over the tumbled graves, about the chapel
There is the empty chapel, only the wind's home.
It has no windows, and the door swings,
Dry bones can harm no one.
Only a cock stood on the rooftree
Co co rico co co rico
In a flash of lightning. Then a damp gust
Bringing rain

Ganga was sunken, and the limp leaves
Waited for rain, while the black clouds
Gathered far distant, over Himavant.
The jungle crouched, humped in silence.
Then spoke the thunder
DA
Datta: what have we given?
My friend, blood shaking my heart
The awful daring of a moment's surrender
Which an age of prudence can never retract
By this, and this only, we have existed
Which is not to be found in our obituaries
Or in memories draped by the beneficent spider
Or under seals broken by the lean solicitor
In our empty rooms
DA
Dayadhvam: I have heard the key
Turn in the door once and turn once only
We think of the key, each in his prison
Thinking of the key, each confirms a prison
Only at nightfall, aethereal rumours
Revive for a moment a broken Coriolanus
DA
Damyata: The boat responded
Gaily, to the hand expert with sail and oar
The sea was calm, your heart would have responded
Gaily, when invited, beating obedient
To controlling hands

I sat upon the shore
Fishing, with the arid plain behind me
Shall I at least set my lands in order?
London Bridge is falling down falling down falling down
Poi s'ascose nel foco che gli affina
Quando fiam uti chelidon—O swallow swallow
Le Prince d'Aquitaine à la tour abolie
These fragments I have shored against my ruins
Why then Ile fit you. Hieronymo's mad againe.
Datta. Dayadhvam. Damyata.
Shantih shantih shantih