International Council of Women
by Wikipedia
Accessed: 4/13/19
NOTICE: THIS WORK MAY BE PROTECTED BY COPYRIGHT
YOU ARE REQUIRED TO READ

THE COPYRIGHT NOTICE AT THIS LINK

BEFORE YOU READ THE FOLLOWING WORK, THAT IS AVAILABLE SOLELY FOR PRIVATE STUDY, SCHOLARSHIP OR RESEARCH PURSUANT TO 17 U.S.C. SECTION 107 AND 108. IN THE EVENT THAT THE LIBRARY DETERMINES THAT UNLAWFUL COPYING OF THIS WORK HAS OCCURRED, THE LIBRARY HAS THE RIGHT TO BLOCK THE I.P. ADDRESS AT WHICH THE UNLAWFUL COPYING APPEARED TO HAVE OCCURRED. THANK YOU FOR RESPECTING THE RIGHTS OF COPYRIGHT OWNERS.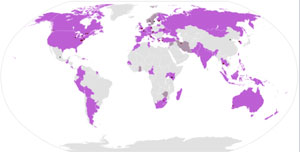 Highlighted countries have local organizations affiliated with ICW.
The International Council of Women (ICW) is a women's organization working across national boundaries for the common cause of advocating human rights for women. In March and April 1888, women leaders came together in Washington D.C. with 80 speakers and 49 delegates representing 53 women's organizations from 9 countries: Canada, the United States, Ireland, India, United Kingdom, Finland, Denmark, France and Norway. Women from professional organizations, trade unions, arts groups and benevolent societies participate. National councils are affiliated to the ICW and thus make themselves heard at the international level.
The ICW enjoys consultative status with the United Nations and its Permanent Representatives to ECOSOC, ILO, FAO, WHO, UNDP, UNEP, UNESCO, UNICEF, UNCTAD, and UNIDO.
Beginnings
President of ICW / Duration / Nationality

none 1888-1893 - / -- / --

Ishbel Hamilton-Gordon / 1893-1899 / Scotland

May Wright Sewall / 1899-1904 / United States

Sewall obtained permission to hold the World's Congress of Representative Women, the first meeting of the International Council of Women, in conjunction with the

World's Columbian Exposition in Chicago in 1893

.[45] Sewall struggled with other leaders over control of the gathering. Bertha Palmer, president of the fair's Board of Lady Managers and president of the woman's branch of the World's Congress Auxiliary's, and Ellen Henrotin, vice president of the auxiliary's woman's branch, viewed Sewall as a radical feminist and resented the implication that the National Council of Women was organizing the World's Congress. Sewall threatened to resign, but remained with the organizing group, who hosted a successful meeting. The weeklong World's Congress brought 126 national women's organizations together from around the world. Its estimated attendance was more than 150,000.[47][48]....

In 1893, the city of Chicago hosted the World Columbian Exposition, an early world's fair. So many people were coming to Chicago from all over the world that many smaller conferences, called Congresses and Parliaments, were scheduled to take advantage of this unprecedented gathering. One of these was the World's Parliament of Religions, an initiative of the Swedenborgian layman (and judge) Charles Carroll Bonney.[5][6] The Parliament of Religions was by far the largest of the congresses held in conjunction with the Exposition.[7] John Henry Barrows, a clergyman, was appointed as the first chairman of the General Committee of the 1893 Parliament by Charles Bonney.[8]

-- Parliament of the World's Religions, by Wikipedia

Sewall was a member of a Unitarian church in Indianapolis, but psychic research had been an interest since the 1880s.[13][27] Sewall converted to spiritualism after attending a chautauqua meeting at Lily Dale, New York, in 1897.[57][58] At Lily Dale Sewall met with a spiritualist medium, who asked her to write several questions on bits of paper that Sewall claimed never left her hands. Sewall then selected a slate that was wiped clear and tied with her own handkerchief. When Sewall later opened the slate at her hotel, expecting it to be blank inside, she found responses to her questions were legibly written on the slate. From that time she claimed to have had regular communications with her deceased husband, Theodore, and communicated with other deceased family members, a noted Russian pianist named Anton Rubenstein, and Père Condé, who was a medieval priest and physician from France.[57][59]

Spiritualism first appeared in the 1840s in the "Burned-over District" of upstate New York, where earlier religious movements such as Millerism and Mormonism had emerged during the Second Great Awakening.

This region of New York State was an environment in which many thought direct communication with God or angels was possible, and that God would not behave harshly—for example, that God would not condemn unbaptised infants to an eternity in Hell.[1]

In this environment, the writings of

Emanuel Swedenborg

(1688–1772) and the teachings of

Franz Mesmer

(1734–1815) provided an example for those seeking direct personal knowledge of the afterlife. Swedenborg, who claimed to communicate with spirits while awake, described the structure of the spirit world. Two features of his view particularly resonated with the early spiritualists: first, that there is not a single Hell and a single Heaven, but rather a series of higher and lower heavens and hells; second, that spirits are intermediates between God and humans, so that the divine sometimes uses them as a means of communication.[1] Although Swedenborg warned against seeking out spirit contact, his works seem to have inspired in others the desire to do so.

Swedenborg was formerly a highly regarded inventor and scientist, achieving several engineering innovations and studying physiology and anatomy. Then, "in 1741, he also began to have series of intense mystical experiences, dreams, and visions, claiming that he had been called by God to reform Christianity and introduce a new church."[10]

Mesmer did not contribute religious beliefs, but he brought a technique, later known as hypnotism, that it was claimed could induce trances and cause subjects to report contact with supernatural beings. There was a great deal of professional showmanship inherent to demonstrations of Mesmerism, and the practitioners who lectured in mid-19th-century North America sought to entertain their audiences as well as to demonstrate methods for personal contact with the divine.[1]

Perhaps the best known of those who combined Swedenborg and Mesmer in a peculiarly North American synthesis was Andrew Jackson Davis, who called his system the "harmonial philosophy". Davis was a practicing Mesmerist, faith healer and clairvoyant from Blooming Grove, New York. He was also strongly influenced by the socialist theories of Fourierism.[11] His 1847 book, The Principles of Nature, Her Divine Revelations, and a Voice to Mankind,[12] dictated to a friend while in a trance state, eventually became the nearest thing to a canonical work in a spiritualist movement whose extreme individualism precluded the development of a single coherent worldview.[1][2]

-- Spiritualism, by Wikipedia

Following Sewall's retirement from public life in 1916, she wrote a book describing her psychic experiences. Neither Dead Nor Sleeping (1920) was published two months prior to her death in July 1920. Indiana author Booth Tarkington, who wrote the introduction to her book, assisted in getting Bobbs-Merrill Company to publish it.[60] The book received some positive reviews at the time of its publication. One New York Times Book Review described it as "striking" and "amazing is hardly too strong of a word." Other reviewers praised her sincerity.[61]

The book's publication surprised many people, especially those who knew Sewall, because it revealed a previously unknown side of her life that she had concealed from the public for nearly twenty-five years. Sewall provided two reasons for concealing her involvement in the spiritualism movement until the publication of her book. She claimed those who contacted her from the spirit world told her keep quiet, and the few living friends who did know about her communications with the dead thought she had imagined them.[62][63] Sewall explained her intent in publishing the book was to provide others with the "comfort of knowing the simplicity and naturalness of the life into which they passed" after their life on earth ended.[59]

-- May Wright Sewall, by Wikipedia

Ishbel Maria Hamilton-Gordon / 1904-1920 / Scotland

Pauline Chaponnière-Chaix / 1920-1922 / Switzerland

Ishbel Maria Hamilton-Gordon / 1922-1936 / Scotland

Marthe Boël / 1936-1947 / Belgium

Renée Girod / (interim) 1940-1945 / Switzerland

Jeanne Eder-Schwyzer / 1947-1957 / Switzerland

Marie-Hélène Lefaucheux / 1957-1963 / France

Mary McGeachy / 1963-1973 / Canada

Mehrangiz Dowlatshahi / 1973-1976 / Iran

Ngarmchit Purachatra / 1976-1979 / Thailand

Miriam Dell / 1979-1986 / New Zealand

Hong Sook-ja / 1986-1988 / South Korea

Lily Boeykens / 1988-1994 / Belgium

Kuraisin Sumhadi / 1994-1997 / Indonesia

Pnina Herzog / 1997-2003 / Israel

Anamah Tan / 2003-2009 / Singapore

Cosima Schenk / 2009-2015 / Switzerland

Jungsook Kim / 2015- / South Korea
During a visit to Europe in 1882, American suffragists Elizabeth Cady Stanton and Susan B. Anthony discussed the idea of an international women's organization with reformers in several countries. A committee of correspondence was formed to develop the idea further at a reception in their honor just before they returned home. The National Woman Suffrage Association, led by Anthony and Stanton, organized the founding meeting of the ICW, which convened in Washington, DC, on March 25, 1888.
Representing Louisiana at the Woman's International Council was Caroline Elizabeth Merrick. The meeting was part of a celebration of the fortieth anniversary of the Seneca Falls Convention, the first women's rights convention.[1]
Rachel Foster Avery managed much of the details of the planning of the first meeting of the ICW, and Susan B. Anthony presided over eight of the sixteen sessions.
[2] The ICW drafted a constitution and established national meetings every three years and international meetings every five years.
Millicent Garrett Fawcett of England was elected as first president but she refused to serve.
In 1894, the ICW met in Berlin, where Alix von Cotta said that many senior teachers stayed away.[3] In 1899, they met in London, UK.[4]
In the early years, the United States supported many of the expenses of the organization, and dues from U.S. members made up a significant part of the budget.
Most meetings were held in Europe or North America, and they adopted the use of three official languages - English, French and German - which discouraged participation by women of non-European origin.
The ICW did not actively promote women's suffrage, as to not upset the more conservative members.
International Woman Suffrage Alliance

After Anthony retired as president of the National American Woman Suffrage Association, Carrie Chapman Catt, her chosen successor, began working toward an international women's suffrage association, one of Anthony's long-time goals. The existing International Council of Women could not be expected to support a campaign for women's suffrage because it was a broad alliance whose more conservative members would object. In 1902, Catt organized a preparatory meeting in Washington, with Anthony as chair, that was attended by delegates from several countries. Organized primarily by Catt, the International Woman Suffrage Alliance was created in Berlin in 1904. The founding meeting was chaired by Anthony, who was declared to be the new organization's honorary president and first member.[132] According to Anthony's authorized biographer, "no event ever gave Miss Anthony such profound satisfaction as this one".[133] Later renamed the International Alliance of Women, the organization is still active and is affiliated with the United Nations.

[134]....

Changing relationship with Stanton

Anthony and Stanton worked together in a close and productive relationship. From 1880 to 1886 they were together almost every day working on the History of Woman Suffrage.[135] They referred to each other as "Susan" and "Mrs. Stanton".....

Their interests began to diverge somewhat as they grew older.

As the drive for women's suffrage gained momentum, Anthony began to form alliances with more conservative groups, such as the Women's Christian Temperance Union, the nation's largest women's organization and a supporter of women's suffrage.[141] Such moves irritated Stanton, who said, "I get more radical as I get older, while she seems to grow more conservative."[142] In 1895 Stanton published The Woman's Bible, which attacked the use of the Bible to relegate women to an inferior status. It became a highly controversial best-seller. The NAWSA voted to disavow any connection with it despite Anthony's strong objection that such a move was unnecessary and hurtful.[143] Even so, Anthony refused to assist with the book's preparation, telling Stanton: "You say 'women must be emancipated from their superstitions before enfranchisement will have any benefit,' and I say just the reverse, that women must be enfranchised before they can be emancipated from their superstitions."

[144] Despite such friction, their relationship continued to be close. When Stanton died in 1902, Anthony wrote to a friend: "Oh, this awful hush! It seems impossible that voice is stilled which I have loved to hear for fifty years. Always I have felt I must have Mrs. Stanton's opinion of things before I knew where I stood myself. I am all at sea..."[145]

-- Susan B. Anthony, by Wikipedia
Twentieth century
In 1904, at the Berlin congress of the ICW, a separate organization formed to accommodate the strong feminist identity of the national suffrage associations: the International Woman Suffrage Alliance.
In 1925, the ICW convened their first coalition, the Joint Standing Committee of the Women's International Organisations, to lobby for the appointment of women to the League of Nations. By 1931 the League of Nations called together a Women's Consultative Committee on Nationality to address the issue of a woman's rights (and nationality) when married to a man from another country.[5] Two additional coalitions were formed in 1931: the Liaison Committee and the Peace and Disarmament Committee. The ICW constitution was revised in 1936.[6] The ICW worked with the League of Nations during the 1920s and the United Nations post-World War II.
Present day
Today, the ICW holds Consultative Status with UNESCO, the highest accreditation an NGO can achieve at the United Nations.
Currently, the ICW is composed of 70 countries and has a headquarters in Paris.[7] International meetings are held every three years.
Archives
Papers of the International Council of Women are held at The Women's Library.[8]
Other papers are held at the United Nations Library in Geneva, the Library of Congress in Washington, the UNESCO archives in Paris
, the International Information Centre and Archives for the Women's Movement in Amsterdam, the Archive Center for Women's History (CARHIF) in Brussels, the Sophia Smith Library at Smith College, Massachusetts, the Margaret Cousins Memorial library in New Delhi, and the Lady Aberdeen Collection in the University of Waterloo (Ontario) Library Special Collections.
Affiliates
National Council of Women of the United States was founded in 1888 at the first ICW gathering. The National Council of Women of Canada was founded in 1893. The National Council of French Women was created in 1901, the National Council of Italian Women in 1903,[9] and the National Council of Belgian Women in 1905.[10] The first National Council of Women of Australia was established in 1931 to coordinate the state bodies existing prior to Australia's Federation.
See also
• List of women's organizations
• Mapping the World of Women's Information Services
References
1. National Woman Suffrage Association (1888). Report of the International Council of Women: Assembled by the National Woman Suffrage Association, Washington, D. C., U. S. of America, March 25 to April 1, 1888 pp.9–11.
2. See the University of Rochester Libraries' Online Exhibit of Susan B. Anthony: Celebrating "An Heroic Life" Archived 2013-12-07 at the Wayback Machinefor images of the Report and Proceedings of the first ICW as well as letters from Susan B. Anthony about the planning process.
3. Letter from von Cotta, National Archives, Retrieved 29 December 2016
4. Helene Stöcker (2015): Lebenserinnerungen, hg. von Reinhold Lütgeeier-Davin u. Kerstin Wolff. Köln: Böhlau, 93; Helene Lange und Gertrud Bäumer: Handbuch der Fr auenbewegung. Berlin: Moeser, 1901, p. 151,
https://archive.org/stream/handbuchderf ... 8/mode/2up
.
5. See Dorothy P. Page, "'A Married Woman, or a Minor, Lunatic or Idiot': The Struggle of British Women against Disability in Nationality, 1914-1933," doctoral dissertation, University of Otago, Dunedin, New Zealand, 1984.
6. The ICW Papers are housed at Smith College in the Sophia Smith Collection.
7. Contact Us, ICW web page
8. Library of the London School of Economics, ref 5ICW
9. "Consiglio Nazionale delle Donne Italiane" (in Italian). Consiglio Nazionale delle Donne Italiane. Retrieved 7 February 2019.
10. Jacques, Catherine (2009). "Le féminisme en Belgique de la fin du 19e siècle aux années 1970" (in French). Courrier hebdomadaire du CRISP, No 2012-2013. Retrieved 13 February 2019.
Bibliography
• Beyers, Leen (2005), Des Femmes Qui Changent le Monde: Histoire du Conseil International des Femmes, 1888-1988, Bruxelles: Racine, ISBN 2-87386-399-4
• Rupp, Leila J. (1994), "Constructing Internationalism: The Case of Transnational Women's Organizations, 1888-1945", The American Historical Review, 99(5): 1571–1600, doi:10.2307/2168389, JSTOR 2168389
• Rupp, Leila J. (2011), "Transnational Women's Movements", European History Online, Mainz: Institute of European History
• Schneider, Dorothy; Schneider, Carl J. (1993), "Chapter 8. Women's War Against War", American Women in the Progressive Era, 1900-1920, New York: Facts on File, ISBN 0-8160-2513-4
External links
• International Council of Women website
• Records of the International Council of Women - the Women's Library, London School of Economics
• International Archived records of the Council of Women, 1888-1959 at Smith College