Charles C. Bonney
by Wikipedia
Accessed: 3/26/19
NOTICE: THIS WORK MAY BE PROTECTED BY COPYRIGHT
YOU ARE REQUIRED TO READ

THE COPYRIGHT NOTICE AT THIS LINK

BEFORE YOU READ THE FOLLOWING WORK, THAT IS AVAILABLE SOLELY FOR PRIVATE STUDY, SCHOLARSHIP OR RESEARCH PURSUANT TO 17 U.S.C. SECTION 107 AND 108. IN THE EVENT THAT THE LIBRARY DETERMINES THAT UNLAWFUL COPYING OF THIS WORK HAS OCCURRED, THE LIBRARY HAS THE RIGHT TO BLOCK THE I.P. ADDRESS AT WHICH THE UNLAWFUL COPYING APPEARED TO HAVE OCCURRED. THANK YOU FOR RESPECTING THE RIGHTS OF COPYRIGHT OWNERS.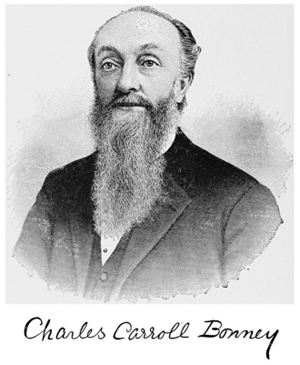 Charles Carroll Bonney (1831–1903) was a Chicago lawyer, judge, teacher, author, and orator, best known for serving as President of the World's Congresses at the World's Columbian Exposition of 1893.
Biography
Charles C. Bonney was born in Hamilton, New York on September 4, 1831. He was schooled in Hamilton, and attended Colgate University, eventually receiving his LL.D. After a brief stint as a teacher in Hamilton, Bonney moved to Peoria, Illinois, where he founded a school. In 1852, he became a lecturer in education at Peoria College, and in this capacity played a role in setting up the Illinois state school system.
Bonney moved to Chicago in 1860.
In 1866, he became a judge of the Supreme Court of Illinois. He participated in the foundation of the International Law and Order League in Toronto in 1880, and later served as that organization's president from 1885 to 1893. Bonney was president of the Illinois State Bar Association in 1882. He was also active in the American Bar Association, serving as Vice President in 1887, and in that capacity gaining notoriety in the press, with many journalists calling for Bonney to be appointed to the Supreme Court of the United States.

A member of the New Jerusalem Church, Bonney played an active role in organizing the Parliament of the World's Religions
, held in conjunction with the World's Columbian Exposition of 1893.
The New Church (or Swedenborgianism) is the name for several historically related Christian denominations which developed as a new religious movement, influenced by the writings of scientist and Swedish Lutheran theologian Emanuel Swedenborg (1688–1772). According to Swedenborg, he received a new revelation from Jesus Christ in visions he experienced over a period of at least twenty-five years. He predicted in his writings that God would replace the traditional Christian Church, establishing a New Church which would worship God as Jesus Christ. According to New Church doctrine, each person must cooperate in repentance, reformation, and regeneration.[1]

The movement was founded on the belief that God explained the spiritual meaning of the Bible to Swedenborg to reveal the truth of the Second Coming of Jesus Christ. Swedenborg cited divine revelation for his writings,[2] and his followers believe that he witnessed the Last Judgment in the spiritual world with the inauguration of the New Church.

The church is seen by its members as what Jesus is establishing with those who believe that he is the one God of heaven and Earth, with obedience to Jesus' commandments necessary for salvation. It is thought that any Christian holding these beliefs is part of the New Church. New Church organizations acknowledge what they believe to be the universal nature of Jesus' church: all who do good in accordance with the truth of their religion will be accepted by Jesus into heaven (since God is goodness itself), and doing good joins one with God.[3] Adherents believe that New Church doctrine is derived from the Bible and provides enlightenment of the truth; this leads to diminished doubt, a recognition of personal faults and a more-focused, happier life.[4]

Other names for the movement include Swedenborgian, New Christians, Neo-Christians, Church of the New Jerusalem, and The Lord's New Church. Although those outside the church may refer to the movement as Swedenborgianism, some adherents distance themselves from this title (which implies following Swedenborg, rather than Jesus). Swedenborg published some of his theological works anonymously; his writings promoted one church based on love and charity, rather than multiple churches named after their founders and based on belief or doctrine.[5]

-- The New Church (Swedenborgian), by Wikipedia
Over 200 "World's Congresses" or "World's Parliaments" were held in conjunction with the World's Columbian Exposition (besides the Parliament of the World's Religions, there were also congresses of anthropology, labor, medicine, temperance, commerce and finance, literature, history, art, philosophy, and science). Bonney served as president of the combined World Congresses.
Bonney published several books in his lifetime, the most notable of which were his Handbook of the Law of Railway Carriers, Summary of the Law of Insurance, The World's Parliament of Religions, and The World's Congress Addresses.
Bonney took ill in 1900, and, after three years' sickness, died of paralysis on August 23, 1903 in Chicago. His daughter, Callie Bonney Marble, was an author and lyricist.
References
• Obituary in The New York Times
• Appletons Encyclopedia
External links
• Works by or about Charles C. Bonney at Internet Archive