Mary Esther Harding
by Wikipedia
Accessed: 8/16/19
NOTICE: THIS WORK MAY BE PROTECTED BY COPYRIGHT
YOU ARE REQUIRED TO READ

THE COPYRIGHT NOTICE AT THIS LINK

BEFORE YOU READ THE FOLLOWING WORK, THAT IS AVAILABLE SOLELY FOR PRIVATE STUDY, SCHOLARSHIP OR RESEARCH PURSUANT TO 17 U.S.C. SECTION 107 AND 108. IN THE EVENT THAT THE LIBRARY DETERMINES THAT UNLAWFUL COPYING OF THIS WORK HAS OCCURRED, THE LIBRARY HAS THE RIGHT TO BLOCK THE I.P. ADDRESS AT WHICH THE UNLAWFUL COPYING APPEARED TO HAVE OCCURRED. THANK YOU FOR RESPECTING THE RIGHTS OF COPYRIGHT OWNERS.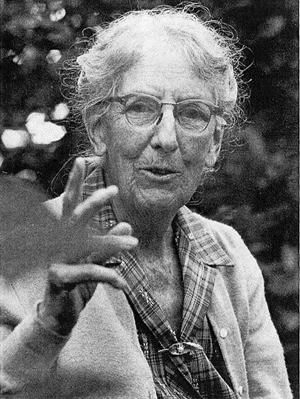 Mary Esther Harding (1888–1971) was a British-American Jungian analyst who was the first significant Jungian psychoanalyst in the United States.
Personal life
Mary Esther Harding was born in Shropshire, England as the fourth of six daughters of a dental surgeon. She was an avid reader and was home schooled until the age of eleven. Pursuing her goal of becoming a missionary doctor, she attended the London School of Medicine for Women, where she graduated in 1914 in a class of nine students. She was then an intern at the Royal Infirmary in London, the first hospital in London to accept women interns. At that time she wrote her first book, The Circulatory Failure of Diphtheria and later herself contracted the disease. After her recovery a friend named Constance Long gave her Beatrice Hinkle's translation of Psychology of the Unconscious by Carl Gustav Jung, which led her to move to Switzerland and enter analysis with him, along with a small group of other students attending Jung's Küsnacht home near Zurich.
Psychoanalyst
In 1919, Eleanor Bertine and Kristine Mann traveled to Zurich following an International Conference of Medical Women. Eleanor Bertine and Esther Harding developed a close relationship there and, in 1924, decided to relocate to New York City. Each year they would travel to Zurich for two months of analysis and spend summers at Bailey Island, Maine, the ancestral summer home of Kristine Mann. There they saw analysands from the United States and Canada in a quiet, comfortable setting away from the distractions of daily life and conducive to profound experiences of the unconscious.
Jungian Community
Mary Esther Harding became influential in the New York City Jungian Analytical psychology community. She was a prodigious writer and a frequent lecturer in the United States and Canada. Her first book on analytical psychology, entitled The Way of All Women, was an instant-best seller and has been translated into many languages and introduced many people to Jung's psychology. Harding wrote many other well-known books, including: Psychic Energy, Women's Mysteries, The Parental Image, and The I and not I, along with numerous papers on a variety of subjects from depression to religion.
Harding helped to found many Jungian organizations, such as the Analytical Psychology Club of New York in 1936, the Medical Society for Analytical Psychology - Eastern Division in 1946, and the C.G. Jung Foundation for Analytical Psychology in 1963. She died in 1971.
Books by Mary Esther Harding
• M. Esther Harding, The Circulatory Failure of Diphtheria: A thesis for the degree of Doctor of Medicine in the University of London, University of London Press, 1920, ASIN B00087EDZI
• M. Esther Harding, Woman's Mysteries. Ancient and modern: A psychological interpretation of the feminine principle as portrayed in myth, story, and dreams(London: Longmans, Green 1936; rev'd ed., New York: Pantheon 1955), ASIN B0006AU8SI
• M. Esther Harding, The Way of All Women, Putnam Publishing, (New York: 1970 ISBN 1-57062-627-8
• M. Esther Harding, Psychic Energy, its source and goal, New York, Pantheon, 1947, Bollingen Series No. 10, ASIN B00005XR4E
• M. Esther Harding, Psychic Energy: Its Source and Its Transformation, foreword by C.G. Jung, 1963, Paper 0-691-01790-5
• M. Esther Harding, The Parental Image;: Its injury and reconstruction; a study in analytical psychology, Published by Putnam for the C. G. Jung Foundation for Analytical Psychology (1965), ASIN B0006BMVIM
• Mary Esther Harding, The I and the Not-I, Bollingen: 1 January 1974, ISBN 0-691-01796-4
• Esther M. Harding, The Value and Meaning of Depression, Analytical Psychology Club, June, 1985, ISBN 0-318-04660-1
• M. Esther Harding, A short review of Dr. Jung's article Redemption ideas in alchemy, ASIN B0008C5SP2
• M. Esther Harding, The mother archetype and its functioning in life, Analytical Psychology Club of New York City, 1939, ASIN B00089E47S
• M. Esther Harding, Afterthoughts on The Pilgrim, Analytical Psychology Club of New York, 1957, ASIN B0006RJAD0
• M. Esther Harding, Inward Journey, Sigo; 2nd edition, October, 1991, ISBN 0-938434-61-6
• M. Esther Harding, Way of All Women: a Psychological Interpretation, HarperCollins, 1 January 1975, ISBN 0-609-03996-2
• M. Esther Harding, Journey Into Self, Longman Green & Co., 1956
• M. Esther Harding, Woman's Mysteries: Ancient & Modern, Longmans Green & Co., 1935
• M. Esther Harding, The Way of All Women, Longman Green & Co., 1933
References
• Thomas B Kirsch, The Jungians, Routledge 1 Jan 2000, ISBN 0-415-15861-3
• Ronald Hayman, A Life of Jung, W. W. Norton & Company, 1 June 2002, ISBN 0-393-32322-6
Further reading
Anthony, M. (1990). The Valkyries: The Women around Jung. Shaftesbury, Dorset: Element Books