Elisabeth Rotten (1882-1964): A frantic activist of the humanitarian and educational cause and citizen of the world
by Martine Ruchat
Published on 09/04/2018
NOTICE: THIS WORK MAY BE PROTECTED BY COPYRIGHT
YOU ARE REQUIRED TO READ

THE COPYRIGHT NOTICE AT THIS LINK

BEFORE YOU READ THE FOLLOWING WORK, THAT IS AVAILABLE SOLELY FOR PRIVATE STUDY, SCHOLARSHIP OR RESEARCH PURSUANT TO 17 U.S.C. SECTION 107 AND 108. IN THE EVENT THAT THE LIBRARY DETERMINES THAT UNLAWFUL COPYING OF THIS WORK HAS OCCURRED, THE LIBRARY HAS THE RIGHT TO BLOCK THE I.P. ADDRESS AT WHICH THE UNLAWFUL COPYING APPEARED TO HAVE OCCURRED. THANK YOU FOR RESPECTING THE RIGHTS OF COPYRIGHT OWNERS.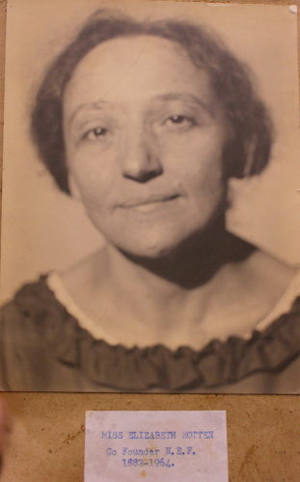 For his 70th birthday, in 1952, Walter Robert Corti wrote an article in the Neue Zürcher Zeitung of February 15th for the birthday of Elisabeth Rotten, describing
this meeting which brings together the faithful of the "educational province"
- a nod to Goethe and his book The Life of Wilhelm Meister -
ie: John Dewey, Maria Montessori, Martin Buber, Adolphe Ferriere and Bernard Drzewieski.
At first, he wears a fighter, a courageous, who holds the "torch of this pedagogy", but also a modest, tender and fragile soul of this "citizen of freedom and freedom". mind. It is therefore necessary to explain his progress, his covenants, his support (and they are very present that day), his sorrows as well. Through her correspondence, she is also an active woman or even an activist who reveals herself, great letter-writer who does not spend a day without writing letters if not articles (early morning until past midnight) at the risk of disturbing her sleep as she often tells her friend Corti. In a letter of August 30, 1946 to Corti she speaks of her as being hektisch, a word that could be translated as hectic, over-excited, frantic or feverish.
Elisabeth Friederike was born February 15, 1882 in Berlin of Swiss and Protestant parents. His father is an engineer. Their house is open to Swiss students in difficulty. She went to school in this city. Then she undertakes studies in German, philosophy and modern languages ​​(she speaks perfect German, French and English: her correspondence attests!). During her training she has the opportunity to hear lectures by two great German pedagogues: Hermann Lietz and Gustav Wynecken. She also studied in Heidelberg, Montpellier and Marburg, where she defended her doctoral thesis in philosophy on Goethe's archetypes and the Platonic idea, and in 1913 she went on to teach at the University of Cambridge, which is already a prestigious university.
Explodes the First World War; She then settled in Switzerland in Saanen, in the Bernese Pre-Alps, from where she wrote a large part of her correspondence.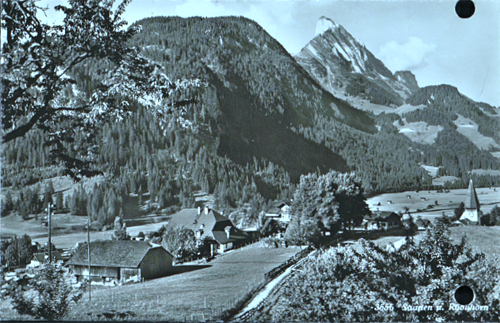 She works with the Swiss Red Cross in the prisoner of war agency set up by Dr. Frédéric Ferrière to help prisoners of war, before returning to Berlin and managing the Office for Relief for "Alien enemies" (Office relief for "foreign enemies") set up by the International Committee of the Red Cross (ICRC). There, she devoted herself to assisting German prisoners of war and founded, with Professor Friedrich Siegmund-Schultze, the Office of Assistance and Information to expatriate Germans and foreigners in Germany. In 1915, she participated in The Hague in the creation of the Women's International League for Peace and Freedom (the Women's International League for Peace and Freedom). Also in 1915, she attended the International Women's Congress in The Hague and collaborated on the founding of the Women's International League for Peace and Freedom.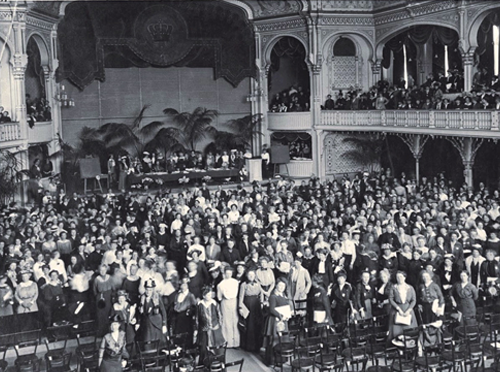 Congress of the Women's International League for Peace and Freedom in The Hague in 1915
She keeps contacts with this association by participating in several of its congresses, notably in 1919 in Zurich.
That year she co-founded (notably with Albert Einstein) an important German pacifist organization, the Bund Neues Vaterland, which later became the German League for Human Rights (Deutsche Liga für Menschenrechte). She took over the management of the small monthly magazine Der Neue Bund "to help out", as she wrote to Corti from her house in Saanen on December 5, 1944
. She took part, after the first world war, in international aid. Quakers as a young Swiss girl from abroad.
In 1919, she was in Geneva for the International Conference on Education giving a lecture on "The Essays of a New Education in Germany", which caused a sensation.
That same year she became a member of the presidium of the German League for the League of Nations (Deutsche Liga für Völkerbund) until 1933, a pacifist association that advocated for the project of a future League of Nations.
She collaborated closely with the Society of Friends, the Quakers, from 1919 to 1923, in a large Quakerspeisung (Quakerspeisung) program in Central Europe.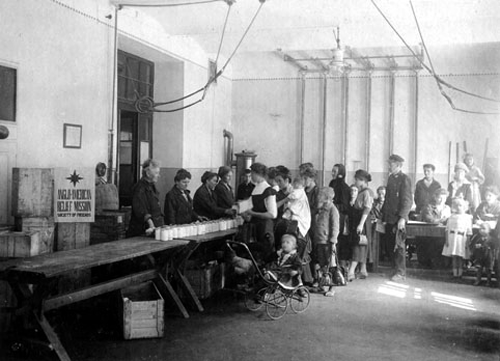 "Quakerspeisung" (Quaker feedings) Food Relief Program, after the first war, especially for children
She joined society in 1930: she became Quaker. She participates in Hans Wehberg's review, Friedenswarte, giving her the benefit, writes Corti again in her 1952 article, of
her "amazing ability as a translator".
In this pacifist and social spirit, Elisabeth Rotten engages in the post-war educational movements aiming at a renewal of education, notably in the Bund entschiedener Schulreformer (Union of Radical School Reformers) movement. It will work until 1933 to several attempts of educational reforms in Germany. In 1920, she was editor of the militant journal for reform, Internationale Erziehungs-Rundschau. She also directed the Deutschen Liga für Völkerbund until 1921, as well as the International Journal of Education of the 1920s and 1921s.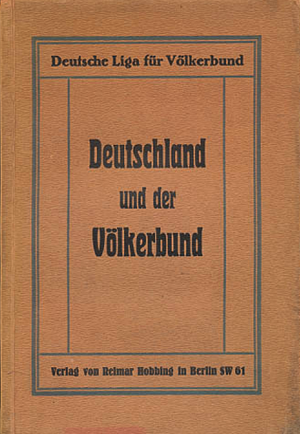 She thus meets many great figures of the pedagogy with which she initiates epistolary exchanges provided. She is a friend of Carleton Washburne. In 1921, she founded, at the first congress of the new education in Calais in 1921, with
Adolphe Ferrière
,
Beatrice Ensor
,
John Dewey
,
Maria Montessori
and
Alexander Sutherland Neill
to name only them, the International League for Education New, of which she will be vice-president until 1949, which brings together progressive educators and pedagogues.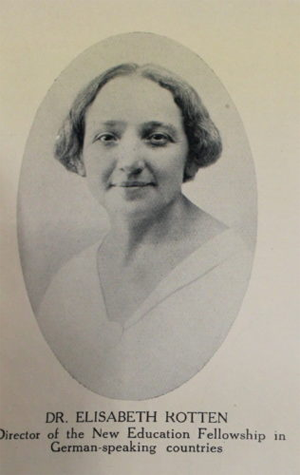 She is founder and editor of the German version of the magazine For the New Era, Das werdende Zeitalter, and English, The New Era, with Ensor and Neil.
In 1924, she participated in the creation of
the International School of Geneva
and the following year of the
International Bureau of Education (BIE)
with
Adolphe Ferrière
,
Édouard Claparède
and
Pierre Bovet
in particular. She will be the first assistant director with Adolphe Ferrière. She established contacts with several women involved in pacifist and childhood causes, including
Marie Butts, secretary general of the BIE, also a member of the Society of Friends (Quakers)
. It is logically at the center of the group photo of the seventh international conference of the International League for New Education (or New Education Fellowship) in 1936 that she appears alongside Ferrière:

And in 1937, she founded the Swiss Montessori Association with Jean Piaget; she was vice-president until her death in 1964. She said she was "Montessorian". It is impossible to name all the names of the "greatest of the time" with which she was linked, notes Corti again in her article of 1952. She is the author of many articles and books.
In 1934, from Berlin, she returned to settle in Saanen, from where she pursued all her militant engagements (feminist, pacifist, pedagogical) by giving lectures (especially on the pacifist dimension of education), writing articles and abundant correspondence with certain personalities and organizations. Many of his letters are real action programs, numbered point by point and with strong color underlining.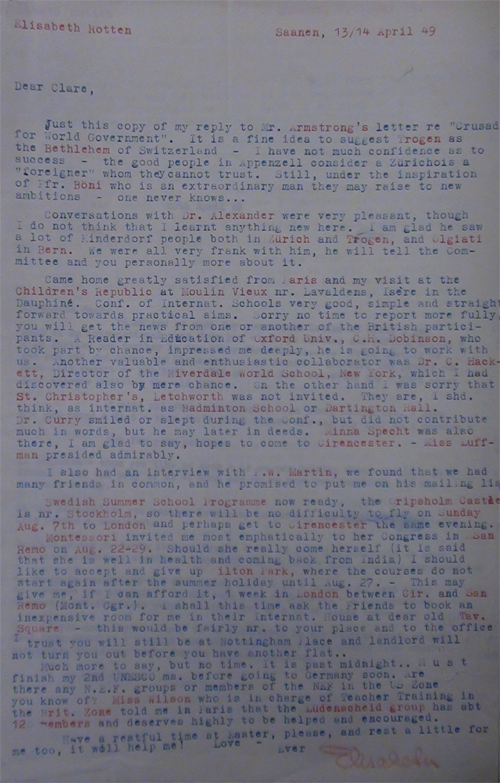 In December 1944, by a letter to Corti, she proposes to enter this adventure of the creation of the Village Pestalozzi occupying there very quickly an essential place, not only of promoter and publicist, but also of support to the one who will become her Great friend: Walter Robert Corti. But also with Marie Meierhofer.
In 1947, she was found at 60, a teacher at the High School of Education in Berlin and in 1948, delegate of the Swiss Don for Victims of War for Germany from the office for cultural exchange of the "Swiss Don". From this place, she particularly looks after the children's communities that are sponsored by the Swiss Don: Children's village Pax; Gaudiopolis; Otwock and Ziros in Greece. In April 1948, in a letter to Bernard Drzewieski of Unesco, she wrote the list of communities in the perspective of the conference (list found in the archives of Adolphe Ferrière at the Fondation Archives J.-J. Rousseau Foundation in Geneva). She took part in the Trogen Conferences of July 1948 and promoted the headquarters of FICE, of which she was briefly secretary. In 1950 with Marie Meierhofer and Walter Corti, they initiate the national committee of the FICE.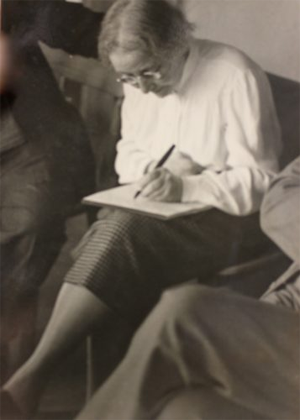 Elisabeth Rotten taking notes during the Children's Village Directors Conference in Trogen in July 1948
She will continue to present the children's village Pestalozzi in articles, conferences and participate by a greedy correspondence to all developments in its history, until his death.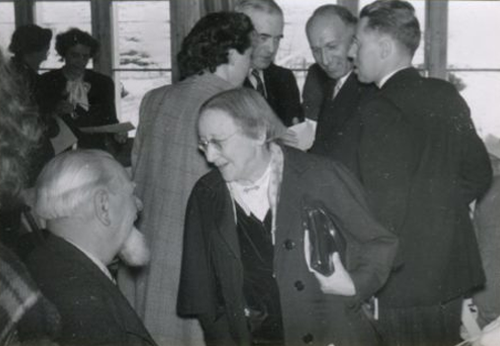 Elisabeth Rotten's visit to Trogen in the 1950s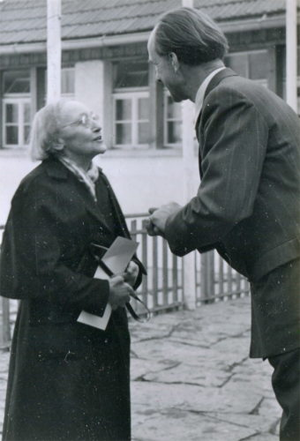 Elisabeth Rotten's visit to Trogen in the 1950s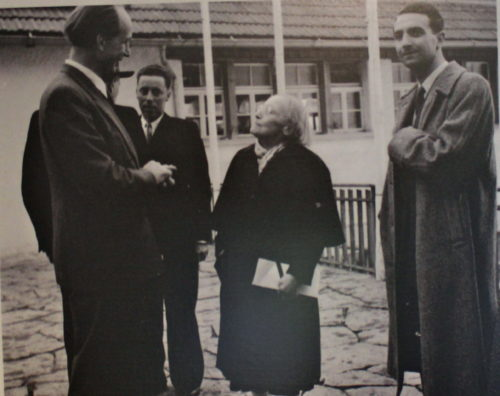 Elisabeth Rotten's visit to Trogen in the 1950s
Upon the resignation of Corti from the Presidency of the Pestalozzi Village Association, and the creation of the Pestalozzi Village Foundation headed by Walter Stampfli, Corti in his address (transcribed in the 1950 annual report) will say about Elisabeth Rotten "The happiness of having met her is one of the most precious favors that life has bestowed on me. She has become, in my advanced days, my greatest master. How good it was to be able to preside over a circle of friends so admirable! ".
She died in London on May 2, 1964 at the age of 82. She is buried in Saanen.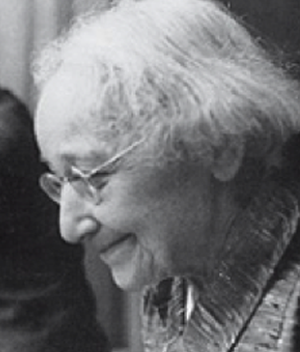 _______________
Sources
[1]
Manuscript, Zentralbibliothek, Zurich
Nachl. Rotten 4.1.1
Nachlass Elisabeth Rotten (im Walter Nachlass Robert Corti) 15.2.1882 - 2.5.1964
Fondation Archives J.-J. Rousseau Foundation
Corti, WR Elisabeth Rotten siebzigjährig, Neue Zurcher Zeitung 15 February 1952 AdF / C / 1/17
IOE Archives, London
WEF / A / II / 64 Elisabeth Rotten, 1928, 1949-1964
Bibliography
Annual report Pestalozzi Children's Village , 1950
Haenggeli-Jenni, Béatrice, "The International League for New Education: a militant network at the crossroads of pacifist and feminist networks of the inter-war period (1920-1940)", in Carole Carribon , Dominique Picco e al ., Networks of women, women in networks (XVI-XXI century) , Bordeaux University Press, 2017, p. 295-314
Haenggeli-Jenni, Beatrice, For the New Era: a journal-crossroads between science and activist (1922-1940) . Doctoral Thesis: Univ. Geneva, 2011.
Site
Elisabeth Friederike Rotten, Historical Dictionary of Switzerland.
http://www.pestalozzi.ch/fr/qui-sommes- ... th-rotten/
[1] Articles and letters in German have been freely translated by Bernard Walter (Orient, Vaud, Switzerland).