Paschal Beverly Randolph
by Wikipedia
Accessed: 9/2/19
NOTICE: THIS WORK MAY BE PROTECTED BY COPYRIGHT
YOU ARE REQUIRED TO READ

THE COPYRIGHT NOTICE AT THIS LINK

BEFORE YOU READ THE FOLLOWING WORK, THAT IS AVAILABLE SOLELY FOR PRIVATE STUDY, SCHOLARSHIP OR RESEARCH PURSUANT TO 17 U.S.C. SECTION 107 AND 108. IN THE EVENT THAT THE LIBRARY DETERMINES THAT UNLAWFUL COPYING OF THIS WORK HAS OCCURRED, THE LIBRARY HAS THE RIGHT TO BLOCK THE I.P. ADDRESS AT WHICH THE UNLAWFUL COPYING APPEARED TO HAVE OCCURRED. THANK YOU FOR RESPECTING THE RIGHTS OF COPYRIGHT OWNERS.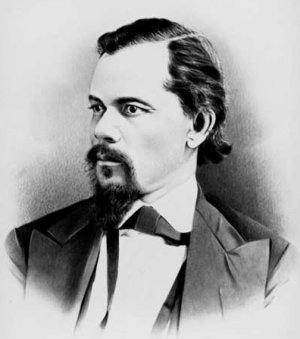 Paschal Beverly Randolph
Born October 8, 1825
New York City, New York, USA
Died July 29, 1875 (aged 49)
Toledo, Ohio, USA
Paschal Beverly Randolph (October 8, 1825 – July 29, 1875) was an African American medical doctor, occultist, spiritualist, trance medium, and writer. He is notable as perhaps
the first person to introduce the principles of erotic alchemy to North America, and, according to A. E. Waite, establishing the earliest known Rosicrucian order in the United States.
[1]
Early life
Born in New York City,[2] Randolph grew up in New York City. He was
a free man of mixed-race ancestry, a descendant of William Randolph.
William Randolph I (bapt. 7 November 1650 – 11 April 1711) was an American colonist, landowner, planter, merchant, and politician who played an important role in the history and government of the English colony of Virginia. He moved to Virginia sometime between 1669 and 1673, and married Mary Isham (ca. 1659 – 29 December 1735) a few years later.[1][2] His descendants include many prominent individuals including Thomas Jefferson, John Marshall, Paschal Beverly Randolph, Robert E. Lee,[3] Peyton Randolph, Edmund Randolph, John Randolph of Roanoke, George W. Randolph, and Edmund Ruffin. Genealogists have taken an interest in him for his progeny's many marital alliances, referring to him and Mary Isham as "the Adam and Eve of Virginia".

-- William Randolph, by Wikipedia
His father was a nephew of John Randolph of Roanoke
and his mother was Flora Beverly, whom he later described as being of mixed English, French, German, Native American and Malagasy ancestry.[3]
John Randolph (June 2, 1773 – May 24, 1833), known as John Randolph of Roanoke,[note 1] was a planter and a Congressman from Virginia, serving in the House of Representatives at various times between 1799 and 1833, and the Senate from 1825 to 1827. He was also Minister to Russia under Andrew Jackson in 1830. After serving as President Thomas Jefferson's spokesman in the House, he broke with the president in 1805 as a result of what he saw as the dilution of traditional Jeffersonian principles as well as perceived mistreatment during the impeachment of Samuel Chase, in which Randolph served as chief prosecutor.[1] Following this split, Randolph proclaimed himself the leader of the "Old Republicans" or "Tertium Quids", a wing of the Democratic-Republican Party[2] who wanted to restrict the role of the federal government. Specifically, Randolph promoted the Principles of '98, which said that individual states could judge the constitutionality of central government laws and decrees, and could refuse to enforce laws deemed unconstitutional.

A quick-thinking orator with a remarkable wit, he was committed to republicanism and advocated a commercial agrarian society throughout his three decades in Congress. Randolph's conservative stance, displayed in his arguments against debt and for the rights of the landed gentry, have been attributed to his ties to his family estate and the elitist values of his native Southside Virginia. His belief in the importance of a landed gentry led him to oppose the abolition of entail and primogeniture: "The old families of Virginia will form connections with low people, and sink into the mass of overseers' sons and daughters".[3] Randolph vehemently opposed the War of 1812 and the Missouri Compromise of 1820; he was active in debates about tariffs, manufacturing, and currency. With mixed feelings about slavery,

he was one of the founders of the American Colonization Society in 1816, to send free blacks to a colony in Africa. At the same time, he believed that slavery was a necessity in Virginia, saying, "The question of slavery, as it is called, is to us a question of life and death ... You will find no instance in history where two distinct races have occupied the soil except in the relation of master and slave."

[3] In addition, Randolph remained dependent on hundreds of slaves to work his tobacco plantation. However, he provided for their manumission and resettlement in the free state of Ohio in his will, providing monies for the purchase of land and supplies. They founded Rossville, now part of Piqua, Ohio and Rumley, Ohio.

Randolph was admired by the community and his supporters for his fiery character and was known as a man that was passionate about education and equality for all. He applied rousing electioneering methods, which he also enjoyed as a hobby. Randolph appealed directly to yeomen, using entertaining and enlightening oratory, sociability, and community of interest, particularly in agriculture. This resulted in an enduring voter attachment to him regardless of his personal deficiencies. His defense of limited government appeals to modern and contemporary conservatives, most notably Russell Kirk (1918–1994).

-- John Randolph of Roanoke, bu Wikipedia
His mother died when he was young, leaving him homeless and penniless; he ran away to sea in order to support himself. From his adolescence through to the age of twenty, he worked as a sailor.[2]
As a teen and young man, Randolph traveled widely, due to his work aboard sailing vessels.
He journeyed to England, through Europe, and as far east as Persia, where his interest in mysticism and the occult led him to study with local practitioners of folk magic and various religions. On these travels he also met and befriended occultists in England and Paris, France.
Career
Returning to New York City in September 1855, after "a long tour in Europe and Africa," he gave a public lecture to African Americans on the subject of emigrating to India.
Randolph believed that "the Negro is destined to extinction" in the United States.[4]
After leaving the sea, Randolph embarked upon a public career as a lecturer and writer.
By his mid-twenties, he regularly appeared on stage as a trance medium and advertised his services as a spiritual practitioner in magazines associated with Spiritualism.
Like many Spiritualists of his era, he lectured in favor of the abolition of slavery; after emancipation, he taught literacy to freed slaves in New Orleans.
In addition to his work as a trance medium, Randolph trained as a doctor of medicine and wrote and published both fictional and instructive books based on his theories of health, sexuality, Spiritualism and occultism. He wrote more than fifty works on magic and medicine, established an independent publishing company, and was an avid promoter of birth control during a time when it was largely against the law to mention this topic.

Having long used the pseudonym "The Rosicrucian" for his Spiritualist and occult writings, Randolph eventually founded the Fraternitas Rosae Crucis in 1858, and their first lodge in San Francisco in 1861, the oldest Rosicrucian organization in the United States, which dates back to the era of the American Civil War. This group, still in existence, today avoids mention of Randolph's interest in sex magic, but his magico-sexual theories and techniques formed the basis of much of the teachings of another occult fraternity, the Hermetic Brotherhood of Luxor, although it is not clear that Randolph himself was ever personally associated with the Brotherhood.[5]
Randolph was the principal of the Lloyd Garrison School in New Orleans when on October 14, 1865, he wrote to Garrison in Boston requesting assistance for his school.[6]
Belief and teaching
Randolph described himself as
a Rosicrucian
.[7] He had worked "largely alone", producing "his own synthesis" of "esoteric teachings".[7] The manner in which Randolph incorporated sex into his occult system was considered uncharacteristically bold for the period in which he lived.[7]
Pre-Adamism
Randolph was a believer in pre-Adamism (the belief that humans existed on earth before the biblical Adam) and wrote the book Pre-Adamite Man: demonstrating the existence of the human race upon the earth 100,000 thousand years ago! under the name of Griffin Lee in 1863. His book was a unique contribution towards pre-Adamism because it wasn't strictly based on biblical grounds. Randolph used a wide range of sources to write his book from many different world traditions, esoterica and ancient religions. Randolph traveled to many countries of the world where he wrote different parts of his book. In the book he claims that Adam was not the first man and that pre-Adamite men existed on all continents around the globe 35,000 years to 100,000 years ago. His book was different from many of the other writings from other pre-Adamite authors because in Randolph's book he claims the pre-Adamites were civilised men while other pre-Adamite authors argued that the pre-Adamites were beasts or hominids.[8]
Personal life
A peripatetic man, he lived in many places, including New York state, New Orleans, San Francisco, and Toledo, Ohio. He married twice: his first wife was African-American, his second wife was Irish-American.
Death
Randolph died in Toledo, Ohio, at the age of 49, under disputed circumstances. According to biographer Carl Edwin Lindgren, many questioned the newspaper article "By His Own Hand" that appeared in The Toledo Daily Blade. According to this article, Randolph had died from a self-inflicted wound to the head. However, many of his writings express his aversion to suicide.
R. Swinburne Clymer, a later Supreme Master of the Fraternitas, stated that years after Randolph's demise, in a death-bed confession, a former friend of Randolph had conceded that in a state of jealousy and temporary insanity, he had killed Randolph. Lucus County Probate Court records list the death as accidental. Randolph was succeeded as Supreme Grand Master of the Fraternitas, and in other titles, by his chosen successor Freeman B. Dowd.
Influence and legacy
Randolph influenced both the Theosophical Society and—to a greater degree—the Hermetic Brotherhood of Luxor.[7]
In 1994, the historian Joscelyn Godwin noted that Randolph had been largely neglected by historians of esotericism.[7] In 1996, a biography was published, Paschal Beverly Randolph: A Nineteenth-Century Black American Spiritualist, Rosicrucian, and Sex Magician by John Patrick Deveney and Franklin Rosemont.
Published works
• 1854 Waa-gu-Mah
• 1859 Lara
• 1860 The Grand Secret
• 1860 The Unveiling
• 1861 Dealings with the dead at the Internet Archive
• 1861 Human Love and Dealing with the Dead
• 1863 Pre-Adamite Man1
• 1863 The Wonderful Story of Ravalette
• 1863 The Rosicrucian Story
• 1866 A Sad Case; A Great Wrong!2
• 1867 "Clairvoyance, How to Produce It," Guide to Clairvoyance
• 1868 Seership! The Magnetic Mirror
• 1869 Love and Its Hidden History3
• 1870 Love and the Master Passion
• 1872 The Evils of the Tobacco Habit
• 1873 The New Mola! The Secret of Mediumship
• 1874 Love, Woman, and Marriage
• 1874 Eulis!: The History of Love at the Internet Archive
• 1875 The Book of the Triplicate Order
• Magia Sexualis: Sexual Practices for Magical Power (published posthumously)
Randolph also edited the Leader (Boston) and the Messenger of Light (New York) between 1852 and 1861 and wrote for the Journal of Progress and Spiritual Telegraph .[9]
It is also attributed to Randolph "Affectional Alchemy and How It Works" (c. 1870).
1 under the pseudonym "Griffin Lee".
2 as anonymous.
3 under the pseudonym "Count de St. Leon".
References
1. Greenfield, T. Allen (2000). Paschal Beverly Randolph: Sexual Magick in the 19th Century.
2. Godwin 1994, p. 248.
3. Deveney (1996), p. 378.
4. Daily Illinois State Register (Springfield, IL), September 20, 1855, p. 2.
5. Godwin et al., 1995.
6. The Liberator, November 10, 1865.
7. Godwin 1994, p. 247.
8. Paschal Beverly Randolph, Pre-Adamite Man: demonstrating the existence of the human race upon the earth 100,000 thousand years ago!, 1863.
9. Lindgren 1996
Bibliography
• Deveney, John Patrick and Franklin Rosemont (1996). Paschal Beverly Randolph: A Nineteenth-Century Black American Spiritualist, Rosicrucian, and Sex Magician. State University of New York Press. ISBN 0-7914-3120-7.
• Godwin, Jocelyn, Christian Chanel, and John Patrick Deveney (1995). The Hermetic Brotherhood of Luxor: Initiatic and Historical Documents of an Order of Practical Occultism. Samuel Weiser. ISBN 0-87728-825-9.
• Carl Edwin Lindgren (1996). "The Rose Cross in America." Spiritual Alchemists. New Orleans: Ars Latomorum Publications, pp. 27–32. Available online.
• Carl Edwin Lindgren, (1999). "Randolph, Paschal Beverly." American National Biography (biographical entry).
• Randolph, Paschal Beverly (1932). SOUL, The Soul World. Beverly Hall, Quakertown, PA: The Confederation of Initiates.
• "By His Own Hand." The Toledo Daily Blade, July 29, 1875, p. 3, col 3. This article states that he committed suicide.
• Paschal Beverly Randolph. Lucas County Probate Court Death Records 1:254, Randolph entry, Lucus County Probate Court, Toledo.
External links
• Biography at soul.org
• Works by Paschal Beverly Randolph at Project Gutenberg
• Works by or about Paschal Beverly Randolph at Internet Archive
• Carl Edwin Lindgren (1997). The History of the Rose Cross Order, Chapter III ("The Rose Cross In America, 1800–1909").