Ven. Namgyal Rinpoche [Venerable Ananda Bodhi/Leslie George Dawson]
Dharma Centre of Winnipeg
Accessed: 9/7/19
https://dharmawpg.com/lineage/
NOTICE: THIS WORK MAY BE PROTECTED BY COPYRIGHT
YOU ARE REQUIRED TO READ

THE COPYRIGHT NOTICE AT THIS LINK

BEFORE YOU READ THE FOLLOWING WORK, THAT IS AVAILABLE SOLELY FOR PRIVATE STUDY, SCHOLARSHIP OR RESEARCH PURSUANT TO 17 U.S.C. SECTION 107 AND 108. IN THE EVENT THAT THE LIBRARY DETERMINES THAT UNLAWFUL COPYING OF THIS WORK HAS OCCURRED, THE LIBRARY HAS THE RIGHT TO BLOCK THE I.P. ADDRESS AT WHICH THE UNLAWFUL COPYING APPEARED TO HAVE OCCURRED. THANK YOU FOR RESPECTING THE RIGHTS OF COPYRIGHT OWNERS.
With the great help and inspiration of Esme Cramer Roberts, the first edition of Born in Tibet was published in 1966. Nevertheless, there was as yet no situation in which I could begin to make a full and proper presentation of the teachings of Buddhism. This now began to change.

Ananda Bodhi, senior incumbent of the English Sangha Vihara

and founder of a Buddhist contemplative centre in Scotland called Johnstone House, proposed turning the direction of the House over to myself and Akong. At once the fresh air and beautiful rolling hills of Dumfriesshire invigorated me and filled me with joyous expectation. After a series of further visits, Johnstone House was finally turned over to us and we moved in, giving it the name of Samye-Ling Meditation Centre.

-- Epilogue: Planting the Dharma in the West, from "Born in Tibet," "by" Chogyam Trungpa
Chapter Thirteen: Enter the Special Branch

One afternoon early in February I received a visit from the Special Branch. The visit was not unexpected, it being the result of a telephone call I had received that morning from Christmas Humphreys. The Branch wanted to talk to someone in the Buddhist movement about Ananda Bodhi, and he had suggested they should talk to me, as the person most likely to be able to help them with any enquiries. Would I be willing to see one of their people and tell him what I knew about Ananda Bodhi and his activities? As it seemed I did not really have much choice in the matter I agreed, and thus it was that Detective-Inspector Ginn came to be sitting in my room at the Hampstead Buddhist Vihara that February afternoon.

In the event I learned much more about Ananda Bodhi from him than he, so far as I could tell, learned about the Canadian monk from me. He was in fact extremely communicative, even chatty, possibly in order to encourage communicativeness on my part. Ananda Bodhi had recently been in Scotland, so my visitor informed me, and while there he had given a talk to a Buddhist group. (Whether or not this was the group that met at Johnstone House, the newly acquired mansion in Dumfriesshire, was unclear.) In the course of this talk he had spoken in such a way as to convince at least one member of the group, herself a Buddhist, that he was not a Buddhist monk at all but a Communist who, under the cloak of Buddhism, was engaged in propagating the gospel according to Marx and Lenin. Horrified, she had written to the Special Branch denouncing him and demanding an investigation.

On their looking into the matter, Detective-Inspector Ginn continued, they had made the interesting discovery that Bhikkhu Ananda Bodhi was none other than their old friend Leslie Dawson, of whom they had lost track four or five years earlier when he suddenly disappeared. Now he was again under surveillance, it seemed, for Ginn added that according to reports they had received he did not behave like a Buddhist monk.

What exactly this meant I thought it best not to enquire. Except for his disregard of monastic etiquette, I had witnessed no un-bhikkhu-like behaviour on his part, nor had I ever heard him talk in a way that suggested he might be at heart a Communist. But then, I had seen very little of him, and he had shown no sign of wanting to take me into his confidence even to a small extent.

There was only one circumstance that could be regarded as being at all suspicious. This, as I explained to my visitor, was the fact that he and two of his staunchest supporters, a youngish married couple based in the West Country, had first met in Moscow, when the three of them were attending an international Communist students conference.

A few days later Mangalo told me that the previous evening while I was away at the Buddhist Society taking a meditation class, Ananda Bodhi had been to see him. In the course of the visit he had declared, in his usual dramatic fashion, that he was now trying to tear people away from Buddhism as it was too stultifying. How seriously were these words to be taken? Neither Mangalo nor I really knew, but if Ananda Bodhi had been indulging in that kind of talk in Scotland, and perhaps also giving expression to left-wing political views, it was not surprising that people should have started doubting his bona fides as a Buddhist monk or have even become convinced, in the case of at least one person, that he was not a Buddhist monk at all but a crypto-Communist.

Though I found it difficult to believe that the brash, controversial Canadian monk was truly a Buddhist (as distinct from being simply the purveyor of a mixture of insight meditation and psychotherapy), I found it no less difficult to believe that he was a paid-up member of the Communist Party who had become a Buddhist monk in order to propagate the gospel according to Marx and Lenin under the cloak of Buddhism. The fact that he had first met two of his staunchest supporters in Moscow, at an international students conference, did not really amount to much. Many young people went through a vaguely idealistic, left-wing phase, and Ananda Bodhi, in his days as Leslie Dawson, may well have been one of these. At the same time,

I could not ignore the fact that this troubled world of ours, halfway through the sixties, was still in the grip of the Cold War, with the Soviet Union and Eastern Europe ranged on one side of the great ideological divide and the United States and Western Europe on the other. Three years earlier the Cuban missile crisis had brought the world to the brink of nuclear war, but although Khrushchev had drawn back at the last minute the Soviet Union had not yet awoken from its dream of a world dominated by totalitarian Communism. As I knew from my own experience in India, its strategy included such activities as subsidizing fellow-travellers, setting up front organizations, and infiltrating cultural bodies (not to mention government departments, trade unions, and the media), and it was not inconceivable that the British Buddhist movement, tiny as it was, had been thought worthy of the KGBs attentions. The Indian Buddhist movement had certainly been infiltrated, as had a section of the Theravãdin monastic order in Ceylon. I could not, therefore, altogether rule out the possibility that Ananda Bodhi was in fact a crypto-Communist, or, at the very least, more of a Communist than a Buddhist.

-- Moving Against the Stream: The Birth of a new Buddhist Movement, by Sangharakshita [Dennis Lingwood]
In earlier pages it was demonstrated that in November 1939 U-33 undertook a circuitous route from Tory Island (known historical fact) to Carradale Bay where it landed men (historical fact uncovered). From there U-33 travelled northeast to the Cloch-Dunoon defence boom and passed briefly and audaciously into the heavily populated Clyde Anchorage in the light of a three-quarter moon.

Twelve weeks later between the 8th and 10th of February, U-37 landed Abwehr spy Ernst Weber-Drohl and an unknown accomplice at Killala Bay in Donegal. On the 10th U-33 was in Scottish waters approaching the Mull of Kintyre. Recalling the covert aspects of U-33's activities identified in this present work and the relative proximity of the two submarines, the likelihood that the operational objectives of U-37 and U-33 shared common purpose must be seriously addressed.

Buddhist monks first established a retreat in Scotland in late 1961. The Venerable Kyabje Namgyal Rinpoche Anandabodhi (Canadian Leslie George Dawson 1931-2003) founded at Eskdalemuir in Dumfriesshire the Johnstone House Contemplative Community of the Theravadin branch of Buddhism (literally, the "Ancient Teaching," the oldest surviving Buddhist school).

Interestingly, before embracing Buddhism Dawson, a friend of Anna Freud, Julian Huxley and R.D. Laing, envisaged a life in socialist politics. Disillusioned after addressing an international youth conference in Moscow, Dawson moved from the USA to London in 1956 and embraced the esoteric teachings of Rosicrucianism and, later, the works of renowned Russian mystic and founder of Theosophy Helena Petrovna Blavatsky.

It was not long before Anandabodhi's Theravada community dwindled. In 1965 he transferred ownership of the Eskdalemuir site to two Tibetan refugees (Dr. Akong Tulku Rinpoche and Chogyam Trungpa Rinpoche) who renamed it Samye Ling. Anandabodhi returned to Canada where with the help of his senior students he established the Centennial Lodge of the Theosophical Society.

Today Samye Ling is a monastery and international centre of Buddhist training, renowned for the authenticity of its teachings and tradition. It offers instruction in Buddhist philosophy and meditation within the Karma Kagyu lineage of Tibetan Buddhism.

It is evident that the excellent reputation of Samye Ling went before it because in 1990 the then owners of Holy Island [The Holy Island or Holy Isle is an island in the Firth of Clyde, off the west coast of central Scotland, inside Lamlash Bay on the larger Isle of Arran. The island is around 3 kilometres (1 7⁄8 mi) long and around 1 kilometre (5⁄8 mi) wide. Its highest point is the hill Mullach Mòr.], James and Catherine Morris, offered it to Lama Yeshe because they believed its future would be best taken care of by "the Buddhists from Samye Ling." The 1 million pound asking price was eventually dropped to 350,000 pounds, which Lama Yeshe managed to raise by April 1992. The Holy Island project was then established, broadening Tibetan Buddhism's community of faith in Scotland. Interestingly, the ownership of Arran resided with the ducal Hamilton family for about five hundred years up into the twentieth century.

In past times Arran was called Emain Ablach, which translates literally as "the place of apples." Another translation of Arran is "the sleeping lord." Many readers will recognise in these two descriptions unmistakeable references to the legend of Arthur who today resides in timeless slumber upon the Enchanted Isle of Avalon (Isle of Apples), awaiting re-awakenment in Britain's darkest house.

Medieval language scholar and Grailseeker Otto Rahn, visitor to Scotland (Arthur's Seat in Edinburgh) both in 1936 and, it is speculated, in late 1939-early 1940 in U-33 (months after Rahn's reported suicide), wrote extensively about Arthurian imagery, drawing on Rosicrucian and other skeins of philosophical symbolism in support of his brilliant insights into European history and its metaphysical traditions. (Rahn also used to practise Tibetan exercises in telepathy in Berlin's busy streets with his friend Gabriele Dechend. Standartenvuhrer-SS Dr. Ernest Schafer, leader of SS expeditions to Tibet made on behalf of Reichsfuhrer-[PAGE MISSING]

encompasses an area associated with pagan worship.

Johnstone is the home of Saint John's Parish Church. Saint John is an important saint for both Freemasons and the Knights Templar. Johnstone lies on almost exactly the same latitude of Roslin, home of Rosslyn Chapel. Roslin lies at 55 51.15 and Johnstone, significantly, is located at the sacred number 55 50. The line between these two latitudes was known as the "serpent rouge" or Roseline, an ancient meridian once used for telling the time.

Paisley Abbey also lies on this sacred latitude and Hugo de Pavinan appears as a witness in the abbey's foundation charter. Notably, Tibetan Tantric Buddhists today declare that Rosslyn Chapel, a Christian edifice known as the Grail in Stone and an important node in a powerful pan-global earth energy grid system, is a centre for world peace.

In Hellboy the choice of location in Scotland for the Nazis' occult activities is determined largely by the confluence of a network of powerful ley lines. Hellboy is the creation of writer-artist Mike Mignola. The comics started appearing in 1993 and it was not until 2004 that Director Guillermo del Toro's first highly successful film adaption appeared.

The story begins in the final months of World War II. A party of fanatical Nazis come to the ruins of fictional 'Trondhem Abbey' on the equally fictional Tarmagant Island.

The U-boat that surely brought the part of Nazi occultists to the island is neither seen nor referred to but, then again, neither did the official eyeglass of history observe U-33 landing men at the Isle of Islay and at Carradale.

The Nazi personnel have come to Trondhem Abbey to conduct a black magic ceremony to wake the Gods of Chaos and win the war. A U.S. army contingent raids the proceedings but not before a demon, subsequently nicknamed Hellboy by paranormal expert Trevor "Broom" Bruttenholm (Dr. Broom), comes into this world through an open portal to Hell.

Dr. Broom recognizes amongst the sorcerers the fearsome figure of arch-Nazi, Karl Rupert Kronen, SS officer, fictional head of the Thule occult society and Hitler's number one assassin. Kronen is directing operations. The date in 9 October 1944, time 01:00 hours.

It is evident that those who developed the film's storyline had a detailed knowledge of astrological symbology because at this precise hour and date there had just been a partial eclipse of the moon. The Sun, Mercury and Mars were all in the sign of Libra, an auspicious time for rituals, particularly those involving time manipulation. The moon is in its exalted position in Cancer, corresponding to the 16th degree. The imagery in the astrological Sabian Symbols3 for the sixteenth degree is a man studying a mandala with the help of a very ancient book, which is precisely the sight that greets the army team when they burst into the Abbey grounds.

There before them is the terrifying figure of Grigori Rasputin, dead since 1916 but impossibly alive, clutching the Des Vermis Mysteriis, a Black Magic Grimoire. He is uttering powerful incantations, which are keeping open a gateway to Hell for access to the sleeping Seven Gods of Chaos (strong echoes of Dagger Magic in this imagery). The portal is represented as a mandala-like swirling pattern of electrical energy.

A pitched battle ensues in which Rasputin is propelled headlong into the portal and the Nazis are overcome. Kronen makes his escape (to make his next appearance in Hellboy III).

While making his way to the Abbey Dr. Broom had told the American soldiers that the location was an intersection of a number of ley lines. It is evident that this explicit mention of the island's powerful geomantic properties is designed to indicate to film viewers that Rasputin's magical ceremony is at least being partly assisted by the violent flux of earth energies active in and around the Abbey ruins.

-- The Mystery of U-33: Hitler's Secret Envoy, by Nigel Graddon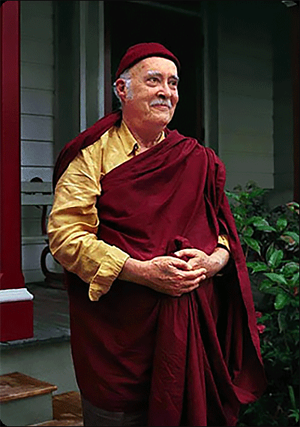 Karma Tensing Dorje Namgyal Rinpoche was born
Leslie George Dawson in Toronto, Canada, on October 11, 1931
to middle-class parents [Irish-Scottish descent]. His mother was a nurse and
his father was a policeman and Freemason
. He attended Norway Public School and Malvern Collegiate, where he studied music appreciation with Glenn Gould as a classmate and worked summers at the Connaught Medical Research Laboratories. After graduating from high school he spent a few months at Jarvis Baptist Seminary and then went on to
major in Philosophy and Psychology at the University of Michigan, Ann Arbour
.
For a time he became involved as a left-wing political activist, ultimately travelling to Russia where he addressed an international youth conference in Moscow
. His experiences there resulted in a fundamental disillusionment with politics, and
in 1956 he moved to England
, where straightened circumstances shortly resulted in his contracting tuberculosis. In London
he became interested in Theosophy and afterward in Theravada Buddhist practice
. Eventually he decided to 'go forth' into the life of a homeless monastic.
At the Buddhist Vihara in London in April, 1958, he met the Burmese Sayadaw U Thila Wunta and requested ordination.
The Venerable Sayadaw suggested that they meet at Bodhgaya in India, where, on October 28, Leslie Dawson was ordained as a novice monk, taking the name Ananda. From there they returned to Burma where he received full ordination as Bhikkhu Ananda Bodhi at the Shwe Dagon Pagoda in Rangoon on December 21, 1958. He began an extended period of intensive meditation practice, during which he studied for periods in Sri Lanka and at Wat Paknam and Wat Mahadat (with Chao Khun Phra Rajasiddhimuni) in Thailand, as well as with Sayadaw U Thila Wunta and Venerable
Mahasi Sayadaw in Rangoon
. He was ultimately given the title Samatha-Vipassana-Kammatthana-Acariya (master of both tranquility and insight meditation) in recognition of his attainments.
Venerable Ananda Bodhi returned to England in the Fall of 1961, at the invitation of the English Sangha Trust, becoming the Resident Teacher of the Camden Town Vihara. He was a special guest speaker at the Fifth International Congress of Psychotherapists in London, where he met Julian Huxley, Anna Freud and R.D.Laing, among others. For the next three years he taught extensively throughout the UK, founding the Hampstead Buddhist Vihara in London and the Johnstone House Contemplative Community—a retreat centre in southern Scotland. During this period he also joined a Masonic lodge. In 1965, when he decided to move to Toronto with two of his British students, Johnstone House was entrusted to Venerable Chogyam Trungpa Rinpoche and Akong Tulku, becoming Kagyu Samye Ling—the first Vajrayana centre to be established in the West.
Chogyam Trungpa in Scottish kilt
The following year Ananda Bodhi and his students founded the Dharma Centre of Canada and purchased a 400-acre forest property near Kinmount, Ontario for a retreat centre.
In 1967 he founded the Centennial Lodge of the Theosophical Society.
After a couple of years spent teaching mostly in Toronto and at the Dharma Centre, 'The Bhikkhu' (as he had become known) initiated an extended period of nearly continuous travel, taking students all over the world. It was on one of these trips,
in Sikkim in 1968, that he met and was subsequently recognized by His Holiness the XVIth Gyalwa Karmapa (head of the Karma Kagyu school of Tibetan Vajrayana Buddhism) as an incarnation of the Namgyal Tulku—the first Westerner to be so acknowledged.
His formal enthronement as Karma Tensing Dorje Namgyal Rinpoche was performed by Venerable Karma Thinley Rinpoche in the spring of 1972.
Over the next few years Rinpoche received teachings and empowerments from many accomplished lamas—including HH Sakya Trizin, HH Dudjom Rinpoche, HE Chogye Trichen Rinpoche, Venerable Kalu Rinpoche, and Venerable Ling Rinpoche, as well as HH the XVIth Karmapa—and he was instrumental in arranging the latter's first North American visit in 1974.
He continued to teach and travel widely throughout the world, and for a number of years in the 70s and 80s he took numerous small groups of students on months-long voyages on passenger freighters. Later, he introduced many to the joys of dive charters, polar expeditions and excursions up the Amazon, as well as to gourmet cooking,
Teilhard de Chardin and Krishnamurti, Mahler's music and Rilke's poetry
, the painting of Mondrian…and so much more.
In his journeys Rinpoche frequently visited the many centres established by his students in Canada, the United States, Guatemala, England, Ireland, France, Germany, Switzerland, Japan, New Zealand and Australia. His love of travel and more than forty years of teaching inevitably took a toll on his physical condition, and some long-standing health problems finally caught up with him on October 22, 2003 when he passed away at a small private cottage on the Bodensee Lake in Switzerland.
Namgyal Rinpoche devoted his entire life to the welfare of beings, and his dedication to their liberation, his unbounded interest in this planet and all its flora and fauna, was as tireless as it was vast.
A master of Mahamudra, he was unique in his ability to encompass and bridge traditional Buddhist forms and western practices, transmitting the path of awakening in universal terms according to beings' interests and proclivities.
His fearless and compassionate example continues to inspire and transform his many students, and their students, all over the world. In the words of Tarchin Hearn, "Rinpoché was many things to many beings. He was an upholder of tradition and, simultaneously,
an innovator and integrator of new unfolding pathways
…It has been wondrous to have lived so many years knowing him, an extraordinary manifestation of Emptiness and vast compassionate activity. May the wholesomeness of the teachings that he has given freely to so many beings continue to grow and flourish for the sake of all those yet to come. Sarva Mangalam"