The English Sangha Trust: History
by Amaravati.org
Accessed: 9/7/19
NOTICE: THIS WORK MAY BE PROTECTED BY COPYRIGHT
YOU ARE REQUIRED TO READ

THE COPYRIGHT NOTICE AT THIS LINK

BEFORE YOU READ THE FOLLOWING WORK, THAT IS AVAILABLE SOLELY FOR PRIVATE STUDY, SCHOLARSHIP OR RESEARCH PURSUANT TO 17 U.S.C. SECTION 107 AND 108. IN THE EVENT THAT THE LIBRARY DETERMINES THAT UNLAWFUL COPYING OF THIS WORK HAS OCCURRED, THE LIBRARY HAS THE RIGHT TO BLOCK THE I.P. ADDRESS AT WHICH THE UNLAWFUL COPYING APPEARED TO HAVE OCCURRED. THANK YOU FOR RESPECTING THE RIGHTS OF COPYRIGHT OWNERS.
The English Sangha Trust (EST) is the legal charitable body, originally established in 1956, that serves to steward donations given to the Sangha (monastic community). This is the body that in 1977 owned the Hampstead Vihara, which had no sangha in residence, and then invited Ajahn Sumedho to come from Thailand; thus began Ajahn Sumedho's efforts to establish the Thai Forest tradition outside Thailand.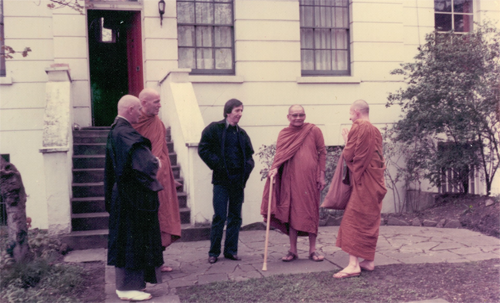 Hampstead Vihara in 1978. From L to R: visiting Roshi, Ajahn Sumedho, George Sharp, Ajahn Chah, Ajahn Kemadhammo
Once the EST had a resident sangha in Hampstead, decision-making power was vested in the sangha. Then in 1979, after a donation to the sangha of 96 acres of forest in West Sussex, the sangha decided to move to Sussex. The EST then acquired Chithurst House and sold the Hampstead Vihara. Five years later, when the burgeoning resident sangha of monks and nuns at Chithurst (Cittaviveka) needed more space, the sangha and the EST decided to purchase the site that is now Amaravati.
Listen how the Sangha came to England by George Sharp
Amaravati 1
Amaravati 30 Years, by Ajahn Amaro, Ajahn Sumedho, George Sharp Amaravati 2014
Amaravati 2
How the Sangha Came to England – Interview (Part 1 of 3), by George Sharp
[George Sharp] When Ven. Sujita asked me to give a talk about how things began, how I began here, I was really quite interested because I've never heard this story, actually. And I sort of visit a memory here and there, you know, when we are talking about things, discussing this or that event, but to actually go from the beginning through – I've never done it. And what is more, I've made no preparation. And I could get the dates wrong on chronology and things, but I'll do my best.

1956 was when the English Sangha Trust was formed, principally by Bhikku Kapilavaddho, who was formerly known as – and he had two names, I don't know why -- one was William Purfurst, and Richard Randall. I know that he had a wife whose name was Ruth Randall, and I never heard of any lady with the name Purfurst, but I do know that he was a reporter, or a journalist and photographer, and that's basically all I know. I don't know how he came to be interested in Buddhism, but what I'm sure is that he was a man of considerable imagination and courage, and probably a great romantic at heart, because he tried to do something truly exceptional, which was to actually form a sangha, with basically four Bhikkus, in this country, and to try to get it going.

So the original trust deed that was prepared is the same one – it was never amended – that the Bhikkus, the sangha uses today.

Kapilavaddho, Ven (William Purfurst, 1906-71): Founder of English Sangha Trust. Born Hanwell, Middlesex (UK). Dissatisfied with business life, began studying psychology, philosophy, etc.; went to London (on foot) and became photographer in Fleet St.; found a teacher to instruct him in Yoga and Vedanta; developed a color printing process; took up sculpture.

1939: official war photographer, then fireman during Blitz; met U Thittila whose pupil he became; got married; finally photographer with RAF [Royal Air Force]. After war began serious Buddhist studies with U Thittila at Buddhist Society

(then in Great Russell Street) covering Sutta, Vinaya, and Abhidahamma. Began lecturing on Buddhism;

founded Manchester Buddhist Society 1952

; adopted anagarika status (with permission of wife); later became Samanera Dhammananada under U Thittila;

worked for Buddhist Society; continued lecturing and founded societies in Oxford and Cambridge; also Buddhist Summer School

. Later resigned samanera status and took job in Surrey hotel as barman to raise finance to go to Thailand. 1954: received lower and higher ordinations (single ceremony) in Thailand (name based on "Kapilavatthu," Buddha's home town; means "he who spreads the Dhamma");

surprised Thai Sangha with his knowledge, especially of Abhidamma and Pali languages

; successfully practiced intensive samatha and vipassana meditation.

Returned to UK, to London Buddhist Vihara, Knightsbridge, with intention of establishing English Sangha. 1955: to Thailand with 3 British samaneras (Robert Albison, George Blake, and Peter Morgan).

1956: triple ordination at Wat Paknam under Ven. Chao Khun Bhavanakosol – the core of an English Sangha.

Returned to UK; acquired house in London; English Sangha Trust founded; period of great activity. 1957: due to ill health, disrobed; changed name to Richard Randall; married Ruth Lester; remained 10 years in obscurity.

1967: returned to robe at Wat Buddhapadipa under Ven. Chao Khun Sobhana Dhammasudhi;

took over Hampstead Buddhist Vihara (then renamed Wat Dhammapadipa). Again disrobed. 1971: married Jacqueline Gray [Scott].

-- The Buddhist Handbook: A Complete Guide to Buddhist Schools, Teaching, Practice, and History, by John Snelling

-- How the Sangha Came to England – Interview (Part 1 of 3), by George Sharp
Amaravati 3
How the Sangha Came to England – Interview (Part 2 of 3), by George Sharp
Amaravati 4
How the Sangha Came to England – Q and A (Part 3 of 3), by George Sharp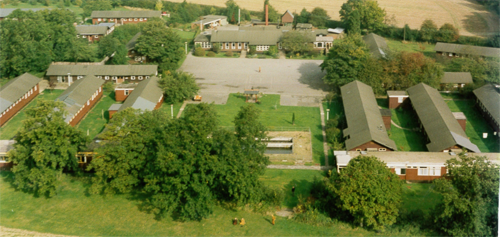 Amaravati in the 1980s. The temple & cloisters is currently where you see the empty square in the middle
Strategic priorities
To this day the EST legally owns and manages both Cittaviveka and Amaravati monasteries and its priorities remain focused on them and their resident sangha:
• to purchase land that may support the existing monastic properties;
• to maintain the supply and good order of the four requisites (shelter, food, clothing and medicinal needs) for the sangha in the two monasteries;
• developing the monasteries in terms of buildings, land and physical structures in accordance with the wishes of the resident monastics. At Amaravati this is now being implemented through a wholly-owned subsidiary called Amaravati Developments Ltd (ADL). Details can be found here.
• to facilitate such publications in any format, as are produced or approved of by the resident monastics.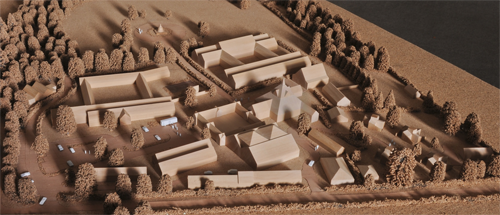 Model of proposed redevelopment of Amaravati. Notice the retreat centre, Bhikku Vihara & Sala will have different shaped buildings.
Stewardship
All funds given (donated) to those two monasteries are held and managed by the EST. The legal structure of the EST is that of a Charitable Company limited by twelve shares all held by monastics. There are also up to nine lay trustees. The sangha shareholders include the Abbots of Cittaviveka and Amaravati, and monks and nuns elected by the monastics representing both monasteries. The lay trustees are chosen by the sangha, and since the monastic discipline prohibits the monks and nuns from making direct financial decisions, the lay trustees are vested with the responsibility of making final decisions over allocation of finances, in accordance with the needs and wishes of the monastics.
The EST submits statutory annual accounts and returns to Companies House and the Charity Commission for England and Wales; these can be downloaded from the respective websites. As a Company and Charity the EST is also responsible for implementing the requirements of a range of bodies on subjects from tax, insurance, health and safety, child protection, immigration and fire prevention, to re-cycling.
The following link is a leaflet given out annually with a summary of Amaravati's current activities and plans, its running costs and information on ways to help, which could include bringing a contribution such as food, making a donation, or even offering your services in some capacity (driving, gardening, etc).
EST Annual Leaflet for Amaravati 2016-2017 – PDF
Sub-groups
The EST has a Finance Sub-Committee to advise on detailed management of its finances.
At Cittaviveka all day-to-day affairs are managed through the Cittaviveka Advisory Group (CAG).
The EST is also the steward for the Amaravati Retreat Centre.
The trustee directors
The lay trustees are all friends of the sangha who have been practising for a number of years and all have specialist skills in management, finance and related subjects. They are appointed for up to three years at a time. The current lay trustees are
• John Stevens – Chair
• Caroline Leinster – Trust Secretary
• Kazuko Kawamura
• Sudanta Abeyakoon
• Nicholas Carroll
You are welcome to contact the EST by using the form below.