Hugh Edward Richardson
by Wikipedia
Accessed: 9/9/19
NOTICE: THIS WORK MAY BE PROTECTED BY COPYRIGHT
YOU ARE REQUIRED TO READ

THE COPYRIGHT NOTICE AT THIS LINK

BEFORE YOU READ THE FOLLOWING WORK, THAT IS AVAILABLE SOLELY FOR PRIVATE STUDY, SCHOLARSHIP OR RESEARCH PURSUANT TO 17 U.S.C. SECTION 107 AND 108. IN THE EVENT THAT THE LIBRARY DETERMINES THAT UNLAWFUL COPYING OF THIS WORK HAS OCCURRED, THE LIBRARY HAS THE RIGHT TO BLOCK THE I.P. ADDRESS AT WHICH THE UNLAWFUL COPYING APPEARED TO HAVE OCCURRED. THANK YOU FOR RESPECTING THE RIGHTS OF COPYRIGHT OWNERS.
TIBETAN REFUGEES

Sir. – Recent devastating events in Tibet caused over 15,000 Tibetans to cross the perilous Himalayas into India. It may be a long time before these unfortunate people can safely return to their overrun country. Our own consciences should allow us neither to neglect nor forget them.

The Indian Government has manfully coped with this addition to its own problems at home. In this country we are bound in honour to help relieve needs of the Tibetan refugees, because from 1905 to 1947 there was a special relationship between Tibet and the United Kingdom – a relationship handed on to the new India.

On balance we think it wisest to concentrate chiefly on collecting money which can be used for the benefit of the refugees, not least in the purchase of necessary antibiotics and other medicaments. The Tibet Society has opened a Tibet Relief Fund for which we now appeal in the hope of a generous response. Donations should be sent to the address below or direct to the National Bank Ltd. (Belgravia Branch), 21 Grosvenor Gardens, S.W.I.

Yours faithfully,

...

Hugh E. Richardson

... The Tibet Relief Fund, 58 Eccleston Square, S.W. I., Letter to the Times, July 31, 1959, p.7.

-- Tibet Society, by tibetsociety.com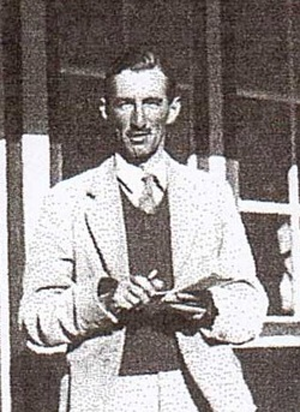 Hugh Richardson
CIE OBE FBA
Hugh Richardson, 1936, Tibet
Born 22 December 1905
St. Andrews
Died 3 December 2000 (aged 94)
Nationality British
Occupation: Diplomat, tibetologist
Spouse(s) Huldah Rennie, m. 1951
Parent(s) Colonel Hugh Richardson
Awards Companion of the Order of the Indian Empire (CIE)
Officer of the Order of the British Empire (OBE)
Light of Truth Award
Honorary Fellow of the British Academy (FBA)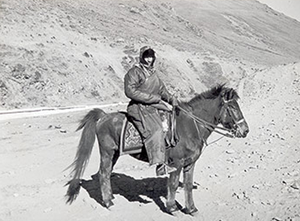 Hugh Richardson in Tibet 1940/ 1941 said, '"Maru the pony. A good one, my dear pony"[1]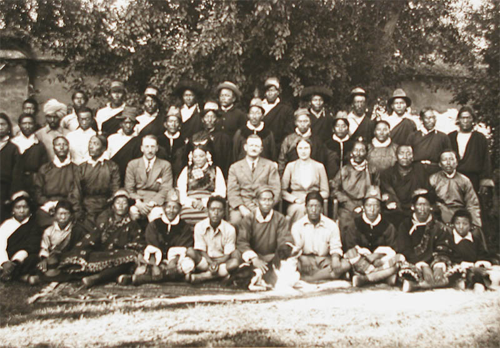 Tibetan friends gather at the British Residency in Lhasa called Dekyi Lingka, 9 September 1933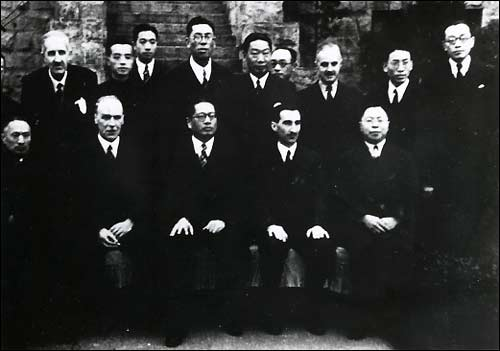 11 January 1943 signing of the Treaty Between His Majesty in Respect of the United Kingdom and India and His Excellency the President of the National Government of the Republic of China for the Relinquishment of Extra-Territorial Rights in China and the Regulation of Related Matters, became effective 20 May 1943. Front row (left to right): Wellington Koo, Horace James Seymour, T. V. Soong, Hugh Edward Richardson, Wu Guozhen
Hugh Edward Richardson CIE OBE FBA (22 December 1905 – 3 December 2000[2]) was an Indian Civil Service officer, British diplomat and Tibetologist.
His academic work focused on the history of the Tibetan empire, and in particular on epigraphy. He was among the last Europeans to have known Tibet and its society before the Chinese invasions which began in 1950.
Biography and career
Born in St. Andrews, Fife, the son of a British Army medical officer, Richardson studied classics at Keble College, Oxford.[3]
He entered the Indian Civil Service on 9 October 1930.[4] Transferring to the Foreign and Political Service of the Government of India, Richardson was posted to Baluchistan as an Assistant Political Agent. In July 1936, he was appointed as the British Trade Agent at Gyantse. He represented Britain in Lhasa, capital of Tibet, from 1936 to 1940 and again from 1946 to 1950, in the final years having become the diplomatic representative of the recently independent India.
Of the Tibetan government during his time in Lhasa, Richardson said:
"My counterparts were...experienced negotiators. . .and masters of procrastination and evasion, and might assume the cloak of simple people with no experience of the outside world. . .There could be no doubt I was dealing with ministers of a government that was completely independent in both its internal and external affairs."
[/quote][/quote]
Like many ICS officers, Richardson was an accomplished linguist who spoke Bengali fluently, a skill he put to use when conversing with Rabindranath Tagore, and his fluent Tibetan was described by the Tibetan politician Tsepon W.D. Shakabpa as "impeccable Lhasa Tibetan with a slight Oxford accent."[5] As Secretary to the Agent-General for India at Chungking, he was appointed an Officer of the Order of the British Empire (OBE) in the 1944 New Year Honours list, and was further appointed a Companion of the Order of the Indian Empire (CIE) on 14 August 1947, in the last imperial honours list.[6][7] After Indian independence, Richardson remained in the renamed Indian Administrative Service, serving in Lhasa until his retirement in September 1950. After his retirement from public service he taught in Seattle and Bonn. He subsequently returned to St. Andrews and spent the remainder of his life as an independent scholar.
He was an advocate of the right of Tibetans to a separate political existence, a case he made in two books, Tibet and Its History (1962) and A Cultural History of Tibet (1968), and at the United Nations when the issue of Chinese oppression of Tibet was raised by the Irish Republic, represented by Frank Aiken, during the 1959 UN General Assembly debate on Tibet. There, in the words of one commentator, "he acted valiantly as a man of honour in a cause which has been largely lost because of the notions of political expediency, where sides are taken without regard to principle and in order not to risk aligning oneself with a potential loser, however deserving he may be" – a position which reportedly earned him the displeasure of both the British and Indian delegations to the UN Assembly.[8] He remained a close personal friend of the 14th Dalai Lama and of the Tibetan government-in-exile until his death, with the latter describing Richardson as "very precious to us/"
He later wrote: "The British government, the only government among Western countries to have had treaty relations with Tibet, sold the Tibetans down the river and since then have constantly cold-shouldered the Tibetans so that in 1959 they could not even support a resolution in the UN condemning the violation of human rights in Tibet by the Chinese."
Richardson also said that he was "profoundly ashamed",[9] not only at the British government's refusal to recognise that Tibet had a right to self-determination, but also at the government's treatment of the 14th Dalai Lama.[10]
Personal interests
"His hobbies were ornithology, botany and gardening and he was also an enthusiastic photographer. Another of Richardson's passions was golf, which he introduced to Tibet, although he noted that the ball tended to travel 'rather too far in the thin air'."[11]
Works
• 1949 "Three ancient inscriptions from Tibet" Journal of the Royal Asiatic Society of Bengal 15, (1949): 45–64.
• 1952. Ancient historical edicts at Lhasa and the Mu Tsung / Khri Gtsung Lde Brtsan treaty of A.D. 821–822 from the inscription at Lhasa. London: Royal Asiatic Society Prize Publication Fund 19, 1952.
• 1952–3 "Tibetan inscriptions at Zva-hi Lha Khang" London: Journal of the Royal Asiatic Society, (1952): 133–54 (1953): 1–12.
• 1954 "A ninth-century inscription from Rkong-po." Journal of the Royal Asiatic Society. London, (1954): 157–73.
• 1957 "A Tibetan Inscription from Rgyal Lha-khang" Journal of the Royal Asiatic Society London, (1957): 57–78.
• 1964 "A new inscription of Khri Srong Lde Brtans." Journal of the Royal Asiatic Society London. (1964): 1–13.
• 1965a "How old was Srong-brtsan Sgam-po ?", Bulletin of Tibetology, vol. 2, no. 1, 6–8. Repr. in Richardson 1998: 3–6.
• 1965b "A fragment from Tun-huang", Bulletin of Tibetology, vol. 2, no. 3, 33–38. Repr. in Richardson 1998: 7–11.
• 1968 with David Snellgrove. A Cultural History of Tibet. 1995 2nd Edition with changes. Shambhala. Boston & London. ISBN 1-57062-102-0.
• 1969 "The inscription at the Tomb of Khri Lde Srong Btsan", Journal of the Royal Asiatic Society (1969): 29–38
• 1969b "Tibetan chis and tschis." Asia Major 14 (1969): 154–6.
• 1972 "The rKong-po Inscription." Journal of the Royal Asiatic Society London. (1972): 30–39.
• 1973 "The Skar-cung inscription." Journal of the Royal Asiatic Society. (1973): 12–20.
• 1974 Ch'ing Dynasty Inscriptions at Lhasa. (Serie Orientale Roma v. 47). Rome: Instituto italiano per l'africa e l'oriente. 1974.
• 1978 "The Sino-Tibetan treaty inscription of A.D. 821/823 at Lhasa." Journal of the Royal Asiatic Society: (1978): 137–62.
• 1982 "Memories of Tshurphu", Bulletin of Tibetology, Vol. 18, No.1, 1982: Karmapa Commemoration Volume, Repr. in Richardson 1998, pp: 730–733.
• 1983 "Bal-po and Lho-bal" Bulletin of the School of Oriental and African Studies 46 (1983): 136–8.
• 1985. A corpus of Early Tibetan Inscriptions. (James G. Forlong Series no. 29). Hertford: Royal Asiatic Society, 1985. ISBN 0-947593-00-4.
• 1987 "Early Tibetan Inscriptions: Some Recent Discoveries" The Tibet Journal 12.2.Dharamsala: Library of Tibetan works and archives, (1987): 3–15. (reprinted with 2 short notes added) Bulletin of Tibetology n.s. 3. Gangtok Sikkim Research Institute of Tibetology, (1987): 5–18. High Peaks, Pure Earth. London: Serindia, 1998: 261–275.
• 1988 "More Early Inscriptions from Tibet" Bulletin of Tibetology. New Series 2. Gangtok Sikkim Research Institute of Tibetology. (1988): 5–8. High Peaks, Pure Earth. London: Serindia, 1998: 276–278.
• 1989 "Early Tibetan law concerning dog-bite", Bulletin of Tibetology, new ser. 3, 5–10. Repr. in Richardson 1998: 135–139.
• 1990 "Hunting accidents in early Tibet", Tibet Journal, 15-4, 5–27. Repr. in Richardson 1998: 149–166.
• 1995a "The Tibetan Inscription attributed to Ye shes 'od" Journal of the Royal Asiatic Society. 3rd Series 5.3. (1995): 403–404.
• 1995b "The inscription at Ra-tshag Dgon-pa" Bulletin of the School of Oriental and African Studies 58 (1995): 534–9; High Peaks, Pure Earth. London: Serindia, 1998: 286–291.
• 1997 Adventures of Tibetan Fighting Monk with Khedrup Tashi, White Orchid Books; ISBN 974-87368-7-3, Orchid Press, 2006, ISBN 974-8299-17-1
• 1998 High peaks, pure earth: collected writings on Tibetan history and culture, Serindia publications, London.
Footnotes
1.
http://www.inetlab.co.uk
, David Harris,. "Hugh Richardson in Tibetan clothes mounted on a horse". University of Oxford. Retrieved 23 December 2017.
2. Douglas, Ed (5 January 2001). ""Our Last Man in Lhasa, He Brought Unrivalled Knowledge of Tibet to Warnings of Chinese Ambitions" The Guardian (London), 5 January 2001 (obituary)". tibet.ca. Archived from the original on 28 March 2016. Retrieved 23 December 2017. In fact, Richardson's greatest threat to the Chinese was his objective observation of the labyrinthine world of Tibetan politics and his deep understanding of Tibetan culture. When he argued that Tibet had been an independent state before its occupation by the Chinese, he did so with immense authority.
3. Daily Telegraph: Obituary (9 December 2000)
4. The London Gazette, 7 November 1930
5. Our Last Man In Lhasa, He Brought Unrivalled Knowledge Of Tibet To Warnings Of Chinese Ambitions
6. The London Gazette, 1 January 1944
7. The London Gazette, 1 January 1948
8. Obituary – Dr Hugh Richardson
9. French 2003
10. My Direct Experience of Independence Tibet 1936–49 Archived 22 March 2008 at the Wayback Machine
11. "Biography of Hugh Richardson (1905–2000)". Pitt River Museum. Retrieved 29 October 2013.
References
• Tibetan Studies in Honour of Hugh Richardson. Edited by Michael Aris and Aung San Suu Kyi, p. 284. (1979). Vikas Publishing house, New Delhi.
• French, Patrick. Tibet, Tibet: A Personal History of a Lost Land (2003) Knopf. ISBN 1-4000-4100-7