Ven. Sayadaw U Thittila (1896-1997)
by Dhamma Web
Accessed: 4/1/19
NOTICE: THIS WORK MAY BE PROTECTED BY COPYRIGHT
YOU ARE REQUIRED TO READ

THE COPYRIGHT NOTICE AT THIS LINK

BEFORE YOU READ THE FOLLOWING WORK, THAT IS AVAILABLE SOLELY FOR PRIVATE STUDY, SCHOLARSHIP OR RESEARCH PURSUANT TO 17 U.S.C. SECTION 107 AND 108. IN THE EVENT THAT THE LIBRARY DETERMINES THAT UNLAWFUL COPYING OF THIS WORK HAS OCCURRED, THE LIBRARY HAS THE RIGHT TO BLOCK THE I.P. ADDRESS AT WHICH THE UNLAWFUL COPYING APPEARED TO HAVE OCCURRED. THANK YOU FOR RESPECTING THE RIGHTS OF COPYRIGHT OWNERS.
Born in 1896 in Pyawbwe, Myanmar.
Studied the scriptures at the age of seven to eight. Ordained a novice at the age of 15 and already well-versed with the primer to Abhidhamma studies, the Abhidhammatthasangaha, also the Mahasatipatthana Sutta and Kaccayana's Pali Grammar, and received his higher ordination in 1916.
Selected, from among five thousand candidates, as the Pathamakyaw Scholar of all Burma (1918), one of the four successful graduates from one hundred and fifty entrants for the highest of all monastic examinations, the Panyattisasanahita (1923). His success accorded him an appointment to co-head a monastery at a relatively young age. Went to India to study English and Sanskrit and had contributed much to the revival of Buddhism in South India (1933).
Left for England and further his study of the English language at the London Polytechnic (1938-39). During this time forth he started to teach Abhidhamma to the West.
Accepted an invitation from the Association for Asian Studies at the University of Michigan, U.S.A., to lecture in America (1959), and delivered over a total of one hundred and sixty lectures at various universities and arranged meetings in six months.
His later teaching engagement for two years in England allowed him the opportunity to translate into English from the Pali, for the very first time that it had ever been done, the second of the seven books of the Abhidhamma Pitaka, Vibhanga. It was published by
the Pali Text Society
in 1969 under the title of The Book of Analysis.
Served as the Spiritual Adviser to the central council of the Sangha Mahanayaka of Burma (1966-82); trustees of the Shwedagon Pagoda, Sule Pagoda, Kaba Aye Pagoda among others, examiner for the well known Abhidhamma Propagation Society in Rangoon, and had since traveled to more than 25 countries to lecture.
*********************
Venerable U Ṭhittila [Excerpt from Honour Thy Fathers: A Tribute to the Venerable Kapilavaddho ... And brief History of the Development of Theravāda Buddhism in the UK, by Terry Shine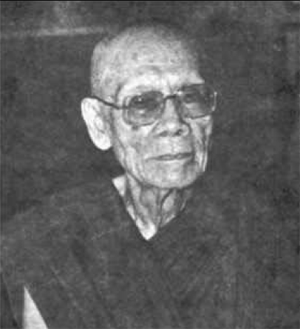 Venerable U Ṭhittila
Wisdom
Source: Extract from "Essential Themes of Buddhist Lectures" by U Ṭhittila
Wisdom is the power of seeing things as they truly are, and how to act rightly when the problems of life come before us. The seeds of wisdom lie latent in us, and when our hearts are soft and warm with love they grow into their powers.
When a man has stilled the raging torrents of greed. hatred and ignorance, he becomes conscientious, full of sympathy, and he is anxious for the welfare of all living beings. Thus he abstains from stealing, and is upright and honest in all his dealings; he abstains from sexual misconduct and is pure, chaste; he abstains from tale bearing. What he has heard in one place he does not repeat in another so as to cause dissension, he unites those who are divided and encourages those who are united. He abstains from harsh language speaking such words as are gentle, soothing to the ear and which go to the heart. He abstains from vain talk, speaking what is useful at the right time and according to the facts. It is when his mind is pure and his heart is soft by being equipped with this morality and mental development that the sublime seed, wisdom, grows. Knowledge of the properties of the magnetic needle enable the mariner to see the right direction in mid-ocean on the darkest night when no stars are visible. In just the same way wisdom enables a man to see things as they truly are, and to perceive the right way to real peace and happiness, Nibbāna.
***
Venerable Kapilavaddho and the English Sangha Trust
1955-1957
We pay tribute to a man who founded the English Sangha Trust and who, after an absence of ten years, returned to lead it from the dolorous state into which it had fallen. He had in the course of his lifetime several different names, as will appear but it is fitting to head this tribute with the name and designation that he twice bore with wisdom, courage and dignity. There will be many, to whom the earlier parts of the almost incredible saga of this man are unknown, and it is with such people in mind that the story is told at some length.
William August Purfurst was born at Hanwell, Middlesex, on 2nd June 1906. As the name indicates, his father was of German origin, and he was an only child. His father died when he was quite small, and he was brought up under the care of his mother, to whom he remained devotedly attached until her death in 1957. Young William soon showed himself to be a man of many and brilliant gifts. There is no doubt that he could have made a career for himself either in business or in the academic world. He had a remarkable gift for acquiring a wide variety of experiences and — what is more — profiting from them. At the age of 20 he was living in Bristol as manager of a branch of an internationally know typewriter firm, but the world of business could not satisfy him. He started studying such things as psychology and philosophy, eagerly seeking to find answers to life's riddle. But his compulsively inquiring mind was not so easily satisfied with the "solutions" proffered by the books he read. Perhaps already at this time he began to suspect that the scholars and philosophers of the West had no monopoly of wisdom. In any case, he felt that the only place for him to pursue his studies further was London. After two years, he gave up his Bristol job and set out for the capital where he had been born, on foot: an action, which was symbolic of his future career. From then on, he stood on his own two feet, and if necessary walked on them to wherever he felt he had to go.
An expert photographer, he soon got himself a job in Fleet Street. He returned each night from the day's work to his private studies, his private questing. He was ever trying to find out the nature of things, the reason for man's existence, and was not going to be fobbed off with any easy answers. But as happens, the deeper he probed the further off the solution to his questions appeared. At the same time, the first of his teachers appeared on the scene. This man, perceiving qualities that resided in the young Purfurst, took him under his wing, giving him an intensive course in the philosophy of the East. Starting with the Vedas and the Upanishads, Yoga and Vedanta — all as a preliminary to the real kernel of the course, which was Buddhism. Discipline under his teacher was strict — he had to work each evening at his studies, and also undertake a regime of strict physical training. He stuck it out, mastered the philosophical course and at the same time gained considerable control over his own body and emotions. All this had been undertaken in his spare time, in the evenings after his journalistic work.
When his friend and mentor died, he continued on his own, extending his studies into other fields such as anatomy and chemistry. As a result of these studies, he was able to develop a new colour printing process which in one form or another, is still in use today. This was his life until the outbreak of war in 1939, when he became an official war photographer. However as a man of action, he found life dull in the early days of the war. Nothing seemed to happen, so he trained as a fireman. By the time his training was completed, the picture had changed. The blitz had begun. As an officer of the National Fire Service in London he soon found all the "action" he could ask for, and more.
He had some hair-raising experiences amid burning, crashing buildings, while bombs rained down and the ack-ack guns opened up, amid burst mains and sewers. Crawling among precarious ruins, digging out the living and the dead, going without sleep, food, drink, or even his precious cigarettes, and of course constantly risking his own life for the sake of others. In his case, though he distinguished himself by his fearlessness, such a life was after all not so very exceptional. He was a Londoner born and bred.
Although they had not yet met, there was another man in London doing very similar things, whom one would scarcely have expected to meet in such a situation. This was a Burmese bhikkhu, the Venerable U Ṭhittila, who had come to work in London at scholarly pursuits when war overtook him. He was equal to the occasion and, boldly doffing the robe, he joined the ambulance service and worked in blitzed London under similar conditions to William Purfurst. This experience gave Venerable U Ṭhittila a unique insight into the British character. And it probably also did much to forge the bond of friendship, which eventually grew between the two men.

As D-Day approached, William Purfurst's wartime activities changed in character. He became a civilian photographer attached to the Royal Air Force, his job being to take pictures of army parachutists who were dropped on enemy territory. In order to equip himself for this task, he himself volunteered for a parachute course took the full training and did a number of drops. He then went as a photographer on a number of missions until the war in Europe finally ended.

Towards the end of the war he also got married, and having left the service he became a WEA (Workers Educational Association) lecturer in philosophy, in which capacity he travelled a great deal up and down the country. It was about this time that he met Venerable U Thittila, whose pupil he promptly became. The bhikkhu who had been supported by the Buddhist Society resumed the robe somewhat informally (he had to be re-ordained, later, in Burma) and gave many lectures and classes at the Society's old premises in Great Russell Street, where William Purfurst was also active as a speaker.
Purfurst's activities were by no means confined to London. There were eleven people in Manchester who had been studying the Buddha Dhamma under him, for nearly a year. They had formed themselves into a group called the Phoenix Society; and each weekend he travelled from London to conduct an exhaustive program of theory and practice. Others came and the group grew, within months it became the Buddhist Society of Manchester. It was the first active society outside London. Almost at the same time the teacher had taken his own first steps towards becoming a Buddhist monk. The urge to proceed along the Buddhist path is the only way open to a man of his temperament, namely the total devotion to and immersion in the Dhamma implied by the bhikkhu life. It was so strong that eventually an understanding wife gave him the freedom to answer this call. It was indeed she who urged this step on him. Thus they parted, and shortly before Wesak in 1952 William Purfurst adopted the status of a homeless one, an anagārika. Following this
he took the Pabbajjā or novice ordination to become Sāmaṇera Dhammānanda, which he did under the Venerable U Thittila on Wesak 1952. Venerable U Thittila remained his mentor until himself returning to Burma to take up a university post in Rangoon.
Now the name of William Purfurst disappears, and instead there is the Sāmaṇera Dhammananda working for the Buddhist Society, lecturing and conducting classes, travelling up and down the country in his three cotton robes, inspiring and founding Buddhist Societies at Oxford and Cambridge. During this time the Buddhist Summer School, later taken over by the Buddhist Society, was founded, and continues to this day as an increasingly popular annual event. The sheer physical hardship of his existence at this time should not be under-rated. At one time, in fact, he even "went missing" for a fortnight, virtually starving and sleeping on park benches in his scanty attire, till he almost succumbed to exhaustion and fever. But this was merely typical of the man. He conducted experiments on his own body and mind in much the same spirit as the late Prof. J. B. S. Haldiane had done in the name of science. Nor was he unmindful of the six years of austerity and self-torment, endured by Gautama in the days of his Noble Quest (Ariyapariyesanā, cf. Middle Length Sayings, No. 26), which preceded his enlightenment. Even his sternest critics and it is only truthful to admit that he had many at times, were bound to concede that he had the sheer guts to do many things that most of them would never have attempted.