Sumangala [Hikkaduwe Sri Sumangala Maha Nayake Thera] [Don Niculus Gunawardhana] [Bikkhu Sumangala Nayake]
by Theosophy Wiki
Accessed: 10/29/19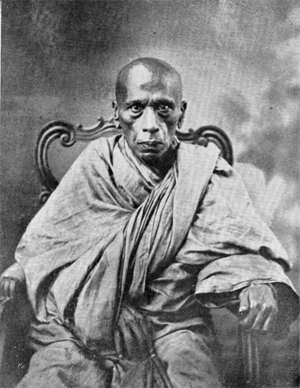 The High Priest Sumangala] - his last portrait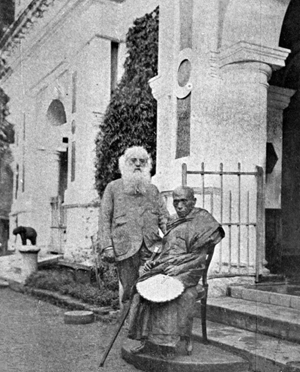 H. S. Olcott and the Venerable H. Sumangala at Widyodaya College in Ceylon
The Venerable Hikkaduwe Sri Sumangala Thero or Sumangala Unnanse was
a Sri Lankan Buddhist monk or bhikkhu, who was a distinguished scholar and Buddhist High Priest of Ceylon. He pioneered in the Sri Lankan Buddhist revivalist movement in the 19th century, and worked closely with Col. Olcott to establish Buddhist schools. He served as Vice President of the Theosophical Society from 1881 to 1888.
"Venerable," "Sri," "thero," and "Unnanse" are honorific terms.
Early years and education
Sumanagala was born January 20, 1827 in the village of Hikkaduwa in the Galle district of Ceylon (now Sri Lanka). His name at birth was Don Niculus Gunawardhana. Don Johannes de Silva Abeyeware Gunawardana was his father.
The boy was educated in Sinhala and Pāli at the village school, later learning Samskṛṭ under a Brahman from India. As a five-year-old he was already dedicated to the monastery. At the age of 13 he entered an order of Buddhist monks at the Thotagamuwa Raja Maha Vihara at Hikkaduwa, and at 21 he was accorded a higher ordination. "It is said that he astonished his examiner by the profundity of his scholarship, the wide range of his reading, and the ease with which he handled both Samskṛṭ and Pāli.
Work as a priest
Sumangala was a priest for the rest of his life.
After his ordination he returned to his native village of Hikkaduwa, where he was at once appointed as tutor to the monks. There he spent twelve years, at the end of which he was transferred to a higher appointment at Galle, where he passed the next six years as priest in charge of the temple, but always continuing his work as tutor. He seems to have had a special genius for languages, and furthermore to have had the faculty of teaching himself from books with remarkably little external assistance. In this was he learned Elu, the classical language of Ceylon; in this way also he acquired a working knowledge of English and French which enabled him to read them without difficulty, though his conversation in them was never fluent.

After he had been six years at Galle, he was elected High Priest of the Srīpaḍa - the temple of the Holy Foot-Print on the mountain of Adam's Peak. A few years later he was also made High Priest of the District of Galle, and was at the same time appointed as Examiner -in-Chief of the candidates for ordination in Ceylon.[1]
Work in education
In 1873, Sumangala founded the Vidyodaya Pirivena, a monastic college at Maligakanda, that was granted the university status late in 1959 by the Government of Sri Lanka as Vidyodaya University (now known as the University of Sri Jayewardenepura). He was Principle during the rest of his life. The college name was also spelled Widydaya.
After he met Colonel Olcott, they worked together to establish dozens of Buddhist schools all over Sri Lanka.
Sumangala's pupil Nanissera succeeded him as Principal in 1911.
Buddhist-Christian debate
In 1873, Sumangala and another of the Buddhist bhikkhus,
Mohotiwatta Gunananda
, participated in a series of debates with Christian missionaries about the merits of their belief systems. Known as the Panadurawadaya, the three days of debates took place at Panadura.
Anagarika Dharmapala
described the event:
I was fortunate in knowing well the Venerable H. Sri Sumangala... Another Buddhist monk whom, as a friend of my family, I saw nearly every day, was Mohotiwatta Gunanda. He was a golden-tongued orator, winning in personality, and when he spoke, he drew crowds. He defeated the Christians in many debates. When I was ten years old, I attended a great debate in a temple pavilion sixteen miles from Ceylon, where the Christians on one side and Gunananda on the other argued out the truths of their respective religions. In clumsy two-wheeled bullock-carts covered with woven coconut leaves, in the lighter hackeries, in occidental spring carriages and afoot, thousands came from the most distant parts of the island to hear this famous debate. Mohotiwatta Gunanda supplied the oratory; and the Venerable Sumangala furnished him with the scholarly material and references. The debate lasted three entire days.

Dr. J. M. Peebles, an American Spiritualist, who was visiting Colombo at the time, obtained an English report of the controversy between the Buddhists and Christians and, upon his return to the United States showed it to Colonel Henry S. Olcott and Madame H. P. Blavatsky, who had organized the Theosophical Society in New York in 1875. Deeply impressed, they wrote to Gunananda and Sumangala that, in the interest of universal brotherhood, they had just founded a society inspired by oriental philosophies and that they would come to Ceylon to help the Buddhists. The letters from Colonel Olcott and Madame Blavatsky were translated into Sinhalese and widely distributed.[2]
Association with Theosophical Society
Colonel Olcott and Sumangala were friends from their first meeting in 1880. "On his first arrival in Ceylon, Col. Olcott received a warm welcome from the leading representatives of Southern Buddhism and much active support during his lecturing tour. Among these the veteran Sumangala figures prominently, the Colonel referring to him as 'the representative and embodiment of Pali scholarship'."[3] The High Priest was admitted to membership of the Theosophical Society on June 16, 1880.[4]
C. W Leadbeater wrote:
It was the High Priest who speeded the Colonel on his way on his great mission to Japan in 1889, and he was the first to welcome him on his return. It was at that time that the Colonel obtained the assent of the leaders, both of the Southern and the Northern Church of Buddhism, to the platform of fourteen great principles which he drew up as containing the fundamentals of the Buḍḍhist religion; and in this way he brought together the followers of the Greater and the Lesser Vehicles... It was the High Priest Sumangala who received me into the Buḍḍhist communion in the year 1884, and I always found him wise, friendly and helpful during the years when I was working for Buḍḍhism in Ceylon.[5]
The High Priest assisted in the compilation of the Buddhist Catechism; certified the orthodoxy of Olcott's interpretation of Buddhism; and ordered 100 copies of the Sinhalese language version for use in his college. He took the trouble to thank Dominique Albert Courmes for translating the work into French.
Leadbeater regarded Sumangala as highly distinguished.
The High Priest was never a Theosophist in the sense of reading Theosophical books, of delivering Theosophical lecturers or of studying the mechanism of rings and rounds and planetary chains; yet he was for many years one of the Honorary Vice-Presidents of our Society, and Chairman of the Buḍḍhist Monks' Theosophical Association... Yet no one could be more Theosophical in life than was this religious Potentate of the East - a man at once shrewd and simple, saintly yet statesmanlike, and never failing in gentleness and kindness.[6]
Sumangala was a voluminous writer. He corresponded with scholars, and became a close associate of Sir Edwin Arnold the author of The Light of Asia.[7] He developed close friendships with Professor Max Müller, Professor Rhys Davids, Professor Lanman of Harvard, Sir Monier Williams. and the governors of Ceylon.[8]
Later years
Leadbeater wrote of the High Priest's final days.
When last I saw the High Priest, some six years ago [about 1905], he was already showing the signs of advancing age [then 78], but was quite active, and as keen in mind as ever. Indeed, there seems no reason why he might not have become a centenarian, but for an unfortunate accident. Rising one morning in the dark (as he always did) he somehow missed a step while coming down a short staircase and fell, fracturing his hip-bone. Doctors were immediately summoned, and all that was possible was done for him, but the shock was too much for the aged body, and he passed away from it nine days afterwards, on April 30th in the present year [1911].

The ceremony of his cremation seems to have been a remarkable one, the crowds which appeared to do him honor being said to be the largest ever seen in the streets of Colombo. The leaders of all three sects of Buḍḍhist monks were present on the occasion, and all spoke in high praise of the deceased prelate, agreeing that Buḍḍhism had suffered no such loss as his department for many centuries. The ceremony was enormously prolongued, for almost everyone in that mighty crowd had some little offering to throw upon the funeral pyre - bundles of joss-sticks, pieces of sandal-wood, cubes of camphor or little bottles of perfumery and essential oils. Showers of coins were also cast upon the pyre, and even the poorest of his people were anxious to do something to testify their respect and love for the great leader who had passed away.[9]
Notes
1. C. W. L. [Charles Webster Leadbeater], "Theosophical Worthies: The High Priest Sumangala," The Theosophist 32.10 (July, 1911), 565.
2. Anagarika Dharmapala, "On the Eightfold Path: Memories of an Interpreter of Buddhism to the Present-Day World," Asia (September, 1927), 723.
3. "Colonel Olcott and Sumangala" The Theosophist 38.7 (April, 1917), 100-101.
4. Theosophical Society General Membership Register, 1875-1942 at
http://tsmembers.org/
. See book 1, entry 441 (website file: 1A/21).
5. C. W. L., 566.
6. C. W. L., 564.
7. Oxford University, Trübner's American and Oriental Literary Record, Oxford University, 1879.
8. C. W. L., 565-566.
9. C. W. L., 568.
********************
Hikkaduwe Sri Sumangala Thera [Hikkaduwe Sri Sumangala Maha Nayake Thera] [Don Niculus Gunawardhana] [Bikkhu Sumangala Nayake]
by Wikipedia
Accessed: 10/29/19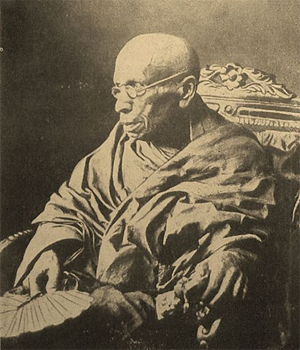 Hikkaduwe Sri Sumangala Thera
Hikkaduwe Sri Sumangala Nayaka Thera
Title Thripitaka Vaagishwaracharya[1]
Chief of Siyam Nikaya[1]
Chief Monk of Sri Pada[2]
Chief Monk of Colombo Nawa Korale
Chief Monk of Galle District
Personal
Born Niculus Gunawardhana
20 January 1827
Hikkaduwa
Died 29 April 1911 (aged 84)
Religion Buddhism
Nationality Sri Lankan
School Theravada
Lineage Siyam Nikaya
Education Parama Dhamma Chetiya Pirivena, Ratmalana
Senior posting
Teacher Walane Sri Siddhartha Maha Thera.
Hikkaduwe Sri Sumangala Thera (Sinhala: හික්කඩුවේ ශ්‍රි සුමංගල නාහිමි; 20 January 1827 – 29 April 1911) was a Sri Lankan Buddhist monk, who was one of the pioneers of Sri Lankan Buddhist revivalist movement in the 19th century.[3] He did a great service to improve the Buddhist Education in the country and was the founder of Vidyodaya Pirivena, Maligakanda in 1873 which was granted the university status later in 1959 by the Government of Sri Lanka.[3] A veteran author and a fiery orator, he was a major figure in the Panadurawadaya, a religious debate held between Christian missionaries and Buddhist monks in 1873 at Panadura, Sri Lanka.[4] He was well versed in Sinhala, Pali, Sanskrit, English, Buddhism, History, Arithmetic, and Archaeology and was one of the primary sources of information on Buddhism for the success of the Panadura debate.[5]
Biography
The birth name of Hikkaduwe Sri Sumangala Thera was Don Niculus Gunawardhana.[6] He was born on 20 January 1827 to the family of Don Johanis Abeyweera Gunawardhana Maha Liyana Arachchi Ralahamy and his wife Dandangoda Gamage Christina Hamine of Hettigoda, Hikkaduwa in Galle District. He was the 5th in his family and was baptized according with the general practice prevailed at the time.[1] Young Niculus received his primary education in Sinhala and Pali from the village temple, Hettigoda Thilakarama temple, Hikkaduwa under the tutelage of Ven. Hikkaduwe Sobitha Nayaka Thera and Ven. Mabotuwana Revata Nayaka Thera.
According to astrological predictions on young Niculus's horoscope, his parents decided to ordain him in the order of Buddhist monks as a 'samanera'.[7]. Thus at the age of 9 he was ordained under Arungamuwe Rewatha Thero of Thotagamuwa Raja Maha Vihara at Hikkaduwa and was given the Dharma name of "Hikkaduwe Sumangala"[7]. From his childhood he was an eloquent speaker and a very good writer. After four years since becoming a monk he received further education from monk Ven. Pannamgoda Jethuthara Thera and Ven. Bowala Dhammananda Thera. He acquired proficiency in English from John Coranelis Abayawardana, a renowned English scholar in the area. In 1844 the responsibility of Samanera Sumangala was transferwd to Rev. Walane Sri Siddartha thero. From then onward he was positioned at the renown Parama Dhamma Chethiya monastry in Rathmalana. He was not satisfied with just the knowledge he received from the monastery, he proceeded to learn Sanskrit, and subjects such as logic from a Brahmin named Kashinatha.[7]
In 1848 he obtained higher ordination of Upasampada from the Malwatte Chapter, Kandy. Hikkaduwe Sri Sumangala Thera received his higher education from Parama Dhamma Chetiya Pirivena in Ratmalana, under the guidance of Walane Sri Siddhartha Mahathera.[6] Ratmalane Sri Dharmaloka Thera was one of his contemporaries at Parama Dhamma Chetiya Pirivena. After gaining the higher ordination of Upasampada he dedicated his life for the betterment of the world. He provided his services as a teacher at Parama Dhamma Chethiya Pirivena, Hikkaduwe Thilakaramaya, Bogahawatte Sudarshana Paramananda Viharaya, Kotahene Paramananda Viharaya. In 1872, in accordance to an invitation made by the Kotahena Paramananda Viharaya, he came to Colombo[8]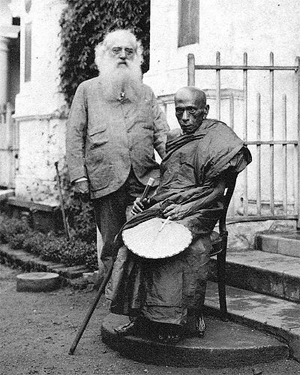 Most Ven. Hikkaduwe Sri Sumangala Thera and Colonel Henry Steel Olcott in Colombo, 1889.
In 1864 he was appointed as the Chief priest of the Sripada (Adam's peak), the holy mountain of Sri Lanka.[6] With this appointment he was unanimously recognized as the foremost Buddhist monk in the whole island.[2] Hikkaduwe Sri Sumangala thera was well versed in Sinhala, Pali, Sanskrit and English languages and also had a very good knowledge in Buddhism, History, Arithmetic and Archaeology. He wrote many books in these subjects and was a leading figure of the Panadura debate (Panadurawadaya) held in 1873. It was after reading a report of this debate that Colonel Henry Steele Olcott visited Sri Lanka. Colonel Olcott learnt Buddhism and Pali under Hikkaduwe Sri Sumangala Thera, who guided him to establish many Buddhist schools in Sri Lanka, such as Ananda College, Colombo (1886), Mahinda College, Galle (1892) and Dharmaraja College, Kandy (1887). It was also in the presence of Hikkaduwe Sri Sumangala Thera, C. W. Leadbeater, an influential member of the Theosophical Society repeated the Three Refuges and the Five Precepts of Buddhism and became a Buddhist.[9]
In 1885 with the donation of a land area in Hunupitiya Colombo by, H.L.De Mel, a non Buddhist, he was able to establish the Gangarama Temple. He also took measures to bring down a part of the Sri maha bodhi from Anuradhapura and Plant it amidst the Gangarama Temple premises for worship. He was the chief monk of the Gangarama Temple and upon his demise he was succeeded by Rev. Devundara Sri Jinarathana Thero.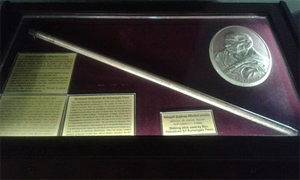 Most Ven Thera's Walking Stick kept in Galle National Museum.
Hikkaduwe Sri Sumangala Thera was the chairman of the 'Colombo Committee' which originally designed the Buddhist flag in 1885.[10] Sri Sumangala thera was also a pioneer in Buddhist news paper journalism in Sri Lanka. The paper "Lankaloka" was started by him and afterwards he assisted the local Buddhist community to publish papers such as "Sarasavisandaresa" and "Sinhala Bauddhaya". He was well honored an awarded many titles by Sri Lankans as well as the people of many other countries in the East and the West. Reputed and renowned institutions in Ireland, Italy, Hungary and Germany also bestowed felicitation degrees on him.[1] After rendering a yeoman service to the Buddhasasana, Hikkaduwe Sri Sumangala Thera died on 29 April 1911, at the age of 84.
Positions Held
• Chief monk of the Sri Pada
• Chief priest of Southern Sri Lanka
• Chief priest of Colombo Nawa Koralaya
• Adviser of the Parama Vingnartha Society
• Adviser of the Mahabodhi Society
Literary works
• Brahma Dharmaya
• Warna Reethi (1873)
• Masarthu Lakshana (1858)
• Translation of Mahavamsa to Sinhalese (1847)[6]
• Sidath Sangara Sannasa
• Kavya Shekhara Sannasa
• Balawatharatikawa
• Pali Namapada Malawa
See also
• Buddhist flag
• Gangaramaya Temple
• Migettuwatte Gunananda Thera
• Ratmalane Sri Dharmaloka Thera
• Seema Malaka
• Weligama Sri Sumangala Thera
• Yagirala Pannananda
References
1. Peiris, Gopitha (April 2006). "Most Venerable Hikkaduwe Sri Sumangala Nayaka Thera remembered". Daily News Online. Retrieved 18 July 2014.
2. Founder of vidyodaya pirivena most ven. Hikkaduwe Sri Sumangala Maha Nayake Thera, Ven. Prof. Bellanwila Wimalaratana, Daily News
3. Wijetunge, Ratna (29 April 2009). "The great Buddhist revivalist". Daily News Online. Retrieved 14 May 2014.
4. Goonatilake, Hema (May 30, 2010). "Edwin Arnold and the Sri Lanka connection". Sunday Times. Retrieved 14 May 2014.
5. Defeating Adversaries: Wadeehasinha Migettuwaththe Gunananda Thera, Lankaweb, Dr. Daya Hewapathirane
6. Bhikkhu Ratana (22 April 2009). "Challenge to British power". Daily News. Retrieved 18 July 2014.
7. Amaratunge, Sampath (2018). Hikkaduwe Sri Sumangala Nahimipanan wahansege charithaya, mehewara ha Dharshanaya. Nugegoda, Sri Lanka: university of Sri Jayewardenepura. p. 2.
8. Amaratunge, Sampath (2018). Hikkaduwe Sri Sumangala Nahimipanan wahansege charithaya, mehewara ha Dharshanaya. University Sri Jayewardenepura. p. 3.
9. Oliveira, Pedro. "BIO". CWL World.
10. Jayasekera, Upali S. (10 May 2002). "Who designed the Buddhist Flag?". The Island. Retrieved 18 July 2014.