A Brief History of Kagyu Samye Ling
by Kagyu Samye Ling
Accessed: 10/30/19
NOTICE: THIS WORK MAY BE PROTECTED BY COPYRIGHT
YOU ARE REQUIRED TO READ

THE COPYRIGHT NOTICE AT THIS LINK

BEFORE YOU READ THE FOLLOWING WORK, THAT IS AVAILABLE SOLELY FOR PRIVATE STUDY, SCHOLARSHIP OR RESEARCH PURSUANT TO 17 U.S.C. SECTION 107 AND 108. IN THE EVENT THAT THE LIBRARY DETERMINES THAT UNLAWFUL COPYING OF THIS WORK HAS OCCURRED, THE LIBRARY HAS THE RIGHT TO BLOCK THE I.P. ADDRESS AT WHICH THE UNLAWFUL COPYING APPEARED TO HAVE OCCURRED. THANK YOU FOR RESPECTING THE RIGHTS OF COPYRIGHT OWNERS.
The centre had originally been a hunting lodge on the banks of the River Esk, but in 1965 it had become the Johnstone House Contemplative Community, a retreat centre founded by the Canadian Buddhist Ananda Bodhi.

Ananda Bodhi had met Chogyam Trungpa Rinpoche and Akong Rinpoche the previous year at

Oxford, where they had been sent to study

. In 1967 he arranged for the ownership of Johnstone House to be transferred to their Tibetan Karma Kagyu order and subsequently returned to Canada. Shortly afterwards the two Tibetans were joined by Sherab Palden.

-- Remembrance: Sherab Palden Beru, by Buddhist Art News
[1965/1966/1967]

Venerable Ananda Bodhi returned to England in the Fall of 1961, at the invitation of the English Sangha Trust, becoming the Resident Teacher of the Camden Town Vihara. He was a special guest speaker at the Fifth International Congress of Psychotherapists in London, where he met

Julian Huxley

, Anna Freud and R.D.Laing, among others.

For the next three years he taught extensively throughout the UK, founding the Hampstead Buddhist Vihara in London and the Johnstone House Contemplative Community—a retreat centre in southern Scotland. During this period he also joined a Masonic lodge. In 1965, when he decided to move to Toronto with two of his British students, Johnstone House was entrusted to Venerable Chogyam Trungpa Rinpoche and Akong Tulku, becoming Kagyu Samye Ling—the first Vajrayana centre to be established in the West.

-- Ven. Namgyal Rinpoche [Venerable Ananda Bodhi/Leslie George Dawson], by Dharma Centre of Winnipeg
Ananda Bodhi, senior incumbent of the English Sangha Vihara and founder of a Buddhist contemplative centre in Scotland called Johnstone House, proposed turning the direction of the House over to myself and Akong. At once the fresh air and beautiful rolling hills of Dumfriesshire invigorated me and filled me with joyous expectation. After a series of further visits, Johnstone House was finally turned over to us and we moved in, giving it the name of Samye-Ling Meditation Centre.

-- Epilogue: Planting the Dharma in the West, from "Born in Tibet," "by" Chogyam Trungpa
Biddulph Old Hall. Source: Sangha Magazine, May 1963

May 1963 Between February and May, Biddulph Old Hall was bought (S May and June 63)
Nov 1963 Ananda Bodhi to Thailand
1963 129 Haverstock Hill was purchased. The property was rented to provide an income for the Vihāra
April 1964 Ananda Bodhi returned and went to Biddulph and taught samadhi and vipassana, Wat Paknam method. (S Mar 64)
10 Jan 67 Maurice Walshe asked John Garry to manage Biddulph. He also found Richard Randall (previously Mr Purfurst and Venerable Kapilavaddho) and asked him to return
Biddulph Old Hall sold (S Nov 69)-- Honour Thy Fathers: A Tribute to the Venerable Kapilavaddho ... And brief History of the Development of Theravāda Buddhism in the UK, by Terry Shine
Well,

I met him in 1966.

And at that time I was married to an Irish actress named Jacqueline Ryan, or Jackie. We had rather a stormy relationship....

I began making the aspiration in my mind, "May I connect with a realized master in the practice lineage."...

So one day in my mind I was making this aspiration, and I had this sudden thought come to my mind, "Go to the phone book and look up 'Tibet.'" And I thought, "That's crazy. What's that going to do?" And I thought, "Yeah, yeah, but what have you got to lose?" So I went to the phone book, and I looked up "Tibet." Now in London, there's 12 million people, the phone book is in four volumes, but I looked up in the "T's," and there was only one entry that began with the word "Tibet." And that was "

The Tibet Society of the United Kingdom ... and noted down the address -- I think it was 58 Eccleston Square

." ...

[S]o I got in the car, and I knew where Eccleston Square was, and I managed to find a parking place there without having to use the reverse. And it was sort of a Victorian townhome. And I went up the steps and there was a brass plate that said, "Buddhist Society." And I thought, "Ha, that's a good sign." And underneath it it said, "Tibet Society." So I pressed that bell push, the buzzer sounded, the door opened, and I went in.

And there was an arrow pointing down to the basement. So I went down to the basement, full of anticipation that there was going to be something very esoteric -- I was sure about that – "Tibet Society!" And there was this middle-aged English woman with her hair in a bun, typing away on an old manual typewriter, looking at me at the top of her glasses and saying, "How can we help you?" And I said, "Well, tell me about the Tibet Society." And she said, "Oh, it's a charitable organization, raising money for Tibetan refugees in India. Would you care to make a donation?" I thought, "This is crazy." And I think I gave her 10 shillings, and I was about to leave, thinking that this was a total waste of time. And at that moment, a young woman came in the door, and she kind of pulled me aside and she said, "If you don't mind me asking, 'what are you doing here'?" I said, "Well, it's really hard to explain, but I'm really interested in the teachings of the Kagyu order of Tibetan Buddhism." She said, "Oh, you know there are two Tibetan lamas in this country, and they belong to that Kagyu order." And then she reached into her purse and she pulled out a photo, and she pointed to the one on the left and she said, "That's Trungpa. That's the one you want to meet." I said, "Yes. Okay." And then she proceeded to give me the address and phone number. They were living in Oxford....

And I rushed home, and I phoned the number in Oxford, and asked to speak to Venerable Trungpa, and someone with a weird foreign accent said, "Oh, he no here right now. Better you write to him." And then they gave me an address of some place called

Biddulph in Staffordshire

, Biddulph Old Hall in Staffordshire.

And so I sat down and wrote a letter, "Dear Venerable Trungpa. I'd very much like to come and meet you, and study under your guidance. And I'd be willing to meet you any time or place that would be suitable to you."...

So I sent off the letter, and of course, the first day there's no response. The second day there's no response. The third day, now by that time you could get an answer, because in England you could send a letter one day and it would get there the next day, and you could get a reply the day after that. But on the third day there was still no answer. On the fourth day there was still no answer. Now I was getting antsy. And on the fifth day still no answer. And I thought, "Well, I can't wait any longer. I'm just going to go." And I had the address of this place,

The Biddulph Old Hall, Biddulph, Staffordshire

. And I had a road atlas. So I found this place Biddulph. It was like a dot on the map, it was just this little village. And I decided I was going to go....

And I finally found this little village called "Biddulph" in Staffordshire. It's kind of in the middle of England. And then I stopped in the village, and got directions to the Old Hall. And it's a beautiful stone manor house....

And this place had a kind of iron knocker on the door. And I knocked, and a young man came to the door and said, "How can we help you?" And I said, "Well, I came to see

the Venerable Trungpa

." And he said, "Ah, you must be Richard. He told us you'd be arriving today." And I said, "What?," because I had not had any answer to my letter....

So I stayed there for a week, and I met with him regularly on a one-to-one basis....

So at the end of the week, I went back to London. And a day or two afterwards I was having dinner – I was with my wife Jackie – and she said to me, "I have a feeling you don't really need me anymore." And I said, "Yeah, maybe you're right." And she said, "I'm going to be leaving you." And I said, "What?" And I didn't really say much about it. But when I woke up the next morning – we had this big king-size bed, and there was this big empty space next to me -- she was gone. And I was kind of surprised, although she had said that, because it was so sort of sudden. And I remember calling up Trungpa Rinpoche in Oxford and saying, "You'll never guess what happened. My wife left me." He said, "Oh, yes." And I said, "I have the feeling that if I contacted her, and asked her to come back, she probably would." And he said, "Well, I wouldn't do that if I were you." And I said, "No, I'm not going to."....

And then a couple of days later we set out for Scotland.

-- Richard Arthure on Meeting Chogyam Trungpa, by The Chronicles of Chogyam Trungpa Rinpoche
It is now fifty years since Chogyam Trungpa Rinpoche and Akong Tulku Rinpoche co-founded the first Tibetan centre in the West, in rolling hills of southern Scotland. These fifty years have given us much to celebrate. Locally, we have had five decades of continuing growth at Samye Ling and, internationally, the development of Akong Rinpoche's spiritual, humanitarian and therapeutic works in four continents, bringing benefit to the lives of tens of thousands of people.
In 1967, the two Rinpoches named their centre after Samye, the first successful Buddhist establishment in Tibet. They were soon joined by master-artist Sherapalden Beru and the monk Samten. By 1970, Trungpa Rinpoche had departed for the USA and His Holiness the 16th Karmapa firmly encouraged Akong Rinpoche to take a leadership role in developing Samye Ling. The early 70s saw a progressive strengthening of Buddhist practice with visiting courses being given by Thai, Burmese, Japanese and just a few Tibetan teachers.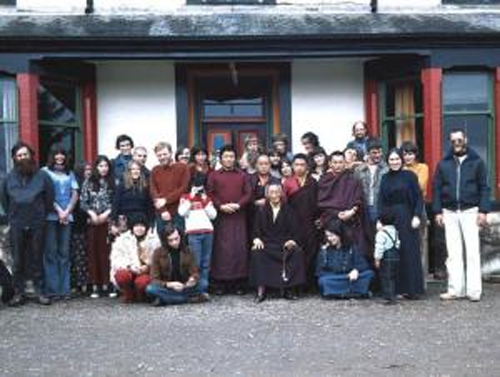 The second visit of Khyabje Kalu Rinpoche, in 1974, was an important milestone. Accompanied by five lamas fresh out of retreat, he gave the first formal Vajrayana empowerments in the West and the distinctive Tibetan sounds of jaling and ra-dong first rang across the green valley. He inspired many people to begin traditional Kagyu practices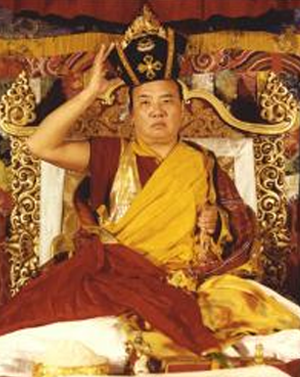 The next milestone came soon afterwards with the two visits by His Holiness the 16th Karmapa. On the second visit he was accompanied by Jamgon Kongtrul Rinpoche and a party of a dozen tulkus, lamas and monks. His Holiness performed the Vajra Crown ceremony and gave empowerments and teachings. Most significantly, he assured Akong Rinpoche about the longer-term future of Buddhism in the West and at Samye Ling. This became the basis for developing the Samye Project to cater for the future demand he foresaw. This seemed very ambitious at the time, but not so with hindsight. The Karmapa's visit also saw the establishment of our first international branches, in Belgium, Spain and Ireland. What seemed to be his playful joke in 1977 - as he ruffled Akong Rinpoche's frizzy hair and called him 'Africa Lama' - turned out also to be full of foresight as Rinpoche several years later became the Karma Kagyu representative for Africa as Kagyu dharma developed there.
During the late 70s and early 80s, Samye Ling benefited greatly from being the major Kagyu centre in Europe and one of very few Tibetan centres in the West. Some of the most eminent masters from the Kagyu tradition came to stay for periods of several months, giving them the time to teach in detail major Buddhist texts and practices to an international audience. We were particularly indebted to the regular visits of the Chamgon Khentin Tai Situpa, Khenchen Thrangu Rinpoche and Khenpo Tsultrim Gyamtso Rinpoche , and also to the Goshir Gyaltsabpa for his long stay in 1983. Nowadays such eminent teachers have so many centres worldwide that their visits are counted in days, not months. We were also deeply honoured by the visits of HH the Dalai Lama, HH Sakya Trizin, HH Dilgo Khyentse Rinpoche and Khamtrul Rinpoche.
The overriding theme of the early 1980s was the construction of the temple, with all the work being done by members of the community, which grew considerably in size and talents for the purpose. Under the direction of Sherapalden, our resident artists and craftspeople produced all the images, carvings, paintings and decorations that are now so admired in the new temple. At the same time, the first long-term retreat started, Rokpa's humanitarian work grew and the Tara Therapy started to evolve.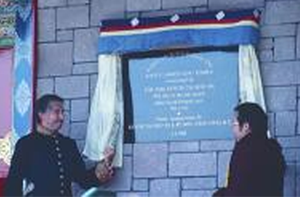 1988 was a key moment. The Samye Temple was inaugurated and the first four-year retreat was successfully completed. Lama Yeshe Losal Rinpoche, who had come here on a brief visit from his long solitary retreat in America, stayed on at Akong Rinpoche's request, first in continued solitary retreat, and then as resident master for the second long retreat that began in 1989.
Since Akong Rinpoche spent more and more time on humanitarian work in Tibet throughout the late 1990s, Lama Yeshe Rinpoche kindly took an increasing responsibility for running the Centre and enthusiastically built up the monastic sangha, developing Samye Ling as a unique experiment combining monastery, nunnery and lay community. Lama Rinpoche became Abbot of what was now known as Samye Ling Monastery and on the occasion of his 60th birthday received the title 'Rinpoche' for his vast dharma attainment and activity.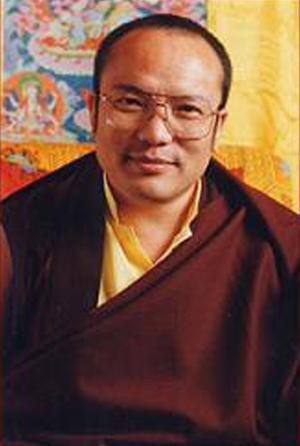 Throughout the 1980s and 90s, Vajradhara Chamgon Tai Situpa was extraordinarily kind and generous in visiting Samye Ling. In response to Akong Tulku Rinpoche's earnest request, from 1989 through to 1997, Situ Rinpoche gave the Mahamudra transmission emanating from the Saraha tradition of mahamudra, and taught in detail from The Ocean of Certainty text by the 9th Gyalwang Karmapa. Thus the greatest masters have transmitted the very essence of the Kagyu teachings here, and Samye Ling continues to be a place where the ancient wisdom of the Buddha's teaching is both preserved and made available to a new world.
In 2007 we celebrated our '40th' in the spirit of never forgetting the essential points behind the spiritual, humanitarian and therapeutic activities that have grown out of Samye Ling. These are: to accomplish whatever we do in a spirit of loving care for all beings that stems from the boundless heart of compassion; to help all beings discover that it is in serving others that they best serve themselves, find happiness and fulfil their own life potential; to promote a message of peaceful co-existence and taking full responsibility for our precious human lives; and to preserve and share the precious jewels of the wisdom and meditation teachings which had been so well preserved in Tibet.
Between 2008 and 2012 all energy and resources went into building the final two wings of the Samye Project. On completion, the new buildings became home to the Reception and Administration offices amongst other things, changing the administrative focus of Samye Ling from Johnstone House to the Temple complex. In addition, they housed a state of the art 300-seater lecture hall for conferences and big events.
Then on 8th October 2013, our Founder Akong Tulku Rinpoche died in tragic circumstances in Chengdu, China. Although this stunned his many followers, with the guidance and inspiration of Akong Rinpoche's brother and Regent, Choje Lama Yeshe Losal Rinpoche, Samye Ling continues to develop and flourish.
Kagyu Samye Ling is currently under the spiritual direction of His Holiness the 17th Gyalwa Karmapa, Orgyen Drodul Trinley Dorje, and the Vajradhara Chamgon Khentin Tai Situpa. We are deeply grateful for their continued and inestimable support. The next major milestone will certainly be the visit of the Gyalwa Karmapa and we look forward to it with great joy and eagerness.
This short overview is to help us recollect with gratitude all that has contributed to our fifty years of growth, to appreciate the kindness of the Buddha in giving his profound teachings, and of the Tibetan masters who have skilfully presented them here.