Taxil hoax
by Wikipedia
Accessed: 11/3/19
NOTICE: THIS WORK MAY BE PROTECTED BY COPYRIGHT
YOU ARE REQUIRED TO READ

THE COPYRIGHT NOTICE AT THIS LINK

BEFORE YOU READ THE FOLLOWING WORK, THAT IS AVAILABLE SOLELY FOR PRIVATE STUDY, SCHOLARSHIP OR RESEARCH PURSUANT TO 17 U.S.C. SECTION 107 AND 108. IN THE EVENT THAT THE LIBRARY DETERMINES THAT UNLAWFUL COPYING OF THIS WORK HAS OCCURRED, THE LIBRARY HAS THE RIGHT TO BLOCK THE I.P. ADDRESS AT WHICH THE UNLAWFUL COPYING APPEARED TO HAVE OCCURRED. THANK YOU FOR RESPECTING THE RIGHTS OF COPYRIGHT OWNERS.
In logic, reductio ad absurdum (Latin for "reduction to absurdity"), also known as argumentum ad absurdum (Latin for "argument to absurdity"), apagogical arguments or the appeal to extremes, is a form of argument that attempts either to disprove a statement by showing it inevitably leads to a ridiculous, absurd, or impractical conclusion, or to prove one by showing that if it were not true, the result would be absurd or impossible.[1][2] Traced back to classical Greek philosophy in Aristotle's Prior Analytics[2] (Greek: ἡ εἰς τὸ ἀδύνατον ἀπόδειξις, lit. 'demonstration to the impossible', 62b), this technique has been used throughout history in both formal mathematical and philosophical reasoning, as well as in debate.

-- Reductio ad absurdum, by Wikipedia
False equivalence is a logical fallacy in which two completely opposing arguments appear to be logically equivalent when in fact they are not. This fallacy is categorized as a fallacy of inconsistency.[1]

-- False equivalence, by Wikipedia
The Taxil hoax was an 1890s hoax of exposure by Léo Taxil intended to mock not only Freemasonry but also the Catholic Church's opposition to it.[1]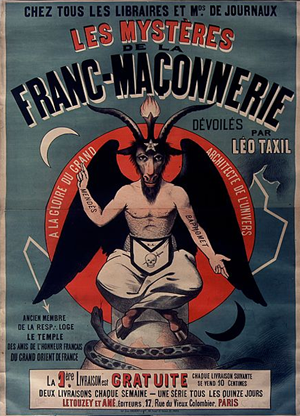 Poster advertising the work of Leo Taxil
Taxil and Freemasonry
Léo Taxil was the pen name of Marie Joseph Gabriel Antoine Jogand-Pagès, who had been accused earlier of libel regarding a book he wrote called The Secret Loves of Pope Pius IX. On April 20, 1884, Pope Leo XIII published an encyclical, Humanum genus, that said that the human race was
separated into two diverse and opposite parts, of which the one steadfastly contends for truth and virtue, the other of those things which are contrary to virtue and to truth. The one is the kingdom of God on earth, namely, the true Church of Jesus Christ... The other is the kingdom of Satan... At this period, however, the partisans of evil seems to be combining together, and to be struggling with united vehemence, led on or assisted by that strongly organized and widespread association called the Freemasons.
After this encyclical, Taxil underwent a public, feigned conversion to Roman Catholicism and announced his intention of repairing the damage he had done to the true faith.
The first book produced by Taxil after his conversion was a four-volume history of Freemasonry, which contained fictitious eyewitness verifications of their participation in Satanism. With a collaborator who published as "Dr. Karl Hacks", Taxil wrote another book called The Devil in the Nineteenth Century, which introduced a new character, Diana Vaughan, a supposed descendant of the Rosicrucian alchemist Thomas Vaughan. The book contained many tales about her encounters with incarnate demons, one of whom was supposed to have written prophecies on her back with its tail, and another who played the piano while in the shape of a crocodile.[2]
Diana was supposedly involved in Satanic freemasonry but was redeemed when one day she professed admiration for Joan of Arc, at whose name the demons were put to flight. As Diana Vaughan, Taxil published a book called Eucharistic Novena, a collection of prayers which were praised by the Pope.
On April 19, 1897, Taxil called a press conference at which he said he would introduce Diana Vaughan to the press. He instead announced that his revelations about the Freemasons were fictitious. He thanked the clergy for their assistance in giving publicity to his wild claims.[3]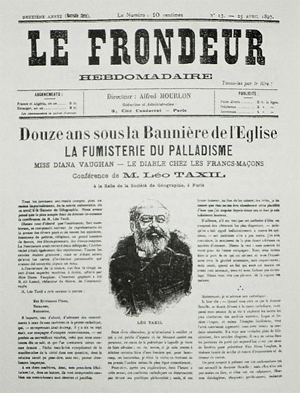 Parisian newspaper with the account of Leo Taxil's confession to the Taxil hoax
The confession was printed, in its entirety, in the Parisian newspaper Le Frondeur, on April 25, 1897, titled: Twelve Years Under the Banner of the Church, The Prank Of Palladism. Miss Diana Vaughan–The Devil At The Freemasons. A Conference held by M. Léo Taxil, at the Hall of the Geographic Society in Paris.[4]
The hoax material is still used to this day. Chick Publications publishes such a tract called The Curse of Baphomet[5] and Randy Noblitt's book on satanic ritual abuse, Cult and Ritual Abuse, also cites the Taxil hoax.[6]
A later interview with Taxil
In the magazine National Magazine, an Illustrated American Monthly, Volume XXIV: April – September, 1906, pages 228 and 229, Taxil is quoted as giving his true reasons behind the hoax. Ten months later, on March 31, 1907, Taxil died.
Members of the Masonic orders understand the false exposure heaped upon that organization in anti-Mason wars. The Catholic church and many other religious orders have been the victims of these half-written and oftentimes venomous attacks. The confession of Taxil, the French Free-thinker, who first exposed Catholics and then Masons, makes interesting reading bearing on the present situation today. Similar motives actuate some of the "muck rakes" of today, as indicated in the following confession:

"The public made me what I am; the arch-liar of the period," confessed Taxil, "for when I first commenced to write against the Masons my object was amusement pure and simple. The crimes I laid at their door were so grotesque, so impossible, so widely exaggerated, I thought everybody would see the joke and give me credit for originating a new line of humor. But my readers wouldn't have it so; they accepted my fables as gospel truth, and the more I lied for the purpose of showing that I lied, the more convinced became they that I was a paragon of veracity.

"Then it dawned upon me that there was lots of money in being a Munchausen of the right kind, and for twelve years I gave it to them hot and strong, but never too hot. When inditing such slush as the story of the devil snake who wrote prophecies on Diana's back with the end of his tail, I sometimes said to myself: 'Hold on, you are going too far,' but I didn't. My readers even took kindly to the yarn of the devil who, in order to marry a Mason, transformed himself into a crocodile, and, despite the masquerade, played the piano wonderfully well.

"One day when lecturing at Lille, I told my audience that I had just had an apparition of Nautilus, the most daring affront on human credulity I had so far risked. But my hearers never turned a hair. 'Hear ye, the doctor has seen Nautulius,' they said with admiring glances. Of course no one had a clear idea of who Nautilus was, I didn't myself, but they assumed that he was a devil.

"Ah, the jolly evenings I spent with my fellow authors hatching out new plots, new, unheard of perversions of truth and logic, each trying to outdo the other in organized mystification. I thought I would kill myself laughing at some of the things proposed, but everything went; there is no limit to human stupidity".
The Luciferian quote
A series of paragraphs about Lucifer are frequently associated with the Taxil hoax. They read:
That which we must say to the world is that we worship a god, but it is the god that one adores without superstition. To you, Sovereign Grand Inspectors General, we say this, that you may repeat it to the brethren of the 32nd, 31st and 30th degrees: The masonic Religion should be, by all of us initiates of the higher degrees, maintained in the Purity of the Luciferian doctrine. If Lucifer were not God, would Adonay and his priests calumniate him?

Yes, Lucifer is God, and unfortunately Adonay is also god. For the eternal law is that there is no light without shade, no beauty without ugliness, no white without black, for the absolute can only exist as two gods; darkness being necessary for light to serve as its foil as the pedestal is necessary to the statue, and the brake to the locomotive....

Thus, the doctrine of Satanism is a heresy, and the true and pure philosophical religion is the belief in Lucifer, the equal of Adonay; but Lucifer, God of Light and God of Good, is struggling for humanity against Adonay, the God of Darkness and Evil.
While this quotation was published by Abel Clarin de la Rive in his Woman and Child in Universal Freemasonry, it does not appear in Taxil's writings proper, though it is sourced in a footnote to Diana Vaughan, Taxil's creation.[7]
It is "Satan who is the god of our planet and the only god," and this without any allusive metaphor to its wickedness and depravity. For he is one with the Logos, "the first son, eldest of the gods," in the order of microcosmic (divine) evolution.

This is vouched for by the very authority from whom

the author of "Esoteric Buddhism"

got his information. To those who bring this passage forward as showing "decided Darwinism," the Occultists answer by pointing to the explanation of the Master (Mr. Sinnett's "teacher") which would contradict these lines, were they written in the spirit attributed to them. A copy of this letter was sent to the writer, together with others, two years ago (1886), with additional marginal remarks, to quote from, in the "Secret Doctrine." "Still, as these 'failures' are too far progressed and spiritualized to be thrown back forcibly from Dhyan Chohanship into the vortex of a new primordial evolution through the lower kingdoms. . . . ." After which only a hint is given about the mystery contained in the allegory of the fallen Asuras, which will be expanded and explained in Book II. When Karma has reached them at the stage of human evolution, "they will have to drink it to the last drop in the bitter cup of retribution. Then they become an active force and commingle with the Elementals, the progressed entities of the pure animal kingdom, to develop little by little the full type of humanity."

-- The Secret Doctrine, by Helena P. Blavatsky
See also
• List of hoaxes
References
1. written by Noah Nicholas and Molly Bedell (2006-08-01). "Mysteries Of The Freemasons — America". Decoding the Past. A&E Television Networks. The History Channel. Archived from the original on 2007-05-09.
2. Hause, Steven C. (Spring 1989). "Anti–Protestant Rhetoric in the Early Third Republic". French Historical Studies. 16 (1): 192. JSTOR 286440.
3. "The Confession of Leo Taxil". April 25, 1897. Archived from the original on 2007-03-03. Retrieved 2007-10-25.
4. Is It True What They Say About Freemasonry? Authors: de Hoyos, Arturo and Morris, S. Brent, 1988, 2nd edition, pp. 27–36 & 195–228, Chap. 3, Leo Taxil: The Hoax of Luciferian Masonry, and Appendix 1, The Confession of Leo Taxil ISBN 1590771532
5. also called "That's Baphomet?"
6. King, EL. "Book review: Cult & Ritual Abuse — Its History, Anthropology, and Recent Discovery in Contemporary America". Retrieved 2009-04-05.
7. de Hoyos, Arturo; Morris, S. Brent (1998). "Albert Pike and Lucifer". Is It True What They Say About Freemasonry? (2nd edition (revised) ed.). Silver Spring, Maryland: Masonic Information Center. Archived from the original on 2006-08-15. Retrieved 2007-10-25.
Further reading
• Melior, Alec (1961). "A Hoaxer of Genius-Leo Taxil (1890-7)". Our Separated Brethren, the Freemasons. trans. B. R. Feinson. London: G. G. Harrap & Co. pp. 149–55.
External links
• "A hoax", l'Illustration, May 1. 1897- No. 2827: Paris, France.
• Abel Claren de la Rive (1855-1914)
• Devil-Worship in France, by A.E. Waite complete e-text of Waite's debunking of Taxil.
• Lady Queenborough, Edith Starr Miller
• Leo Taxil's Confession
• The Prague Cemetery, a novel by Umberto Eco, 2010
• National Magazine, an Illustrated American Monthly, Volume XXIV: April, 1906 - September, 1906