Higashi Hongan-ji
by Wikipedia
Accessed: 11/10/19
NOTICE: THIS WORK MAY BE PROTECTED BY COPYRIGHT
YOU ARE REQUIRED TO READ

THE COPYRIGHT NOTICE AT THIS LINK

BEFORE YOU READ THE FOLLOWING WORK, THAT IS AVAILABLE SOLELY FOR PRIVATE STUDY, SCHOLARSHIP OR RESEARCH PURSUANT TO 17 U.S.C. SECTION 107 AND 108. IN THE EVENT THAT THE LIBRARY DETERMINES THAT UNLAWFUL COPYING OF THIS WORK HAS OCCURRED, THE LIBRARY HAS THE RIGHT TO BLOCK THE I.P. ADDRESS AT WHICH THE UNLAWFUL COPYING APPEARED TO HAVE OCCURRED. THANK YOU FOR RESPECTING THE RIGHTS OF COPYRIGHT OWNERS.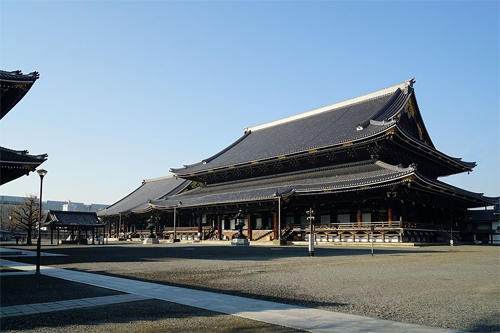 Higashi Hongan-ji
東本願寺
Eastern Temple of the Original Vow
Higashi Hongan-ji
Religion
Affiliation Jodo Shinshu, Otani-ha
Status Head temple
Location
Location 754 Tokiwa-machi, north of Karasuma and Shichijō, Shimogyō-ku, Kyoto, Kyoto Prefecture
Country Japan
Higashi Hongan-ji is located in JapanHigashi Hongan-ji
Shown within Japan
Geographic coordinates 34°59′27.66″N 135°45′30.44″ECoordinates: 34°59′27.66″N 135°45′30.44″E
Website
Ōtani-ha (Higashi Honganji)
Higashi Hongan-ji (東本願寺), or, the Eastern Temple of the Original Vow, is one of two dominant sub-sects of Shin Buddhism in Japan and abroad, the other being Nishi Honganji (or, 'The Western Temple of the Original Vow').
Jodo Shinshu (浄土真宗 "The True Essence of the Pure Land Teaching"[1]), also known as Shin Buddhism or True Pure Land Buddhism, is a school of Pure Land Buddhism. It was founded by the former Tendai Japanese monk Shinran. Shin Buddhism is considered the most widely practiced branch of Buddhism in Japan....

Early Shin Buddhism did not truly flourish until the time of Rennyo (1415–1499), who was 8th in descent from Shinran. Through his charisma and proselytizing, Shin Buddhism was able to amass a greater following and grow in strength. In the 16th-century, during the Sengoku period the political power of Honganji led to several conflicts between it and the warlord Oda Nobunaga, culminating in a ten-year conflict over the location of the Ishiyama Hongan-ji, which Nobunaga coveted because of its strategic value.

So strong did the sect become that in 1602, through mandate of Shogun Tokugawa Ieyasu, the main temple Hongan-ji in Kyoto was broken off into two sects to curb its power. These two sects, the Nishi (Western) Honganji and the Higashi (Eastern) Honganji, exist separately to this day.

During the time of Shinran, followers would gather in informal meeting houses called dojo, and had an informal liturgical structure. However, as time went on, this lack of cohesion and structure caused Jōdo Shinshū to gradually lose its identity as a distinct sect, as people began mixing other Buddhist practices with Shin ritual. One common example was the Mantra of Light popularized by Myōe and Shingon Buddhism. Other Pure Land Buddhist practices, such as the nembutsu odori[4] or "dancing nembutsu" as practiced by the followers of Ippen and the Ji School, may have also been adopted by early Shin Buddhists. Rennyo ended these practices by formalizing much of the Jōdo Shinshū ritual and liturgy, and revived the thinning community at the Honganji temple while asserting newfound political power. Rennyo also proselytized widely among other Pure Land sects and consolidated most of the smaller Shin sects. Today, there are still ten distinct sects of Jōdo Shinshū, Nishi Hongan-ji and Higashi Hongan-ji being the two largest....

Following the unification of Japan during the Edo period, Jōdo Shinshū Buddhism adapted, along with the other Japanese Buddhist schools, into providing memorial and funeral services for its registered members under the Danka system, which was legally required by the Tokugawa shogunate in order to prevent the spread of Christianity in Japan. The danka seido system continues to exist today, although not as strictly as in the premodern period, causing Japanese Buddhism to also be labeled as "Funeral Buddhism" since it became the primary function of Buddhist temples.

The Honganji also created an impressive academic tradition, which led to the founding of Ryukoku University in Kyoto and formalized many of the Jōdo Shinshū traditions which are still followed today.

Following the Meiji Restoration and the subsequent persecution of Buddhism (haibutsu kishaku) of the late 1800s due to a revived nationalism and modernization, Jōdo Shinshū managed to survive intact due to the devotion of its monto.

During World War II, the Honganji, as with the other Japanese Buddhist schools, was compelled to support the policies of the military government and the cult of State Shinto. It subsequently apologized for its wartime actions.[5]....

Shinran's thought was strongly influenced by the doctrine of Mappō, a largely Mahayana eschatology which claims humanity's ability to listen to and practice the Buddhist teachings deteriorates over time and loses effectiveness in bringing individual practitioners closer to Buddhahood. This belief was particularly widespread in early medieval China and in Japan at the end of the Heian. Shinran, like his mentor Hōnen, saw the age he was living in as being a degenerate one where beings cannot hope to be able to extricate themselves from the cycle of birth and death through their own power, or jiriki (自力). For both Hōnen and Shinran, all conscious efforts towards achieving enlightenment and realizing the Bodhisattva ideal were contrived and rooted in selfish ignorance; for humans of this age are so deeply rooted in karmic evil as to be incapable of developing the truly altruistic compassion that is requisite to becoming a Bodhisattva.

Due to his awareness of human limitations, Shinran advocates reliance on tariki, or

other power

(他力)—the power of Amitābha (Japanese Amida) made manifest in his Primal Vow—in order to attain liberation.

Shin Buddhism can therefore be understood as a "practiceless practice", for there are no specific acts to be performed such as there are in the "Path of Sages"....

As in other Pure Land Buddhist schools, Amitābha is a central focus of the Buddhist practice, and Jōdo Shinshū expresses this devotion through a chanting practice called nembutsu, or "Mindfulness of the Buddha [Amida]". The nembutsu is simply reciting the phrase Namu Amida Butsu ("I take refuge in Amitābha Buddha").

Jōdo Shinshū is not the first school of Buddhism to practice the nembutsu but it is interpreted in a new way according to Shinran. The nembutsu becomes understood as an act that expresses gratitude to Amitābha; furthermore, it is evoked in the practitioner through the power of Amida's unobstructed compassion. Therefore, in Shin Buddhism, the nembutsu is not considered a practice, nor does it generate karmic merit. It is simply an affirmation of one's gratitude. Indeed, given that the nembutsu is the Name, when one utters the Name, that is Amitābha calling to the devotee. This is the essence of the Name-that-calls.[6]....

The receipt of shinjin comes about through the renunciation of self-effort in attaining enlightenment through tariki. It should be noted, however, that shinjin arises from jinen (自然 naturalness, spontaneous working of the Vow) and cannot be achieved solely through conscious effort.

One is letting go of conscious effort in a sense, and simply trusting Amida Buddha, and the nembutsu.

For Jōdo Shinshū practitioners, shinjin develops over time through "deep hearing" (monpo) of Amitābha's call of the nembutsu. According to Shinran, "to hear" means "that sentient beings, having heard how the Buddha's Vow arose—its origin and fulfillment—are altogether free of doubt."[8] Jinen also describes the way of naturalness whereby

Amitābha's infinite light illumines and transforms the deeply rooted karmic evil of countless rebirths into good karma.

It is of note that such evil karma is not destroyed but rather transformed: Shin stays within the Mahayana tradition's understanding of śūnyatā and understands that samsara and nirvana are not separate. Once the practitioner's mind is united with Amitābha and Buddha-nature gifted to the practitioner through shinjin, the practitioner attains the state of non-retrogression, whereupon after his death it is claimed he will achieve instantaneous and effortless enlightenment. He will then return to the world as a Bodhisattva, that he may work towards the salvation of all beings....

Under the influence of Rennyo and other priests, Jōdo Shinshū later fully accepted honji suijaku beliefs and the concept of kami as manifestations of Amida Buddha and other buddhas and bodhisattvas.

[10]....

The term honji suijaku or honchi suijaku (本地垂迹) in Japanese religious terminology refers to a theory widely accepted until the Meiji period according to which Indian Buddhist deities choose to appear in Japan as native kami

to more easily convert and save the Japanese.[1][2]

Kami (Japanese: 神, [kaꜜmi]) are the spirits, phenomena or "holy powers" that are venerated in the religion of Shinto. They can be elements of the landscape, forces of nature, as well as beings and the qualities that these beings express; they can also be the spirits of venerated dead persons. Many kami are considered the ancient ancestors of entire clans (some ancestors became kami upon their death if they were able to embody the values and virtues of kami in life). Traditionally, great or sensational leaders like the Emperor could be or became kami.[1]

In Shinto, kami are not separate from nature, but are of nature, possessing positive and negative, and good and evil characteristics. They are manifestations of musubi (結び),[2] the interconnecting energy of the universe, and are considered exemplary of what humanity should strive towards. Kami are believed to be "hidden" from this world, and inhabit a complementary existence that mirrors our own: shinkai (神界, "the world of the kami").[3]:22 To be in harmony with the awe-inspiring aspects of nature is to be conscious of kannagara no michi (随神の道 or 惟神の道, "the way of the kami").[2]

-- Kami, by Wikipedia

The theory states that some kami (but not all) are local manifestations (the suijaku (垂迹), literally, a "trace") of Buddhist deities (the honji (本地), literally, "original ground").[1][3] The two entities form an indivisible whole called gongen and in theory should have equal standing, but this was not always the case.[4] In the early Nara period, for example, the honji was considered more important and only later did the two come to be regarded as equals.[4] During the late Kamakura period it was even proposed that the kami were the original deities and the buddhas their manifestations.

-- Honji suijaku, by Wikipedia

Branch lineages

• Jōdo Shinshū Honganji School (Nishi Hongan-ji) - Popularly spelled Hongwan-ji

• Jōdo Shinshū Higashi Honganji School (Higashi Hongan-ji)

o Shinshū Ōtani School

• Shinshū Chōsei School (Chōsei-ji)

• Shinshū Takada School (Senju-ji)

o Shinshū Kita Honganji School (Kitahongan-ji)

• Shinshū Bukkōji School (Bukkō-ji)

• Shinshū Kōshō School (Kōshō-ji)

• Shinshū Kibe School (Kinshoku-ji)

• Shinshū Izumoji School (Izumo-ji)

• Shinshū Jōkōji School (Jōshō-ji)

• Shinshū Jōshōji School (Jōshō-ji)

• Shinshū Sanmonto School (Senjō-ji)

• Montoshūichimi School (Kitami-ji)

• Kayakabe Teaching (Kayakabe-kyō) - An esoteric branch of Jōdo Shinshū

-- Jōdo Shinshū, by Wikipedia
It is also the name of the head temple of the Ōtani-ha branch of Jōdo Shinshū in Kyoto,
which was most recently constructed in 1895 after a fire burned down the previous temple.[1][2] As with many sites in Kyoto, these two complexes have more casual names and are known affectionately in Kyoto as Onissan (お西さん, Honorable Mr. West) and Ohigashisan (お東さん, Honorable Mr. East).
History
Higashi Honganji was established in 1602 by the shōgun Tokugawa Ieyasu when he split the Shin sect in two (Nishi Honganji being the other) in order to diminish its power.[1] The temple was first built in its present location in 1658.[2]
The temple grounds feature a mausoleum containing the ashes of Shin Buddhism founder Shinran. The mausoleum was initially constructed in 1272 and moved several times before being constructed in its current location in 1670.[3]
At the center of the temple is the Founder's Hall, where an image of the temple's founder, Shinran, is enshrined. The hall is one of the largest wooden structures in the world at 76 m (250 ft.) in length, 58 m (190 ft.) in width, and 38 m (125 ft.) in height. The current hall was constructed in 1895.[4]
The Amida Hall to the left of the Founder's Hall contains an image of Amida Buddha along with an image of Prince Shōtoku, who introduced Buddhism to Japan. The hall is ornately decorated with gold leaf and art from the JapaneseMeiji Period. The current hall was constructed in 1895.[5]
Various parts of Higashi Honganji, including the Founder's Hall and Amida Hall, burned down 4 times during the Japanese Edo Period. Monetary assistance was often given to Higashi Honganji by the Tokugawa Shogunate in order to rebuild. The Great Tenmei Fire in Kyoto caused many temple buildings to burn down in 1788, and the temple was rebuilt in 1797. An accidental fire destroyed many of the temple buildings in 1823 and were rebuilt in 1835. After burning down once again in 1858, the destroyed halls were quickly and temporarily reconstructed for Shinran's 600th Memorial Service in 1861. However, these temporary hall burned down in a city-wide fire caused by the Kinmon incident on July 19, 1864. The temple finally started to rebuild in 1879 after the fall of the Tokugawa Shogunate and once conflict caused by the Meiji Restoration of 1868 had settled down. The Founder's Hall and Amida Hall were completed in 1895, with other buildings being restored by 1911. These buildings comprise the current temple.[2]
During the twentieth century, Higashi Honganji was troubled by political disagreements, financial scandals and family disputes, and has subsequently fractured into a number of further sub-divisions (see Ohigashi schism). The largest Higashi Honganji grouping, the Shinshu Otaniha has approximately 5.5 million members, according to statistics.[1] However within this climate of instability the Higashi Honganji also produced a significant number of extremely influential thinkers, such as Soga Ryojin, Kiyozawa Manshi, Kaneko Daiei and Haya Akegarasu amongst others.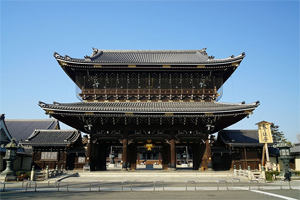 Founder's Hall Gate (Goei-do Mon), built in 1911, width 31 m (103 ft) x height 27 m (90 ft), 59,387 roof tiles [6]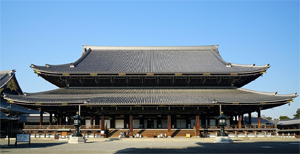 Founder's Hall (Goei-dō)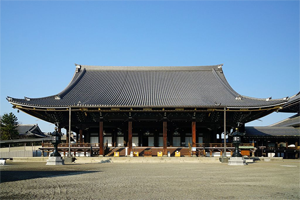 Amida Hall
See also
• Glossary of Japanese Buddhism.
• Shōsei-en
• Shinran
• Ōtani-ha
• Pure Land Buddhism
• Shin Buddhism
References
1. Popular Buddhism In Japan: Shin Buddhist Religion & Culture by Esben Andreasen, pp. 11, 38-39, 101 / University of Hawaii Press 1998, ISBN 0-8248-2028-2
2. "About Higashi Honganji". Higashi Honganji Shinsu Otani-ha. Retrieved 8 October 2019.
3. "Otani Mausoleum". Higashi Honganji Shinsu Otani-ha. Retrieved 8 October 2019.
4. "Founder's Hall (Goei-do)". Higashi Honganji Shinsu Otani-ha. Retrieved 8 October 2019.
5. "Amida Hall". Higashi Honganji Shinsu Otani-ha. Retrieved 8 October 2019.
6. "Founder's Hall Gate". Higashi Honganji Shinsu Otani-ha. Retrieved 8 October 2019.