Part 1 of 2
Sven Hedin
by Wikipedia
Accessed: 11/10/19
NOTICE: THIS WORK MAY BE PROTECTED BY COPYRIGHT
YOU ARE REQUIRED TO READ

THE COPYRIGHT NOTICE AT THIS LINK

BEFORE YOU READ THE FOLLOWING WORK, THAT IS AVAILABLE SOLELY FOR PRIVATE STUDY, SCHOLARSHIP OR RESEARCH PURSUANT TO 17 U.S.C. SECTION 107 AND 108. IN THE EVENT THAT THE LIBRARY DETERMINES THAT UNLAWFUL COPYING OF THIS WORK HAS OCCURRED, THE LIBRARY HAS THE RIGHT TO BLOCK THE I.P. ADDRESS AT WHICH THE UNLAWFUL COPYING APPEARED TO HAVE OCCURRED. THANK YOU FOR RESPECTING THE RIGHTS OF COPYRIGHT OWNERS.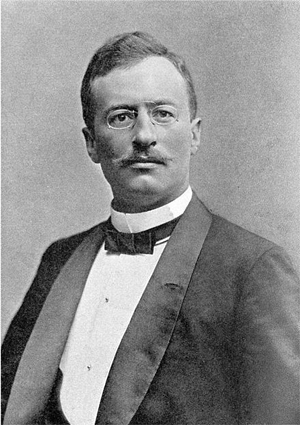 Sven Hedin circa 1910
Born Sven Anders Hedin
19 February 1865
Stockholm, Sweden
Died 26 November 1952 (aged 87)
Stockholm, Sweden
Language Swedish
Nationality Swedish
Notable awards Vega Medal (1898)
Livingstone Medal (1902)
Victoria Medal (1903)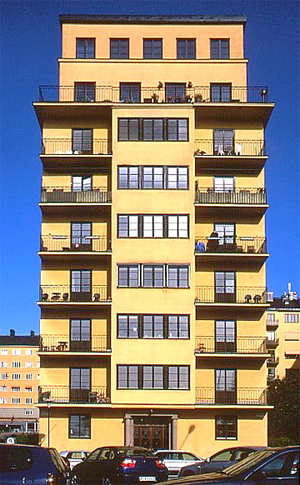 Hedin lived with family members in the upper three stories of this house in Stockholm, Norr Mälarstrand 66, from 1935 until his death in 1952
Sven Anders Hedin, KNO1kl RVO,[1] (19 February 1865 – 26 November 1952) was a Swedish geographer, topographer, explorer, photographer, travel writer, and illustrator of his own works. During four expeditions to Central Asia, he made the Transhimalaya known in the West and located sources of the Brahmaputra, Indus and Sutlej Rivers. He also mapped lake Lop Nur, and the remains of cities, grave sites and the Great Wall of China in the deserts of the Tarim Basin. In his book Från pol till pol (From Pole to Pole), Hedin describes a journey through Asia and Europe between the late 1880s and the early 1900s. While traveling, Hedin visited Turkey, the Caucasus, Tehran, Iraq, lands of the Kyrgyz people and the Russian Far East, India, China and Japan.[2] The posthumous publication of his Central Asia Atlas marked the conclusion of his life's work.[3]
Overview
At 15 years of age, Hedin witnessed the triumphal return of the Arctic explorer Adolf Erik Nordenskiöld after his first navigation of the Northern Sea Route. From that moment on, young Sven aspired to become an explorer.
His studies under the German geographer and China expert, Ferdinand Freiherr von Richthofen, awakened a love of Germany in Hedin and strengthened his resolve to undertake expeditions to Central Asia in order to explore the last uncharted areas of Asia.
After obtaining a doctorate, learning several languages and dialects, and undertaking two trips through Persia, he ignored the advice of Ferdinand von Richthofen to continue his geographic studies in order to acquaint himself with geographical research methodology; the result was that Hedin had to leave the evaluation of his expedition results later to other scientists.
Between 1894 and 1908, in three daring expeditions through the mountains and deserts of Central Asia, he mapped and researched parts of Chinese Turkestan (officially Xinjiang) and Tibet which had been unexplored until then.
Upon his return to Stockholm in 1909 he was received as triumphantly as Adolf Erik Nordenskiöld. In 1902, he became the last Swede (to date) to be raised to the untitled nobility and was considered one of Sweden's most important personalities. As a member of two scientific academies, he had a voice in the selection of Nobel Prize winners for both science and literature. Hedin never married and had no children, rendering his family line now extinct.
Hedin's expedition notes laid the foundations for a precise mapping of Central Asia. He was one of the first European scientific explorers to employ indigenous scientists and research assistants on his expeditions. Although primarily an explorer, he was also the first to unearth the ruins of ancient Buddhist cities in Chinese Central Asia. However, as his main interest in archaeology was finding ancient cities, he had little interest in gathering data thorough scientific excavations. Of small stature, with a bookish, bespectacled appearance, Hedin nevertheless proved himself a determined explorer, surviving several close brushes with death from hostile forces and the elements over his long career. His scientific documentation and popular travelogues, illustrated with his own photographs, watercolor paintings and drawings, his adventure stories for young readers and his lecture tours abroad made him world-famous.
As a renowned expert on Turkestan and Tibet, he was able to obtain unrestricted access to European and Asian monarchs and politicians as well as to their geographical societies and scholarly associations. They all sought to purchase his exclusive knowledge about the power vacuum in Central Asia with gold medals, diamond-encrusted grand crosses, honorary doctorates and splendid receptions, as well as with logistic and financial support for his expeditions. Hedin, in addition to Nikolai Przhevalsky, Sir Francis Younghusband, and Sir Aurel Stein, was an active player in the British-Russian struggle for influence in Central Asia, known as the Great Game. Their travels were supported because they filled in the "white spaces" in contemporary maps, providing valuable information.[4]
Hedin was honored in ceremonies in:
• 1890 by King Oscar II of Sweden
• 1890 by Shah Nāser ad-Dīn Schah
•
1896, 1909 by Czar Nicholas II of Russia


• from 1898 frequently by Kaiser Franz Joseph I of Austria-Hungary
• 1902 by the Viceroy of India Lord Curzon
• 1903, 1914, 1917, 1926, 1936 by Kaiser Wilhelm II
• 1906 by the Viceroy of India Lord Minto
• 1907, 1926, 1933 by the 9th Panchen Lama Thubten Choekyi Nyima
• 1908 by Emperor Mutsuhito
• 1910 by Pope Pius X
• 1910 by U.S. President Theodore Roosevelt
• 1915 and subsequently by Hindenburg
• 1929 and 1935 by Chiang Kai-shek
• 1935, 1939, 1940 (twice) by Adolf Hitler.
Hedin was and remained a figure of the 19th century who clung to its visions and methods also in the 20th century. This prevented him from discerning the fundamental social and political upheavals of the 20th century and aligning his thinking and actions accordingly.
Concerned about the security of Scandinavia, he favored the construction of the battleship Sverige.
In World War I he specifically allied himself in his publications with the German monarchy and its conduct of the war. Because of this political involvement, his scientific reputation was damaged among Germany's wartime enemies, along with his memberships in their geographical societies and learned associations, as well as any support for his planned expeditions.
After a less-than-successful lecture tour in 1923 through North America and Japan, he traveled on to Beijing to carry out an expedition to Chinese Turkestan (modern Xinjiang), but the region's unstable political situation thwarted this intention. He instead traveled through Mongolia by car and through Siberia aboard the Trans-Siberian Railway.
With financial support from the governments of Sweden and Germany, he led, between 1927 and 1935, an international and interdisciplinary Sino-Swedish Expedition to carry out scientific investigations in Mongolia and Chinese Turkestan, with the participation of 37 scientists from six countries. Despite Chinese counter-demonstrations and after months of negotiations in China, was he able to make the expedition also a Chinese one by obtaining Chinese research commissions and the participation of Chinese scientists. He also concluded a contract which guaranteed freedom of travel for this expedition which, because of its arms, 300 camels, and activities in a war theater, resembled an invading army.
However, the financing remained Hedin's private responsibility.
Because of failing health, the civil war in Chinese Turkestan, and a long period of captivity, Hedin, by then 70 years of age, had a difficult time after the currency depreciation of the Great Depression raising the money required for the expedition, the logistics for assuring the supplying of the expedition in an active war zone, and obtaining access for the expedition's participants to a research area intensely contested by local warlords. Nevertheless, the expedition was a scientific success. The archaeological artifacts which had been sent to Sweden were scientifically assessed for three years, after which they were returned to China under the terms of the contract.
Starting in 1937, the scientific material assembled during the expedition was published in over 50 volumes by Hedin and other expedition participants, thereby making it available for worldwide research on eastern Asia. When he ran out of money to pay printing costs, he pawned his extensive and valuable library, which filled several rooms, making possible the publication of additional volumes.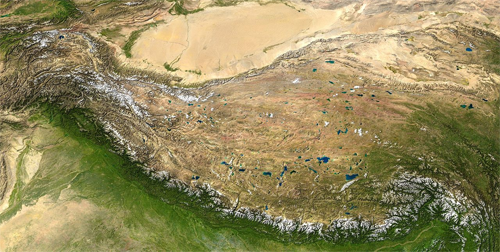 A view of the entire area of Central Asia opened up for cartography and research by Hedin in his expeditions. Below the Himalaya and Transhimalaya ranges, in the middle the Tibetan plateau, above which is the Pamir Mountain range with the Tarim Basin and the Taklamakan Desert alongside.
In 1935, Hedin made his exclusive knowledge about Central Asia available, not only to the Swedish government, but also to foreign governments such as China and Germany, in lectures and personal discussions with political representatives of Chiang Kai-shek and Adolf Hitler.

Although he was not a National Socialist, Hedin's hope that Nazi Germany would protect Scandinavia from invasion by the Soviet Union, brought him in dangerous proximity to representatives of National Socialism, who exploited him as an author. This destroyed his reputation and put him into social and scientific isolation. However, in correspondence and personal conversations with leading Nazis, his successful intercessions achieved the pardoning of ten people condemned to death and the release or survival of Jews who had been deported to Nazi concentration camps.
At the end of the war, U.S. troops deliberately confiscated documents relating to Hedin's planned Central Asia Atlas. The U.S. Army Map Service later solicited Hedin's assistance and financed the printing and publication of his life's work, the Central Asia Atlas. Whoever compares this atlas with Adolf Stielers Hand Atlas of 1891 can appreciate what Hedin accomplished between 1893 and 1935.
Although Hedin's research was taboo in Germany and Sweden because of his conduct relating to Nazi Germany
, and stagnated for decades in Germany, the scientific documentation of his expeditions was translated into Chinese by the Chinese Academy of Social Sciences and incorporated into Chinese research. Following recommendations made by Hedin to the Chinese government in 1935, the routes he selected were used to construct streets and train tracks, as well as dams and canals to irrigate new farms being established in the Tarim and Yanji basins in Xinjiang and the deposits of iron, manganese, oil, coal and gold discovered during the Sino-Swedish Expedition were opened up for mining. Among the discoveries of this expedition should also be counted the many Asian plants and animals unheard of until that date, as well as fossil remains of dinosaurs and other extinct animals. Many were named after Hedin, the species-level scientific classification being hedini. But one discovery remained unknown to Chinese researchers until the turn of the millennium: in the Lop Nur desert, Hedin discovered in 1933 and 1934 ruins of signal towers which prove that the Great Wall of China once extended as far west as Xinjiang.
From 1931 until his death in 1952, Hedin lived in Stockholm in a modern high-rise in a preferred location, the address being Norr Mälarstrand 66. He lived with his siblings in the upper three stories and from the balcony he had a wide view over Riddarfjärden Bay and Lake Mälaren to the island of Långholmen. In the entryway to the stairwell is to be found a decorative stucco relief map of Hedin's research area in Central Asia and a relief of the Lama temple, a copy of which he had brought to Chicago for the 1933 World's Fair.
On 29 October 1952, Hedin's will granted the rights to his books and his extensive personal effects to the Royal Swedish Academy of Sciences; the Sven Hedin Foundation[5] established soon thereafter holds all the rights of ownership.
Hedin died at Stockholm in 1952. The memorial service was attended by representatives of the Swedish royal household, the Swedish government, the Swedish Academy, and the diplomatic service. He is buried in the cemetery of Adolf Fredrik church in Stockholm.
Biography

Childhood influences
Sven Hedin was born in Stockholm, the son of Ludwig Hedin, Chief Architect of Stockholm.[6] When he was 15 years old Hedin witnessed the triumphal return of the Swedish Arctic explorer Adolf Erik Nordenskiöld after his first navigation of the Northern Sea Route.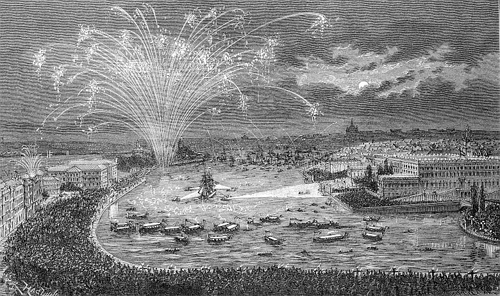 Stockholm on 24 April 1880
He describes this experience in his book My Life as an Explorer as follows:
On April 24, 1880, the steamer Vega sailed into Stockholms ström. The entire city was illuminated. The buildings around the harbor glowed in the light of innumerable lamps and torches. Gas flames depicted the constellation of Vega on the castle. Amidst this sea of light the famous ship glided into the harbor. I was standing on the Södermalm heights with my parents and siblings, from which we had a superb view. I was gripped by great nervous tension. I will remember this day until I die, as it was decisive for my future. Thunderous jubilation resounded from quays, streets, windows and rooftops. "That is how I want to return home some day," I thought to myself.
First trip to Iran (Persia)
In May 1885, Hedin graduated from Beskowska secondary school in Stockholm. He then accepted an offer to accompany the student Erhard Sandgren as his private tutor to Baku, where Sandgren's father was working as an engineer in the oil fields of Robert Nobel. Afterward he attended a course in topography for general staff officers for one month in summer 1885 and took a few weeks of instruction in portrait drawing; this comprised his entire training in those areas.
On 15 August 1885, he traveled to Baku with Erhard Sandgren and instructed him there for seven months, and he himself began to learn the Latin, French, German, Persian, Russian, English and Tatar languages. He later learned several Persian dialects as well as Turkish, Kyrgyz, Mongolian, Tibetan and some Chinese.
On 6 April 1886, Hedin left Baku for Iran (then called Persia), traveling by paddle steamer over the Caspian Sea, riding through the Alborz Range to Tehran, Esfahan, Shiraz and the harbor city of Bushehr. From there he took a ship up the Tigris River to Baghdad (then in Ottoman Empire), returning to Tehran via Kermanshah, and then travelling through the Caucasus and over the Black Sea to Constantinople. Hedin then returned to Sweden, arriving on 18 September 1886.
In 1887, Hedin published a book about these travels entitled Through Persia, Mesopotamia and the Caucasus.
Studies
From 1886 to 1888, Hedin studied under the geologist Waldemar Brøgger in Stockholm and Uppsala the subjects of geology, mineralogy, zoology and Latin. In December 1888, he became a Candidate in Philosophy. From October 1889 to March 1890 he studied in Berlin under Ferdinand Freiherr von Richthofen.
Second trip to Iran
On 12 May 1890, he accompanied as interpreter and vice-consul a Swedish legation to Iran which was to present the Shah of Iran with the insignia of the Order of the Seraphim. As part of the Swedish legation, he was at an audience of the shah Naser al-Din Shah Qajar in Tehran. He spoke with him and later accompanied him to the Elburz Mountain Range. On 11 July 1890, he and three others climbed Mount Damavand where he collected primary material for his dissertation. Starting in September he traveled on the Silk Road via cities Mashhad, Ashgabat, Bukhara, Samarkand, Tashkent and Kashgar to the western outskirts of the Taklamakan Desert. On the trip home, he visited the grave of the Russian Asian scholar, Nikolai Przhevalsky in Karakol on the shore of Lake Issyk Kul. On 29 March 1891, he was back in Stockholm. He published the books King Oscar's Legation to the Shah of Persia in 1890 and Through Chorasan and Turkestan about this journey.
Doctorate and career path
On 27 April 1892, Hedin traveled to Berlin to continue his studies under Ferdinand Freiherr von Richthofen. Beginning of July he went to University of Halle-Wittenberg, Halle, attending lectures by Alfred Kirchhoff. Yet in the same month, he received the degree of Doctor of Philosophy with a 28-page dissertation entitled Personal Observations of Damavand. This dissertation is a summary of one part of his book, King Oscar's Legation to the Shah of Persia in 1890. Eric Wennerholm remarked on the subject:
I can only come to the conclusion that Sven [Hedin] received his doctorate when he was 27 years old after studying for a grand total of only eight months and collecting primary material for one-and-a-half days on the snow-clad peak of Mount Damavand.
Ferdinand Freiherr von Richthofen not only encouraged Hedin to absolve cursory studies, but also to become thoroughly acquainted with all branches of geographic science and the methodologies of the salient research work, so that he could later work as an explorer. Hedin abstained from doing this with an explanation he supplied in old age:
I was not up to this challenge. I had gotten out onto the wild routes of Asia too early, I had perceived too much of the splendor and magnificence of the Orient, the silence of the deserts and the loneliness of long journeys. I could not get used to the idea of spending a long period of time back in school.
Hedin had therewith decided to become an explorer. He was attracted to the idea of traveling to the last mysterious portions of Asia and filling in the gaps by mapping an area completely unknown in Europe. As an explorer, Hedin became important for the Asian and European powers, who courted him, invited him to give numerous lectures, and hoped to obtain from him in return topographic, economic and strategic information about inner Asia, which they considered part of their sphere of influence. As the era of discovery came to a close around 1920, Hedin contented himself with organizing the Sino-Swedish Expedition for qualified scientific explorers.
First expedition
Between 1893 and 1897, Hedin investigated the Pamir Mountains, travelling through the Tarim Basin in Xinjiang region, across the Taklamakan Desert, Lake Kara-Koshun and Lake Bosten, proceeding to study northern Tibet.
He covered 26,000 kilometres (16,000 mi) on this journey and mapped 10,498 kilometres (6,523 mi) of them on 552 sheets. Approximately 3,600 kilometres (2,200 mi) led through previously uncharted areas.
He started out on this expedition on 16 October 1893, from Stockholm, traveling via Saint Petersburg and Tashkent to the Pamir Mountains. Several attempts to climb the 7,546 metres (24,757 ft) high Muztagata—called the Father of the Glaciers—in the Pamir Mountains were unsuccessful. He remained in Kashgar until April 1895 and then left on 10 April with three local escorts from the village of Merket in order to cross the Taklamakan Desert via Tusluk to the Khotan River. Since their water supply was insufficient, seven camels died of thirst, as did two of his escorts (according to Hedin's dramatized and probably inaccurate account). Bruno Baumann traveled on this route in April 2000 with a camel caravan and ascertained that at least one of the escorts who, according to Hedin, had died of thirst had survived, and that it is impossible for a camel caravan traveling in springtime on this route to carry enough drinking water for both camels and travelers.[7]
According to other sources, Hedin had neglected to completely fill the drinking water containers for his caravan at the beginning of the expedition and set out for the desert with only half as much water as could actually be carried. When he noticed the mistake, it was too late to return. Obsessed by his urge to carry out his research, Hedin deserted the caravan and proceeded alone on horseback with his servant. When that escort also collapsed from thirst, Hedin left him behind as well, but managed to reach a water source at the last desperate moment. He did, however, return to his servant with water and rescued him. Nevertheless, his ruthless behavior earned him massive criticism.[8]
In January 1896, after a stopover in Kashgar, Hedin visited the 1,500-year-old abandoned cities of Dandan Oilik and Kara Dung, which are located northeast of Khotan in the Taklamakan Desert. At the beginning of March, he discovered Lake Bosten, one of the largest inland bodies of water in Central Asia. He reported that this lake is supplied by a single mighty feeder stream, the Kaidu River. He mapped Lake Kara-Koshun and returned on 27 May to Khotan.
On 29 June, he started out from there with his caravan across northern Tibet and China to Beijing, where he arrived on 2 March 1897. He returned to Stockholm via Mongolia and Russia.
Second expedition
Another expedition in Central Asia followed in 1899-1902 through the Tarim Basin, Tibet and Kashmir to Calcutta.
Hedin navigated the Yarkand, Tarim and Kaidu[9] rivers and found the dry riverbed of the Kum-darja as well as the dried out lake bed of Lop Nur. Near Lop Nur, he discovered the ruins of the 340 by 310 metres (1,120 by 1,020 ft) former walled royal city and later Chinese garrison town of Loulan, containing the brick building of the Chinese military commander, a stupa, and 19 dwellings built of poplar wood. He also found a wooden wheel from a horse-drawn cart (called an arabas) as well as several hundred documents written on wood, paper and silk in the Kharosthi script. These provided information about the history of the city of Loulan, which had once been located on the shores of Lop Nur but had been abandoned around the year 330 CE because the lake had dried out, depriving the inhabitants of drinking water.
During his travels in 1900 and 1901 he attempted in vain to reach the city of Lhasa, which was forbidden to Europeans. He continued to Leh, in Ladakh district, India. From Leh, Hedin's route took him to Lahore, Delhi, Agra, Lucknow, Benares to Calcutta, meeting there with George Nathaniel Curzon, England's then Viceroy to India.
This expedition resulted in 1,149 pages of maps, on which Hedin depicted newly discovered lands. He was the first to describe yardang formations in the Lop Desert.
Third expedition
Between 1905 and 1908, Hedin investigated the Central Iranian desert basins, the western highlands of Tibet and the Transhimalaya, which for a time was afterward called the Hedin Range. He visited the 9th Panchen Lama in the cloistered city of Tashilhunpo in Shigatse. Hedin was the first European to reach the Kailash region, including the sacred Lake Manasarovar and Mount Kailash, the midpoint of the earth according to Buddhist and Hindu mythology. The most important goal of the expedition was the search for the sources of the Indus and Brahmaputra Rivers, both of which Hedin found. From India, he returned via Japan and Russia to Stockholm
.
He returned from this expedition with a collection of geological samples which are kept and studied in the Bavarian State Collection of Paleontology and Geology of Munich University. These sedimentary rocks—such as breccia, conglomerate, limestone, and slate, as well as volcanic rock and granite—highlight the geological diversity of the regions visited by Hedin during this expedition.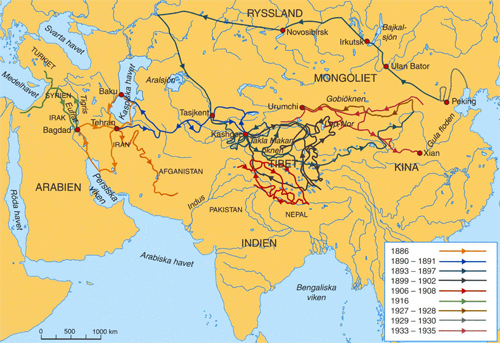 The explorations of Hedin 1886-1935. The routes of his colleagues during the Sino-Swedish Expedition of 1927-1935 are not included.
Mongolia
In 1923, Hedin traveled to Beijing via the USA—where he visited the Grand Canyon—and Japan. Because of political and social unrest in China, he had to abandon an expedition to Xinjiang. Instead, he traveled with Frans August Larson (called the "Duke of Mongolia") in November and December in a Dodge automobile from Peking through Mongolia via Ulaanbaatar to Ulan-Ude, Russia and from there on the Trans-Siberian Railway to Moscow.
Fourth expedition
Between 1927 and 1935, Hedin led an international Sino-Swedish Expedition which investigated the meteorological, topographic and prehistoric situation in Mongolia, the Gobi Desert and Xinjiang.
Hedin described it as a peripatetic university in which the participating scientists worked almost independently, while he—like a local manager—negotiated with local authorities, made decisions, organized whatever was necessary, raised funds and recorded the route followed. He gave archaeologists, astronomers, botanists, geographers, geologists, meteorologists and zoologists from Sweden, Germany and China an opportunity to participate in the expedition and carry out research in their areas of specialty.
Hedin met Chiang Kai-shek in Nanjing, who thereupon became a patron of the expedition. The Sino-Swedish Expedition was honored with a Chinese postage stamp series which had a print run of 25,000. The four stamps show camels at a camp with the expedition flag and bear the Chinese text, "Postal Service of the Prosperous Middle Kingdom" and in Latin underneath, "Scientific Expedition to the Northwestern Province of China 1927-1933". A painting in the Beijing Palace Museum entitled Nomads in the Desert served as model for the series. Of the 25,000 sets, 4,000 were sold across the counter and 21,500 came into the possession of the expedition. Hedin used them to finance the expedition, selling them for a price of five dollars per set. The stamps were unwelcome at the time due to the high price Hedin was selling them at, but years later became valuable treasures among collectors.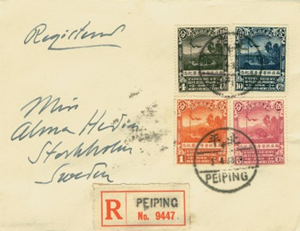 Envelope of a letter from Hedin to his sister Alma with Chinese stamps issued on the occasion of the Sino-Swedish Expedition
The first part of the expedition, from 1927 to 1932, led from Beijing via Baotou to Mongolia, over the Gobi Desert, through Xinjiang to Ürümqi, and into the northern and eastern parts of the Tarim Basin. The expedition had a wealth of scientific results which are being published up to the present time. For example, the discovery of specific deposits of iron, manganese, oil, coal and gold reserves was of great economic relevance for China. In recognition of his achievements, the Berlin Geographical Society presented him with the Ferdinand von Richthofen Medal in 1933; the same honor was also awarded to Erich von Drygalski for his Gauss Expedition to the Antarctic; and to Alfred Philippson for his research on the Aegean Region.
From the end of 1933 to 1934, Hedin led—on behalf of the Kuomintang government under Chiang Kai-shek in Nanjing—a Chinese expedition to investigate irrigation measures and draw up plans and maps for the construction of two roads suitable for automobiles along the Silk Road from Beijing to Xinjiang. Following his plans, major irrigation facilities were constructed, settlements erected, and roads built on the Silk Road from Beijing to Kashgar, which made it possible to completely bypass the rough terrain of Tarim Basin.
One aspect of the geography of central Asia which intensively occupied Hedin for decades was what he called the "wandering lake" Lop Nur. In May 1934, he began a river expedition to this lake. For two months he navigated the Kaidu River and the Kum-Darja to Lop Nur, which had been filled with water since 1921. After the lake dried out in 1971 as a consequence of irrigation activities, the above-mentioned transportation link enabled the People's Republic of China to construct a nuclear weapon test site at Lop Nur.
His caravan of truck lorries was hijacked by the Chinese Muslim General Ma Zhongying who was retreating from northern Xinjiang along with his Kuomintang 36th Division (National Revolutionary Army) from the Soviet Invasion of Xinjiang. While Hedin was detained by Ma Zhongying, he met General Ma Hushan, and Kemal Kaya Effendi.
Ma Zhongying's adjutant claimed to Hedin that Ma Zhongying had the entire region of Tian-shan-nan-lu (southern Xinjiang) under his control and Sven could pass through safely without any trouble. Hedin did not believe his assertions.[10] Some of Ma Zhongying's Tungan (Chinese speaking Muslim) troops attacked Hedin's expedition by shooting at their vehicles.[11]
For the return trip, Hedin selected the southern Silk Road route via Hotan to Xi'an, where the expedition arrived on 7 February 1935. He continued on to Beijing to meet with President Lin Sen and to Nanjing to Chiang Kai-shek. He celebrated his 70th birthday on 19 February 1935 in the presence of 250 members of the Kuomintang government, to whom he reported interesting facts about the Sino-Swedish Expedition. On this day, he was awarded the Brilliant Jade Order, Second Class.
At the end of the expedition, Hedin was in a difficult financial situation. He had considerable debts at the German-Asian Bank in Beijing, which he repaid with the royalties and fees received for his books and lectures. In the months after his return, he held 111 lectures in 91 German cities as well as 19 lectures in neighboring countries. To accomplish this lecture tour, he covered a stretch as long as the equator, 23,000 kilometres (14,000 mi) by train and 17,000 kilometres (11,000 mi) by car—in a time period of five months. He met Adolf Hitler in Berlin before his lecture on 14 April 1935.
Political views
Hedin was a monarchist. From 1905 onwards he took a stand against the move toward democracy in his Swedish homeland. He warned of the dangers he assumed to be coming from Czarist Russia, and called for an alliance with the German Empire. Therefore, he advocated a strengthened national defence, with a vigilant military preparedness. August Strindberg was one of his opponents on this issue, which divided Swedish politics at the time. In 1912 Hedin publicly supported the Swedish coastal defense ship Society. He helped collect public donations for the building of the coastal defense ship HSwMS Sverige, which the Liberal and anti-militarist government of Karl Staaff had been unwilling to finance. In early 1914, when the Liberal government enacted cutbacks to the country's defenses, Hedin wrote the Courtyard Speech, in which King Gustaf V promised to strengthen the country's defenses. The speech led to a political crisis that ended with Staaff and his government resigning and being replaced by a non-party, more conservative government.
He developed a lasting affinity for the German empire, with which he became acquainted during his formal studies. This is also shown in his admiration for Kaiser Wilhelm II, whom he even visited in exile in the Netherlands. Influenced by imperial Russian and later the Soviet union's attempts to dominate and control territories outside its borders, especially in Central Asia and Turkestan,
Hedin felt that Soviet Russia posed a great threat to the West, which may be part of the reason why he supported Germany during both World Wars.

He viewed World War I as a struggle of the German race (particularly against Russia) and took sides in books like Ein Volk in Waffen. Den deutschen Soldaten gewidmet (A People in Arms. Dedicated to the German Soldier). As a consequence, he lost friends in France and England and was expelled from the British Royal Geographical Society, and from the Imperial Russian Geographical Society. Germany's defeat in World War I and the associated loss of its international reputation affected him deeply. That Sweden gave asylum to Wolfgang Kapp as a political refugee after the failure of the Kapp Putsch is said to be primarily attributable to his efforts.[12]
Wolfgang Kapp (24 July 1858 – 12 June 1922) was a Prussian civil servant and journalist. He was a strict nationalist, and a failed leader of the so-called Kapp Putsch.

-- Wolfgang Kapp, by Wikipedia