Wolfgang Kapp
by Wikipedia
Accessed: 11/10/19
NOTICE: THIS WORK MAY BE PROTECTED BY COPYRIGHT
YOU ARE REQUIRED TO READ

THE COPYRIGHT NOTICE AT THIS LINK

BEFORE YOU READ THE FOLLOWING WORK, THAT IS AVAILABLE SOLELY FOR PRIVATE STUDY, SCHOLARSHIP OR RESEARCH PURSUANT TO 17 U.S.C. SECTION 107 AND 108. IN THE EVENT THAT THE LIBRARY DETERMINES THAT UNLAWFUL COPYING OF THIS WORK HAS OCCURRED, THE LIBRARY HAS THE RIGHT TO BLOCK THE I.P. ADDRESS AT WHICH THE UNLAWFUL COPYING APPEARED TO HAVE OCCURRED. THANK YOU FOR RESPECTING THE RIGHTS OF COPYRIGHT OWNERS.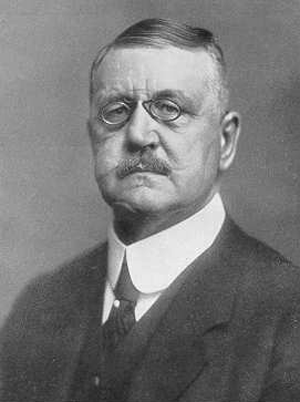 Wolfgang Kapp
Born July 24, 1858
New York City, New York, United States
Died June 12, 1922 (aged 63)
Leipzig, Germany
Nationality Germany
Occupation Civil servant, politician
Height 171 cm (5 ft 7 in)
Spouse(s) Margarete Rosenow
Children 3
Signature
Wolfgang Kapp signature.svg
Wolfgang Kapp (24 July 1858 – 12 June 1922) was a Prussian civil servant and journalist. He was a strict nationalist, and a failed leader of the so-called Kapp Putsch.
Early life
Kapp was born in New York City where his father Friedrich Kapp, a political activist and later Reichstag delegate for the National Liberal Party, had settled after the failed European revolutions of 1848. In 1870 the family returned to Germany and Kapp's schooling continued in Berlin at the Friedrich Wilhelm Gymnasium (High School). Wolfgang Kapp married Margarete Rosenow in 1884; the couple would have three children. Through his wife's family, Kapp acquired a family connection with politically conservative elements. In 1886, he graduated at the conclusion of his law studies at the University of Tübingen and was appointed to a position in the Finance Ministry the same year.
Political activist
After an ordinary official career, Kapp became the founder of the Agricultural Credit Institute in East Prussia which achieved great success in promoting the prosperity of landowners and farmers in that province. He was consequently in close touch with the Junkers of East Prussia, and during the First World War made himself their mouthpiece in an attack on Chancellor Bethmann Hollweg.
Kapp's pamphlet, entitled Die Nationalen Kreise und der Reichskanzler and published in the early summer of 1916, criticized German foreign and domestic policy under Hollweg. This pamphlet appeared about the same time as the attacks of "Junius Alter" and evoked an indignant reply from Hollweg in the Reichstag, in which he spoke of "loathsome abuse and slanders."[1]
In 1917, along with Alfred von Tirpitz, Kapp founded the Deutsche Vaterlandspartei (Fatherland Party), of which he would briefly become chairman. He was one of a number of prominent figures of the right, including General Ludendorff and Waldemar Pabst, who set up in August 1919 the Nationale Vereinigung (de) (National Union), a right-wing think-tank which campaigned for a counter-revolution to install a form of conservative militaristic government.
The Nationale Vereinigung did not, however, press for the restoration of the monarchy, the Kaiser having bowed to Army pressure and left for his exile in the Netherlands in November 1918. 1919, which saw the consolidation in Germany of the Weimar Republic, found Kapp a member of the Deutschnationale Volkspartei (German National People's Party).
Germany's defeat in the First World War was seen by nationalists such as Kapp as a humiliation and a betrayal. He became an exponent of the Dolchstoß legend and a vehement critic of the Treaty of Versailles. In 1919 he was elected to the Reichstag as a monarchist.
Putsch
Main article: Kapp Putsch
"We will not govern according to any theory", Wolfgang Kapp, 13 March 1920[2]
In March 1920 Hermann Ehrhardt, the leader of the Freikorps known as the Ehrhardt Brigade, was authorized by General Walther von Lüttwitz (Commander of Reichswehr Command Group I) to proceed and use the Marine Brigade to take Berlin from the Weimar Government
. The Weimar government fled to Dresden and then on to Stuttgart in order to avoid arrest by rebel Reichswehr troops.
Though proclaiming a new government and state administration, Kapp along with Lüttwitz failed to calculate the lack of support for such a coup. The majority of the old establishment, civil service, labour unions and general population did not side with the putschists and as a result the newly proclaimed state lasted for a mere two days
before a General Strike was called by the SPD. The Reichswehr, under the command of Hans von Seeckt, failed to uphold their constitutional commitment by defending the Republican government against the rebellious Freikorps units. The Weimar regime was saved by the public by means of the strike, but the Putsch did not succeed for other reasons. These include the lack of outward and active support from the military elite, judiciary and civil service who were reluctant to commit to the Putsch from its beginning.
Hitler and Eckart's first joint political endeavor was a comic attempt to coordinate with the Kapp Putsch's incompetent instigators in March, 1920. General Walther von Luttwitz's Freikorps troops marched on Berlin and installed a minor official named Wolfgang Kapp as Chancellor. Eckart knew Kapp, who not only subscribed to Auf Gut Deutsch, but donated 1,000 marks to help it thrive. Some time during January, 1920 Kapp visited Eckart in Munich to seek his advice for the planned coup. In late February, Eckart traveled to Berlin for another meeting with his friend, counseling him to adopt stern measures against the Jews, who would surely rouse credulous proles to oppose a nationalist revolution. After the Putsch Kapp enforced only small sanctions, such as the impoundment of matzo flour -- which Eckart derided as not merely ineffective, but ludicrous.

Threats from Britain and France to bring criminal charges against the former Kaiser and 900 senior military officers provoked outrage toward the hated Weimar Republic, which most Germans viewed as the creature of Entente powers. In January, 1920 the leaders of Berlin's officer corps proposed to toss out President Friedrich Ebert's regime and install Kapp as chancellor. With the collusion of General Walther von Luttwitz, General Erich Ludendorff, and Colonel Max Bauer, Kapp occupied government offices on March 12 and proclaimed himself chancellor. Ebert absconded to Dresden. But things went down hill from there. No prominent men would accept cabinet appointments from Kapp. Berlin's civil servants staged a sick-out. The German Reichsbank refused to approve Kapp's signature on government checks, thus freezing the nation's assets. On March 17th Kapp tendered his resignation and fled to Sweden.

The new "chancellor" proposed to abolish the Weimar Republic and arrest all Jews suspected of stabbing Germany in the back during World War I. On Captain Mayr's recommendation Augsburg businessman Dr. Gottfried Grandel agreed to pay for Hitler and Eckart's expenses for a trip to Berlin. On March 17, 1920 the two emissaries took off in a three-seat sport plane piloted by air ace Robert Ritter von Greim, on a mission to enlist Kapp's aid in overthrowing Bavaria's Provisional Government. Red-faced Eckart, with double chin quivering under a tight leather cap, watched Hitler vomit over the side with goggles askew. Once on the ground Eckart posed as a paper merchant. The woozy Hitler clapped on a fake beard and pretended to be his assistant.

Upon reaching Kapp's headquarters in Hotel Adlon they encountered Hungarian Jewish conman Ignaz Thimotheus Trebitsch-Lincoln -- an amazing character who combined spying with the careers of an Anglican minister, British M.P., published author, and Chinese religious leader. He informed them that "Chancellor" Kapp had skipped town to avoid arrest. Eckart turned to Hitler and snapped: "Come, Adolf, we have no further business here." [6] Hitler subsequently remarked:

"When I saw and spoke to the press chief of Kapp's government I knew this could be no national revolution ... for he was a Jew." [7]

Six months later Trebitsch-Lincoln sold his account of the Kapp Putsch to the French Foreign office for 50,000 Czech crowns.

Refusing von Greim's offer of a return flight, Eckart and Hitler took the next train back to Munich. They learned from the Kapp Putsch's collapse that a rightist insurrection stood little chance of victory. This reinforced their strategy of courting blue collar workers and small business proprietors.

The Kapp Putsch gave Hitler an object lesson on how not to stage a coup against the Weimar Republic. A spur-of-the-moment military action without sufficient political organization would never succeed. The German Workers Party needed a coordinated action with military and civilian cooperation. Of course, Anton Drexler, Karl Harrer, and other timid Skat club members feared such risky designs.

-- Hitler's Mentor: Dietrich Eckart, His Life, Times, & Milieu, by Joseph Howard Tyson
When the coup d'état failed Kapp fled to Sweden.
That Sweden gave asylum to Wolfgang Kapp as a political refugee after the failure of the Kapp Putsch is said to be primarily attributable to his efforts.[12]

-- Sven Hedin, by Wikipedia
After two years in exile, he returned to Germany in April 1922 to justify himself in a trial at the Reichsgericht. He died in custody in Leipzig shortly afterwards of cancer.[3]
References
1. Chisholm, Hugh, ed. (1922). "Kapp, Wolfgang" . Encyclopædia Britannica (12th ed.). London & New York.
2. Kapp's proclamation as quoted in Waite R.,(1952) Vanguard of Nazism, Norton library, New York
3. Biography at the German Historical Museum (in German)
Authority control
• BNF: cb12237164m (data)
• GND: 118891502
• ISNI: 0000 0000 2314 5393
• LCCN: n82069829
• NTA: 073354198
• SUDOC: 03108656X
• VIAF: 47559868
• WorldCat Identities (via VIAF): 47559868
External links
• Newspaper clippings about Wolfgang Kapp in the 20th Century Press Archives of the ZBW