Fukuzawa Yukichi
by Wikipedia
Accessed: 11/12/19
NOTICE: THIS WORK MAY BE PROTECTED BY COPYRIGHT
YOU ARE REQUIRED TO READ

THE COPYRIGHT NOTICE AT THIS LINK

BEFORE YOU READ THE FOLLOWING WORK, THAT IS AVAILABLE SOLELY FOR PRIVATE STUDY, SCHOLARSHIP OR RESEARCH PURSUANT TO 17 U.S.C. SECTION 107 AND 108. IN THE EVENT THAT THE LIBRARY DETERMINES THAT UNLAWFUL COPYING OF THIS WORK HAS OCCURRED, THE LIBRARY HAS THE RIGHT TO BLOCK THE I.P. ADDRESS AT WHICH THE UNLAWFUL COPYING APPEARED TO HAVE OCCURRED. THANK YOU FOR RESPECTING THE RIGHTS OF COPYRIGHT OWNERS.
At the time of

Olcott

and

Dharmapala

's visit, Jiji Shimpo

[Jiji Shinpo "Current Events", Fukuzawa's newspaper

], a newspaper committed to Japan's modernization, looked forward to a time when human beings would have less need for religion. In the face of missionary threat – and the prospect of life without religion relegated to the future –

the paper argued that for now Jodo Shinshu should become the state religion:

Its preachers are skilful; the tact of its propagandists is remarkable; its temples, instead of being hidden away in sequestered spots like the strongholds of feudal barons, are built in populous and accessible places, and despite the license enjoyed by its priests in respect of marriage and flesh-eating, its influence spreads and alone among all the Sects, its prosperity remains unimpaired.98

The Christian editors of the Japan Weekly Mail reached the opposite conclusion: these qualities made it the least praiseworthy of Buddhist sects.

-- Rescued from the Nation: Anagarika Dharmapala and the Buddhist World, by Steven Kemper
In this Japanese name, the family name is Fukuzawa.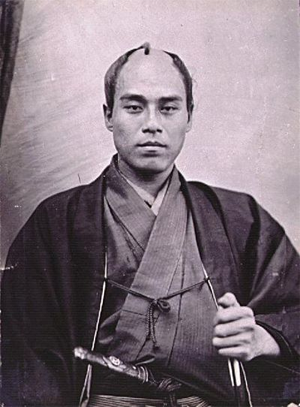 Fukuzawa Yukichi
Muséum national d'histoire naturelle in Paris, 1862.
Born January 10, 1835
Nakatsu, Oita, Japan
Died February 3, 1901 (aged 66)
Tokyo, Japan
Other names Shi-I (子圍)
Sanjyū-ikkoku-jin (三十一谷人)
Children 9
Fukuzawa Yukichi (福澤 諭吉, January 10, 1835 – February 3, 1901) was a Japanese author, writer, teacher, translator, entrepreneur, journalist, and leader who
founded Keio University, Jiji-Shinpō (a newspaper) and the Institute for Study of Infectious Diseases.
Fukuzawa was an early Japanese advocate for reform. Fukuzawa's ideas about the government work, and the structure of social institutions made a lasting impression on a rapidly changing Japan during the Meiji period.
Fukuzawa is regarded as one of the founders of modern Japan.
Early life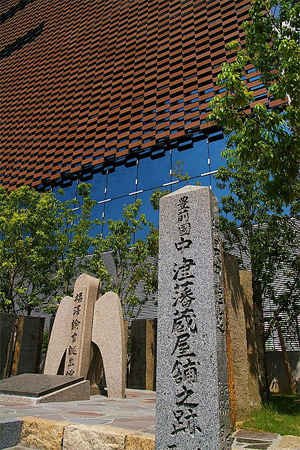 Monument of NAKATSU-Han warehouse and FUKUZAWA YUKICHI birthplace, at Hotaru-machi, Fukushima-ku, Osaka City, Japan.
Fukuzawa Yukichi was
born into an impoverished low-ranking samurai family
of the Okudaira Clan of Nakatsu (now Ōita, Kyushu) in 1835. His family lived in Osaka, the main trading center for Japan at the time.[1] His family was poor following the early death of
his father, who was also a Confucian scholar
. At the age of 5 he started Han learning, and by the time he turned 14 had studied major writings such as the Analects, Tao Te Ching, Zuo Zhuan and Zhuangzi.[2] Fukuzawa was greatly influenced by his lifelong teacher, Shōzan Shiraishi, who was a scholar of Confucianism and Han learning. When he turned 19 in 1854, shortly after Commodore Matthew C. Perry's arrival in Japan,
Fukuzawa's brother (the family patriarch) asked Yukichi to travel to Nagasaki, where the Dutch colony at Dejima was located, in order to enter a school of Dutch studies (rangaku). He instructed Yukichi to learn Dutch so that he might study European cannon designs and gunnery.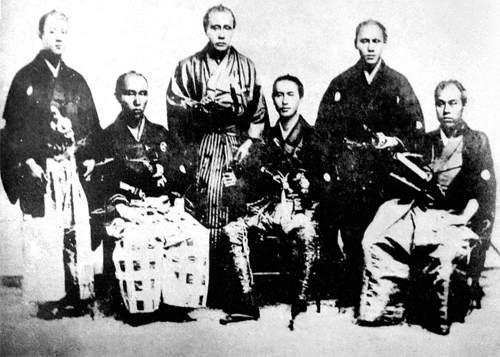 Sailors of the Kanrin Maru, members of the Japanese Embassy to the United States (1860). Fukuzawa Yukichi sits on the right.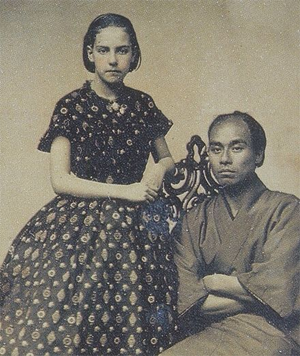 Fukuzawa Yukichi (posing with the photographer's twelve year old daughter: Theodora Alice Shew) in San Francisco, 1860.
Fukuzawa spent the beginning of his walk of life just trying to survive the backbreaking yet dull life of a lower-level samurai in Japan during the Tokugawa period.[2] Although Fukuzawa did travel to Nagasaki, his stay was brief as he quickly began to outshine his host in Nagasaki, Okudaira Iki. Okudaira planned to get rid of Fukuzawa by writing a letter saying that Fukuzawa's mother was ill. Seeing through the fake letter Fukuzawa planned to travel to Edo and continue his studies there because he knew he would not be able to in his home domain, Nakatsu, but upon his return to Osaka,
his brother persuaded him to stay and enroll at the Tekijuku school run by physician and rangaku scholar Ogata Kōan[2]. Fukuzawa studied at Tekijuku for three years and became fully proficient in the Dutch language. In 1858, he was appointed official Dutch teacher of his family's domain, Nakatsu, and was sent to Edo to teach the family's vassals there.

The following year, Japan opened up three of its ports to American and European ships, and Fukuzawa, intrigued with Western civilization, traveled to Kanagawa to see them. When he arrived, he discovered that virtually all of the European merchants there were speaking English rather than Dutch. He then began to study English
, but at that time, English-Japanese interpreters were rare and dictionaries nonexistent, so his studies were slow.
In 1859, the Tokugawa shogunate sent the first diplomatic mission to the United States. Fukuzawa volunteered his services to Admiral Kimura Yoshitake. Kimura's ship, the Kanrin Maru, arrived in San Francisco, California, in 1860
. The delegation stayed in the city for a month, during which time Fukuzawa had himself photographed with an American girl, and also found a Webster's Dictionary, from which he began serious study of the English language.
Political movements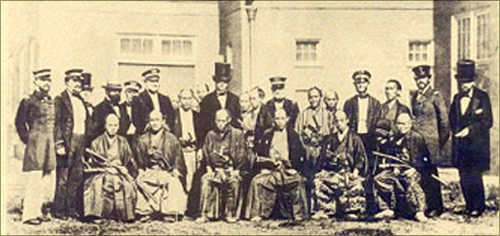 Fukuzawa Yukichi was a member of the Japanese Embassy to the United States (1860). (Washington shipyard).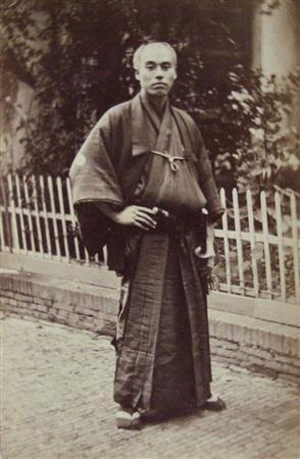 Fukuzawa posing in Utrecht as part of the First Japanese Embassy to Europe, 1862.
Upon his return in 1860, Fukuzawa became an official translator for the Tokugawa bakufu. Shortly thereafter he brought out his first publication, an English-Japanese dictionary
which he called "Kaei Tsūgo" (translated from a Chinese-English dictionary) which was a beginning for his series of later books.
In 1862, he visited Europe as one of the two English translators in bakufu's 40-man embassy, the First Japanese Embassy to Europe. During its year in Europe, the Embassy conducted negotiations with France, England, the Netherlands, Prussia, and finally Russia.
In Russia, the embassy unsuccessfully negotiated for the southern end of Sakhalin (in Japanese Karafuto).
The Tokugawa shogunate, also known as the Tokugawa Bakufu (徳川幕府) and the Edo Bakufu (江戸幕府), was the last feudal Japanese military government, which existed between 1600 and 1868.[3] The head of government was the shogun,[4] and each was a member of the Tokugawa clan.[5] The Tokugawa shogunate ruled from Edo Castle and the years of the shogunate became known as the Edo period.[6] This time is also called the Tokugawa period[3] or pre-modern (Kinsei (近世)).[7]

-- Tokugawa shogunate, by Wikipedia
The information collected during these travels resulted in his famous work Seiyō Jijō (西洋事情, "Things western"), which he published in ten volumes in 1867, 1868 and 1870. The books describe western culture and institutions in simple, easy to understand terms, and they became immediate best-sellers. Fukuzawa was soon regarded as the foremost expert on all things western, leading him to conclude that his mission in life was to educate his countrymen in new ways of thinking in order to enable Japan to resist European imperialism.

In 1868 he changed the name of the school he had established to teach Dutch to Keio Gijuku, and from then on devoted all his time to education. He had even added Public speaking to the educational system's curriculum.[2] While Keiō's initial identity was that of a private school of Western studies (Keio-gijuku), it expanded and established its first university faculty in 1890. Under the name Keio-Gijuku University, it became a leader in Japanese higher education.
Fukuzawa was also a strong advocate for women's rights. He often spoke up in favor of equality between husbands and wives, the education of girls as well as boys, and the equal love of daughters and sons. At the same time, he called attention to harmful practices such as women's inability to own property in their own name and the familial distress that took place when married men took mistresses. However, even Fukuzawa was not willing to propose completely equal rights for men and women; only for husbands and wives. He also stated in his 1899 book New Greater Learning for Women that a good marriage was always the best outcome for a young woman, and according to some of Fukuzawa's personal letters, he discouraged his friends from sending their daughters on to higher education so that they would not become less desirable marriage candidates.[2] While some of Yukichi's other proposed reforms, such as education reforms, found an eager audience, his ideas about women received a less enthusiastic reception. Many in Japan were incredibly reluctant to challenge the traditional gender roles, in spite of numerous individuals speaking up in favor of greater gender equality.
After suffering a stroke on January 25, 1901, Fukuzawa Yukichi died on February 3. He was buried at Zenpuku-ji, in the Azabu area of Tokyo.[2] Alumni of Keio-Gijuku University hold a ceremony there every year on February 3.
Works
Fukuzawa's writings may have been the foremost of the Edo period and Meiji period. They played a large role in the introduction of Western culture into Japan.
English-Japanese Dictionary
In 1860, he published English-Japanese Dictionary ("Zōtei Kaei Tsūgo"). It was his first publication. He bought English-Chinese Dictionary ("Kaei Tsūgo") in San Francisco in 1860. He translated it to Japanese and he added the Japanese translations to the original textbook. In his book, he invented the new Japanese characters VU (ヴ) to represent the pronunciation of VU and VA (ヷ) to represent the pronunciation of VA. For example, the name Beethoven is written as ベートーヴェン in Japanese now.
All the Countries of the World, for Children Written in Verse
His famous textbook Sekai Kunizukushi ("All the Countries of the World, for Children Written in Verse", 1869) became a best seller and was used as an official school textbook. His inspiration for writing the books came when he tried to teach world geography to his sons. At the time there were no textbooks on the subject, so he decided to write one himself. He started by buying a few Japanese geography books for children, named Miyakoji ("City roads") and Edo hōgaku ("Tokyo maps"), and practiced reading them aloud. He then wrote Sekai Kunizukushi in six volumes in the same lyrical style. The first volume covered Asian countries, the second volume detailed African countries, European countries were discussed in the third, South American countries in the fourth, and North American countries and Australia in the fifth. Finally, the sixth volume was an appendix that gave an introduction to world geography.
An Encouragement of Learning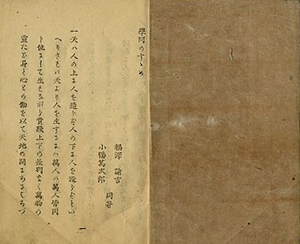 First print of "An Encouragement of Learning" (1872), written by Fukuzawa Yukichi and Obata Tokujirō.
Between 1872 and 1876, he published 17 volumes of Gakumon no Susume ( 学問のすすめ, "An Encouragement of Learning" or more idiomatically "On Studying"[3]). In these texts, Fukuzawa outlines the importance of understanding the principle of equality of opportunity and that study was the key to greatness. He was an avid supporter of education and believed in a firm mental foundation through education and studiousness. In the volumes of Gakumon no Susume, influenced by Elements of Moral Science (1835, 1856 ed.) by Brown University President Francis Wayland, Fukuzawa advocated his most lasting principle, "national independence through personal independence." Through personal independence, an individual does not have to depend on the strength of another. With such a self-determining social morality, Fukuzawa hoped to instill a sense of personal strength among the people of Japan, and through that personal strength, build a nation to rival all others.
His understanding was that western society had become powerful relative to other countries at the time because western countries fostered education, individualism (independence), competition and exchange of ideas.
Francis Wayland (March 11, 1796 – September 30, 1865), American Baptist educator and economist, was born in New York City, New York. He was president of Brown University and pastor of the First Baptist Church in America in Providence, Rhode Island. In Washington, D.C., Wayland Seminary was established in 1867, primarily to educate former slaves, and was named in his honor. (In 1899, Wayland Seminary merged with another school to become the current Virginia Union University, at Richmond, Virginia.)

-- Francis Wayland, by Wikipedia
An Outline of a Theory of Civilization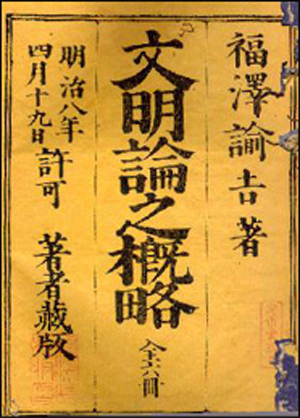 First print of An Outline of a Theory of Civilization (1875).
Fukuzawa published many influential essays and critical works. A particularly prominent example is Bunmeiron no Gairyaku ( 文明論之概略, "An Outline of a Theory of Civilization"[4]) published in 1875, in which he details his own theory of civilization. It was influenced by Histoire de la civilisation en Europe (1828; Eng. trans in 1846) by François Guizot .....
François Pierre Guillaume Guizot (French: [fʁɑ̃swa pjɛʁ ɡijom ɡizo]; 4 October 1787 – 12 September 1874) was a French historian, orator, and statesman. Guizot was a dominant figure in French politics prior to the Revolution of 1848. A moderate liberal[1][2] who opposed the attempt by King Charles X to usurp legislative power, he worked to sustain a constitutional monarchy following the July Revolution of 1830.

He then served the "citizen king" Louis Philippe, as Minister of Education, 1832–37, ambassador to London, Foreign Minister 1840–1847, and finally Prime Minister of France from 19 September 1847 to 23 February 1848. Guizot's influence was critical in expanding public education, which under his ministry saw the creation of primary schools in every French commune. But as a leader of the "Doctrinaires", committed to supporting the policies of Louis Phillipe and limitations on further expansion of the political franchise, he earned the hatred of more left-leaning liberals and republicans through his unswerving support for restricting suffrage to propertied men, advising those who wanted the vote to "enrich yourselves" (enrichissez-vous) through hard work and thrift.

As Prime Minister, it was Guizot's ban on the political meetings (called the campagne des banquets or the Paris Banquets, which were held by moderate liberals who wanted a larger extension of the franchise)[3] of an increasingly vigorous opposition in January 1848 that catalyzed the revolution that toppled Louis Philippe in February and saw the establishment of the French Second Republic.....

During Guizot's tenure as foreign minister, he and Lord Aberdeen, the foreign secretary to Sir Robert Peel, carried on well, and thus they secured France and Britain in the entente cordiale. Part of the formation of the entente came about when Guizot secured the transfer of Napoleon's ashes from St. Helena to the French government.[8] The opposition in France denounced Guizot's foreign policy as basely subservient to England. He replied in terms of unmeasured contempt: "You may raise the pile of calumny as high as you will; vous n'arriverez jamais a la hauteur de mon dédain!" In 1845 British and French troops fought side by side for the first time in the Anglo-French blockade of the Río de la Plata.

The fall of Peel's government in 1846 changed these intimate relations; and the return of Palmerston to the foreign office led Guizot to believe that he was again exposed to the passionate rivalry of the British cabinet. A friendly understanding had been established between the two courts with reference to the future marriage of the young queen of Spain. The language of Lord Palmerston and the conduct of Sir Henry Bulwer (afterwards Lord Dalling) at Madrid led Guizot to believe that this understanding was broken, provoking the Affair of the Spanish Marriages after Guizot came to believe that Britain intended to place a Coburg on the throne of Spain. Determined to resist any such intrigue, Guizot and the king plunged headlong into a counter-intrigue, wholly inconsistent with their previous engagements to Britain and fatal to the happiness of the queen of Spain. By their influence she was urged into a marriage with a despicable offset of the house of Bourbon, and her sister was at the same time married to the youngest son of the French king, in direct violation of Louis Philippe's promises. This transaction, although it was hailed at the time as a triumph of the policy of France, was in truth as fatal to the monarch as it was discreditable to the minister. It was accomplished by a mixture of secrecy and violence. It was defended by subterfuges. Its immediate effect was to destroy the Anglo-French alliance, and to throw Guizot into closer relations with the reactionary policy of Metternich and the Northern courts.

....

It was impossible to defend a system which confined the suffrage to 200,000 citizens and returned a chamber of whom half were placemen. Nothing would have been easier than to strengthen the moderate liberal party by attaching the suffrage to the possession of land in France, but blank resistance was the sole answer of the government to the moderate demands of the opposition. Warning after warning was addressed to them in vain by friends and by foes alike, and they remained profoundly unconscious of their danger till the moment when it overwhelmed them. Strange to say, Guizot never acknowledged either at the time or to his dying day the nature of this error, and he speaks of himself in his memoirs as the much-enduring champion of liberal government and constitutional law. He utterly failed to perceive that a more enlarged view of the liberal destinies of France and a less intense confidence in his own specific theory might have preserved the constitutional monarchy and averted a vast series of calamities, which were in the end fatal to every principle he most cherished. But with the stubborn conviction of absolute truth he dauntlessly adhered to his own doctrines to the end.....

Back in Paris in 1850, Guizot published two more volumes on the English revolution--Pourquoi la Révolution d'Angleterre a-t-elle reussi? and Discours sur l'histoire, de la Révolution d'Angleterre. In February 1850 Karl Marx and Frederick Engels co-wrote a critical assessment of this two-volume history.[11] ....

After having resigned as Prime Minister of France, he left politics. He was aware that the link between himself and public life was broken forever, and he never made the slightest attempt to renew it. The greater part of the year he spent at his residence at Val Richer, an Augustine monastery near Lisieux in Normandy, which had been sold at the time of the first Revolution. His two daughters, who married two descendants of the illustrious Dutch family of De Witt, so congenial in faith and manners to the Huguenots of France, kept his house. One of his sons-in-law farmed the estate. And here Guizot devoted his later years with undiminished energy to literary labour, which was in fact his chief means of subsistence.....

He remained throughout his life a firm believer in the truths of revelation, and a volume of Méditations on the Christian Religion was one of his latest works. But though he adhered inflexibly to the church of his fathers and combated the rationalist tendencies of the age, which seemed to threaten it with destruction, he retained not a tinge of the intolerance or asperity of the Calvinistic creed. He respected in the Church of Rome the faith of the majority of his countrymen, and the writings of the great Catholic prelates, Bossuet and Bourdaloue, were as familiar and as dear to him as those of his own persuasion, and were commonly used by him in the daily exercises of family worship....

During the 1820s, Guizot was among the darlings of the European liberal intelligentsia. His historical works such as Histoire générale de la civilisation en Europe (1828) and Histoire de la civilisation en France (1830) were widely admired by such luminaries as John Stuart Mill ("I have dinned into people's ears that Guizot is a great thinker and writer"), Johann Wolfgang von Goethe ("Guizot is a man after my own heart...He possesses deep knowledge, combined with an enlightened liberality"), Charles Sainte-Beuve ("this astonishing man about whom one could say so many things"), and Alexis de Tocqueville.[13]

Guizot's later resolute opposition to universal suffrage has led his critics to argue that he was a conservative or even reactionary.[14] However, it is more accurate to describe Guizot as a proponent of the juste milieu or political center that defended representative government against absolutism and the excesses of democracy.[14][15]

-- François Guizot, by Wikipedia
and History of Civilization in England (1872–1873, 2nd London ed.) by Henry Thomas Buckle.
Buckle's fame rests mainly on his History of Civilization in England.....its chief ideas are:[6]

1. That, owing partly to the want of ability in historians, and partly to the complexity of social phenomena, extremely little had as yet been done towards discovering the principles that govern the character and destiny of nations, or, in other words, towards establishing a science of history;
2. That, while the theological dogma of predestination is a barren hypothesis beyond the province of knowledge, and the metaphysical dogma of free will rests on an erroneous belief in the infallibility of consciousness, it is proved by science, and especially by statistics, that human actions are governed by laws as fixed and regular as those that rule in the physical world;
3. That climate, soil, food, and the aspects of nature are the primary causes of intellectual progress: the first three indirectly, through determining the accumulation and distribution of wealth, and the last by directly influencing the accumulation and distribution of thought, the imagination being stimulated and the understanding subdued when the phenomena of the external world are sublime and terrible, the understanding being emboldened and the imagination curbed when they are small and feeble;
4. That the great division between European and non-European civilization turns on the fact that in Europe man is stronger than nature, and that elsewhere nature is stronger than man, the consequence of which is that in Europe alone has man subdued nature to his service;
5. That the advance of European civilization is characterized by a continually diminishing influence of physical laws, and a continually increasing influence of mental laws;
6. That the mental laws that regulate the progress of society cannot be discovered by the metaphysical method, that is, by the introspective study of the individual mind, but only by such a comprehensive survey of facts as enable us to eliminate disturbances, that is, by the method of averages;
7. That human progress has been due, not to moral agencies, which are stationary, and which balance one another in such a manner that their influence is unfelt over any long period, but to intellectual activity, which has been constantly varying and advancing: "The actions of individuals are greatly affected by their moral feelings and passions; but these being antagonistic to the passions and feelings of other individuals, are balanced by them, so that their effect is, in the great average of human affairs, nowhere to be seen, and the total actions of mankind, considered as a whole, are left to be regulated by the total knowledge of which mankind is possessed";
8. That individual efforts are insignificant in the great mass of human affairs, and that great men, although they exist, and must "at present" be looked upon as disturbing forces, are merely the creatures of the age to which they belong;
9. That religion, literature and government are, at the best, the products and not the causes of civilization;
10. That the progress of civilization varies directly as "scepticism", the disposition to doubt and to investigate, and inversely as "credulity" or "the protective spirit", a disposition to maintain, without examination, established beliefs and practices.

-- Henry Thomas Buckle, by Wikipedia
According to Fukuzawa, civilization is relative to time and circumstance, as well in comparison. For example, at the time China was relatively civilized in comparison to some African colonies, and European nations were the most civilized of all.
Colleagues in the Meirokusha intellectual society shared many of Fukuzawa's views, which he published in his contributions to Meiroku Zasshi (Meiji Six Magazine), a scholarly journal he helped publish. In his books and journals, he often wrote about the word "civilization" and what it meant.
He advocated a move toward "civilization", by which he meant material and spiritual well-being, which elevated human life to a "higher plane". Because material and spiritual well-being corresponded to knowledge and "virtue", to "move toward civilization" was to advance and pursue knowledge and virtue themselves.
He contended that people could find the answer to their life or their present situation from "civilization." Furthermore, the difference between the weak and the powerful and large and small was just a matter of difference between their knowledge and education.
He argued that Japan should not import guns and materials. Instead it should support the acquisition of knowledge, which would eventually take care of the material necessities. He talked of the Japanese concept of being practical or pragmatic (実学, jitsugaku) and the building of things that are basic and useful to other people.
In short, to Fukuzawa, "civilization" essentially meant the furthering of knowledge and education.
Criticism
Fukuzawa was later criticized as a supporter of Japanese imperialism because of an essay "Datsu-A Ron" ("Escape from Asia") published in 1885 and posthumously attributed to him, as well as for his support of the First Sino-Japanese War (1894–1895). Yet, "Datsu-A Ron" was actually a response to a failed attempt by Koreans to organize an effective reform faction. The essay was published as a withdrawal of his support.
According to Fukuzawa Yukichi no Shinjitsu ("The Truth of Fukuzawa Yukichi", 2004) by Yō Hirayama, this view is a misunderstanding due to the influence of Mikiaki Ishikawa, who was the author of a biography of Fukuzawa (1932) and the editor of his Complete Works (1925–1926 and 1933–1934). According to Hirayama, Ishikawa inserted anonymous editorials into the Complete Works, and inserted historically inaccurate material into his biography.
" The material in Fukuzawa Yukichi Complete Works (1958–1964) volumes 1 to 7 must be distinguished from that in volumes 8 to 16. Volumes 1 to 7 contain signed works, but the Jiji Shinpō editorials in volumes 8 to 16 are almost all unsigned works chosen by Ishikawa. Six of the editorials in volume 16 were written six months after Fukuzawa's death, and of course cannot have been written by Fukuzawa. "
Legacy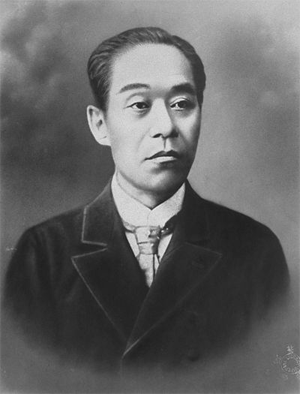 Fukuzawa Yukichi
(Kinsei Meishi Shashin. Vol.2.)
Fukuzawa's most important contribution to the reformation effort, though, came in the form of a newspaper called Jiji Shinpō (時事新報, "Current Events"), which he started in 1882, after being prompted by Inoue Kaoru, Ōkuma Shigenobu, and Itō Hirobumi to establish a strong influence among the people, and in particular to transmit to the public the government's views on the projected national assembly
, and as reforms began, Fukuzawa, whose fame was already unquestionable, began production of Jiji Shinpo, which received wide circulation,
encouraging the people to enlighten themselves and to adopt a moderate political attitude towards the change that was being engineered within the social and political structures of Japan
. He translated many books and journals into Japanese on a wide variety of subjects, including chemistry, the arts, military and society, and published many books (in multiple volumes) and journals himself describing Western society, his own philosophy and change, etc.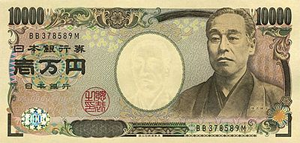 Fukuzawa appears on the 10,000 yen banknote engraved by Oshikiri Katsuzō
Fukuzawa was one of the most influential people ever that helped Japan modernize into the country it is today. He never accepted any high position and remained a normal Japanese citizen for his whole life. By the time of his death, he was revered as one of the founders of modern Japan. All of his work was written and was released at a critical juncture in the Japanese society and uncertainty for the Japanese people about their future after the signing of the Unequal treaties, their realization in the weakness of the Japanese government at the time (Tokugawa Shogunate) and its inability to repel the American and European influence. It should also be noted that there were bands of samurai that forcefully opposed the Americans and Europeans and their friends through murder and destruction. Fukuzawa was in danger of his life as a samurai group killed one of his colleagues for advocating policies like those of Fukuzawa. Fukuzawa wrote at a time when the Japanese people were undecided on whether they should be bitter about the American and European forced treaties and imperialism, or to understand the West and move forward. Fukuzawa greatly aided the ultimate success of the pro-modernization forces.
Fukuzawa appears on the current 10,000-yen banknote and has been compared to Benjamin Franklin in the United States. Franklin appears on the similarly-valued $100 bill. Although all other figures appearing on Japanese banknotes changed when the recent redesign was released, Fukuzawa remained on the 10,000-yen note.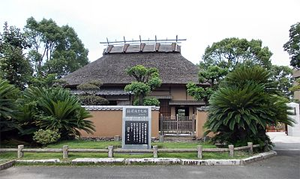 Yukichi Fukuzawa's former residence in the city of Nakatsu in Ōita Prefecture
Yukichi Fukuzawa's former residence in the city of Nakatsu in Ōita Prefecture is a Nationally Designated Cultural Asset. The house and the Yukichi Fukuzawa Memorial Hall are the major tourist attractions of this city.[5]
Yukichi Fukuzawa was a firm believer that Western education surpassed Japan's. However, he did not like the idea of parliamentary debates. As early as 1860, Yukichi Fukuzawa traveled to Europe and the United States. He believed that the problem in Japan was the undervalued mathematics and science. Also, these suffered from a "lack of the idea of independence". The Japanese conservatives were not happy about Fukuzawa's view of Western education. Since he was a family friend of conservatives, he took their stand to heart. Fukuzawa later came to state that he went a little too far.[6]
One word sums up his entire theme and that is "independence". Yukichi Fukuzawa believed that national independence was the framework to society in the West. However, to achieve this independence, as well as personal independence, Fukuzawa advocated Western learning. He believed that public virtue would increase as people became more educated.[1]
Bibliography

Original Japanese books
1. English-Japanese dictionary (増訂華英通語 Zōtei Kaei Tsūgo, 1860)
2. Things western (西洋事情 Seiyō Jijō, 1866, 1868 and 1870)
3. Rifle instruction book (雷銃操法 Raijyū Sōhō, 1867)
4. Guide to travel in the western world (西洋旅案内 Seiyō Tabiannai, 1867)
5. Our eleven treaty countries (条約十一国記 Jyōyaku Jyūichi-kokki, 1867)
6. Western ways of living: food, clothes, housing (西洋衣食住 Seiyō Isyokujyū, 1867)
7. Handbook for soldiers (兵士懐中便覧 Heishi Kaicyū Binran, 1868)
8. Illustrated book of physical sciences (訓蒙窮理図解 Kinmō Kyūri Zukai, 1868)
9. Outline of the western art of war (洋兵明鑑 Yōhei Meikan, 1869)
10. Pocket almanac of the world (掌中万国一覧 Shōcyū Bankoku-Ichiran, 1869)
11. English parliament (英国議事院談 Eikoku Gijiindan, 1869)
12. Sino-British diplomatic relations (清英交際始末 Shin-ei Kosai-shimatsu, 1869)
13. All the countries of the world, for children written in verse (世界国尽 Sekai Kunizukushi, 1869)
14. Daily lesson for children (ひびのおしえ Hibi no Oshie, 1871) - These books were written for Fukuzawa's first son Ichitarō and second son Sutejirō.
15. Book of reading and penmanship for children (啓蒙手習の文 Keimō Tenarai-no-Fumi, 1871)
16. Encouragement of learning (学問のすゝめ Gakumon no Susume, 1872–1876)
17. Junior book of ethics with many tales from western lands (童蒙教草 Dōmō Oshie-Gusa, 1872)
18. Deformed girl (かたわ娘 Katawa Musume, 1872)
19. Explanation of the new calendar (改暦弁 Kaireki-Ben, 1873)
20. Bookkeeping (帳合之法 Chōai-no-Hō, 1873)
21. Maps of Japan for children (日本地図草紙 Nihon Chizu Sōshi, 1873)
22. Elementary reader for children (文字之教 Moji-no-Oshie, 1873)
23. How to hold a conference (会議弁 Kaigi-Ben, 1874)
24. An Outline of a Theory of Civilization (文明論之概略 Bunmeiron no Gairyaku, 1875)
25. Independence of the scholar's mind (学者安心論 Gakusya Anshinron, 1876)
26. On decentralization of power, advocating less centralized government in Japan (分権論 Bunkenron, 1877)
27. Popular economics (民間経済録 Minkan Keizairoku, 1877)
28. Collected essays of Fukuzawa (福澤文集 Fukuzawa Bunsyū, 1878)
29. On currency (通貨論 Tsūkaron, 1878)
30. Popular discourse on people's rights (通俗民権論 Tsūzoku Minkenron, 1878)
31. Popular discourse on national rights (通俗国権論 Tsūzoku Kokkenron, 1878)
32. Transition of people's way of thinking (民情一新 Minjyō Isshin, 1879)
33. On national diet (国会論 Kokkairon, 1879)
34. Commentary on the current problems (時事小言 Jiji Shōgen, 1881)
35. On general trends of the times (時事大勢論 Jiji Taiseiron, 1882)
36. On the imperial household (帝室論 Teishitsuron, 1882)
37. On armament (兵論 Heiron, 1882)
38. On moral training (徳育如何 Tokuiku-Ikan, 1882)
39. On the independence of learning (学問之独立 Gakumon-no Dokuritsu, 1883)
40. On the national conscription (全国徴兵論 Zenkoku Cyōheiron, 1884)
41. Popular discourse on foreign diplomacy (通俗外交論 Tsūzoku Gaikōron, 1884)
42. On Japanese womanhood (日本婦人論 Nihon Fujinron, 1885)
43. On men's moral life (士人処世論 Shijin Syoseiron, 1885)
44. On moral conduct (品行論 Hinkōron, 1885)
45. On association of men and women (男女交際論 Nannyo Kosairon, 1886)
46. On Japanese manhood (日本男子論 Nihon Nanshiron, 1888)
47. On reverence for the Emperor (尊王論 Sonnōron, 1888)
48. Future of the Diet; Origin of the difficulty in the Diet; Word on the public security; On land tax (国会の前途 Kokkai-no Zento; Kokkai Nankyoku-no Yurai; Chian-Syōgen; Chisoron, 1892)
49. On business (実業論 Jitsugyōron, 1893)
50. One hundred discourses of Fukuzawa (福翁百話 Fukuō Hyakuwa, 1897)
51. Foreword to the collected works of Fukuzawa (福澤全集緒言 Fukuzawa Zensyū Cyogen, 1897)
52. Fukuzawa sensei's talk on the worldly life (福澤先生浮世談 Fukuzawa Sensei Ukiyodan, 1898)
53. Discourses of study for success (修業立志編 Syūgyō Rittishihen, 1898)
54. Autobiography of Fukuzawa Yukichi (福翁自伝 Fukuō Jiden, 1899)
55. Reproof of "the essential learning for women"; New essential learning for women (女大学評論 Onnadaigaku Hyōron; 新女大学 Shin-Onnadaigaku, 1899)
56. More discourses of Fukuzawa (福翁百余話 Fukuō Hyakuyowa, 1901)
57. Commentary on the national problems of 1877; Spirit of manly defiance (明治十年丁丑公論 Meiji Jyūnen Teicyū Kōron; 瘠我慢の説 Yasegaman-no Setsu, 1901)
English translations
• The Autobiography of Yukichi Fukuzawa, Revised translation by Eiichi Kiyooka, with a foreword by Carmen Blacker, NY: Columbia University Press, 1980 [1966], ISBN 978-0-231-08373-7
• The Autobiography of Yukichi Fukuzawa, Revised translation by Eiichi Kiyooka, with a foreword by Albert M. Craig, NY: Columbia University Press, 2007, ISBN 978-0-231-13987-8
• The Thought of Fukuzawa series, (Paperback) Keio University Press
o vol.1 福澤諭吉 (2008), An Outline of a Theory of Civilization, Translation by David A. Dilworth, G. Cameron Hurst, III, ISBN 978-4-7664-1560-5
o vol.2 福澤諭吉 (2012), An Encouragement of Learning, Translation by David A. Dilworth, ISBN 978-4-7664-1684-8
o vol.3 福澤諭吉 (2017), Fukuzawa Yukichi on Women and the Family, Edited and with New and Revised Translations by Helen Ballhatchet, ISBN 978-4-7664-2414-0
o Vol.4 The Autobiography of Fukuzawa Yukichi. Revised translation and with an introduction by Helen Ballhatchet.
Notes
1. Nishikawa (1993)
2. Hopper, Helen M. (2005). Fukuzawa Yukichi : from samurai to capitalist. New York: Pearson/Longman. ISBN 978-0321078025. OCLC 54694712.
3. Dilworth (2012)
4. Dilworth & Hurst (2008)
5. Adas, Stearns & Schwartz (1993, p. 36).
6. Adas, Stearns & Schwartz (1993, p. 37).
See also
• Jiji Shinpō
• Keio-Gijuku University
• List of motifs on banknotes
• Nakae Chōmin
• Natsume Sōseki
• Susumu Nishibe
• Tsuneari Fukuda
• Yamamoto Tsunetomo
• Zenpuku-ji
References
• Adas, Michael; Stearns, Peter; Schwartz, Stuart (1993), Turbulent Passage: A Global History of the Twentieth Century, Longman Publishing Group, ISBN 978-0-06-501039-8
• Nishikawa, Shunsaku (西川俊作) (1993), "FUKUZAWA YUKICHI (1835-1901)" (PDF), Prospects: The Quarterly Review of Comparative Education, vol. XXIII (no. 3/4): 493–506, archived from the original (PDF) on 2015-09-24 () - French version (Archive)
Further reading
• Lu, David John (2005), Japan: A Documentary History: The Dawn of History to the Late Tokugawa Period, M.E. Sharpe, ISBN 978-1-56324-907-5
• Kitaoka, Shin-ichi (2017), Self-Respect and Independence of Mind: The Challenge of Fukuzawa Yukichi, JAPAN LIBRARY, translated by Vardaman, James M., Tokyo: Japan Publishing Industry Foundation for Culture (JPIC), ISBN 978-4-916055-62-0
• Kitaoka, Shin-ichi (March–April 2003), "Pride and Independence: Fukuzawa Yukichi and the Spirit of the Meiji Restoration (Part 1)", Journal of Japanese Trade and Industry, archived from the original on 2003-03-31
• Kitaoka, Shin-ichi (May–June 2003), "Pride and Independence: Fukuzawa Yukichi and the Spirit of the Meiji Restoration (Part 2)", Journal of Japanese Trade and Industry, archived from the original on 2003-05-06
• Albert M. Craig (2009), Civilization and Enlightenment: The Early Thought of Fukuzawa Yukichi (Hardcover ed.), Cambridge: Harvard University Press, ISBN 978-0-674-03108-1
• Tamaki, Norio (2001), Yukichi Fukuzawa, 1835-1901: The Spirit of Enterprise in Modern Japan (Hardcover ed.), United Kingdom: Palgrave Macmillan, ISBN 978-0-333-80121-5
• (in French) Lefebvre, Isabelle. "La révolution chez Fukuzawa et la notion de jitsugaku Fukuzawa Yukichi sous le regard de Maruyama Masao" (Archive). Cipango. 19 | 2012 : Le Japon et le fait colonial II. pp. 79-91.
• (in French) Maruyama, Masao (丸山眞男). "Introduction aux recherches philosophiques de Fukuzawa Yukichi" (Archive). Cipango. 19 | 2012 : Le Japon et le fait colonial II. pp. 191-217. Translated from Japanese by Isabelle Lefebvre.
o (in Japanese) Original version: Maruyama, Masao. "Fukuzawa ni okeru jitsugaku no tenkai. Fukuzawa Yukichi no tetsugaku kenkyū josetsu" (福沢に於ける「実学」の展開、福沢諭吉の哲学研究序説), March 1947, in Maruyama Masao shū (丸山眞男集), vol. xvi, Tōkyō, Iwanami Shoten, (1997), 2004, pp. 108-131.
• (in French) Fukuzawa Yukichi, L'Appel à l'étude, complete edition, translated from Japanese, annotated and presented by Christian Galan, Paris, Les Belles Lettres, april 2018, 220 p.
External links
• Fukuzawa, Yukichi | Portraits of Modern Japanese Historical Figures (National Diet Library)
• "Encouragement for Learning" (Gakumon no Susume) by Fukuzawa Yukichi (Part One, English Translation)
• E-texts of Fukuzawa's works at Aozora Bunko (in Japanese)