Part 1 of 2
Mustang District
by Wikipedia
Accessed: 11/27/19
NOTICE: THIS WORK MAY BE PROTECTED BY COPYRIGHT
YOU ARE REQUIRED TO READ

THE COPYRIGHT NOTICE AT THIS LINK

BEFORE YOU READ THE FOLLOWING WORK, THAT IS AVAILABLE SOLELY FOR PRIVATE STUDY, SCHOLARSHIP OR RESEARCH PURSUANT TO 17 U.S.C. SECTION 107 AND 108. IN THE EVENT THAT THE LIBRARY DETERMINES THAT UNLAWFUL COPYING OF THIS WORK HAS OCCURRED, THE LIBRARY HAS THE RIGHT TO BLOCK THE I.P. ADDRESS AT WHICH THE UNLAWFUL COPYING APPEARED TO HAVE OCCURRED. THANK YOU FOR RESPECTING THE RIGHTS OF COPYRIGHT OWNERS.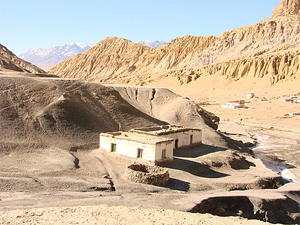 Mustang District
मुस्ताङ जिल्ला
གློ་སྨོན་ཐང་།
District
A scene of Mustang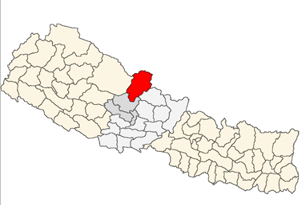 Location of Mustang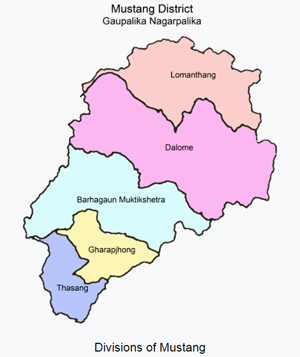 Divisions of Mustang
Country Nepal
Province Gandaki Pradesh
Admin HQ. Jomsom
Government
• Type Coordination committee
• Body DCC, Mustang
• Head Mrs. Chhiring Lhamo Gurung
• Deputy-Head Mr. Rajendra Sherchan
• Parliamentary constituencies 1
• Provincial constituencies 2
Area[1]
• Total 3,573 km2 (1,380 sq mi)
[1]
Highest elevation 8,167 m (26,795 ft)
Lowest elevation 2,010 m (6,590 ft)
Population (2011)[1]
• Total 13,452
• Density 3.8/km2 (9.8/sq mi)
• Households 3,305
Time zone UTC+05:45 (NPT)
Postal Codes
33100, 33102, 33103... 33109
Telephone Code 069
Main Language(s) Nepali and Tibetan
Website ddcmustang.gov.np
Mustang District (Nepali: मुस्ताङ जिल्लाAbout this soundListen (help·info)) is one of the seventy-seven districts of Nepal. It covers an area of 3,573 km2 (1,380 sq mi) and has a population (2011) of 13,452.[2] The headquarters is Jomsom.
The district is in Dhawalagiri Zone and part of Gandaki Pradesh in northern Nepal, straddles the Himalayas and extends northward onto the Tibetan Plateau. The district is one of the remotest areas in Nepal and is second in terms of the sparsity of population.[3] The elevation ranges from 1,372 to 8,167 meters (Mount Dhaulagiri, the 7th highest mountain in the world), with several peaks above 7,000 meters.
Mustang is an ancient forbidden kingdom, bordered by the Tibetan Plateau and sheltered by some of world's tallest peaks, including 8000-meter tall Annapurna and Dhaulagiri. Strict regulations of tourists here have aided in maintaining Tibetan traditions.[4] Upper Mustang was a restricted demilitarized area until 1992, which makes it one of the most preserved regions in the world due to its relative isolation from the outside world, with a majority of the population still speaking traditional Tibetic languages.[5] The name "Mustang" is derived from the Tibetan word meaning, "Plain of Aspiration."[6] Upper Mustang was only opened to foreigners in 1992 (annual quota at present of 1,000 people). It is a popular area for trekking and can be visited year round (regardless of season).[7]
Agriculture and animal husbandry are the main occupations. The entire district is included within the Annapurna Conservation Area, the largest protected area of Nepal. Development programmes, tourism management, and so on are primarily overseen by the Annapurna Conservation Area Project (ACAP), a division of the National Trust for Nature Conservation (NTNC).[3] The kingdom of Mustang was a dependency of the Kingdom of Nepal since 1795,[8] but was abolished by the republican Government of Nepal on October 7, 2008. The monarchy in Mustang ceased to exist on October 7, 2008, by order of the Government of Nepal, after Nepal became a federal democratic republic.[9] According to the Human Development Index, Mustang is a relatively wealthy district with a GDP per capita of US $2,466.[7]
Geography
Climate zone[10] / Elevation Range / % of Area

Temperate / 2,000 to 3,000 meters; 6,400 to 9,800 ft. / 4.0%

Subalpine / 3,000 to 4,000 meters; 9,800 to 13,100 ft. / 4.7%

Alpine / 4,000 to 5,000 meters; 13,100 to 16,400 ft. / 2.7%

Nival / above 5,000 meters / 8.8%

Trans-Himalayan[11][12] / 3,000 to 6,400 meters; 9,800 to 21,000 ft. / 79.8%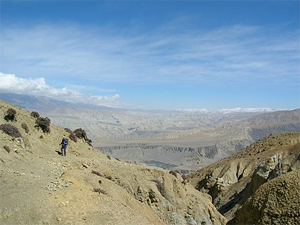 Mustang has a semi-arid climate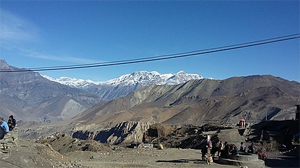 Himalayas in Mustang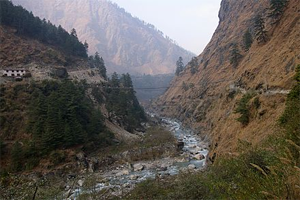 Kali Gandaki Gorge near Ghassa village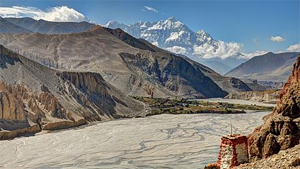 Kali Gandaki riverbed in Upper Mustang. View from Thsele village down to the Kali Gandaki river and the fields of Chhusang, with Nilgiri mountains's steep north face.
Description[13] / Area covered (km2) / % of Area

Total area of the district / 3639.6 / 100%

Total forest area / 123.2 / 3.38%

Total cultivable land / 40.3 / 1.10%

Irrigated cultivable land / 32.5 / 0.89%

Rain-fed cultivable land / 7.83 / 0.21%

Pasture land / 1476.8 / 40.57%

River, stream, cliff, mountain, stone etc. / 1505.7 / 41.36%

Area covered by residence and buildings / 3.20 / 0.08%

Area covered by snow / 305.9 / 8.40%

Area covered by lakes / 0.92 / 0.02%

Other / 183.5 / 5.04%
Mustang, the second least populated district of Nepal, is flanked by the Nepalese districts of Manang, the least populated, to the east and Dolpa, the third least populated, to the west. The Tibetan frontier stretches north from Mustang's borders.[3][13] This is a high-altitude trans-Himalayan region spread over 3,640 square kilometres in area barely north of the main Himalayan mountain range.[13][14] Geographically this cold high-altitude steppe is a part of the Tibetan highlands.[3][14] This boot-shaped piece of land thrusts north into western Tibet is caught in the rain shadow of Dhaulagiri to the south and west and the Annapurna Massif to the north and east.[3]
Average elevation of Mustang is 13,200 ft (2,500m), coming to a peak at 8,167m — the summit of Dhaulagiri.[14][3] It is a vast and arid valley, distinguished by eroded canyons, vividly coloured stratified rock formations and barren high-altitude deserts.[14] The area receives an average annual rainfall of less than 260 mm at Jomsom in the Lower Mustang. Spring and autumn are generally dry, but some precipitation is brought by summer monsoons, which averaged 133 mm at Jomsom between 1973 and 2000. The mean minimum monthly air temperature falls to -2.7 °C in winter while the maximum monthly air temperature reaches 23.1 °C in summer. Both diurnal and annual variations in temperature are large. Only about 40.3 square kilometers, about 1 percent of the total land area, is cultivated and 1,477 square kilometers, about 40%, is pasture land.[13] Kora La at 4,660 metres (15,290 ft) in elevation is been considered the lowest drivable path between Tibetan Plateau and Indian subcontinent.[15]
The elevation of the district range from 1640m in nearby Kopchepani under Kunjo VDC to 7061m in Nilgiri North above from the sea level. The peaks above 6000m in Mustang District are Tukuche peak (6920m), Nilgiri South (6839m), Yakwakang Peak (6462m), and Damodar Himal (6004m). Thorung Pass (5416m), arguably the world's highest and busiest pass, is located in this district. This district share 134.16 km (83.36 mi) long international border with Tibet Autonomous Region of China where 16 boundary pillars are in existence from pillar no. 18-33.[16]
The Kali Gandaki River is a highly important feature of the district. Its source located near the Tibetan border coincides with the Tibetan border and Ganges-Brahmaputra watershed divide.[3] From there, it flows south towards the northern Indian plains through the ancient kingdom of Mustang.[3] It flows through a sheer-sided, deep canyon immediately south of the Mustang capital of Lo Manthang, then widens as it approaches Kagbeni where high Himalayan ranges begin to close in. The river continues southward past Jomsom, Marpha, and Tukuche to the deepest part of the gorge about 7 km (4.3 mi) south of Tukuche in the area of Lete. The gorge then broadens past the border of Mustang and Myagdi districts. Geographically, Lower Mustang lies between the Tibetan Plateau in the North and high Himalayan Mountains in the South. The region between the Tibetan Plateau and Himalayan Mountain is called Trans-Himalaya.[17]
The Kali Gandaki Gorge or Andha Galchi, measured by the difference between the river height and the heights of the highest peaks on either side, is the world's deepest canyon. The portion of the river directly between Dhaulagiri and Annapurna I (7 km downstream from Tukuche) is at an elevation of 2,520 m or 8,270 ft, 5,571 m or 18,278 ft lower than Annapurna I.[18] Major peaks along the gorge include Dhaulagiri (8,167 m or 26,795 ft) and Tukuche (6,920 m or 22,703 ft) on the west and Nilgiri Central (6,940 m or 22,769 ft) and Annapurna (8,091 m or 26,545 ft) on the east.
History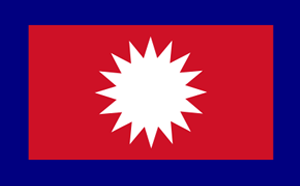 Flag of the Mustang Kingdom, founded by Ame Pal in 1380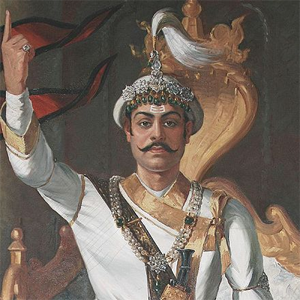 Portrait of King Prithvi Narayan Shah who annexed the kingdom in 1769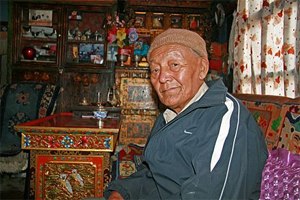 The last king Jigme Dorje Palbar Bista before the kingdom was abolished in 2008
Much of the history of Mustang is about legends rather than documented facts. However, it is believed that Mustang or the Kingdom of Lo was once a part of Ngari area of Tibet and a loose collection of feudal estates.[14] Though the people of Mustang live within the geographic boundaries of Nepal, their history is also tied to Tibetan religion and culture, geography, and politics.[3] It was often closely linked to adjoining kingdoms of Western Tibet and, during other periods of history, politically linked to Lhasa, the capital of Central Tibet.[19] Lo was incorporated into the Tibetan Empire by Songtsen Gampo, the most famous Tibetan king.[14]
Much of Ngari became a part of the Malla empire (capital Sinja in western Nepal) by the 14th Century. From the 15th century to the 17th century, Mustang had control over the trade between the Himalayas and India because of its strategic location.[20] In 1380, Lo became an independent kingdom under Ame Pal. The last royal family traced its lineage for 25 generations, all the way back to Ame Pal.[14] Ame Pal oversaw the founding and building of much of the Lo and Mustang capital of Lo Manthang, a walled city surprisingly little changed in appearance from that time period.[21] The only remnant of these kingdoms is the still-intact Kingdom of Lo, an area corresponding to the northern third of Mustang District.[3]
In 1769, the army of Prithvi Narayan Shah, the first King the Gorkha Kingdom and the Shah dynasty, unified what was a land of many small kingdoms to forge the kingdom of Nepal. Before that much of present-day Mustang was ruled by kings from Jumla, a region to the southwest, and independent kings and feudal lords.[3] At the end of the 18th century the kingdom was annexed by Nepal and became a dependency of the Kingdom of Nepal since 1795.[20] Swedish explorer Sven Hedin's visited the pass at the head of the Kali Gandaki Gorge in 1904.[22] British Tibetologist David Snellgrove visited and researched Mustang's Buddhist temples and monasteries in 1956, 1960–61 and 1978.[23]
The Kingdom of Lo supported Tibet and therefore, the Qing Empire during the Sino-Nepalese War.
During the late 1950s and 60s, Mustang became the centre for Tibetan guerrillas engaged in small operations against the incorporation of Tibet into the People's Republic of China in 1959.[14] Tibetan guerrilla group Chushi Gangdruk operated out of Upper Mustang with the intention of raiding PLA positions in Tibet,[24] which led to a border incident that caused the killing of a Nepalese officer who was mistaken as a Tibetan rebel.[25][26] These guerrillas were aided by CIA and Tibetan Khampas. In the 1970s, after US president Richard Nixon had visited China, CIA withdrew its support and the Nepalese government disbanded Tibetan fighters.[14] In the book Merlins Keep, a novel by Madeleine Brent (alias of Peter O'Donnell) published 1977, Mustang is the setting for the heroine's youth and later adventures. In 1961, People's Republic of China and Kingdom of Nepal officially signed a border agreement .[27] setting the border between Mustang and TAR set slightly north of the traditional boundary marker demarcated by a stupa at 29°18′14″N 83°58′7″E.[24]
Up until 2008, the Kingdom of Lo or Upper Mustang was an ethnic Tibetan kingdom and a suzerainty of Kingdom of Nepal. The suzerainty allowed for a certain level of independence in local governance from the Nepalese central government.[24] Though still recognized by many Mustang residents, the monarchy ceased to exist on October 7, 2008, by order of the Government of Nepal.[28] After the civil war that overthrew the Nepalese monarchy, it became a republic. Mustang became another district of Nepal losing its status of a tributary kingdom it enjoyed since the late eighteenth century.[4] Mustang is the setting for a large part of the book The Kingdom, a novel by Clive Cussler and Grant Blackwood published in 2011. In December 1999, Ogyen Trinley Dorje, the 17th claimant Karmapa fled Tibet through this area.[29][30] In response, China built a border fence immediately after.[31] There is a PLA border outpost a few miles on Chinese side, it is the western most border outpost in Tibet Military District. The outpost was renovated in 2009 to have a modern facility.[32]
The last official and later unofficial king (raja or gyelpo) of Mustang was Jigme Dorje Palbar Bista (1930–2016), Bista succeeded his father Angun Tenzing Tandul in 1964, and whose lineage dates back to Ame Pal, who founded the Kingdom of Lo six and half century earlier,[33][34] He died in 16 December 2016 after living a retired life largely in Kathmandu since 2008 when Nepal abolished its own monarchy.[33][4][35]
Sky caves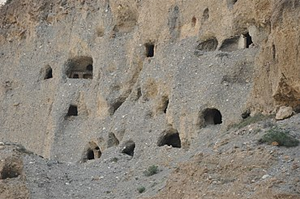 Sky caves in Chhusang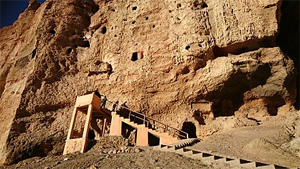 Sky caves at Chhoser village, Lo Manthang
One fascinating feature of the district are thousands of cliff dwellings, some highly inaccessible.[14] These Mustang Caves or Sky Caves of Nepal are a collection of some 10,000 man-made caves dug into the sides of valleys in the Mustang.[36][37] Several groups of archaeologists and researchers have explored these stacked caves and found partially mummified human bodies and skeletons that are at least 2,000–3,000 years old.[38] Explorations of these caves by conservators and archaeologists have also led to the discovery of valuable Buddhist paintings, sculptures, manuscripts and numerous artefacts belonging to the 12th to 14th century.[39][40] The caves lie on the steep valley walls near the Kali Gandaki River in Upper Mustang.
In 2007, explorers from the United States, Italy and Nepal discovered ancient Buddhist decorative art and paintings, manuscripts and pottery in the Mustang caves near Lo Manthang, dating back to the 13th century.[39] In 2008, a number of 600-year-old human skeletons were discovered by a second expedition. They also recovered reams of invaluable manuscripts containing writings from both the Bon religion and Buddhism, some of which were illuminated.[41] Research groups have continue to investigate these caves, as it is not clear who built the caves and why were they built. According to theory, they may date back to 8–10,000 BCE when Mustang was much greener.[14]
In 2007, a shepherd discovered a collection of 55 cave paintings near the village depicting the life of the Buddha.[42] A series of at least twelve caves were discovered north of Annapurna and near the village of Lo Manthang, decorated with ancient Buddhist paintings and set in sheer cliffs at 14,000 feet (4,300 m) elevation. The paintings show Newari influence, dating to approximately the 13th century, and also contain Tibetan scripts executed in ink, silver and gold and pre-Christian era pottery shards. Explorers found stupas, decorative art and paintings depicting various forms of the Buddha, often with disciples, supplicants and attendants, with some mural paintings showing sub-tropical themes containing palm trees, billowing Indian textiles and birds.[43]
Administration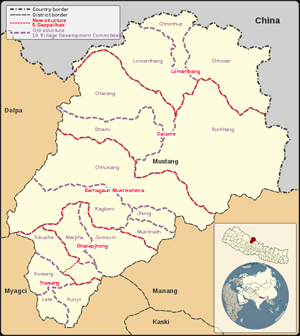 5 Gaunpalikas: Gharpajhong, Thasang, Barhagaun Muktichhetra, Lomanthang, Dalome
16 Village Development Committees (VDCs): Charang • Chhonhup • Chhoser • Chhusang • Dhami • Jhong • Jomsom • Kagbeni • Kowang • Kunjo • Lete • Lo Manthang • Marpha • Muktinath • Surkhang • Tukuche
Mustang District is part of Dhaulagiri Zone in Nepal's Western Development Region.[16] In 2017, Ministry of Federal Affairs and Local Development (Nepal) re-structured the area into five Gaunpalikas or rural municipalities with five areas each, which are different from old VDCs.[44][45][46][47] Since establishment of Kingdom of Mustang until restructuring of local governance of Nepal, the area of this district was divided into one parliamentary constituency, nine Ilakas, and 16 Village Development Committees (VDCs).[16] While an Ilaka functioned as the local development unit, the VDCs functioned as local political units.[3][13]
Before the VDCs there was the system of village community councils from 1960 to 1990, which forms the lowest strata of local administration.[48] To be entitled to common property resources like pastures, forests and water for irrigation, it was necessary for a household to become a member and participate in the community council. Any endowment of such entitlement was the council's prerogative. All households of the village had representation in the council. A gemba (council leader), chosen from any male member of the council between 18 and 60 years of age, was appointed on yearly rotation. The council settled disputes, called for community work when needed, and distributed rights and responsibilities to community members.[49]
Individual households managed their private farms, while the council managed the community farm-system.[50][51] The pastures and forests were exclusive to each community, where every household had an entitlement graze or collect wood, though collecting leaves and wood from trees in private ownership were more common.[49]
Gaunpalika / Population 2011 / /Area / Population density / Villages / Center
Gharpajhong (घरपझोङ) / 3,029 / 316 / 10 S/ yang (स्याङ), Jomsom (जोमसोम), Chhairo (छैरो), Marpha (मार्फा), Thini (ठिनी), Chimang (चिमाङ) / Jomsom
Thasang (थासाङ) / 2,912 / 289 / 10 / Lete (लेते), Tukuche (टुकुचे), Kunjo (कुञ्जो), Kobang (कोवाङ) / Kobang
Barhagaun Muktichhetra (बाह्रगाउँ मुक्तिक्षेत्र) / 2,330 / 886 / 3 / Kagbeni (कागवेनी), Khinga (खिङ्गा), Jhong (झोङ), Chhusang (छुसाङ) / Kagbeni
Lomanthang (लोमन्थाङ) / 1,899 / 727 / 3 / Chhoser (छोसेर), Lo Manthang (लोमन्थाङ), Chhonhup (छोन्हुप) / Lo Manthang
Dalome (दालोमे) / 1,423 / 1,344 / 1 / Ghami (घमी), Surkhang (सुर्खाङ), Charang (चराङ) / Charang
Divisions
Traditionally, Mustang District has been divided into four social and geographical regions. From south to north they are: Thak Satsae (also known as lower Thak Khola), Panchgaon (upper Thak Khola) and Baragaon (mostly considered part of Thak Khola, sometime called lower Lo) in Lower Mustang and Lo Tsho Dyun or (also known simply as Lo) in Upper Mustang,[3][52][17] though it is becoming increasingly difficult to distinguish between areas along social lines as different castes and ethnic people started to live all over the region.[17]
Thak Khola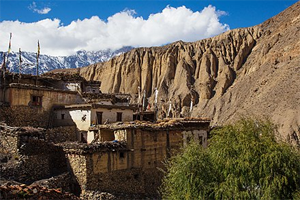 Lupra village in Thak Khola
Along the Kali Gandaki River in Lower Mustang, the Thakali are the dominant ethnic group. The area, extending from Ghasa in south to district headquarter Jomsom in the north, is known as Thak Khola ("Thak River"). The area was ruled by a Tibetan ruler till 1786, when it was included in Nepal.[17] Historically, the region was under Tibetan ruler, but after 1786, it was included in Nepal.[17] Ethnically, Thakalis are categorized as Tamang Thakalis from Thak Satsae, and Mawatan Thakali and Yhulkasompaimhi Thakalis from Panchgaon. The languages spoken by Thakalis fall in Tibeto-Burman category, and they believe in Buddhism.[17]
Thak Satsae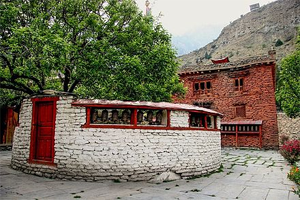 Tsampa gompa at Tukuche
Thak Satsae ("Seven Hundred Thak") is the most southerly sub-region of Mustang.[52][16] The sub-region extends from the village of Ghasa in the south to the trading town of Tukuche in the north, bordering Jomsom (the district headquarter).[52][53] Traditionally believed to have 700 households, the sub-region encompasses 13 villages along Thak Khaki, a segment of the Kali Gandaki located south of Jomsom (also called Tehragaon or "thirteen villages"):[3][16][52] Ghasa, Taglung, Dhamphu, Kunjo, Titi, Sauru Khanti, Lete, Kobang, Nakung, Naurikot, Bhurjungkot, Larjung and Tukuche. They were distributed across four VDCs: Lete, Kowang, Kunjo and Tukuche[16][52][53][17]
Thak Satsae Area or Thak Khola is home to Tamang people, the largest group of Thakalis in Mustang, who are known to outsiders as just Thakkalis.[52] The Thakkalis of Mustang, known for their enterprising skills as traders, innkeepers and hoteliers, are divided into four clans: Khuki (Bhattachan), Choki (Gauchan), Dinjen (Sherchan) and Salki (Tulachan).[16][53] The introduction of horticulture and tourism has made this region prosperous. Various kinds of liquor, Jam and Jelly made up of apple, apricot and plum are very popular commodities of this area.[16][53]
Panchgaon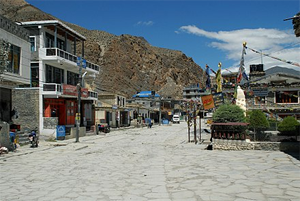 Jomsom main street, near the airport
Panchgaon ("five villages") lies between the trading town of Tukche and the pilgrimage site of Muktinath.[3][52] Beyond the five villages — Marpha, Chhairo, Chimang, Syang and Thini — this area also includes more recent settlements such as Jomsom, Drumpa and Samle.[16][52] All these settlements were distributed across two VDCs: Jomsom and Marpha.[16] Jomsom is the district headquarter, Thini is historically one of the most significant sites in the entire district, and Marpha is very popular for the apple orchards and apple brandy.[16] Panchgaon was once ruled by the king of Sum (or Sumpo) Garabdzong (near present-day Thini) and the bem-chag deal mainly with the foundation and boundaries of that kingdom. One of the indispensable sources for the study of the history of the Mustang are the village records or bem-chag kept in the five original villages including Thini, Syang, Marpha, Chairo and Cimang.[54]
The dominant ethnic group is Thakali, also known as Panchgaonle ("people of Panchgaon").[16][52] People from Marpha, Chhairo and Chimang write clan names as their surname. The four clans are Hirachan, Lalchan, Jwarchan and Pannachan. But the people from Thini and Syang write their surname as only Thakali to identify by themselves.[16] Among the villages of Panchgaon, Mawatan Thankalis are from Marpha and Yhulkasompaimhi, Yhulgasummi or Yhulgasumpa Thakalis are from Thini, Syang and Chimang.[52][17] While more than 80 per cent of the Tamang Thakali are found outside Thak Khola, nearly half of the total Mawatan Thakali population still live in Marpha village.[55] Thini village, one of the oldest Thakali villages in Thak Khola region does not categorize itself within Panchgaonle (people from Panchgaon), instead they categorize themselves within Tingaonle Thakali (people from three villages) which includes Thini, Syang and Chimang. According to the informants from Thini, they do not categorize those people who are originated from Marpha and Chhairo as original Thakali. They even do not have socio-religious relationships such as marriage and other local religious activities with Marpha and Chhairo.[17]
Baragaon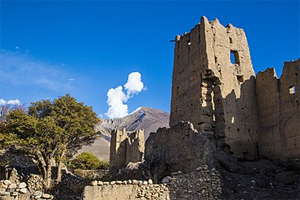 Ruins of ancient fortress in Tangbe village, Chhusang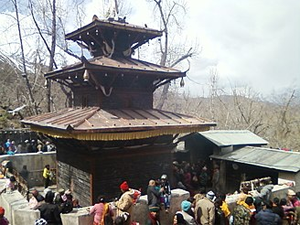 Muktinath temple
Baragaon ("Twelve Villages") is a northerly sub-region lying between Jomsom and the region of Lo, in and around the Muktinath Valley, extending from south of Ghilling to Lubra lying north of Jomsom.[3][52][17][56] It is sometimes called Glo Bosmad ("Lower Lo"), as it shares many geographical features of Lo proper, with some parts falling inside Upper Mustang.[52][56] The people who live are not categorized as Thakali.[17] They are known to outsider as Bhotia ("Tibetan") or Baragaonle ("People of Baragaon") and they share cultural similarities with Lo, though they often use Gurung, Bista or Thakuri as their surname for purposes of status emulation.[3][16][52]
This sub-region now consists of 19 main villages — Kagbeni, Khinga, Dakardzong, Jharkot, Muktinath, Chongur, Jhong, Putak, Purong, Lubra, Pagling, Phalek, Tiri, Chhusang, Tetang, Tangbe, Tsele, Ghyaga and Sammar. These villages were spread across four VDCs south of Lochhoden: Kagbeni, Muktinath, Jhong and Chhusang.[16] The central town of Baragaon is Kagbeni, at the confluence of Muktinath or Dzong (Jhong) River and Kali Gandaki River. Kagbeni is on the well-traveled route to the pilgrimage site of Muktinath.[52] Tibetan dialect (Pheke) prevails here, though the people of Tangbe, Chhusang, Tetang, Tsaile and Ghyaker also speak Seke, a language closely related to Thakali.[56]
The Muktinath temple is located at an altitude of 3,710 meters near Ranipauwa village at the foot of the Thorong La mountain pass in Muktinath Valley. It is considered to be 106th among the available 108 Divya Desam (premium temples) considered sacred by the Sri Vaishnava sect. The ancient name of this place in Sri Vaishnava literature is Thiru Saligramam. The temple houses the Saligram shila, considered to be the naturally available form of the Hindu Godhead Sriman Narayan.[57] It is also one of the 51 Shakti peeth.[58] The Buddhists call it Chumig Gyatsa, which in Tibetan means "Hundred Waters". Although the temple has a Vaishnav origin, it is also revered in Buddhism.[59] For Tibetan Buddhists, Muktinath is a very important place of dakinis, goddesses known as Sky Dancers, and one of the 24 Tantric places. They understand the murti to be a manifestation of Avalokiteśvara, who embodies the compassion of all Buddhas.[60]
Lo Tsho Dyun
The people of restricted northern areas of Mustang are known as Lopa. But, they use surname like Bista and Gurung outside their lands. The restricted area, lying between Tibetan border and Ghemi village, encompasses the historic kingdom of Lo Tsho Dyun ("seven districts of Lo" in local Tibetan dialect of Loke).[17][56] Lo Manthang is the only walled city of Nepal and it is also known as the cultural capital of this area. The palace and other structures within the wall were built by Ame Pal, the first king of Lo, during the period of 15th century. His lineage is recognized as the royal family of Mustang. Lo Tsho Dyun area consists of Ghiling, Ghemi, Dhakmar, Marang, Tsarang, Dhi, Surkhang, Yara, Ghara, Tangya, Dhea, Lo Monthang, Nhenyol, Chhoser, Nyamdo, Kimaling, Thinkar, Phuwa and Namgyal villages. They were spread across six VDCs: Dhami, Charang, Lo Manthang, Chhoser, Chhonhup and Surkhang.[16]
Lo Manthang

Walled city of Lo Manthang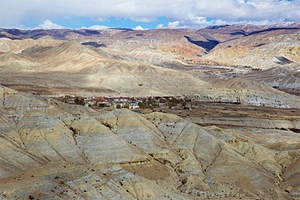 Surrounding terrain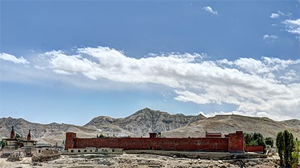 From outside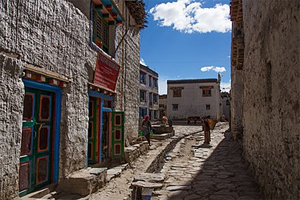 From inside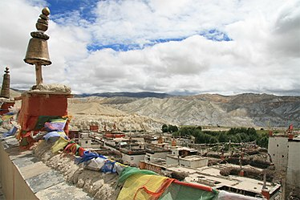 From rooftop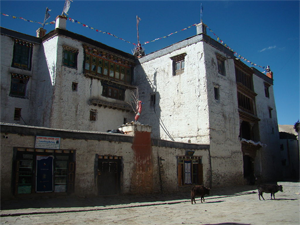 The Royal Palace
Lo Manthang, a Village Development Committee with 876 people living in 178 households,[61] is the capital of the old kingdom of Lo, which encompasses the northern two thirds of the district and known as Upper Mustang. Though the capital of the district is Jomsom, the traditional Tibetan-style locales lie north of Kagbeni. The old capital Lo Manthang, a square-walled town on the Plain of Prayers, is the residence of the present king.[14]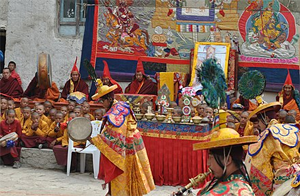 Tiji festival
Lo Monthang features the King's Palace and many monasteries that are being restored by art historians Europe.[62] The village is noted for its tall white washed mud brick walls, gompas and the Raja's or Royal or King's Palace, a nine-cornered, five story structure built around 1400.[63] There are four major temples: Jampa Lhakhang or Jampa Gompa, the oldest, built in the early 15th century and also known as the "God house"; Thubchen Gompa, a huge, red assembly hall and gompa built in the late 15th century and located just southwest of Jampa Gompa; Chodey Gompa, now the main city gompa; and the Choprang Gompa, which is popularly known as the "New Gompa".[64] It is noted by scholars as one the most well preserved medieval fortress and a candidate for UNESCO World Heritage status.[4] The windswept and arid land around Lo Manthang, lying at an altitude between 3000m and 3500m, is not suitable for agriculture at all. However, there are a number of small streams, where willows grow along with wheat, potatoes and barley. The most famous festival here is Tiji, which generally happens in April/May, with costumed lamas dancing in the village square for three days.[62]
Lopa people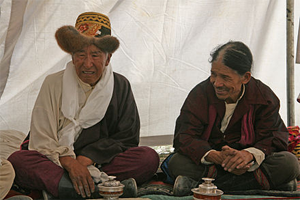 Lopa men at Yartung, the biggest festival in Nepal's trans-Himalayan region that happens every September. Apart from the festivities it features popular horse-riding competitions that attract competitors from even the Nepalese Army.[65]
Lo Manthang is the socio-cultural and political center of the ethnic Lopa people, the original inhabitants of Mustang.[4][43] Their mud-brick homes are much like Tibetan homes, whitewashed outside and decorated inside.[62] They build their homes out of stone, making the roofs out of thinly chiseled stone squares. The roofs are extremely uniform and smooth; and on each corner, a small square is constructed so that prayer flags may be hung there. Most houses are built close together and have no windows, only holes in the walls to protect against the high speed winds that race up the mountains. A Lopa home almost never built toward the South because of the fierceness of these winds. This is a drawback in summertime as the houses grow very hot due to a lack of appropriate ventilation. Hence, people often sleep on the terraces during the summer to escape the heat.[6]
The Lopa are primarily farmers, shepherds, or merchants.[6] Tibet traditionally traded with Lopas, but in mid-18th century salt-trade monopoly was awarded to the Thakali people to the south, stripping the Lopa of much income. In 1959, Tibetans started crossing the border and encroaching on the small plots of pastureland Lopas used to feed their sheep, yaks, donkeys and mules, causing Lopa wealth to deteriorate further.[62]
Socially, the They are divided into three groups, one of which contains those of royal heritage. Rules of society are based on the values of respect and honour. The structure of their families is also based on these and other traditions.[6] They practice Tibetan Buddhism. Sometimes marriages are made by parental agreement, other times by capture or elopement. Like other people who live in harsh terrains, they are generous and kind, and also are shrewd businesspersons.[62] One tradition says that the eldest son will inherit the family's property. When he does, the next son must become a Buddhist monk.[6]
Nature
Lower Kali Gandaki valley forms the border to demarcate east and west for the distribution of flora and fauna of Mustang. It is rich in both temperate and trans-Himalayan biodiversity with flora and fauna that are most common to those that are highly rare.[16] Though biodiversity of Upper Mustang is comparatively well studied and documented, only limited information is available on biodiversity of Lower Mustang.[16]
Fauna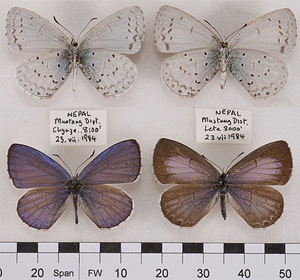 Celastrina huegeli specimen from Mustang
Mustang is rich in trans-Himalayan biodiversity, where five species of zooplankton, seven nematode species, two mollusc species, one annelid species, 25 insect species (seven aquatic insects and 18 butterfly species), one spider species, 11 amphibian species, eight lizard species, five snake species, 105 bird species and 29 mammal species have been recorded. Five butterfly species, extinct mollusk species (shaligram), two frog species, one reptile species, two bird species (Tibetan sandgrouse and Eurasian eagle-owl), and seven mammal species have only been recorded in Mustang in Nepal.[16] Out of the 18 butterfly species recorded in Mustang, two are new and three are endemic to the area. Mustang is the habitat for snow leopard, musk deer, Tibetan wild ass and Tibetan gazelle. The only native fish species, recorded at 3475m above sea level at Ghami Khola stream in Dhami, has been identified as the highest elevation fish in Nepal. Six of the mammal species recorded from Mustang area are protected by the National Parks and Wildlife Conservation Act (1973), while seven of the mammal species are included in different threat categories of IUCN Red Data Book.[16]
Flora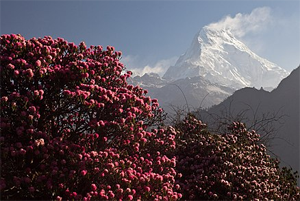 Rhododendrons in front of Annapurna South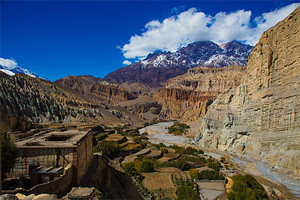 Terraced fields in Tetang village, Chhusang
Vegetation of Mustang District is of the steppe type and consists of grasslands interspersed with scrub. Cold desiccating winds, a short growing season, low precipitation and cold air temperatures limit the standing biomass produced from the steppe vegetation. Scrub is dominated by Juniperus squamata on gentle slopes, whereas steeper slopes are dominated by Caragana gerardiana, Chrysosphaerella brevispina, and Rosa sericea, as well various species of Ephedra and Lonicera. Vegetation above 5,000 metres consists mainly of Rhododendron anthopogon, as well as Potentilla biflora and various species of Saxifraga. Little or no vegetation is found above 5,800 metres.[13]
Forest covers 3.24 percent of Mustang's total landmass. Forest cover ends near Jomsom and is very limited in Upper Mustang, which falls in the Alpine climatic area. It is distributed over one small patch each in Lo Manthang and Dhami VDCs, and seven patches in Chhuksang VDC.[16] The vegetation of the district can be categorized into some eight types, including six types of mixed forest identified by the dominant species — Pinus wallichiana, Betula utilis, Hippophae salicifolia, Caragana gerardiana, Lonicera spinosa and Caragana gerardiana, Juniperus — and grasslands/rangelands covered with Poaceae.[66] Lower Mustang offers mixed broad leaved forest such as Acer species, conifers (mainly pine) and rhododendrons (Nepali: लालीगुँरास), and at the higher elevation conifers with birch Betula utilis.[16]
Mustang is rich in medicinal and aromatic plants with very high economic and ethnomedicinal values. Local people use a number of plants for food, spices, fibre, medicine, fuel, dye, tannin, gum, resin, religious purposes, roofing materials, handicrafts, etc.[16] Medicinal use of 121 plant species was recorded in a study. These 121 plants included 49 vascular plants and 2 fungi species from 92 genera. These plants, including different parts of the same plant, were used to treat 116 different ailments. The most common type of medicinal plants were herbs (73%), which was followed by shrubs, trees, and, finally, climbers.[66] Over 200 species of Non-Timber Forest Products (NTFP) and medicinal and aromatic herbs (MAP) have been identified in Mustang.[16] These plants were found to be used as medicine (50 species), food (33), fuel (27), fencing (24), fodder (19), ritual object (19), decoration (8), manure (7), dye/soap (3), psychoactive (3), and construction material (2 species).[66]