School of Radiant Living
by Hilary Stace
New Zealand History
Accessed: 12/1/19
NOTICE: THIS WORK MAY BE PROTECTED BY COPYRIGHT
YOU ARE REQUIRED TO READ

THE COPYRIGHT NOTICE AT THIS LINK

BEFORE YOU READ THE FOLLOWING WORK, THAT IS AVAILABLE SOLELY FOR PRIVATE STUDY, SCHOLARSHIP OR RESEARCH PURSUANT TO 17 U.S.C. SECTION 107 AND 108. IN THE EVENT THAT THE LIBRARY DETERMINES THAT UNLAWFUL COPYING OF THIS WORK HAS OCCURRED, THE LIBRARY HAS THE RIGHT TO BLOCK THE I.P. ADDRESS AT WHICH THE UNLAWFUL COPYING APPEARED TO HAVE OCCURRED. THANK YOU FOR RESPECTING THE RIGHTS OF COPYRIGHT OWNERS.
Introduction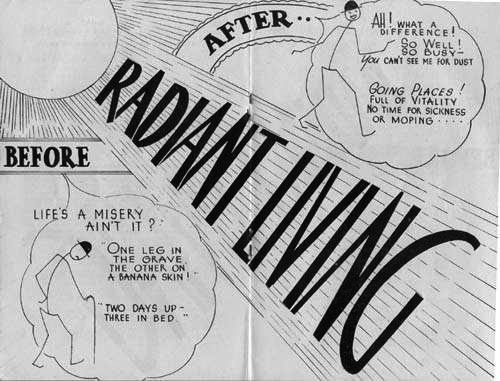 Radiant Living magazine
A spread from Radiant Living, October/November 1949.
The School of Radiant Living was a movement active in New Zealand from the late 1930s until the late 1980s. Founder Dr Herbert Sutcliffe taught a holistic philosophy of physical, psychological and spiritual health. The School of Radiant Living had its international headquarters at Peloha in Havelock North from the early 1940s.
Sutcliffe, an English-born psychologist, was involved with the internationally popular Radiant Health Club movement in Australia before founding the first School of Radiant Living in Providence, Rhode Island, USA, in 1931. During the Second World War he migrated to New Zealand. A total of 36 schools (24 overseas and 12 in New Zealand) were eventually established.
By Hilary Stace
Herbert Sutcliffe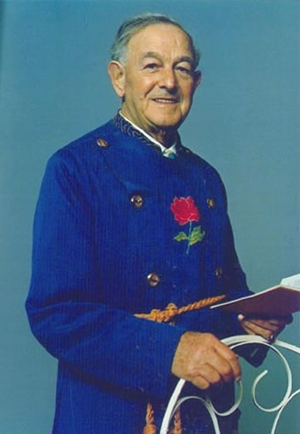 Herbert Sutcliffe, 1886-1971
Herbert Sutcliffe, founder of the Radiant Living movement in New Zealand
Herbert Sutcliffe was born in Louth, Lincolnshire, England, on 19 October 1886, the son of Elizabeth Easter Allen and her husband, John James Sutcliffe, an engineer.
A lifelong love of singing came from involvement in the local cathedral choir. He worked as a telegraph engineer before migrating to Australia, apparently to work on new telegraph cable projects.
On 5 June 1915, at Brunswick, Melbourne, he married Hilda Gertrude Wilson; they were to have two children.
He maintained his interest in singing by conducting choirs, and was also an active Freemason.

Fascinated by the 'new' psychology of Freud, Adler, and particularly Jung, Sutcliffe joined the Australian Psychological Society, editing its magazine and acting as president from 1925 to 1930. By 1931 he had gained a doctorate in psychology. He introduced the society to Jungian ideas on the importance of personal counselling incorporating a metaphysical element.
Radiant Health and the International New Thought Alliance
Sutcliffe also edited the Radiant Health Messenger, which had an international readership, and lectured on healthy living on behalf of Radiant Health Clubs. Through this magazine he came to the notice of the United States-based International New Thought Alliance (INTA) and was invited to their 1931 conference in Cleveland, Ohio. An umbrella group of those following alternative spirituality or liberal Christian paths, the INTA also had links to the American 19th-century transcendentalist writers and incorporated the latest psychological theories. After being well received at the conference Sutcliffe studied for his doctorate in divinity at an INTA-affiliated Divine Science Church in New York State.
Radiant Living
Throughout this time Sutcliffe was developing the philosophy that he was soon to teach in his Schools of Radiant Living.
He argued that each person has a spirit or soul and for successful psychoanalysis the relationship between mind and soul must be considered: fear, hate and feelings of inferiority, the causes of personal suffering, could not be overcome without facing the invisible world of soul, spirituality and the afterlife. By considering people as threefold beings - body, mind and spirit - he believed individual health and happiness could be achieved by changing diet, physical habits, attitudes and spiritual awareness, and by following the 'laws of nature'.
The first Sutcliffe School of Radiant Living was founded in Providence, Rhode Island, in 1931. During the next two decades
Sutcliffe set up 36 schools - 24 in the United States, Canada, Hong Kong and Australia, and 12 in New Zealand. As he spent much of his time on lecture tours he provided detailed organisational requirements for each school and trained students to become teachers, resulting in a uniform structure and format.
Annual Christmas schools provided refresher courses and regular council meetings were also held. The organisation of the schools, and associated tasks such as editing the magazine and arranging Sutcliffe's lecture tours, were mostly done by dedicated women.
Sutcliffe in New Zealand
Sutcliffe visited New Zealand in 1938.
His mentor, the American New Thought activist and Radiant Health Club publicist Phoebe Marie Holmes, had visited earlier.
Lecture tours by alternative health advocates found a ready audience in New Zealand, and by 1938 there was a Radiant Theatre in Christchurch, apparently financed by the baker Thomas Edmond.
The rising sun symbol used by Edmond's company was popular with such movements, and was also used by Sutcliffe.
One of New Zealand's first Schools of Radiant Living was founded in Auckland in 1938, with Gertrude Hillary as secretary. Her son Edmund was briefly Sutcliffe's assistant and also trained as a Radiant Living teacher.
Havelock North and Peloha
By 1942 Sutcliffe had made Havelock North, with its history of alternative spirituality and pleasant climate, his home and the international headquarters of the movement. He bought the large Quaker-built house Swarthmoor and renamed it Peloha (for Peace, Love and Harmony). For the next four decades it hosted summer schools, conferences and Easter observances, and also functioned as a commercial health retreat.
Hilda Sutcliffe died in Australia in 1944, and on 25 February 1955 Herbert married his secretary, Phyllis Evelyn Farley.
Radiant Living thrived in New Zealand from the 1940s to the 1970s. Many schools built or purchased their own premises, and annual banquets, often attended by mayors, MPs and other dignitaries, celebrated the founding of each school. At a meeting in Wellington in the 1940s Prime Minister Peter Fraser apparently suggested that if more people followed Radiant Living health principles he would be closing hospitals rather than opening them. Public events included fitness displays by members.
The Eliminating Diet
Nutrition took a prominent place in Sutcliffe's teachings.
To remove toxins from the body and mind the Eliminating Diet was commonly prescribed for a variety of ailments. The dietary theories of Radiant Living, based on food-combining and a high intake of fresh fruit, vegetables and their juices
, foreshadows much later mainstream dietary advice.
Correct breathing, exercises to improve eyesight, and singing and music were also encouraged. All were an embodiment of the philosophy that by following 'laws of nature' ailments could be cured and quality of life improved.
A colourful personality
Herbert Sutcliffe, usually dressed in a white suit, was a charismatic platform speaker, even known to turn cartwheels on stage in his 60s. For formal occasions at Peloha he wore a Masonic-style royal-blue gown. He taught that dark colours had negative associations and encouraged members to bring bright colour into their lives. He gave personal consultations to thousands of people, pioneered the use of wire recordings, offered postal courses and ran a mail-order business in herbs and vitamins. He was interested in homoeopathy, vitamin therapy and motivational sports psychology, and took a personal interest in the achievements of local sportsmen and women.
Radiant Living after Sutcliffe
Sutcliffe died at Havelock North on 27 October 1971, survived by Phyllis and the children of his first marriage. Phyllis ran Peloha until her death in 1981, and it was sold in the late 1980s. A large endowment was made to Victoria University of Wellington to establish the Herbert Sutcliffe scholarships for disadvantaged students in 1989. Other educational institutions, such as the Hohepa homes, also benefited.
Although sometimes authoritarian and overbearing, Sutcliffe lived simply at Peloha with the staff. Even those who fell out with him over various issues still respected his teachings.
In 1998 one of his earliest texts, How to re-make your life (1931), was republished by Sally Fallon and the Ascended Master Teaching Foundation.
Although no formal schools remain, the holistic teachings of Herbert Sutcliffe are still followed by many in New Zealand and overseas.
A biography of Herbert Sutcliffe can be found on the DNZB website
Teachings

The teachings of Radiant Living
The teachings of Radiant Living were complex and involved
holistic
psychological, physical and spiritual health. Several textbooks and a large series of taped lectures are held in the Beaglehole Room at the Victoria University of Wellington Library. The Alexander Turnbull Library, Wellington, also holds some of Sutcliffe's books as well as a run of the magazine Radiant Living which chronicles issues of importance.
According to Herbert Sutcliffe, good mental health was the key to better physical health. He taught that nature cures and can be assisted to cure not only with fresh, naturally grown food but with mental analysis. He advocated personal counselling and held individual sessions wherever he went. Disease could be the result of fear, feelings of inferiority or hate, products of the human mind which cause problems all over the world. But anyone could be assisted back to normal life and health, according to Sutcliffe, by understanding the psychosomatic (the power of the mind) and psycho-cosmology (the power of the spirit). Tools such as affirmations would eliminate fears and retrain the mind. Music, singing and public-speaking were also important.
Sutcliffe devised his own stages of human development and also identified physical body types.
He was particularly influenced by Jung's belief in the importance of the soul. He believed that one must acknowledge the existence of the soul, 'the invisible which can be visualised as a (radiant) source for good within us all and which outlasts our physical life on earth'.
Diet was of particular importance and the cleansing Eliminating Diet was frequently advocated. To keep the body healthy the 16 cell elements had to be kept in harmony. He believed fruit and vegetables were 'alkaline forming' and should form 80% of the diet and the remaining 20% should be 'acid forming' proteins, carbohydrates and fats. Vitamins and minerals were also important. Food should be colourful as well as healthy and organic and a good salad (a mainstay of diet) should contain at least 6 colourful fruits and vegetables.

Physical fitness was an important tenet of Radiant Living and each school taught a variety of exercises including ones for better breathing and eyesight.
Displays by members were a feature of publicity drives.
Radiant Living's spirituality was based on a liberal Christianity and rituals such as the 'rebirth' at Easter were important celebrations. People were seen as part of God - with unlimited positive potential. Evil was 'man-made - a result of fear and anxiety' - and could therefore be overcome.

These teachings were practised and promoted by the hundreds of people who qualified as Accredited Teachers of Radiant Living and ran the 36 schools around the world. Radiant Living teaching foreshadowed much of what is now labelled [url]'new age'.[/url]
Peloha

Peloha - the home of Radiant Living
'On yonder hill you will pitch your tent' prophesied the daughter of Golden Dawn founder Robert Felkin to Herbert Sutcliffe, as she pointed towards Te Mata Peak. It was about 1940 and Sutcliffe was staying at her home, Whare-Ra, in Havelock North. Within a couple of years he had bought a large house, Swarthmoor, on the slopes of Te Mata Peak and set about turning it into a health retreat and teaching centre. He named it Peloha for the first two letters of the words PEace, LOve, HArmony.
The house had a fascinating history. It was built in 1904 for John Holdsworth and his wife, Margaret Chambers. Margaret's family were major landholders in the area and prominent Quakers. The large two-storeyed house in extensive grounds was named Swarthmoor after the English Quaker headquarters. It later belonged to a relation by marriage, Walter McLean. Sutcliffe bought the house with 26 acres from McLean's estate. Peloha's grounds, with its large citrus orchards and organic gardens, made the property almost self-sufficient. Areas of the property were named after other Radiant Living schools, such as the Providence Lawn. Radiant Living Summer Schools, Easter services and October Council Conferences were held at Peloha and for additional income it also functioned as a health retreat.
By the late 1980s, after the deaths of Sutcliffe and his wife, Peloha was no longer economic to run and was sold to Weleda, makers of herbal and homeopathic medicines in the Steiner tradition. Proceeds went to Victoria University of Wellington for the Herbert Sutcliffe Scholarships and other educational groups such as the local Hohepa School for children with special educational needs.
The Havelock work

Havelock North and 'The Havelock work'
Havelock North has long been a centre of 'alternative thought' or liberal theology in New Zealand. Some 19th-century landowning families like that of John Chambers were Quakers (members of the Society of Friends). Quakers have a long history of challenging established religious traditions and promoting gender, race and class equity, and religious tolerance. Other families in the Havelock North area were liberal Anglicans who encouraged mysticism and ceremony in their rituals.
Into this setting came an English medical doctor and High Mason, Robert Felkin and his family. The Felkins were Theosophists and brought with them an English movement, the Hermetic Order of the Golden Dawn. They set up the Smaragdum Thalasses temple of Stella Matutina in their house, Whare-Ra (House of the Sun) which was specially built for them by architect J.W. Chapman-Taylor.

Theosophy, popularised in the late 19th century by Russian mystic Helena Blavatsky and others such as English feminist socialist Annie Besant (who visited New Zealand), was a philosophical belief system which incorporated Eastern ideas of karma, reincarnation and nirvana, and was commonly known as spiritualism. The Felkins also incorporated the colour therapy ideas of Rudolph Steiner (1861-1925) and other ideas of Anthroposophy which Steiner founded in 1913 when he broke with Theosophy.

This liberal philosophical/spiritual grouping of like-minded people was known as the 'Havelock Work'. Their journal The Forerunner, (1909-14), discusses philosophical questions and documents gentle rituals, village fetes and Shakespearean pageants. The Havelock Work involved a large number of Havelock North residents mainly from the wealthy, educated and powerful landowning class.

Bessie Spencer and Amy Hutchinson were involved with the Havelock Work.
They lived a few miles south at Rissington but probably attended meetings at the Quaker-owned home Swarthmoor (which many years later became Peloha). Originally intending to set up a school, they turned their attention instead to empowering rural women and are remembered as the founders of the Country Women's Institutes.
Steiner ideas were also popular. It is not surprising therefore that
the first Steiner and Hohepa Schools in New Zealand, incorporating the educational philosophies of Steiner, began at Havelock North.
After Felkin's death, his wife and others decided to buy land at Taupo and the Tauhara Centre there is their legacy. However, the elderly Harriot Felkin and her step-daughter were still living in Whare-Ra when Herbert Sutcliffe came to stay with them about 1940.
Origins of Radiant Living

An international movement
Radiant Living emerged from the American-based philosophical movement New Thought, which gained popularity in the late 19th century. The 'father' of New Thought was Phineas Parkhurst Quimby (1802-1866) who practised what he believed was the healing method of Jesus. Other names associated with New Thought are Mary Baker Eddy (who founded Christian Science), the transcendentalist writers Henry David Thoreau and Ralph Waldo Emerson, the theologist Levi H. Dowling (who wrote about the Aquarian Age and the Gospels), and Ernest Shurtleff Holmes. There were also links with the new European psychological theories, particularly those of Carl Jung, and nutritional ideas later publicised by Gayelord Hauser and others.
The International New Thought Alliance was formed in 1914 as an umbrella organisation for the many parts of the New Thought movement and is still active today. It had a significant influence on the development of the 12-point plan now used in treating addictions.
New Thought activist Phoebe Holmes travelled the world lecturing about Radiant Health Clubs. She advocated an Eliminating Diet which in a later form was to become an essential part of Radiant Living. She apparently visited New Zealand in the 1920s and 1930s. Christchurch's Radiant Theatre was built at this time by Thomas Edmond of baking powder fame. In Australia Herbert Sutcliffe, who was also active in the Radiant Health Club movement, came to her attention. Through her influence he was invited to attend the 1931 New Thought Alliance conference in Ohio. He went from there to complete a doctorate of divinity at a Divine Science Church (part of New Thought) in New York State and later that year set up his first School of Radiant Living in Providence, Rhode Island.
Edmund Hillary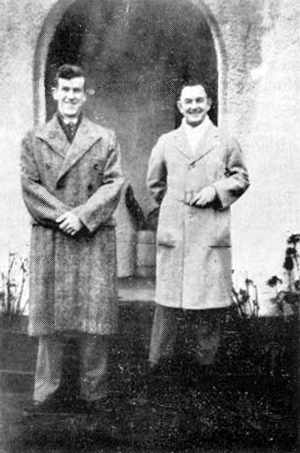 Edmund Hillary and Herbert Sutcliffe
Edmund Hillary (left) and Herbert Sutcliffe, 1940
Edmund Hillary and Radiant Living

The Auckland School of Radiant Living was founded in 1938, and this was one of the first of these schools established in New Zealand. Everyone in the Hillary family was a member. Gertrude, Edmund Hillary's mother, was the first secretary and reported the early progress of the school's hall in the international Radiant Living magazine.

The atmosphere of the hall was distinctly associated with beauty and peace. After the first meeting, the vibrations were wonderful, and now the effect on any member entering the Hall is instantly spiritual and uplifting.

The ladies' dressing room is furnished with a large, handsome mirror, a special large electric toilet light over the mirror; 120 nickel-plated coat-hooks, and a long seat. The windows are curtained similarly to those of the Hall. The men's dressing room is similarly furnished, but smaller, with 90 hooks. The kitchen is furnished with a large gas stove (a gift), 120 cups and saucers of excellent china, benches and shelves. A servery opens direct into the hall.

All members were thrilled with the rooms, and their care of them, and their supply of a plentitude of beautiful fresh flowers in glass vases testify to their happiness in their new home. The school programmes have been dynamic and have created wonderful impressions on members and visitors. We will write you a special note shortly when we reach our 200th member. The new members are not being especially sought by us, they seek the school as a result of the school teaching.

The Hillary family was involved until the mid-1940s. The Wellington school was started in 1942 after a summer school at Marsden College. Percy Hillary reported:

SUMMER SCHOOL AT MARSDEN:

A Wonderful Success.

New Zealand Bright sunshine, tempered by cool sea breezes, extensive views of hills and valleys clothed with trees and colourful gardens in which were set a myriad of pretty homes, created a most attractive environment for the Radiant Living International Summer School of 1940–41. Marsden College, in which the school was held, comprised a group of large red brick buildings of the latest design, relieved with the greenery of creepers, and set in spacious grounds that glowed with the colours of flowering shrubs and plants, with the great splashes of red of the native tree (Pohutukawa), and with various shades of green of many lovely trees. The lawns were very attractive in their bright green, and a large swimming pool and tennis courts, with playing fields, provided opportunity for recreation.

HAPPY WELCOME

The many students arrived full of eagerness and enthusiasm to be given a radiant, smiling greeting by the Founder, Dr Herbert Sutcliffe, and Miss Dorothy Law, International Secretary … The daily menus were a revelation (in catering) to the students, comprising wonderful salads and tempting dishes prepared from fresh fruits, vegetables, eggs, etc. delivered daily. There were oranges, lemons, peaches, apples, cherries, raspberries, plums, lettuce, watercress, parsley, spring onions, carrots, parsnips, radishes, red beets, string beans, broad beans, vegetable marrow, baked potatoes etc. The meals were served in a spacious dining hall and were enlivened by spontaneous outbursts of happy, rhythmic songs in which all joined, creating a bright atmosphere of happiness and good comradeship.

Doctor Sutcliffe … gave his complete course of lessons in four series: Health Course, Character Types, Mental Science, and Psycho-Cosmology. The thoroughness, patience, depth of knowledge, logic and soundness of the Founder were easily discernable in these marvellous instructional courses. The students had to work, and work hard, in their endeavour to assimilate this veritable feast of knowledge. In the Physical Culture Class nineteen of the students passed a test by touching their toes (from lying-on-back position) 150 times, amongst them being Mrs. G., a lady 72 years of age. She was given a great ovation.
One of the first New Zealand schools of Radiant Living was established in Auckland. Its secretary was Gertrude Hillary who reported progress early in 1939. For a few years the whole Hillary family was involved with Radiant Living. A son, Edmund, aged 19 in 1939, trained as an Accredited Teacher of Radiant Living and was briefly Herbert Sutcliffe's assistant.
From Radiant Living Aug/Sept 1953:
Radiant Living, Hillary and Mount Everest
By Herbert Sutcliffe, D.Sc.
As Edmund Hillary (now Sir Edmund) is inevitably linked with the top of Mount Everest, so is Radiant Living connected with Sir Edmund. We all know that the past assuredly qualifies the present and influences the future. Therefore a few records of his association with Radiant Living Teaching, will enable us to glimpse the influence it has had upon him and thus upon his subsequent exploits.
Enthusiastic Student
In 1938, when Sir Edmund was 19 years of age he attended my classes in Auckland. He became an inaugural member of the School formed in September of that year. In fact all the members of the Hillary family, his father, mother, sister and brother enrolled as members, became teachers and subsequently four of the family sat for and passed the examination for Associated Teacher of Radiant Living. (A.T.R.L. degree).
Sir Edmund threw himself wholeheartedly into the Radiant Living, studies and it is interesting to note his remarkable success by the gaining of the following marks in his 1941 A.T.R.L. examination:
• Health: : 98%
• Everyday Psychology: 98%
• Psycho-Cosmology: 100%
• Letters to Students: 100%
• Physical Exercises: 91%
• Lecturing Ability*: 100%
*Inferiority-cause and cure It seems to be a tribute to this man, now world renowned, and to the Teaching itself that he became so highly qualified as a Teacher and that the value of the Science and Philosophy came to him at a very important period of his life, when he was 19 years old. For five years, from 1938 to 1943, he was closely associated with the Auckland School, as also were the other members of his family. I am glad to have on record the many times they testified to the fact that Radiant Living came into their lives bringing harmony and understanding to each member of the family and the family as a whole just when it was most needed.
Campaign Assistant
Father Percy Hillary was so appreciative that he requested me to take Edmund with me on lecture campaigns because he could not think of anything better for Edmund's future. I readily agreed to this and Edmund commenced as my assistant during the Gisborne Campaign in 1940. A photograph of the two of us was taken at that time. This link was unfortunately interrupted by war service. Therefore, as Teacher, and for a time, Secretary of the Auckland School, and as my campaign assistant, it can he rightly said that Radiant Living fashioned his life during his 20s and gave him a physical, psychological and philosophical background which took him to the top of Mount Everest. These facts as to the influence Radiant Living had upon his life may not interest the man in the street, but Radiant Livers will surely be interested in the link between Radiant Living and Mount Everest.
I Can
You will note that in 1941 his test lecture was entitled "Inferiority Cause and Cure". I remember his closing exhortation theme was "I can!" The subject of his extempore lecture was "Intuition and Inspiration". His closing declaration was "Nothing can prevent us from reaching our desired goal". It is not difficult to imagine that when he subsequently interested himself in mountain climbing, the letter to Students in the booklet Series 5 entitled "Service from the Heights" which was a par of his studies gave him a vision, an ideal and an aim.
Sir Edmund Hillary describes his own experience
'A Dr Herbert Sutcliffe was in town and he was talking about a new philosophy - Radiant Living. My family and I went along to his first lecture and were very impressed. It was a combination of Christianity, psychology and health and fitness and it just seemed to fit our needs at the time. We became members and when Dr Sutcliffe introduced training classes I qualified first in the course and became a Teacher of Radiant Living. I gained quite a lot from Radiant Living - I learned to speak confidently from the platform and even started thinking more freely on important topics. But finally my enthusiasm faded, as it always seemed to do. I developed the conviction that I was trying to escape from ordinary life, so I reluctantly withdrew from the organisation.'
From Hillary, E. View from the Summit, Doubleday, London, 1999
The eliminating diet

Two Eliminating Diets
MENTAL AND PHYSICAL
As recommended by: Herbert Sutcliffe, D.Sc.,Ph.D., F.F.Sc. (Lond.)
To obtain physical fitness, it is of vital importance that the right mental attitude should accompany the food diet to enable the emotions, nerves and glands to co-operate with the healing processes of the body.
The following 'Mental Diet' will be found of wonderful benefit to ensure success.
MENTAL DIET
General Instructions:
For ten days, make a resolution to eliminate all fears from your mind. Affirm the following three times each, for the said ten days:
• MORNING: 'Thank God I am alive. I harmonise myself with the foods that cleanse and heal the body. I fill my mind with LIFE, LOVE and POWER.'
• TEN AM: 'All anxiety is passing from me to the Infinite Life, and congested body-cells are being dispersed NOW.'
• NOON: 'I maintain my PEACE WITH THE UNIVERSE, and with the vitalising processes of RADIANT LIVING.'
• FOUR PM: 'I unfold all problems and place them in the hands of DIVINE WISDOM. They are no longer mine. Nature is adjusting my physical body for perfect health".
MORNING STRETCH EXERCISE
Commence the day with the following Mental and Physical exercise:
Feet apart, toes gripping the floor, inhale and hold breath; clench hands, stretch left hand above head at an angle to correspond with 1 on the clock, while right hand, clenched, is stretched down to correspond with 7 on the clock. Look up, with head leaning towards left hand. Affirm with positive voice: "Thank God I am ALIVE!!!" Exhale and relax.
Then reverse the position, and stretch the clenched right hand above the head to correspond with 11 on the clock, with left hand at an angle to correspond with 5 on the clock. Breathe and affirm as before, and relax.
Repeat the exercise three times
TENSE EVERY MUSCLE and PUT VITAL ENERGY INTO MOVEMENT AND WORD.
PHYSICAL HEALTH

INSTRUCTIONS: Read carefully.
The following menu is a scientific method of eating abundantly of foods calculated to impregnate the blood with vital health. It frees the tissues of mucus, toxic poisons and congested cells. Cold, catarrh, asthma, bronchitis, liver troubles, intestinal and stomach troubles, constipation, blood pressure and many other diseases can be eradicated by taking this wonderful menu of vital foods.
SPECIAL NOTE: For the specified period (except where specially stated) entirely refrain from eating proteins, i.e. meats, fish, eggs, peas, beans, lentils, poultry, cheese and etc., and carbohydrates, such as bread, biscuits, scones, cakes, potatoes and all sweets. Do NOT drink tea, coffee, cocoa, milk or any makes of soft drinks.
Endeavour to drink 2 quarts of the potassium broth each day. This, together with the fruit juices, will supply the body with the liquids required.
Symptoms, such as dizziness and temporary weakness are food signs that the diet is assisting the blood to cleanse the body of uric acid, congestion and mucus. Persevere, and they will pass away. Eat all you can of the right foods.
FOODS REQUIRED FOR THE ELIMINATING DIET
This menu consists of TWELVE CITRUS FRUITS - 6 oranges, 3 grapefruit and 3 lemons - taken every day for ten days, (for special cases a longer period may be necessary), together with salads, VEGETABLES and other FRUITS. Remember, No Additions are to be made to the Eliminating Menu. This is not a process of elimination through starvation.
The time stated hereafter for meals is an approximate time and can be adjusted to suit each person's requirements.
It is advisable to keep these fruit juices separate.
Clean the teeth and rinse the mouth well.
Half an hour before breakfast. 2 glasses of warm lemon water, (juice of half a medium sized lemon to a tumbler full of water.)
NO SUGAR.
• 8.30 a.m. Breakfast: Juice of 3 good sized oranges or substitute (see below). Add yolk of one egg on first and alternate days.
• 9.30 a.m. One hour later: One whole grapefruit, or ¼ pint cocktail as substitute
• 10.30 a.m One hour later: Drink 1 ½ pints hot potassium broth. Eat broth vegetables if possible for roughage. Include two teaspoonfuls wheatgerm and two teaspoonsful alfalfa (if available).
• 12.00 noon: Another lemon drink, as before.
• 12.30 p.m. Lunch: 1 pint potassium broth; a salad of 6 to 10 fresh raw vegetables (grate root vegetables finely). Dressing of lemon juice, honey and olive oil. Also 1 cubic inch cheese on second and alternate days. One apple or other sub-acid fruit.
• 2.00 p.m: Three oranges or ¼ pint cocktail as substitute.
• 3.00 p.m. one hour later: One whole grapefruit or ¼ pint cocktail as substitute.
• 4.00 p.m. one hour later: If feeling hungry, eat any of the following fruits - apples, apricots, cherries, pears, peaches or other sub-acid fruits. (Not bananas.)
• One half hour before dinner: Lemon drink, as before
• 6.30 p.m. Dinner: 1 ½ pints potassium broth, add wheatgerm and alfalfa. Also 3 or 4 steamed or 'wilted' vegetables (roots and greens, not potatoes). Dessert: four or five prunes and juice (no cream), or fresh fruit. No nuts.
• Supper: One whole grapefruit, or ¼ pint cocktail as substitute.
• Last thing at night: To ensure full bowel movements take one or two teaspoonsful of the cleansing food.
If salt is desired, use only vegetable or celery salt.
The vegetables to be used for lunch and dinner can be chosen from: celery, carrots, spinach, lettuce, cucumbers, cabbage, parsley, sorrel, onions, watercress, cauliflower, radishes, spring onions, asparagus and tomatoes either cooked or raw, but NEVER USE flour or milk gravies on any vegetable.
POTASSIUM BROTH
Take equal parts of the following vegetables finely chopped or put through the mincer: About 2 cupfuls each of spinach, onions, celery, carrots,tomatoes; one quarter cup of parsley. Add 2 quarts of cold water and place over a suitable flame to boil in 20 minutes, then simmer slowly for 20 minutes. Flavour with either asparagus, carrot tops, marmite, beet tops, turnip tops or green pepper. DO NOT USE cabbage. Season with vegetable salt or celery salt. (If fresh vegetables quite unobtainable, tinned goods may be substituted.)
ALTERNATIVE: Make 1 quart of Potassium Broth. Take 1 pint at morning period and 1 pint at evening period. For lunch drink half a pint of cocktail. (See substitute.)
SUBSTITUTES: Breakfast: 1 medium to large apple, mild, grated or 'snitzled', 3 prunes and 1 dessertspoonful wheat-germ. (Add one beaten egg yolk as directed.)
COCKTAIL: Two parts of carrot juice and one part each of the following, spinach, beetroot, tomatoes, celery with a little lemon or apple juice to flavour, and vegetable salt. Stir well.
Sour oranges may be substituted for grapefruit.
CLEANSING FOOD
To ensure thorough elimination through the bowels, make up the under-mentioned cleansing food to take before retiring. The bowels must work at least twice a day or the poisons will be re-absorbed into the system. Take one or two teaspoonsful.
One half pound of the following:
Dates, prunes, seeds raisins, figs. Put the fruit through a mincer and mix. Add 3 tablespoonsful of senna powder, also 4 tablespoonsful of black molasses or treacle.
Mix all very thoroughly, adding more of the molasses if the mixture is too dry. Bottle in air-tight jars. A tablespoonful of glycerine will help keep it moist, but it is not essential.
AFTER having taken the ELIMINATING DIET be careful to gradually return to a balanced diet. Reduce the quantity of fruit, vegetables and broth, adding 2 pieces of whole-wheat bread, butter, honey, olive oil, cream and egg yolks. Then, in general, let proteins, carbohydrates and fats be 20% of the total dietary.
GOD BLESS YOU. FAITH AND PERSISTENCE WIN THROUGH
Salad recipes

Making radiant salads
From Radiant Living Dec/Jan 1958-59
Salads
Crisp, Rejuvenating and Radiant with Life
Colour, beauty, exquisite artistry find joyous expression in the Art of Salad Making. The homemaker who serves salads so deliciously and artistically tempting that the family cannot resist is thereby blessing all with the glorious gift of health.
Cheese and Carrot
Serve Cottage Cheese or Cream Cheese rolled in grated carrot, on nests of lettuce, or watercress with Radiant French Dressing.
Sutcliffe French Dressing-Equal parts lemon juice and olive oil, with honey and vegetable salt to taste.
Stuffed Tomato Salad
Scoop out as many tomatoes as servings. Place shell in a bed of tender spinach, and fill with finely chopped celery, shredded cabbage, chopped apples and nuts. Garnish with parsley and serve with dressing.
Apple and Cheese Salad
• 4 red sweet Apples (unpeeled)
• Cream Cheese
Core and cut apples in ½ inch slices. Spread cream cheese thick between slices, arrange on bed of lettuce or watercress, and garnish with shredded beet or carrot.
May Salad
• 6 slices Fresh Pineapple
• 6 Strawberries
• 1 large Orange
• Sprigs of fresh mint
• 1 Banana
• Honey Salad Dressing
Individual plates-Place slice of pineapple on sprigs of mint. On this place a slice of orange, then a layer of banana discs, and on top a strawberry. Pour over the salad dressing. Let stand in a cool place for an hour before serving.
Further information
This web feature was written by Hilary Stace and produced by the NZHistory.net.nz team.
Links
The following biographies related to this topic can be found on the Dictionary of NZ Biography website,
http://www.dnzb.govt.nz
:
• Herbert Sutcliffe
• John Chambers
• J.W. Chapman-Taylor
• Bessie Spencer
• Amy Hutchinson
Other links:
• New Thought
• International New Thought Alliance
• Divine Science
Books
Ellwood, R., Islands of the dawn: the story of alternative spirituality in New Zealand, University of Hawaii Press, Honolulu, 1993
Hillary, E. View from the Summit, Doubleday, London, 1999
Radiant Living (newsletter)