Bhutia Boarding School, Darjeeling [Bhotia Boarding School] [Darjeeling High School] [Darjeeling School]
by Wikipedia
Accessed: 12/5/19
NOTICE: THIS WORK MAY BE PROTECTED BY COPYRIGHT
YOU ARE REQUIRED TO READ

THE COPYRIGHT NOTICE AT THIS LINK

BEFORE YOU READ THE FOLLOWING WORK, THAT IS AVAILABLE SOLELY FOR PRIVATE STUDY, SCHOLARSHIP OR RESEARCH PURSUANT TO 17 U.S.C. SECTION 107 AND 108. IN THE EVENT THAT THE LIBRARY DETERMINES THAT UNLAWFUL COPYING OF THIS WORK HAS OCCURRED, THE LIBRARY HAS THE RIGHT TO BLOCK THE I.P. ADDRESS AT WHICH THE UNLAWFUL COPYING APPEARED TO HAVE OCCURRED. THANK YOU FOR RESPECTING THE RIGHTS OF COPYRIGHT OWNERS.
The Indians, moreover, were probably not wholly naive about Gyalo's clandestine activities over the previous years. Gossip, after all, flowed freely in the Tibetan refugee community. In addition, the Indians had a prime window into activities in Darjeeling beginning in late 1956, when Gyalo hired an Indian (a former Morse operator and government employee who had served at India's consulate in Lhasa) to give English lessons to six Tibetans he was preening as future translators and assistants. Only a fool or an innocent would believe that this tutor kept what he saw and heard from his former bosses.

[5]

-- The CIA's Secret War in Tibet, by Kenneth Conboy and James Morrison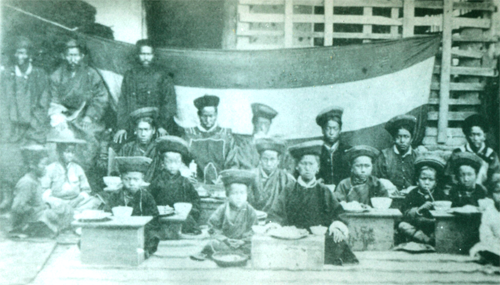 Staff and students of the Bhutia Boarding School, Darjeeling, 1888. Private collection. Sarat Chandra Das is standing, third from the left, and Ugyen Gyatso is seated in the back row, fifth from the right.
The Bhutia Boarding School in Darjeeling is a school founded in 1874. Its first director was Sarat Chandra Das and Professor of Tibetan Ugyen Gyatso, a monk of Tibeto-Sikkimese origin. It was opened by order of the Lieutenant Governor of British Bengal, Sir George Campbell. Its purpose was to provide education to young Tibetans and Sikkimese boys resident in Sikkim or the Darjeeling area. However, according to Derek Wallers, it aimed to train interpreters, geographers and explorers [who] may be useful in the event of an opening of Tibet to the English.[1] Students learnt English, Tibetan and topography. In 1879, Sarat Chandra Das, sometimes disguised as a Tibetan lama, sometimes as a merchant from Nepal and Ugyen Gyatso made several trips to Tibet as secret agents of British India services in order to establish and collect cards.[2]
The opening coincided with the school's educational initiatives [similar to those created by] William Macfarlane, a Scottish missionary in the region [and John Anderson Graham]. If there was no link between these two initiatives, there was also no tension between them, sharing the same goals and methods with mutual benefit.[3]
In 1891, the boarding school merged with the Darjeeling Zilla School to form the Darjeeling High School.[4]
[Former Students of?] Bhutia Boarding School
•
Kazi Dawa Samdup
•
David Macdonald, (1870-1962)
[5]
The Government of India wanted a local officer at Yatung for financial reasons. While this meant that the Trade Agent there would have less status than a British officer, this factor would, if Bell was correct, be balanced by his greater ability to cultivate the friendship of local officials, which was of paramount importance to his role (an issue that is discussed in Chapter Four). In the event, the officer chosen signified a compromise.

He was an Anglo-Sikkimese, David Macdonald, a local government employee who had served on the Younghusband Mission. While not from an aristocratic family, he was intelligent and got on extremely well with Tibetans, and even the Chinese.

Macdonald was uniquely well qualified, and thoroughly conversant with British concepts of prestige. As he later recalled 'There was the prestige and pomp of the empire to be maintained and this meant one reflected the glory.' In contrast, when the Lhasa Mission was headed by a local officer of Tibetan origin in the 1940s, it was felt that 'the want of a Political Officer [i.e. a British officer] in charge of the Mission was felt by our friends'. [33]

Questions of manpower and economy, allied to the need to reward local supporters, meant that local employees had to be given positions of authority, but they were generally kept away from the key positions in which policy decisions were made. MacDonald was the only local officer given a Political post in Tibet until the late 1930s, and he was originally appointed to Yatung, which had little or no influence on policy formation.

Ultimately, although the British had to use local employees, they felt that, with the exception of an exceptional individual such as Macdonald, their prestige could only be fully represented by British officers. Local officers had not been trained to command at British public schools, and thus could not be expected to understand and maintain public school codes of behaviour. In consequence, if a local officer failed to maintain the required status and standards of behaviour, his failure was blamed on his race or class, whereas if a British officer failed, it was the individual who was blamed: 'A man who does not play the game at the outposts is a traitor to our order.'[34]....

One Anglo-Indian was chosen for a Political post in Tibet, David MacDonald, the son of a Scottish tea planter, who became an important figure on the frontier. Although his father had left India when MacDonald was five years old, the boy was well provided for, receiving the then generous sum of twenty rupees a month in trust.

His Sikkimese mother, Aphu Drolma, entered him in the Bhotia Boarding School, from where he entered local government service, before joining the Younghusband Mission.

[33] While MacDonald began regular Tibetan service as a Trade Agent, not an intermediary, unlike the other two local officers classified here as Tibet cadre (Norbhu Dhondup and Pemba Tsering) he shared a similar background to the intermediaries, and his career may be more appropriately considered in this section.

MacDonald had a truly multi-cultural background. Raised as a Buddhist with the name of Dorji MacDonald, he converted to Christianity and adopted the name David under the influence of his wife, the Anglo-Nepalese, Alice Curtis. These various influences gave him command of all of the principal languages of the region, Tibetan, Nepali, Hindi, Lepcha and English, and insight into both Buddhist and Christian religious cultures. MacDonald had the character and skills needed to attract the patronage of British officers, a necessary quality for an ambitious individual of his background. He assisted both Charles Bell and Colonel Waddell, Chief Medical Officer on the Younghusband Mission and early scholar of Tibetan Buddhism, to learn Tibetan, and their support gained him Political employ.[34]

Bell's patronage was crucial; MacDonald was held in high regard by Bell, and owed his position to Bell's support. When his patron left, MacDonald lost influence. His efforts to support his son John, and his son-in-law Frank Perry, in various employment schemes on the frontier brought him into conflict with Bailey, the new Political Officer Sikkim, and his final years in Tibet were difficult ones. In retirement however, he ensured the family security by turning his Kalimpong home into a successful hotel, which still exists today. [35]....

I have previously examined the Political Officers' attempts to gain access to Lhasa during the period 1910-20, when, after a change of policy by Whitehall, their efforts culminated in Charles Bell being permitted to take up a long-standing invitation from the Dalai Lama to visit Lhasa. [17]

The genesis of this invitation lay in the assistance given to the Dalai Lama by David Macdonald at Yatung in 1910. Macdonald had been specifically instructed that while he could shelter the Dalai Lama in the Trade Agency, he was to maintain neutrality in the Chinese-Tibetan conflict. But as the Tibetan leader fled south from the pursuing Chinese forces, Macdonald not only offered the Dalai Lama and his followers sanctuary in the Trade Agency, but deployed the Agency escort to protect him. [18]

Macdonald's interpretation of his orders attracted no censure from government. There can be little doubt that his actions were tacitly approved of by his immediate superior, the Political Officer Charles Bell, who was soon to benefit from the goodwill gained by Macdonald's action. Bell later described MacDonald's assistance to the Dalai Lama as being 'perhaps the chief reason why the British name stands high in Tibet.'[19]

During the Dalai Lama's period of exile, Bell succeeded in cultivating the personal friendship of the Tibetan leader and a number of his court followers. In practice, Bell was able to give the Tibetans very little concrete assistance, for Whitehall, and even many in the Government of India, considered the Dalai Lama was no longer an important political force. The Secretary of State, Lord Morley, for example, described the Dalai Lama as 'a pestilent animal... [who] should be left to stew in his own juice'.[20]

Even when the Dalai Lama returned to rule Tibet in 1912, Whitehall objected to any gestures of support being given to him. Bell and the Tibet cadre, however, offered what support they could. Bell instructed Basil Gould to escort the Dalai Lama as he passed Gyantse, and Macdonald played host to the Dalai Lama in Yatung for five days. Macdonald naturally gained great prestige from this with the local Tibetan community.[21]

-- Tibet and the British Raj, 1904-47: The Influence of the Indian Political Department Officers, by Alexander McKay
[Former Students of?] Darjeeling High School
•
Norbu Dhondup [Rai Bahadur]
, (1884-1944)[5]
• Pemba Tsering, (1905-1954)[5]
•
Ekai Kawaguchi
•
Karma Sumdhon Paul (alias Karma Babu). He later became director of the school.
Karma Sumdhon Paul (alias Karma Babu) worked as a translator and assistant for various British colonial officials in both India -- he accompanied the Sixth Panchen Lama's Indian pilgrimage in 1905-6 -- and Tibet. He was also employed by a number of other Europeans, including missionaries, before meeting and working for the Dutch orientalist John van Manen [1877-1943] at the Asiatic Society of Bengal. Karma Babu went on to become Tibetan lecturer at Calcutta University in 1924 and later published an English translation of the story of Drime Kunden (Dri-med Kun-Idan) from the Tibetan; see Richardus (1998:73-159) and Evans-Wentz (1954:89-91).

-- The Holy Land Reborn: Pilgrimage and the Tibetan Reinvention of Buddhist India, by Toni Huber
References
1. Derek Wallers, The Pundits, Lexington University of Kentucky Press, 1990, p. 193
2. Donald S. Lopez Fascination tibétaine: du bouddhisme, de l'Occident et de quelques mythes, p. 256
3. Alex McKay, Their Footprints Remain Biomedical Beginnings Across the Indo-Tibetan Frontier, p. 71
4. H. Louis Fader, Called from obscurity: the life and times of a true son of Tibet, 2004,
"It may be of further interest to note that this British High School at Darjeeling (better known as Darjeeling High School) had as its antecedent two schools which in 1891 merged to become the DHS. These were the Bhotia Boarding School (that from its very inception in 1874 had as its Headmaster the renowned Babu and Pundit mentioned earlier, Sarat Chandra Das) and the Darjeeling School."
5.
Alex McKay, Tibet and the British Raj: the frontier cadre, 1904-1947, p. 226