Sir Richard Temple, 1st Baronet
by Wikipedia
Accessed: 12/10/19
NOTICE: THIS WORK MAY BE PROTECTED BY COPYRIGHT
YOU ARE REQUIRED TO READ

THE COPYRIGHT NOTICE AT THIS LINK

BEFORE YOU READ THE FOLLOWING WORK, THAT IS AVAILABLE SOLELY FOR PRIVATE STUDY, SCHOLARSHIP OR RESEARCH PURSUANT TO 17 U.S.C. SECTION 107 AND 108. IN THE EVENT THAT THE LIBRARY DETERMINES THAT UNLAWFUL COPYING OF THIS WORK HAS OCCURRED, THE LIBRARY HAS THE RIGHT TO BLOCK THE I.P. ADDRESS AT WHICH THE UNLAWFUL COPYING APPEARED TO HAVE OCCURRED. THANK YOU FOR RESPECTING THE RIGHTS OF COPYRIGHT OWNERS.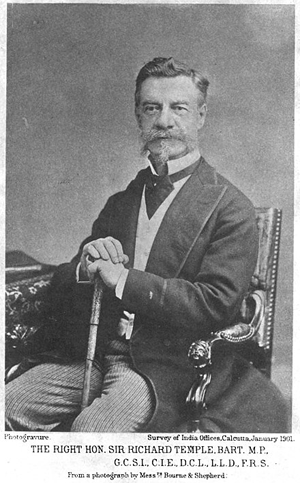 The Right Honourable Sir Richard Temple, Bt GCSI CIE FRS
Governor of Bombay
In office: 1877–1880
Preceded by: Sir Philip Wodehouse
Succeeded by: Sir James Fergusson
Personal details
Born: 8 March 1826
Died: 15 March 1902 (aged 76)
Alma mater: East India Company College
Sir Richard Temple II, 1st Baronet, GCSI, CIE, PC, FRS (8 March 1826 – 15 March 1902) was an administrator in British India and a British politician.
Early life
Temple was the son of Richard Temple I (1800-1874) and his first wife Louisa Anne Rivett-Carnac (d. 1837), a daughter of James Rivett-Carnac. His paternal ancestor, William Dicken, of Sheinton, Shropshire, married in the middle of the 18th century the daughter and co-heiress of Sir William Temple, 5th Baronet (1694-1760), of the Temple of Stowe baronets. Their son assumed the surname Temple in 1796, and inherited the Temple manor-house and estate of The Nash, near Kempsey in Worcestershire. Richard Temple (born 1826) inherited the estate on his father's death in 1874.[1]
Career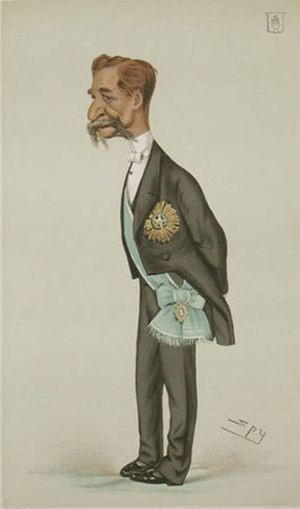 "Burra Dick". Temple as caricatured by Spy (Leslie Ward) in Vanity Fair, January 1881
After being educated at Rugby and the East India Company College at Haileybury, Temple joined the Bengal Civil Service in 1846. His hard work and literary skill were soon recognised; he was private secretary for some years to John Lawrence in the Punjab, and gained useful financial experience under James Wilson. He served as Chief Commissioner for the Central Provinces until 1867, when he was appointed Resident at Hyderabad. I
n 1867 he was made Knight Commander of the Order of the Star of India (KCSI). In 1868 he became a member of the supreme government, first as foreign secretary and then as finance minister.[2]
He was made lieutenant-governor of Bengal Presidency in 1874, and did admirable work during the famine of 1874, importing half a million tons of rice from Burma to bring substantial relief to the starving. The British government, dogmatically committed to a laissez-faire economic policy, castigated Temple for interfering in the workings of the market. He was appointed by the Viceroy as a plenipotentiary famine delegate to Madras during the famine of 1877 there. Seeing this appointment as an opportunity to "retrieve his reputation for extravagance in the last famine" Temple implemented relief policies that failed to relieve widespread starvation and prevent the death of millions.[3]
Temple tried to determine the minimum amount of food Indians could survive on. In his experiments, "strapping fine fellows" were starved until they resembled "little more than animated skeletons ... utterly unfit for any work", he noted. In the labour camps he set up, inmates were given fewer daily calories than in the Buchenwald concentration camp 80 years later.[4]
His services were recognised with a baronetcy in 1876. In 1877 he was made Governor of Bombay Presidency, and his activity during the Afghan War of 1878-80 was untiring.[2]
In 1880, when Temple was departing India, it was proposed that a commemorative statue for his 33 years in the Indian Civil Service[a] be erected. The standing marble statue was completed by Thomas Brock in 1884. It shows him carrying his cloak over his arm and an elaborate 19th-century dress uniform with swags, ties and medals. They are, in fact, the costume of a Grand Commander of the Star of India, the formal attire for Governors of the Presidencies. The statue was unveiled with much pomp at the North end of Bombay's Oval. It was moved in August 1965 to the grounds beside the Bhau Daji Lad Museum, Byculla, Bombay (Victoria and Albert Museum).[5]
Five years later, in 1885, Temple was returned as a Conservative MP for the Evesham division of Worcestershire. Meanwhile, he produced several books on Indian subjects. In parliament, he was assiduous in his attendance, and he spoke on Indian subjects with admitted authority. He was not otherwise a parliamentary success, and to the public, he was best known from caricatures in Punch, which exaggerated his physical peculiarities and made him look like a lean and hungry tiger. In 1885 he became vice-chairman of the London School Board, and as chairman of its finance committee, he did useful and congenial work. In 1892 he changed his constituency for the Kingston division, but in 1895 he retired from parliament. In 1896 he was appointed a Privy Councillor.[2]
Temple had kept a careful journal of his parliamentary experiences, intended for posthumous publication; and he self-published a short volume of reminiscences. He died at his residence at Hampstead on 15 March 1902, from heart failure.[1]
Publications

Works by Temple include:[1]
• India in 1880
• Lord Lawrence
• Men and Events of My Time in India
• Oriental Experience
• Essays and Addresses
• Journal at Hyderabad
• Palestine Illustrated
• John Lawrence, a monoraph on John Lawrence, 1st Baron Lawrence
• James Thomason, a monograph on James Thomason
• Sir Richard Carnac Temple (1887). Journals Kept in Hyderabad, Kashmir, Sikkim, and Nepal. W. H. Allen.
Temple also edited the 17th-century seaman Thomas Bowrey's A Geographical Account of Countries Round the Bay of Bengal, 1669 to 1679, published in 1905.[6]
Family
Temple was twice married. First, in 1849, to Charlotte Frances Martindale, daughter of Benjamin Martindale. She died in 1855, leaving him with two young sons and a daughter:[1]
• Richard Carnac Temple, 2nd Baronet (1850-1931)
• Lieutenant-Colonel Henry Martindale Temple, ISC (1853-1905), of the diplomatic service
• Edith Frances Temple (1855-1933)
He remarried, in 1871, Mary Augusta Lindsay, daughter of Charles Robert Lindsay, of the Indian Civil Service, and a member of the family of the Earls of Crawford and Balcarres.[1] Lady Temple was appointed a Companion of the Order of the Crown of India (CI) on its institution in 1878.[7] She died in 1924, and they had a son from the marriage:
• Charles Lindsay Temple (1871-1929), later Lieutenant-Governor of Northern Nigeria[8]
Arms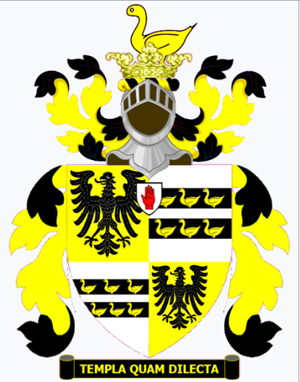 Coat of arms of Sir Richard Temple, 1st Baronet
Crest: On a ducal coronet a martlet Or.
Escutcheon: Quarterly 1st & 4th Or an eagle displayed Sable; 2nd & 3rd Argent two bars Sable each charged with three martlets Or.
Motto: Templa Quam Dilecta [How Lovely Temples][9]
References

Notes
1. The Indian Civil Service was established in 1858 after the Indian Rebellion of 1857. Temple's 33 years includes his time in the civil service of the East India Company, which preceded this.
Citations
1. "Death of Sir Richard Temple". The Times (36718). London. 18 March 1902. p. 4.
2. Chisholm 1911.
3. Davis, Mike (2001). Late Victorian Holocausts: El Niño Famines and the Making of the Third World. pp. 36–37. ISBN 978-1-85984-382-6.
4. Eugene Linden: [https://www.theglobalist.com/the-global-famine-of-1877-and-1899/, 6 Sep 2006.
5. Steggles, Mary Ann; Barnes, Richard (2011). British Sculpture in India: New Views and Old Memories. Norfolk, UK: Frontier. p. 195. ISBN 978-1-872914-41-1.
6. Bowrey, Thomas (1905). Temple, Richard (ed.). A Geographical Account of Countries Round the Bay of Bengal, 1669 to 1679. Hakluyt Society.
7. "No. 24539". The London Gazette. 4 January 1878. p. 113.
8. Alderman, C. J. F. (2004). "Temple, Charles Lindsay (1871–1929), colonial official and author". Oxford Dictionary of National Biography. Retrieved 28 September 2016. (subscription or UK public library membership required)
9. Burke's Peerage. 1949.
Other
• This article incorporates text from a publication now in the public domain: Chisholm, Hugh, ed. (1911). "Temple, Sir Richard". Encyclopædia Britannica. 26 (11th ed.). Cambridge University Press.
• Steele, David (2004). "Temple, Sir Richard, first baronet (1826–1902), administrator in India". Oxford Dictionary of National Biography. Retrieved 28 September 2016. (subscription or UK public library membership required)
Further reading
• Autobiographical Memoir: Men and Events of My Time in India by Richard Temple
External links
• "Temple, Sir Richard, Bart (TML883R)". A Cambridge Alumni Database. University of Cambridge.
• Hansard 1803–2005: contributions in Parliament by Sir Richard Temple
• "Temple, Sir Richard (1826-1902) 1st Baronet MP Anglo Indian Administrator". National Archives.