East India Company College [Haileybury]
by Wikipedia
Accessed: 12/14/19
A Glimpse of Old Haileybury.

Mr. Edward Lockwood, an old Haileybury student, and an Indian civilian of twenty years standing, whose name is recorded in my private memoranda as having attended my lectures in 1854-55-56, was applied to for his reminiscences, but instead of responding, has published a book on the "Early days of Marlborough College," in which he devotes a short chapter to a "Glimpse of Old Haileybury." It is written in a lively manner, with much kindliness of feeling and good-humoured pleasantry. Probably his style might strike an ill-natured critic as somewhat too flippant, but his banter is sprinkled with many grains of good sense and wisdom, the value of which would become more apparent if they were separated from the chaff. I append a brief glimpse of his glimpse: --

His opinion evidently is that old Haileybury was abolished because "it had been weighed in the balance and found wanting," and he clearly considers that the time spent there was wasted, except for the best men at the head of the Terms. He admits that, had he responded to the invitation to contribute a few reminiscences of College life to the present volume, his contribution would have presented little more than a picture of merry days and jovial nights, when wine, tobacco, singing in chorus, and noisy revelry were freely indulged in, as a set off to the dullness of lectures on subjects which few could understand, and to the abstruseness of examination-questions which no ordinary student was expected to answer. In short, he is strongly of opinion that the education given at Haileybury was a bad preparation for the work of an Indian civilian, and that, instead of learning Greek, Latin, Sanskrit, and how to extract cube roots, a lad destined for India should be made to devote himself to the acquisition of a knowledge of the Vernaculars, and should, moreover, give a good deal of attention to agriculture and land-surveying.

Mr. Lockwood's interesting account of Patna during the mutiny, and of his own plucky demeanour during that terrible crisis, strikes one as furnishing a proof that even a rollicking career at Haileybury might have had its uses in generating habits of light-heartedness, cheerfulness, and courage – qualities which enabled Mr. Lockwood to maintain an attitude of perfect coolness and composure under the momentary expectation of a general massacre. Let me add that the stress laid by Mr. Lockwood on the importance of a thorough knowledge of Indian Vernaculars, commends itself entirely to my approval, and I repeat here what I have stated before, that, in my opinion, the forcing of Sanskrit as a sine qua non on all Haileybury students indiscriminately, was an unfortunate mistake (see note 4, page 52).

M. M-W.

Appendix I.: Documents Relative to the Alleged Unsatisfactory State of the Discipline at the East-India College in the Early Years of Its Establishment.

Extracts from Mr. Malthus's Pamphlet.

It appears that in the year 1817 the rumours which were everywhere rife as to the unsatisfactory state of the discipline at Haileybury College, led

one of its most eminent Professors – the celebrated political Economist, Professor T.R. Malthus

– to write a pamphlet in its defence. From that pamphlet,1 [1. A copy of this pamphlet, which I have before quoted in my reminiscences, was recently found by the Rev. H.V. Le Bas among his father's papers, and has been obligingly lent to me. It was published by Mr. John Murray of Albemarle Street, in 1817, and is so interesting that it ought to be rescued from oblivion. entitled "Statements respecting the East-India College in refutation of the charges brought against it," I have already made some quotations, and I now subjoin others.

The following is given at pp. 82, 83, as a summary of the charges made against the College by Mr. Hume at a Court of Proprietors held on the 18th of December, 1816:--

Mr. Hume affirmed that, instead of the College being a place where young men were formed in their morals, prepared in their character, and qualified in their education, it was the disgrace of England, and of every person connected with it; that it was incessantly the scene of riot, disorder and irregularity, and that the inhabitants, who lived in the neighbourhood, were in a state of perpetual dread and alarm from the wanton excesses committed by the students.

In reply to this accusation, Mr. Malthus maintains in his pamphlet that Mr. Hume seems to have sought for the character of the College from fathers irritated at the merited punishment of their sons, and from some Hertfordshire county gentlemen, tremblingly alive about their game. Such disappointed fathers, says Mr. Malthus, "are the very last persons that should be heard as authorities, and as to the country gentlemen, they have been (with one or two exceptions) from the very first, enemies of the College. They prophesied early that the building would become a barrack, and I can readily enter into their feelings in not liking an establishment of eighty young men from sixteen to twenty in their immediate neighbourhood. But I can affirm from my own knowledge that these young men are more free from vice than the undergraduates at our Universities, and I really believe, than the head classes of our great schools." In proof of this Mr. Malthus quotes a portion of a speech made by Lord Minto at Calcutta in 1810, as follows: --

It is with peculiar pleasure that I do justice to the Hertford College, by remarking that the official reports and returns of our [Fort William] College will show that the students who have been translated from Hertford to Fort William, stand honourably distinguished for regular attendance; for obedience to the statutes and discipline of the College; for orderly and decorous demeanor; for moderation in expense, and consequently in the amount of their debt; and, in a word, for those decencies of conduct which denote men well born, and characters well trained. I make this observation with the more satisfaction, as I entertain an earnest wish to find it proved that the preliminary tuition and general instruction afforded to the succeeding generations of the Company's servants at Hertford will be found of extensive and valuable influence for India.

From other passages, however, of Mr. Malthus's pamphlet it is evident that he does not think the discipline of Haileybury perfect, and that he attributes its defects to certain inherent difficulties in the constitution of the College – difficulties to which I have already referred in my Reminiscences (see especially pp. 86, 100-106).

For example, the following remarks occur in different parts of the pamphlet: --

With regard to the discipline [of the East-India College] it will be readily allowed that it has not been in all its parts so successful. It is well-known that disturbances have occasionally taken place, which at the moment, have shown in a considerable body of the students a total disregard of the rules and regulations.

On the occasion of the last of the three disturbances which occurred during the period of the six years, when all cases of breach of discipline, involving rustication or expulsion, had to be referred to the Directors, the proceedings were marked by an extraordinary want of firmness and decision, indicating in the most striking manner the effects of private and contending interests. This disturbance occurred in 1812.1 [1.The disturbance, which occurredin 1811, is described in the next extract.] The Court took the management of its entirely into their own hands. They detained a large body of students in town for above a month; and after entering into the most minute details, and subjecting all the parties to repeated examinations at

the India-house

, came to no final decision. The case was then referred back again to the College Council, who were desired to select for expulsion a certain number of those concerned, who should appear to them to have been the most deeply engaged as ringleaders, and the least entitled to a mitigation of sentence on the score of character. When this was done, and a sentence of expulsion passed in consequence on five students, a subsequent vote of the Court restored them all to the service, and they were sent out to India without even completing the usual period of residence at the College (!!!!). It is now (in 1817) but a short time since the Principal and Professors of the East-India College have been legally invested with those powers in the management of the discipline which are found necessary at great schools and Universities, and which ought, therefore, unquestionably to have been given to them at the commencement of the Institution.

Yet what is the task they have to accomplish? They have not only to overcome by a steady and uniform system of discipline the natural difficulties inherent in the Institution, but, by a union of conciliation, firmness, and strict impartiality, to mitigate and gradually extirpate the spirit of insubordination, which, by long unskillful treatment, has infected the Institution; and this is to be done, not only without the cordial co-operation of all the natural patrons and protectors of the College, but with a spirit of direct hostility in a considerable body of the Directors and Proprietors. Language is publicly used, and reports generally circulated, calculated to fill the minds of the students with the most unfavourable prejudices. In general, when a parent sends his son to a school or to the University, he endeavours to impress him with a respect for the place to which he is going, and for the authorities to which he will be subject. It is to be feared that some young men come to the East-India College with very different impressions – with the impression of having heard the College abused and its downfall prognosticated by those whom they must, of course, look up to as the persons that ought to influence their feelings and direct their conduct (compare p. 83 of this volume).

Extract from a pamphlet entitled, "A letter ot the Chairman, Deputy-Chairman, and Court of Directors of the East-India Company, on the subject of their College at Haileybury. By a Civilian":

1 [1. A copy of this pamphlet, published by Richardson in 1823 (27 pp. 8vo.), is in the Library at the

India Office

. Tracts, Vol. 43.] –

What has been termed a row at the College may be exemplified by what took place in the year 1811. The insubordination on that occasion consisted principally in noise, partly also in acts of mischief, committed within the buildings where the students reside, and continuing for two or three hours of the night.

Not a single Professor came forward to express disapprobation; -- no attempt was made to re-establish authority. The disorder remained entirely unopposed, and the promoters of it undetected, till at length tired nature effected that which the reigning powers did not attempt, and the students retired to rest soon after midnight. On the following day all business was suspended. Eleven Directors went down in deputation from Leadenhall-street, and, after due deliberation, determined to turn loose upon London upwards of forty young men, collected from all parts of the kingdom, who had each voluntarily acknowledged his own guilt. There they were detained, to the interruption of their studies, and the corruption of their morals, for more than two months, during which time a vain attempt was made to induce them to criminate each other, since no other evidence appeared against them.

The affair terminated in the expulsion of six individuals, who were not particularly marked as ringleaders, but were selected chiefly on the ground of their general bad conduct; while the rest were condemned to lose two years' rank in India, a punishment the nature of which they could not understand, and the weight of which they could not feel for many years.1 [1. The manner in which loss of rank principally affects a civilian is, that his turn to receive a pension from the Civil Fund, which is offered according to the date of his appointment, arrives so much the later. Thus, this absurd and unjust punishment visits the aged for the errors of his youth, by depriving him of a benefit not bestowed by the Company, to which he is entitled, from the subscription which he has paid as its price.]

The cause of these occasional ebullitions is to be sought in the anomalous nature of the Institution.

Extract from the London "Evening Mail" for October 19, 1822:2 [2. This newspaper was published at The Times office, and was to a great extent a reprint of The Times.]

–

The East India College near Hertford, an establishment not uniformly remarkable for the efficacy of its discipline, has again within the last fortnight become the scene of insubordination, and it is singular enough that Mr. Christian, who was himself for some time a Professor at this College, and must consequently feel an interest in its well-being, and was then and is still, a magistrate of the county, and a resident in the neighbourhood, did not direct his attention to the late tumultuary disturbance. It seems that a short time since, in the absence through indisposition of Dr. Le Bas – a person dignified with the lofty appellation of Dean of the College – the Rev. H. Walter laid some fresh imposition or restriction upon some of the boys for refractory conduct. This imposition was so little relished by the youths (whose ages are from 14 to 18), that they beset Mr. Walter by all those little annoyances which schoolboys so well can practice. The first direct act of insubordination manifested was in consequence of the shutting of one of the College gates at what the boys deemed too early an hour in the evening. After shattering the lock with gunpowder, the youths next contrived to insert a blacking bottle, filled with powder, into one of the drains in the College square; this was also exploded, by means of a match or train, near midnight. Then bodies of the students distributed themselves in given positions, from which they sallied forth, broke the college lamps, and shattered several panes of glass in the house of the learned Professor, Mr. Walter, and the very Reverend the Dean, Mr. Le Bas. Only one of the rioters was caught in the act. There are between seventy and eighty students, and of these about twenty, upon whom suspicion fell, have been sent home to undergo a species of indefinite rustication. The penalty thus inflicted, though of uncertain extent at present, is considered by the parties as a sort of holiday; and many of them, from the interest of their own connexions, expect to be shortly recalled ….

It would seem then, that experience refutes the utility of this establishment as a place of education and discipline; the insubordination it has manifested exceeds that in any other establishment throughout the kingdom.

As a per contra statement I add the following extract from a scarce pamphlet, published by Kingsbury, Parbury & Allen in 1826, and to be found at the India Office Library (Tracts, Vol. 91), giving the substance of

A speech delivered in the Court of East-India Proprietors, on the 27th February, 1824, by Robert Grant, on the occasion of a motion made by the Hon. D. Kinnaird to the effect "that Haileybury College should be abolished."

Mr. Robert Grant in this speech deprecated any change in the collegiate system then prevailing, and contended that a degree of discipline was enforced at Haileybury far beyond the usual standard of Academic strictness. He had consulted an Oxonian friend, and received the following reply: --

… What would an under-graduate member of the strictest college in Oxford feel, were he compelled, like the members of the East-India College, to attend chapel every morning and evening, to dine in hall every day, and to be within gates every evening soon after dusk, and to be in his own room alone every night at eleven o'clock? At Hertford the use of wine is forbidden, yet at our Universities the use of it is freely indulged to young men who come up to college, not two years later in life than the students of the East-India College. Riding on horseback, or driving a gig, hunting and shooting, are sports most rigorously forbidden at the East-India College; and if a young man is unable to take long walks, or to use athletic exercise, he has no source of recreation. How different is this from our Universities! Those persons who clamour to take away the name of College, and call the East-India College a school, would find, on examining the subject, that the college is already in reality that sort of school to which they would reduce it, as the remedy for every defect. Let men who have passed through an English University examine the discipline of the East-India College, and they will be found to confess, that the disturbances which arise there are such as might be expected from the enforcing a strict discipline upon young men, some of whom will not bear the restraint, whilst others, though apparently in the college with their own consent, have both a dislike to appointments in a distant land, and an aversion to the severe studies of the place….

M. M.-W.

Appendix II: The College of Fort William in Its Connexion with the East India College, Haileybury.

On the 18th of August, 1800, the Marquis Wellesley, Governor-General of India, wrote a minute in Council containing his reasons for establishing a College at Fort William, Calcutta.

It was a long document which, when printed, occupied nearly 43 pages 4to. I subjoin a brief summary: --

The age at which writers usually arrive in India [N.B., this was written in 1800] is from sixteen to eighteen. Some of them have been educated with a view to the Indian Civil Service, but on utterly erroneous principles; their education being confined to commercial knowledge and in no degree extended to liberal studies. On arrival in India they are either stationed in the interior, where they ought to be conversant with the languages, laws, and customs of the natives, or they are employed in Government offices where they are chiefly occupied in transcribing papers. Once landed in India their studies, morals, manners, expenses and conduct are no longer subject to any regulation, restraint, or guidance. Hence they often acquire habits destructive to their health and fortunes.

Under these circumstances the General has determined to found a College at Fort William in Bengal for the instruction of the junior Civil Servants in such branches of literature, science, and knowledge as may be deemed necessary to qualify them for the discharge of their duties; and, considering that such a College would be a becoming public monument to commemorate the Conquest of Mysore, he has dated the law for the foundation of the College on the 4th of May, 1800, the first anniversary of the reduction of Seringapatam.

A suitable building is to be erected at Garden Reach. There will be a Provost, Vice-Provost, and a complete staff of Professors both of European and Oriental subjects.1 [1. A list of these was printed. I select the following: -- Provost, Rev. David Brown; Vice-Provost, Rev. C. Buchanan (both of these were Chaplains of the H.E.I.C.S.); Sanskrit and Hindu Law, H.T. Colebrooke; British Law, Sir George Barlow, Bart.; Greek and Latin Classics, Rev. C. Buchanan; Persian, Francis Gladwin; Assistant in Persian and Arabic, Mathew Lumsden; second Assistant in Persian, Capt. Charles Stewart; Sanskrit and Bengali, Rev. William Carey; Hindustani, John Gilchrist.] Statutes are to be drawn up, and all Indian civilians on first arriving in India, even those destined for Bombay and Madras are to be educated at this College, which will be called the College of Fort William.

The statutes were promulgated by the first Provost (the Rev. David Brown), on April 10, 1801, and when printed occupied 12 pages 4to. The students were then located in provisional buildings, and the first Disputation in Oriental languages was held on the 6th of February, 1802; a speech being delivered on the occasion by Sir George Barlow, the acting Visitor. All this was done without the knowledge of the Court of Directors in London, who, when they heard of the foundation of the College, passed a resolution against it, on the ground of the enormous and indefinite expenditure which it might involve. They complimented the Marquis on his able minute, and acknowledged the necessity for obtaining a higher class of civil servants by raising the standard of their education and giving them an improved special training, but they only expressed their approbation of part of his plan. In fact a compromise was arranged (see note to line 6 of page 27 of this volume), and it was decided that although the proposed collegiate Building at Garden Reach was not to be erected, an Institution to be called "The East-India College" should be founded in Hertfordshire, which was to give a good general education, combined with instruction in the rudiments of the Oriental languages, while Lord Wellesley's Institution was to be allowed to continue at Calcutta in a less comprehensive form under the name of Fort William College, with a local habitation in "Writers' Buildings," the name given to a long house with good verandahs looking south at the north end of Tank Square (now Dalhousie Square).

It was thus brought about that Fort William College became a kind of continuation of Haileybury, and that its work was restricted to the imparting of fuller instruction in Oriental subjects, the groundwork of which had been laid at Haileybury. And no doubt it was originally intended that all junior civilians who had passed through the Haileybury course should repair to the College in Calcutta for such instruction. Moreover, the process of sifting, which began at Haileybury, was continued at the Forst William Institution. At any rate, it occasionally happened that the worst of those "bad bargains," which Haileybury, in its too great leniency, had spared, were eliminated from the service at Calcutta.

Yet, according to Mr. Malthus, the discipline at Fort William College was for some time in a most unsatisfactory state. He mentions that far too large a number of young civilians, whose ages ranged from 16 to 19, were collected at Calcutta between 1801 and 1808 (Haileybury being then barely founded, or at least not in actual working order), and that much dissipation and irregularity existed among them (Pamphlet, pp. 55-56).

Unquestionably the establishment of Haileybury had a beneficial effect in abridging the period of residence at Calcutta, as the following extract from Mr. Malthus' pamphlet proves: --

In 1811 twenty students left Fort William College qualified for official situations. Of the twelve who had been previously at Haileybury, six left after six month's residence, two after eight months, one after nine months, one after two years, two after three years. Of the eight who had not been at Haileybury three left after two and a quarter years, one after three years, one after three and a quarter years, two after four years, one after four and a half years.

Still, the co-existence of Haileybury in connexion with Fort William College does not seem to have caused much improvement in the state of the discipline at the latter college; for at p. 38 of Mr. Malthus' pamphlet we read: --

In the last public examination [N.B., this was written in 1817] at the College in India, of which the account has arrived, five students were expelled. Notwithstanding the opportunities afford to them during a protracted stay at Calcutta, they had not acquired such a knowledge of two Oriental languages as would enable them to pass the examination necessary to qualify them for an official situation.

It appears, then, from the above extracts that, after the founding of Haileybury, the period of residence at Fort William College was sometimes completed by good men in six months. On the other hand, in the case of inferior men, it was sometimes protracted for three or four years, or even more. It appears, too, that for many years those who were transferred from Haileybury to Fort William lived a collegiate life there somewhat similar to that at Haileybury; that is to say, they had rooms assigned to them in "Writers' Buildings," and were subject to some sort of collegiate discipline. Moreover, it is clear that, for three or four years, even Bombay and Madras civilians were required to present themselves at Calcutta and go through their period of Indian probation at Fort William.1 [1. Mr. W.S. Seton-Karr has lent me a curious and scarce volume entitled "Roebuck's Annals of the College of Fort William." There I find reports of the results of all the examinations from 1801 to 1818, and it may be proved from these reports that civilians destined for Bombay and Madras gained prizes at Fort William in the years 1801-1804, and notably among them was a connexion of my own, Mr. John Romer, who was for some time a Judge in the Bombay Presidency.] As to Bengal civilians their residence there went on, I believe, till about the year 1835. So far as I have been able to ascertain, it was not till after that year that they were allowed to reside with their friends or in "chummeries," or in lodgings anywhere in the town.2 [2. Mr. Seton-Karr tells me then in 1842 he and Mr. R.N. Cust and Mr. Montresor took a good three-storied house in Middleton Row, Calcutta, and there "chummed" together during their period of probation.] Even after that date, however, they had to go to "Writers' Buildings" (where there was a good Library and Examination Room) for their monthly and final examinations.3 [3. Mr. Seton-Karr informs me, that in 1842 the two examiners (Colonel Ouseley, and Capt. Marshall) had offices in "Writers' Buildings," and that monthly examinations were held there, but that a considerable portion of the building was then let out as merchants' offices.]

The annual Fort William "Disputations" (corresponding to the Haileybury "Visitations"), which took place in early years, were generally held at Government House, the Governor-General being the "Visitor," but I find that in one year (1802) these "Disputations" – accompanied as they always were by a public distribution of prizes, and a speech from the Governor-General – took place in the Examination-room of the College Buildings.

It was not till January 24, 1854, that the College of Fort William was abolished. That year saw both the first introduction of the Indian Civil Service competitive system into England, and at the same time a change in the method of dealing with Indian civilians on their first arrival in India. Nevertheless, even after that year, examinations continued to be held in India under Boards of Examiners appointed by the Government, but not under collegiate regulations or in any special building.

Monier Monier-Williams.

Appendix III.

I.

The object of this Establishment is, to provide a supply of persons duly qualified to discharge the various and important duties required from the Civil Servants of the COMPANY, in administering the Government of India.

Within the last thirty or forty years, a great change has taken place in the state of the COMPANY'S affairs in that County: the extension of empire has been followed by a great increase of power and authority; and persons of the same description, who, before, had acted in the capacity of Factors and Merchants, are now called upon to administer, throughout their respective districts, an extensive System of Finance: and to fill the important offices of Magistrates, Ambassadors, and Provincial Governors.

II.

As this extension of dominion in India hath been gradual, the wants thence arising have not hitherto been provided in any way fitted to supply them: for though the private and solitary studies of individuals have enabled them to discharge, with ability and honour, the duties devolved upon them; yet the growing exigencies of territories so enlarged have loudly called for an Establishment at home, which, upon a wise and well-adapted system, might provide and prepare, in the most direct manner, a succession of Civil Servants, for their destined functions.

The necessity of such an Establishment, so generally felt in England, induced the COMPANY to expect that some Institution would have arisen, immediately applicable to the supply of their wants. But all hopes from other quarters having been disappointed, they judged it to be a duty incumbent upon themselves to devise and to institute a Plan, that might not only fill up the time of those Young Persons designed for the Civil Service of India with general advantage; but should also afford the best means of qualifying them to discharge the duties of their stations there; and to send them thither early enough to engage in all the concerns of active life.

This Plan consists of a COLLEGE, for the reception of Students at the age of fifteen, to remain till they are eighteen; or till they are sent by the COURT OF DIRECTORS to their respective destinations.

The Students will be instructed, by Courses of Lectures, upon a plan similar to that adopted in the Universities.

III.

After having thus provided for the acquisition of Learning in general, it is further intended to furnish them with the means of instruction in the Elements of Oriental Literature. For this purpose they will not only be taught the Rudiments of the Asiatic Languages, more especially the Arabic and Persian; but be made acquainted with the History, Customs, and Manners of the different Nations of the East: and as the study of Law and Political Economy is to form an essential part in the general system of education, it will be required that, in the Lectures upon these subjects, particular attention be given to the explanation of the Political and Commercial relations subsisting between INDIA and GREAT BRITAIN.

IV.

Among the variety of studies which may be pursued with peculiar advantage in this Country, it is not to be expected that any very great portion of their time can be allotted to the acquiring a knowledge of the SEVERAL Languages of the East; but it is presumed that the main object of the Institution will be attained, if the Students be well grounded in the Rudiments of the TWO Languages already specified; and that, on their leaving the College, such instructions be given them as may enable them to prosecute their Oriental studies during their passage to India.

V.

The College is to be under the direction and authority of a Principal and several Professors, according to the following arrangement: --

THE REV. SAMUEL HENLEY, D.D., Principal.

Professors of Mathematics and Natural Philosophy: Rev. B. Bridge, A.M.; Rev. W. Dealtry, A.M.

Professors of Humanity and Philology: Rev. E. Lewton, A.M.; J.H. Batten, Esq., A.M.

Professor of History and Political Economy: Rev. T.R. Malthus, A.M.

Professor of General Polity and the Laws of England: Edward Christian, Esq., A.M.

Professor of Oriental Literature:

The following are attached to the College, viz: --

Mons. De Foligny, French Master.

Mr. __. Medland, Drawing Master.

Mr. Henry Angelo, Fencing Master.

Mr. __. Bridgman, Dancing Master.

Besides the general superintendence of the College, it will be the office of the Principal more especially to watch over the moral and religious conduct of the students; to instruct them in the principles of Ethics and Natural Theology; and in the evidences, doctrines, and duties of Revealed Religion. Whilst in this respect he is considered as discharging the duty of a Professor in Divinity, so, in the ordinary exercise of his clerical function, he will be required, in conjunction with such Professors as are in holy orders, to preach in the College Chapel, and, at the stated seasons, to perform the solemn rites of the established Church.

VI.

The Lectures of the Professors may be arranged under four distinct heads, in the following manner: --

1. Oriental Literature.

1. Practical Instruction in the Rudiments of the Oriental Languages, more especially the Arabic and Persian.

2. A Course of Lectures to illustrate the History, Customs and Manners of the People of India.

2. Mathematics and Natural Philosophy.

1. A Course of Practical Instruction, in the Elements of Euclid, Algebra, and Trigonometry; on the most useful properties of the Conic Sections, the nature of Logarithms, and the principles of Fluxions.

2. A Course of Lectures on the four branches of Natural Philosophy; Mechanics, Hydrostatics, Optics, and Astronomy; illustrated by occasional Experiments: and, if it should be thought necessary or proper, the Principia of Sir Isaac Newton will form a part of this course.

It is here of importance to observe, that the more abstruse parts of pure Mathematics will be utterly excluded from these Lectures, as altogether inconsistent with the object of the Institution. The Mathematical Lectures will be made entirely subservient to the purposes of Natural Philosophy. The Lectures in Natural Philosophy will have for their scope and end, the arts and objects of common life: and to render this department of these Lectures more extensively useful, as soon as a proper collection of Specimens shall be procured, it is intended to give the Students some elementary instructions in Chemistry, Mineralogy, and Natural History.

3. Classical & General Literature.

1. A Course of Lectures to explain the Ancient Writers of Rome and Greece, more particularly the Historians and Orators.

2. A Course of Lectures on the Arts of Reasoning and Composition; and on such other subjects as are generally understood by the "Belles Lettres."

These Lectures will be altogether plain and practical. Peculiar care will be taken to make the Students well acquainted with the English Language, and with the merits of its most approved Writers. They will be exercised also in every species of composition appropriate to their future occupations.

4. Law, History & Political Economy.

1. A Course of Lectures on general History, and on the History and Statistics of the Modern Nations of Europe.

2. A Course of Lectures on Political Economy.

3. A Course of Lectures on general Polity, on the Laws of England, and Principles of the British Constitution.

VII.

The College Year is to be divided into Two Terms, each consisting of Twenty Weeks. In the last week of the second Term of each year, Public Examinations of all the Students will be holden by the Professors in the different departments of Literature and Science, as arranged in the preceding section, under the superintendence of the Principal.

1. IN ORIENTAL LITERATURE.

2. IN MATHEMATICS & NATURAL PHILOSOPHY.

3. IN CLASSICAL & GENERAL LITERATURE.

4. IN LAW, HISTORY & POLITICAL ECONOMY.

At the conclusion of the Examinations, the Principal and Professors will, at a general meeting appointed for the purpose, arrange the Students in four separate Lists, according to their respective merits in these departments. A Copy of these Lists will be transmitted by the Principal to the Honourable COURT OF DIRECTORS, for insertion in the Public Records of the COMPANY. On this occasion, the Honourable the CHAIRMAN, DEPUTY CHAIRMAN, COLLEGE COMMITTEE, and such other of the DIRECTORS as may think proper, will attend, to distribute among the most deserving Students in the several Classes, such Prizes and Medals as may be agreed upon with the Principal by the College Committee.

VIII.

Having thus pointed out that provision has been made for the literary and intellectual improvement of the Students, it remains to add some observations on the Moral and Religious Discipline of the College. Concerning this important subject a Code of Regulations has already been presented to the Honourable COURT OF DIRECTORS, subject to such improvements and corrections as time and experience may hereafter suggest. But as the efficacy of these regulations will entirely depend upon the actual exertions of those Professors who, in subordination to the Principal, are more immediately concerned in the discipline of the College, it may be proper to mention, that the Persons selected for this purpose have, for many years, filled situations of trust and authority in the two Universities: and they have undertaken to carry into effect these regulations, under the strongest impressions of the importance of the charge committed to them.

IX.

The compensation to be made to the COMPANY by the Students of the College at the commencement of each Term, is Fifty Guineas; for which they will be supplied with every requisite accommodation during that term, a few articles excepted of private convenience. The utmost attention will be given, in every instance, to the economy of the Institution, consistent with the comfort of its Members. All extravagance among the Students will be discouraged: and, on this account, it is much to be desired that their pecuniary allowances may be moderate; as a misjudged liberality in this respect might be highly injurious.

The first opening of the College to receive Students having been fixed for the 3d of February 1806, the Collegiate year is considered as thence commencing. The former Term will end on the 19th of June, and the latter will begin on the 1st of August. In future years, the 2d of February and the 1st of August will begin, and the 19th of June and the 21st of December terminate, the two respective Terms.

X.

The foregoing Plan, it is presumed, is founded upon the soundest principles of wisdom and judgment; and may be eventually expected to produce the happiest effects upon the concerns of the COMPANY in the East. The education of those destined to fill the important offices of Magistrates, Ambassadors, Provincial Governors, and other high situations, should certainly be founded on the firm basis of learning and science; on a knowledge of the principles of ethics and civil jurisprudence; of general history, and the laws of nations. To this should be added a more particular acquaintance with the language, history, and manners of those nations among whom they are to exercise their respective functions.

The cultivation and improvement of their intellectual powers should be accompanied with such a course of moral discipline as may tend to excite and confirm in them habits of application, prudence, integrity, and justice: and to render this system of education fully efficient, it is essential that it be inculcated and enforced under the sanction and influence of the Christian Religion. An Institution conducted upon these principles may reasonably be expected, under the favour of Providence, to be productive of a benign and enlightened policy toward the Native Subjects of British India, to improve their moral condition, and to diffuse the happy influences of Christianity throughout the Eastern World.

College School.

Besides the COLLEGE above described, the COMPANY patronize a School subordinate to it, and under the superintendence of the PRINCIPAL, into which Boys may be admitted at an early eage, and in which they will be taught the Elements of general Learning, and such other accomplishments as are the usual objects of instruction in the larger Seminaries of this Country. Especial attention will be paid also to such parts of education as may serve to qualify them for Public Business and for the higher departments of Commercial Life.

Through this School be designed as introductory to the College, it is not to be understood that the COMPANY is pledged to make it the sole channel of an appointment to the College itself; but it is nevertheless proper to observe, that those who shall have passed through both Institutions will enjoy the advantage of an uniform system of education, begun in early youth, and continued to their departure for the duties of their public stations.

Notwithstanding that an intimate connection is intended to subsist between the College and the School, it is nevertheless to be understood, that, whilst the College is exclusively appropriated to persons designed for the Civil Service of the COMPANY abroad, the School will be open to the Public at large.

The Rev. M.H. Luscombe, A.M. of the University of Cambridge, is appointed Head Master of the School; to whom the Annual Sum of Seventy Guineas is to be paid for each Pupil; which, without any additional charge, will include, besides the usual course of Classical Instruction, the French Language, Writing, Arithmetic, Mathematics, Drawing, and Dancing.

-- Memorials of Old Haileybury College, by Frederick Charles Danvers, Sir Monier Monier-Williams, Sir Steuart Colvin Bayley, Percy Wigram, Brand Sapte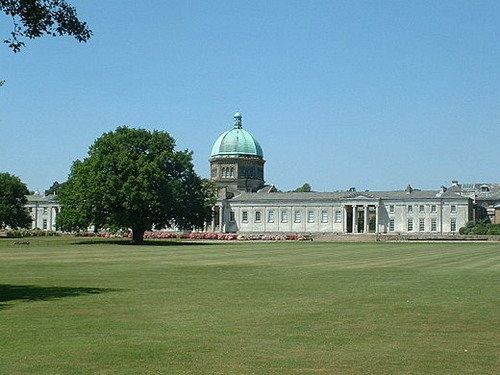 The former East India Company College, now Haileybury and Imperial Service College
The East India Company College, or East India College, was an educational establishment situated at Hailey, Hertfordshire, nineteen miles north of London,
founded in 1806 to train "writers" (administrators) for the Honourable East India Company (HEIC). It provided general and vocational education for young gentlemen of sixteen to eighteen years old, who were nominated by the Company's directors to writerships in its overseas civil service. It closed in 1858.
The college buildings survive and are now occupied by Haileybury and Imperial Service College.
The college's counterpart for the training of officers for the company's Presidency armies was Addiscombe Military Seminary, Surrey.
History
Charles Grant, Chairman of the British East India Company and Member of Parliament, was closely involved in the foundation of the college. It was first located in Hertford Castle but it was evident that a purpose-built seat of learning would be more suitable and in October 1805 the company purchased an estate just outside Hertford Heath for the sum of £5,930 for this objective. The foundation stone of the new buildings were laid on 12 May 1806. The buildings cost the East India Company £92,000 at the time of their erection to the designs of the architect William Wilkins (who later designed the National Gallery in London). The grounds were landscaped by Humphry Repton, his most notable work here being the terraced area to the front of Wilkins' main range and ponds to the west of this.[1] Repton submitted his final account for work undertaken here just eight days before a carriage accident which left him crippled.[1]
The new buildings were occupied by students in 1809.
[2]
The East India Company had been incorporated in 1600 as a commercial entity. For two hundred years its administrators had been recruited, largely by patronage, to oversee commercial transactions in Asia. By 1800 they had become the de facto government for millions of people in those areas, but without much training for the role. The college was intended to address these shortcomings. In fifty years it trained over two thousand so-called "writers" to administer the Indian subcontinent.

The curriculum was wide, detailed, and targeted to the career responsibilities. It included political economy, history, mathematics, natural philosophy, classics, law and humanity and philology. Languages included Arabic, Urdu (Hindustani), Bengali, Marathi, Sanskrit, Telugu and Persian. Among the tutors were some of the finest minds of the day, many from Oxford and Cambridge, with lavish annual salaries as much as £500.[3]
The college was customarily referred to as "Haileybury" in contemporary accounts, debates in the House of Lords and the House of Commons and by the administrators of the East India Company and the Colonial Civil Service. From 1839 the College had a journal known as The Haileybury Observer.[4]
The East India Company itself was seen as too powerful. There was pressure for meritocracy to replace recruitment by patronage. Graduates of universities in Great Britain should have the chance to serve in India, without needing to pass through the college. In 1855, Parliament passed an act "to relieve the East India Company from the obligation to maintain the College at Haileybury". King's College, London, hosted the first open competitive examinations for appointment to the Indian Civil Service.
Closure and later use of buildings
In the aftermath of the Indian Mutiny of 1857, and in anticipation of the winding-up of the affairs of the East India Company itself, the college was closed in January 1858. This left the puzzle of what to do with the imposing buildings. For a brief period, they became a military depot for troops destined for India, and during this interregnum the college's Master, Henry Melvill, and Registrar, the Reverend James William Lucas Heaviside, continued to live in their residences on the site and oversaw the maintenance of the buildings. In 1861, the estate was sold at public auction, when it was bought by the British Land Company for £15,000.[5]
A Hertford publisher, Stephen Austin,[6] who had been the official printer to the East India Company's College and had thus become one of the leading printers of books in various Oriental languages
, ...
Mr. Stephen Austin

In connexion with the mention made above of Mr. Stephen Austin, of Hertford, I amy say that he took so deep an interest in actively promoting (through the agency of his son, Mr. Vernon Austin) the inception of the present volume of Haileybury Memorials, and was moreover himself so closely connected with the life of the College, almost from its first foundation, and furthermore rendered such essential services to the College by publishing at his own risk many useful Class-books and important Oriental works (besides the College Magazine),1 [1. See "College Literature" (p. 225 of this volume) by Sir Steuart Bayley.] that it is only due to his memory to make a few extracts from the biographical notice of him which appeared in the Hertfordshire Mercury on 28th May, 1892: --

Mr. Stephen Austin was born in 1804. He was the grandson of the Stephen Austin who was apprenticed to George Kearsley, of Ludgate Hill, London, the printer and publisher of the newspaper known as The North Briton, which was started by John Wilkes, M.P. for Aylesbury and Alderman of London, in opposition to the Administration of Lord Bute, an opposition which was continued against the successive representatives of his policy, and which eventually culminated in the celebrated letters of "junius."

Mr. Stephen Austin and his father were the appointed printers and booksellers to the East-India Company's College, the work of which while Haileybury was being built, was carried on at Hertford Castle. Mr. Stephen Austin retained that position until the Company was dissolved in 1858; and it was under the auspices of the authorities of that institution that he commenced the printing and publishing at Hertford of works in various Oriental languages. Up to that time great difficulty had been experienced in procuring the different Oriental books required by the students in their studies; those that were obtainable were only to be had at great cost, while the type used was so bad, and the paper of such indifferent quality, that the books were oftentimes almost illegible. It was somewhat of a revolution, therefore, when "The Hitopadesa" was printed with new Sanskrit type at Hertford in 1847, as at that date there were not more than one or two Oriental printers in England, and thenceforward during successive years a great number of books printed in Sanskrit, Bengali, Arabico, Persian, Pushtoo, Hindustani, Hindi, Hebrew, and other Eastern languages were issued from the Press of Stephen Austin, which in due time acquired a world-wide reputation for Oriental printing. Indeed many of the finest specimens of Oriental typography extant bear his name. (Witness the beautiful edition of Sir M. Monier-Williams' translation of the Sakoontala now exhibited in one of the cases in the British Museum.) The skill and taste displayed in these productions were acknowledged by the presentation to Mr. Austin of gold medals by her Majesty the Queen and the Empress of the French, by the award of medals of the first class at the International Exhibitions held in London and Paris, etc., and by testimonials from many of the most eminent Oriental scholars of Europe and India; and in the year 1883 the

"Congres International des Orientalistes" [International Congress of Orientalists]

presented their diploma to Mr. Austin for services rendered to Oriental literature.

While referring to Haileybury we may record the fact that the retention of the old College as a place of education, was greatly due to Mr. Austin's exertions. After the extinction of the East-India Company, the building and estate of Haileybury were put up to auction in London by order of the Secretary of State, and were purchased as a speculation by the British Land Company. For some considerable time efforts were made by them to find a purchaser for it, and there were rumours of the old College, which had been the home of learning and the nursery of men whose names will for all time be emblazoned on the pages of the history of Her Majesty's Indian Empire, being turned into an asylum, a workhouse, or some other such purpose. To Mr. Austin's mind this seemed little short of desecration, and he determined therefore to do what he could to save the old place from the fate that seemed to be awaiting it.

After the establishment of the present Haileybury College the Council publicly recognized Mr. Austin's services by presenting him, at a numerously attended meeting, with a handsome service of plate bearing the inscription, "Presented to Stephen Austin by the Council of Haileybury in acknowledgment of the services rendered by him towards the establishment of the College, A.D. 1862."

During the present year, 1893, some friends of the late Mr. Stephen Austin, having expressed their desire that there should be some memorial of his long connexion with Haileybury – Old and New – a memorial of him has been placed in the School Library in the form of a separate case of books, specially lettered as the "Stephen Austin Memorial." The Council of the College contributed one hundred guineas towards the Memorial.

It is well known that Stephen Austin was the founder in 1834 and Proprieter of the newspaper called Hertford Mercury (afterwards Hertfordshire Mercury), from which I have given numerous extracts in the foregoing pages.

-- Memorials of Old Haileybury College, by Frederick Charles Danvers, Sir Monier Monier-Williams, Sir Steuart Colvin Bayley, Percy Wigram, Brand Sapte
... led a campaign to ensure the buildings were returned to some sort of academic purpose, and in 1862 the site reopened as the public school Haileybury College. This was formally constituted by a royal charter dated 30 August 1864. During the Victorian era, the difference between the two periods of education on the site was referred to as "Old Haileybury" and "New Haileybury".
In its early years, the new Haileybury College retained close links to those involved in colonial administration, and in 1942 it merged with the struggling Imperial Service College to become Haileybury and Imperial Service College.
Administrators

Principals
The college had four principals:
• 1806–1815: Samuel Henley[7]
• 1815–1837: Joseph Batten[8]
• 1837–1843: Charles Webb Le Bas[8]
• 1844–1858: Henry Melvill, afterwards Canon of St. Paul's[9]
Deans
The position of dean was filled by one of the professors:
• 1813: William Dealtry, MA
• 1814–1838: Charles Webb Le Bas, MA
• 1838–1850: James Amiraux Jeremie (Professor of Classics)
• 1850–1857: W. E. Buckley
Registrars
The position of registrar was filled by one of the professors:
• 1813: William Dealtry
• 1814–1816: Bewick Bridge
• 1816–1830: Edward Lewton
• 1831–1834: Henry George Keene
• 1834–1837: James Michael
• 1838–1857: Fred Smith
Professors

Languages
• Alexander Hamilton taught Sanskrit and Bengali (1806-18).[10]
• Charles Stewart taught Hindustani (Urdu) and Persian (1806-).
• Graves Chamney Haughton (1817–27) FRS previously of Fort William College, Calcutta, taught Hindustani, Persian, Arabic, Bengali and Sanskrit.
• Francis Johnson taught Sanskrit, Bengali and Telugu (1824–55).[11]
• Mirza Muhammed Ibrahim, a Persian, held a permanent appointment as a professor of Arabic and Persian (1826–44)
• Monier Monier-Williams taught Sanskrit, Bengali and Telugu (1844–58).
• Edward Backhouse Eastwick was Professor of Hindustani, Hindi and Marathi (1845–57).[12]
• Major J. W. J.Ouseley, Professor of Persian and Arabic (previously Professor of the Arabic and Persian Languages in the College of Fort-William, Calcutta) (1844–57)[13][14][15]
Law
• Edward Christian (1806–18)
• James Mackintosh was Professor of Law and General Politics 1818-24.
• William Empson,[16] was Professor of Law (1824–52).
• John Farley Leith QC (1872–80), later Member of Parliament for Aberdeen
Political Economy
• Thomas Malthus taught from 1805-34.
• Richard Jones was Professor of History and Political Economy (1834–55).
• The Rt Hon Sir James Stephen also taught political economy (1855–57)
Mathematics and Natural Philosophy
• William Dealtry was Professor of Mathematics 1806-13.[17] He had been Second Wrangler in 1796.
• Bewick Bridge (1767–1833) was Professor of Mathematics 1806-16.
• Charles Webb Le Bas (1813–37)
• Charles Babbage applied unsuccessfully for a job in 1816.
• Henry Walter (1816–30)
• William Sturgeon lectured on science in 1824.
• Frederick Smith (1831–50) of Peterhouse College, Cambridge
• J. W. L. Heaviside (1838–57) previously of Trinity College, and then Sidney Sussex College, Cambridge, where he graduated Second Wrangler and a Smith's Prize winner in 1830, and tutored until he moved to Haileybury.
Classical and General Literature
• Edward Lewton (1806–30)
• Joseph Hallett Batten (1806–15)
• James Amiraux Jeremie (also Dean) (1830–50), elected in 1850 Regius Professor of Divinity at Cambridge.
• W.E.Buckley (1850–57) previously tutor and fellow at Brasenose College, Oxford and Professor of Anglo-Saxon at Oxford (1844–50), and a member and subsequently vice-president of the Roxburghe Club.
Other
• Henry George Keene, who served at the Battle of Seringapatam with the first Lord Harris (his uncle), and whose American wife, though she came of a New England family, was related to Lord Cornwallis. His son became a Fellow of the University of Calcutta and a prolific writer.[13][14]
• Horace Hayman Wilson, Examiner in Sanskrit (1837–57)
Assistants in the Oriental Department included Maulavi Abdal Aly (1809–12), Maulavi Mirza Khedel (1809–19), The Revd. Robert Anderson (1820–25), and David Shea (1826–36). Moonshy Ghoolam Hyder and Thomas Medland taught oriental writing.[13][14]
Notable alumni
• Sir Edward Colebrooke, 4th Baronet[18]
• John Russell Colvin
• Ashley Eden
• Henry Bartle Frere
• John Peter Grant
• Sir John Lawrence
• Charles Merivale
• Monier Monier-Williams
• John Muir (indologist)
• Sir William Muir
• Richard Paternoster
• Charles Pelham Villiers
• Sir Richard Temple, 1st Baronet
• Charles Trevelyan
• Charles John Wingfield
• Allan Octavian Hume
References
1. Desmond, R. G. C. (1978). "A Repton Garden at Haileybury". Garden History. 6 (2): 16–19. JSTOR 1586693.
2. Danvers et al. 1894, p. 18.
3. "The East India College". Haileybury. Archived from the original on 22 December 2016. Retrieved 26 May 2018.
4. college, East India (26 May 2018). "The Haileybury observer". Books.google.co.uk. Retrieved 26 May 2018.
5. Richard Rhodes James, The Road from Mandalay: A Journey in the Shadow of the East (2007), p. 191
6. "Archived copy". Archived from the original on 2016-06-01. Retrieved 2016-05-18.
7. Moriarty, G. P.; Haigh, John D. (revised) (2007) [2004]. "Henley, Samuel (1740–1815)". Oxford Dictionary of National Biography (online ed.). Oxford University Press. doi:10.1093/ref:odnb/12933. (subscription required)
8. Minchin, James George Cotton (1901). Our Public Schools: their influence on English history. London: Swan Sonnenschein.
9. Boase, G. C.; Matthew, H. C. G. (revised) (2004). "Henley, Samuel (1740–1815)". Oxford Dictionary of National Biography (online ed.). Oxford University Press. doi:10.1093/ref:odnb/18540. (subscription required)
10. Rosane Rocher, 'Sanskrit for Civil Servants 1806-1818', Journal of the American Oriental Society 122, 2002, p. 381-390.
11. ODNB article by Cecil Bendall, 'Johnson, Francis (1795/6–1876)', rev. Parvin Loloi, Oxford Dictionary of National Biography, Oxford University Press, 2004 [1], accessed 21 Sept 2007.
12. ODNB article by Stanley Lane-Poole, 'Eastwick, Edward Backhouse (1814–1883)', rev. Parvin Loloi, Oxford Dictionary of National Biography, Oxford University Press, 2004 [2], accessed 20 Sept 2007.
13. Sir Richard Temple (1882). Men and Events of My Time in India. London: John Murray. p. 18. Retrieved 9 Oct2007.
14. F. C. Danvers, M Monier-Williams; et al. (1894). Memorials of Old Haileybury College. Westminster: Archibald Constable. Quoted in A Dictionary of Public Administration by Shriram Maheshwari.
15. The Mulfuzāt Timūry (Autobiographical Memoirs) of the Moghul Emperor Timūr p 16 accessed 9 Oct 2007
16. ODNB article by Joanne Shattock, 'Empson, William (1791–1852)', Oxford Dictionary of National Biography, Oxford University Press, 2004 [3], accessed 20 Sept 2007
17. ODNB article by M. C. Curthoys, 'Dealtry, William (1775–1847)', Oxford Dictionary of National Biography, Oxford University Press, 2004 [4], accessed 20 Sept 2007.
18. Binns, Sheila (2014). Sir Edward Colebrooke of Abington and Ottershaw, Baronet and Member of Parliament: The Four Lives of an Extraordinary Victorian. Guildford, Surrey: Grosvenor House Publishing Ltd. p. 16. ISBN 978 17814 86948.
Further reading
• Danvers, Frederick Charles; Martineau, Harriet; Monier-Williams, Monier; Bayley, Steuart Colvin; Wigram, Percy; Sapte, Brand (1894). Memorials of old Haileybury College. Westminster: Archibald Constable.
• Farrington, Anthony, ed. (1976). The Records of the East India College, Haileybury, & other institutions. London: H.M.S.O.
External links
• Death record of Joseph Batten
• Persian Professor in Britain: Mirza Muhammed Ibrahim at the East India Company's College, 1826-1844 by Michael H. Fisher
• "Haileybury College" . New International Encyclopedia. 1905.
• "Haileybury College" . Encyclopedia Americana. 1920.