Dwight L. Moody
by Wikipedia
Accessed: 1/3/20
NOTICE: THIS WORK MAY BE PROTECTED BY COPYRIGHT
YOU ARE REQUIRED TO READ

THE COPYRIGHT NOTICE AT THIS LINK

BEFORE YOU READ THE FOLLOWING WORK, THAT IS AVAILABLE SOLELY FOR PRIVATE STUDY, SCHOLARSHIP OR RESEARCH PURSUANT TO 17 U.S.C. SECTION 107 AND 108. IN THE EVENT THAT THE LIBRARY DETERMINES THAT UNLAWFUL COPYING OF THIS WORK HAS OCCURRED, THE LIBRARY HAS THE RIGHT TO BLOCK THE I.P. ADDRESS AT WHICH THE UNLAWFUL COPYING APPEARED TO HAVE OCCURRED. THANK YOU FOR RESPECTING THE RIGHTS OF COPYRIGHT OWNERS.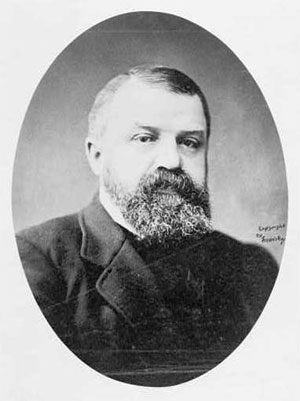 Dwight L. Moody
Preacher, evangelist and publisher
Born: Dwight Lyman Moody, February 5, 1837, Northfield, Massachusetts, US
Died: December 22, 1899 (aged 62), Northfield, Massachusetts, US
Dwight Lyman Moody (February 5, 1837 – December 22, 1899), also known as
D. L. Moody, was an American evangelist and publisher connected with the Holiness Movement, who founded the Moody Church, Northfield School and Mount Hermon School in Massachusetts (now Northfield Mount Hermon School), Moody Bible Institute and Moody Publishers. One of his most famous quotes was "Faith makes all things possible... Love makes all things easy." Moody gave up his lucrative boot and shoe business to devote his life to revivalism, working first in the Civil War with union troops through YMCA in the United States Christian commission. In Chicago, he built one of the major evangelical centers in the nation, which it is still active. Working with singer Ira Sankey, he toured the country and Britain Europe, drawing large crowds with a dynamic speaking style that preached God's love and friendship, kindness and forgiveness rather than hellfire and condemnation.
Early life
Dwight Moody was born in Northfield, Massachusetts, as the seventh child in a large family. His father, Edwin J. Moody (1800–1841), was a small farmer and stonemason. His mother was Betsey Moody (née Holton; 1805–1896). They had five sons and a daughter before Dwight's birth. His father died when Dwight was age four; fraternal twins, a boy and a girl, were born one month after the father's death. Their mother struggled to support the nine children, but had to send some off to work for their room and board. Dwight too was sent off, where he received cornmeal, porridge, and milk three times a day.[1] He complained to his mother, but when she learned that he was getting all he wanted to eat, she sent him back. During this time, she continued to send the children to church. Together with his eight siblings,
Dwight was raised in the Unitarian church
. His oldest brother ran away and was not heard from by the family until many years later.[2]
When Moody turned 17, he moved to Boston to work (after receiving many job rejections locally) in an uncle's shoe store. One of the uncle's requirements was that Moody attend the Congregational Church of Mount Vernon, where Dr. Edward Norris Kirk served as the pastor. In April 1855 Moody was converted to evangelical Christianity
when his Sunday school teacher, Edward Kimball, talked to him about how much God loved him. His conversion sparked the start of his career as an evangelist. Moody was not received by the church when he first applied in May 1855. He was not received as a church member until May 4, 1856.
According to Moody's memoir, his teacher, Edward Kimball, said:
I can truly say, and in saying it I magnify the infinite grace of God as bestowed upon him, that I have seen few persons whose minds were spiritually darker than was his when he came into my Sunday School class; and I think that the committee of the Mount Vernon Church seldom met an applicant for membership more unlikely ever to become a Christian of clear and decided views of Gospel truth, still less to fill any extended sphere of public usefulness.

[3]
Civil War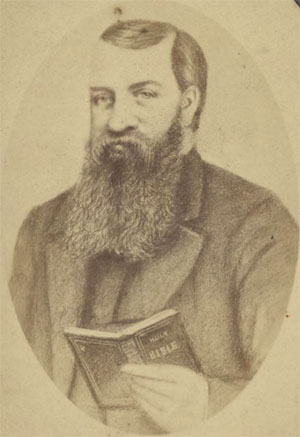 Dwight Lyman Moody c.1870
The first meeting I ever saw him at was in a little old shanty that had been abandoned by a saloon-keeper. Mr. Moody had got the place to hold the meetings in at night. I went there a little late; and the first thing I saw was a man standing up with a few tallow candles around him, holding a negro boy, and trying to read to him the story of the Prodigal Son and a great many words he could not read out, and had to skip. I thought, 'If the Lord can ever use such an instrument as that for His honor and glory, it will astonish me.

As a result of his tireless labor, within a year the average attendance at his school was 650, while 60 volunteers from various churches served as teachers. It became so well known that the just-elected President Lincoln visited and spoke at a Sunday School meeting on November 25, 1860.

[4]
D. L. Moody "could not conscientiously enlist" in the Union Army during the Civil War, later describing himself as "a Quaker" in this respect.[5] After the Civil War started, he became involved with the United States Christian Commission of YMCA. He paid nine visits to the battlefront
, being present among the Union soldiers after the Battle of Shiloh (a.k.a. Pittsburg Landing) and the Battle of Stones River; he also entered Richmond, Virginia, with the troops of General Grant.
On August 28, 1862, Moody married Emma C. Revell, with whom he had a daughter, Emma Reynolds Moody, and two sons, William Revell Moody and Paul Dwight Moody.
Chicago and the postwar years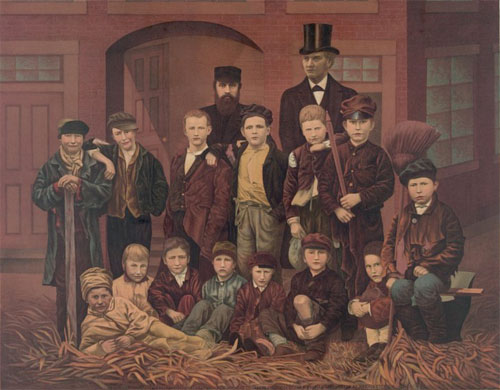 Moody's first Sunday school class, North Market Hall, Chicago, 1876
The growing Sunday School congregation needed a permanent home, so Moody started a church in Chicago, the Illinois Street Church.[6]
In June 1871 at an International Sunday School Convention in Indianapolis, Indiana, Dwight Moody met Ira D. Sankey. He was a gospel singer, with whom Moody soon began to cooperate and collaborate.[7] \
Sankey was born in Edinburg, Pennsylvania, on August 28, 1840,[1] one of nine children of David Sankey and his wife Mary Leeper Sankey.

The family's ancestry was English on the father's side and a mix of Scottish and Irish on the mother's.[2] David Sankey was a banker, a former state senator and a Methodist lay preacher.

[3][4] As a young boy Ira displayed a love of music that was encouraged by his parents, who typically spent evenings with him at home, singing hymns. At the age of eight he began attending Sunday school.[5]

When he was 16, Ira underwent an experience of religious conversion at a revivalist meeting held at a nearby church, King's Chapel.[6] A year later the family moved to New Castle, where the young Sankey joined the local Methodist Episcopal Church. His enthusiasm and talents were quickly recognized and led to his appointment as Sunday school superintendent and choirmaster.[2][5]

In 1861, at the start of the American Civil War, Sankey answered President Lincoln's call for volunteers and joined the Twelfth Pennsylvania Regiment.[2] He served between 1861 and 1863.[7] In the army he continued his religious and singing activities, forming a choir and assisting the chaplain. When his period of enlistment was over he returned to New Castle, where his father had been appointed by Lincoln as a Collector of Internal Revenue. In 1863 Sankey joined his father in government service and, that same year, married Fanny Edwards, a member of his choir.[2]

Back in New Castle, Sankey developed a local reputation as a singer, much in demand in churches and revival meetings. In 1867, when a local branch of YMCA was formed, Sankey became its secretary and later its president.[8] As president, in 1870 he was a delegate at a national conference held in Indianapolis, where he encountered the noted preacher Dwight L. Moody for the first time. Moody was instantly impressed as Sankey demonstrated his ability to enliven an audience rendered soporific by inactivity and overlong prayers by giving an impromptu rendering of the hymn "There is a fountain filled with blood".[1] Meeting Sankey at the end of the session, Moody demanded that the young man join him in his mission work: "I have been looking for you for the last eight years".[5] Unable to decide on the spur of the moment, Sankey returned to New Castle and pondered Moody's challenge for six months before deciding to return to Chicago for a week's trial with Moody. Before the week was up he resigned his government post and threw in his lot with Moody's mission, thus beginning their lifelong partnership.[2][5]

-- Ira D. Sankey, by Wikipedia
Four months later, in October 1871, the Great Chicago Fire destroyed Moody's church building, as well as his house and those of most of his congregation. Many had to flee the flames, saving only their lives, and ending up completely destitute. Moody, reporting on the disaster, said about his own situation that: "... he saved nothing but his reputation and his Bible."[8]
In the years after the fire,
Moody's wealthy Chicago patron John V. Farwell tried to persuade him to make his permanent home in the city, offering to build a new house for Moody and his family. But the newly famous Moody, also sought by supporters in New York, Philadelphia, and elsewhere, chose a tranquil farm he had purchased near his birthplace in Northfield, Massachusetts.
He felt he could better recover in a rural setting from his lengthy preaching trips.[1]
Northfield became an important location in evangelical Christian history in the late 19th century as Moody organized summer conferences. These were led and attended by prominent Christian preachers and evangelists from around the world.
Western Massachusetts has had a rich evangelical tradition including Jonathan Edwards preaching in colonial Northampton and C.I. Scofield preaching in Northfield. A protégé of Moody founded Moores Corner Church, in Leverett, Massachusetts, and it continues to be evangelical.
Moody founded two schools here: Northfield School for Girls, founded in 1879, and the Mount Hermon School for Boys, founded in 1881. In the late 20th century, these merged, forming today's co-educational, nondenominational Northfield Mount Hermon School.[9]
Evangelical travels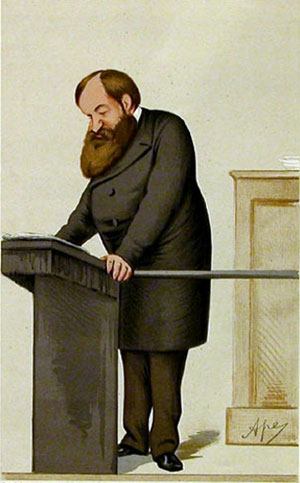 Dwight Lyman Moody, Vanity Fair, 3 April 1875
During a trip to the United Kingdom in the spring of 1872, Moody became well known as an evangelist.
Literary works published by the Moody Bible Institute claim that he was the greatest evangelist of the 19th century.
[10] He preached almost a hundred times and came into communion with the Plymouth Brethren. On several occasions, he filled stadia of a capacity of 2,000 to 4,000. According to his memoir, in the Botanic Gardens Palace, he attracted an audience estimated at between 15,000 and 30,000.[11]
That turnout continued throughout 1874 and 1875, with crowds of thousands at all of his meetings.
During his visit to Scotland, Moody was helped and encouraged by Andrew A. Bonar.
The famous London Baptist preacher, Charles Spurgeon, invited him to speak, and he promoted the American as well. When Moody returned to the US, he was said to frequently attract crowds of 12,000 to 20,000 were as common as they had been in England.[12]
President Grant and some of his cabinet officials attended a Moody meeting on January 19, 1876. He held evangelistic meetings from Boston to New York, throughout New England, and as far west as San Francisco, also visiting other West Coast towns from Vancouver, British Columbia, Canada to San Diego.
[13]
Moody aided the work of cross-cultural evangelism by promoting "The Wordless Book," a teaching tool developed in 1866 by Charles Spurgeon. In 1875, Moody added a fourth color to the design of the three-color evangelistic device: gold — to "represent heaven." This "book" has been and is still used to teach uncounted thousands of illiterate people, young and old, around the globe about the gospel message.[14]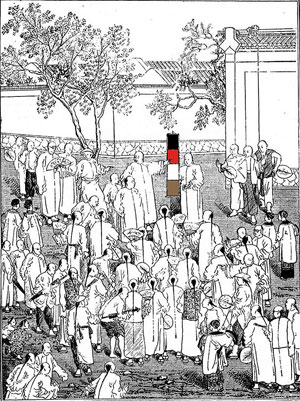 Missionary preaching in China using Moody's version of The Wordless Book
Moody visited Britain with Ira D. Sankey, with Moody preaching and Sankey singing at meetings. Together they published books of Christian hymns. In 1883 they visited Edinburgh and raised £10,000 for the building of a new home for the Carrubbers Close Mission. Moody later preached at the laying of the foundation stone for what is now called the Carrubbers Christian Centre, one of the few buildings on the Royal Mile which continues to be used for its original purpose.[12]
Moody greatly influenced the cause of cross-cultural Christian missions after he met Hudson Taylor, a pioneer missionary to China. He actively supported the China Inland Mission and encouraged many of his congregation to volunteer for service overseas.[15]
International acclaim
His influence was felt among Swedes. Being of English heritage, never visiting Sweden or any other Scandinavian country, and never speaking a word of Swedish, nonetheless he became a hero revivalist among Swedish Mission Friends in Sweden and America.[16]
News of Moody's large revival campaigns in Great Britain from 1873 through 1875 traveled quickly to Sweden, making "Mr. Moody" a household name in homes of many Mission Friends. Moody's sermons published in Sweden were distributed in books, newspapers, and colporteur tracts, and they led to the spread of Sweden's "Moody fever" from 1875 through 1880.[17]
He preached his last sermon on November 16, 1899, in Kansas City, Missouri. Becoming ill, he returned home by train to Northfield. During the preceding several months, friends had observed he had added some 30 pounds (14 kg) to his already ample frame. Although his illness was never diagnosed, it has been speculated that he suffered from congestive heart failure. He died on December 22, 1899, surrounded by his family. Already installed as the leader of his Chicago Bible Institute. R. A. Torrey succeeded Moody as its pastor.
Works
• Heaven Diggory Press ISBN 978-1-84685-812-3
• Prevailing Prayer—What Hinders it? Diggory Press ISBN 978-1-84685-803-1
• Secret Power Diggory Press ISBN 978-1-84685-802-4
• The Ten Commandments[18]
• Also, A Life for Christ—What a Normal Christian Life Looks Like.
Legacy and honors
Religious historian James Findlay says that:
Speaking before thousands in the dark business suit, bearded, rotund Dwight L. Moody seemed the epitome of the "businessman in clerical garb"who typified popular religion in late 19th-century America.... Earthy, unlettered, a dynamo of energy, the revivalist was very much a man of his times.... Moody adapted revivalism, one of the major institutions of evangelical Protestantism, to the urban context. ... His organizational ability, demonstrated in the great revivals he conducted in England, combined to fashion his spectacular career as the creator of modern mass revivalism. [19]
Ten years after Moody's death the Chicago Avenue Church was renamed the Moody Church in his honor, and the Chicago Bible Institute was likewise renamed the Moody Bible Institute.[20]
During World War II the Liberty ship SS Dwight L. Moody was built in Panama City, Florida, and named in his honor.[21]
See also
• Biography portal
• Horatio Spafford, a friend of Moody who wrote the words to the hymn It Is Well With My Soul
• Northfield Mount Hermon School
References
1. Johnson, George (2011). What Will A Man Give In Exchange For His Soul?. Xlibris Corporation. pp. 113–115. ISBN 1465380981.
2. Johnson, George D. (26 October 2011). "What Will A Man Give In Exchange For His Soul?". Xlibris Corporation – via Google Books.
3. Moody (1900), 21
4. Johnson, George D. (26 October 2011). "What Will A Man Give In Exchange For His Soul?". Xlibris – via Google Books.
5. Donald W. Dayton, Discovering an Evangelical Heritage (New York: Harper & Row, 1976), 134.
6. Billy Graham Center Archives. "SELECT LIST OF EVENTS FROM MOODY CHURCH HISTORY". Records of The Moody Church - Collection 330. Wheaton, IL: Wheaton College. Retrieved April 5, 2016.
7. OBrien, Glen (1 June 2015). "Christian Worship: A Theological and Historical Introduction". Wipf and Stock Publishers – via Google Books.
8. Johnson, George D. (26 October 2011). "What Will A Man Give In Exchange For His Soul?". Xlibris Corporation – via Google Books.
9. "NMH's History - Northfield Mount Hermon". Archived from the original on 2016-10-09. Retrieved 2016-10-06.
10. Bailey, Faith (1987) [1959]. D. L Moody. The Moody Bible Institute of Chicago. p. Cover. ISBN 0-8024-0039-6.
11. Johnson, George D. What Will A Man Give In Exchange For His Soul?. Xlibris Corporation. p. 115. ISBN 9781465380982.
12. "D.L. Moody -". Worthy Christian Library.
13. Moody, William Revell (1 June 2001). "The Life of Dwight L. Moody". The Minerva Group, Inc. – via Google Books.
14. Austin (2007), 1-10
15. Johnson, George D. (26 October 2011). "What Will A Man Give In Exchange For His Soul?". Xlibris Corporation – via Google Books.
16. Gustafson (2008)
17. Johnson, George D. (26 October 2011). "What Will A Man Give In Exchange For His Soul?". Xlibris Corporation – via Google Books.
18. "THE TEN COMMANDMENTS text by D. L. Moody". Archived from the original on 2009-04-09. Retrieved 2009-09-19.
19. James F. Findlay, "Moody, Dwight Lyman," and John A. Garraty, Encyclopedia of American Biography(1974) pp 772-773.
20. Timothy J. Demy and Paul R. Shockley (2017). Evangelical America: An Encyclopedia of Contemporary American Religious Culture. ABC-CLIO. pp. 286–290.
21. Williams, Greg H. (25 July 2014). The Liberty Ships of World War II: A Record of the 2,710 Vessels and Their Builders, Operators and Namesakes, with a History of the Jeremiah O'Brien. McFarland. ISBN 1476617546. Retrieved 7 December 2017.
Sources
• "Dwight Moody: evangelist with a common touch" Christianity Today, 8 August 2008.
• Christian Biography Resources
• Dorsett, L. W. A Passion for Souls: The Life of D. L. Moody. 1997
• Findlay, J. F. Jr. Dwight L. Moody: American Evangelist 1837–1899. 1969
• Gundry, S. N. Love them in: The Proclamation Theology of D. L. Moody. 1976
• Evensen, B. J. God's Man for Gilded Age: D. L. Moody and the Rise of Mass Evangelism. 2003
• Gloege, Timothy. Guaranteed Pure: The Moody Bible Institute, Business, and the Making of Modern Evangelicalism (2017)
• Gustafson, David M. "D.L. Moody and the Swedish-American Evangelical Free." Swedish-American Historical Quarterly 55 (2004): 107-135. online]
• Hamilton, Michael S. "The Interdenominational Evangelicalism of D.L. Moody and the Problem of Fundamentalism" in Darren Dochuk et al. eds. American Evangelicalism: George Marsden and the State of American Religious History (2014) ch 11.
• Moody, Paul Dwight. The Shorter Life of D. L. Moody. 1900 online
External links
• Recording of Moody reading the Beatitudes
• Sample sermons by D. L. Moody
• "Shall I enter the Army?" Moody said, "No."
• Works by Dwight L. Moody at Project Gutenberg
• Works by Dwight L. Moody at LibriVox (public domain audiobooks)
• Works by or about Dwight L. Moody at Internet Archive
o Glad Tidings, sermons by D. L. Moody
o The Gospel Awakening, sermons by D. L. Moody
• books by D. L. Moody