Charles B. Farwell
by Wikipedia
Accessed: 1/3/20
NOTICE: THIS WORK MAY BE PROTECTED BY COPYRIGHT
YOU ARE REQUIRED TO READ

THE COPYRIGHT NOTICE AT THIS LINK

BEFORE YOU READ THE FOLLOWING WORK, THAT IS AVAILABLE SOLELY FOR PRIVATE STUDY, SCHOLARSHIP OR RESEARCH PURSUANT TO 17 U.S.C. SECTION 107 AND 108. IN THE EVENT THAT THE LIBRARY DETERMINES THAT UNLAWFUL COPYING OF THIS WORK HAS OCCURRED, THE LIBRARY HAS THE RIGHT TO BLOCK THE I.P. ADDRESS AT WHICH THE UNLAWFUL COPYING APPEARED TO HAVE OCCURRED. THANK YOU FOR RESPECTING THE RIGHTS OF COPYRIGHT OWNERS.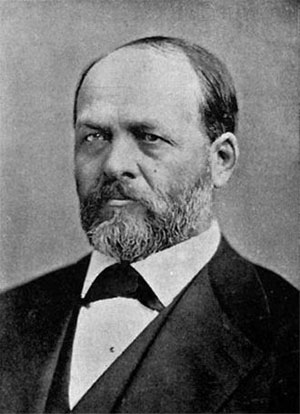 Charles B. Farwell
United States Senator from Illinois
In office: January 19, 1887 – March 3, 1891
Preceded by John A. Logan
Succeeded by John M. Palmer
Member of the U.S. House of Representatives from Illinois's 1st district
In office: March 4, 1871 – March 3, 1873
Preceded by Norman B. Judd
Succeeded by John Blake Rice
Member of the U.S. House of Representatives from Illinois's 3rd district
In office: March 4, 1873 – May 6, 1876
Preceded by Horatio C. Burchard
Succeeded by John V. Le Moyne
In office: March 4, 1881 – March 3, 1883
Preceded by Hiram Barber, Jr.
Succeeded by George R. Davis
Member of the Indiana House of Representatives
Personal details
Born: Charles Benjamin Farwell, July 1, 1823, Painted Post, New York
Died: September 23, 1903 (aged 80), Lake Forest, Illinois
Nationality American
Political party: Republican
Spouse(s) Mary Eveline Smith
Alma mater Elmira Academy
Charles Benjamin Farwell (July 1, 1823 – September 23, 1903) was a U.S. Representative and Senator from Illinois.
Life and career
Farwell was born in Painted Post, New York, and attended Elmira Academy before moving to Illinois in 1838. He first tried his hand at surveying and farming before
moving to Chicago in 1844, when he went into banking. From 1853-1861, he served as the Clerk of Cook County. Farwell was "one of the principal builders in [Chicago's] business district" in the last quarter of the 19th century.[1] That he was able to amass a sizeable fortune can be proven by the fact that he owned one of the finest mansions on Chicago's North Side.[2]

Elected to the U.S. House of Representatives four times beginning in 1870, winning his first election to the House by a healthy margin over Chicago's "Long" John Wentworth (by some 5700 votes). Farwell went on to serve in the House of Representatives in the 42nd, 43rd, 44th and 47th Congresses. In 1876 the Democrat-controlled Congress accepted John V. Le Moyne's challenge to Farwell's election and removed Farwell from office; Farwell declined to run again at the time of the general election later on in 1876. In 1880, he was elected to another term in Congress (the 47th Congress). Upon the death of John A. Logan in 1887, Farwell was elected to serve out Logan's term in the U.S. Senate, but refused to run for re-election to a full term.
[3] Significantly, in Farwell's first term as Senator, he supported the introduction of an amendment to the U.S. Constitution that would have granted women's suffrage rights (the right to vote) - simultaneously a landmark achievement of and a setback in the long struggle for voting rights for women that would not be overcome until the adoption of the Nineteenth Amendment to the United States Constitution in 1920.[4]
In 1876, at his wife's urging, Farwell underwrote the construction of College Hall, North Hall and a gymnasium at Lake Forest College. The couple also donated additional land to the college which had been struggling since the end of the Civil War.[5] Part of their philanthropy was to ensure a co-ed liberal arts college near home for their daughter, Anna, who graduated from Lake Forest College in 1880. Anna later married the composer Reginald de Koven, and became a successful socialite, novelist and amateur historian. His daughter Rose was married to Hobart Chatfield-Taylor.[6]
A group led by [John V.] Farwell, his brother Charles, Abner Taylor, and A. C. Babcock was named responsible for constructing the Texas State Capitol in 1879. In exchange for his service as builder, the Farwells were paid with the largest cattle ranch in the world, the 3,050,000-acre (1,230,000 ha) XIT Ranch. The Farwells oversaw a herd of over 150,000 cattle. The ranch proved relatively unprofitable, as cattle prices plunged in the late 1880s. By 1905, the land was mostly subdivided.-- John V. Farwell, by Wikipedia
1869: The John V. Farwell estate at 888 East Deerpath is constructed, using Portland cement, by an unknown designer.

The design of the house appears to have been

influenced by English architect John Ruskin

who called for a revival of the Gothic spirit in architecture (Coventry, Meyer, Miller 2003 p. 43).

1870: The Sen. Charles B. Farwell estate, Fairlawn, is constructed on a block bounded by Deerpath, Lake, and Mayflower Roads and Spring Lane. The house, modeled on the Tuscan villa form, is built in the Italianate style by an unknown architect. Farwell, who is a Congressman from a Chicago district, is chided in the November 2 Chicago Tribune by his opponent, John Wentworth, for living in Lake Forest, and not in his district.

1871: John V. Farwell becomes mayor of Lake Forest.

1873: There is a financial panic due to over-borrowing for railroads among other things, and a five-year recession follows, fought against by Congressman C. B. Farwell in Washington, for three terms from 1871 to 1877.

1880: Under sponsorship of the C. B. Farwells, the monthly Lake Forest University Review is launched in January, with Anna Farwell (Class of 1880) as editor. The monthly continues through 1883. North Hall, a gift from Charles B. Farwell, is built to house Lake Forest Academy.

1886: Chicago Haymarket Square Riot of May 4, 1886 takes place. Labor Union workers request 8 hour work days, and organize a strike on May 1 to gain attention. On May 3, a riot at McCormick Reaper Plant results in one death during a fight between workers and police. On May 4, a rally begins at Haymarket Square, on Randolph Street. Although a seemingly peaceful protest, a bomb explodes, and ignites a shoot-out between the protestors and policemen. The bomb kills a policeman. Thirty one anarchists and socialists are arrested, and it is deemed inconclusive as to who organized the bomb throwing. Judge Joseph E. Gary states, "inflammatory speeches and publications" presented by the eight prisoners ignited the sentiments of the mob.

1891: A gymnasium by H. I. Cobb is built on Lake Forest College campus and opens in April. Constructed at a cost of $30,000, this is one of the best equipped gymnasiums in the Midwest. It is the gift of Senator Charles B. Farwell.

1896: The Onwentsia Club opens on the grounds of the Henry Ives Cobb home, successor of the Lake Forest Golf Club. The Cobb home is turned into a clubhouse. Members of the Onwentsia Club include established Lake Forest families such as the Farwells, Holts and Durands and well known Chicago families such as a the Armours and McCormicks (Coventry, Meyer, Miller 2003 p. 68). Ardleigh, the John V. Farwell Jr. house, is constructed in the English traditional style. It is designed by Arthur Heun (Coventry, Meyer, Miller 2003).

1900: The first automobile, a black Winton, is introduced to Lake Forest by Arthur Farwell, son of J. V. Farwell.

1939-1945: Lake Foresters provide entertainment for Officers, their wives as well as enlisted men from Great Lakes. Mrs. Albert Farwell gives 'Navy Waffle Parties' for men recovering at the Great Lakes Naval Hospital. Around 4,000 men attended Mrs. Farwell's parties over the course of the war (Arpee 1963 p.239).

1887: Fort Sheridan becomes a full-fledged military installation on November 11 in Highwood. The fort is built partially as a response to the Chicago Haymarket Square Riot of May 4, 1886 which showed the need for a military presence near Chicago. The Farwell brothers of Lake Forest were involved in the creation of the fort (Ebner 1988 p. 140-141).

-- Timeline of Lake Forest History, by the Lake Forest-Lake Bluff Historical Society for the Community's Sesquicentennial, 2011
See also
•
XIT Ranch
References
1. Steffes, Patrick (31 December 2011). "Bertrand Goldberg in Tower Town Part 1: Bertrand Goldberg's Commune". forgottenchicago.com/. Forgotten Chicago. Retrieved 16 May 2014.
2. "Charles B. Farwell mansion, 120 E. Pearson St., Chicago, IL (1905)".
http://www.memory.loc.gov
. Library of Congress, courtesy Chicago History Museum. 1905. Retrieved 16 May 2014.
3. "FARWELL, Charles Benjamin". history.house.gov/. Offices of the Historian, Art & Archives, U.S. House of Representatives. n.d. Retrieved 16 May 2014.
4. Steffes, Patrick (31 December 2011). "Bertrand Goldberg in Tower Town Part 1: Bertrand Goldberg's Commune". forgottenchicago.com/. Forgotten Chicago. Retrieved 16 May 2014.
5. Ebner, Michael H. (Summer 2007), "North Shore Town and Gown", Chicago History, p. 6
6. Bluff's Edge Estate Archived June 6, 2010, at the Wayback Machine
External links
• United States Congress. "Charles B. Farwell (id: F000037)". Biographical Directory of the United States Congress.