Eliza Ruhamah Scidmore
by Wikipedia
Accessed: 1/19/20
Something more than two years had elapsed since my return to Japan, and in all that time the worry of my mind had kept on increasing, instead of abating; in fact, every day that passed seemed to add to the misery and to make more vivid the picture of the dreadful fate of my friends and benefactors in Tibet. The reader may well imagine, therefore, with what kind of feeling I read the following letter (from which an extract only is given here):

"Mr. Kawaguchi passed through Yatung (Tibet) on his way to Darjeeling from Lhasa about June 1902. During his brief stay at Yatung, he, to my personal knowledge, attended or prescribed for the wife of the local Tibetan official there, commonly known as Dhurkey Sirdar. Soon after he had crossed the Jelap pass into Sikkim (British protected territory) an order was sent from Lhasa to the effect that he had been living at the Gompa of Sera, Lhasa, for some fifteen months and had suddenly disappeared, and was believed to be a foreigner. Therefore Dhurkey Sirdar was instructed to compass his arrest. This in itself would seem sufficient proof or corroboration of Kawaguchi's statements, however, they need not rest on this alone, for

there is no Tibetan official or merchant whom I have met who was not cognisant of Kawaguchi's lengthened residence at Sera Gompa and his flight therefrom....

"As I have already mentioned, I never yet met an official or merchant who did not know of Kawaguchi's lengthened residence at Lhasa

, but I have still to meet either one or other who has ever heard of Lander of spiked-saddle fame!

"Please tell Kawaguchi that from enquiries I have ascertained that his Teacher and the merchants who befriended him have been released.

I am, however, instituting fuller enquiries and will do all in my power for them and let him know as soon as possible."

The letter is dated "c/o Gratong P. O., Tibet Frontier Commission, Tuna, 17 March, 1904," and is from Captain Randal Parr, British Tibet Frontier Commissioner, to whom I previously had the pleasure of writing, through the introduction of Miss E. R. Scidmore [Eliza Ruhamah Scidmore] of Yokohama. It is addressed to the lady just mentioned, who has kindly placed at my disposal the contents thereof.

The present translation of my book on Tibet was near its completion when I was allowed a perusal of the above, and never before had I read any letter with so much genuine and mingled feeling of the most profound joy and gratitude as I felt on that occasion. A great tormenting load was suddenly taken off my mind—it will not be necessary to say why. I am glad further that I am able to incorporate this piece of good tidings in, and make it the concluding chapter of this translation of my book.

-- Three Years in Tibet, by Shramana Ekai Kawaguchi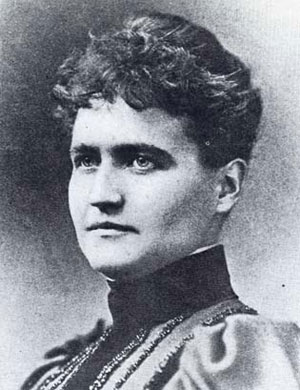 Eliza Ruhamah Scidmore
Born: October 14, 1856, Clinton, Iowa, USA
Died: November 3, 1928 (aged 72), Geneva, Switzerland
Resting place: Yokohama, Japan
Nationality: American
Occupation: Author
Known for writing on Asian topics, early proponent of planting Japanese cherry trees in Washington, D.C.
Eliza Ruhamah Scidmore (/ˈsɪdmɔːr/)[1] (1856–1928) was an American writer, photographer and geographer, who became
the first female board member of the National Geographic Society.[2] She visited Japan many times between 1885 and 1928.
Scidmore was born October 14, 1856 in Clinton, Iowa. She attended Oberlin College.
Her interest in travel was aided by her brother, George Hawthorne Scidmore, a career diplomat who served in the Far East from 1884 to 1922. Eliza was often able to accompany her brother on assignments and his diplomatic position gave her entree into regions inaccessible to ordinary travelers.
It was on their return to Washington, D.C. in 1885 that Eliza had her famous idea of planting Japanese cherry trees in the capital. Scidmore found little interest in her cherry tree idea, but more in her impressions of Alaska, the subject of her first book, Alaska, Its Southern Coast and the Sitkan Archipelago (1885).
She joined the National Geographic Society in 1890, soon after its founding, and became a regular correspondent and later the Society's first female trustee.

Further eastern travels resulted in Jinrikisha Days in Japan, published in 1891. It was followed by a short guidebook, Westward to the Far East (1892). A trip to Java resulted in Java, the Garden of the East (1897) and visits to China and India resulted in several National Geographic Magazine articles and two books, China, the Long-Lived Empire (1900), and Winter India (1903).

Another stay in Japan during the Russo-Japanese War became the basis for Scidmore's only known work of fiction, As the Hague Ordains (1907). The novel purports to be the account of a Russian prisoner's wife who joins her husband at the prisoner's hospital in Matsuyama.

Scidmore's cherry blossom scheme began to bear fruit when incoming first lady Helen Taft took an interest in the idea in 1909. With the first lady's active support, plans moved quickly, but the first effort had to be aborted due to concerns about infestation. Subsequent efforts proved successful, however, and today many visitors enjoy the sakura of West Potomac Park and other areas of the capital, particularly during the National Cherry Blossom Festival.
In support of the new conservation movement in the United States, Scidmore wrote a letter to the editor of Century Magazine in Sept. 1893 on "Our New National Forest Reserves" detailing the meaning and consequences of forest preservation on behalf of the public good.[3]
After As the Hague Ordains, Scidmore published no new books and a dwindling number of articles for National Geographic, the last being a 1914 article entitled "Young Japan."
She died in Geneva, Switzerland on November 3, 1928, at the age of 72. Her grave is at the Yokohama Foreign Cemetery, Yokohama, Japan next to the graves of her mother and brother.[4]
References
1. Michael E. Ruane, "Cherry blossoms' champion, Eliza Scidmore, led a life of adventure," Washington Post, March 13, 2012.
2. Mauzé, Marie; Harkin, Michael Eugene; Kan, Sergei (2004). Coming to Shore: Northwest Coast Ethnology, Traditions, and Visions. University of Nebraska Press. p. 206. ISBN 0-8032-3230-6. Retrieved 26 January 2014.
3. ""Our New National Forest Reserves" by Eliza Ruhamah Scidmore, The Century Magazine, September 1893".
4. "The Story of the Cherry Blossom Trees that Served as a Bridge between Japan and the US Cherry Blossom Tree Donation 100th Anniversary" (PDF). Naka Ward Town News. Yokohama City. May 31, 2012. Archived from the original (PDF) on 19 March 2017. Retrieved 18 March 2017.
• Place of birth from passport applications April 1, 1878, June 27, 1894 and September 28, 1903 also passenger list from Yokohama to Seattle July 1923. Her family was living in Clinton, Iowa in the 1856 Iowa Census, taken earlier in the year of her birth.
• Eliza Ruhamah Scidmore: More Than A Footnote In History by Daniel Howard Sidmore M.A.L.S. Benedictine University Lisle, Illinois Thesis Approval May 2000
External links
• Eliza Scidmore Biography Site
• New Research on Eliza Scidmore
• Works by or about Eliza Ruhamah Scidmore in libraries (WorldCat catalog)
• Works by or about Eliza Ruhamah Scidmore at Internet Archive
• Works by Eliza Ruhamah Scidmore at LibriVox (public domain audiobooks)