Charles Alfred Bell
by Wikipedia
Accessed: 1/21/20
NOTICE: THIS WORK MAY BE PROTECTED BY COPYRIGHT
YOU ARE REQUIRED TO READ

THE COPYRIGHT NOTICE AT THIS LINK

BEFORE YOU READ THE FOLLOWING WORK, THAT IS AVAILABLE SOLELY FOR PRIVATE STUDY, SCHOLARSHIP OR RESEARCH PURSUANT TO 17 U.S.C. SECTION 107 AND 108. IN THE EVENT THAT THE LIBRARY DETERMINES THAT UNLAWFUL COPYING OF THIS WORK HAS OCCURRED, THE LIBRARY HAS THE RIGHT TO BLOCK THE I.P. ADDRESS AT WHICH THE UNLAWFUL COPYING APPEARED TO HAVE OCCURRED. THANK YOU FOR RESPECTING THE RIGHTS OF COPYRIGHT OWNERS.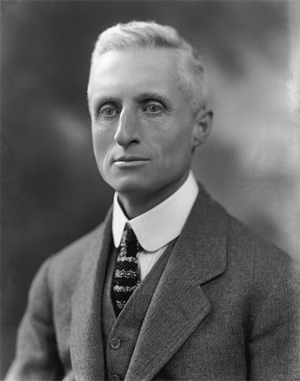 Charles Alfred Bell
Bell in 1922
Born: October 31, 1870, Calcutta, India
Died: March 8, 1945 (aged 74), Victoria, British Columbia, Canada
Occupation: diplomat, writer, Tibetologist
Sir Charles Alfred Bell KCIE CMG (October 31, 1870 – March 8, 1945) was the British Political Officer for Bhutan, Sikkim and Tibet. He was known as "British India's ambassador to Tibet" before retiring and becoming a noted tibetologist.
Biography
He was educated at Winchester School and then at New College, Oxford, after which he joined the Indian Civil Service in 1891.[1][2]

In 1908, he was appointed Political Officer in Sikkim. He soon became very influential in Sikkimese and Bhutanese politics, and in 1910 he met the 13th Dalai Lama, who had been forced into temporary exile by the Chinese. He got to know him quite well, and later wrote his biography (Portrait of the Dalai Lama, published in 1946).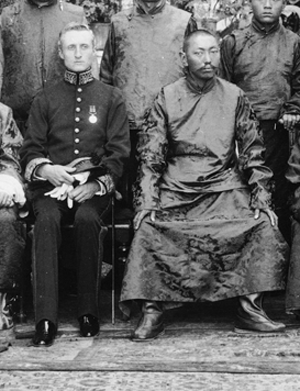 Thubten Gyatso, 13th Dalai Lama and Charles Alfred Bell in 1910 at Hastings House Calcutta
In 1913 he participated in the Simla Convention, a treaty between Great Britain, China and Tibet concerning the status of Tibet. Before the summit, he met in Gyantse with Paljor Dorje Shatra, the Tibetan representative to the British Raj at Darjeeling and advised him to bring to Simla with him all documents concerning relations between China and Tibet, as well as Tibetan claims to land occupied by China. Bell was designated to assist the Tibetans in the negotiations, with Archibald Rose assigned to be his counterpart for the Chinese. He was appointed a Companion of the Order of St Michael and St George (CMG) in the 1915 New Year Honours for his services.

In 1919 he resigned as Britain's political officer in Sikkim to devote himself full-time to his research. However, London sent him to Lhasa in 1920 as a special ambassador.[3]

After travelling through Tibet and visiting Lhasa in 1920, he retired to Oxford, where he wrote a series of books on the history, culture and religion of Tibet. He was awarded a knighthood for his Lhasa Mission in 1922.[2]

Palhese [Dewan Bahadur Palhese Sonam Wangyal, or Kusho Palhese c. 1873-c.1936], Bell's Tibetan friend and confidant travelled to England in 1927-28 to assist him in editing several of these books.[2]
During the 19th century the Government of India employed various types of local people to obtain information about Tibet. The most important of these were the pandits (trained surveyors, native to the Indian Himalayas, who travelled in various disguises to clandestinely map Tibet), and the school teacher Rai Bahadur Sarat Chandra Das CIE. (1849-1917).[2]

The pandits' main duty was to gather geographical data, and they were extremely successful in this task. But whereas they travelled among the lower social classes in Tibet, Chandra Das's mission was to contact powerful figures in Tibetan society in order to collect political information. Just as Political officers were directed to 'cultivate the friendship of the local Ruling Chiefs', Das was under instructions to 'cultivate the friendship of influential persons'.[3]

Chandra Das, a Tibetan speaking Bengali

, was the first headmaster of the

Bhotia [Bhutia] Boarding School in Darjeeling

, which was opened in 1874 specifically to train Bhotia and Sikkimese intermediaries in preparation for the opening of Tibet to the British. In 1891 the Bhotia school merged with the Darjeeling school to become Darjeeling High School.[4]

Das became the first of many intermediaries from the school when he was given a nominal government post as a school inspector, freeing him to travel to Tibet. He was accompanied by

Rai Bahadur Urgyen Gyatso

, a Sikkimese lama from an aristocratic family, who had been employed as a teacher at the Bhotia School after serving on the staff of the Rajah of Sikkim. Urgyen Gyatso made a number of journeys to Tibet under British auspices, alone, or accompanying Chandra Das. Unlike the pandits, the two schoolteachers continued to be employed as Tibetan specialists after their return to India. [5]

When the Tibetan Government later discovered that Chandra Das had visited Lhasa, and correctly assumed that he had been spying for the British, the strength of their reaction underlined the Lhasa Government's determination to preserve Tibet's isolation. The Panchen Lama's Prime Minister, Kyabying Sengchen Tulku, an incarnate lama from Dongtse Monastery who had been Das's principal sponsor, was executed, and the Dongtse ruling family, the Palhes, close associates of Sengchen Tulku, were severely punished.[6]

The last re-incarnate Lama bearing this title [Re-embodied Lama in western Tibet, Sen-c'en-Rin-po-ch'e], and the tutor of the Tashi Grand Lama, was beheaded about 1886 for harbouring surreptitiously Sarat C. Das, who is regarded as an English spy; and although the bodies of his predecessors were considered divine and are preserved in golden domes at Tashi-lhunpo, his headless trunk was thrown ignominiously into a river to the S.W. of Lhasa, near the fort where he had been imprisoned. On account of his violent death, and under such circumstances, this re-incarnation is said to have ceased. From the glimpse got of him in Sarat's narrative and in his great popularity, he seems to have been a most amiable man.

-- The Buddhism of Tibet, or Lamaism With Its Mystic Cults, Symbolism and Mythology, and in its Relation to Indian Buddhism, by Laurence Austine Waddell

The ruin thus brought about by the Babu's visit extended also to the unfortunate Lama's relatives, the governor of Gyantsé (the Phal Dahpön) and his wife (Lha-cham), whom he had persuaded to befriend Sarat C. Das. These two were cast into prison for life, and their estates confiscated, and several of their servants were barbarously mutilated, their hands and feet were cut off and their eyes gouged out, and they were then left to die a lingering death in agony, so bitterly cruel was the resentment of the Lamas against all who assisted the Babu in this attempt to spy into their sacred city.

-- Laurence Austine Waddell, Lhasa and Its Mysteries: With a Record of the Expedition of 1903-1904, Cosimo, Inc., 2007, 740 pages, p. 79

The decision to force the Tibetans to open diplomatic relations with British India meant that a new type of intermediary was required, one who was accustomed to dealing with the Lhasa aristocracy. Such people were particularly difficult to locate in such an isolationist society as Tibet, where the ruling class appeared to present a united front against high-level foreign contact. Increasing Western contact with Tibet in the late 19th century had produced a small body of men with experience in guiding European travellers there, but these guides, such as caravan leader Mahmood Isa, were mostly members of the Central Asian trading class, and they had little social status. [7]

Individuals of low social status had neither the contacts, nor the prestige and social skills, necessary to approach and influence the Tibetan ruling class. However the punishment inflicted on the aristocratic Palhe family had alienated them from the Lhasa ruling classes, creating an opportunity for the British to exploit their estrangement, as well as to reward the assistance they had given the British agents.

Kusho Palhese, (later Dewan Bahadur Palhese) exiled scion of the Palhe family, came to Kalimpong when Bell was seeking a suitable Tibetan instructor, and he became Bell's personal assistant. Bell's notebooks reveal the enormous contribution Palhese made to his understanding of Tibet, and Bell was, by the standards of the time, generous in his praise of the Tibetan's contribution to his work. The two men became close friends, and Bell brought Palhese to Britain in the 1920s to assist his research. Palhese's association with the British enabled him to restore the family estates, although Bell's account attributes his primary motivation to more personal factors.[8]

The punishment of the Palhe family also provided O'Connor with his principal assistant, a Buriat monk, Sherab Gyatso (later Rai Sahib Sherab Gyatso; d.1909), known as Shabdrung Lama. He had been a personal attendant of Sengchen Tulku when the lama was executed for assisting Chandra Das. Imprisoned and tortured along with his master, Shabdrung Lama escaped to Darjeeling. There he was given employment as a teacher at the Bhotia school, and as a British agent gathering information from Tibetans in Darjeeling bazaar, before being employed by O'Connor as his personal secretary on the Younghusband Mission. [9]-- Tibet and the British Raj, 1904-47: The Influence of the Indian Political Department Officers, by Alexander McKay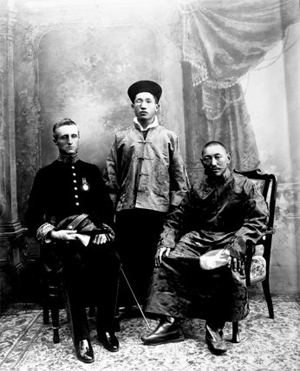 The 13th Dalai Lama (right), Sir Charles Bell (left), and Maharaj Kumar Sidkeong Tulku (centre) in Calcutta around March 1910.
Some of the photographs that he took in Tibet can be found in the Pitt Rivers Museum in Oxford. Some of these were included in the 1997 book Tibet: Caught in Time.
His English-Tibetan colloquial dictionary was first published in 1905 together with a grammar of colloquial Tibetan as Manual of Colloquial Tibetan.
Peter Fleming
mentions Bell in the introduction to the book
Seven Years in Tibet by Heinrich Harrer
, Flamingo imprint 1997, specifically his surprisingly close relationship to the 13th Dalai Lama even though he was a foreigner.
References
1. Alex McKay (2001). "'Kicking the Buddha's Head': India, Tibet and Footballing Colonialism". In Dimeo, Paul; Mills, James (eds.). Soccer in South Asia: Empire, Nation, Diaspora. p. 91.
2. Portrait of Sir Charles Bell CMG KCIE, National Museums Liverpool.
3. Michael and Barbara Foster (1987), Forbidden Journey: the life of Alexandra David-Neel, Harper & Row, ISBN 9780062503459
Works
• Manual of Colloquial Tibetan. Calcutta: Baptist Mission Press, 1905. (Part II, English-Tibetan vocabulary; later editions 1919 and 1939)
• Portrait of a Dalai Lama: the Life and Times of the Great Thirteenth by Charles Alfred Bell, Sir Charles Bell, Publisher: Wisdom Publications (MA), January 1987, ISBN 978-0-86171-055-3 (first published as Portrait of the Dalai Lama: London: Collins, 1946).
• Tibet: Past and Present. Oxford: Clarendon Press, 1924
• The People of Tibet. Oxford: Clarendon Press, 1928
• The Religion of Tibet. Oxford: Clarendon Press, 1931
• Tibet: Caught in Time. Reading: Garnet, 1997. Contains photographs by Charles Bell and John Claude White
External links
• the Tibet Album, British photography in Central Tibet 1920 - 1950
• List of illustrations from 'The People of Tibet', Sir Charles Bell, Oxford: Clarendon Press, 1928
• Photo