Norbu Dhondup [Rai Bahadur]
by Wikipedia
Accessed: 1/23/20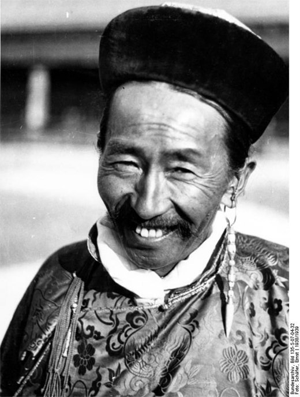 Norbu Dhondup
Birth: 1884, Kalimpong
Death: 1944
activities: Politician, diplomat
Rai Bahadur Norbu Dhondup, ( Tibetan : ནོར་བུ་ དོན་ འགྲུབ , Wylie : nor bu don 'grub ) (also called Norbhu Dondup, Norbu Döndrub or Norbu Thondup born in 1884, died in 1944) is a Tibetan interpreter and diplomat then British agent. He was one of the interpreters of the British expedition led by
Francis Younghusband
in 1903-1904. In 1937 and 1939 he was acting director of the British mission in Lhasa.
Biography
Rai Bahadur Norbu Sherpa Döndrub was born in 1884 to a Tibetan family in Kalimpong in North India, then in the British Empire.
He studied at Darjeeling High School in Darjeeling 1. He was interpreter of the British military expedition to Tibet in 1903. He was then secretary to the political officer of Sikkim, Bhutan and Tibet, based in Gangtok.
After the death of the 13th Dalai Lama, following the sending of a mission of condolence by China in Lhasa in 1934, the British government of India sent Norbu Döndrub in Lhasa that year 2.
In 1936 he became a British commercial agent in Yatung. In 1937 and again in 1939, he was appointed head of the British mission at Lhasa 3 , and remained there until his retirement in 1942.
He was honored by the Order of the British Empire, an order of British merit.
In 1937 the regent Réting Rinpoche awarded him a gold medal for the services he rendered to communication between Tibet and British India 4.
Distinction
Norbu Dhondup is appointed Commander of the Order of the British Empire (OBE CBE)
5.
Notes and references
1. ( McKay 1997, p. 226) read page 226 online
2. ( Barraux 1993 , p. 307)
3. ( McKay 1997, p. 126-128 and 230)
4. Wolfgang Bertsch, Medals from Tibet. Numismatic Digest. Indian Institute of Research in Numismatic Studies Publications, vol. 27-28, Anjaneri, 2003-2004, S. 187-196.
5. ( McKay 1997, p. 226) read page 226 online
Bibliography
• (in) Alex McKay, Tibet and the British Raj. The Frontier Cadre 1904-1947, London, Curzon Press,1997 (ISBN 9780700706273, OCLC 470609350)
• Roland Barraux (pref. Dagpo Rinpoche ), History of the Dalai Lamas - Fourteen reflections on the Lake of Visions , Albin Michel, coll. "Living spiritualities. Buddhism Series",1993, 396 p. ( ISBN 2-226-06514-8 , ISSN 0755-1746 , record BNF no FRBNF35593050 )(reissued in 2002, Albin Michel ( ISBN 2226133178 ) (Form BNF no FRBNF38831615 )