Keshub Chandra Sen [Keshab Chunder Sen]
by Wikipedia
Accessed: 2/12/20
NOTICE: THIS WORK MAY BE PROTECTED BY COPYRIGHT
YOU ARE REQUIRED TO READ

THE COPYRIGHT NOTICE AT THIS LINK

BEFORE YOU READ THE FOLLOWING WORK, THAT IS AVAILABLE SOLELY FOR PRIVATE STUDY, SCHOLARSHIP OR RESEARCH PURSUANT TO 17 U.S.C. SECTION 107 AND 108. IN THE EVENT THAT THE LIBRARY DETERMINES THAT UNLAWFUL COPYING OF THIS WORK HAS OCCURRED, THE LIBRARY HAS THE RIGHT TO BLOCK THE I.P. ADDRESS AT WHICH THE UNLAWFUL COPYING APPEARED TO HAVE OCCURRED. THANK YOU FOR RESPECTING THE RIGHTS OF COPYRIGHT OWNERS.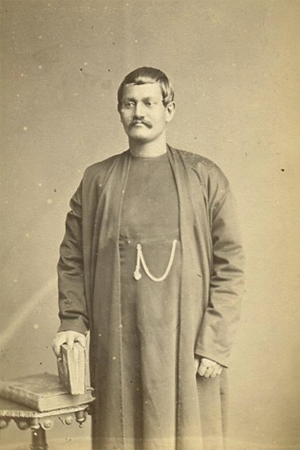 Keshub Chandra Sen
Born: 19 November 1838, Calcutta, British India (now Kolkata, West Bengal, India)
Died: 8 January 1884 (aged 45), Calcutta, Bengal Presidency, British India
Nationality: Indian
Alma mater: Hindu College
Occupation: Philosopher, social reformer, religious preacher
Keshub Chandra Sen (Bengali: কেশবচন্দ্র সেন, Keshob Chôndro Sen; also spelled Keshab Chunder Sen; 19 November 1838 – 8 January 1884) was an
Indian Bengali philosopher and social reformer. Born a Hindu, he became a member of the Brahmo Samaj in 1856[1] but established his own breakaway "Bharatvarshiya Brahmo Samaj" in 1866[2] while the Brahmo Samaj remained under the leadership of Debendranath Tagore (who headed the Brahmo Samaj till his death in 1905).[3] In 1878 his followers abandoned him after the underage child marriage of his daughter which exposed his campaign against child marriage as hollow.[4] Later in his life he came under the influence of Ramakrishna and founded a syncretic "New Dispensation" inspired by Christianity, and Vaishnav bhakti, and Hindu practices.
Vaishnavism is one of the major Hindu denominations along with Shaivism, Shaktism, and Smartism. It is also called Vishnuism, its followers are called Vaishnavas or Vaishnavites, and

it considers Vishnu as the Supreme Lord.

[1][2]

The tradition is notable for its avatar doctrine, wherein

Vishnu is revered in one of many distinct incarnations. Rama, Krishna, Narayana, Kalki, Hari, Vithoba, Kesava, Madhava, Govinda, Srinathji and Jagannath are among the popular names used for the same supreme being.

[3][4][5] The tradition has traceable roots to the 1st millennium BCE, as

Bhagavatism, also called Krishnaism.[6] Later developments led by Ramananda created a Rama-oriented movement, now the largest monastic group in Asia.

[7][8] The Vaishnava tradition has many sampradayas (denominations, sub-schools) ranging from the medieval era Dvaita school of Madhvacharya to Vishishtadvaita school of Ramanuja.[9][10]

-- Vaishnavism, by Wikipedia
Early life and education
Keshub Chandra Sen was born on 19 November 1838 into an affluent Kayastha family of Calcutta (now Kolkata). His family originally belonged to Gariffa village on the banks of the river Hooghly.
His grandfather was Ramkamal Sen (1783–1844), a well known pro-sati Hindu activist and lifelong opponent of Ram Mohan Roy
[5] His father Peary Mohan Sen died when he was ten, and Sen was brought up by his uncle. As a boy, he attended the Bengali Pathshala elementary school and later attended Hindu College in 1845.[6]
Sati or suttee is a largely historical practice found chiefly among Hindus in the northern and pre-modern regions of South Asia, in which a widow sacrifices herself by sitting atop her deceased husband's funeral pyre.

-- Sati (practice), by Wikipedia
Career
In 1855 he founded an evening school for the children of working men, which continued through 1858.
In 1855, he became Secretary to the Goodwill Fraternity,[7] a Masonic [8] lodge associated with the Unitarian Rev. Charles Dall and a Christian missionary Rev. James Long who also helped Sen establish a "British Indian Association" in the same year.[9] Around this time he began to be attracted to the ideas of the Brahmo Samaj.[6]

Keshub Sen was also briefly appointed as Secretary of the Asiatic Society in 1854.
For a short time thereafter Sen was also a clerk in the Bank of Bengal, but resigned his post to devote himself exclusively to literature and philosophy.[10] On this, Professor Oman who knew him well writes, "Endowed with an emotional temperament, earnest piety, a gift of ready speech and a strong leaven of vanity, Keshub Chunder Sen found the sober, monotonous duties of a bank clerk intolerable, and very soon sought a more congenial field for the exercise of his abilities," and he formally joined the
Brahma Samaj
in 1859.[11]
Brahmo Samaj
In 1857 Sen again took employment in clerkship, this time as private secretary to Dwijendranath Tagore and joined the Brahmo Samaj. In 1859, Sen dedicated himself to the organisational work of the Brahmo Samaj and in 1862 was assigned, by Hemendranath Tagore, a stipendary ministry (Acharya) of one of its worship houses despite being a non-Brahmin
(previously a Shudra untouchable had been made an Acharya by Debendranath Tagore).[12]
In 1858, left his home in Coolootola and took refuge in the Jorasanko House of the Tagore family when the patriarch of the family was then away.
In 1862 Sen helped found the Albert College and wrote articles for the Indian Mirror, a weekly journal of the Calcutta Brahmo Samaj in which social and moral subjects were debated.[10]

In 1863 he wrote The Brahma Samaj Vindicated. He strongly criticised Christianity and travelled about the country lecturing and preaching that the Brahmo Samaj was intended to revitalise Hindu religion through use of ancient Hindu sources and the authority of the Vedas.[10] By 1865, however, Sen was convinced that only Christian doctrine could bring new life to Hindu society.[13]

In November 1865 he was caused to leave the Brahma Samaj after "an open break with its founder Debendranath Tagore" over Christian practices in Brahmoism, and the next year (1866) with encouragement of the Unitarian preacher Charles Dall he joined another new organisation, Bharat Barshiya Brahmo Samaj, as its Secretary (President being "God"). Tagore's Brahmo Samaj then quickly purged itself of Sen's Christian teaching, and encouraged being described as Adi Brahmo Samaj to distinguish it from Sen's deliberately eponymous version.[14]
Christianity
In 1866 Sen delivered an address on "Jesus Christ, Europe and Asia", in which he proclaimed that "India would be for Christ alone who already stalks the land", and which fostered the impression that he was about to embrace Christianity.[15][14]

Professor Oman writes "From the time of his secession from the parent Society, Keshub by his writings and public lectures enlisted the sympathies of the Viceroy, Sir John Lawrence, who took a deep interest in the work of the native reformer, particularly as Keshub had spoken publicly of Christ in terms which seemed to justify the belief that he was Christian in all but open profession of the faith."[16]
This drew attention to him and in 1870 he journeyed to England where he remained for six months.[15] The reception in England disappointed him,[15] as he records much later in a letter to
Max Müller
The British public ought to know how the most advanced type of Hinduism in India is trying to absorb and assimilate the Christianity of Christ, and how it is establishing and spreading, under the name of the New Dispensation, a new Hinduism, which combines Yoga and Bhakti, and also a new Christianity, which blends together Apostolical faith and modern civilisation and science. It is this christianity.
Love for Sovereign
In 1870 Keshub introduced a new doctrine into his Church "Love for the Sovereign". Perceiving Christianity as a model tradition from which the Indians could learn, Keshub became convinced that the British presence in India served a divine purpose for the Indian people. At his historic 1870 meeting with the queen he expressed his acceptance of British rule which pleased the British. This theological stand against Indian nationalism (then being propounded by the Brahmos under Hemendranath Tagore's new doctrine of "Brahmos embrace the co-existence of Brahmo principles with governance, but oppose all governance in conflict with Brahmo principles.") made Keshub the target of tremendous criticism at home.[17]
Discord within the Brahmo Samaj of India
The passage of the Special Marriages Act in 1872, caused great resentment among Brahmos that Sen had caused an inherent break with the Brahmo Dharma compiled by Maharshi Debendranath and forever associated with Tagore's Adi Brahmo Samaj. A powerful section of "the Brahmo Samaj within the Brahmo Samaj of India" and with reformist views more advanced than Keshub's, especially on women's education and upliftment, now openly complained that they were left with no religious status whatsoever other than to turn to Christ like their leader, which was distasteful to them or return to Brahmo Dharma's fold in disgrace. In 1873 Sen was caused to trenchantly counter this faction by the following speech:
Whither is the spirit of God leading India? Towards the Brahmo Samaj? I say, No. To deny Heaven that is leading us onwards to his Holy Church would argue blind infidelity. You dare not deny that India is marching towards the Kingdom of Heaven. But the Brahmo Samaj, as it is, is not God's Holy Church; as it has no semblance whatever of the Kingdom of Heaven. Verily, verily, this Brahmo Samaj is a ridiculous caricature of the Church of God.

[18]
Annette Akroyd and the female emancipation controversy
Around 1875 Sen was involved in a public controversy with Annette Akroyd a prominent feminist and social reformer who had sailed to India in October 1872. Akroyd was shocked by her discussions with Sen and felt that Sen, the rhetorician of women's education in England was a typical Hindu obscurantist back home in India, trying to keep knowledge from the minds of women. This dispute spilled into the native press and had its impact on the Bethune School. Akroyd was also dismayed with Sen's associates such as Bijoy Krishna Goswami, Aghore Nath Gupta and Gour Govinda Ray who were traditionally Hindu in educational background and resisting the education of women in British India.
Mr. Sen had a strong prejudice against university education, in fact, against what is generally regarded as high education, of women. He objected to teaching them, for instance, such subjects as Mathematics, Philosophy and Science, whereas the advanced party positively wanted to give their daughters and sisters what is generally regarded as high education. They did not object to their university education and were not disposed to make much difference in point of education between men and women. There was no hope of compromise between two such extreme schools of thought, Accordingly, the radical party proceeded to start a separate female school of their own, called the Hindu Mahila Vidyalaya for the education of the adult young ladies belonging to their party. The successful manner in which they carried on the work of this school under Miss Akroyd, subsequently Mrs. Beveridge, attracted much public notice and was highly praised by the officers of Government. This school did excellent work for many years and was subsequently conducted under the name of the Banga Mahila Vidyalaya and was at last amalgamated with the Bethune College for ladies, to which it furnished some of its most distinguished students.[19]
Mysticism controversies
He developed a tendency towards mysticism and a greater leaning to the spiritual teaching of the Indian philosophies. He gave his daughter, Suniti Devi in marriage to Maharaja Nripendra Narayan of Cooch Behar; he revived the performance of mystical plays, and himself took part in one. These changes alienated many of his followers, who deserted his standard and founded the Sadharan Brahmo Samaj in 1878.
[15]
Sen did what he could to reinvigorate his followers with new ideas and phrases, such as "The New Dispensation", the "Holy Spirit". He also instituted a sacramental meal of rice and water similar to the Sikh system of Amrit (nectar) initiation for new converts.[15]
He also attempted a wider appeal to Indians with a more mystical approach.
The Ethnographer General writes:-
From about this period, or a little before, Keshub Chandar Sen appears to have attempted to make a wider appeal to Indians by developing the emotional side of his religion. And

he gradually relapsed from a pure unitarian theism into what was practically Hindu pantheism and the mysticism of the Yogis. At the same time he came to consider himself an inspired prophet, and proclaimed himself as such."

[20]
One example of his new doctrines were described by Professor Oman:
In 1873 he brought forward the doctrine of Adesh or special inspiration, declaring emphatically that inspiration is not only possible, but a veritable fact in the lives of many devout souls in this age. The following years witnessed a marked development of that essentially Asiatic and perhaps more especially Indian form of religious feeling, which finds its natural satisfaction in solitary ecstatic contemplation.

As a necessary consequence an order of devotees was established in 1876, divided into three main classes, which in ascending gradation were designated Shabaks, Bhaktas and Yogis. The lowest class, divided into two sections, is devoted to religious study and the practical performance of religious duties, including doing good to others."[21]
On his return to India he established
the Indian Reform Association
, which had five areas of activity: inexpensive literature, female improvement, education, temperance, and charity.
In two lectures delivered between 1881 and 1883 he shared his latest doctrines. They were "That Marvelous Mystery – the Trinity"
and "Asia's Message to Europe". The latter is an eloquent plea against the Europeanizing of Asia, as well as a protest against Western sectarianism.
During the intervals of his last illness he wrote The New Samhita, or the Sacred Laws of the Aryans of the New Dispensation.
He died on 8 January 1884. His Hindu funeral was attended by over 2000 people.[12]
Ramakrishna's influence
In 1876 the then unknown Ramakrishna Paramhansa came looking for Sen and first met him at Sadhan Kanan. Ramakrishna's poor, rough, unconventional exterior had earlier repelled other Brahmo celebrities like Debendranath Tagore whom Ramakrishna had approached;[22] and even Sen initially showed no affinity towards Ramakrishna's mysticism, and was hostile. He was won over to Ramakrishna less by his teachings than by his manner, which Keshub Sen identified with the behaviour of an authentic saint.[23] When Ramakrishna met him, Keshub had accepted Christianity, and had separated from the Brahmo Samaj. Formerly, Keshub had rejected idolatry practised by his family, but after coming under Ramakrishna's influence he again accepted Hindu polytheism and established the "New Dispensation" (Nava Vidhan) religious movement, which was based on Ramakrishna's principles—"Worship of God as Mother", "All religions as true".[24] His acceptance of idolatry created factions within his organisation. He also publicised Ramakrishna's teachings in the New Dispensation journal over a period of several years,[25] which was instrumental in bringing Ramakrishna to the attention of a wider audience, especially the Bhadralok and the Europeans residing in India.[26][27] Ramakrishna too had deep respect for Keshub. Ramakrishna said of him shortly before his death that "the rose tree is to be transplanted because the gardener wants beautiful roses of him." Afterwards he said, "Half of me has perished."[28]
Universal religion
Sen's primary quest was for a universal religion or belief-system. Sen established a syncretic school of spiritualism, called the Nabo Bidhan or 'New Dispensation', which he intended to amalgamate the best principles of Christianity and of the western spiritual tradition with Hinduism.
His opponents felt that he had rejected completely the tenets of Brahmoism settled by Rammohun Roy (as cited by J.N. Farquahar and other scholars), and in January 1881, the New Dispensation was formally announced in the Sunday Mirror of 23 October:
Our position is not that truths are to be found in all religions; but that all the established religions of the world are true.

There is a great deal of difference between the two assertions.

The glorious mission of the New Dispensation is to harmonise religions and revelations, to establish the truth of every particular dispensation

, and upon the basis of these particulars to establish the largest and broadest induction of a general and glorious proposition.[29]
Sen adopted a number of ceremonies from both Hinduism and Christianity, calling God "Mother", and adopting the homa sacrifice and the 'arati' ceremony (the waving of lights) into Brahma ritual. He found spiritual nourishment in Durga Puja, and composed a hymn of praise containing 108 names of God, along with other forms of worship that echoed traditional Hindu prayers.[29]
The Nabo Bidhan school generated considerable antagonism among Brahmo Samajists, since Sen's followers represented that they were also Brahmos. Eight Brahmos of Sylhet (now in Bangladesh) including Raj Chandra Chaudhuri and Pandit Sitanath Tattvabhushan issued the following proclamation in 1880:
Let us all, every Brahmo and Brahmo Samaj, combine to let the world know that the New Dispensation is not the Brahmo religion: That we have not the least sympathy for the creed: That the New Dispensation is totally opposed to

Brahmoism

.[30]
This proclamation of the
Sadharan Brahmo Samaj
resulted in 1881 of the formation of the Brahmo Conference Organisation to publicly denounce and expose Keshub Sen and his Nabo Bidhan movement from every platform as being "anti-Brahmo" in terms of the aforesaid proclamation.[30]
While Sen's detractors opposed and condemned him, he found appreciation in others.
Bipin Chandra Pal has succinctly summarised the evolution:
....To Keshub, however, was left the work of organising Rammohun Roy's philosophy into a real universal religion through new rituals, liturgies, sacraments and disciplines, wherein were sought to be brought together not only the theories and doctrines of the different world religions but also their outer vehicles and formularies to the extent that these were real vehicles of their religious or spiritual life, divested, however, through a process of spiritual sifting, of their imperfections and errors and superstitions.

[31]
Chittaranjan Das explained Sen's attempt to create a universal religion. Speaking in 1917 he said:
The earlier religion of his (Keshub Chunder Sen's) life was perhaps somewhat abstract. But his religion in developed form, as we find it, in his Navavidhan, is full of concrete symbols of all religions....Every Hindu is conscious of the underlying unity of this universalism. Read the devotional poems of the Vaishnavas, read the devotional poems of the Shaktas and the other sects, you will find they were identical in this character. The life and work of Keshub Chunder Sen also point to attempt after attempt at this very universalism....The result may or may not be considered satisfactory. But I refuse to judge it by the results. I rejoice in the glory of the attempt.[32]
Personal life
Keshub Chandra Sen was married to Jagonmohini Sen. The couple had ten children: five sons – Karuna Chandra Sen, Nirmal Chandra Sen, Prafulla Chandra Sen, Saral Chandra Sen,[33] and Dr. Subroto Sen; and five daughters – Suniti Devi (Maharani of Cooch Behar), Sabitri Devi, Sucharu Devi (Maharani of Mayurbhanj), Monica Devi and Sujata Devi. One of his grand-daughters, Naina Devi (1917–1993), daughter of Saral Sen, became a noted classical singer.[34] One of his grandsons, Erroll Chunder Sen (c.1899–c.1942) became a pioneer Indian aviator who served in the Royal Flying Corps and Royal Air Force during the First World War.
Sen was a friend of Rabindranath Tagore
.
References
1. Carpenter, Mary Lant (1907) Life of Keshub Chunder Sen
2. Sastri, p. 276
3. Sastri, p. 16
4. "Sadharan Brahmo Samaj". Sadharan Brahmo Samaj. Archived from the original on 25 July 2012. Retrieved 13 July 2012.
5. Sharma, H. D. Ram Mohun Roy – the Renaissance man. p. 26. ISBN 81-89297-70-8
6. Müller, Friedrich Max (1884). Biographical Essays. C. Scribners̓ Sons. pp. 51–53.
7. under the Danish Grand charter for the missionaries of Danish settlement at Serampore, lodge De L'amour Fraternelle (for Brotherly Love) whose motto then was "Fatherhood of God and Brotherhood of Man".
8.
"Grand Lodge of India". masonindia.org
. Archived from the original on 19 January 2010.
9. Sastri, p. 114
10. Chisholm 1911, p. 759.
11. Oman, p. 117.
12. Sastri
13. EB staff (6 March 2015). "Keshab Chunder Sen". Britannica Encyclopaedia.
14. EB staff 2015.
15. Chisholm 1911, p. 760.
16. Oman, p. 118.
17. Uddin, Sufia M. (2006) Constructing Bangladesh: Religion, Ethnicity, and Language in an Islamic Nation. UNC Press. p. 85 ISBN 978-0-8078-3021-5
18. Parekh, p. 69
19. Sastri, p. 258
20. Russell, R.V. (1912) Tribes and Castes. Government Ethnography publication
21. Oman, pp. 131, 139, 140
22. Parekh, p. 74
23. Rolland, Romain (1929). "Ramakrishna and the Great Shepherds of India". The Life of Ramakrishna. pp. 110–130.
24. Masih, Y. (2000). A Comparative Study of Religions. Motilal Banarsidass. pp. 198–199. ISBN 978-81-208-0815-7.
25. Mukherjee, Jayasree (May 2004). "Sri Ramakrishna's Impact on Contemporary Indian Society". Prabuddha Bharata. Retrieved 4 September 2008.
26. Muller, Max (1898). "Râmakrishna's Life". Râmakrishna his Life and Sayings. pp. 56–57.
27. Debarry, William Theodore; Ainslie Thomas Embree (1988). Sources of Indian Tradition: From the Beginning to 1800. Stephen N. Hay. Columbia University Press. p. 63. ISBN 978-0-231-06415-6.
28. Rolland, Romain (1929). "The River Re-Enters the Sea". The Life of Ramakrishna. p. 202.
29. Farquahar, John Nicol (1915) Modern Religious Movements in India. New York: The Macmillan. pp. 57–58
30. Sastri, p. 513
31. The Story of Bengal's New Era: Brahmo Samaj and Brahmananda Keshub Chunder by Bepin Chandra Pal, published in Bangabani, 1922. Reprinted in Brahmananda Keshub Chunder Sen "Testimonies in Memoriam", compiled by G. C. Banerjee, Allahabad, 1934, Bengali section p 33.
32. From a speech delivered at a meeting held at the Overtoun Hall, Kolkata in January, 1917 in memory of late Keshub Chunder Sen printed in Deshbandhu Rachanasamagra
33. See the Career Section
34. "A Tale Of Two Women: In search of their own songs". The Telegraph. 11 March 2012. Retrieved 6 June 2013.
Attribution
• This article incorporates text from a publication now in the public domain: Chisholm, Hugh, ed. (1911). "Keshub Chunder Sen". Encyclopædia Britannica. 15 (11th ed.). Cambridge University Press. p. 759–760.
Cited sources
• Oman, John Campbell (1906). Brahmans, Theists and Moslems of India. London: T.F. Unwin.
• Parekh, Manilal C. (1926). Brahmarshi Keshub Chunder Sen. Oriental Christ House.
• Sastri, Sivanath (1912). History of Brahmo Samaj. Calcutta.
External links
• Quotations from Wikiquote
• Texts from Wikisource
• Data from Wikidata
Library resources about
• Online books
• Resources in your library
• Resources in other libraries
By Keshub Chandra Sen
• Online books
• Resources in your library
• Resources in other libraries
• Works by or about Keshub Chandra Sen at Internet Archive
• "Sen, Keshab Chandra". Banglapedia. Retrieved 20 May 2019.
****************************
Keshub Chandra Sen (1838-1884)
by
http://www.thebrahmosamaj.net
Accessed: 2/17/20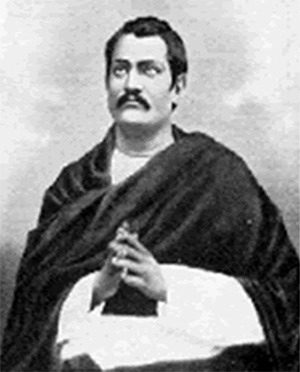 Early Life
Keshub Chandra Sen was the son of Peary Mohan Sen and the grandson of Dewan Ram Kamal Sen. He was born into a deeply religious Vaishnava family and from his childhood he was surrounded by religious influences.
From an early part of his life he showed an aptitude for influencing other people's minds and at the age of 17,
in 1855 he established "The British India Society" where Rev. James Long and Rev. [Charles] Dall - the Unitarian missionary took part.
The society opened an evening school at the house of Sen Keshub Chandra Sen and his wife. At this age there was an incident during a college examination which left a deep mark on him. He married in 1856 and in his lecture "Am I an Inspired Prophet?" he writes "I entered the world with ascetic ideas; and my honeymoon was spent amid austerities in the house of the Lord".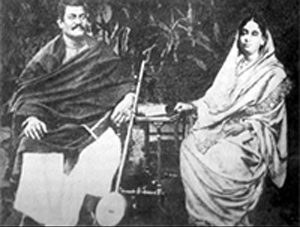 Keshub Chandra Sen and his wife
Joining Brahmo Samaj
He joined the Brahmo Samaj in 1857 by privately signing the Brahmo covenant and took to studying mental and moral philosophy. He developed prayer as means of spiritual illumination and sustenance. He studied the writings of Theodor Parker and developed a society called "Goodwill Fraternity" in his house and developed lectures on moral and religious subjects.
Debendranath Tagore gave Keshub a warm welcome and an attachment sprang up between them the like of which has seldom been seen. Hundreds began to flock into the services of the Samaj to hear them speak and the songs composed by Satyendranath, the second son of Maharshi was the talk of the town. This can be regarded as the second great revival of the Brahmo Samaj.
In 1859 he set up the Brahmo School where weekly lectures were delivered and was greatly popular with the rising generation. In 1860 he began publishing tracts which was the trumpet call of the new Brahmoism and the first chapter was called,"Young Bengal, this is for you".
Sangat Sabha
During this time in 1860, the Sangat Sabha was established - which was a society of fellow believers to promote mutual spiritual intercourse amongst its members. This sabha sowed the seeds of new Brahmoism. Keshub broke away from the mere intellectual assent and imbibed a new inspiration from the Western sources. A careful study of the Bible, works of Theodor Parker and Prof. Newman brought about the Christian spirit of repentance and prayer.
Brahmananda
On 13th April, 1862, Debendranath elevated Keshub Chandra Sen to the post of Minister or Acharya of the Samaj. After the divine service he presented him with a Brahmo Dharma and a formal appointment letter and conferred upon him the title of Brahmananda - meaning one whose delight is God. However this was not looked upon well by the older members of the Samaj and some of them ceased to attend the services. On 26th July 1861, the eldest daughter of Debendranath, Sukumari was married according to the reformed rites of the Brahmo Samaj. Debendranath followed the ritual of the orthodox Hindu marriages but excluded the idolatrous bits. This was hailed as a great step towards social reform.
The Schism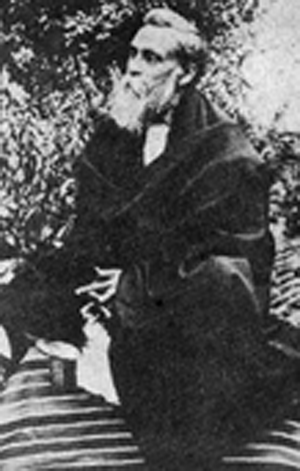 P.C. Moozomdar
The flames of the conflict between the young and the old were heightened furtherP C Mozoomdar with the young protesting against the custom of allowing sacred thread - bearing Brahmins to occupy its pulpits. This led to Debendranath removing them from all office and power of the Samaj. To counter the Tattwabodhini Patrika, the young started the Dharmatattwa. He started the 'Indian Mirror' as a fortnightly in 1861 and made it into a daily in 1871. In 1862 Keshub undertook the ministry of one of its branches. In the same year he helped to found the Albert College and started the Indian Mirror, a weekly journal in which social and moral subjects were discussed. In 1863 he wrote The Brahma Samaj Vindicated. He also travelled about the country lecturing and preaching. In 1865 Keshub delivered a lecture on Struggle for Religious Independence where he condemned the high - handed feelings of the Calcutta (Adi) Brahmo Samaj and a representation was sent to Debendranath signed by Keshub, P C Mozoomdar and others. On 11th November 1866 a meeting was held in the house of the Calcutta College and the Brahmo Samaj of India was formally established. At this time there were 54 Samajes in India, 50 in Bengal, 2 in North Western Province, one in Punjab and the other in Madras. After the schism, the Adi Brahmo Samaj quietly retreated to its position of Hindu monotheism - and Debendranath remained silent and never replied to any of the accusations. He also retired from active work of the Samaj and spent most of his time travelling and occasionally visiting Calcutta.
The tenets of the Brahmo Samaj of India at ths time were the following: (1) The wide universe is the temple of God. (2) Wisdom is the pure land of pilgrimage. (3) Truth is the everlasting scripture. (4) Faith is the root of all religions. (5) Love is the true spiritual culture. (6) The destruction of selfishness is the true asceticism. In 1866 he delivered an address on - Jesus Christ, Europe and Asia, which led to the false impression that he was about to embrace Christianity.
New Dispensation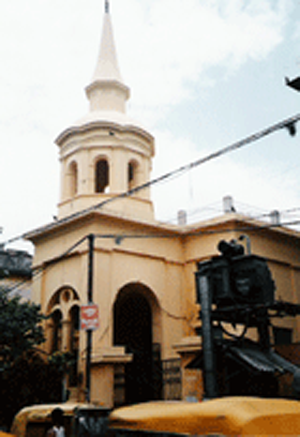 Brahmo Samaj of India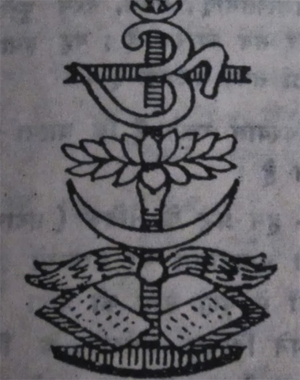 On 24th January 1868, Keshub laid the foundation stone of his new church, theBrahmo Samaj of India Tabernacle of New Dispensation and the newly constructed chapel was consecrated on 22nd August 1869. Navavidhan SymbolHe declared, "we believe in the Church Universal, which is the respiratory of all ancient wisdom and the receptacle of all modern science, which recognise in all prophets and saints a harmony, in all scriptures a unity and though all dispensations a continuity, which abjures all that separates and divides and always magnifies unity and peace, which harmonises reason, faith and Bhakti, asceticism and social duty in their highest forms and which shall make of all nations and sects one kingdom and one family in the fullness of time." In the anniversary festival of 1879, Keshub announced the birth of the New Dispensation. He introduced into the church the Pilgrimage to saints, the Homa ceremony, the Baptismal ceremony, the Lord's supper, the Flag ceremony, the Arati, the vow of Poverty, the Savitri Vrata, the Nightingale Vrata, and other innovations. He mentions that this New Dispensation is "...a Divine message sent to India... It comes not to destroy but to fulfil the law and the prophets." His most important contribution is the habit of daily devotion. He felt the necessity of daily domestic devotion and laid down the essential condition of domestic life in his Nava Samhita In 1869, universalism was further strengthened by publishing of four books - Gour Govinda Roys' work on the Gita, P C Mozoomdar's book The Oriental Christ, Aghor Nath Gupta's study on Buddha and Girish Chandra Sen's Tapasmala - life of Muslim saints and his Bengali translation of Koran and Hadis. There was also a Pilgrimage to the Saints - special service held in the memory of great men like Moses, Socrates, Sakya, The Rishis, Christ, Muhammad, Chaitanya, Scientific men.
Visit to England
1870 he paid a visit to England. The Hindu preacher was warmly welcomed by almost all denominations, particularly by the Unitarians, with whose creed the new Brahma Samaj had most in common, and it was the committee of the British and Foreign Unitarian Association that organised the welcome soire at Hanover Square Rooms on the 12th of April. Ministers of ten different denominations were on the platform, and among those who officially bade him welcome were Lord Lawrence and Dean Stanley. He remained for six months in England, visiting most of the chief towns. His eloquence, delivery and command of the language won universal admiration. His own impression of England was somewhat disappointing. Christianity in England appeared to him too sectarian and narrow, too muscular and hard, and Christian life in England more materialistic and outward than spiritual and inward. He said, "I came here an Indian, I go back a confirmed Indian; I came here a Theist, I go back a confirmed Theist. I have learnt to love my own country more and more". These words spoken at the farewell soire may furnish the key to the change in him which so greatly puzzled many of his English friends.
Cooch Behar Marriage and the schism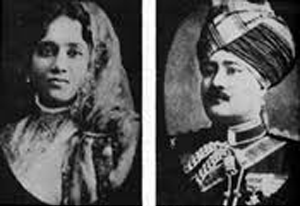 Maharani & Raja of Cooch Behar
Rani Suniti Devi & Raja of Cooch BeharIn 1877 there was a strong rumour that Keshub was giving his eldest daughter, Suniti, in marriage to the young Maharaja of Cooch Behar. The main reason for the controversy was Suniti was not yet 14, the minimum age according to Marriage Act, 1872 and the Raja a lad of fifteen. By 1878 the information received by the Brahmos was 1) The marriage was to take place immediately prior to departure of the prince to England, 2)It will be celebrated according to the Cooch Behar rituals with idolatrous portions expunged 3)Keshub's brother Krishna Behari Sen was to give away the bride as Keshub having lost caste would be excluded from the function and 4) Cooch Behar priests will be officiating the service and no Brahmo service or Brahmo ministers will have anything to do with the ceremony. 23 Brahmos signed a letter of protest but Keshub did not even read the letter far less reply to it. As per the official records of Cooch Behar, "The rites observed were Hindu in all esential features though in deference to the religious principles of the bride's father, idolatrous mantras were ommitted and the presence of an idol was dispensed with. Care was, however taken to retain whatever the Brahmins considered essential to the validity of the marriage". The constitutionalists had organised themselves in to a party called Samadarshi or Liberal in 1874 and started a paper called Samadarshi to voice their opinion. A lot of Brahmos and provincial Samajes voiced their concerns and as a result of the meeting held in the Town Hall on 15th May 1878, the Sadharan Brahmo Samaj was born.
David Kopf mentions in his book, "The indictment of Keshub for having married off his eldest daughter in violation of every Brahmo precept has generally been accepted in historical surveys, which treat the marriage as a disaster from every point of view and ignore the aftermath of the event." A fact that is often overlooked is that the marriage was not consummated until 1880 when Prince Nripendra Narayan and Suniti Devi were 18 and 16 respectively. It was an experiment under the guidance of the British officials (who arranged the marriage in the first place) opening the remote kingdom to the enlightening influences from Calcutta. Kopf writes "...Thus whether the marriage was not performed strictly according to Brahmo rites seems insignificant from a historical perspective than the question about the subsequent career of the Maharaja,Brajendranath Seal whom Keshub sought to inspire as a Brahmo. The answer in large part can be found in the qualitative difference between the town of Cooch Behar before the accession of Nripendra Narayan to the throne in 1882, and the town Brajendranath Seal came to live in 1896 when he was hired at Victoria College. In those fourteen years alone, through increasing the annual revenue of state by 300,000 rupees, the king regularised the administration, established the first railway link to Bengal, improved communication throughout the kingdom with the construction of innumerable roads and bridges, created for the first time a city with a planned sanitation and drainage system, constructed the earliest buildings in the country dedicated to the principles of modern justice and administration, started a 1arge fully equipped hospital in the capital and public dispensaries in the countryside, and founded Cooch Behar's first public library, public parks and gardens, a girls' school, college, and a public marketplace. He also abolished polygamy in the royal family and capital punishment throughout the kingdom".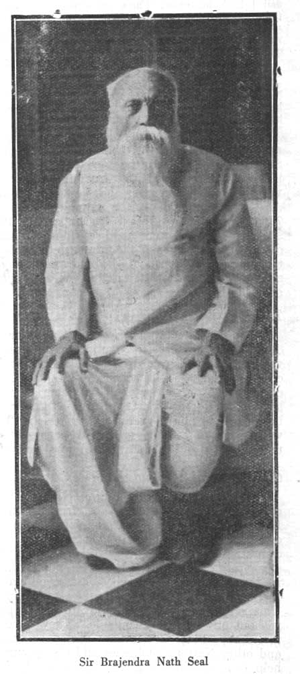 Brajendranath Seal
"Moreover, some years before Brajendranath's arrival in Cooch Behar, the king and his wife constructed the largest Brahmo Mandir in South Asia, primarily with government funds, and they provided an annual grant of 5,000 rupees to help maintain it. In 1888, the king declared Brahmoism of the New Dispensation as the state religion, and though it had no practical effect in spreading the faith beyond the small community of Bengali elite, it did suggest that the promise of the young man to Keshub was fulfilled. Not well known, either, is that Maharaja Nripendra Narayan, whom the critics of Keshub had looked upon as a jungly Hindu raja, left three wishes behind him shortly before his death at forty-nine years of age. The king asked first that he be cremated according to the New Dispensation Brahmo rites; second, that his ashes be put in the same garden in Cooch Behar where he had first learned to read and write; and third, he provided that "his casket be placed in a monument of stone similar to the one which had been placed over the ashes of the late Keshub Chandra Sen."
Relation with Ramakrishna Paramhansa
Ramakrishna ParamhansaAfter the Cooch Behar marriage Keshub took an important line of departure by entering upon a system of spiritual interpretation o fthe idol deity and her attendants. He also started visting the mystic saint Ramakrishna and it was Keshub and his party who were instrumental in bringing him to public notice. Ramakrishna was present in many Brahmo gatherings. David Kopf gives three reasons for this attraction which deserve attention. First, Ramakrishna was not susceptible to formal education, English or indigenous; this separated him from other Brahmos of whatever ideological bent. Secondly, Ramakrishna's Tantric way of sublimating the sensual drive for women into a spiritual drive for the Divine Mother appealed to Keshub Chandra. Third, Ramakrishna claimed to have experienced direct, intuitive contact with all major religious leaders in history. "In this sense, the Hindu Ramakrishna was perhaps more universalist and Brahmo than most of the Brahmo ascetics, who were narrowly Vaishnava." These three aspects of Ramakrishna's career as a mystic were probably strong influences on Keshub from March 1875 onwards, when the two men presumably first met at the Kali temple at Dakshineshwar. Keshub was intrigued by the religious experiments performed by Ramakrishna, and wished to adapt them to his own use, especially those elements of the Sakto tradition in Bengal that emphasised the motherhood of God. The idea of differentiating the good and bad features within Saktism, and incorporating the good into Brahmoism, probably came to Keshub after his acquaintance with Ramakrishna. For, in the early 1860s, Ramakrishna had already performed experiments to purify Saktism and Tantrism.
Contribution to Brahmoism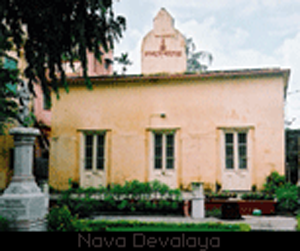 Nava Devalaya
There were many important contribution to the Brahmo movement by Keshub Chandra Sen. These can be briefly stated as follows. The first noteworthy contribution is the enunciation and accentuation of the doctrine of God in conscience. The second great Nava Devalayacontribution was bringing of man's social life within the domain of his religious duty. The third was imbibing into the spiritual life of the Brahmo Samaj - the spirit of repentance and prayer. Next was his infusion of the bhakti or devitional fervour into the movement. Another was his sense of universalism of theism - he found that all the religious teachers were bound together by a common bond. Next was his faith in the Divine mission of the Brahmo Samaj. Another important contribution was the emphasis of the principle laid down by Rammohun Roy - service of man was the service of God.
In 1883 soon after his arrival from Simla, with failing health, Keshub caused the foundation of his Nava Devalaya (his domestic chapel). The work was completed on 1st January 1884 and he was carried on the shoulders from his death bed to take part in the consecration ceremony.