Aghore Nath Gupta
by Wikipedia
Accessed: 2/12/20
NOTICE: THIS WORK MAY BE PROTECTED BY COPYRIGHT
YOU ARE REQUIRED TO READ

THE COPYRIGHT NOTICE AT THIS LINK

BEFORE YOU READ THE FOLLOWING WORK, THAT IS AVAILABLE SOLELY FOR PRIVATE STUDY, SCHOLARSHIP OR RESEARCH PURSUANT TO 17 U.S.C. SECTION 107 AND 108. IN THE EVENT THAT THE LIBRARY DETERMINES THAT UNLAWFUL COPYING OF THIS WORK HAS OCCURRED, THE LIBRARY HAS THE RIGHT TO BLOCK THE I.P. ADDRESS AT WHICH THE UNLAWFUL COPYING APPEARED TO HAVE OCCURRED. THANK YOU FOR RESPECTING THE RIGHTS OF COPYRIGHT OWNERS.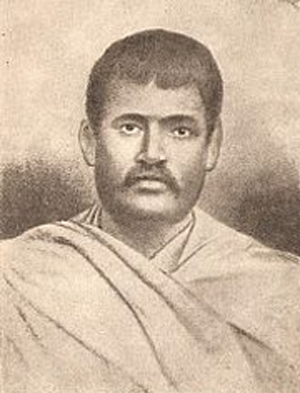 Aghore Nath Gupta
Born: 1841, Shantipur
Died: 9 December 1881, Lucknow
Occupation: Brahmo missionary, scholar on Buddhism
Aghore Nath Gupta (Bengali: অঘোরনাথ গুপ্ত) (1841–1881) was
a scholar of Buddhism and a preacher of the Brahmo Samaj.[1]
He was designated Sadhu (saint) after his premature death in recognition of his pious life.[2] Sivanath Sastri wrote about him, "His unfeigned humility, deep spirituality and earnest devotion were a new revelation to the members of the Samaj."[3]
Formative years
The son of Jadab Chandra Roy Kabibhusan, he was born at Shantipur in Nadia. He lost his father at the age of twelve and had his early education in the traditional centres of education, the tols and pathasalas. When he
went to Kolkata to study in Sanskrit College
, he came under the influence of
Debendranath Tagore
and
Keshub Chunder Sen
and joined the
Brahmo movement
.[1]
Initiated into the Brahmo movement by his fellow-villager Bijoy Krishna Goswami, he was amongst the first apostles of the Brahmo Samaj
, who took up its banner in the midst of bitter persecution and great privations.[4]
A strict vegetarian in his personal life, he devoted much of his time to prayers.
Aghore Nath married a child widow
of a different caste in 1863.[1]
Missionary work
Braja Sundar Mitra had bought a house in Armeniatola in Dhaka in 1857 and started a Brahmo Samaj there.[5] He started a Brahmo School there in 1863. Aghore Nath joined the school as a missionary teacher and stayed there for about ten months. Amongst those who were influenced by him to join the Brahmo Samaj were Banga Chandra Roy and Bhuban Mohan Sen. It was during this period that the two brothers Kali Mohan Das and Durga Mohan Das visited Dhaka and created a stir with their speeches.
Keshub Chunder Sen
visited Dhaka in 1865 and with the growing influence of the Brahmo Samaj, persecution increased manifold.[6]
In his earlier days, Aghore Nath was a missionary of the
Adi Samaj
. On 11 November 1866, when in a meeting in the premises of Calcutta College on Chitpore Road, Keshub Chunder Sen moved a resolution for the formation of Brahmo Samaj of India, it was seconded by Aghore Nath.[7] With renewed activity he went to Barisal in 1867, where Durga Mohan Das was the centre of a reformatory movement. From there he proceeded on a missionary tour of Tipperah and Chittagong.[8]
Later, he went to Munger, where subsequently Keshub Chunder Sen launched a major bhakti (devotional) movement.[9]
He was the first Brahmo missionary to venture into Assam (in 1870) [10] and had worked in Odisha [11] and Punjab.[12]
With the second schism of the Brahmo Samaj in 1878 and the formation of the Navavidhan or the New Dispensation in 1869,
Aghore Nath was ordained as an apostle of the New Dispensation for the Punjab in 1881
.[13]
However he died the same year under rather tragic circumstances. He had travelled to Punjab on a mission tour but had to give up because of failing health. Afflicted with diabetes, then a killer disease, he went to Lucknow, where his elder brother took care of him until he died.[14]
Erudition
In 1869, Keshub Chunder Sen selected from his missionaries four persons and ordained them as adhypaks or scholars of the four major religions of the world. Gour Govinda Ray was made the scholar of Hinduism, Protap Chunder Mozoomdar, the scholar of Christianity, Aghore Nath Gupta, the scholar of Buddhism and Girish Chandra Sen, the scholar of Islam. Subsequently, Trailokyanath Sanyal was also ordained as an adhyapak of music.
[15]
In order to go to the depths of Buddhism he learnt Pali, Sanskrit and European languages. He studied the Buddhist scriptures in the original. His greatest contribution was Sakyamunicharit O Nirbantattya, a book on Buddhism produced after strenuous research into the original text and commentaries in Pali, Sanskrit and European languages. It was the first book on Buddhism in Bengali. He assisted Keshub Chunder Sen in editing Slokasangraha. He wrote extensively in the Dharmatattwa and Sulava Samachar.[1]
Works
Sakyamunicharit O Nirbantattya, Dhruva O Prahlad, Debarshi Narader Nabajibon Labh, Dharmasopan, and Upadeshabali.[1]
References
1. Sengupta, Subodh Chandra and Bose, Anjali, Sansad Bangali Charitabhidhan (Biographical dictionary) (in Bengali), p3, Sahitya Samsad, ISBN 81-85626-65-0
2. Sastri, Sivanath, History of the Brahmo Samaj, 1911-12/1993, p248, Sadharan Brahmo Samaj.
3. Sastri, Sivanath, p414.
4. Sastri, Sivanath, pp87-88
5. Sastri, Sivanath, p394
6. Sastri, Sivanath, p396
7. Sastri, Sivanath, pp113-114
8. Sastri, Sivanath, pp134-135
9. Sastri, Sivanath, p143
10. Sastri, Sivanath, p518
11. Sastri, Sivanath, p521
12. Sastri, Sivanath, p447
13. Ghosh, Nirvarpriya, The Evolution of Navavidhan, 1930, p141, Navavidhan Press.
14. Sastri, Sivanath, p248
15. Sastri, Sivanath, p208