Ishwar Chandra Vidyasagar
by Wikipedia
Accessed: 2/12/20
NOTICE: THIS WORK MAY BE PROTECTED BY COPYRIGHT
YOU ARE REQUIRED TO READ

THE COPYRIGHT NOTICE AT THIS LINK

BEFORE YOU READ THE FOLLOWING WORK, THAT IS AVAILABLE SOLELY FOR PRIVATE STUDY, SCHOLARSHIP OR RESEARCH PURSUANT TO 17 U.S.C. SECTION 107 AND 108. IN THE EVENT THAT THE LIBRARY DETERMINES THAT UNLAWFUL COPYING OF THIS WORK HAS OCCURRED, THE LIBRARY HAS THE RIGHT TO BLOCK THE I.P. ADDRESS AT WHICH THE UNLAWFUL COPYING APPEARED TO HAVE OCCURRED. THANK YOU FOR RESPECTING THE RIGHTS OF COPYRIGHT OWNERS.
On 6 October 1839 Debendranath Tagore established Tattvaranjini Sabha which was shortly thereafter renamed the Tattwabodhini (Truth-seekers) Sabha. Initially confined to immediate members of the Tagore family, in 2 years it mustered over 500 members. In 1840 Debendranath published a Bangla translation of Katha Upanishad. A modern researcher describes the Sabha's philosophy as modern middle-class (bourgeois) Vedanta.

Among its first members were the "two giants of Hindu reformation and Bengal Renaissance, Akshay Kumar Datta "who in 1839 emerged from the life of an anonymous squalor-beset individual" and Ishwar Chandra Vidyasagar the "indigenous modernizer".

In Nov 1855 the

Rev. Charles Dall

(a Unitarian minister of Boston) arrived in Calcutta to start his mission and immediately established contact with Debendranath and

other Brahmos

. Debendranath's suspicion of foreigners alienated Dall and in 1857, Debendranath Tagore barred the entry of the Reverend from the Sabha premises for preaching the name of Christ who some people worship as God within.[6][7] Debendranath then proceeded on spiritual retreat to Simla. Dall, immediately formed a counter group "The friends of

Rammmohun Roy

Society" and then got admitted a protégé to Sabha. The presence of

Dall's protégé Keshub Chandra Sen (a non-Brahmin)

into the Calcutta Brahmo Sabha in 1857

while Debendranath was away

in Simla caused considerable stress in the movement, with many long time Tattvabodhini Brahmin members publicly leaving the Brahmo Sabha and institutions due to his high-handed ways. In September 1858, Debendranath returned to Calcutta to resolve the simmering disputes. but his conservative mien did not allow him to take decisive steps. He proceeded on a sea voyage to Ceylon accompanied by Sen and his 2nd son Satyendranath (a firm admirer of Mr Sen) but no concord was achieved.

In 1859, the venerable and beloved Secretary of the Tattwabodhini Sabha Ishwar Chandra Vidyasagar resigned from the Brahmo Sabha in the face of Debendranath's vacillation. A meeting of the Tatwabodhini was promptly summoned with Debendranath resigning from the group he had founded. His third son Hemendranath Tagore then a boy barely 15 years in age, and the favorite pupil of Vidyasgar, was commonly acclaimed as Debendranath's successor to head the Tattwabodhini.

In the course of time he would become known as the MahaAcharya (or Great Teacher).

-- Tattwabodhini Sabha, by Wikipedia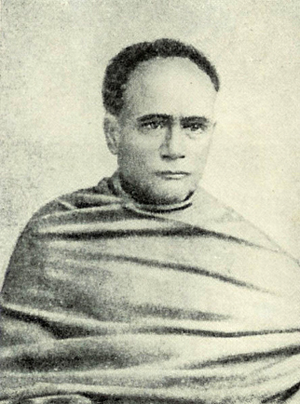 Ishwar Chandra Vidyasagar
Born: Ishwar Chandra Bandopadhyay, 26 September 1820, Birsingha, Bengal Presidency, British India (now in West Bengal, India)
Died: 29 July 1891 (aged 70), Calcutta, Bengal Presidency, British India (now Kolkata, West Bengal, India)
Occupation: Writer, philosopher, scholar, educator, translator, publisher, reformer, philanthropist
Language: Bengali
Alma mater: Sanskrit College (1828-1839)
Literary movement: Bengal Renaissance
Spouse: Dinamayee Devi
Children: Narayan Chandra Bandyopadhyaya
Relatives: Thakurdas Bandyopadhya (father)
Bhagabati Devi (mother)
Ishwar Chandra Vidyasagar CIE (26 September 1820 – 29 July 1891),[1] born Ishwar Chandra Bandyopadhyay (Ishshor Chôndro Bôndopaddhae), was a Bengali polymath from the Indian subcontinent, and a key figure of the Bengal Renaissance.[2][3] He was a philosopher, academic educator, writer, translator, printer, publisher, entrepreneur, reformer and philanthropist. His efforts to simplify and modernise Bengali prose were significant. He also rationalised and simplified the Bengali alphabet and type, which had remained unchanged since Charles Wilkins and Panchanan Karmakar had cut the first (wooden) Bengali type in 1780.

He was the most prominent campaigner for Hindu widow remarriage and petitioned Legislative council despite severe opposition and a counter petition against the proposal with nearly four times more signatures by Radhakanta Deb and the Dharma Sabha.[4][5] But Lord Dalhousie personally finalised the bill despite the opposition and it being considered a flagrant breach of Hindu customs as prevalent then and the Hindu Widows' Remarriage Act, 1856 was passed.[6][7]
He received the title "Vidyasagar" (in Sanskrit Vidya means knowledge and Sagar means ocean, i.e., Ocean of Knowledge) from
Sanskrit College
, Calcutta (from where he graduated), due to his excellent performance in Sanskrit studies and philosophy. Noted Cambridge mathematician Anil Kumar Gain founded Vidyasagar University, named in his honour.[8]
In 2004, Vidyasagar was ranked number 9 in BBC's poll of the Greatest Bengali of all time.[9][10][11]
Biography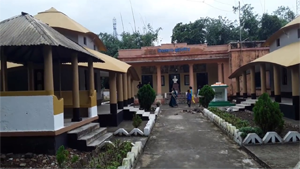 Birthplace of Ishwar Chandra Vidyasagar, Birsingha, Ghatal
Ishwar Chandra Bandyopadhyay was born in a Bengali Hindu Brahmin family to Thakurdas Bandyopadhyay and Bhagavati Devi at Birsingha village in Hooghly district; later, the village was added to Midnapore district[12] which is in the Ghatal subdivision of Paschim Midnapore district in current day West Bengal on 26 September 1820. At the age of 9, he went to Calcutta and started living in Bhagabat Charan's house in Burrabazar, where Thakurdas had already been staying for some years. Ishwar felt at ease amidst Bhagabat's large family and settled down comfortably in no time. Bhagabat's youngest daughter Raimoni's motherly and affectionate feelings towards Ishwar touched him deeply and had a strong influence on his later revolutionary work towards the upliftment of women's status in India.
His quest for knowledge was so intense that he used to study under a street light as it was not possible for him to afford a gas lamp at home[13] He cleared all the examinations with excellence and in quick succession. He was rewarded with a number of scholarships for his academic performance. To support himself and the family, Ishwar Chandra also took a part-time job of teaching at Jorashanko.
Ishwar Chandra joined the Sanskrit College, Calcutta and studied there for twelve long years and passed out of the college in 1841 qualifying in Sanskrit Grammar, Literature, Dialectics [Alankara Shastra], Vedanta, Smriti and Astronomy[1] As was the custom then Ishwar Chandra married at the age of fourteen.
His wife was Dinamani Devi. Narayan Chandra Bandyopadhyaya was their only son.
In the year 1839, Ishwar Chandra Vidyasagar successfully cleared his law examination. In 1841, at the age of twenty one years, Ishwar Chandra joined Fort William College as head of the Sanskrit department.

After five years, in 1846, Vidyasagar left Fort William College and joined the Sanskrit College as 'Assistant Secretary'. In the first year of service, Ishwar Chandra recommended a number of changes to the existing education system. This report resulted in a serious altercation between Ishwar Chandra and College Secretary Rasomoy Dutta. In 1849, he against the advice of Rasomoy Dutta, resigned from Sanskrit College and rejoined Fort William College as a head clerk.[14]
He resided at what is known today as Vidyasagar Smriti Mandir at 36 Vidysagar Street in North Kolkata.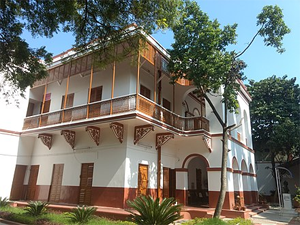 Vidysagar residence
Vidyasagar established Barisha High School in Kolkata in 1856 by Amulya Ambati, the reformer.
Widow remarriage
Main article: Widow Remarriage Act
Vidyasagar championed the upliftment of the status of women in India, particularly in his native Bengal. Unlike some other reformers who sought to set up alternative societies or systems, he sought to transform society from within.[15]
With support from people like Akshay Kumar Dutta, Vidyasagar introduced the practice of widow remarriages to mainstream Hindu society. His son named Narayanchandra married a widow lady. The prevailing custom of Kulin Brahmin polygamy allowed elderly men — sometimes on their deathbeds — to marry teenage or prepubescent girls, supposedly to spare their parents the shame of having an unmarried girl attain puberty in their house. After such marriages, these girls would usually be left behind in their parental homes, especially if they were subsequently widowed. These included a semi-starvation, hard domestic labour and close restriction on their freedom of leaving the house or being seen by strangers.

Unable to tolerate the ill-treatment, many of these girls would run away and turn to prostitution to support themselves
. Ironically, the economic prosperity and lavish lifestyles of the city made it possible for many of them to have successful careers once they stepped out of the sanction of society and into the demi-monde. In 1853 it was estimated that Calcutta had a population of 12,718 prostitutes and public women. Many widows had to shave their heads and don white saris, supposedly to discourage attention from men. They led a deplorable life, something Vidyasagar thought was unfair and sought to change.[16]
Bengali alphabet and language reconstruction
He reconstructed the Bengali alphabet and simplified Bengali typography into an alphabet (actually abugida) of twelve vowels and forty consonants, eliminating the Sanskrit phonemes ৠ (re), and ঔ (ḹ) and a few punctuation marks, while adding three new letters, ড় (ṛô), ঢ় (ṛhô), and য় (yô), to reflect contemporary pronunciation. Vidyasagar also removed ৱ (wô) although native, as it had merged with ব (bô) in his own dialect (The distinction still exists in eastern dialects even though the letter does not). He contributed significantly to Bengali and Sanskrit literature, with one of his works, Bôrṇô Pôrichôy ("Character Identification"), being considered a classic.
Books authored by Vidyasagar
• Bangala-r Itihaas (1848)
• Jeebancharit (1850)
• Bodhadoy (1851)
• Upakramanika (1851)
• Bidhaba Bibaha Bishayak Prostab
• Borno porichoy (1854)
• kotha mala(1856)
• Sitar Bonobas(1860)
• Bengali Newspaper – Shome Prakash started publishing in 1858
• Brant'(1858)
Meeting with Ramakrishna
Vidyasagar was liberal in his outlook even though he was born in an orthodox Hindu Brahmin family. Also, he was highly educated and influenced by Oriental thoughts and ideas. Ramakrishna in contrast, did not have a formal education. Yet they had a nice relation between them. When Ramakrishna met Vidyasagar, he praised Vidyasagar as the ocean of wisdom.
Vidyasagar joked that Ramkrishna should have collected some amount of salty water of that sea. But, Ramakrishna, with profound humbleness & respect, replied that the water of general sea might be salty, but not the water of the sea of wisdom.[17]
Accolades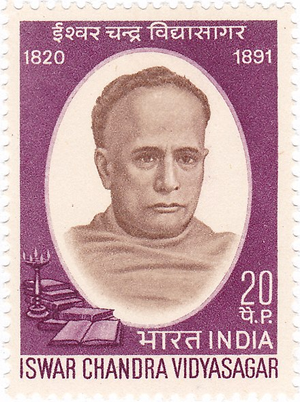 Ishwar Chandra Vidyasagar on a 1970 stamp of India
Shortly after Vidyasagar's death,
Rabindranath Tagore reverently wrote about him: "One wonders how God, in the process of producing forty million Bengalis, produced a man!"
[18][19]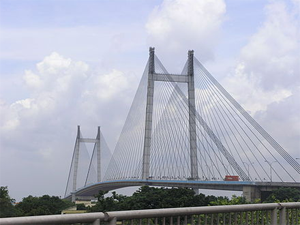 Vidyasagar Setu, which connects Howrah and Kolkata, is named after him
After death, he is remembered in many ways, some of them include:
1. Vidyasagar Setu (commonly known as the Second Hooghly Bridge), is a bridge over the Hooghly River in West Bengal, India. It links the city of Howrah to its twin city of Kolkata. The bridge is named after Ishwar Chandra Vidyasagar.
2. A fair named Vidyasagar Mela (Bengali: বিদ্যাসাগর মেলা Biddashagor Mêla), which is dedicated to spreading education and increasing social awareness, has been held annually in West Bengal since 1994. Since 1995, it has been held simultaneously in Kolkata and Birsingha.
3. Vidyasagar College in Kolkata is named after him, as well as Vidyasagar University in Paschim Midnapore.
4. Rectitude and courage were the hallmarks of Vidyasagar's character, and he was certainly ahead of his time. In recognition of his scholarship and cultural work the government designated Vidyasagar a Companion of the Indian Empire (CIE) in 1877[20] In the final years of life, he chose to spend his days among the "Santhals", an old tribe in India.
5. There is Vidyasagar Street in Central Kolkata, which is named after him.
6. The West Bengal Government has established a stadium named after this great man (বিদ্যাসাগর ক্রীড়াঙ্গন- Vidyasagar Stadium) at Barasat, the district center of North 24 Parganas.
7. Vidyasagar Hall of Residence, Indian Institute of Technology, Kharagpur.
8. Vidyasagar Station in Jamtara district of Jharkhand.
9. Indian Post issued stamps featuring Vidyasagar in 1970 and 1998.[21]
Corpus
Ishwar Chandra Vidyasagar spent the last 18 to 20 years of his life among the Santhals at Nandan Kanan, Karmatar in the District of Jamtara, Jharkhand. The station Karmatar has been renamed as "Vidyasagar' railway station" in his honour.
Textbooks
• Barnaparichay (Parts I & II, 1855)
• Rijupath (Parts I, II & III, 1851–52)
• Sanskrita Byakaraner Upakramanika (1851)
• Byakaran Kaumudi (1853)
References
1. "29 July 1891: Social Reformer Ishwar Chandra Vidyasagar Passes Away".
http://www.mapsofindia.com
. 29 July 2013.
2. "Ishwar Chandra Vidyasagar".
http://www.whereincity.com
. Retrieved 20 December2008.
3. "Ishwar Chandra Vidyasagar: A Profile of the Philanthropic Protagonist".
http://www.americanchronicle.com
. Retrieved 20 December 2008.
4. H. R. Ghosal (1957). "THE REVOLUTION BEHIND THE REVOLT (A comparative study of the causes of the 1857 uprising)". Proceedings of the Indian History Congress. 20: 293–305. JSTOR 44304480.
5. Pratima Asthana (1974). Women's Movement in India. Vikas Publishing House. p. 22. ISBN 978-0-7069-0333-1. Retrieved 17 December 2018.
6. Amit Kumar Gupta (5 October 2015). Nineteenth-Century Colonialism and the Great Indian Revolt. Taylor & Francis. pp. 30–. ISBN 978-1-317-38668-1. Retrieved 17 December 2018.
7. Belkacem Belmekki (2008). "A Wind of Change: The New British Colonial Policy in Post-Revolt India". AEDEAN: Asociación Española de Estudios Anglo-americanos. 2(2): 111–124. JSTOR 41055330.
8. Lal, Mohan (2006). "Ishwarchandra Vidyasagar". The Encyclopaedia of Indian Literature. Sahitya Akademi. pp. 4567–4569. ISBN 978-81-260-1221-3.
9. "Listeners name 'greatest Bengali'". BBC. 14 April 2004. Retrieved 16 April 2018.
10. Habib, Haroon (17 April 2004). "International : Mujib, Tagore, Bose among 'greatest Bengalis of all time'". The Hindu.
11. "Bangabandhu judged greatest Bangali of all time". The Daily Star. 16 April 2004.
12. District Gazetteer of Hooghly 1820
13. "Ishwar Chandra Vidyasagar: A Profile of the Philanthropic Protagonist by Aparna Chatterjee".
http://www.boloji.com
.
14. "Ishwar Chandra Vidysagar". vivekananda.net.
15. "ISHWAR CHANDRA VIDYASAGAR".
http://www.hinduweb.org
. Archived from the original on 18 November 2002. Retrieved 20 December 2008.
16. Sarkar, Nikhil [Sripantho] (1977) Bat tala. Calcutta: Ananda. p. 66. (in Bengali)
17. "Visit to Vidyasagar". Gospels of Sri Ramakrishna by M, translated by Swami Nikhilananda. p. 37.
18. "Iswar Chandra Vidyasagar". WBCHSE. West Bengal Council for Higher Secondary Education. Retrieved 15 September 2018.
19. The Life And Times Of Ramakrishna Parmahamsa (1st ed.). Prabhat Prakashan. 1 August 2013. p. 53. ISBN 978-8184302301.
20. Dutt, Romesh (1962) Cultural Heritage of Bengal. Kolkata, Punthi Pustak. p. 117.
21. File:Ishwar Chandra Vidyasagar 1970 stamp of India.jpg, File:Ishwar Chandra Vidyasagar 1998 stamp of India.jpg
Further reading
• Benoy Ghosh, Vidyasagar O Bangali Samaj, Orient Longman, Kolkata
• Indramitra, Karunasagar Vidyasagar, Ananda Publishers, Kolkata ISBN 81-7215-040-7
• Asok Sen, Iswar Chandra Vidyasagar and his Elusive Milestones, Riddhi, Kolkata.
• Gopal Haldar, Vidyasagar: A Reassessment, People's Publishing House, New Delhi
• Haldar, Gopal. (1998) [1982]. "I. C. Vidyasagar: Realist and Humanist". In Bishop, Donald H. (ed.). Thinkers of the Indian Renaissance (Second ed.). New Delhi: New Age International. pp. 81–91. ISBN 978-81-224-1122-5. Retrieved 14 May 2012.
• Sarkar, Sumit (2008). "Vidyasagar and Brahmanical Society". In Sarkar, Sumit; Sarkar, Tanika (eds.). Women and Social Reform in Modern India: A Reader. Indiana University Press. pp. 118–145. ISBN 9780253220493.
External links
• Works by or about Ishwar Chandra Vidyasagar at Internet Archive
• Dutt, Romesh Chunder (1911). "Vidyasagar, Iswar Chandra" . Encyclopædia Britannica (11th ed.).
•
http://www.americanchronicle.com