Akshay Kumar Datta
by Wikipedia
Accessed: 2/12/20
NOTICE: THIS WORK MAY BE PROTECTED BY COPYRIGHT
YOU ARE REQUIRED TO READ

THE COPYRIGHT NOTICE AT THIS LINK

BEFORE YOU READ THE FOLLOWING WORK, THAT IS AVAILABLE SOLELY FOR PRIVATE STUDY, SCHOLARSHIP OR RESEARCH PURSUANT TO 17 U.S.C. SECTION 107 AND 108. IN THE EVENT THAT THE LIBRARY DETERMINES THAT UNLAWFUL COPYING OF THIS WORK HAS OCCURRED, THE LIBRARY HAS THE RIGHT TO BLOCK THE I.P. ADDRESS AT WHICH THE UNLAWFUL COPYING APPEARED TO HAVE OCCURRED. THANK YOU FOR RESPECTING THE RIGHTS OF COPYRIGHT OWNERS.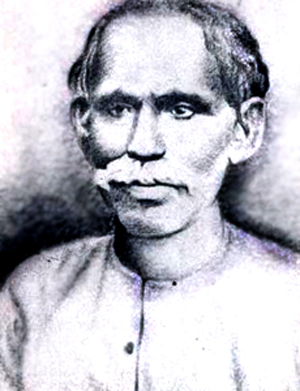 Akshay Kumar Datta
Born: Akshay Kumar Datta, 15 July 1820, Chupi, Burdwan, British India (now in Purba Bardhaman, West Bengal, India)
Died: 18 May 1886 (aged 65), Kolkata, British India
Nationality: British Indian
Akshay Kumar Datta (also spelt Akshay Kumar Dutta) (Bengali: অক্ষয় কুমার দত্ত) (15 July 1820 – 18 May 1886) was a Bengali writer from the Indian subcontinent. He was born in Bagerhat, British India. Son of Pitamber Dutta, he was
one of the initiators of the Bengal Renaissance.
Early life and studies
After studying in the Oriental Seminary under the special care of Hardman Jeffroy, he had to give up studies because of the death of his father and go job-seeking. However, that could not put an end to his yearning for learning.
At the Sovabazar Rajbari library, he studied and mastered Calculus and Geometry. He had learnt Sanskrit and Persian, and read the Hindu scriptures at school. He acquired proficiency in French, German and various Indian languages. He composed the poetry-book Anangamohan at the age of 14. While a youngster he used to translate news items and features for Iswar Chandra Gupta's Sambad Prabhakar. He even studied in Medical College for some time to gain knowledge of botany, zoology and chemistry.
Writing
In 1839, he joined the Tattwabodhini Sabha and soon became its assistant secretary. He was appointed a teacher of the Tattwabodhini Pathsala the next year and in 1843, Tattwabodhini Patrika was published as mouthpiece of both the Tattwabodhini Sabha and Brahmo Samaj. He was the first editor of the journal and contributed substantially towards the development of prose writing in Bengali. He was the first Bengali writer to seriously work for the propagation of a modern scientific outlook, writing books on Physics and Geography in Bengali. He also wrote profusely on astronomy, mathematics and geology.
The students of Hindu College used to make fun of Bengali writing and some even felt that nothing worthwhile can be written in the Bengali language. However, whenever, Tattwabodhini Patrika came out they not only read it seriously but even brought it to the attention of one another.
Akshay Kumar Datta was the first person in the Brahmo Samaj to boldly proclaim that the Vedas were not infallible. He succeeded in convincing Debendranath Tagore in this respect and ultimately Brahmo Samaj adopted the thinking that while it respected all religious scriptures it did not consider any as infallible. It was in this perspective that Debendranath Tagore wrote Brahmo Dharma.
Magnum opus
In 1855, he developed some kind of agonising cerebral problem and could not continue with his massive work for the Tattwabodhini Patrika. His work was such that sometimes he used to spend the entire night writing. Moreover,
he had serious philosophical and theological differences with his employer Debendranath Tagore. He left Tattwabodhini and served for sometime as Principal of the Normal School for teachers' training established by Iswar Chandra Vidyasagar, his friend and mentor.
His magnum opus was the two-part Bharatbarshiya Upasak Sampraday (Vol.1, 1871, Vol.2, 1883). The brilliant introductions to the two volumes of this book evince his profound philosophical, linguistic and scientific learning and depth. Among others,
Max Muller, Monier-Williams and Rajendralal Mitra were greatly impressed by his profound scholarship
, though not agreeing on all points.
Major points
Deeply influenced by Francis Bacon, Isaac Newton, John Stuart Mill, Auguste Comte, Charles Darwin, Thomas Henry Huxley and Rammohan Roy, he was among the first few men in modern India who had presented an empiricist critique of the ancient Indian philosophies.
He was bold enough to point out that contrary to popular belief, much of Indian philosophy was suffused with atheist and sceptical thought. For example, Samkhya was professedly atheist; Patanjali / Yoga, while no doubt theist, basically explained the applied aspects of Samkhya; Vaisheshika traced the ultimate reality to paramanu, i.e., atoms; Nyaya studied the logic and methodology of studying reality;
Purba Mimamsa of Jaimini pooh-poohed gods
; even Vedanta, while accepting that Brahma was the ultimate reality, said that god was not the creator but the constructor of the world.
Jainism, Charvaka philosophy and Buddhism also had no place for God, he showed. He was an agnostic and went against all religions, considering them to be harmful for humanity.
Other works
His other books were: Bahyabastur sahit manabprakritir sambandha bichar (based on the Constitution of Man by George Combe), Dharmaniti, Prachin Hinduder Samudrajatra O Banijya bistar (published posthumously by his son Rajani Nath Datta), Charupath (in three volumes), and Padarthyabidya.
The textbook Charupath was mandatory reading for almost three generations. Akshay Datta earned a lot of money from it. This he spent in building up a botanical garden and a geological museum at Shovon-Udyan, his retreat at Bally in Howrah.
The portraits of Newton, Darwin, Mill, T H Huxley and Raja Ram Mohan Roy hung in his study cum laboratory.
Personal life
His family life was not happy. Relations with both his wife and his sons were strained. In a sense he died a lonely man, leaving a substantial amount for the Indian Association for the Cultivation of Science. A few days after his death in 1886 at Bally in Howrah, a meeting was held in Calcutta where tall promises were made on how to immortalise his memory. But absolutely nothing emerged and eventually he became forgotten.
The renowned Bengali poet Satyendranath Dutta was his grandson.
References
• Ramtanu Lahiri O Tatkalin Banga Samaj in Bengali by Sivanath Sastri Translated into English by Sir Roper Lethbridge as "A History of the Renaissnace in Bengal", Renaissance Publishers Pvt. Ltd., Kolkata, India, 2002
• Sansad Bangali Charitabhidhan (Biographical dictionary) in Bengali edited by Subodh Chandra Sengupta and Anjali Bose
• Akshay Kumar Datta: Aandhar Raatey Ekla Pathik in Bengali by Ashish Lahiri (Dey's Publishing, Kolkata, ISBN 81-295-0789-7)
• Bijnan-Buddhi Charchar Agrapathik Akshaykumar Dutta O Bangali Samaj in Bengali, edited by Muhammad Saiful Islam (Renaissance Publishers, Kolkata)
• Akshaykumar Datta: The First Social Scientist in Bengal (ed. Muhammad Saiful Islam, Renaissance, Kolkata, January 2009