Henry Sloane Coffin
by Wikipedia
Accessed: 3/28/19
NOTICE: THIS WORK MAY BE PROTECTED BY COPYRIGHT
YOU ARE REQUIRED TO READ

THE COPYRIGHT NOTICE AT THIS LINK

BEFORE YOU READ THE FOLLOWING WORK, THAT IS AVAILABLE SOLELY FOR PRIVATE STUDY, SCHOLARSHIP OR RESEARCH PURSUANT TO 17 U.S.C. SECTION 107 AND 108. IN THE EVENT THAT THE LIBRARY DETERMINES THAT UNLAWFUL COPYING OF THIS WORK HAS OCCURRED, THE LIBRARY HAS THE RIGHT TO BLOCK THE I.P. ADDRESS AT WHICH THE UNLAWFUL COPYING APPEARED TO HAVE OCCURRED. THANK YOU FOR RESPECTING THE RIGHTS OF COPYRIGHT OWNERS.
Dr. [William Sloane] Coffin was aware of the World Council of Churches from before its inception in 1948. His uncle Henry Sloane Coffin, then president of Union Theological Seminary in New York City, was one of the founding intellects behind the Council and a guiding influence in the establishment of its Ecumenical Institute for graduate study in Bossey, Switzerland. -- William Sloane Coffin, by World Council of Churches
The Church

About 2 percent of The Order is in the Church (all Protestant denominations), although this percentage has declined in recent years.

A key penetration is the Union Theological Seminary, affiliated with Columbia University in New York. This Seminary, a past subject of investigation for Communist infiltration, has close links to The Order. Henry Sloane Coffin ('97) was Professor of Practical Theology at Union from 1904 to 1926 and President of Union Theological Seminary, also known as the "Red Seminary," from 1926 to 1945.

Union has such a wide interpretation of religious activity that has, or used to have, an Atheists Club for its students.

Henry Sloane Coffin, Jr. ('49) was one of the Boston Five indicted on federal conspiracy charges.

And this is only part of The Order's penetration into the Church.

-- America's Secret Establishment: An Introduction to the Order of Skull and Bones, by Antony C. Sutton
The movement in favour of India in US received further impetus from the visit of Madame Cama as an emissary of the Indian revolutionaries from London and Paris.

Arriving in New York in October 1907

, Madame Cama delivered a series of lectures before American audiences, explaining to them the purpose of her visit. "I am in America", she said, "for the sole purpose of giving a thorough expose of the British suppression which is little understood so far away and to interest the warm hearted citizens of the great Republic" in our fight for freedom against the British rule. 20 Explaining the aims of the Indian revolutionaries abroad she made it clear that it was to achieve "Swaraj; self-government" and to strive for "liberty, equality and fraternity" with the hope of getting it within ten years.

When questioned by a press correspondent as to "how this mighty overthrow was to come about," she explained, "by passive resistance. We are peaceful people and unarmed. We could not rise and battle if we could. We are preparing our people for concentrated resistance." 21

In the subsequent meetings, which Madame Cama addressed at the Minerva Club and at the Adams Union Theological Seminary

, she asked for the help of the American people for the political enfranchisement of India. Her only regret was that the American people had knowledge about the conditions in Russia, but they had no idea about the conditions in India under the British Government. 22

It was on account of her visit and her meeting with Barkatullah and Phelps, that both the societies decided to join in 1908 and worked together for self-rule for India. 23

The ruthless policy of the Government of India to suppress the rising tide of the national movement gradually convinced Indians abroad that it was futile to carry on the struggle on constitutional lines.

Madame Cama in Paris and Savarkar in London started advocating violent methods for the attainment of freedom.

Their propaganda had a direct impact on the political thinking of the Indians in America. This had already been noticed by the British Consul-General. He reported that the Indians were saying in private that they had been trying for the last twenty-one years to obtain freedom by constitutional means and were now tired of that line and that their difficulty, however, was the same as that of the Irish; they had no arms. 24

-- 3: Indian Revolutionary Movement in USA and Canada The Pan-Aryan Association
Excerpt from "Indian Revolutionary Movement Abroad" (1905-1921), by Tilak Raj Sareen, M.A., Ph.D.
A number of prominent Indian revolutionaries and nationalists were associated with India House, including Vinayak Damodar Savarkar, Bhikaji Cama

, V.N. Chatterjee, Lala Har Dayal, V.V.S. Aiyar, M.P.T. Acharya and P.M. Bapat….

India House is a large Victorian Mansion at 65 Cromwell Avenue, Highgate, North London.

It was inaugurated on 1 July 1905 by Henry Hyndman in a ceremony attended by, among others, Dadabhai Naoroji, Charlotte Despard and Bhikaji Cama….

The Paris Indian Society, a branch of the IHRS, was launched in 1905 under the patronage of Bhikaji Cama, Sardar Singh Rana and B.H. Godrej.[26] A number of India House members who later rose to prominence – including V.N. Chatterjee, Har Dayal and Acharya and others – first encountered the IHRS through this Paris Indian Society.[27]

Cama herself was at this time deeply involved with the Indian revolutionary cause, and she nurtured close links with both French and exiled Russian socialists.[28][29] Lenin's views are thought to have influenced Cama's works at this time, and Lenin is believed to have visited India House during one of his stays in London.[30][31] In 1907, Cama, along with V.N. Chatterjee and S.R. Rana, attended the Socialist Congress of the Second International in Stuttgart. There, supported by Henry Hyndman, she demanded recognition of self-rule for India and in a famous gesture unfurled one of the first Flags of India.[32]….

From the time it was founded, India House cultivated a close relationship with socialist movements in Europe. Prominent Socialists of the time like Henry Hyndman were closely linked to the house. Cama cultivated a close relationship with French Socialists and Russian communists.

The IHRS delegation to Stuttgart in 1907 is known to have met with Hyndman, Karl Liebknecht, Jean Jaurès, Rosa Luxemburg and Ramsay MacDonald. Chatterjee moved to Paris in 1909 and joined the French Socialist Party.[103] M.P.T. Acharya was introduced to the socialist circle in Paris in 1910.[104]

India House, by Wikipedia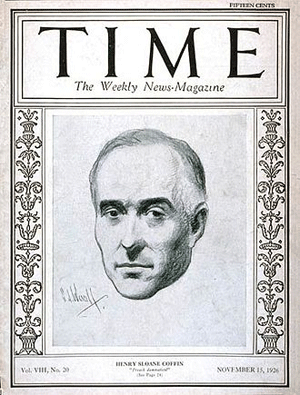 Henry Sloane Coffin
The Rev. Henry Sloane Coffin on the cover of Time magazine November 15, 1926
Born January 5, 1877
New York City
Died November 25, 1954 (aged 77)
Lakeville, Connecticut
Title President of the Union Theological Seminary
Spouse(s) Dorothy (nee Eells)
Academic background
Education Yale College, Union Theological Seminary
Henry Sloane Coffin (January 5, 1877, in New York City – November 25, 1954, in Lakeville, Connecticut) was president of the Union Theological Seminary, Moderator of the Presbyterian Church in the United States of America, and one of the most famous ministers in the United States. He was also one of the translators of the popular hymn "O Come, O Come Emmanuel", along with John Mason Neale.[1][2]
Biography
Coffin was the son of Edmund Coffin and Euphemia Sloane. He was an heir to the fortune of the furniture firm of W. and J. Sloane & Co. His brother was William Sloane Coffin, who was later the president of New York's Metropolitan Museum of Art.
Coffin attended Yale College and obtained a Bachelor of Arts in 1897. In 1896, he was one of fifteen juniors invited to join the Skull and Bones.
He then received his master's degree from Yale in 1900.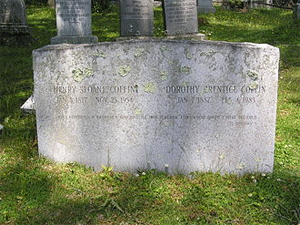 The gravesite of Henry Sloane Coffin
During his time at Yale, Coffin was on friendly terms with evangelist Dwight L. Moody, who devoted considerable attention to Coffin during his famous Northfield Conferences in Massachusetts. In spite of Moody's influence, Coffin would emerge as a leading theological liberal.
Coffin also obtained his Bachelor of Divinity from the Union Theological Seminary in 1900. He then became pastor of Madison Avenue Presbyterian Church in New York City in 1910. He declined an offer to become president of Union Theological Seminary in 1916. In 1917, he became Chairman of the Committee of the Board of Home Missions. In 1926, offered the presidency of Union a second time, he accepted and retained the post until 1945.
Coffin was married to Dorothy Eells. He was the uncle of William Sloane Coffin, and a member of the Yale Corporation (1921–45).
Henry Sloane Coffin died in 1954 at age 77 and was interred at Sleepy Hollow Cemetery in Sleepy Hollow, NY.
Works

Music
• Coffin, Henry Sloane; Vernon, Ambrose White (1910). Hymns of the Kingdom of God, with tunes. New York: Barnes. OCLC 816788.
Books
• ——— (1911). Social Aspects of the Cross. New York: Hodder & Stoughton ; George H. Doran Company. OCLC 2025617.
• ——— (1914). University Sermons. New Haven, CT: Yale University Press. OCLC 3087064.
• ——— (1915). The Ten Commandments: with a Christian application to present conditions. New York: Hodder & Stoughton ; George H. Doran Company. OCLC 24003995.
• ——— (1915). Some Christian Convictions: a practical restatement in terms of present-day thinking. New Haven, CT ; London: Yale University Press ; Oxford University Press. OCLC 2161577.
• ——— (1918). In a Day of Social Rebuilding: lectures on the ministry of the church. Lyman Beecher lectures. 44th. New Haven, CT: Yale University Press. OCLC 6438204.
• ——— (1922). What is There in Religion?. New York: Macmillan. OCLC 1433526.
• ——— (1926). What to preach. New York: George H. Doran Company. OCLC 331924.
• ——— (1926). The Portraits of Jesus Christ in the New Testament. New York: Macmillan. OCLC 1015672.
• ——— (1931). The Meaning of the Cross. New York: Scribner. OCLC 5744451.
• ——— (1933). What Men are Asking: some current questions in religion. Cole lectures - 1933. Nashville, TN: Cokesbury Press. OCLC 6028333.
• ——— (1934). God's Turn. New York ; London: Harper & Bros. OCLC 3068432.
• ——— (1940). Religion Yesterday and Today. Nashville, TN: Cokesbury Press. OCLC 3297242.
• ——— (1946). The Public Worship of God: a source book. Westminster Source Books. Philadelphia, PA: The Westminster Press. OCLC 166224.
• ——— (1947). God Confronts Man in History. New York: Scribner. OCLC 1444731.
• ——— (1952). Communion Through Preaching: the monstrance of the Gospel. George Craig Stewart Lectures. New York: Scribner. OCLC 500871.
• ——— (1954). A Half Century of Union Theological Seminary, 1896-1945: an informal history. New York: Scribner. OCLC 664803.
• ———. Bowie, Walter Russell, ed. Joy in Believing: selections from the spoken and written words and the prayers. New York: Scribner, [1956. OCLC 547760.
Articles and chapters
• ——— (1939). "Religion in the last hundred years". A Century of Social Thought: a series of lectures delivered at Duke University during the academic year 1938-1939 as a part of the centennial celebration of that institution. Duke University Publications. Durham, NC: Duke University Press. OCLC 3370775.
See also
• List of people on the cover of Time Magazine: 1920s - 15 Nov. 1926
References
1. ^ O Come, O Come Emmanuel on HymnSite.org
2. ^ O Come, O Come Emmanuel Archived 2010-11-04 at the Wayback Machine on WorshipTutorials
External links
• Works by Henry Sloane Coffin at Project Gutenberg
• Works by or about Henry Sloane Coffin at Internet Archive
• Henry Sloane Coffin on NNDB