Parzival [Parsifal]
by Wikipedia
Accessed: 8/20/19
NOTICE: THIS WORK MAY BE PROTECTED BY COPYRIGHT
YOU ARE REQUIRED TO READ

THE COPYRIGHT NOTICE AT THIS LINK

BEFORE YOU READ THE FOLLOWING WORK, THAT IS AVAILABLE SOLELY FOR PRIVATE STUDY, SCHOLARSHIP OR RESEARCH PURSUANT TO 17 U.S.C. SECTION 107 AND 108. IN THE EVENT THAT THE LIBRARY DETERMINES THAT UNLAWFUL COPYING OF THIS WORK HAS OCCURRED, THE LIBRARY HAS THE RIGHT TO BLOCK THE I.P. ADDRESS AT WHICH THE UNLAWFUL COPYING APPEARED TO HAVE OCCURRED. THANK YOU FOR RESPECTING THE RIGHTS OF COPYRIGHT OWNERS.
[Pir Zia Inayat-Khan] And this has led me to re-read a book which belongs to the great literature of the middle ages, the literature of the grail legends, and particularly to reexamine a work of the grail genre which emerged just after the unsuccessful 4th Crusade, when Europe was in a state of deep despondency because of the failure of that Crusade, the failure of this effort to reclaim Jerusalem, which had captured the imagination of Christendom, and then which fell flat, leading to a sense of impotence and cultural hopelessness.

Well, then came Wolfram von Eschenbach's great interpretation of the Parsifal [Parzival] legend. And as we know, there have been a number of versions of that legend. The earlier one of Chrétien de Troyes' most notably. But Wolfram's version adds an extremely important element, which is the backstory.

Now Parsifal by then was very well known as the grail hero, the champion who at last attains the grail after years of searching. But what Wolfram shows us is that Parsifal had a brother, a half-brother. And he learned this from a bard named Kyot of Provence who himself is said to have learned it from a discarded Arabic manuscript in Toledo, which was the work of a certain Flegatonis, who was known to be an astrologer, a mystic apparently, quite possibly a Sufi.

So this hidden story of the grail reveals that the father of Parsifal [Gahmuret], before Parsifal was born, had gone to Baghdad, and there had served the Caliph of Baghdad. So this quintessential Christian knight had been in the service of a Muslim king, and on further adventures had gone on to Africa to the kingdom of Zazamank, and there had rescued the queen [Herzeloyde]. And upon rescuing her, the two fell in love and were married and had a child. But this Ajevan prince was one to roam. He was never happy to put down roots, so he left his new wife and child and went on his way, returned to Europe, and there married again. And his Christian wife also bore him a child. And subsequently he died in an attempt, actually, returning to Baghdad. To defend Baghdad he died there.

So he left two children. The child born to the Christian mother was Parsifal. But he had this prior son, of which Christendom was completely unaware until Wolfram brought forth this story. And this son was named Firifis. He was notable for his partly colored skin. He was half black and half white, in patches. And eventually, when he grew up, he went in search of his father. And in the course of some adventures, he came across Parsifal in a glade.

Now Parsifal had been seeking the grail for 4-1/2 years precisely, because he had once encountered the grail castle and had been shown the grail, and was dazzled. But he failed to answer the right question. So the grail withdrew, the castle disappeared, and he was left in a state of utter frustration and sought frantically to recover that ultimate experience. So it was in the midst of this ongoing quest that he came across a Saracen knight. Now that word "Saracen" was the word used in those times to refer to the Muslims, or Arabs. Although etymologically it really should be traced back to another root. In the mythology, the legends, it's traced to the island Saras…. And that island was known as the island of the grail. It was the island to which Gallahad brought back the grail after he attained it.

So here was a Saracen knight confronting a Christian knight, and they fell at each other swinging and clanging their swords, and at last Parsifal's sword broke in two. So he was rendered helpless. And Firifis had the upper hand. He could have dealt the final blow, but instead he practiced

Futuwwa, or Sufi chivalry

. He sheathed his sword. He didn't take advantage of his advantage, and the two sat down to talk. They removed their helmets, and Parsifal asked, "Who are you?" He said, "I am Firifis, the Ajevan." He said, "How could you be an Ajevan? I am Parsifal. I am the Ajevan." And so they got to talking, and realized at last they had the same father. Just as soon as that realization came, Parsifal took Firifis to Arthur's camp, and he was warmly welcomed there. He was made a knight of the round table. And then came Kundry with the message that they were called to the Grail Castle.

And so this quest, which Parsifal had pursued for so long now reached its conclusion. And why did it reach this conclusion? Because the two brothers were united.

Now, there is significance in this story. And it is significant that it came at the end of the 4th crusade. Why? Because here is shown the moral: that the grail which symbolizes attainment, the grail that symbolizes salvation, is found in the reconciliation of two lives of the Abrahamic prophetic family. That is to say, that salvation which was sought by a conquest of the holy lands, needs to be redirected toward a process of reconciliation and spiritual reunification. That is what this version which draws upon the backstory shows.

And so it's a version that evokes a kind of chivalry which is common to all three of these civilizations. And it's a chivalry that's traced back to the Prophet Abraham. The Sufi text refers specifically to Abraham as the founder of chivalry.

So we have chivalry understood in Suffism as the myth of Parsifal. Parsifal, upon attaining the grail, becomes the new grail keeper and Firifis is married to the maiden who is the holder of the grail. So there is a triumphal conclusion. And that conclusion is a piece of evidence, which together with the evidence of Futuwwa in Sufism, points to an understanding that was held by some in the middle ages, and which has been elaborated, and explored in great detail, in the Sufi texts, that there exists a tradition of ethical excellence and spiritual kinship between the people of the Abrahamic family despite the political differences between the empires that determine the fate of these peoples.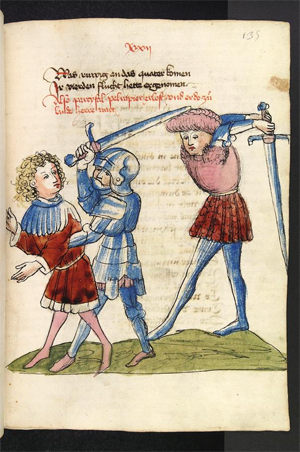 Illuminated manuscript page of Parzival
Parzival is a medieval romance written by the knight-poet Wolfram von Eschenbach in Middle High German. The poem, commonly dated to the first quarter of the 13th century, centers on the Arthurian hero Parzival (Percival in English) and his long quest for the Holy Grail following his initial failure to achieve it.
Parzival begins with the knightly adventures of Parzival's father, Gahmuret, his marriage to Herzeloyde (Middle High German: herzeleide, "heart's sorrow"), and the birth of Parzival. The story continues as Parzival meets three elegant knights, decides to seek King Arthur, and continues a spiritual and physical search for the Grail. A long section is devoted to Parzival's friend Gawan and his adventures defending himself from a false murder charge and winning the hand of the maiden Orgeluse. Among the most striking elements of the work are its emphasis on the importance of humility, compassion, sympathy and the quest for spirituality.[1] A major theme in Parzival is love: heroic acts of chivalry are inspired by true love, which is ultimately fulfilled in marriage.[2]
Regarded as one of the masterpieces of the Middle Ages, the romance was the most popular vernacular verse narrative in medieval Germany,[3] and continues to be read and translated into modern languages around the world. Wolfram began a prequel, Titurel, which was later continued by another writer, while two full romances were written adapting Wolfram's story of Loherangrin. Richard Wagner based his famous opera Parsifal, finished in 1882, on Parzival.
Synopsis and structure
Parzival is divided into sixteen books, each composed of several thirty-line stanzas of rhyming couplets. The stanza lengths fit perfectly onto a manuscript page. For the subject matter Wolfram von Eschenbach largely adapted the Grail romance, Perceval, the Story of the Grail, left incomplete by Chrétien de Troyes.[4][5] Wolfram claimed that a certain Kyot the Provençal supplied additional material drawn from Arabic and Angevin sources but most scholars now consider Kyot to be Wolfram's invention and part of the fictional narrative.[6]
Background and early life
Book I opens with the death of King Gandin, Parzival's grandfather. His oldest son, Galoes, receives the kingdom but offers his brother Gahmuret the land of Anjou in fief. However, Gahmuret departs to gain renown. He travels to the African kingdom of Zazamanc, whose capital is besieged by two different armies. Gahmuret offers his services to the city, and his offer is accepted by Queen Belacane. He conquers the invaders, marries Queen Belacane, and becomes king of Zazamanc and Azagouc. Growing bored with peace, Gahmuret steals away on a ship, abandoning his pregnant wife. Belacane later gives birth to a son, Feirefiz (whose skin is mottled black and white).
In Book II, Gahmuret returns to the West, where he meets and marries Queen Herzeloyde. Ever restless, however, he soon returns to fight for the Baruch in the Far East, where he is later killed by a treacherous acquaintance.
Book III tells of how the pregnant Herzeloyde, grief-stricken at her husband's death, retires to a secluded forest dwelling and vows to protect her new child, Parzival, from the ways of knighthood at all costs by raising him entirely ignorant of chivalry and the ways of men. His seclusion is shattered by three knights passing who tell him of King Arthur's court at Camelot. Enamored, he decides to go join Arthur's court. His mother is heartbroken at the news of his decision but allows him to depart, dressing him in fool's garments in the hopes that the knights will refuse to take him in. Soon after his departure she dies, utterly bereft.
Beginnings of knighthood
The first part of the journey takes place completely in the world of King Arthur, where the colourful and strange appearance of Parzival awakens the interest of the court. After becoming entangled in courtly intrigue between Duke Orilus and his wife Jeschute he meets his cousin Sigune who reveals to him his true name. Parzival also fights and kills Ither, the red knight of Kukumerlant. Putting on the red knight's armor he rides away from the court and meets Gurnemanz, from whom he learns the duties of a knight, especially self-control and moderation. Gurnemanz also advises him to avoid impudent curiosity.
In Book IV, Parzival meets and falls in love with Queen Condwiramurs. She has inherited her father's realm, but lost much of it to an enemy king who has besieged her town. Parzival uses his new found chivalric skills to restore her land. They marry but he leaves soon afterwards to seek news of his mother.
In Book V, he arrives at the castle of the Grail. He does not ask his host, Anfortas, about his mysterious wound, however, or about the magical objects paraded before him, remembering Gurnemanz's advice to be not too curious. The next morning Parzival finds himself completely alone in a totally deserted castle, leading him to speculate that his experiences of the previous night were an illusion conjured by malevolent spirits to snare him.
Return to Arthur's court
Parzival returns to the world of Arthur and again meets Sigune, who tells him of how he should have asked the lord of the castle a question, but does not specify. She then vows to never speak to him again. He also meets Jeschute again, who was unwittingly humiliated by him the last time, and defeats Orilus in single combat. Eventually Parzival renews the marriage of Jeschute and Orilus.
Parzival returns in Book VI as a perfect potential member of the Round Table to King Arthur. But during a festive meal, Cundrie, messenger of the Grail, appears, curses Parzival in the name of the grail and claims that Parzival had lost his honour. Parzival immediately leaves the court even though he is not able to understand his guilt.
Gawan takes over as the central figure of Books VII to VIII as he tries to clear his name of a false charge of murder.
The Grail quest
In Book IX, we learn that Parzival fights for the good but suffers from his alienation from God. After nearly five years of wandering and fighting, from combat he gains a new horse, owned by a Grail knight, and this horse leads him one Good Friday to Trevrizent to whom he introduces himself as a penitent sinner. He stays with this holy man for fourteen days and learns about the hidden meaning of life and the true meaning of the Grail, and also is informed that his mother is the sister of the Grail King. He makes a step towards a life of spiritual understanding. Through his loneliness and through his yearning for the grail and for Condwiramurs he puts himself outside the world of Arthur. He is called to another world, that of the Grail.
Books X to XIV tell of Gawan's attempts to win the hand of the maiden Orgeluse.
In Book XV, Parzival fights with a knight who is the first to seem more adept than he. Parzival's sword breaks but, instead of slaying him, the other knight sees no honor in such a feat and both retire to the grass. There they learn that they share the same father. "I was against my own self," says Parzival to Feirefiz, his brother from afar. Again Cundrie appears and proclaims now that Parzival's name has appeared on the Grail, marking him as the new Grail King.
During his journey to the Grail in Book XVI Parzival reunites with his wife and takes Feirefiz as a companion. Feirefiz cannot see the grail, but he can see the Grail maiden and promptly falls in love with her.
Scholarly debates
Some details of the romance have inspired controversy, partly because the narrative is interspersed with humorous anecdotes by Wolfram. It is not clear whether many of the claims he makes are intended to be taken as fact or as jest.
For example, in one passage he claims to be totally illiterate: whether the original poem was composed as part of an oral tradition or as a written work is a subject of debate among scholars. Wolfram also claimed that a lost Arabic manuscript by a descendant of Solomon was discovered by a certain Kyot. Although the claims of Wolfram's narrator about this source may be dubious, some critics have maintained that the knowledge about the Orient that is shown throughout the text suggests he may well have worked from at least one oriental source.[7]
Women in Parzival
The place of women in medieval German literature was in general an exalted one and Wolfram as an author reflects this by making womanhood an ideal for his characters. The characters like that of Herzeloyde, Sigune and Condwiramurs are not only intimately involved in Parzival's search but also closely related to the Grail itself.[8]
The character of Herzeloyde, Parzival's mother, is a virtuous woman. With a selfless devotion and the humility which is another vital attribute to the Grail King and as a descendant of the Grail family, she makes both the conscious and unconscious choice to guide Parzival on the quest to take his fated place as next in the lineage. Her advice is interpreted in the context of his finding both love and God as guidance towards better being prepared to take on the Grail.[8]
The womanly kinship of Sigune is the next guide that Parzival shall encounter. Her appearance (at three times in the tale) is essential and occurs on each occasion at a significant stage in his progress, at a point when he is in urgent need of some kind of guidance. Her first contribution is to provide Parzival his identity, an essential detail for a man that his mother was not able to impart. She directs him to Arthur's Court, and in doing so heads him off to the quest. In their second meeting she scolds him for failing to understand the nature of his quest and goal, ultimately pushing him to the atonement needed to fully grasp his duty as Grail King. Thirdly, the last meeting of Parzival and Sigune is one of quiet recognition, her life a prayer in itself that anticipates the same state for Parzival.[8]
The last woman for Parzival is his wife, Condwiramurs. Her role lies in the "love of a devoted wife. She is interesting in that her vitality lies in what she is, rather than her specific guidance to Parzival. The time that Parzival must recognize his inability to possess her, he leaves her and does not return. Her symbolic significance allows her character to be a guide in terms of the readiness of Parzival. Ultimately, both the Grail and Conwiramurs combine to form Parzival's goal. She spurs him on his quest, and like the Grail itself, is an inspiration and reward. In the end, her guidance is best represented by her name on the Grail as well as Parzival.[8]
Influence
Wolfram followed Parzival with the fragmentary romance Titurel, which serves as a prologue. This poem was continued by a later poet known as Albrecht. Wolfram's story of Loherangrin was expanded into two full romances, Lohengrin and Lorengel, and later German writers often referred back to Parzival in their works.
Ludwig II of Bavaria was inspired by the poem, and Singers' Hall in his castle Neuschwanstein is decorated with tapestries and paintings depicting the story. He was also patron to the composer Richard Wagner and encouraged him to create the opera Parsifal based on the romance. He then commissioned eight private performances of the work.
References
1. Loomis, Roger Sherman. Development of Arthurian Romance, Hutchsinson and Company, 1963, 70.
2. Weigand, Hermann J. Three Chapters on Courtly Love in Arthurian France and Germany, University of North Carolina Press, 1956, 33.
3. Hasty 1999, p. ix.
4. Chrétien de Troyes. The Complete Romances of Chrétien de Troyes-"The Story of the Grail", ed. David Staines, Indiana University Press, 1990, 340. ISBN 0-253-20787-8
5. BBC Gallery, Parzival and the Holy Grail
6. Bumke 2004, p. 245–247
7. Helen Adolf, "New Light on Oriental Sources for Wolfram's Parzival and Other Grail Romances", PMLA (June 1947), Vol. 62, No.2, 306-324
8. Gibbs, Marion. "The Role of Woman in Wolfram's Parzival." German Life and Letters. 21.4 (1968): 296-308. Print.
Bibliography
• Bumke, Joachim (2004). Wolfram von Eschenbach (in German). Stuttgart: J.B. Metzler. ISBN 3-476-18036-0.
• Green, D.H. The Art of Recognition in Wolfram's Parzival. Cambridge & New York: Cambridge University Press, 1982. ISBN 0-521-24500-1
• Groos, Arthur. Romancing the Grail: Genre, Science, and Quest in Wolfram's Parzival. Ithaca: Cornell University Press, 1995. ISBN 0-8014-3068-2
• Groos, Arthur. "Wolfram von Eschenbach's 'Bow Metaphor' and the Narrative Technique of Parzival." MLN 87.3, 1972. 391-408.
• Hasty, Will, ed. (1999). A Companion to Wolfram's Parzival. Rochester, NY: Camden House. ISBN 1-57113-152-3.
• G. Ronald Murphy, SJ. Gemstone of Paradise: The Holy Grail in Wolfram's Parzival. Oxford University Press, 2006. ISBN 0-19-530639-2
• Springer, Otto. "Wolfram's Parzival" in Arthurian Literature in the Middle Ages, Roger S. Loomis (ed.). Clarendon Press: Oxford University. 1959. ISBN 0-19-811588-1
Editions and translations
The standard edition of the text is Karl Lachmann's, 1926. This is the basis for all modern editions, including:
• Wolfram von Eschenbach, Parzival. De Gruyter 2003. ISBN 3-11-017859-1.
English translations:
• Wolfram von Eschenbach, Parzival with Titurel and The Love-lyrics, trans. Cyril Edwards. Boydell Press 2004, OUP 2006. ISBN 1-84384-005-7& ISBN 0-19-280615-7
• Wolfram von Eschenbach, Parzival, trans. A.T.Hatto. Penguin 1980. ISBN 0-14-044361-4.
• Wolfram von Eschenbach, Parzival, A Romance of the Middle Ages, trans. Helen M. Mustard and Charles E. Passage. Vintage Books, 1961. ISBN 0-394-70188-7
• Wolfram von Eschenbach. Parzival, trans. Jessie L. Weston. Digireads.com (January 1, 2014). ISBN 1420949845
Modern German translations:
• Wolfram von Eschenbach, Parzival. De Gruyter 2003. ISBN 3-11-017859-1. With prose translation by Peter Knecht.
• Wolfram von Eschenbach, Parzival, (2 vols). Deutscher Klassiker Verlag 2006. ISBN 3-618-68007-4. With verse translation by Dieter Kühn.
• Wolfram von Eschenbach, Parzival, (2 vols). Reclam 1986 ISBN 3-15-003682-8 und ISBN 3-15-003681-X. With translation by Wolfgang Spiewok.
• Hermann Reichert: Wolfram von Eschenbach, Parzival, für Anfänger. Wien: Praesens Verlag, 2., völlig überarbeitete Aufl. 2007. ISBN 978-3-7069-0358-5.
Spanish translations:
• Wolfram von Eschenbach, Parzival. Siruela 1999. ISBN 978-84-7844-446-5. With translation by Antonio Regales.
Fictional retelling of Wolfram's myth:
• Clarke, Lindsay. Parzival and the Stone from Heaven — a Grail Romance for our Time. Oxford: Godstow Press, 2011. ISBN 978-0-9547367-5-0.
External links
• Literary Encyclopedia entry on Parzival
• Electronic version of a Parzival-manuscript from the Bibliotheca Palatina (Universitätsbibliothek Heidelberg) -from the workplace of Diebold Lauber in Hagenau around 1443-1446.
• E-text of Parzival from the Bibliotheca Augustana
• Article entitled "Wounded Masculinity: Parsifal and The Fisher King Wound" The symbolism of the story as it relates to the Wounded Masculinity of Men by Richard Sanderson M.Ed., B.A.
• Text of Parzival on Gutenberg.spiegel.de
• Manichaeanism and Wolfram's Parzival by Bruce MacLennan