Neuschwanstein: A fairy tale darling's dark Nazi past: King Ludwig II designed the castle as an isolated refuge. That's what made it the perfect depot for hiding Nazi stolen art. George Clooney's 'The Monuments Men' sheds light on Neuschwanstein's role in World War II.
by dw.com
2/21/14
NOTICE: THIS WORK MAY BE PROTECTED BY COPYRIGHT
YOU ARE REQUIRED TO READ

THE COPYRIGHT NOTICE AT THIS LINK

BEFORE YOU READ THE FOLLOWING WORK, THAT IS AVAILABLE SOLELY FOR PRIVATE STUDY, SCHOLARSHIP OR RESEARCH PURSUANT TO 17 U.S.C. SECTION 107 AND 108. IN THE EVENT THAT THE LIBRARY DETERMINES THAT UNLAWFUL COPYING OF THIS WORK HAS OCCURRED, THE LIBRARY HAS THE RIGHT TO BLOCK THE I.P. ADDRESS AT WHICH THE UNLAWFUL COPYING APPEARED TO HAVE OCCURRED. THANK YOU FOR RESPECTING THE RIGHTS OF COPYRIGHT OWNERS.
This much we know: Walt Disney visited Nazi Germany in 1935…. it is a fact that Sleeping Beauty's Castle at Disneyland closely resembles Bavaria's Neuschwanstein Castle, right down to the last spinning wheel.

-- The Naziest Place on Earth, by Dan Pine, The Jewish News
The Sleeping Beauty Castle sits in the centre of Disneyland and took inspiration from King Ludwig's castleCredit: Alamy

Built in 1869, it inspired Walt Disney to build his own version at Disneyland after travelling to the castle with his wife during a trip to Europe. Walt and his wife Lillian visited the castle when they were on a tour of Europe before Disneyland was built. They loved it so much that they used elements in the Sleeping Beauty castle which you'll find nowadays at Disneyland....which is also the castle they fly over in 1968's Chitty Chitty Bang Bang.

The castle also features in 1968's Chitty Chitty Bang BangCredit: Rex Features

-- The German castle that was the inspiration for Disneyland's Sleeping Beauty Castle – and you can visit it yourself, by Rosie Gizauskas, The Sun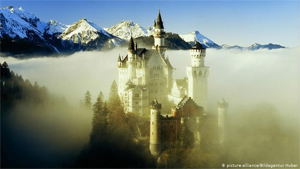 Neuschwanstein castle, Photo: picture-alliance/Bildagentur Huber
Splashed across postcards, travel guides and even Walt Disney products, "the castle of the fairy-tale king" lures more than a million visitors each year. Its instigator, King Ludwig II of Bavaria, was declared insane and later drowned a mysterious death in 1886. Weeks later, Neuschwanstein opened its doors to the public and remains a top tourist attraction in Germany today.
But the fairy-tale fortress has its own Nazi past, illuminated most recently in George Clooney's World War II drama, "The Monuments Men." The film follows an Allied special forces unit tasked with protecting and tracking down Europe's stolen treasures during the Second World War.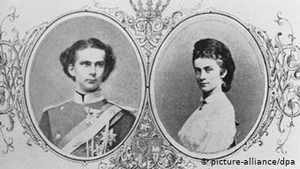 Black and white engagement postcard of King Ludwig II, left, who broke off his engagement to Duchess Sophie and lived in solitude most his life Photo: photo alliance / dpa
Eccentric King Ludwig II didn't construct the whimsical Neuschwanstein for royal purposes: He designed it as a hideaway from the public. In a perverse twist of the king's intentions, this is precisely what the Nazis did here with art plundered from their victims: hide it from the public.
Hitler's orders
"Search lodges, libraries and archives of the occupied territories for material valuable to Germany," Hitler ordered the Rosenberg taskforce - his exclusive art-looting team - in a 1940 transcript after German troops stormed neighboring France. Hitler's dream was to build a "Führer's Museum" in Linz, Austria, with the plundered treasures.
Between 1940 and 1945, Nazi officials funneled stolen valuables to various locations throughout Germany including monasteries, salt mines and castles.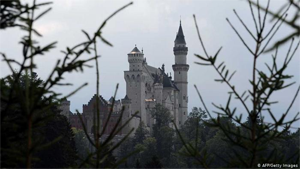 Photo: CHRISTOF STACHE/AFP/Getty Images
Neuschwanstein was isolated and close to Austria, where Hitler wanted to build his museum
"Neuschwanstein castle was chosen as headquarters of the 'Einsatzstab Reichsleiter Rosenberg,' the German art-looting organization," said art historian Tanja Bernsau. Its location near the Austrian border, and far from Berlin or other likely Allied targets, made Neuschwanstein an ideal depot.
Although it was built to mirror a medieval structure, the architectural gem featured the latest technology of its time: central heating, flushing toilets and an electric bell system for summoning servants. The cornerstone stone was laid in 1868, but the castle remained unfinished, which meant ample space for storage.
Art espionage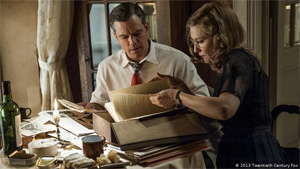 Scene from 'The Monuments Men' Photo: 2013 Twentieth Century Fox. In the film, 'The Monuments Men,' Rose Valland is played by Cate Blanchett, right
Most of the looted property stored in Neuschwanstein stemmed from France, and it was the French connection that ultimately led the US army to the castle.
Before his death in 2006, Monuments Man and art historian S. Lane Faison, Jr. described the discovery in an interview for the Archives of American Art. The key, he said, was French curator Rose Valland.
"She pretended to be a [Nazi] collaborator," Faison said of Rose Valland, who worked at the Jeu de Paume Museum, one of the Nazis' central collection points before they shipped stolen wares to Germany. For four years, Valland secretly tracked where the art was being shipped.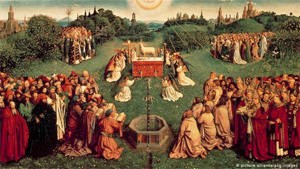 The van Eyck 'The Adoration of the Mystic Lamb,' pictured above, from 1432 was among the stolen pieces at Neuschwanstein Photo: picture alliance/akg-images
Storming the hideout
Rose Valland's reports led the Allies to the Bavarian castle. When US troops descended upon Neuschwanstein in 1945, a vast collection of index cards, lists and slides were discovered, detailing about 21,000 stolen items. Among them was the Gent altarpiece from the Van Eyck brothers, the private jewelry and furniture collection of the Rothschild family, and the gold and silver works of David-Weill.
A current exhibition at the Smithsonian Institute's Archives of American Art highlights some of these World War II art rescue missions. "Monuments Men: On the Front Line to Save Europe's Art, 1942–1946," features black-and-white photographs of soldiers handling crates at a snow-covered Neuschwanstein.
"They would have preferred to leave the artworks in the castle to organize the restitution to France from there," art historian Tanja Bernsau said. "But as most of the contents in Neuschwanstein were stored uncrated and were valuable gold and silver works, they decided to relocate them for security reasons."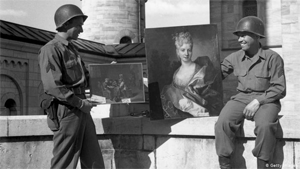 Black-and-white photo of two American soldiers with a painting found in Neuschwanstein in 1945 Photo: Photo by Horace Abrahams/Keystone/Getty Images
US soldiers brought the treasures to safety in 'Central Art Collecting Points'
Rescue and restitution
Thus, the crates were relocated to US-directed Central Art Collecting Points, which were tasked with restitution, or tracking down the treasures' original owners.
"And that's where the huge task started," said Iris Lauterbach of the Central Institute for Art History in Munich. "The works of art had to be inventoried, photographed and restituted one by one. American and German art historians and secretaries worked together to restitute tens of thousands of pieces."
S. Lane Faison returned to Germany in 1951 to supervise the handover of US operations to the Germans and was struck by the enormity of the task.
"One of the saddest problems was that acres, I think you might say, of furniture just went on and on and on, piled up to the ceiling…and chairs, tables, household things, everything you could think of known to have come from Jewish sources," Faison said. "But what do you do? And if somebody lost six Louis XV chairs, which ones were they? And did we have them? There was no way - you can't identify such things."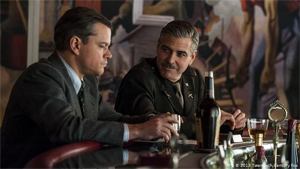 Matt Damon, left, and George Clooney, right, in a scene from the movie, 'Monuments Men' Photo: 2013 Twentieth Century Fox
It may not be historically accurate, but 'The Monuments Men' brings awareness to the operation
Battle continues
Identification and art restitution work continues in Germany today. Recent discoveries of potentially stolen art continue to hit the headlines, and "The Monuments Men" film, recently premiered at the Berlin International Film Festival, also sheds light on those responsible for preserving art in war. Nevertheless, Clooney's drama has its critics.
"I didn't like the film," Iris Lauterbach said. She appreciates the awareness the drama brings, but she questions whether a layperson can process the intricacies of the European war theater, the locations, the art involved. "The film pretends to be based on a true story, but it contains too many fictitious elements."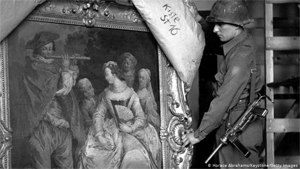 Black-and-white photo of a soldier pulling back a covering over a stolen Fragonard painting Photo: Horace Abrahams/Keystone/Getty Images
Neuschwanstein's role in Nazi Germany is not mentioned in tours of the castle
Those looking for the details in a tour of Neuschwanstein won't learn more either.
Castle tours include King Ludwig II's lavish bedroom, an artificial dripstone cave...
The castle's interior is whimsical; the artfully adorned walls roll out murals depicting biblical narratives, German legends and mythology mainly based upon operas created by Richard Wagner, the king's beloved composer. In a sense, Neuschwanstein Castle plays as a tribute to Wagner's theatrical stories and is the result of Ludwig's obsession to breathe life to all of his works.

As soon as you enter "the cave"....

which leads to his elaborately decorated bedroom, you will certainly begin imagining how in the world this part of the castle was built with the limited resources and knowledge of technology during that period. A dripstone cave with waterfalls illuminated by color changing mood lights? Mind blown.

-- How Neuschwanstein Castle Became the Proof That Dreams are Only Dreams Until You Make It Real, by Sarah In Real Life
... and the modern-for-its-time kitchen. But there's no mention of the castle's role in Germany's dark chapter.
"We're not trying to hide that fact," said castle spokesperson Thomas Rainer. Management wants to confront the castle's role in Nazi history, he added. The director of the Bavarian Palace Museum department recently wrote an essay on the topic of art rescue sites during World War II.
"But we have more than a million visitors per year and very strict regular tours that last 30 minutes," Rainer said. "We focus on what we can during that time."