William F. Talbot
by Wikipedia
Accessed: 9/19/19
NOTICE: THIS WORK MAY BE PROTECTED BY COPYRIGHT
YOU ARE REQUIRED TO READ

THE COPYRIGHT NOTICE AT THIS LINK

BEFORE YOU READ THE FOLLOWING WORK, THAT IS AVAILABLE SOLELY FOR PRIVATE STUDY, SCHOLARSHIP OR RESEARCH PURSUANT TO 17 U.S.C. SECTION 107 AND 108. IN THE EVENT THAT THE LIBRARY DETERMINES THAT UNLAWFUL COPYING OF THIS WORK HAS OCCURRED, THE LIBRARY HAS THE RIGHT TO BLOCK THE I.P. ADDRESS AT WHICH THE UNLAWFUL COPYING APPEARED TO HAVE OCCURRED. THANK YOU FOR RESPECTING THE RIGHTS OF COPYRIGHT OWNERS.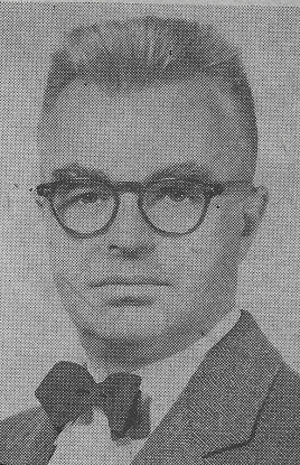 William F. Talbot: Born Loup City, Nebraska, October 29, 1904 [to Nicholas Louis Talbot (Father), and Mary Ella 'Nellie' Fletcher (Mother)] [Children: Charles, Michael and Nicholas (Michael and Nicholas born in England)]
Died November 1967 (aged 63)
Nationality American
Alma mater State University of Iowa
Scientific career
Institutions DuPont, Sun Chemical,
Office of Strategic Services
, Stanford Research Institute, Rubberset Company, Bristol Myers
William Fletcher "Bill" Talbot (October 29, 1903 – November 1967) was a research chemist and the founding director of SRI International, a position he held from 1946 to 1947.
[1][2]
Early life and education
Born in Loup City, Nebraska in 1903,[3] Talbot received M.S. and Ph.D. degrees from the State University of Iowa.[4]
Career
Initially a teacher, Talbot joined E. I. du Pont as a research chemist.
Talbot Gets Appointment

William F. Talbot, research assistant of chemistry, has received an appointment with the Dupont company, and will work at the experimental station in Wilmington, Del. He will begin his new duties Sept. 1, 1929.
He was then a research chemist for A. D. Little.[4] He was later the technical director of the Sun Chemical Company (formerly the General Printing Ink Company) and president of its Fine Chemicals Division.
While on leave from Sun in 1944, he was the assistant director of research and development for the Office of Strategic Services.
[4] During his career, he developed melamine resin, a type of plastic used for molding and casting. Talbot held several patents.[4]
Unofficially appointed in September 1946 and officially appointed in January 1947, he was SRI International's first director.[4] He helped establish the organization and set its early priorities. Due to a dispute with Stanford University president Donald Tresidder, he offered his resignation and reluctantly left SRI in December 1947. Talbot believed SRI should seek contracts from governmental organizations (and be what is now considered a defense contractor); Tressider believed the organization should be independent from government interference.[2]
Social Events: Janet Woolbert, William Talbot Wed Last Night

Janet Woolbert, daughter of Prof. and Mrs. C.H. Woolbert, 716 N. Van Buren street, was married at the home of the bride's parents last night to William F. Talbot.

Twenty-five guests witnessed the ceremony, which was read by the Rev. Harry Sherman Longley of the Episcopal church. Vows were spoken before a background of lighted tapers, surmounted by green leaves.

Miss Woolbert was attended by Alice Wood of Urbana, Ill, Robert G. Woolbert of Cambridge, Mass., a brother of the bridge, attended Mr. Talbot. Louise, Eunice, Frances, and Dorothy Gale, small daughters of Mr. Nell Gale of Rockford, Ill., were the flower girls. They stretched an aisle of ribbons and flowers through the room for the bridal couple to pass through.

The bride wore an ivory satin dress made with basque waist and bouffant skirt with an uneven hemline,l finished in deep lace. The costume was completed with a long veil of white tulle and white satin slippers with rhinestone buckles. She carried a bouquet of Ophelia roses.

Miss Wood was attired in a gown of pale pink moiré satin, pink satin slippers, and carried a bouquet of pale pink roses.

At 8 p.m. Margaret Schumacher of Urbana, Ill., began the nuptial music by playing Lohengrin's "Bridal March." Miss Woolbert, attended only by Miss Wood entered, and was met at the altar by the bridegroom, accompanied by Mr. Woolbert.

The double ring ceremony was used.

The bride attended the University of Illinois for one year and the University of Iowa for the last two years. She is a member of Delta Gamma sorority. Mr. Talbot received his undergraduate work at Hastings college. He was awarded his M.S. degree at the University of Iowa and is studying for a Ph.D. At present he is a research assistant in organic chemistry. He is a member of Alpha Chi Sigma, Phi Lambda Upsilon, Pi Kappa Delta and Sigma XI.

Out of town guests at the wedding were Miss Wood, Mr. and Mrs. G. M. Wood and Miss Schumacher of Urbana, Ill.; Mr. and Mrs. David Rifior, Mrs. L.W. Brewer and George Woolbert of Ottawa, Ill.; Neil Gale and daughters and Janette Gale of Rockford, Ill.; Elizabeth Fatherson, of Clarion; Catherin St. Clair of Marshalltown; Miss Marie Armil, and Betty Spencer, of Davenport, and Florence Ferman, of Cedar Rapids.

Immediately following the ceremony there was a reception. Marion Ketelson, Ruth Bywater, Jeanne Doran, and Betty Baxter, all of Iowa City acted as assistant hostesses.

The couple left after the reception for a wedding trip to Cass Lake in Minnesota. The new home will be made Sept. 15 at 311 N. Capitol street.

-- Social Events: Janet Woolbert, William Talbot Wed Last Night, by The Daily Iowan, August 29, 1928
Talbot went on to work for the Rubberset Company ...
Talbot is Vice-President of Firm

Newark, N.J., Feb. 9 (Special to Sherman County Times) – Dr. William F. Talbot, a 1920 graduate of the Loup City high school, has been elected vice-president of the Rubberset Company here – an internationally known manufacturer of paint brushes, paint rollers, and shaving brushes.

Dr. Talbot is a native of Sherman county. His parents were Dr. Nicholas L. and Mary Talbot, pioneers of the county. He attended Hastings College, and after graduating there undertook advanced study in chemistry at the State University of Iowa, where he received the degree of

Doctor of Philosophy in 1929

. Dr. Talbot's sisters, Mrs. A. Daddow and the late Mrs. P.G. Paige, were long-time residents of Sherman county.

Dr. Talbot has been active in various phases of the chemical industry and has published numerous technical articles. He holds a number of patents and is

the inventor of the Melamine plastics

that are widely used for molding of electrical insulation and other articles such as tableware.

Dr. Talbot has also been active in military affairs. During World War II he served as a consultant to the Office of Strategic Services and for a time was assistant director of the research and development branch of that organization. Just prior to joining the Rubberset Company early in 1952, Dr. Talbot served the Chemical Corps of the army as principal civilian scientist at Dugway Proving Ground, Tooele, Utah, where he was in charge of a group of 300 scientists engaged in large scale field testing of chemical, bacteriological, and radiological weapons.

At the Rubberset Company, Dr. Talbot is in charge of the plastic products division located at Salisbury, Md., and directs the research and development program of the company.

-- Talbot is Vice-President of Firm, by Sherman County Times, Feb. 9, 1953
and later on for Bristol Myers. He died in 1967.[4]
References
1. Nielson, Donald (2006). A Heritage of Innovation: SRI's First Half Century. SRI International. ISBN 978-0-9745208-1-0.
2. Lowen, Rebecca (July–August 1997). "Exploiting a Wonderful Opportunity". Stanford Magazine. Stanford Alumni Association. Retrieved 2011-12-27.
3. [1]
4. Gibson, Weldon B (1980). SRI: The Founding Years. Stanford Research Institute. ISBN 0-913232-80-7.