Fritz Julius Kuhn
by Wikipedia
Accessed: 9/23/19
NOTICE: THIS WORK MAY BE PROTECTED BY COPYRIGHT
YOU ARE REQUIRED TO READ

THE COPYRIGHT NOTICE AT THIS LINK

BEFORE YOU READ THE FOLLOWING WORK, THAT IS AVAILABLE SOLELY FOR PRIVATE STUDY, SCHOLARSHIP OR RESEARCH PURSUANT TO 17 U.S.C. SECTION 107 AND 108. IN THE EVENT THAT THE LIBRARY DETERMINES THAT UNLAWFUL COPYING OF THIS WORK HAS OCCURRED, THE LIBRARY HAS THE RIGHT TO BLOCK THE I.P. ADDRESS AT WHICH THE UNLAWFUL COPYING APPEARED TO HAVE OCCURRED. THANK YOU FOR RESPECTING THE RIGHTS OF COPYRIGHT OWNERS.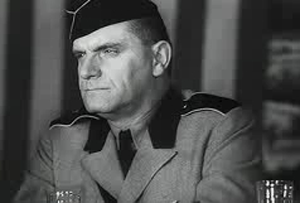 Fritz Julius Kuhn
Kuhn in 1938
Born Fritz Julius Kuhn
May 15, 1896
Munich, German Empire
Died December 14, 1951 (aged 55)
Munich, West Germany
Known for German American Bund
Spouse(s) Elsa
Children Walter, Waltraut
Parent(s)
Georg Kuhn
Julia Justyna Beuth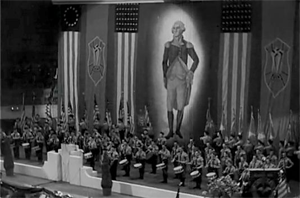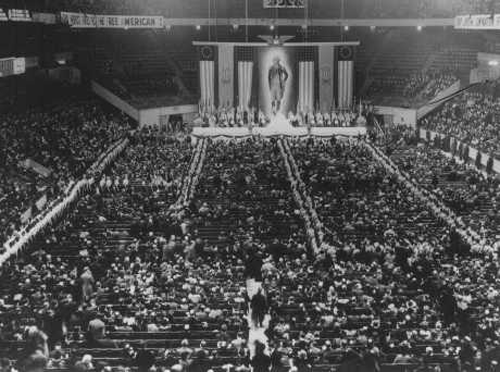 Madison Square Garden rally 1939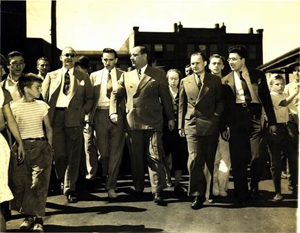 Kuhn appearing on the street after leaving a courthouse in Webster, Massachusetts in 1939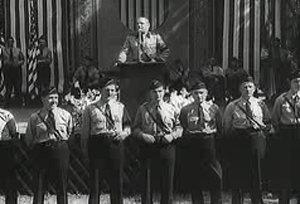 Kuhn speaking at a "Bund"-camp-rally
Fritz Julius Kuhn (May 15, 1896 – December 14, 1951) was the leader of the German American Bund before World War II.
He became a naturalized United States citizen in 1934, but his citizenship was cancelled in 1943, and he was deported in 1945. He was an American supporter of the German Nazi government led by
Adolf Hitler
that ruled Germany from 1933 to 1945.[1]
Life and career
Kuhn was born in Munich, then the German Empire, on May 15, 1896, the son of Georg Kuhn and Julia Justyna Beuth. During World War I, Kuhn earned an Iron Cross as a German infantry lieutenant.[2] After the war, he graduated from the Technical University of Munich with a master's degree in chemical engineering. In the 1920s, Kuhn moved to Mexico. In 1928, he moved to the United States and, in 1934, he became a naturalized citizen of the United States.[3] He worked at a Ford factory in Detroit before assuming control of the Bund in Buffalo, New York, in 1936.[4]
A Congressional committee headed by Samuel Dickstein concluded that the Friends of New Germany supported a branch of German dictator Adolf Hitler's Nazi Party in the United States,[5] and the Friends of New Germany disbanded. However, in March 1936, the German American Bund was established in Buffalo as a follow-up organization.[6] The Bund elected the German-born American citizen Kuhn as its leader.[7]
Kuhn, while describing the Bund as "sympathetic to the Hitler government", denied that the organization received money or took orders from the government of Germany. Kuhn also denied that the Bund had any agenda of introducing fascism to the United States.[8][9]
Kuhn enlisted thousands of Americans by using what would be criticized as antisemitic, anticommunist, and pro-German propaganda. One of his first tasks was to plan a trip to Germany with 50 of his American followers. The purpose was to be in the presence of Hitler and to personally witness
National-Socialism in practice
.
At this time, Germany was preparing to host the 1936 Olympics. Kuhn anticipated a warm welcome from Adolf Hitler, but the encounter was a disappointment. This did not stop Kuhn from elaborating more propaganda to his followers once he returned to the United States about how
Hitler acknowledged him as the "American Führer".
[10]
As his profile grew, so did the tension against him. Not only Jewish-Americans, but also German-Americans who did not want to be associated with Nazis, protested against the Bund. These protests were occasionally violent, making the Bund front page news in the United States.
In response to the outrage of Jewish war veterans, Congress in 1938 passed the Foreign Agents Registration Act requiring foreign agents to register with the State Department.[10]
The negative attention to the American Nazis was not to Hitler's liking because he wanted the Nazi Party in the United States to be strong, but stealthy.
Hitler needed to keep the U.S. neutral throughout the coming war and sought to avoid provoking Americans, whereas Kuhn was eager to stir media attention. On March 1, 1938, the Nazi government decreed that no German national (Reichsdeutsche) could be a member of the Bund and that no Nazi emblems were to be used by the organization.[6]
Undaunted, on February 20, 1939, Kuhn held the largest and most publicized rally in the Bund's history at Madison Square Garden in New York City.[11] Some 20,000 people attended and heard Kuhn mock President Franklin D. Roosevelt as "Frank D. Rosenfeld", calling his New Deal the "Jew Deal" and denouncing what he called Bolshevik-Jewish American leadership. Kuhn also stated:"The Bund is fighting shoulder to shoulder with patriotic Americans to protect America from a race that is not the American race, that is not even a white race ... The Jews are enemies of the United States." Most shocking was the outbreak of violence between Bund storm troopers and thousands of angry protesters in the streets. During Kuhn's speech, a Jewish protester, Isadore Greenbaum, rushed the stage and had to be rescued by police after he was beaten and stripped by storm troopers
.[12][13][14]
Later in 1939, seeking to cripple the Bund, New York City Mayor Fiorello La Guardia ordered the city to investigate the Bund's taxes. It found that Kuhn had embezzled over $14,000 from the organization, spending part of the money on a mistress. District Attorney Thomas E. Dewey issued an indictment and won a conviction against Kuhn. On December 5, 1939, Kuhn was sentenced to two and a half to five years in prison for tax evasion and embezzlement.[15] Despite his criminal conviction for embezzlement, followers of the Bund continued to hold Kuhn in high regard, in line with the Nazi Führerprinzip, which gives the leader absolute power.
While in Sing Sing[4] prison,
Kuhn's citizenship was canceled on June 1, 1943, on grounds of it having been obtained fraudulently as shown by his ongoing activity as a foreign agent of, and person with loyalty including oaths of military service towards, Germany and the Nazi Party.
[3] Upon his release after spending 43 months in prison, Kuhn was re-arrested on June 21, 1943, as an enemy agent and interned by the federal government at a camp in Crystal City, Texas. After the war, Kuhn was sent to Ellis Island and deported to Germany on September 15, 1945.[3] Upon his arrival in Germany, he wanted to return to the United States,[16] but was imprisoned, then released shortly before his death.[17] While in prison, Kuhn reportedly sent a message to Jewish columnist Walter Winchell, who had helped lead media counterattacks against the Bund back in New York City. It read: "Tell Herr Vinchell, I will lift to piss on his grafe [sic]."[18]
He died on December 14, 1951, in Munich, Germany. The New York Times obituary said that he died "a poor and obscure chemist, unheralded and unsung".[1]
Appearance in media
In the alternative historical dystopian television series The Man in the High Castle, a high school on Long Island is named after Kuhn.
References
1. "Fritz Kuhn Death in 1951 Revealed. Lawyer Says Former Leader of German-American Bund Succumbed in Munich". The New York Times. Associated Press. February 2, 1953. Retrieved 2008-07-20. Fritz Kuhn, once the arrogant, noisy leader of the pro-Hitler German-American Bund, died here more than a year ago – a poor and obscure chemist, unheralded and unsung.
2. Riess, Curt. Total Espionage: Germany's Information and Disinformation Apparatus 1932-40, 2017.
3. "Fritz Kuhn, Former Bund Chief, Ordered Back to Germany". The Evening Independent. September 7, 1945.
4. O'Haire, Hugh (May 8, 1977). "When the Bund Strutted in Yaphankl". The New York Times. Retrieved 28 May 2017.
5. U.S. Congress, House Special Committee on Un-American Activities (1938). Investigation of un-American propaganda activities in the United States. United States Congress. p. 1090. Retrieved 11 October 2017.
6. Jim Bredemus. "American Bund – The Failure of American Nazism: The German-American Bund's Attempt to Create an American 'Fifth Column'". TRACES. Archived from the original on 18 May 2011. Retrieved 2 March 2011.
7. Cyprian Blamires; Paul Jackson (2006). World fascism: a historical encyclopedia, Volume 1. ABC-CLIO. p. 270. ISBN 0-8223-0772-3.
8. Says Hitler Group is 200,000 strong. Kuhn Denies Trying to Set Up Fascism in U.S. Associated Press in Reading Eagle, March 12, 1937
9. Kuhn Bares Bund Record Destruction. "Kuhn steadfastly denied that the German government had any connection with his organization." Associated Press in Reading Eagle, August 16, 1939
10. Nazi America: A Secret History (2000), History Channel (92 min)
11. Ratzis Fritz Kuhn and the Bund, 1939 by Jay Maeder Sunday, May 31st 1998[permanent dead link]
12. "Fight Nazis in Big N.Y. Rally" (February 21, 1939). Chicago Tribune Archive. Chicago Tribune News Service. Retrieved 28 May 2017.
13. Philpot, Robert (February 22, 2019). "Eighty years ago this week: the night the Nazis played Madison Square Garden". The Jewish Chronicle. London. Retrieved March 23, 2019.
14. Philip Bump, When Nazis rallied in Manhattan, one working-class Jewish man from Brooklyn took them on, 20 February 2017, The Washington Post
15. Adams, Thomas (2005). Germany and the Americas: Culture, Politics, and History: A MultiDisciplinary Encyclopedia. G – N, volume 2. ABC-CLIO. p. 631. ISBN 1-85109-628-0. Retrieved January 11,2011.
16. Shaffer, Ryan (Spring 2010). "Long Island Nazis: A Local Synthesis of Transnational Politics". 21(2). Journal of Long Island History. Archived from the original on 2010-06-21. Retrieved 2010-11-19.
17. IMDb Biography
18. Bernstein, Arnie (May 28, 2017). "Walter Winchell, Nazi Fighter". The New York Times Book Review: 6. Retrieved 27 May 2017.
External links
• Talking History Archive - Recording of Fritz Kuhn's speech at the German-American Bund Rally, New York City, Feb. 20, 1939, at the University of Albany
• Fritz Julius Kuhn - Federal Bureau of Investigation (FBI)
• "American Bund: The Failure of American Nazism; The German-American Bund's Attempt to Create an American 'Fifth Column'" Article by Jim Bredemus on Traces.org
• Fritz Julius Kuhn on IMDb
• Newspaper clippings about Fritz Julius Kuhn in the 20th Century Press Archives of the ZBW