Dosabhai Framji Karaka
by The Open University, Making Britain
Accessed: 3/10/20
Alongside this noticeable success, Freda faced some acute disappointments. She made enemies as well as friends, and sometimes these rivalries became vicious.

Lois Lang-Sims

commented, without saying what prompted the observation, that Freda's enemies 'were not only numerous but of an almost incredible malevolence'. That intense animosity seems to have been behind the most wounding public assault on Freda and her integrity. The stiletto was wielded by

D.F. [Dosabhai Framji] Karaka

, an Oxford contemporary of the Bedis. He was a writer and journalist of some distinction, though by the early 1960s he was the editor of a not-so-distinguished Bombay-based tabloidstyle weekly, the Current. This was awash with brash, sensationalist stories, reflecting Karaka's fiercely polemical style, his crusading anticommunism and his impatience with

Nehru, India's prime minister, for his supposed lack of zeal in standing up for the national interest

. The weekly paper bore the slogan 'God Save the Motherland' on its front page.

The front page of 'Current' in September 1963 which caused Freda great distress.

Saturday, September 28, 1963 GOD SAVE THE MOTHERLAND
THE CURRENT, VOL. XV, NO. 3 All India Edition 30 N.P. WEEKLY
On Govt. of India notepaper ...
... Noted Communist appeals to unwary Americans for funds for
YOUNG LAMAS
by D.F. Karaka
According to an All India Radio news bulletin, Mr. Ghulam Mohammed Bakshi recently stated in Srinagar that Communism was infiltrating into Kashmir through Buddhism. This statement was later confirmed by Mr. Kusho Bakula, Minister of State for Ladakh Affairs, who is himself a Ladakhi and a Buddhist monk.
Information reaching CURRENT through reliable sources indicates that an Englishwoman, married to an Indian, is attempting to express a great deal of anxiety to help the Buddhist cause as a screen for her Communist activities.
This Englishwoman, whose name is FREDA BEDI, and her husband, BABA P.L. BEDI, have been most active workers for Communism for nearly 30 years.
Freda has dabbled with Communism ever since my student days in Oxford. She was, in fact, at Oxford at the same time as myself. Later, she married Bedi, a well known Indian Communist. They both came out to India and plunged themselves into the Communist movement.
They were at one time said to be card-holding Communists, and their police records in this country would certainly testify that before Partition they were not mere sympathisers, but active workers of the C.P.I.
Comrade Bedi was the leader of the Communist Party in Lahore, where in pre-Independence ...

In September 1963, Freda's photograph graced the front-page of the Current, accompanying a story which also took up much of the following page. It was a hatchet job. Under his own byline, Karaka asserted that 'an Englishwoman, married to an Indian, is attempting to express a great deal of anxiety to help the Buddhist cause as a screen for her Communist activities'. He insisted that 'Mrs Freda Bedi ... will always, in my opinion, be a Communist first, irrespective of her outwardly embraced Buddhism.' This was an absurd accusation.

Freda's days as a communist sympathiser had come to a close almost twenty years earlier. Her husband had abandoned communism a decade previously.

By 1951, the thorny political issue of offering the people of Kashmir a plebiscite to let them decide whether they wanted to join Pakistan or accede to India hung heavily in the air. Freda was torn. While she believed in the people's right to choose, she was adamantly against Pakistan's propaganda, with its call for Islamic separation and the holocaust she feared would irrevocably follow, with Hindus and Sikhs the losers.

"There will be a tough fight when and if a plebiscite takes place. The other side uses low weapons – an appeal to religious fanaticism and hatred, which can always find a response. We fight with clean hands. I am content as a democrat that Kashmir should vote and turn whichever way it wishes, but I know a Pakistan victory would mean massacre and mass migration of Hindus and Sikhs – and I hate to face it. God forbid it should happen," she said.

For the first time she revealed an anticommunist leaning. "I feel the British Press –- with the exception of our friend Norman Cliff on the News Chronicle -– is Pakistan minded, and while I realize that Pakistan and Middle East oil interests are linked, I think it is a great injustice to Kashmir. While a very brutal invasion and a lot of propaganda from the Pakistan side has been trying to make the state communist minded, it has valiantly stuck to his democratic ideas and built up this very war-torn, hungry world."

BPL was valiantly doing his part in promoting counterpropaganda (a role given to him by Sheikh Abdullah's administration), churning out publicity and articles both in Delhi and in Kashmir. One day in 1952, things went catastrophically wrong. BPL had a huge argument with his old friend Sheikh Abdullah, who was about to make a speech ratifying the plebiscite.

Kabir said, "My father warned him that India would never accept such a move and that Sheikh Abdullah would be jailed. He was also afraid that a plebiscite would deepen the split already existing in the state and would destroy the work that he, Mummy, and others had been carefully building up over the fragile early years to promote harmony and improve the living conditions of all the people. Kashmir had a huge Muslim majority, but anti-Pakistan feeling was also very high In Kashmir. That was what my father was working with, especially with his counterpropaganda. His ultimate commitment and hope was that Kashmir would be joined to secular India, with its democratic principles. Sadly the best of friendships ended in a bitter battle."

The minute his argument with Sheikh Abdullah was over, BPL went home, packed up all his household goods and his family, and within twenty-four hours had moved everyone to Delhi. He could no longer stay in a Kashmir that he felt was heading for trouble, and in the employ of a man whose policies he no longer believed in. His prediction was right. In 1953, Sheikh Abdullah was dismissed as prime minister, arrested on charges of conspiracy against the state, and jailed for eleven years.

-- The Revolutionary Life of Freda Bedi, by Vicki Mackenzie

[1954] As with Freda, Bedi's crisis had a lasting spiritual aspect. He developed a keen interest in the occult, establishing the Occult Circle of India; he became attracted to the mystical Sufi tradition within Islam and -- re-engaging with the religion he was born into -- in Sikh mysticism; he believed he had acquired special powers, and took to hands-on spiritual healing. He dressed in a smock and carried a staff; as his hair became increasingly unkempt, he looked like a latter-day Moses. He chose to be known as Baba, which carried with it an echo of a mystical or spiritual identity. It was a reinvention almost as complete as those that marked out the phases in Freda's life; he had gone from gilded youth, to communist and peasants' rights activist, to political apparatchik, to prophet and visionary. Bedi had largely broken links with the organised left and although he remained active in a Delhi-based Kashmir support group, he moved decisively away from active politics. 'I had been under an impulsion to take to spiritual life,' he recalled a decade later. 'I resigned at once from all organisations .... It was like a realization that now [the] time had come to quit all this work and take to a new form of life.'

Bedi insisted... that his embrace of a spiritual purpose did not involve any repudiation of his socialist beliefs. 'The statue of Lenin I loved still lies on my mantelpiece, and not a dent on [my] Marxist convictions exists.' But several of his old associates felt uncomfortable with Bedi's new look and message and kept their distance. Ranbir Vohra, who had known the Bedis in Lahore and Srinagar as well as Delhi, recalled that his old friend offered to help him communicate with anyone who had passed on: 'He suggested that I talk to Marx.

I declined the generous offer.'

-- The Lives of Freda: The Political, Spiritual and Personal Journeys of Freda Bedi, by Andrew Whitehead

But the accusation of being a concealed communist was deeply wounding especially when the Tibetan refugees regarded communist China as their arch enemy

-- the occupiers of their homeland and destroyers of their culture, faith and tradition -- and when India had recently been at war with China.

The idea to write Red Shambhala developed gradually as a natural offshoot of my other projects... By chance, I found out that in a secret laboratory in the 1920s Gleb Bokii -- the chief Bolshevik cryptographer, master of codes, ciphers, electronic surveillance -- and his friend Alexander Barchenko, an occult writer from St. Petersburg, explored Kabala, Sufi wisdom, Kalachakra, shamanism, and other esoteric traditions, simultaneously preparing an expedition to Tibet to search for the legendary Shambhala. A natural question arose: what could the Bolshevik commissar have to do with all this? ...

Meanwhile, I learned that during the same years, on the other side of the ocean in New York City, the Russian emigre painter

Nicholas Roerich

and his wife, Helena, were planning a venture into Inner Asia, hoping to use the Shambhala prophecy to build a spiritual kingdom in Asia that would provide humankind with a blueprint of an ideal social commonwealth. To promote his spiritual scheme, he toyed with an idea to blend Tibetan Buddhism and Communism. Then I stumbled upon the German-Armenian historian Emanuel Sarkisyanz's Russland and der Messianismus des Orients, which mentioned that the same Shambhala legend was used by Bolshevik fellow travelers in Red Mongolia to anchor Communism among nomads in the early 1920s.

I came across this information when I was working on a paper dealing with the Oirot/Amursana prophecy that sprang up among Altaian nomads of southern Siberia at the turn of the twentieth century. This prophecy, also widespread in neighboring western Mongolia, dealt with the legendary hero some named Oirot and others called Amursana. The resurrected hero was expected to redeem suffering people from alien intrusions and lead them into a golden age of spiritual bliss and prosperity. This legend sounded strikingly similar to the Shambhala prophecy that stirred the minds of Tibetans and the nomads of eastern Mongolia. In my research I also found that the Bolsheviks used the Oirot/Amursana prophecy in the 1920s to anchor themselves in Inner Asia. I began to have a feeling that all the individuals and events mentioned above might have somehow been linked...

Shambhala... was a prophecy that emerged in the world of Tibetan Buddhism between the 900s and 1100s CE, centered on a legend about a pure and happy kingdom located somewhere in the north; the Tibetan word Shambhala means "source of happiness." The legend said that in this mystical land people enjoyed spiritual bliss, security, and prosperity. Having mastered special techniques, they turned themselves into godlike beings and exercised full control over forces of nature. They were blessed with long lives, never argued, and lived in harmony as brothers and sisters. At one point, as the story went, alien intruders would corrupt and undermine the faith of Buddha. That was when Rudra Chakrin (Rudra with a Wheel), the last king of Shambhala, would step in and in a great battle would crush the forces of evil. After this, the true faith, Tibetan Buddhism, would prevail and spread all over the world....

In the course of time, indigenous lamas and later Western spiritual seekers muted the "crusade" notions of the prophecy, and Shambhala became the peaceable kingdom that could be reached through spiritual enlightenment and perfection. The famous founder of Theosophy

Helena Blavatsky

was the first to introduce this cleansed version of the legend into Western esoteric lore in the 1880s. At the same time, she draped Shambhala in the mantle of evolutionary theory and progress: ideas widely popular among her contemporaries. Blavatsky's Shambhala was the abode of

the Great White Brotherhood

hidden in the Himalayas. The mahatmas from this brotherhood worked to engineer the so-called sixth race of spiritually enlightened and perfect human beings, who possessed superior knowledge and would eventually take over the world. After 1945, when this kind of talk naturally went out of fashion, the legend was refurbished to fit new spiritual needs.

Today in Tibetan Buddhism and spiritual literature, in both the East and the West, Shambhala is presented as an ideal spiritual state seekers should aspire to reach by practicing compassion, meditation, and high spirituality. In this most recent interpretation of the legend, the old "holy war" feature is not simply set aside but recast into an inner war against internal demons that block a seeker's movement toward perfection....

Lama Phuntsok was one of the dozens of lamas we had met, or were going to meet, in our future. It was already starting to get boring; all these amazing, enlightened Tibetan lamas and their cookie-cutter teachings we had access to, for free, because of our circumstances taking care of Trungpa's son. Although I wouldn't admit it, these lamas were all starting to sound the same and quite dull to me. This old lama from Tibet was different, however, being straight from the old country; unskilled in the strategic charms the lamas had learned for western audiences.

Phuntsok, we were told, was the incarnation of every great lama of the past, which was always the case for any new lamas who needed the boost, and this one seemed incoherent and all over the place. But, one thing was for sure, he was teaching us the real Kalachakra prophecy and its inner and secret teachings; how Trungpa's Shambhala legacy was embedded within it. It was not the Camelot Kingdom terma of Trungpa, nor the Shangri-la paradise of Saint Dalai Lama, filled with peace, love, and harmony, that we had come to believe.

This Kalachakra prophecy, the real one, we had never heard about before. Not in this direct and non-evasive way.

The Dalai Lama had finished giving his fourth, U.S. Kalachakra Wheel of Time empowerment in 1991, in New York City, to crowds of unsuspecting thousands, with the usual pitch that it was about bringing peace throughout the world. This Kalachakra prophecy, the real one, straight from this Lama Phuntsok's mouth, straight from Tibet, wasn't talking peace. He was talking about a third world war, the idea of which he seemed to relish, when Tantric Lord Chakravartins, as Rigden Kings, like Trungpa, would come to rule the world.

Lama Phuntsok told us we were the "special" Trungpa students of the "Shambhala Kingdom" and that Trungpa was a lama, who was not just a great bodhisattva, but a great military leader, connected to Gesar of Ling; an emanation of Rigden Kings who would come to rule the earth, in the near future. We were the future army of Shambhala warriors. Nothing new here; the usual teaching by Trungpa and his early students, but told were simply symbolic. We, as his students in this life, and part of his military branch, his

kasung

, were going to be reborn in the pure land of Shambhala. Yes, that was the same, but then Phuntsok continued: 'when you will come back to fight as Shambhala warriors, some of you as generals, in this great Wheel of Time war between heretics and Shambhala.'

When this war ended, he told us, it would usher in the Age of Maitreya, the Adi-Buddha world of Shambhala and its enlightened society, after this future great apocalyptic war, predicted by these lamas and their ancient prophesies, had destroyed the enemies of their 'dharma.' It was starting to sound like being reborn as kamikaze in a great, epic bloody battle. Not something you would wish for, for any of your next lives, as Lama Phuntsok was describing it. I just flinched, and filed it away.

What remained clear, however, was this great coming war was very real to this old lama from Tibet, and not symbolic at all; not an internal fight, or struggle within us, to tame our own demons -- our egoistic propensities, -- as we had been taught.

It was the first red flag, waving madly before my eyes, about why these lamas are building all their centers and temples, around the world. I realized, that they really believe they will rise up, at the end of this apocalypse they are all predicting; as the new Lord Chakravartins, the Rigden God Kings, ruling over the earth.

Lama Phuntsok, unskilled in donning a 'peaceful' mask for western consumption, had just told us that Tibetan Buddhism is an apocalyptic cult, that believes it will be the world religion in the not too distant future; once it has conquered the other heretic religions. The lamas had been telling us the same thing; but always making sure it was seen as just a metaphor; in a twilight language; about the war inside us, caused by that bug-a-boo: ego. Lama Phuntsok, straight from Tibet, and therefore straight from the thirteenth century, was telling us the truth about his Tibetan Buddhism; this religion of peace.

In a few short years, in Digby, Nova Scotia, at my last graduate Shambhala retreat -- Trungpa's Kalapa Assembly -- I would learn that Trungpa's ambitions to rule the world were as real for him as it was for Lama Phuntsok, transmitting the prophecy of Shambhala before me, now. Clearly, all these lamas believed and wished for the same thing.

-- Enthralled: The Guru Cult of Tibetan Buddhism, by Christine A. Chandler, M.A., C.A.G.S.

Red Shambhala is the first book in English that recounts the story of political and spiritual seekers from the West and the East, who used Tibetan Buddhist prophecies to promote their spiritual, social, and geopolitical agendas and schemes. These were people of different persuasions and backgrounds: lamas (Ja-Lama and Agvan Dorzhiev), a painter-Theosophist (Nicholas Roerich), a Bolshevik secret police cryptographer (Gleb Bokii), an occult writer with leftist leanings (Alexander Barchenko), Bolshevik diplomats and revolutionaries (Georgy Chicherin, Boris Shumatsky) along with their indigenous fellow-travelers (Elbek-Dorji Rinchino, Sergei Borisov, and Choibalsan), and the rightwing fanatic "Bloody White Baron" Roman von Ungern-Sternberg. Despite their different backgrounds and loyalties, they shared the same totalitarian temptation -- the faith in ultimate solutions. They were on the quest for what one of them (Bokii) defined as the search for the source of absolute good and absolute evil. All of them were true believers, idealists who dreamed about engineering a perfect free-of-social-vice society based on collective living and controlled by enlightened spiritual or ideological masters (an emperor, the Bolshevik Party, the Great White Brotherhood, a reincarnated deity) who would guide people on the "correct" path. Healthy skepticism and moderation, rare commodities at that time anyway, never visited the minds of the individuals I profile in this book. In this sense, they were true children of their time -- an age of extremes that gave birth to totalitarian society.

-- Red Shambhala: Magic, Prophecy, and Geopolitics in the Heart of Asia, by Andrei Znamenski

'Freda has dabbled with Communism ever since my student days in Oxford,' Karaka reported. 'She was, in fact, at Oxford at the same time as myself. Later, she married Bedi, a well known Indian Communist. They both came out to India and plunged themselves into the Communist movement.' The article resorted to innuendo, suggesting that 'the alleged indoctrination of Sheikh Abdulla [sic] was largely to be traced to his very close association with Freda Bedi'. It suggested that some former associates of the Bedis in Kashmir had 'mysteriously disappeared'. Freda was alleged to have been caught up in controversy about Buddhist property and funds before turning, 'with the active encouragement of Shri J. Nehru, the Prime Minister', to the running of the Young Lamas' Home School. The article suggested that Freda was getting money from the Indian government, and using government headed paper to appeal for funds from supporters in America and elsewhere.

Karaka suggested that the Tibetan Friendship Group was a 'Communist stunt' and he alleged that 'noted Communists, with the usual "blessings" of Mr. Nehru, are using the excuse of helping Tibetan refugees and Buddhist monks for furthering the cause of Communism in strategic border areas.'

Aside from the venomous smears, the only evidence of inappropriate conduct that the article pointed to was her use of official notepaper to appeal for funds for her school and other Tibetan relief operations. It cited a letter of complaint, sent by an unnamed Buddhist organisation which clearly was antagonistic to Freda, stating that she had been using the headed paper of the Central Social Welfare Board which bore the Government of India's logo. A civil servant's response was also quoted: 'Mrs Bedi is not authorised to use Government of India stationery for correspondence in connection with the affairs of the "Young Lama's Home" or the "Tibetan Friendship Group". This has now been pointed out to Mrs. Bedi.'

Even if Freda has been using government headed paper to help raise money -- which those who worked with her say is perfectly possible -- it was hardly a major misdemeanour. But detractors were able to use this blemish to damage her reputation. She was, it seems, distraught at this vicious personal attack and took advice about whether to take legal action. She was advised, probably wisely, to do nothing, as any riposte would simply give further life to accusations so insubstantial that they would quickly fade away.

'The accusation was that Freda was a communist in nun's clothing -- not that Freda was a nun at that time,' recalls Cherry Armstrong. 'I remember her being particularly distressed and "beyond belief' when she believed she had identified the culprit. Freda was totally dumbfounded about it.'

Freda was convinced that another western convert to Buddhism, Sangharakshita (earlier Dennis Lingwood), was either behind the slur or was abetting it. They had much in common -- including a deep antipathy to each other. Lingwood encountered Theosophy and Buddhism as a teenager in England and was ordained before he was twenty by the Burmese monk U Titthila, who later helped Freda towards Buddhism. During the war, he served in the armed forces in South and South-east Asia and from 1950 spent about fourteen years based in Kalimpong in north-east India, where he was influenced by several leading Tibetan Buddhist teachers. In the small world of Indian Buddhism, the two English converts rubbed shoulders. More than sixty years later, Sangharakshita -- who established a Buddhist community in England -- recalls coming across Freda, then new to Buddhism, living at the Ashoka Vihar Buddhist centre outside Delhi. 'She was tall, thin, and intense and wore Indian dress. She had a very pale complexion, with light fair hair and very pale blue eyes. In other words, she looked very English! I also noticed, especially later on, that she was very much the Memsaheb ... During the time that I knew Freda she knew hardly anything about Buddhism, having never studied it seriously .... She had however developed what I called her "patter" about the Dalai Lama, compassion, and the poor dear little Tulkus. So far as I could see, Freda had no spiritual awareness or Enlightenment. She may, of course, have developed these later.' His view of the Young Lamas' Home School is also somewhat jaundiced -- 'some of [the tulkus] developed rather expensive tastes, such as for Rolex watches.'

In 1989 he was awarded with the Nobel Peace Prize, he is the spiritual head of Tibetan Buddhism -– and he, himself is a self-confessed watch lover. The speech is of course by Tenzin Gyatso, the 14th Dalai Lama. Granted, the ascetic monk is not the first name that comes to mind in connection with luxury watches. But the Dalai Lama has a weakness for mechanical watches and has been happy to disassemble and reassemble them for years. His personal collection consists of over 15 watches, about which, however, little is known....

However, three of his watches can be clearly seen in photos and we are able to identity them. In addition to a Patek Philippe pocket watch, given to him as a young boy from U.S. President Franklin D. Roosevelt, the monk also has two Rolex models whose origin is unknown.

His love of mechanical watches began very early: At the age of 6 or 7, the Dalai Lama received his first watch, from none other than the U.S. American President Franklin D. Roosevelt....Eric Wind identified the watch... in a Hodinkee article as a pocket watch with Ref. 658, of which only 15 were made between 1937 and 1950, a truly special gift!... Roosevelt did not hand over the gift personally. Two agents of the Office of Strategic Services (OSS), the predecessor of today's CIA, offered the watch along with a letter from the president.

Brooke Dolan

and his colleague

Ilia [Ilya Andreyevich] Tolstoy

, who was allegedly the grandson of the famous author

Leo Tolstoy

, strictly followed the protocol: visitors silently handed over their presents and received a so-called 'katha', a prayer shawl traditionally handed over. The two had a mission to find out more about the possibility of building a road from India to China, which was strategically important to the United States for supplying China during the war with Japan.

The Dalai Lama's watch is a complex and rare specimen that displays the moon phases, date, day of the week and months. It aroused his enthusiasm for mechanical watches and watchmaking. A well-known photograph shows him working on watches....

If you are interested in mechanical watches, there is no way around a classic Rolex. The Dalai Lama owns two models that are well-known: A Rolesor Rolex Datejust made of gold and stainless steel with a Jubilee bracelet and a Rolex Day-Date, both presumably gifts. The latter is made of yellow gold and has a blue dial, as seen in some photographs. Some people say that they are a sign of proudness among a monk, but if you look at the meaning of the colours in Tibetan Buddhism, you will see a beautiful picture: blue stands for heaven and spiritual insights, yellow for earth and the experiences of the real world. Thus, the watch purely by chance reflects the teachings of Tibetan Buddhism.

-- The Dalai Lama and his [Rolex] watches, by Manuel Lütgens

Sangharakshita's recollection is that he and Freda 'got on quite well, even though I did not take her "Buddhism" very seriously' as they were both English and (in his view) of working-class origin. He was not impressed by her husband: 'he struck me as a bit of a humbug ... I was told (not by Freda) that he was then living with one of his cousins.' In his memoirs, he recycled one of the allegations that featured in Current, that an 'Englishwoman married to a well-known Indian communist' was trying to 'wrest' control of Ashoka Vihar outside Delhi from the Cambodian monk who had founded it. Decades later, he continues to recount this and other of the items on the Current charge sheet, describing Freda as 'a rather ruthless operator' while in Kashmir. He recalls the furore over the Current article, but says that he had no reason to believe that Freda was using the Lamas' School for a political purpose. Freda never tackled him over her suspicions, but he does not deny a tangential involvement. 'It is possible,' he concedes, 'that certain reservations about the Young Lamas' Home School eventually reached the ears of Current.'

The incident was a reflection of the intense rivalries within the Tibetan movement and its supporters. 'Strong personalities do seem to draw opposition by their very nature,' Cherry Armstrong comments, 'and there is a lot of personal politics amongst the Tibetan groups -- not all light and loveliness as one might like to think.'

-- The Lives of Freda: The Political, Spiritual and Personal Journeys of Freda Bedi, by Andrew Whitehead
Other Names: D. F. Karaka; Dosoo Framjee Karaka
Date of birth: 14 Apr 1911
City of birth: Bombay
Country of birth: India
Current name city of birth: Mumbai
Date of death: 01 Jun 1974
Location of death: Bombay
Date of 1st arrival in Britain: 01 Jan 1930
Dates of time spent in Britain: 1930-8, 1945
Location: Oxford, London.
About:
D. F. Karaka was born in Bombay in 1911. He is the grandson of Dosabhai Framji Karaka, whose History of the Parsis became the authoritative text on the Parsee community in the late nineteenth century. Karaka arrived in England in the autumn of 1930 and joined Lincoln College at the University of Oxford to study law. Karaka became an active member of the Oxford Union, participating in debates. He would occupy a number of posts - Treasurer, Secretary and Librarian - before being elected the first President of South Asian origin of the Oxford Union. He succeeded Michael Foot, who was a close friend of his.

Karaka was Secretary of the Union when it held its controversial 'King and Country' debate (9 February 1933). The Union discussed the pacifist motion 'that this House will under no circumstances fight for its King or Country'. The controversy provoked heated debate in the national press and among Oxford students. At a subsequent meeting of the Union, Karaka's minutes were torn from him and destroyed. He also received protection from the university police for a limited amount of time. During his time at Oxford, Karaka started writing non-fiction, especially about his experience as an Indian in Britain and his position as a 'coloured' man. After Karaka finished his degree, he sat the examination for the Indian Civil Service. He failed but went on to pass his Bar examination in London.
In order to earn some money, he briefly worked at the clothes store Simpson's on Piccadilly, advertising the store to newly-arrived Indian students in Britain.
Against his parents wishes, he decided to pursue a career in journalism. He published an article on the colour bar in 1934 in the Daily Herald, one of the most widely read newspapers in the 1930s. He also wrote several non-fiction books that dealt with the colour bar and the position of Indians in the British empire and Britain, most notably The Pulse of Oxford, I Go West and Oh! You English.
Some of his journalism of the period is collected in All My Yesterdays.
He returned to Bombay in 1938 where he worked as a journalist for the Bombay Chronicle, later being promoted to its editorial board. During the Second World War, he worked as a war correspondent. Initially he was posted to Chungking, covering the Chinese war against the Japanese, before becoming effectively an embedded journalist with the 14th Army in Burma in the run-up to the battles of Kohima and Imphal. He transferred to the Western Theatre of War in early 1945, covering the advances of British, American and Indian Forces in Italy. After a short time in London, where he was able to reconnect with friends such as Michael Foot from his Oxford days, as well as gain an exclusive interview with Lord Amery, Secretary of State for India, he was accredited to Southern Headquarters Allied Expeditionary Force to witness the Allied Forces' final push through France and the Low Countries into Germany. He was one of the first journalists to reach Bergen Belsen concentration camp. He was also among the journalists who travelled to Rheims to witness Germany surrender on 8 May 1945.
After the end of the war in Western Europe and his return to England, Karaka wanted to move via New York to the Pacific to cover the war there. However, he did not make it to the Pacific theatre in time.
At the end of 1945, Karaka returned to India. After falling out with the editor of the Bombay Chronicle, he founded his own weekly newspaper, The Current. Karaka supported Indian independence and the Indian National Congress, while also supporting the British war effort. He was witness to partition violence, covering for his newspaper the displacement of 10 million people and the atrocities that accompanied it. After independence he became increasingly critical and sceptical of Nehru's policies. He wrote critically about corruption, and Nehru's 'autocratic' style of government, which led to his phone conversations being tapped and the monitoring of his movements. In 1971, with heightened tensions between India and Pakistan, he was imprisoned briefly on grounds of national security.
D. F. Karaka died in 1974 from a heart attack.
Connections:
Lord Amery, Michael Foot, M. K. Gandhi, Roy Jenkins, Michael Joseph (publisher), M. R. Jayakar, Mohammad Ali Jinnah, Humayun Kabir, Madan Mohan Malaviviya, Sarojini Naidu, Jawaharlal Nehru, Tej Bahadur Sapru.
Organizations:
Oxford Union
Involved in events:
Second World War (war correspondent for the Bombay Chronicle in East India, Burma, the western front and Germany)
Published works:
The Pulse of Oxford (London: J. M. Dent, 1933)
Oh! You English (London: Fredrick Muller, 1935)
I Go West (London: Michael Joseph, 1938)
Out of Dust (Bombay: Thacker, 1940) [biography of Gandhi]
Chungking Diary (Bombay: Thacker, 1942)
There Lay the City (Bombay: Thacker, 1942) [novel]
Karaka Hits Propaganda (Bombay: Sound Magazine, 1943) [pamphlet]
All My Yesterdays (Bombay: Thacker, 1944)
Just Flesh (Bombay: Thacker, 1944) [novel]
We Never Die (Bombay: Thacker, 1944) [novel]
With the 14th Army (Bombay: Thacker, 1944; London: D. Crisp, 1945)
New York with its Pants Down (Bombay: Thacker, 1946)
Freedom Must Not Stink (Bombay: Kutub, 1947)
I've Shed My Tears: A Candid View of Resurgent India (New York and London: D. Appleton-Century Co., 1947)
No Peace at All (Bombay: Kutub, 1948)
Arre Bhai: Being Rephlection of the Problems oph Bharat, i.e. India, Boycott British Language (Bombay: S. B. Phansikar, New Era Printing Press, 1950)
Betrayal in India (London: Victor Gollancz, 1950)
Nehru: The Lotuseater of Kashmir (London: Derek Verschoyle, 1953)
Fabulous Mogul Nizam of Hyderabad (London: Derek Verschoyle, 1955)
Morarji (Bombay: Times of India Press, 1965)
Shivaji: Portrait of an Early Indian (Bombay: Times of India Press, 1969)
Then Came Hazrat Ali: Autobiography 1972 (Bombay: D. F. Karaka, 1972)
This India (Bombay: Thacker, n.d.)
(with G. N. Acharya) War Prose [anthology]
Contributions to periodicals:
Bombay Chronicle (war correspondent, editor, columnist)
The Current (editor)
Daily Herald
New Statesman
Oxford Isis
Sunday Standard
Secondary works:
Visram, Rozina, 'Karaka, Dosabhoy Framji [Dosoo] (1911–1974)', Oxford Dictionary of National Biography (Oxford University Press, 2013) [http://www.oxforddnb.com/index/101/101101328/]
Archive source:
L/I/1/1423, India Office Records, Asian and African Studies Reading Room, British Library, St Pancras
********************
Dosabhoy Framji [Dosoo] Karaka
by Rozina Visram
Oxford DNB
[Karaka, Dosabhoy Framji [Dosoo] (1911–1974), journalist and writer, was born on 14 April 1911 in Bombay, British India, into a middle-class Parsi family, the eldest of three children of Framji Jehangir Karaka, imperial customs official, and his wife, Homai (d. 1952). He grew up in a house on Malabar Hill called The Cloisters, in a fashionable quarter of Bombay. His great-grandfather, Dosabhai Framji Karaka, was the author of the History of the Parsis published in Britain by Macmillan in 1884. After two years at the Jesuit college in Bombay, when the family moved to Karachi he attended the Dayaram Jethmal Sind College there, graduating with a bachelor of arts degree in English literature. In 1930 he entered Lincoln College, Oxford, graduating with a second in jurisprudence in 1933. At the same time, in October 1930, he was admitted to Gray's Inn and was called to the bar in 1938. Two events which proved decisive in shaping his life and intellectual development occurred when he was still young. The first was when as a child in Bombay he witnessed mill workers shouting 'Mahatma Gandhi ke jai' and learned about the independence movement under Gandhi's leadership. The second was his time at the University of Oxford and his eight years in Britain.]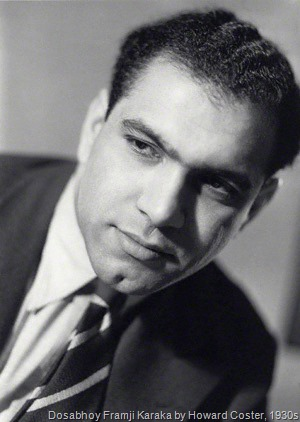 Dosabhoy Framji Karaka, by Howard Coster, 1930s
Oxford in the 1930s was changing: there was growing student radicalism. Caught up in undergraduate politics, Karaka became active in several clubs and societies.
He was president of
the University Liberal Club and
the Oxford Majlis
.
The Oxford Union Society, commonly referred to simply as the Oxford Union, is a debating society in the city of Oxford, England, whose membership is drawn primarily from the University of Oxford. Founded in 1823, it is one of Britain's oldest university unions and one of the world's most prestigious private students' societies. The Oxford Union exists independently from the university and is separate from the Oxford University Student Union.

The Oxford Union has a tradition of hosting some of the world's most prominent individuals across politics, academia and popular culture, including US Presidents Ronald Reagan, Jimmy Carter, Richard Nixon and Bill Clinton, British Prime Ministers Winston Churchill, Margaret Thatcher, David Cameron and Theresa May, Pakistani Prime Minister Imran Khan, activists Malcolm X, Dalai Lama and Mother Teresa, actor Morgan Freeman, musicians Sir Elton John and Michael Jackson and sportspeople Diego Maradona and Manny Pacquiao.

-- Oxford Union, by Wikipedia
At a time of an upsurge in the freedom struggle many prominent Indian figures addressed the Majlis and there were heated debates on Indian independence. Although 'essentially an Indian club' (The Pulse of Oxford, 35) it exercised a considerable influence on some of his contemporaries such as Michael Foot.
Considered 'the chief star in our Union constellation' (Lincoln College Record, 2003/4, 21), Karaka was active in the Oxford Union. He was secretary during the notorious 'king and country' debate, and the furore over the outcome meant that Karaka had to re-record the minutes, torn out by some angry undergraduates from the minute book. It was in this charged atmosphere that Karaka wrote his first book, The Pulse of Oxford (1933). In 1934, having worked his way through the society's ranks, he became president of the Oxford Union, succeeding Foot. As he was the first Indian to hold that office his election made headlines in the national press. While still at Oxford he was commissioned by Michael Joseph to write a book on India, which he entitled I was Born Dark.
But the publishers, thinking this would suggest African authorship, changed it to I Go West (1938). His first piece of journalism, 'Colour Bar', commissioned by the Daily Herald, was published in 1934.
In 1938, by now a firm believer in the democratic way of life and a 'budding crusader for the equality of man' (Then came Hazrat Ali, 103), Karaka returned to Bombay. In December he joined the Bombay Chronicle, one of the leading dailies and a newspaper in the front line of the independence struggle.
Under the pseudonym DIM (from Dominus illuminatio mea, the Oxford University motto) Karaka wrote a racy daily half-column as well as a serious feature, 'I cover the town'.
As a reporter for a nationalist paper he met many luminaries of the Indian National Congress. During his nine years with the Bombay Chronicle he wrote a series of eloquent, well-researched pieces. Among his more notable articles was his graphic eyewitness report on the 1943 Bengal famine countering the version of events given to parliament by Leo Amery, the secretary of state for India.
April 1942 saw Karaka in Chungking on his first major assignment as the Bombay Chronicle's war correspondent. His daily broadcasts to India, permitted by the Ministry of Information, were aimed at raising awareness of Chinese resistance to Japan. His book Chungking Diary (1942) was a lively account of his experiences, including interviews with Chou en Lai and Madam Chiang Kai-Shek. Next he was on the China–Burma border witnessing the long-drawn-out run-up to the battles of Kohima and Imphal. His monograph With the Fourteenth Army (1944) narrated a human story of courage and endurance in this frontier war. In December 1944, wishing to gain a bigger picture of the war, he transferred to the western front to cover the allied forces' final push into Germany. With his usual knack for securing interviews he gained an exclusive interview with Amery, which was reported in twenty-seven Indian newspapers on their front pages. Karaka summarized Amery as 'a cunning little river fish' (BL OIOC L/I/1/1423), skilful at manoeuvring interviews and difficult to pin down. Karaka was one of the first journalists to enter Bergen Belsen concentration camp. But his eyewitness account, one of the major stories of the war, remained unpublished as the proprietor of the Bombay Chronicle chose not to print it.

The event that was to haunt Karaka, which he witnessed and reported at the request of Brigadier B. S. Chimni, was the partition of the Punjab. His graphic description of the harrowing scenes of slaughter and the helplessness of the refugees lifted the curtain on what he called 'virtually a war of extermination'
(Freedom must not Stink, 4).
He saw no justification in whitewashing Indian shortcomings. He was to return again and again to the images, drawing comparisons between the Punjab and the stench of Belsen in several publications including his autobiography, Then came Hazrat Ali (1972).
After nine years with the Bombay Chronicle Karaka edited a weekly, The March, and
in 1949 founded his own weekly, The Current. He remained steadfast to his liberal ideals of a democratic way of life and journalistic ethics. Increasingly disenchanted with Nehru—witness the title Nehru, the Lotus Eater from Kashmir (1953)—and the Congress style of government, he became fiercely critical of its policies, accusing Congress of 'virtually creating a dictatorship' (Betrayal in India, 82). In 1971, during the emergency, he was briefly imprisoned on grounds of national security. The Current was a financial struggle and affected his health.
A well-regarded and politically committed journalist, Karaka also wrote works of fiction. At Oxford he was renowned for his wit and sherry parties. A cultured man, he spoke French fluently. He was also fond of betting on horses and playing cards for high stakes. He married in 1952 and lived latterly in Bombay, where he died of cardiac failure in 1974.
********************
Current is back: D.F. Karaka and Ayub Syed's legacy of trailblazing journalism is back with a bang
by Inder Malhotra
2017
There was an era, long gone by, when there was no media in this country, only the Press. The government-owned and controlled All India Radio seemed not to matter. Mainstream, metropolitan newspapers -– generally respected, even if rather Victorian in style and substance -– dominated the scene that was enlivened, however, by precisely two Mumbai-based newsmagazines in tabloid size.
One was the heavily left-leaning Russy Karanjia's Blitz and the other Current of Duso (D.F.) Karaka whose politics was the exact opposite of Karanjia's. Their barbs at each other added to the readability of their rival publications without damaging personal relations. More important,
both men had deliberately shed the constraints major national newspapers had accepted voluntarily. Their reporting was spicy and their comments hard-hitting. Even at the risk of being accused of sensationalism, they won the reader's attention and a measure of admiration of the common man
—in today's jargon, aam aadmi. With the passage of time and in accordance with the laws of life, both the trail-blazers eventually disappeared in limbo.
Karaka was the first to call it a day. He looked forward to retired life, but had absolutely no need to shut down the journal he had nurtured so lovingly. There were many wannabe publisher-editors scrambling to buy it from him. He was, however, choosy about the potential buyer. He decided to sell Current to Ayub Syed, a professional journalist of standing, full of dynamism and initiative, and determined to make a mark. When asked why he had opted for Syed, Karaka, a Parsi, gave the startling reply: "Appearing in my dream, Hazrat Ali had so ordered me".
All through his heyday Karaka had been a trenchant critic of Jawaharlal Nehru and, later, of Indira Gandhi, earning her wrath and brief imprisonment during the Emergency. Ayub Syed, a member of the Congress party for some years and a known Leftist, was in no mood to follow the Karaka line. He adopted his own independent policy. Soon enough, under his stewardship, Current flourished and became an influential and powerful forum for vigorous political reporting and fearless exposure of wrongdoing whenever and wherever perceived. He had close relations with political leaders of all hues, across the entire spectrum. No wonder therefore that there were attempts to influence him. There were also whispers that he was promoting one leader or the other. Ignoring these, he did exactly what he wanted and tried to be as even-handed as humanly possible. This is not to say that he and his newsmagazine made no errors. They did. For instance, in its initial stages and for quite a while later, Current and Ayub supported the Emergency but, later, he was candid enough to admit that it was a mistake. At the same time, he never tampered with, leave alone block, writings by columnists like me that were contrary to his own stand. During the historic 1977 General Election he and I traveled together extensively, especially in Uttar Pradesh and Bihar, to gauge the ground reality. He was quick to perceive the sea change in public opinion. By the time we reached Lucknow, we nearly exclaimed in unison: "By God, she has had it… but if we are wrong, we have had it even worse".
Yet, it is to Ayub's credit that when the Janata government crossed all limits in calling Indira Gandhi and her son Sanjay to account for the Emergency and its excesses, and instead of prosecuting them started persecuting them, he sternly cried halt, unmindful of reproaches from his friends on the then ruling party's highest rung. Similarly, by the time Bofors and much else had overwhelmed Rajiv Gandhi's government, Ayub's sympathies were with V.P. Singh, by then the rallying point of all forces opposed to Rajiv and the Congress. But this never prevented him from lambasting his good friend Singh's Mandalization policy. And then something terrible happened. Ayub fell seriously ill. He struggled hard to fight for his life as well as to keep Current going. But fate willed otherwise. The iron crab got him; three years later his beloved weekly went into coma.
Now, with this inaugural issue, on the sixty-first anniversary of Independence, Current is back with a bang. Edited and produced by the Generation Next, the weekly in its new avatar is aimed at reviving Ayub Syed's legacy, on the one hand, and catering to the wishes, aspirations and needs of the rising youth of rising India, on the other.
During the long interval between Current's closure and revival, the change in India and the world has been phenomenal to the point of boggling the mind. The transformation of the Indian media scene has been even more staggering. Round-the-clock TV news channels, partly foreign-financed, are giving the print media a run for its money. But, instead of being swamped and supplanted by TV – as was predicted by Jeremiahs and is indeed happening in some Western countries – Indian newspapers and journals, in English as well as regional languages, have not just stood their ground, they have registered expansion beyond all expectations. Burgeoning circulations have been matched by mounting profits. However, this upsurge has not been an unmixed blessing.
On the contrary, with the gargantuan expansion of quantity – it is difficult to keep count of publications: one sinks, several appear almost instantly -– quality has, most distressingly, taken a nosedive. Barring some honourable exceptions, even major and responsible papers of yore have trivialised their contents. Page 3 has overshadowed Page 1. Worse, crass commercial considerations have increasingly eclipsed journalistic ethics and the editor's authority. Collusion between the movers and shakers of the newspaper industry and the unhidden persuaders of the advertising and PR agencies has reached a stage when editorials have been converted into 'advertorials'. Nor is any sign of corrective action by newspaper moguls in sight.
To be sure, after its Second Coming, Current is not going to be a charitable outfit, unmindful of earnings. But there need be not the slightest doubt that it would never compromise professional values, leave alone sacrifice them, for the sake of pelf or any other consideration. Equally, the weekly would remain steadfastly committed to giving a wide berth to trivia and titillation that is becoming the USP of far too many publications. Serious but lively journalism is the objective of those infusing a new life into Current, which is why subjects like film and fashion, so hugely splashed by others, will be avoided, and the publication's priority focus would be on the 'business of politics and politics of business'.