Workers' Educational Association
by Wikipedia
Accessed: 2/25/20
Venerable Kapilavaddho and the English Sangha Trust

1955-1957

We pay tribute to a man who founded the English Sangha Trust

and who, after an absence of ten years, returned to lead it from the dolorous state into which it had fallen. He had in the course of his lifetime several different names, as will appear but it is fitting to head this tribute with the name and designation that he twice bore with wisdom, courage and dignity. There will be many, to whom the earlier parts of the almost incredible saga of this man are unknown, and it is with such people in mind that the story is told at some length.

William August Purfurst

was born at Hanwell, Middlesex, on 2nd June 1906. As the name indicates, his father was of German origin, and he was an only child. His father died when he was quite small, and he was brought up under the care of his mother, to whom he remained devotedly attached until her death in 1957. Young William soon showed himself to be a man of many and brilliant gifts. There is no doubt that he could have made a career for himself either in business or in the academic world. He had a remarkable gift for acquiring a wide variety of experiences and — what is more — profiting from them. At the age of 20 he was living in Bristol as manager of a branch of an internationally know typewriter firm, but the world of business could not satisfy him. He started studying such things as psychology and philosophy, eagerly seeking to find answers to life's riddle. But his compulsively inquiring mind was not so easily satisfied with the "solutions" proffered by the books he read. Perhaps already at this time he began to suspect that the scholars and philosophers of the West had no monopoly of wisdom. In any case, he felt that the only place for him to pursue his studies further was London. After two years, he gave up his Bristol job and set out for the capital where he had been born, on foot: an action, which was symbolic of his future career. From then on, he stood on his own two feet, and if necessary walked on them to wherever he felt he had to go.

An expert photographer, he soon got himself a job in Fleet Street.

He returned each night from the day's work to his private studies, his private questing. He was ever trying to find out the nature of things, the reason for man's existence, and was not going to be fobbed off with any easy answers. But as happens, the deeper he probed the further off the solution to his questions appeared.

At the same time, the first of his teachers appeared on the scene. This man, perceiving qualities that resided in the young Purfurst, took him under his wing, giving him an intensive course in the philosophy of the East. Starting with the Vedas and the Upanishads, Yoga and Vedanta — all as a preliminary to the real kernel of the course, which was Buddhism. Discipline under his teacher was strict — he had to work each evening at his studies, and also undertake a regime of strict physical training. He stuck it out, mastered the philosophical course and at the same time gained considerable control over his own body and emotions. All this had been undertaken in his spare time, in the evenings after his journalistic work.

When his friend and mentor died, he continued on his own, extending his studies into other fields such as anatomy and chemistry. As a result of these studies, he was able to develop a new colour printing process which in one form or another, is still in use today.

This was his life until the outbreak of war in 1939, when he became an official war photographer. However as a man of action, he found life dull in the early days of the war. Nothing seemed to happen, so he trained as a fireman. By the time his training was completed, the picture had changed. The blitz had begun. As an officer of the National Fire Service in London he soon found all the "action" he could ask for, and more.

He had some hair-raising experiences amid burning, crashing buildings, while bombs rained down and the ack-ack guns opened up, amid burst mains and sewers. Crawling among precarious ruins, digging out the living and the dead, going without sleep, food, drink, or even his precious cigarettes, and of course constantly risking his own life for the sake of others. In his case, though he distinguished himself by his fearlessness, such a life was after all not so very exceptional. He was a Londoner born and bred. Although they had not yet met, there was another man in London doing very similar things, whom one would scarcely have expected to meet in such a situation. This was a Burmese bhikkhu, the Venerable U Thittila, who had come to work in London at scholarly pursuits when war overtook him. He was equal to the occasion and, boldly doffing the robe, he joined the ambulance service and worked in blitzed London under similar conditions to William Purfurst.

This experience gave Venerable U Ṭhittila a unique insight into the British character. And it probably also did much to forge the bond of friendship, which eventually grew between the two men.

As D-Day approached, William Purfurst's wartime activities changed in character. He became a civilian photographer attached to the Royal Air Force, his job being to take pictures of army parachutists who were dropped on enemy territory. In order to equip himself for this task, he himself volunteered for a parachute course took the full training and did a number of drops. He then went as a photographer on a number of missions until the war in Europe finally ended.

Towards the end of the war he also got married, and having left the service he became a WEA (Workers Educational Association) lecturer in philosophy, in which capacity he travelled a great deal up and down the country. It was about this time that he met Venerable U Thittila, whose pupil he promptly became.

The bhikkhu who had been supported by the Buddhist Society resumed the robe somewhat informally (he had to be re-ordained, later, in Burma) and gave many lectures and classes at the Society's old premises in Great Russell Street, where William Purfurst was also active as a speaker.

-- Honour Thy Fathers: A Tribute to the Venerable Kapilavaddho ... And brief History of the Development of Theravāda Buddhism in the UK, by Terry Shine
The Workers' Educational Association (WEA), founded in 1903, is the UK's largest voluntary sector provider of adult education and one of Britain's biggest charities.
The WEA is a democratic and voluntary adult education movement.
It delivers learning throughout England and Scotland
. There was a related but independent WEA Cymru covering Wales, though it is now known as Adult Learning Wales since a merger in 2015 with YMCA Wales Community College.
The WEA's provision is usually local to its students. In 2015–16 there were over 8,000 courses delivered in over 1,800 community venues and 75% of WEA students travelled less than 2 miles to their class.[1]
The WEA has throughout its history supported the development of similar educational initiatives and associations internationally.
It is affiliated to the International Federation of Workers' Education Associations (IFWEA) which has consultative status to UNESCO.
The International Federation of Workers' Education Associations (IFWEA) is an international organisation of associations, foundations, non-governmental organisations and trade unions involved in adult education for working people. It is based in Cape Town, South Africa, is an observer at the International Labour Organisation and UNESCO and is a member of SOLIDAR.

[1]

-- International Federation of Workers' Education Associations, by Wikipedia
The consultative status is a phrase whose use can be traced to the founding of the United Nations and is used within the UN community to refer to "Non-governmental organizations (NGOs) in Consultative Status with the United Nations Economic and Social Council" (see list). Also some international organizations could grant Consultative Status to NGOs (for example - Council of Europe; the rules for Consultative Status for INGOs are appended to the resolution (93)38 "On relations between the Council of Europe and international non-governmental organisations", adopted by the Committee of Ministers of the Council of Europe on 18 October 1993 at the 500th meeting of the Ministers' Deputies).

Organization for Security and Co-operation in Europe (OSCE)

could grant Consultative Status in the form of "Researcher-in-residence programme" (run by the Prague Office of the OSCE Secretariat):

accredited representatives of national and international NGOs are granted access to all records and to numerous topical compilations related to OSCE field activities.

-- Consultative status, by Wikipedia
The Organization for Security and Co-operation in Europe (OSCE) is the world's largest security-oriented intergovernmental organization. Its mandate includes issues such as arms control, promotion of human rights, freedom of the press, and fair elections. It employs around 3,460 people, mostly in its field operations but also in its secretariat in Vienna, Austria, and its institutions. It has its origins in the 1975 Conference on Security and Co-operation in Europe (CSCE) held in Helsinki, Finland.

The OSCE is concerned with early warning, conflict prevention, crisis management, and post-conflict rehabilitation. Its 57 participating countries are located in Europe, northern and central Asia, and North America. The participating states cover much of the land area of the Northern Hemisphere. It was created during the Cold War era as an East–West forum.[3]

-- Organization for Security and Co-operation in Europe, by Wikipedia
Archbishop William Temple was a strong proponent of workers' education.
Albert Mansbridge (10 January 1876 – 22 August 1952) and his wife Frances (née Frances Jane Pringle, 1876–1958) established An Association to promote the Higher Education of Working Men in 1903 (renamed 'Workers Educational Association' in 1905), funded by two shillings and sixpence from the housekeeping money.
WEA UK
The WEA is divided into nine regions in England, a Scottish Association and over 500 local branches. It creates and delivers about 9,000 courses each year in response to local need across England and Scotland, often in partnership with community groups and local charities. These courses provide learning opportunities for around 65,000 people per year, taught by over 2,000 professional tutors (most of whom work for the WEA part-time).
The WEA is supported by the Government through funding from the Skills Funding Agency in England, and in Scotland by the Scottish Executive and Local Authorities. It also receives fees from learners on many of its courses and is often successful in funding bids from government, lottery and other sources for educational projects in local communities around the country.
Leadership

Presidents
1908: William Temple
1924: Fred Bramley
1926: Arthur Pugh
1928: R. H. Tawney
1944: Harold Clay
1958: Asa Briggs
1968: Ellen McCullough
1971: Billy Hughes
1981: Bernard Jennings
1990s: Bill Conboy
2008: Colin Barnes
2016: Lynne Smith
General Secretaries
1905: Albert Mansbridge
1916: J. M. MacTavish
1928: John William Muir
1931: Alec Firth
1934: Ernest Green
1951: Harry Nutt
1970: James Jefferies
1982: Robert Lochrie
2003: Richard Bolsin
2012: Ruth Spellman
2020: Simon Parkinson
WEA Scotland
The first Scottish branch of the WEA was in Springburn, Glasgow, although this only lasted until 1909 at that time, the Edinburgh and Leith Branch coming into existence on 25 October 1912 after a meeting held at the Free Gardeners' Hall, 12-14 Picardy Place, Edinburgh. The meeting was chaired by Professor Lodge and addressed by Albert Mansbridge and Dr. Bernard Bosanquet. The meeting was attended by 200 people, including Mr James Munro, M.A. who became Secretary of the newly formed branch.[2][3][4]
WEA Northern Ireland
The Workers' Educational Association NI ceased to function in June 2014, when it ran into a cash flow problem and its bank refused to extend credit. It provided adult education in community and workplace settings. Its title was somewhat misleading as it provided education for all types of people and in particular tried to reach out to those who missed out on learning first time round. It worked mainly with those over 18.[citation needed]
Some background ...
• It was set up in Belfast in 1910 and part of a wider network of WEAs, the first of which started in England in 1903.
• It operated across Northern Ireland and in the Border Counties in the Republic. It has around 6,500 learners in any given year.
Its courses were organized mainly in venues such as community halls, arts centres and training rooms in workplaces.
Wales
WEA branches for North and South Wales were established early in the 20th century. An instrumental figure was David Thomas, who taught classes for the WEA in Caernarfonshire from 1928 to 1959, and instigated the founding of Lleufer (Light) as a Welsh-language WEA periodical, which he edited it until 1965. Coleg Harlech was founded in 1925 as a residential college for workers' education, and in 2001 merged with the WEA (North Wales). Further mergers in 2014 unified North and South, then in 2015 WEA Cymru merged with YMCA Community College to form Adult Learning Wales - Addysg Oedolion Cymru.
In Australia, New Zealand and some regions of Canada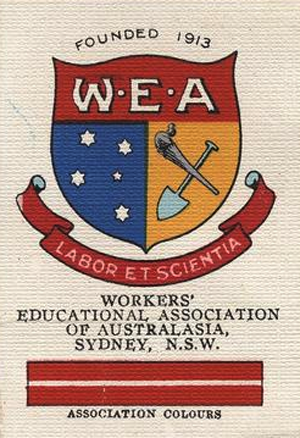 Cigarette card featuring coat of arms of Workers' Education Association of Australasia, Sydney 1929
In 1913, the University of Melbourne invited Mansbridge to visit Australia to help set up branches there. The Mansbrige family arrived on 8 July on a 17-week mission aimed at forming branches of the association in New South Wales, Queensland, Victoria, South Australia, West Australia and Tasmania and WEAs were initially set up in all states.[5][6][7] As of 2012, the WEA in South Australia claims to be 'Australia's largest non-government adult community education organisation' and the WEAs in New South Wales and Victoria are still operating.[8][9]
During this trip the Mansbridges then made a brief visit to New Zealand where WEA branches were established in 1915.[10][11] Seven branches are still operating along similar lines to those in Australia. Branches Waitakere, Kapiti Coast, Wellington, Canterbury, Te Anau, Gore and Southland provides flexible learning to over 12,000 students each year.[12] The Canterbury branch initially held its classes in a dingy rented room down a back alley; now its homed in the central city villa it purchased in 1957,[13] where it teaches over 130 courses a year.[14] From the 1920s, it took adult education to nearly every nook and cranny of the Canterbury and Westland provinces through a travelling library book scheme.[15]
Early work was patterned on the WEAs in the UK. However, given the different demographic arrangements in Australia, and in the absence of other adult education providers, the WEAs in Australia became general adult education agencies. In the 1980s a range of other training providers started offering adult education thereby changing the role of the WEAs. The WEAs in Australia have many clubs and societies associated with their operation. A typical example is the WEA Film Study Group based in New South Wales. Reorganization in 1994 saw the WEA in New South Wales split into WEA Sydney, WEA Hunter (Newcastle) and WEA Illawarra (Wollongong).[16]
There are also some branches in Canada which have presently and currently opened in March 2014 although however its services has been established since 1917 (98 years old) and is part of the WEA International; it operates mainly in Toronto, Ottawa, and Halifax as well as St Johns. it is currently operated under the Canadian government licences and jurisdictions of division branch companies ltd.' (LLC)
See also
• Adult education
• Community college
• Continuing education
• Lifelong learning
• Vocational education
References
1. "Latest WEA Publications | WEA".
http://www.wea.org.uk
. Retrieved 14 February 2017.
2. 2003: A Century of Learning 1903 - 2003 Timeline. Workers' Educational Association Scotland. © WEA ScotIand. ISBN 0 902303 511
3. Scotsman newspaper 28 October 1912
4. "Free Gardeners". 2010.
5. Graham Marsh, Mansbridge: A Life; A Biographical Note to Celebrate the Centenary of the WEA, 2002 at
http://www.wea.org.uk/Centenary/man.htm
(assessed 11/09/12), pp.5.
6. T.W. Price, The Story of the Workers'Educational Association 1903-1924, 1924 The Labour Publication Co. Ltd. London. p.53. ASIN: B00116OMME
7. Bernard Jennings Albert Mansbridge The Life and Work of the Founder of the WEA, 2002 University of Leeds. p.126. ISBN 1 901981 11 8
8. 'About the WEA' at
http://www.wea-sa.com.au/about.php
(assessed 11/09/2012).
9. 'Get Involved' at
http://www.weavictoria.org/get-involved.html
(assessed 15/07/2015).
10. T.W. Price, The Story of the Workers'Educational Association 1903-1924, 1924 The Labour Publication Co. Ltd. London. p.53. ASIN: B00116OMME
11. Bernard Jennings Albert Mansbridge The Life and Work of the Founder of the WEA, 2002 University of Leeds. p.126. ISBN 1 901981 11 8
12. "Federation of WEA - New Zealand".
http://www.wea.org.nz
. Retrieved 18 July 2019.
13. Dougherty, Ian (2015). The People's University: A Centennial History of the Canterbury Workers' Educational Association 1915-2015. Christchurch City Libraries: Canterbury University Press, Christchurch, New Zealand. ISBN 9781927145593.
14. "History".
http://www.cwea.org.nz
. Retrieved 18 July 2019.
15. Dougherty, Ian (April–May 2016). "The Canterbury WEA Box and Books Scheme" (PDF). NZ Memories magazine.
16. Parry, Naomi (2018). "The Workers' Educational Association in the post-war era". Dictionary of Sydney. Retrieved 28 December 2018.
Further reading

UK
Lawrence Goldman, past President of the former Thames and Solent District WEA, has written:
• Dons and Workers: Oxford and Adult Education Since 1850 (Oxford: Clarendon Press, 1995)
• 'Intellectuals and the English Working Class 1870-1945: The Case of Adult Education', History of Education 29:4 (1999), 281-300
• 'Education as Politics: University Adult Education in England since 1870', Oxford Review of Education 25:1-2 (1999), 89-101
• 2003: A Century of Learning 1903 - 2003 Timeline. Workers' Educational Association Scotland. © WEA ScotIand. ISBN 0 902303 511
Joe England (ed.), 2007 'Changing Lives: Workers' Education in Wales 1907-2007'
Australia
• Darryl Dymock (2001). A Special and Distinctive Role in Adult Education. Sydney: Allen & Unwin. ISBN 1-86508-567-7.