Franz Josef Kallmann
by Wikipedia
Accessed: 4/1/20
Category C

The less frequent Category C type of psychiatric genetic writer sees Rudin, in the words of Lerer and Segman, as ''a man who was not only a willing accomplice to the most abhorrent crimes against humanity but an enthusiastic theorist who provided the intellectual basis for many of these crimes''

(Lerer and Segman, 1997, p. 459). These researchers concluded,

There can be only one justification for the name of Ernst Rudin appearing in a contemporary scientific journal and that is to enable a generation of researchers who may not be fully aware of his tainted legacy, to learn more about it and to appreciate how easily science can be perverted in the service of evil. (p. 460)

Other psychiatric genetic researchers have written about Rudin as an architect and accomplice of unspeakable crimes against humanity

(e.g., Baron, 1998; Gejman, 1997; Gershon, 1997; Propping, 2005; Schulze et al., 2004).

Authors such as Baron, Gejman, Gershon, and Lerer and Segman did not set out to write a history of their field, but were mainly reacting to what they saw as the ''whitewash''

(Gershon, 1997, p. 457) perpetrated by colleagues such as Zerbin-Rudin and Kendler (1996) and Gottesman and Bertelsen (1996). In his comment on Zerbin-Rudin and Kendler's claim that Rudin's work was not well known due mainly to language barriers and persistent ''presentism,'' Gershon wrote, ''By putting it this way, this article ignores the disrepute into which this discipline fell all over the world for many years, in no small part because of the misuses of science by prominent scientists in the field, such as Ernst Rudin'' (Gershon, 1997, p. 457).

According to Gejman, ''in all probability chronically ill patients from the families that Rudin used in his epidemiological research were murdered in the T4 euthanasia program''

(Gejman, 1997, p. 456).

The same holds true for subjects in other studies conducted by Munich school researchers such as Luxenburger and Schulz. Baron also weighed in on this point:

Given the scope of this hideous program and its focus on the genetically unfit, it is highly likely that Rudin's own research subjects -– thousands of patients and family members were enrolled in his programs –- were among those who fell prey to the evil he helped inculcate. The information he collected could readily be put to malevolent use.

… he compiled a vast data bank (on the order of tens of thousands of families) in order to calculate Mendelian ratios, based on information obtained from hospitals, asylums and other institutions. (Baron, 1998, p. 97)

Because Rudin participated in and supported the T4 ''euthanasia'' program while possessing detailed records of the families of people diagnosed with schizophrenia and other conditions, it is indeed likely that he provided this information to help identify and kill the people he and his colleagues had studied. As the German psychiatrist Uwe Peters described it, ''Like a spider in the center of its net, all strings of information and power came together in [Rudin's] hands''

(Peters, 2001, p. 300).

But even Category C authors are not immune to revisionist accounts. In his book on the evolution of psychiatric genetic thought, Mellon wrote, ''The role of the founders of modern psychiatric genetics in the sequence of events leading to mass murder is most troubling. Ernst Rudin was an early and vocal proponent of eugenic applications to mental problems. …his contribution to the series of events that helped lead to the exterminations is unmistakable'' (Mellon, 1996, p. 112). At the same time, based on Slater's 1971 account, Mellon mistakenly claimed that ''in contrast to Rudin,'' Luxenburger and Schulz ''managed to stay out of the mainstream eugenic movement'' (p. 113). The fact remains that Luxenburger supported and helped implement the eugenic policies of the Nazi regime (Joseph, 2004), and according to a 1934 report by the Danish eugenicist Tage Kemp, Schulz was ''doing a great deal of statistical work concerning mental diseases of practical value for the sterilization law and the eugenical legislation in Germany''

(

quoted in Black, 2003, p. 419

).

In the late 1930s Rudin and his institute formed an alliance with Heinrich Himmler's dreaded SS (Schutzstaffel; Weindling, 1989; Weiss, 2010), and in a memo Rudin assured a leader of the SS Ahnenerbe that although Schulz was not ''a flaming National Socialist,'' his usefulness to the SS could be assured without reservation

(Weiss, 2010, p. 164).

In Baron's (1998) otherwise important review of Rudin's crimes, where he wrote that ''Rudin played a central role in inspiring, condoning and promoting forcible sterilization and castration of schizophrenics'' (p. 96), he implied that Rudin's former associate Franz Kallmann discarded his hard-line eugenic beliefs after he had been forced to leave Germany in 1936 because of his partial Jewish ancestry. In 1935, while still active in Germany, Kallmann had called for the forcible sterilization of the healthy (yet presumed ''schizophrenia taint carrier'') family members of ''schizophrenics'' – a proposal rejected as too radical even by Kallmann's racial-hygienicist colleagues who strongly supported the sterilization law (Muller-Hill, 1998). Although Baron discussed Kallmann's 1935 support for the compulsory sterilization of family members, he wrote, ''while in the USA, Kallmann recanted his early position on this matter and proceeded with perseverance and dedication to develop one of the finest academic programs in modern psychiatric genetics'' (Baron, 1998, p. 99). However, Kallmann's eugenic views, though adapted to a new country and post-war revelations of Nazi crimes committed in the name of eugenics and racial hygiene, remained largely unchanged until his death in 1965 (Joseph, 2004).

After being forced to leave Germany in 1936, Kallmann established the field of psychiatric genetics in the United States at the New York State Psychiatric Institute at Columbia University, based largely on the racial hygienic methods and theories he had learned in Rudin's Munich school. At the same time, Kallmann remained a strong supporter of eugenics and compulsory sterilization (Kallmann, 1938a, b). Upon his arrival in the United States, Kallmann wrote, ''The recommendation of negative eugenic measures against the carriers of any mental disease is genetically justifiable'' after meeting certain criteria. Kallmann then wrote that ''the schizophrenic disease process'' meets these criteria (Kallmann, 1938b, p. 105). Clearly, in addition to people labeled schizophrenic, the ''healthy'' biologically-related ''carriers of mental disease'' were targeted by Kallmann for the application of ''negative eugenic measures'' such as sterilization. He called for ''systematic preventative measures among the tainted children and siblings of schizophrenics'' (Kallmann, 1938b, p. 113), because ''we cannot expect sufficient success from the prevention of reproduction in the symptom-carriers alone'' (Kallmann, 1938a, p. 4). This suggests that his 1935 position in favor of eugenic interventions directed at the family members of people diagnosed with schizophrenia remained largely in place, although by now he would not support the compulsory sterilization of these relatives, despite ''the menace involved in the propagation of heterozygotic taint-carriers'' (see Kallmann, 1938a, pp. 68–69).

Moreover, Kallmann published an annual review in the American Journal of Psychiatry from 1944 until his death in 1965, entitled ''Heredity and Eugenics.'' Themes of Kallmann's annual updates included positive references to eugenic theories and policies, the alleged benefits of the compulsory eugenic sterilization laws then existing in many U.S. states (e.g., Kallmann, 1947, p. 515; 1951, p. 505), and discussions of Nazi genetic researchers Rudin and Verschuer in a positive light (e.g., Kallmann, 1952, 1953).-- Ernst Rudin: Hitler's Racial Hygiene Mastermind, by Jay Joseph and Norbert A.Wetzel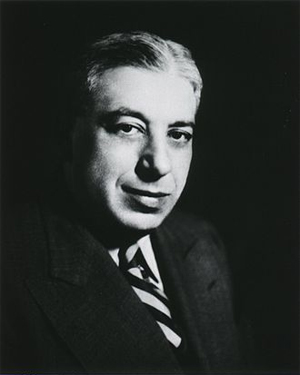 Franz Josef Kallmann
Born: July 24, 1897, Neumarkt, Silesia
Died: May 12, 1965 (aged 67), New York
Nationality: German-American
Known for: Kallmann's syndrome
Scientific career
Fields: Psychiatry
Franz Josef Kallmann, MD (July 24, 1897 – May 12, 1965), a German-born American psychiatrist, was one of the pioneers in the study of the genetic basis of psychiatric disorders. He developed the use of twin studies in the assessment of the relative roles of heredity and the environment in the pathogenesis of psychiatric disease.
Kallmann was born in Neumarkt, Silesia, the son of Marie (née Mordze / Modrey) and Bruno Kallmann, who was a surgeon and general practitioner.[1][2] He fled Germany in 1936 for the United States, because he was of Jewish heritage.[3]
Paradoxically, he had been a student of Ernst Rüdin, one of the architects of racial hygiene policies in Nazi Germany.[4] In a speech delivered in 1935, while still in Germany, he advocated the examination of relatives of schizophrenia patients with the aim to find and sterilize the "nonaffected carriers" of the supposed recessive gene responsible for the condition.[5]
In 1944, he described a congenital endocrine condition (hypogonadotropic hypogonadism with anosmia) that has come to be known as Kallmann's syndrome.
In 1948, he became one of the founders of the American Society of Human Genetics
.[4]
He died in New York.
Partial bibliography
• The genetics of schizophrenia; a study of heredity and reproduction of the families of 1,087 schizophrenics. New York: JJ Augustin, 1938. 291 ss.
• Kallmann FJ, Reisner FJ. Twin studies on the significance of genetic factors in tuberculosis. The American Review of Tuberculosis 47, s. 549 (1943)
• The genetic aspects of primary eunocchoidism (1944)
• The genetic theory of schizophrenia. The American Journal of Psychiatry 103: 309 (1946)
• Modern concepts of genetics in relation to mental health and abnormal personality development. Psychiatric Quarterly 21, 4, 535-553 (1947) DOI:10.1007/BF01654317
• The genetics of psychoses; an analysis of 1,232 twin index families. American Journal of Human Genetics 4, ss. 385–390 (1950)
• Heredity in Health and Mental Disorder (1953)
• Zur Symptomatologie der Gehirnzystizerkose. Mschr. Psychiat. Neur. (1929)
• Marcuse H, Kallmann F. Zur Sulfosinbehandlung der Paralyse und Schizophrenie. Nervenarzt 2: 149-53 (1929)
See also
• Kallmann syndrome
Footnotes
1. "Who was who in America". Marquis-Who's Who. 17 February 1968 – via Google Books.
2. "RootsWeb.com Home Page". freepages.genealogy.rootsweb.ancestry.com.
3. Obituary Franz Joseph Kallman, 1897-1965, The American Journal of Psychiatry, July 1966, Issue 123 pages 105-106
4. Torrey EF, Yolken RH (September 2009). "Psychiatric Genocide: Nazi Attempts to Eradicate Schizophrenia". Schizophr Bull. 36 (1): 26–32. doi:10.1093/schbul/sbp097. PMC 2800142. PMID 19759092.
5. Muller-Hill B. Murderous Science: Elimination by Scientific Selection of Jews, Gypsies, and Others in Germany, 1933–1945.Woodbury, NY: Cold Spring Harbor Laboratory Press; 1988: 11, 31, 42–43, 70.