Men's Dress Reform Party
by Wikipedia
Accessed: 4/6/20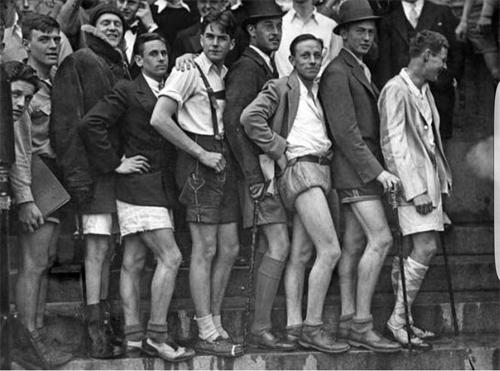 The Men's Dress Reform Party (MDRP) was a reform movement in interwar Britain.[1] While
the party's main concerns were the impact of clothes on men's health and hygiene, their mission also aimed to increase the variety and choice in men's clothing.[1]
Background
The injuries and casualties of World War I shifted the public's focus to the capabilities and general health of the human body,[2] and
a general concern for the social and medical impacts of clothing grew. The New Health Society, an entity formed to effectuate change in these areas, was composed of a group of professionals led by Alfred Charles Jordan who wanted to improve the overall health of adults and children. They pushed for more exercise and fresh air, improved diets, and improved conditions in homes and workplaces.
The New Health Society, founded by Sir William Arbuthnot Lane in 1925, aimed to convert a 'rapidly degenerating community' into a 'nation composed of healthy, vigorous members'. An analysis of this society, which combined social Darwinist and eugenicist rhetoric with utopian body practices and progressive gender ideology,

deepens our understanding of interwar public health debates.

The Society saw the bowels as central to health and considered constipation the root cause of many ills of civilisation. Its critique of civilisation, framed in terms of a valorisation of 'native' culture

, nevertheless embraced modern science, technology and mass media. The Society was not hereditarian and saw health education as the key to race regeneration.

Health and happiness were within the reach of all whose hygienic regimen included a high-fibre diet, outdoor exercise and sun-bathing, along with birth control and men's dress reform.

Despite its idiosyncrasy,

the Society's understanding of health as a personal responsibility and duty of citizenship, which sidestepped the question of poverty and inequality, resembled the views of Sir George Newman, the Chief Medical Officer.

-- Raising a Nation of 'Good Animals': The New Health Society and Health Education Campaigns in Interwar Britain, by Ina Zweiniger-Bargielowska
In 1927, Sir Arbuthnot Lane, a co-founder of the New Health Society, formed the Clothing Subcommittee, a subcommittee within the society focused on the health impacts of dress.
[2] On June 12, 1929 this subcommittee officially separated from the New Health Society to form the Men's Dress Reform Party[1]
through an address to the public in London, England. It read: "Men and women, old and young, rich and poor… interested in healthier and better clothes for men…[and to] reform their clothes with as much profit to health and appearance as women have recently achieved."
Leadership
Alfred Charles Jordan, Sir Arbuthnot Lane and
Dr. Caleb Williams Saleeby
served as the leaders of the Clothing Subcommittee and led the charge to form their own party, with Williams as the Chairman of the Council of the Party.
Founding members also included the members of the former Clothing Subcommittee, the Dean of St Paul's Cathedral, the Very Revd William Inge, Guy Kendall, Richard Sickert, Ernest Thesiger, and Leonard Williams.
[3]
Ideology
John Carl Flügel, a psychologist and member of the MDRP, claimed since the end of the 18th century men had been ignoring the colorful, elaborate, and varied forms of "masculine ornamentation."[2] He called this time the Great Masculine Renunciation. "Man," Flügel claimed, had "abandoned his claim to be considered beautiful. He henceforth aimed at only being useful."
[4] This view aligned with that of founding member of the Men's Dress Reform Party, William Ralph Inge. Inge believed that the democratic movements of the French Revolution had led to the increasingly dull male look: "to escape the guillotine, dress as bourgeois as possible."[2] The party's goals were largely reactions to circumstances brought on by World War I.
They saw the everyday man as "oppressed by capitalist labor"[2] and saw his clothes as "depressing"[2] and lacking in creativity.
The military-style uniformity[2] of the interwar period had created a culture of men who were happy to see others dressed like them, as opposed to seeing those who craved individuality. World War I also brought increased unemployment, which caused state intervention, which the Men's Dress Reform Party saw as the "oppression of professionals".[2] Lastly, the status of women in society was changing. Feminism was developing in the interwar period, as women had taken over for men during World War I in jobs, schools, and social life. This threatened men, causing some to feel "like accessories to women".[2] The MDRP sought to improve the health and hygiene of men by changing their dress, as they saw the typical male styles and materials growing more restrictive and harmful, while women's clothing was increasingly becoming more "emanicipating"[2]
Their goals included "freeing the neck" by wearing the "Byron collar"[1] which was an open-front collar, and gaining approval of the kilt[2] as everyday wear for men. They also preferred blouses instead of shirts, sandals over shoes, and shorts or breeches to trousers. The party felt that hats and coats were only acceptable in appropriate weather, and that underclothing should be loose. Most of these rules were already acceptable for occasions such as vacation, but the party looked to make these the standard for town, professional, and evening dress
.
1929–1937
Unlike other organizations of the time, the MDRP had no formal journal. Instead,
the group published articles about their reform ideas in Sunlight, a quarterly journal produced by The Sunlight League.
MDRP member Dr. Caleb Saleeby chaired
the Sunlight League
, and thus incurred the league's support of the Men's Dress Reform Party. A Design Committee was organized to construct designs of "acceptable" clothing, and received national attention for their recommendations. Members claimed that branches were forming in all corners of the world, including India, China, Australia, South Africa, the USA, New Zealand, Canada, and Europe in addition to the approximately 200 branches in the UK.[1] These groups held social events, rallies, and debates, but the prevalence of such events decreased with the onset of World War II.[1]
In 1937, the Men's Dress Reform Party lost the support of the New Health Society due to financial trouble and eventual bankruptcy.[2] Then, in 1940, the Sunlight League also dissipated after a bomb destroyed their offices and the death of its founder, Dr. Saleeby. After this period, the Men's Dress Reform Party largely ceased to exist.
[1]
References
1. Burman, B. (1995). "The Better and Brighter Clothes: The Men's Dress Reform Party, 1929 1940". Journal of Design History. 8 (4): 275–290. doi:10.1093/jdh/8.4.275. ISSN 0952-4649.
2. Bourke, J. (1996). "The Great Male Renunciation: Men's Dress Reform in Inter-war Britain". Journal of Design History. 9 (1): 23–33. doi:10.1093/jdh/9.1.23. ISSN 0952-4649.
3. Sadar, John Stanislav. (2016). Through the Healing Glass: Shaping the Modern Body through Glass Architecture, 1925-1935. Routledge. p. 106. ISBN 978-1-138-83780-5
4. Flugel, John Carl (1930). The Psychology of Clothes. London: Hogarth. pp. 110–113.
Further reading
• Blakemore, Erin (18 July 2017). "This Short-Lived Political Party Embraced Socks With Sandals". JSTOR Daily. Retrieved 20 July 2017.
*****************************
Wimbledon, 'Bare-leg' Tennis, and the Bitter Rivalry Between Helen Wills and Helen Jacobs [EXCERPT]
Friday, June 29th, 2012
by nickelinthemachine.com
***
Recently the press had featured a photograph of a Dr Alfred Charles Jordan a renowned radiologist cycling to his office in Bloomsbury. What fascinated and what slightly horrified readers was that he wore shorts with his jacket. This was utterly unknown at the time for anybody working in a city – shorts were for scouts and maybe a hiking holiday; they weren't even worn by men playing tennis at the time.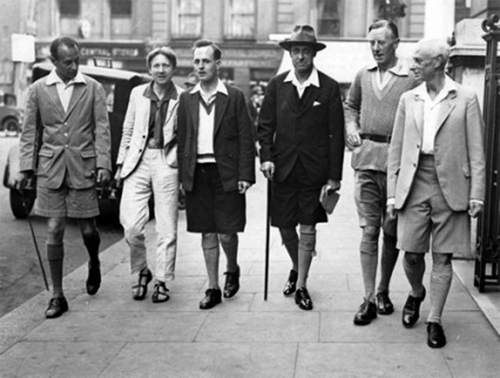 Ernest Thesiger and members of the Men's Dress Reform Party including Dr Jordan on the far right. July 4th 1929.
Jordan was the honorary secretary of the Men's Dress Reform Party which had announced its existence on 12 June 1929 just twelve days before the be-stockinged Helen Wills had walked out for her first round match on the centre court at Wimbledon. The organisation's first aim was to improve men's health by changing what they wore and in early MDRP literature it complained that:
Men's dress has sunk into a rut of ugliness and unhealthiness from which – by common consent – it should be rescued…Men's dress is ugly, uncomfortable, dirty (because unwashable), unhealthy (because heavy, tight and unventilated)…it is desirable to guard against the danger of mere change for change's sake, such as has often occurred in women's fashion. All change should aim at improvement in appearance, hygiene, comfort and convenience.
An article in the tailoring magazine Tailor and Cutter probably reflected what the majority of men were thinking when confronted by the rather strange clothes worn by members of the MDRP. The anonymous author of the piece wrote that modern male dress depended on:
A loosening of the bonds will gradually impel mankind to sag and droop bodily and spiritually. If laces are unfastened, ties loosened and buttons banished, the whole structure of modern dress will come undone; it is not so wild as it sounds to say that society will also fall to pieces…Such restraints were not noxious: they were the foundation upon which civilisation rested and protected men from savagery and decadence.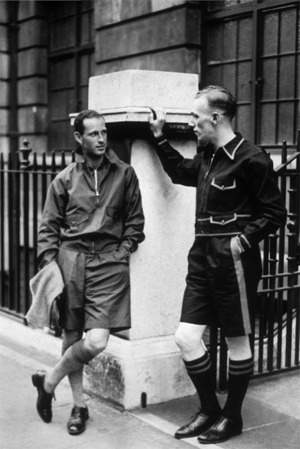 Two men modelling ideas entered for a Dress Reform competition.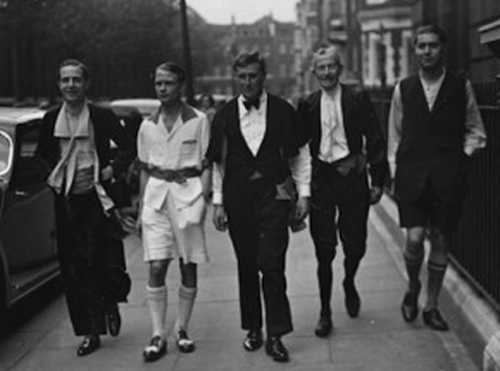 Members of the Men's Dress Reform Party in Great Russell Street.
The MDRP was an off-shoot, and shared premises with, the New Health Society formed in 1925 and situated at 39 Bedford Square in Bloomsbury. Dr Jordan was a founding member but the chairman of the organisation was another doctor, Caleb William Saleeby, who had originally chaired the Clothing sub-committee of the New Health Society but had also founded
the Sunlight League
in 1924. It was formed in London to educate the public about 'Nature's universal disinfectant, stimulant and tonic' and advocated heliotherapy – direct exposure to the sun.
The League campaigned for a variety of causes including mixed sunbathing and the relaxation of the rules for appropriate attire for sunbathing. Towards the end of the 1920s new-fangled sunbathing clubs were opening around London including Finchley and Sidcup while the Yew Tree Club devoted to physical culture and nudity opened in Croydon.
Compared with on the continent, especially in Germany, nudism remained a minority activity in England and it rarely strayed from its suburban, home-counties roots. The clubs had strict conventions and rules of etiquette designed to convince a doubting public that sex was the last thing on the nudists minds. And looking at some pictures maybe it was.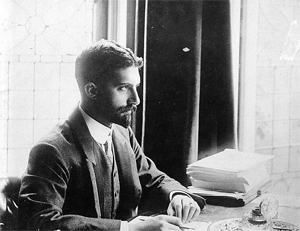 Dr Caleb Saleeby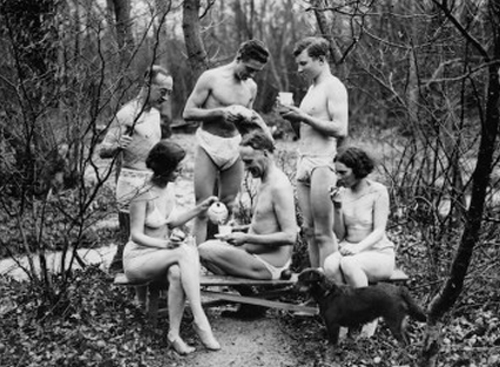 Rather shy nudists sunbathing at the Yew Tree Camp in Croydon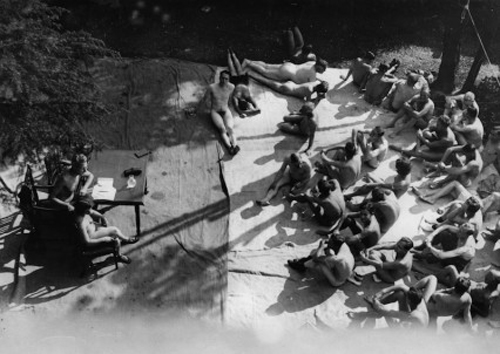 The first nudist conference held in England by the Sunlight League
Dr Saleeby, as chairman of the MDRP, wrote a letter to the Lawn Tennis Association in 1929 encouraging it 'to persuade men to give up the handicap of heavy trousers and play in shorts'. The first man to have famously worn shorts at Wimbledon was Henry 'Bunny' Austin (his nickname comes from a character in the comic strip Pip, Squeak and Wilfred). Except he wasn't. In reality the first man to experience fresh air against his legs while playing tennis at Wimbledon was actually the relatively unknown English player Brame Hillyard who wore them on Court 10 a year after Dr Saleeby's letter in 1930. Despite the freedom his shorts must have given him he promptly lost, and he was hardly ever heard of again.
Two years later in 1932 Bunny Austin, born in 1908 in South Norwood, eight miles or so away from Wimbledon, but educated at Repton and Cambridge, became the first person to wear shorts on Centre Court and thus in front of the world's press. He claimed that the traditional white flannels were heavy and restricting; John Kieran wrote about him in the New York Times that year:
"With his white linen hat and his flannel shorts, the little English player looked like an AA Milne production."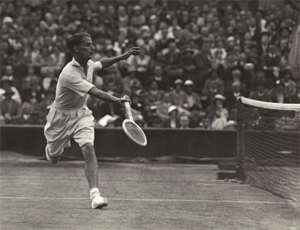 Bunny Austin wearing shorts at Wimbledon in 1933
Bunny Austin, despite wearing shorts, lost in the final to the American Don Budge and the Englishman's reward was a £10 gift voucher redeemable at a high-street jewellers (the winner of the Men's and Women's final will earn £1,150,000 this year). Austin was the last Briton to appear in a Wimbledon Singles Final when he was runner-up in 1938. During the war he became active in the Christian pacifist movement and was criticised in the press as a conscientious objector. It wouldn't be until 1984 that Austin was again allowed to be a member of the All-England Club.
The MDRP, although pretty well forgotten these days, had some success in getting its message across during the first years of its existence. It held annual parties, in order to "give every man a chance to show how he can look and feel his best by the costume he will evolve for this unique occasion." It was also possible to find MDRP approved clothing in some shops in London including the famous Austin Reed on Regent Street. It also had an official shop and a relatively successful mail-order service.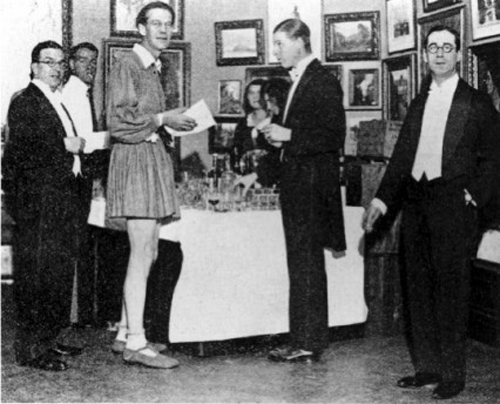 Some members of the Men's Dress Reform Party were more radical than others.
Realistically the MDRP did little to turn general male fashion around except maybe in holiday and athletic wear. A major shift in men's clothing didn't happen until after the war when new fabrics and the rise of American style, with its preoccupation with leisure-wear, radically changed men's appearances in the 1960s.