Percival Chubb, 1860-1960
by snaccooperative.org
Accessed: 4/10/20
Leader of St. Louis Ethical Society; editor of THE ETHICAL STANDARD; educator and educational reformer.

-- From the description of Papers, 1911-1960. (Unknown). WorldCat record id: 155488824
Born 1860; educated at the Stationers' School, London; entered the civil service, 1878, in the legal department of the Local Government Board; established a correspondence society for manuscript exchange called the MS Club, [1881]; member of the Progressive Association, 1882;

founder member of the Fabian Society, 1884; joined the London branch of the Fellowship of the New Life, an intellectual discussion and study group dedicated to developing models of alternative societies, 1884-1889; member of the Ethical Society, 1886; emigrated to the USA, 1889; Lecturer at Thomas Davidson's School of the Cultural Sciences

, Farmington, Connecticut; Lecturer, Brooklyn Academy of Arts and Sciences, 1890-1892; Head of English, Brooklyn Manual Training High School, 1893-1897; Principal of the Second Grade, New York Society's Ethical Culture School, 1897; Lecturer at the Pratt Institute and New York University, New York; Associate Leader, Society for Ethical Culture of New York, [1897-1910]; married his second wife, Anna Sheldon, the widow of Walter Sheldon, the founder of the St Louis Ethical Society; Leader of the St Louis Ethical Society, 1911-1932; President, Drama League of America, 1915-1920; retired 1932; President of the American Ethical Union, 1934-1939; died 1960. Publications: editor of Dryden's Palamon and Arcite; or the Knight's Tale from Chaucer (New York, 1908); On the religious frontier: from an outpost of ethical religion (Macmillan Co, New York, 1931); The teaching of English in the elementary and secondary school (Macmillan Co, new York, 1902); introduction to Select writings of Ralph Waldo Emerson (1888); editor of Essays of Montaigne (1893).

-- From the guide to the CHUBB, Percival Ashley, 1860-1960, Fabian, 1860-[1984], (British Library of Political and Economic Science)
Percival Chubb, director of English in the Ethical Culture School, New York City and lecturer at New York University.

-- From the description of Letter to Miss Underhill, 1915 June 11. (University of Virginia). WorldCat record id: 60494331
*****************************
"Americans Have an Incapacity for Leisure," Says Percival Chubb: The Only Way to Remedy It, According to This Well-Known Ethical Culturist, Is to Educate the Young to Know What to Do With Their Spare Time
by The New York Times
March 12, 1911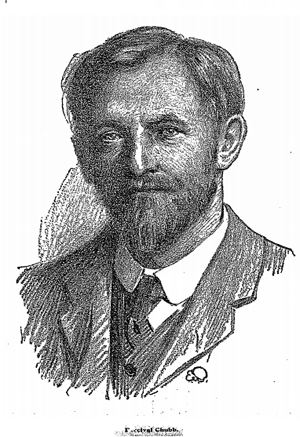 Americans, young and old, rich and poor, have an incapacity for leisure. They know how to kill time, but they don't know how to spend it profitably; they don't know what fruitful leisure is. I don't think much can be done for the elder generation. The only hope is in the proper education of the young."
This is the gist of an interview given by Percival Chubb of the Society of Ethical Culture to a representative of THE TIMES. His text was: "Our Pressing Need of Education for Leisure."
"This is the nail on which the whole matter hands: As a man cannot be saved in these times by his labor, he must be saved by his leisure," said Mr. Chubb. "This is an age of specialization, in which the life work of the great majority of men runs in a very narrow groove. It is true of the business man, of the professional man, but more particularly of the poor man.
"A year or so ago a certain organization of laboring men held a meeting to discuss what was the best use to put Labor Day to. There was a plan to make a festival out of it; to have a street parade, floats; to glorify labor. In the midst of the discussion a man who had hitherto been a quiet listener suddenly interrupted:
"'When Labor Day comes let labor be hanged: what I want is to get out for a holiday. I work in a shoe factory, and my job is making the twentieth part of a shoe. I made hundreds of them, one just like another, day in and day out, Winter and Summer, year after year. When I get a holiday do you think I'm going to spend it glorifying that job?'
"This long-continued monotonous labor is one of the most potent factors in filling our asylums. Statistics will tell you at what an alarming rate our asylum population is growing.
"It was thought that the new machine industry would require and develop a higher type of labor. But Dean Schneider of the Engineering School of the Cincinnati University has made an exhaustive investigation of the question, and he finds that it is driving many of the workmen crazy. Just imagine the effect upon a man's brain of closely watching during some nine or ten hours a machine stamp out pieces of metal, all of the same size, all of the same pattern.
"Now one thing is certain – we are not going to get rid of the machine. The question resolves itself into this: how can we make this automatic labor possible?
"My answer is: Teach the people how to play.
"It has been said that if you want to understand a people, see them at play. A man is free to play as he pleases. He is constrained at work and it is not then fair to judge him.
"See the New Yorker at play on New Year's Eve – an orgy of gluttony and noise. See him at play on the Fourth of July – an orgy of noise. See him at Coney Island, the favorite playground of the great metropolis – an orgy of cheap glitter and thrills.
"He may be an excellent mechanic, a shrewd, capable business or professional man; but when it comes to playtime, there is nothing within himself, and he must rely upon feather-ticklers and merry-go-rounds. Mentally, he is excellently equipped with tools for his work, but he is empty of playthings. He has the means of a livelihood but not the means of life.
"This lack coupled with the strain of modern life, results in a love of excitement. The man who can afford an automobile develops the speed mania. In another class it makes the man a patron of the prizefight. In another class it develops the hoodlum. I believe that a great deal of the alcoholism of the present is the result of this same condition.
"As an excellent illustration of what I mean by this lack of the equipment for fruitful leisure, let me tell you of a man I know. He is a millionaire and he made it himself. Yet when he finally made the trip to Europe, he was utterly bored. He knew how to make millions, but he did not know how to enjoy the magnificent art, scenery and traditions of Europe.
"He is only one of a class very numerous and I think peculiar to this country. There are many men in America who have made their 'pile,' who are weary of business, and yet are afraid to relinquish the reins because they don't know what else to do with themselves.
"I don't think much can be done for the elder generation. All we can do is to lead them to a realization of the problem. Let us lead them to say: 'I have made a botch of it myself, but my children shall not,' and we have done about all that we can do with the present generation of workers.
"Aristotle said to teach the child music – not that it become a musician but so that it could understand music; to teach the child art – not that it become a craftsman, but so that it could understand art.
"To see the result when this teaching is absent, we need look no farther than our own country. The public has lost its critical faculty. Hence the vogue of the moving-picture show, of vaudeville, of poor drama, of the comic supplement.
"I have been so often quoted in condemnation of the comic supplement that many people think I have developed a comic-supplement-phobia. It is merely one factor in a big problem. Much of our magazine art has a deteriorating effect. But above all I would condemn the advertisements that are so bounteously sprinkled over the city.
"The effect of dieting on 'ads' is that you are led to think whether you are using the right hair wash, the proper complexion powder. It focuses people's attention on personal comfort and attractiveness.
"We are bringing up our children in a world which is not a child's world. Plato planned his ideal city with reference to the children. Our civilization has forgotten all about them. It is made for adults and the child's brain is always stretched and strained in the effort to keep pace with it. There is no doubt that the modern child is over-stimulated. Our civilization is sufficiently complicated anyway, but we go on our vulgar way, making matters worse without any regard to the child. He sees things being done apparently by magic on all sides; it is his first impression, and that we can hardly help in this age of electricity. But we could help many things. Take the matter of our advertising, for instance. He cannot ride in the subway without having a score of impressions forced on his mind for which he has no earthly use. He is told to drink somebody's whiskey and then advised to take such-and-such a water to get over it. All these useless ideas are perpetually hitting the child's mind and keeping it in a state of constant questioning. He can't get away from them. Even parents who are careful cannot protect their children against this ceaseless hammering.
"A child is not given time to be a child nowadays; parents try to jump them into maturity. One of the popular ideals of the day is the smart kid. He is a result of the current method of treating youngsters as adults. He is pert, irreverent, no good. His apotheosis is the street gamin.
"Not knowing how to play themselves, parents do not realize the necessity of making their children play. A child should be kept childish, and his interest kept in childlike things.
"His development should be slow rather than rapid. The outcome of the latter is a narrow development that squeezes out all delight in beauty, all capacity for leisure, all spirit of composure. But it leaves nerves and neurotic tendencies.
"These same narrowing influences we find are being brought to bear upon the child in the educational movement of the day. This is all for industrial and vocational education. 'Cut out the fads and the frills,' is the watchword of those who are behind this movement. Everything that does not aim directly at preparing a boy to be a better mechanic, bookkeeper, lawyer, or doctor is labeled a 'fad or a frill.'
"The more tyrannous the forces of commerce become, the more we must protect the child against their narrowing influences. These anti-fads-and-frills people say the child must be prepared for life, but they mean that it must be prepared for that half of life which is work.
"Where this abolition of 'fads and frills' is going to end I do not know. For some time now there have been people who have been advocating the abolition of fairy stories. These advocates say that the fairy story is mere literary driftwood from a bygone and outclassed age in the world's history, that it distorts the youthful imagination and gives it a color that has no basis in science.
"These people would present to the child mind a vulgarized world, a machine-like world, one that is put together on clockwork principles. They would strip the world of mystery and show a universe as bare of poetry as a patent washing machine.
"The old arts of play have already departed out of the life of the city child. The reasons? Our hurrying, money-making civilization for one thing. Another is our mixed population: there are no common terms between the children of a half-dozen transplanted races. Another, and perhaps still more important, is that the private resources for childish play – the old-fashioned backyards are gone – and few public resources in the way of public playgrounds have taken their place.
"Of course every child should be brought up in the country. This has been made impossible, but we could do more toward it than we do now. In New Zealand school children have free passes over the railroad, so that they may go to the country whenever they choose. New Zealand realizes that it is the only way of fighting the evils of physical degeneracy. The zone system of Germany would be difficult to apply to New York, but it might be carried out in other cities, and we could at lealst try to keep matters from getting worse here.
"One of the remedies is the public playground. I wish Mr. Carnegie would divert his money from libraries to playgrounds. I once heard a man ask a Carnegie librarian:
"'But do these Carnegie libraries really meet any popular need?'
"'Why,' said he, 'just come around to my library any afternoon between 3 and 5 and you'll find it crowded with children.'
"I look upon this as a striking commentary on the city's need of playgrounds. Having no play to play, the children go to a library to pass their leisure hours. This means the manufacture of 'smart kids' – a type of which I have already spoken.
"So far as possible children should be brought back to the ways of a simpler age. They should be encouraged to play simple games, to get up simple festivals, to use their imaginations instead of having things forced on them from without.
"It is certainly true that the problem of education is only a part of the larger social problem. It is also true that education from environment is the best form of education. As things are now, the majority of children have not the home surroundings best calculated to develop them, and the school has to furnish what, for various reasons, is lacking at home. Parents have ambition for their children, are willing to sacrifice themselves, but they have not the necessary training for the task of education, and the school has to supply this. It is regrettable, and the sooner the main part of education is put in the home the better, but looking at things as they are, there is no doubt that the school is, in the majority of cases, the centre of the child's training.
"The schools do their work – such as it is – in the morning, and then the children are turned out on the streets to lose in a wrong environment the good done in the earlier hours. The problem is how to make the school create about a child the environment that is found in the homes of educated and intelligent people, to have a greater influence in his life than the street has.
"The ideal school – that is, the school as near ideal as can be obtained under present conditions – would stand in large grounds which would be the property of the children at all hours. In the evening the building would also be open for them to study there, should they wish it. There would always be the right environment there for the child, however poor he might be, and in this way he would absorb at least a part of what the child of educated parents has always about him.
"One of the tasks of this school would be the development in the young of a tendency to creative play. Speak to some people about children's play, and they think of something akin to the frolicking of a kitten – a mere aimless exuberance of vitality.
"This undoubtedly applies to the recreations of a child who has neither been born nor educated into a world of play. His vitality needs an outlet and he merely lets himself go. Mischief and hoodlumism are often the result.
"What the child needs is formative play. There are old games that are now never seen in our streets and rarely in our schools, that show an artistry that has been elaborated by centuries of effort. They are summed up in what we call "Mother Goose." There you find song, dance, pantomime, and ritual.
"'Mother Goose' is the basis of all sound literary education for the child. That old classic instills rhythm into their minds and peoples their world with a gallery of images – Simple Simon, Little Miss Muffit, and a host of others.
"Then there are the singing games – ring-a-ring-a-rosy, all-around-the-mulberry-bush, London-bridge-is-falling-down. These games are the most striking survival of the old Greek choral dance.
"'Mother Goose' prepares the mind for the puppets, minstrel shows, and charades of boyhood. These old-fashioned forms of play quicken the imagination and awaken the young mind to the romance and color that there are in the world.
"Then there are the seasonal sports, rarely seen nowadays, however. When I was a boy there was 'hoop time'; in the windy season, 'kite time'; 'marble time'; when the cherries came we played 'cherry pits.' And I can remember that 'leap frog' and 'hop-skip-and-a-jump' had their place in these seasonal sports. The boys had a perfect understanding of their succession.
"With a few exceptions, children engage in these sports no longer. It means a great impoverishment of their lives. Why, do you know that I have actually seen youngsters who do not know what to do when they get on a playground?
"Let the educators teach children how to play; let them strive to keep children from the influences on all sides that tend to destroy childhood and make every one grown up at the age of 10.
"It is an old saying: "The child is father to the man." But our civilization gives the child no chance. We are so intoxicated with our progress, so proud of having made life complex that we have absolutely forgotten the most important factor in the community – the child."