Part 1 of 2
A Journal of Her Own: The Rise and Fall of Annie Besant's Our Corner
by Carol Hanbery McKay
Victorian Periodicals Review, Volume 42, Number 4, Winter 2009, pp. 324-358
Published by Johns Hopkins University Press
©2009 The Research Society for Victorian Periodicals
As founding editor and proprietor of the six-penny monthly journal Our Corner from 1883 through 1888, Annie Wood Besant (1847–1933) provided a Freethought public forum for an array of controversial and groundbreaking topics in politics, science, and the arts. Her impressive roster included Charles Bradlaugh, Moncure Conway, Ludwig Büchner, Edward Aveling, Thomas Huxley, Hubert Bland, Edith Nesbit, William Morris, Sidney Webb, and George Bernard Shaw, although she was a frequent contributor herself, producing a prodigious body of writing and serializing her own lifestory, Autobiographical Sketches, in the journal (January 1884– June 1885).1 She regularly reported on conditions in Ireland and commissioned articles on Afghanistan, Egypt, and India. Increasingly disenchanted with the state of society, she moved into and then beyond Socialism in search of more immediate answers. By 1888 Besant wrote in the January issue of Our Corner, "[W]e're drifting into revolution" ("London," OC 11.1.25), and the next month she urged her readership to join her in inaugurating a new humanistic religion: "Lately there has been dawning on the minds of men far apart in questions of theology, the idea of founding a new Brotherhood, in which service of Man should take place erstwhile given to the service of God" ("The Army of the Commonweal," OC 11.2.117). William T. Stead answered her call, and together they launched a halfpenny weekly, The Link: A Journal for the Servants of Man, concurrent with the final year of her own Our Corner.2
Besant's subsequent leadership role in the Theosophical Society brought with it the opportunity to edit two more monthly journals, Lucifer (1889– 1907) and The Theosophist (1907–present), but it also carried the onus of a marginalized religious movement. Our Corner is not well-known today less because of Besant's Socialism than because becoming a Theosophist tainted her reputation in the eyes of many. The years that Besant published Our Corner are bracketed by her commitments to Secularism and Theosophy, but neither program seems to have claimed an abiding interest in those intermediate years. Moreover, Socialism saw the rise of a panoply of short-lived periodicals that contended with one another for attention in the 1880s, reflecting the inability of the ideology to unify its many components and leading to its relative failure in establishing a national agenda. Few studies of nineteenth-century British periodicals take note of Our Corner, and those that acknowledge it often fail to characterize it accurately. For example, Barbara Onslow cites Besant's role as co-editor of the National Reformer and Link, as well as contributor to the Westminster and Pall Mall Gazette, but makes no mention of Our Corner, while James G. Coolsen incorrectly lumps the entire run of Our Corner together with Justice, Commonweal, and To-Day as Socialist periodicals.3
This relative inattention has compromised the availability of Our Corner in hard copy, although the 1965 edition of the Union List of Serials in Libraries of the United States and Canada boasted seven complete sets available in American university and public libraries (there were no listings for Canada at that time), while in Britain the holdings in the British Museum and Bodleian Library have long been accessible to their readership, and we can count on two microform sources available for purchase or through interlibrary loan.4 Sadly, circulation figures and other publication records have fallen through the cracks, again probably due to the absence of interest in this phase of Besant's career by the various causes for which she so fervently fought. Based on annual reports published in the National Reformer, Paul Thompson estimates membership in the National Secular Society in 1889 at about 7,000, over half of whom had been recruited in the previous four years. Initially, Our Corner's readership would have been predominantly drawn from this pool (the journal was regularly advertised in the NR during the first half of its run), but as a six-penny monthly it was not likely to have had an annual circulation of more than about 500.5
Very much self-identified with its editor, Our Corner: A Monthly Magazine of Fiction, Poetry, Politics, Science, Art, Literature featured Besant's name at the masthead of each issue, and the title page for each of the twelve bound volumes containing six numbers apiece prominently displayed the editor's name above the Freethought symbol (figure 1). The journal was printed by the Freethought Publishing Company, which she had co-founded with Bradlaugh in 1877 in order for them to take legal responsibility for the circulation of the infamous Knowlton pamphlet, and up until the last twenty numbers of Our Corner they listed both their names and the publishing house address at 63 Fleet St., E.C., at the end of each of the 64-page issues. Bradlaugh clearly operated as a major contributor and participant in the enterprise for four of its six years, and Besant did not claim the usual editor's prerogative of producing signed editorials. Nonetheless, her editorial voice emerges in the introductory commentary to unsigned entries, and she underwrote most of the first year's expenses with proceeds from her lecture circuit for the National Secular Society. From the outset, she limited the journal's advertisements to publications by the Freethought Publishing Company and other radical concerns, and this relative lack of advertising revenue could not sustain the initial lavish use of illustrations beyond the journal's inaugural year. At the same time, however, Besant's articles in Our Corner also functioned as the springboard for many of her pamphlets and other publications—as was the case for many of her other Freethought authors—in effect saving them all the cost of resetting type. Surely the rich resource of Besant's contributions to Our Corner, coupled with those of its other contributors and the social history reflected by its six-year run in the mid-1880s, merits further analysis and critical discussion.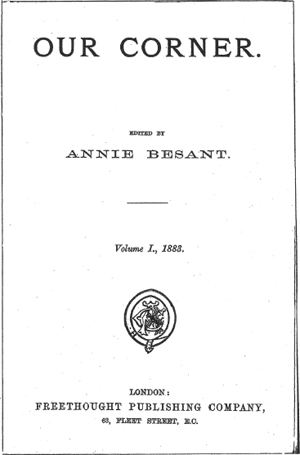 Fig. 1: Title Page for vol. 1, with Freethought Publishing logo
I. Establishing the Paradigm
A brief overview of Besant's history up until 1883 will help establish the credentials she brought to her editorship of Our Corner. Rejecting Christianity five years into her marriage to an Anglican clergyman, she joined the National Secular Society in 1874, working closely with its president, Charles Bradlaugh (1833–91), and delivering her first public lecture on "The Political Status of Women."6 In 1877 she became a co-defendant with Bradlaugh in the Knowlton pamphlet trial, during which the two argued in their own defense for the right to publish and disseminate birth control literature.7 Two years later, largely due to the notoriety of that trial and her openly-declared atheism, Besant (now legally separated from her husband) was deemed by the courts to be an unfit mother, and she lost custody of her daughter. Still working as sub-editor of Bradlaugh's weekly National Reformer: Journal of Radicalism and Freethought (1860–93) and delivering lectures on the Freethought circuit, she began studying science under Dr. Edward Aveling at London University, the first British university to open its degrees to women. After matriculating at the university in 1879, Besant won "firsts" in both botany and animal physiology, and she taught courses in physiology with Aveling at the Hall of Science. (Her chemistry professor repeatedly refused to grant a pass to a woman, however, thus ensuring that she could not complete her degree.) During this period, she had also been writing articles advocating land reform for tenant farmers in Ireland as well as promoting legislation of the Married Woman's Property Acts of 1870 and 1882.8
In the course of its six-year run, Our Corner facilitated Besant's own intellectual and ideological growth as well as that of her readers. She designed the journal to inform, teach, and entertain, and each issue operated like a mini-liberal education. Besant was quite the polymath. Of the half dozen or so regular departments, or "corners," that appeared at the end of all but the last six issues, the "Science Corner" was primarily signed by her, while Bradlaugh served as her mainstay contributor to the "Political Corner." Other customary corners were dedicated to the arts (drama, music, and painting), publishing, and gardening. For the first three years there was even a "Young Folks Corner" devoted to puzzles, games, and story-telling about foreign lands; appropriately, the first issue debuted with a Hindu legend. (In 1893 Besant would visit India for the first time, making it her permanent home the following year; having succeeded Mme. Blavatsky as leader of the Theosophical Society in Europe and India at Blavatsky's death in 1891, Besant was elected worldwide president of the Society in 19079). The "Young Folks Corner" was almost obsessively, even militantly, didactic, yet there is an admirable wholesomeness to this earnest endeavor to raise up a more informed generation who might share her mission.
A recapitulation of Our Corner's inaugural issue reveals the energy of Besant's cauldron of creativity. The initial number established a template that allowed Besant to set up reader expectations with regular features while still introducing timely articles on current affairs, literature, and the sciences. Besant heads the first issue with the initial installment of Charles Victor Cherbuliez's novel The Story of Ladislas Bolski (1869; the unascribed translation from the French may well be her own), propelling her readers into a serialization that would take some fifteen months to complete. "A Bull-Fight in Madrid" by Bradlaugh follows, culminating in the dramatic conclusion, "I left that bull-fight before it was over; I shall never see another" (OC 1.1.14). Next comes Ludwig Büchner's "The Force of Heredity; And its Influence on the Moral and Mental Progress of Mankind" (the first of three installments),10 succeeded by the first of five parts of C.G. Compton's novella, Love's Champion. Three articles then round out the main body of the issue—Besant's unsigned "Copernicus" (illustrated with a fine steel engraving), A. Sinclair's "On the Way to Egypt: Ten Days in and about Gibraltar" (accompanied by a scenic photograveure), and the first entry of Besant's year-long feature, "Peeps through a Microscope" (supplied with three line drawings of Infusoria "after" Ernst Haeckel and Friedrich Stein).
Besant devoted over a third of the remainder of each monthly issue to recurring "corners" that were covered by regular contributors (for the recurring logos of the "corners" established in the first issue, see figure 2). Primacy of place was always granted to Bradlaugh. His "Political Corner" pulls no punches, berating the Government for its failures to enact reforms at home and to act responsibly abroad; his inaugural corner observes, "1883 has, politically, much of menace for England" (OC 1.1.40). Besant's own reporting in her "Science Corner" in this issue runs the gamut of subjects from comets, a solar eclipse, the last transit of Venus, the Horticultural Society, the Royal Society, dust (pollution), an electrical storm, and an ordinance survey, to canine articulation, beetroot, corn, a Physiology Professorship, and university correspondence classes. Initially, Aveling was in charge of the "Art Corner," which variously featured art, music, and drama reviews, depending on the seasonal openings (and the columnist's proclivities). For the first issue, Aveling highlighted three concerts and then briefly reviewed plays mounted at Drury Lane, the Globe, and the Lyceum in London, while noting a performance of Sophocles's Ajax at Cambridge (coincidentally, "Ajax" had been Besant's nom de guerre when she was writing anonymously for the National Reformer). Next debuted the "Chess Corner" by C.H. Coster (it lasted only a year) and the "Gardening Corner" by W. Elder (a regular fixture through 1886). Besant's unsigned "Publishers Corner" followed, for which she provided six mini-reviews of topical publications on a wide array of subjects—vaccination, Freethought invectives, superstitions about witchcraft, the property rights of women, sermons in support of "service to humanity," and a temperance tale.11 Two "corners" addressed primarily to adolescent readers wrap up the first number and subsequent issues through 1885; unsigned, they can be either attributed to Besant herself or presumed to be written to her general directive. These two "corners" and their contests for prizes show Besant providing a forum competitive with some of the boys' and girls' magazines of the period, most of which were conservative and even imperialist in their (albeit covert) politics. The "Inquisitive Corner" (subsumed under "Young Folks" after 1883) sets the stage with "Queries" (answers to which would receive prizes announced in succeeding issues) and "Notes" (letters to the editor). For the inaugural issue, letters to the editor were clearly a setup, but even these "exchanges" provide useful information about implied subscribers and their families. They reveal that Besant was obviously interested in creating an outreach to working-class as well as middle-class children, although at 6 d. apiece, the journal's cost might well have been prohibitive. As the rules and regulations about solving problems evolved, points could be accumulated in different age categories and counted toward prizes, which usually took the form of books, awarded on a quarterly basis to first-time winners in a given calendar year.






Fig. 2: Logos for recurring "Corners" (not including "Chess Corner," which only lasted a year; "Inquisitive Corner" subsumed under "Young Folks Corner" in 1885; see Fig. 3 for "Young Folks Corner" logo
All this is prelude to the "Young Folks Corner," which constitutes the last ten pages of the issue. Signed by Besant, "A Hindu Legend" heads the section this time, its penultimate paragraph affirming the humanistic principles that she would later seek to project on a global scale: "So the life that was given became the source of life throughout the great Hindu land; and as she rolls ever towards the sea Ganga murmurs to herself: 'To give oneself for others is duty: to spread happiness around one's steps for others to gather up is truest joy'" (OC 1.1.57–58; see figure 3). This month's legend was followed by the first of three installments of the biography of Thomas Paine. Listed under the category of "Real Heroes," the entries on Paine were signed with the initial "J," undoubtedly the work of John Robertson, who would increasingly contribute to the journal and serve as a kind of sub-editor to Besant when her working relationship with Bradlaugh waned over the course of the decade. This final "corner" concludes with "Our Roll of Honor," consisting of five sets of puzzles (see figure 4 for a "Picture Puzzle"), one of which is entitled "Nuts for Sharp Little Teeth to Crack." One can easily imagine the adult reader testing his or her ability to solve the puzzles in this and the preceding "Inquisitive Corner," reacting with self-congratulation when the solution is readily forthcoming and looking ahead to the next issue for the answers to unsolved problems.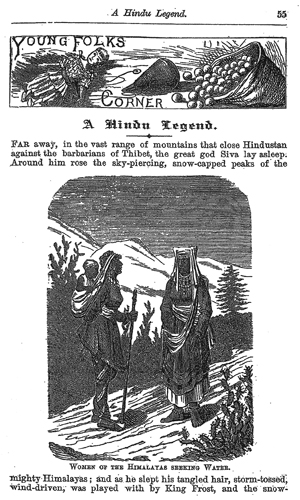 Fig. 3: "A Hindu Legend," by Annie Besant ("Young Folks Corner" for January issue of vol. 1, pages 55–59)
YOUNG FOLKS CORNER

A Hindu Legend.

Women of the Himalayas Seeking Water

Far away, in the vast range of mountains that close Hindustan against the barbarians of Thibet, the great god Siva lay asleep. Around him rose the sky-piercing, snow-capped peaks of the mighty Himalays; and as he slept his tangled hair, storm-tossed, wind-driven, was played with by King Frost, and the snow-
The remaining five numbers of the first volume of Our Corner closely replicate the pattern established by the inaugural issue. The two serialized fictions by Cherbuliez and Compton continued to run their course, as did the installments of scientific and biographical articles authored by Büchner, Besant, and Robertson (Canadian banker and railroad executive George Stephenson constituted the next subject of the "Real Heroes" category; see figure 5). Additional articles by Bradlaugh appeared, titles such as "Angling Memories of the Lea" and "Leaves and Trees" suggesting that he relished an opportunity to explore topics in natural science for which he likely had no other public outlet. Meanwhile, Moncure Conway initiated a two-part article in February on the theme of principled choice in the "Three Caskets," while Aveling began a four-part study in March of "Shakespeare the Dramatist."12 Each issue also included a poem (intriguingly, January featured Chunder Labul's poem entitled "A Hindu Poet to Alfred Tennyson"). Although Besant's subsequent contributions to this first volume were limited to installments for "Peeps through a Microscope" and the "corners" devoted to "Science" and "Publishers," she also provided a new "legend" for the "Young Folks Corner" each month, encompassing Greek, Christian, and Jewish legends and turning to another Hindu legend, this one designated as "after" eighteenth-century Orientalist and philologist Sir William Jones (OC 1.4.247–49).
The contents of this first volume of Our Corner project ahead in telling ways to Besant's own engagement with the issues of her day and the direction her life would take. Ironically, given her conversion to Theosophy some six years later, she published in her third issue a tongue-in-cheek article entitled "Clairvoyance," by Alter Brown, who concluded, "May we not find other beliefs equally unworthy of acceptance if we scrutinise the evidence on which they rest?" (OC 1.3.157). Two months later, she included an article by James Leigh Joynes on "Leading Socialistic Theories," which articulated a conviction that she would endorse for the remainder of her days: "We recognise in theory the brotherhood of the whole human race. Let us, each for himself, try to reduce his theory to practice" (OC 1.5.272).13 The last issue of the first volume provided Besant with an occasion to highlight sentiments that she shared with renowned scientist Thomas Huxley. Quoting his recent remarks at a banquet of the Royal Academy, she writes, "It is not usual in a monthly magazine to print a casual speech, but the rare perfection of this is our justification" (OC 1.6.354). Huxley's message is clearly one she recommends to her readership: "I am unable to understand how any one [sic] with a knowledge of mankind can imagine that the growth of science can threaten the development of art in any of its forms. If I understand the matter at all, science and art are the obverse and reverse of nature's medal, the one expressing the eternal order of things in terms of feeling, the other in terms of thought" (354–55).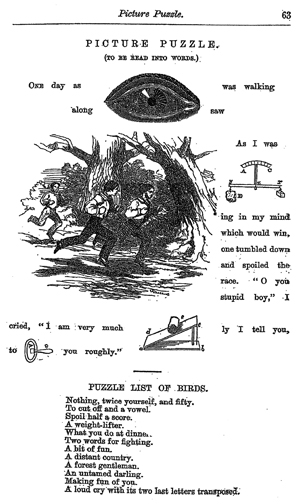 Fig. 4: "Picture Puzzle" for "Puzzle List of Birds" for January issue of vol. 1 ("Young Folks Corner," page 63)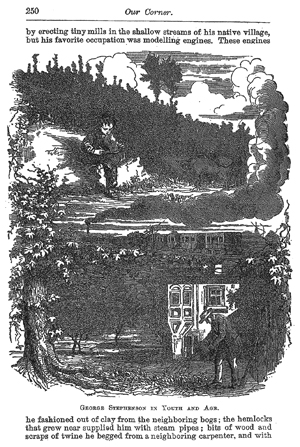 Fig. 5: Illustration for biography of George Stephenson ("Real Heroes," page 250, by J., in three parts: OC 1.4.249–52, 1.5.312–16, 1.6.377–80)
On just the one occasion—marking an end to 1883—Besant added an extra issue to her twelve-month regimen. By publishing "The Christmas Number of Our Corner," the atheist editor actually discloses a great deal about both her financial standing and her willingness to work within the system that she is otherwise critiquing. Although a Christmas number might well be hoped to generate additional income, it was not made more attractive as a possible gift item through what Besant now probably recognized as the extravagant use of illustrations. Lacking the journal's signature "corners," this issue was nonetheless geared toward entertainment, for its contents primarily consist of short fiction and poetry. However, reflecting its presumed secular readership, the number also includes two pieces that challenge the traditional Christian narrative, namely, Aveling's "The Dream of the Boy Jesus" and Besant's own "The Child Christ: A Solar Myth." There is, moreover, an even more telling element to this publication: its 26-page advertiser. Over the course of its six-year run, Our Corner never included more than eight or nine pages of advertisements. But at this first year's end, Besant clearly wanted—perhaps needed—to take advantage of the holiday season's gift-giving potential. The advertiser is replete with lists of the Freethought Publishing Company's inventory of books in print as well as remainders at bargain prices, and in a double exception to the journal's general practice, a commercial advertisement (for S. Davis & Company's sewing machines) appears on the usually blank back cover.
Unfortunately, scholars today are not likely to be in a position to speculate about the implications of either the Christmas number or advertising in Our Corner. Besant's standard mode of publishing six months per bound volume did not include this seventh issue at the end of volume two nor did she republish any of the monthly covers or advertisements, and most libraries eliminated individual covers and advertising if they instituted their own bi-annual in-house binding. Thus the full story the journal's history has continued to further escape our scrutiny.
II. Her Story, Her Stories
Within that first year of launching Our Corner, Besant found her subscribers and colleagues in the National Secular Society calling for a public recounting of her lifestory, and the pages of her own journal seemed the logical choice. She opened the January issue of 1884 with the following words: "I have resolved to pen a few brief autobiographical sketches, which may avail to satisfy friendly questioners, and to serve, in some measure, as defence against unfair attack (OC 3.1.1). For the next eighteen months, Besant reviewed the events of her childhood, early marriage, and legal struggles, examining them for their disparate influences on the woman she had become (for the December 1884 cover, with its table of contents listing the twelfth installment of Autobiographical Sketches as well as highlighting the change in the "Science Corner" logo, see figure 6). In particular, she examined her early instruction under the tutelage of Ellen Marryat, who had imbued in her a love of learning by direct observation as well as fueled religious zeal. Reflecting on her false hopes in her marriage partner, Besant details the path of her disillusionment with Christianity, while displaying the depth of her knowledge about the Bible and the history of the early Church Fathers. The replaying of the two key trials in her life thus far forms the core of Autobiographical Sketches. Her account of the Knowlton trial demonstrates her legal skills and scientific expertise, while the trial for custody of her daughter exhibits her commitment to Freethought, even at the expense of her personal life. Happily, both Besant's daughter Mabel and her son Digby reunited with her when they reached their majority, and both of them worked with her within the ranks of the Theosophical Society for the rest of her life.
With the subsequent book publication of Autobiographical Sketches by the Freethought Press at the end of 1885, Besant's general readership had the opportunity to join her subscribers in knowing about the rationale behind the outline of her public history. The book was not widely reviewed, probably because members of the National Secular Society constituted its primary audience and most of them had already been reading it as it was serialized in Our Corner, and for those whose subscriptions did not overlap, it was sufficient that Bradlaugh had been advertising the forthcoming book publication in the National Reformer. The paragraph-long review of Autobiographical Sketches in the Westminster Review begins on the following sympathetic note, "A touching account of the life of a singularly ill-used woman," and proceeds to editorialize about Besant's roles as "a tender mother and a spotless wife": "[L]et us hope that her sufferings have not been in vain, and that she will be the last in our own or any future generation to incur such a penalty for a matter of opinion" (n.s. 70.1 [July 1886]: 275–76). This endorsement did not significantly impact book sales, however, and for most readers of her own and our time, it has been her second (and last) attempt at self-writing, An Autobiography (1893), with its more controversial conversion narrative, that stands as the definitive autobiographical account. The Freethought Publishing Company continued to advertise Autobiographical Sketches through 1890, the year after Besant had converted to Theosophy, but she chose not to keep it in print thereafter, presumably because she, too, considered the second story to have eclipsed the first.14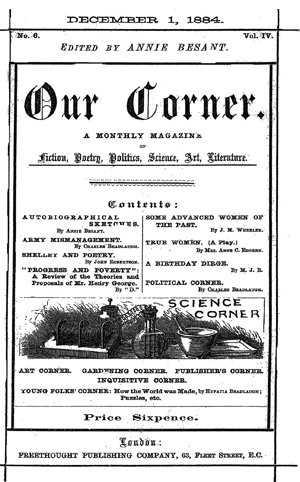 Fig. 6: Cover for December 1884 issue of vol. 4
December 1, 1884
No. 6, Vol. IV.
Edited by Annie Besant.
Our Corner
A Monthly Magazine
of
Fiction, Poetry, Politics, sSience, Art, Literature
Contents:
Autobiographical Sketches. By Annie Besant
Army Mismanagement. By Charles Bradlaugh.
Shelley and Poetry. By John Robertson
"Progress and Poverty": A Review of the Theories and Proposals of Mr. Henry George. By "D."
Some Advanced Women of the Past. By J.M. Wheeler.
True Women. (A Play.) By Mrs. Anne C. Edgren.
A Birthday Dirge. By M.J.R.
Political Corner. By Charles Bradlaugh
SCIENCE CORNER
ART CORNER
GARDENING CORNER
PUBLISHER'S CORNER
INQUISITIVE CORNER.
YOUNG FOLKS' CORNER: How the World was Made, by Hypatia Bradlaugh; Puzzles, etc.
Price Sixpence.
London
FREETHOUGHT PUBLISHING COMPANY, 63 Fleet Street, E.C.
The year Autobiographical Sketches concluded its serialization also witnessed Besant's admission to the Fabian Society and her unequivocal endorsement of Socialism, distancing her from Bradlaugh and the individualism that marked the tenets of the National Secular Society. In the second half of its run, Our Corner reflects her increasing involvement with Socialism, signalled by the regular feature she initially entitled "Fabian Society and Socialist Notes" (figure 7); she would later refer to this section as "a record of Socialist progress in all lands" (Autobiography 314).15 During 1886 Besant herself contributed two articles on the subject, "Modern Socialism" (in four parts, February–May) and "Why I am a Socialist" (OC 8.3.157–63), while opening her pages to other Socialist proponents. By then fellow Secularist G.W. Foote was more than ready to tackle Socialism in general and Besant's interpretation of it in particular. His ad hominem attacks are sprinkled throughout his so-called review of Modern Socialism, which was printed as a book by the Freethought Publishing Company a month after its serialization. Entitled "The Latest Apostle of Socialism," this review appeared in his own journal, Progress: A Monthly Magazine of Advanced Thought (6.6. 266–73), and was followed by a heated exchange between him and Besant the following month (7.1.290–300). Nonetheless, as a measure of both her own open mind and her desire to retain some degree of camaraderie with Bradlaugh, the two of them engaged in a friendly exchange of viewpoints about Socialism in the first half of 1887. Beginning with his "Socialism: Its Fallacies and Dangers" (OC 9.3.129–36), the debate continued through her "Socialism: Its Truths and Its Hopes" (9.4.193–200), followed by his "Rejoinder" (9.6.321–24), and ending with her last word in "Final Reply" (9.6.324–27). This exchange was later reprinted in book form, joining a number of other public debates on the subject of Socialism that were published throughout the 1880s.16
By the end of 1887, Besant could conclude her article entitled "The Nottingham Programme" by making the following proclamation: "The Socialist Programme . . . aims directly at the privileges of the few for the sake of the many, and seeks to destroy the horrible inequality which is the curse of modern civilisation" (OC 10.6.361). Earlier that year she had featured an article by W.H. Utley on "Scientific Aspects of Socialism" (OC 9.2.82–86) as well as "Facts for Socialists" (OC 9.3.136–49), which reprinted a series of extended quotations "drawn from" John Stuart Mill, R. Griffen, J.E. Cairnes, Mulhall, Leone Levi, J.S. Jeans, Henry Fawcett, Frederic Harrison, and J.K. Ingram. As Besant approached the end of her tenure as editor and proprietor of Our Corner, she increasingly turned to other periodicals to air her views on Socialism; in 1889 alone, she would publish twelve articles on the subject in Justice (1884–99), most notably "Socialists as Administrators" (2 February), "Socialists and Radicals" (13 April), "Our Duty to Socialism" (6 July), "Women and Socialism" (12 October), and "The Advantages of Socialism" (16 November). When she had been admitted to the year-old Fabian Society in 1885, she joined forces with Shaw, Sidney and Beatrice Webb, H.G. Wells, Hubert Bland, and Edith Nesbit, but within just two years she and fellow Secularist Herbert Burrows became frustrated by the Fabians' more gradual approach to reform through permeation, or progressive legislation.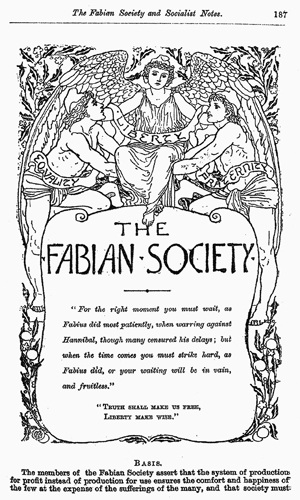 Fig. 7: Fabian Society logo and motto (first appearance in March 1886: OC 7.3.187)
The Fabian Society and Socialist Notes.
LIBERTY; EQUALITY; FRATERNITY
THE FABIAN SOCIETY
"For the right moment you must wait, as Fabius did most patiently, when warring against Hannibal, though many censured his delays; but when the time comes you must strike hard, as Fabius did, or your waiting will be in vain, and fruitless."
"TRUTH SHALL MAKE US FREE,
LIBERTY MAKE WISE."
BASIS. The members of the Fabian Society assert that the system of production for profit instead of production for use ensures the comfort and happiness of the few at the expense of the sufferings of the many, and that society must ...
Besides editing and writing for Our Corner, Besant put herself physically at risk by participating in open-air meetings in autumn of 1887 that led to "Bloody Sunday" in Trafalgar Square, the subject of one of her articles the following year, "The Story of Trafalgar Square" (Link; rpt. OC 11.4.224– 33). Recent years had seen her coverage of the 3rd Reform Bill (1884; she authored a six-part series of articles on all three reform bills, under the general title "The Redistribution of Political Power") and the repeal of the Contagious Diseases Act (1886), and the next year would see her working with Burrows to help the Match-Girls' Union win its strike against Bryant and May (see "Revolt of the Matchmakers" [14 July 1888] and "The Late Strike" [4 August], both co-authored with Burrows in the Link), as well as heralding the passage of the Affirmation Act that finally allowed Bradlaugh to take his seat as Member of Parliament for Northhampton (Bradlaugh had five times previously been denied his right to represent his district because he refused to take an oath of office invoking God). Now Besant seemed to be taking stock of her engagement with social and political causes in addition to reviewing the efficacy of her own publication record. No longer sub-editor of the National Reformer (that alliance with Bradlaugh had ended in October 1887), she published no freestanding pamphlets in 1888; the previous year had seen publication of only Radicalism and Socialism (itself a reprint of OC 8.4/5) and Why I Do Not Believe in God, revealing a considerable drop in her rate of production.
III. Bricolage, or, The Miscellany Writ Large
With the intertwined goals of educating and entertaining its readership, Our Corner regularly included literary entries, especially featuring serialized fiction. George Bernard Shaw entered the lists of Our Corner in April 1885 with the first of 23 serial installments of his novel The Irrational Knot, Being the Second Novel of His Nonage, announced as "by the author of 'The Unsocial Socialist', etc." even though there was no "and so on" to cite and The Unsocial Socialist (Swan, Sonnenschein, Lowry) did not appear until 1887, when Love Among the Artists began its concurrent run in Our Corner.17 (Shaw's second novel, Cashel Byron's Profession, was serialized in To-Day [1883–89] during 1885, receiving a rather mixed review in Our Corner from fellow staffer John Robertson the following year [OC 7.5.301–05].) Within two months of his first novel's first installment, Shaw had taken over the "Art Corner" from Elizabeth Cracknell (Aveling's successor), converting it largely into an opportunity to showcase his drama criticism. Even after giving up the "Art Corner," Shaw was heavily invested in production of the last volume of Our Corner, contributing not only the conclusion to his three-part "A Refutation of Anarchism" but also two other articles, "The Transition to Social Democracy" and "The Economic Aspect of Socialism." His working relationship with Besant remained perplexing to both of them, however. Years later he would falsely claim responsibility for assigning her to review The Secret Doctrine, and after her death he tried to dissuade suffragist Elizabeth Robins from writing Besant's biography. All this equivocation seems astounding in light of Besant's having underwritten first-time publication of two of Shaw's five novels.18
In addition to serialized fiction by Cherbuliez, Compton, and Shaw, Our Corner published short stories, poetry, and literary translations. Some of the shorter fiction was reprinted from other periodicals, for example, "Sam Lovel's Thanksgiving" (OC 9.5. 276–82) and "Sam Lovel's Bee Hunting " (OC 9.6.358–68), both by Roland Evan Robinson and taken from Field and Stream, while others were original to Our Corner, most notably Bland's "Mr. Orlestone's Manager" (June–September 1887). The poetry was usually signed with initials that are not readily recognizable today; James Thompson's "The Naked Goddess" (March–April 1883) and William Morris's "In Memoriam" (dedicated to Alfred Linnell; OC 11.1.52) are two exceptions. One frequent contributor, whose "M.J.R." remains unidentified, provided two poems that deserve attention in terms of Besant's personal predilections, namely "To Science" (OC 4.3.151) and "Storm and Calm" (OC 5.1.38), the latter prefiguring some of her key terminology in the last chapter of An Autobiography. Translations from the Russian began to appear during the last two years of Our Corner's publication, perhaps reflecting an interest in Russia that had prompted several articles on political upheavals in 1886. The preeminent example is Ivan Turgenieff's Poems in Prose (1878), translated from Russian to German by William Lange (the English translator goes unacknowledged) and published in the last three monthly issues of 1887. The last Russian translation to appear in the pages of Our Corner was N.P. Vagner's fairy tale "The Cake King," translated by N. Tchaykowski for the June and July issues of the journal's final year.
Because some of the contributions are either anonymous or signed by names or initials that are not recognizably female, it is hard to gauge how many of the entries in Our Corner are women-authored, but a number of women writers can be identified and the journal clearly advocates gender equity. Of particular note are Mrs. Anne C. Edgren's play, True Women, translated from the Swedish by H.L.B. for the last three issues of 1884, and four contributions by Edith Nesbit—the poems "A Choice" (OC 7.6.351), "Under Convoy" (OC 9.2.114), "Night and Morning" (OC 10.1.51), and the short fiction "A Looking Glass Story" (Mar.–April 1886). Equally intriguing is Hypatia Bradlaugh's short story entitled "Dr. Valery Vernon, Q.C," which begins, "I am a woman and a law student." During the course of the tale, the protagonist-narrator marries, but her final words sum up her combined personal and professional status, "I still continue to describe myself as a 'law student'" (OC 4.2.103–11).19 Two of the four department heads of the "Art Corner" were women; Elizabeth Cracknell succeeded Aveling, while Mary Reed followed Shaw in that capacity. Both women commanded substantial columns—Cracknell maintained an enviable balance among the arts, while Reed became a prominent voice critical of the Royal Academy.20 Moreover, numerous male contributors specifically address women's issues and the question of equality between the sexes. Noteworthy are J.M. Wheeler's two articles, "Some Advanced Women of the Past" (November–December 1884) and "Some Advanced Women" (May 1885), the latter primarily about Elizabeth Cady Stanton, as well as Leopold Katscher's four-part review essay on George Sand (April–July 1885).
Neither articles nor literary entries were pitched solely to male or female readers, and the "Young Folks Corner" was gender-free, never providing problems or stories specific to either a male or female readership. Besant's own contributions exemplified the potential breadth of a woman's interests and expertise, regularly ranging from politics to science to international relations and comparative religion, and she always seemed quick to accept articles that exposed gender inequity or endorsed specific reforms regarding limitations imposed upon women. Besant explicitly stepped to the fore herself on numerous occasions, utilizing her position as editor, department head, and contributor. The "Publisher's Corner" provided ample opportunity to editorialize about books concerning the Woman Question, as the following excerpt demonstrates: "We receive from the publishers a set of Suffrage Stories, which very usefully illustrate the practical disadvantages under which women suffer from not having a vote. They are admirably adapted for distribution among women who will not read sustained argument, but who will glance over a brief tale when the day's work is over" (OC 5.3.179). If her assessment betrays some degree of condescension, it also conveys a realistic understanding of the restricted time and energy working women could allow for the activity of reading. One of her articles, "The Law of Population and Its Relation to Socialism," specifically addresses her female readership at its conclusion, however. Having looked ahead to a future when there will be women who are great musicians, artists, scientists, and writers, she apostrophizes, "[T]he realisation of these possibilities, O women my sisters, depends on the triumph of Socialism which will give us equality and independence, and the practice of conjugal prudence which will give us physical freedom" (OC 7.6.332).21