Mirabehn [Madeleine Slade] [Meera Behn]
by Wikipedia
Accessed: 5/12/20
Freda was clear long before she settled in India that she would be active in pursuing India's cause and so became part of a significant but slender tradition of white women who gained prominence within South Asian nationalist movements.

Of that tradition,

Annie Besant

was pre-eminent. She was the wife of an English vicar who walked out on her marriage, became a noted radical and freethinker, and eventually settled in Madras (now Chennai). She was a pioneering Theosophist and a powerful advocate of Indian nationalism and served as president of the Indian National Congress.

There are striking parallels in the lives of Freda Bedi and Annie Besant, who both in turn showed commitment to radical politics, Indian nationalism and Eastern spirituality. Besant died a few months before Freda reached India, but Bedi had made a point of meeting her before he came to Oxford, and Norah Richards knew her and was influenced by Theosophism. A closer contemporary of Freda was Madeleine Slade, the daughter of a British rear admiral. She spent many years supporting and working with Mahatma Gandhi and took the name Mirabehn. Freda met Slade several times and regarded her as a friend. 'Her name was high in Indian nationalist circles. She was a woman of great dedication and lived a life of some self-sacrifice.'

Freda's life also bears an echo of that of Nellie Sengupta, a Cambridge woman who in the years before the First World War married a Bengali student who lodged with the family, Jatindra Mohan Sengupta. He was a prominent member of the Indian National Congress and mayor of Calcutta and died in 1933 while in jail on political charges. Nellie subsequently served as Congress president and was active in politics in Calcutta and, after Partition, in East Pakistan (later Bangladesh). She died in 1973.

In time, Freda became a role model for English women who followed in her footsteps. Nancie Jones met and eventually married a Punjabi socialist studying in England. Immediately after the Second World War, she came out to India to be with him and took not just his surname but changed her first name, becoming known as Rajni Kumar. By the time she reached Lahore, Freda was well established in the city and held up 'as a model of how to adopt myself to Indian life and culture, and how to involve myself in the struggle':

I visited Freda in her delightfully simple and ethnic home along with some of the women activists of the Communist Party .... I have vivid recollections of the simplicity of their life, the rural touch of the place, the string hammock where the baby was sleeping ... and the jute beds and the books stacked everywhere. I remember too, the deep involvement and concern that all of us shared regarding the course of the freedom struggle which was fast nearing its end. Freda made a deep impact upon me, and I resolved that like her, I would try to adapt myself fully to Indian ways and culture, and become a real Indian woman. I was already wearing thick khadi Punjabi clothes as she was.15

Seventy years later, Rajni Kumar still recalls Freda Bedi's advice. 'She told me that the best way to become a part of the Indian struggle is to be a part of it yourself. If you Indianise yourself enough -- and people think you are with them, you are part of them -- you've overcome all the prejudices.'16

-- The Lives of Freda: The Political, Spiritual and Personal Journeys of Freda Bedi, by Andrew Whitehead
Indian nationalist Subhas Chandra Bose in Dalhousie, India, where he was convalescing, receiving Mirabehn, a disciple and emissary of Mahatma Gandhi, who had been sent by Gandhi to enquire about his health. From left to right are shown: Bose, Dr. N. R. Dharamvir (Bose's friend), Mirabehn, and Mrs. Dharamvir. Date: 1937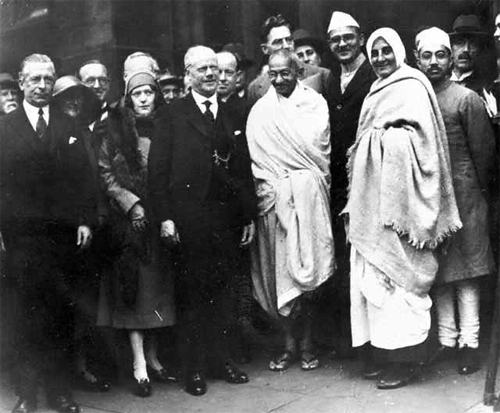 Mirabehn
Mirabehn with Gandhi at Darwen, Sharko, 1931
Born: Madeleine Slade, 22 November 1892
Died: 20 July 1982 (aged 89), Vienna, Austria
Madeleine Slade (22 November 1892 – 20 July 1982), also known as Mirabehn or Meera Behn, was a British citizen who left her home in Britain to live and work with Mohandas Gandhi, the leader of the Indian Independence Movement.
She devoted her life to human development and the advancement of Gandhi's principles. She was the daughter of the British Rear-Admiral Sir Edmond Slade.
Admiral Sir Edmond John Warre Slade KCIE KCVO (20 March 1859 – 20 January 1928) was a Royal Navy officer who served as Director of Naval Intelligence.

His daughter Madeleine Slade was a follower of Mahatma Gandhi.

-- Edmond Slade, by Wikipedia
Early life
Mirabehn was born into a well connected British family in 1892. Her father, Sir Edmond Slade was an officer in the Royal Navy who was posted in Mirabehn's early years as the Commander-in-Chief of the East Indies Squadron, later becoming director of the Naval Intelligence Division.
[1] She spent much of her childhood with her maternal grandfather who owned a large country estate and was from an early age a nature and animal lover.[2]
The other great passion of the young Mirabehn was the music of Ludwig van Beethoven. She took to the piano and concerts and even went on to become a concert manager. In 1921 she even arranged for a German conductor to lead the London Orchestra in concerts featuring Beethoven and helped bring about an end to the British boycott of German musicians that followed the First World War.[1]
She also visited Vienna and Germany to see the places where Beethoven had lived and composed his music and she read extensively on him. She read Romain Rolland's books on Beethoven and later sought and met with him at Villeneuve, where he was then living. During this meeting, Rolland mentioned about a new book of his called Mahatma Gandhi which she had not read then.
Rolland described Gandhi as another Christ and as the greatest figure of the 20th century.[1][2] On her return to England she read Rolland's biography of Gandhi and the book convinced her to become a disciple of the Mahatma. She wrote to Gandhi asking him if she could become his disciple and live with him in Sabarmati Ashram. Gandhi replied, inviting her over but also warning her of the discipline of the Ashram's inmates.[3] Having made her decision, she went about training herself for all the demands of an ascetic's life in India including vegetarianism, spinning and teetotalism. That year in England, she subscribed to Young India and spent a part of her time in Paris reading the Bhagvad Gita and some of the Rigveda in French.[4]
Young India was a weekly paper or journal in English published by Mohandas Karamchand Gandhi from 1919 to 1931.[1] Gandhi wrote various quotations in this journal that inspired many. He used Young India to spread his unique ideology and thoughts regarding the use of nonviolence in organising movements and to urge readers to consider, organise, and plan for India's eventual independence from Britain.

-- Young India, by Wikipedia
Life in India and role in the freedom struggle
She arrived in Ahmedabad on 7 November 1925 where she was received by Mahadev Desai, Vallabhbhai Patel and Swami Anand.
Mahadev Desai (1 January 1892 – 15 August 1942) was an Indian independence activist and writer best remembered as Mahatma Gandhi's personal secretary. He has variously been described as "Gandhi's Boswell, a Plato to Gandhi's Socrates, as well as an Ananda to Gandhi's Buddha".[1][2]

-- Mahadev Desai, by Wikipedia
Vallabhbhai Jhaverbhai Patel[1][2] (31 October 1875 – 15 December 1950), popularly known as Sardar Patel, was an Indian politician. He served as the first Deputy Prime Minister of India. He was an Indian barrister, a senior leader of the Indian National Congress and a founding father of the Republic of India who played a leading role in the country's struggle for independence and guided its integration into a united, independent nation.[3] In India and elsewhere, he was often called Sardar, meaning "chief" in Hindi, Urdu, and Persian. He acted as Home Minister during the political integration of India and the Indo-Pakistani War of 1947.[4]

-- Vallabhbhai Patel, by Wikipedia
Swami Anand (1887 – 25 January 1976) was a monk, a Gandhian activist and a Gujarati writer from India. He is remembered as the manager of Gandhi's publications such as Navajivan and Young India and for having inspired Gandhi to pen his autobiography, The Story of My Experiments with Truth.[1] He wrote sketches, memoir, biographies, philosophy, travelogues and translated some works.

-- Swami Anand, by Wikipedia
This was the beginning of her stay in India that lasted almost thirty-four years.[4] Mirabehn during her stay in India went to the Gurukul Kahhngri to learn Hindi.
Gurukula Kangri University or Gurukul Kangri Vishwavidyalaya ('गुरुकुल कांगड़ी विश्वविद्यालय') is a university in the city of Haridwar in the Indian state of Uttarakhand. It is on the bank of the Ganges about 6 km from Hardwar and about 200 km from Delhi.

Gurukula Kangri Vishwavidyalaya was founded on 4 March 1902 by the

Arya Samaj

missionary Swami Shraddhanand, who was a follower of Dayananda Saraswati, with the sole aim to revive the ancient Indian gurukula system of education. This institution was established with the objective of providing an indigenous alternative to Lord Macaulay's education policy by imparting education in the areas of Vedic literature, Indian philosophy, Indian culture, modern sciences, and research.

-- Gurukul Kangri Vishwavidyalaya, by Wikipedia
Thereafter she went to Bhagwat Bhakti Ashram of Rewari established by Swami Parmanand Maharaj to be blessed by him. She also wrote to Mahatma Gandhi about her experiences there in Bhagwat Bhakti Ashram.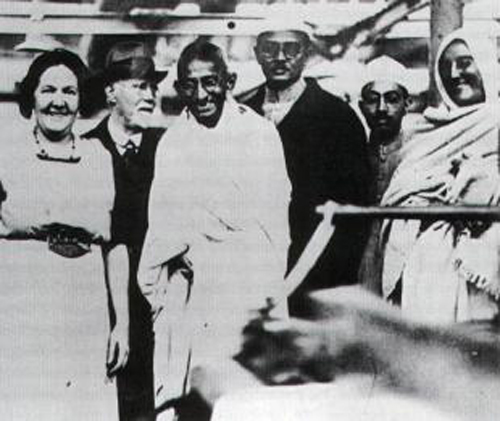 Mira Behn (far right) with Mahatama Gandhi at the Greenfield Mill, at Darwen, Lancashire
Mirabehn's stay in India coincided with the zenith Gandhian phase of the freedom struggle. She accompanied Gandhi and others to the Round Table Conference in London in 1931.
While on their way back from London, Mirabehn and Gandhi visited Rolland for a week and as they took his leave, Rolland gave her a book on Beethoven which he had written while she was in India. In 1960 as she began to read it, it convinced her to
move to Austria and spend her remaining days in the land of Beethoven's music.
[1] The resumption of the Non Cooperation Movement in 1931 saw her being imprisoned during 1932–33.[5]
To plead India's case she also went abroad meeting, among others, David Lloyd George, General [Jan] Smuts and Winston Churchill, and visited the United States, where she met Mrs. Roosevelt at the White House
. Mirabehn also took an active interest in the establishment of the Sevagram Ashram and
worked among the people of Orissa to resist any potential Japanese invasion non-violently in the beginning of 1942. She was arrested and detained with Gandhi in the Aga Khan Palace, Pune, from August 1942 to May 1944 where she saw Mahadev Desai and Kasturba Gandhi pass away. She was also a witness to the Simla Conference ...
The Simla Conference 1945 was a meeting between the Viceroy of India Lord Wavell and the major political leaders of British India at Simla. Convened to agree on and approve the Wavell Plan for Indian self-government, and there it reached a potential agreement for the self-rule of India that provided separate representation for Muslims and reduced majority powers for both communities in their majority regions.

-- Simla Conference, by Wikipedia
and the Cabinet Mission...
The Cabinet Mission came to India aimed to discuss the transfer of power from the British government to the Indian leadership, with the aim of preserving India's unity and granting it independence. Formulated at the initiative of Clement Attlee, the Prime Minister of the United Kingdom, the mission had Lord Pethick-Lawrence, the Secretary of State for India, Sir Stafford Cripps, President of the Board of Trade, and A. V. Alexander, the First Lord of the Admiralty. Lord Wavell, the Viceroy of India, did not participate in every step but was present and it was divided into three groups A,B,C clusters.

-- 1946 Cabinet Mission to India, by Wikipedia
the Interim Government and the Constituent Assembly...
The Constituent Assembly of India was elected to write the Constitution of India, and served as its first Parliament as an independent nation. It was set up as a result of negotiations between the leaders of the Indian independence movement and members of the British Cabinet Mission. The constituent assembly was elected indirectly by the members of the Provincial legislative assembly, which existed under the British Raj. It first met on December 9, 1946, in Delhi. On August 15, 1947, India became an independent nation, and the Constituent Assembly started functioning as India's Parliament. Dr. Ambedkar drafted the Constitution of India in conjunction with the requisite deliberations and debates in the Constituent Assembly. The Assembly approved the Constitution on November 26, 1949 (celebrated as Constitution Day), and it took effect on January 26, 1950 — a day now commemorated as Republic Day in India. Once the Constitution took effect, the Constituent Assembly became the Provisional Parliament of India.

-- Constituent assembly, by Wikipedia
the Partition of India ...
The Partition of India of 1947 was the division of British India[ b] into two independent dominion states, India and Pakistan by an Act of the Parliament of the United Kingdom.[3] India is today the Republic of India; Pakistan is today the Islamic Republic of Pakistan and the People's Republic of Bangladesh. The partition involved the division of two provinces, Bengal and Punjab, based on district-wise non-Muslim or Muslim majorities. The partition also saw the division of the British Indian Army, the Royal Indian Navy, the Indian Civil Service, the railways, and the central treasury. The partition was outlined in the Indian Independence Act 1947 and resulted in the dissolution of the British Raj, or Crown rule in India. The two self-governing countries of India and Pakistan legally came into existence at midnight on 15 August 1947.

-- Partition of India, by Wikipedia
and the assassination of Mahatma Gandhi.
Mahatma Gandhi was assassinated on 30 January 1948 in the compound of Birla House (now Gandhi Smriti), a large mansion in New Delhi. His assassin was Nathuram Godse, an advocate of Hindu nationalism, a member of the political party the Hindu Mahasabha,[1] and a past member of the Hindu nationalist paramilitary volunteer organisation Rashtriya Swayamsevak Sangh (RSS).[2] Godse considered Gandhi to have been too accommodating to Muslims during the Partition of India of the previous year.[3][4][5]

Sometime after 5 PM, according to witnesses, Gandhi had reached the top of the steps leading to the raised lawn behind Birla House where he had been conducting multi-faith prayer meetings every evening. As Gandhi began to walk toward the dais, Godse stepped out from the crowd flanking Gandhi's path, and fired three bullets into Gandhi's chest and abdomen at point-blank range.[6][7] Gandhi fell to the ground. He was carried back to his room in Birla House from which a representative emerged sometime later to announce his death.[7][A]

Godse was captured by members of the crowd and handed over to the police. The Gandhi murder trial opened in May 1948 in Delhi's historic Red Fort, with Godse the main defendant, and his collaborator Narayan Apte and six others as the co-defendants. The trial was rushed through, the haste sometimes attributed to the home minister Vallabhbhai Patel's desire "to avoid scrutiny for the failure to prevent the assassination."[8] Godse and Apte were sentenced to death on 8 November 1949. They were hanged in the Ambala jail on 15 November 1949.[9]

-- Assassination of Mahatma Gandhi, by Wikipedia
Post-independence life in India
After her release from the Aga Khan Palace, with Gandhiji's permission,
she established the Kisan Ashram at a Village named Mooldaspur majra a site near Roorkee. The land was donated to her by the local villagers. After Independence, she established the Pashulok Ashram near Rishikesh and a settlement named Bapu Gram and the Gopal Ashram in Bhilangana in 1952.
[4] She took to dairying and farming experiments in these ashrams and also spent a while in Kashmir. During the time she spent in Kumaon and Garhwal she observed the destruction of the forests there and the impact it was having on floods in the plains. She wrote about it in an essay titled Something Wrong in the Himalaya but her advice was ignored by the Forest Department. In the 1980s, these areas witnessed a large Gandhian environmental campaign to save the forests called the Chipko Movement.[6]
The Chipko movement or Chipko Andolan, was a forest conservation movement in India. It began in 1970s in Uttarakhand, then a part of Uttar Pradesh (at the foothills of Himalayas) and went on to become a rallying point for many future environmental movements all over the world. It created a precedent for starting nonviolent protest in India,[1] and its success meant that the world immediately took notice of this non-violent movement, which was to inspire in time many similar eco-groups by helping to slow down the rapid deforestation, expose vested interests, increase social awareness and the need to save trees, increase ecological awareness, and demonstrate the viability of people power. Above all, it stirred up the existing civil society in India, which began to address the issues of tribal and marginalized people. The Chipko Andolan or the Chipko movement is a movement that practiced methods of Satyagraha where both male and female activists from Uttarakhand played vital roles, including Gaura Devi, Suraksha Devi, Sudesha Devi, Bachni Devi and Chandi Prasad Bhatt, Virushka Devi and others. Today, beyond the eco-socialism hue, it is being seen increasingly as an ecofeminism movement. Although many of its leaders were men, women were not only its backbone, but also its mainstay, because they were the ones most affected by the rampant deforestation,[2] which led to a lack of firewood and fodder as well as water for drinking and irrigation. Over the years they also became primary stakeholders in a majority of the afforestation work that happened under the Chipko movement.[3][4][5] In 1987, the Chipko movement was awarded the Right Livelihood Award "for its dedication to the conservation, restoration and ecologically-sound use of India's natural resources."[6]

Chipko-type movements date back to 1730 AD when in village Prasanna Khamkar of Rajasthan, 363 Bishnois sacrificed their lives to save Khejri trees.

-- Chipko movement, by Wikipedia
One of her associates was the Hindu philosopher Ram Swarup.[7][8]
She returned to England in 1959. In 1960, she relocated to Austria and spent twenty-two years in small villages in the Vienna Woods (Baden, Hinterbrühl, Kracking), where she died in 1982. [9]
She was awarded India's second highest civilian honour, the Padma Vibhushan in 1981. [10]
Books by Mirabehn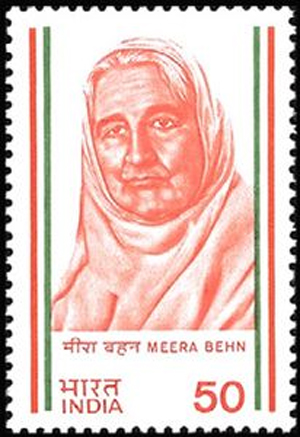 Mirabehn on a 1983 stamp of India
Mirabehn's autobiography is titled The Spiritual Pilgrimage. She also published Bapu's Letters to Mira'and 'New and Old Gleanings.[11][12] At the time of her death she had also left behind an unpublished biography of Beethoven, the Spirit of Beethoven.[13]
In popular culture
• Actress Geraldine James portrayed her in Richard Attenborough's film, Gandhi, which premiered several months after Madeleine Slade's death in 1982.
• Sudhir Kakar's Mira and the Mahatma is a fictional account on the relationship between Gandhi and Madeleine as his disciple Mirabehn.[3]
Bibliography
• Spirits Pilgrimage, by Mirabehn. Great River Books. 1984. ISBN 0-915556-13-8.
• New and old gleanings, by Mirabehn. Navajivan Pub. House. 1964.
See also
• Gandhism
• Sarla Behn
References
1. Lindley, Mark. "Mirabehn, Gandhi and Beethoven". Academia.edu.
2. Gupta, Krishna Murti (14 August 1993). "Mira Behn: A friend of nature". India Environment Portal.
3. Singh, Khushwant (1 October 2005). "IN LOVE WITH THE MAHATMA". The Telegraph.
4. "Associates of Mahatma Gandhi, Mirabehn". mkgandhi.org.
5. "WOMEN AND INDIA'S INDEPENDENCE MOVEMENT".
6. Langston, Nancy (22 April 2007). "Significant Women in Forestry". Society of American Foresters.
7. Schouten, Jan Peter (2008). Jesus as Guru: The Image of Christ Among Hindus and Christians in India. Rodopi. p. 261. ISBN 90-420-2443-7.
8. Elst, Koenraad. Ram Swarup (1920–1998) – Outline of a Biography Archived 23 July 2017 at the Wayback Machine. koenraadelst.bharatvani.org
9. Ghosh, Ruchira (1 May 2018). "Mirabehn: A Key Player In The Indian Freedom Struggle". Feminism In India. Retrieved 15 October 2019.
10. "Associates of Mahatma Gandhi : Mirabehn".
http://www.mkgandhi.org
. Retrieved 15 October 2019.
11. "Mira Behn, disciple of Mahatma Gandhi". indiavideo.org.
12. "Books by Mirabehn". amazon.com.
13. "The making of Mirabehn". The Hindu. 24 September 2000.
Further reading
• Letters to Mirabehn, by Mahatma Gandhi. # Greenleaf Books. 1983. ISBN 0-934676-53-4.
External links
• Biography from mkgandhi.org
• In the company of Bapu: In the just-released Mira & the Mahatma, psychoanalyst Sudhir Kakar delves into the complex relationship between a remarkable Englishwoman and the man she worshiped – The Telegraph
• Video interview with Mirabehn. A description of the video is here.