Norah Richards
by Wikipedia
Accessed: 5/12/20
Lahore sweltered in the summer, and the huts offered little respite from the blistering heat. The Bedis took refuge in the hills of the Kangra Valley, 130 miles east of Lahore. At Andretta, an Irish woman, Norah Richards -- an actress and theatre enthusiast, and thirty-five years older than Freda -- had established a modest homestead which became the hub of a cultural and artistic community. Norah's own home was as simple, perhaps more so, as the Bedis' in Model Town, with mud walls and a thatched roof. In the mid-1930s, she was given a small estate, and here poets, potters, artists and writers set up home. Freda remembered Norah as 'a great old lady and a great friend' -- a friendship which persisted until Norah's death in 1971. 'Norah had wanted to prove, Tolstoyan fashion, that one could live in the countryside wearing country homespuns and one needn't go to the town for intellectual life.... She gave us a piece of land there on the hillside, and we built our first mud cottage there ... and though she had some misgivings about our political ways, we assured her we didn't bring them to Andretta and that we came there to rest .... She was interested, as I was, in the simplicities and beauties of rural living, in cooking and in not using anything except local products, earthenware plates and homespun cloth.'10

In the summer of 1939, Freda and Ranga were in the Kangra Valley, with Bedi joining them at weekends when his political work allowed. 'I hate being away from him for the hot months, and we both feel lonely at times,' she confided to Olive Chandler, 'but there is really no alternative, as I find the hot weather quite takes the life out of me.' And the Kangra Valley had charms that Freda was keen to share with her correspondent:

This year we have built our own mountain cottage on a bit of land given us by a friend ... We are on a minor hill-slope overlooking the valley, our house site being partly hollowed out of the soil, and the snow range of the Himalayas stretches like a great wall on the other side of the fields. I am writing this letter in my favourite position -- sitting on a cushion before a low table in the doorway -- facing the mountains.

The cottage is a great triumph, built of local stone + sand + mud bricks + bamboos, cement-washed + roofed to keep out the rains. . .. There is a big spacious living room ... with a dining niche, a kitchen + a bathroom + with two verandas for outside sleeping. Later we shall add two sleeping cabins -- possibly after the rains when our finances have had time to recover.11

When Freda published a selection of her writings as Behind the Mud Walls, several of the articles were about the Kangra Valley: the gentle rhythms of village life; the dignity of the hill women; celebrating Christmas in the valley (Freda's insistence on marking Christmas as traditionally as possible was a legacy of her English upbringing which persisted in Punjab, as was her baking of cakes and making of fruit trifles); and the adventures on third-class rail journeys on her way to and from the hills. Freda was much more captivated by the Kangra Valley than by the bustle of Lahore. She saw in the village the essence of India -- its spirituality, its creativity, its social values -- and it must have carried an echo too of her own childhood on the rural fringes of Derby.

Freda was not unusual in being an outsider who was trying to come to terms with a new culture, cuisine and rhythm of life -- not to mention the heat and dust which came as such a shock to newcomers. She was surprised how many mixed marriages there were in Lahore. Privileged young Indian men had often returned home with a European wife as well as a European degree. 'I remember once counting the foreign wives in Punjab at the time when I was there and there must have been about 300, and that's not a small number,' Freda recalled -- and not all made the transition easily or comfortably. They came from all over Europe, from Sweden to France to Germany to England and from the States. The English wives seemed to settle more readily and the Germans and the Scandinavians a close second, but the French wives tended to get tired and to long for their own cultural setting within a few years.'12

Within the progressive artistic and political circles in Lahore in which Freda and Bedi moved, there were a handful of foreign wives. The renowned poet Hafeez Jullundhri was a close friend. He had two households; his concurrent wives lived, none too comfortably, in houses almost opposite each other in Model Town. His younger second wife Anela, an English woman of Lithuanian descent, found an ally and confidante in Freda, and her daughter Zia has affectionate memories of Freda. 'She used to come, this beautiful lady in a sari and I used to see her -- usually it was a white sari, and cotton, and she always looked very fresh, and even in the heat looked cool ... I was very fond of her. Auntie Ooggee, Auntie Ooggee, I used to go rushing to her and hugging her on her legs.'13 Another close friend, the artist Roop Krishna, married a British artist, Mary Oldfield. The Bedis would also have known the sisters AIys and Christabel George from near London, who married two of the most influential leftist writers and intellectuals in Lahore, the poet Faiz Ahmad Faiz and the writer and educationist M.D. Taseer.

Inter-racial marriages were not common, but nor were they so unusual as to attract particular comment. It was much more exceptional for foreign spouses to embrace nationalist and leftist politics, and to take to the platform, join processions and write articles in support of India's independence. The foreign wives and companions of South Asian revolutionaries who embraced their partners' politics have been described as 'a group almost lost to history' because so little is known, and written, about them.14 Freda was clear long before she settled in India that she would be active in pursuing India's cause and so became part of a significant but slender tradition of white women who gained prominence within South Asian nationalist movements.

Of that tradition, Annie Besant was pre-eminent. She was the wife of an English vicar who walked out on her marriage, became a noted radical and freethinker, and eventually settled in Madras (now Chennai). She was a pioneering Theosophist and a powerful advocate of Indian nationalism and served as president of the Indian National Congress. There are striking parallels in the lives of Freda Bedi and Annie Besant, who both in turn showed commitment to radical politics, Indian nationalism and Eastern spirituality. Besant died a few months before Freda reached India, but Bedi had made a point of meeting her before he came to Oxford, and Norah Richards knew her and was influenced by Theosophism. A closer contemporary of Freda was Madeleine Slade, the daughter of a British rear admiral. She spent many years supporting and working with Mahatma Gandhi and took the name Mirabehn. Freda met Slade several times and regarded her as a friend. 'Her name was high in Indian nationalist circles. She was a woman of great dedication and lived a life of some self-sacrifice.' Freda's life also bears an echo of that of Nellie Sengupta, a Cambridge woman who in the years before the First World War married a Bengali student who lodged with the family, Jatindra Mohan Sengupta. He was a prominent member of the Indian National Congress and mayor of Calcutta and died in 1933 while in jail on political charges. Nellie subsequently served as Congress president and was active in politics in Calcutta and, after Partition, in East Pakistan (later Bangladesh). She died in 1973.

In time, Freda became a role model for English women who followed in her footsteps. Nancie Jones met and eventually married a Punjabi socialist studying in England. Immediately after the Second World War, she came out to India to be with him and took not just his surname but changed her first name, becoming known as Rajni Kumar. By the time she reached Lahore, Freda was well established in the city and held up 'as a model of how to adopt myself to Indian life and culture, and how to involve myself in the struggle':

I visited Freda in her delightfully simple and ethnic home along with some of the women activists of the Communist Party .... I have vivid recollections of the simplicity of their life, the rural touch of the place, the string hammock where the baby was sleeping ... and the jute beds and the books stacked everywhere. I remember too, the deep involvement and concern that all of us shared regarding the course of the freedom struggle which was fast nearing its end. Freda made a deep impact upon me, and I resolved that like her, I would try to adapt myself fully to Indian ways and culture, and become a real Indian woman. I was already wearing thick khadi Punjabi clothes as she was.15

Seventy years later, Rajni Kumar still recalls Freda Bedi's advice. 'She told me that the best way to become a part of the Indian struggle is to be a part of it yourself. If you Indianise yourself enough -- and people think you are with them, you are part of them -- you've overcome all the prejudices.'16

-- The Lives of Freda: The Political, Spiritual and Personal Journeys of Freda Bedi, by Andrew Whitehead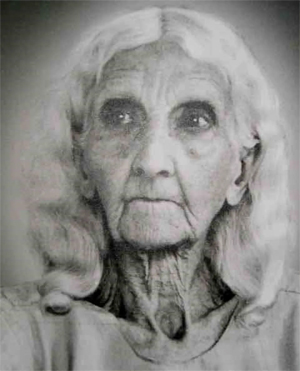 Norah Richards (1876 – 3 March 1971) was
an Irish-born actress and theatre practitioner, who was later called the Lady Gregory of the Punjab. She devoted 60 years (1911–1971) of her life towards enriching the culture of the area.[1] She came to the Punjab in 1911 and produced the first Punjabi play, Dulhan ("The Bride"), written by her pupil I.C. Nanda in 1914.[2]
In 1970, Punjabi University, Patiala, conferred an honorary DLitt degree on her, for her contribution to Punjabi culture, especially Punjabi drama.[1]
Early life and education
Norah Mary Hutman was born on 29 October 1876, in Ireland. She received her formal education in institutions in around the world, mainly Belgium, Oxford University and Sydney.
Career
At a young age she took to the stage and became a successful actress.
She married Philip Ernest Richards, an English teacher and a Unitarian Christian. She came to India in 1908 as her husband accepted a job to teach English literature at Dyal Singh College in Lahore. (Sardar Dyal Singh Majithia, founder of the college, was an ardent follower of Brahmo Samaj, which had a synergic relationship with the Unitarian Christian movement.)
Norah Richards got involved in cultural activities in the college and her enthusiasm helped stimulate much serious theatrical activity. Lahore was the home of Punjabi culture in those days. She brought many Punjabi themes under her English pen and directed a few plays. More importantly, she encouraged students to write their own one act plays and perform them.
She had an interest in theosophy and was actively involved in the theosophical movement and home-rule agitation by Dr Annie Besant.
On her husband's death in 1920, Norah returned to England.
She came back to India in 1924. Events worked out well for her to settle in the beautiful Kangra Valley, and she made her home in Andretta, Himachal Pradesh. In those days of British Raj, many Britons had acquired lands in the hill states of British India. One such settler who left for England gave away his property to Norah, which came to be known as the Woodlands Estate.

Living amidst villagers, she chose the same lifestyle and made a mud house with a thatched roof for herself. She named it Chameli Niwas. Her 15 acres (6.1 ha) of estate covered by tall trees and wild flowers professed her love for nature. Norah opened a school of drama from which have emerged many famous names of Punjabi drama like Ishwar Chand Nanda, Dr. Harcharan Singh, Balwant Gargi and Gurcharan Singh.

Every year, in the month of March, Norah organised a week-long festival in which students and villagers enacted her plays in an open-air theatre constructed on her estate. Among the guests, Prithvi Raj Kapoor and Balraj Sahni were the most regular.

Amongst her other friends who later settled near Woodland Estate were Prof Jai Dayal, painter Sobha Singh and Farida [Freda] Bedi.
The Bedis took refuge in the hills of the Kangra Valley, 130 miles east of Lahore. At Andretta, an Irish woman, Norah Richards -- an actress and theatre enthusiast, and thirty-five years older than Freda -- had established a modest homestead which became the hub of a cultural and artistic community. Norah's own home was as simple, perhaps more so, as the Bedis' in Model Town, with mud walls and a thatched roof. In the mid-1930s, she was given a small estate, and here poets, potters, artists and writers set up home. Freda remembered Norah as 'a great old lady and a great friend' -- a friendship which persisted until Norah's death in 1971. 'Norah had wanted to prove, Tolstoyan fashion, that one could live in the countryside wearing country homespuns and one needn't go to the town for intellectual life.... She gave us a piece of land there on the hillside, and we built our first mud cottage there ... and though she had some misgivings about our political ways, we assured her we didn't bring them to Andretta and that we came there to rest .... She was interested, as I was, in the simplicities and beauties of rural living, in cooking and in not using anything except local products, earthenware plates and homespun cloth.'10

-- The Lives of Freda: The Political, Spiritual and Personal Journeys of Freda Bedi, by Andrew Whitehead
Norah's plays were on social reform, displaying wide sympathy with the people's ways and traditions. She wrote scripts while many people came and helped with the production. She wrote newspaper articles and painted watercolours. Andretta thus became the hub of cultural and theatrical activities for a whole generation of artists. One among them was young Bhabesh Chandra Sanyal, who had already won recognition as a sculptor and painter and later on became the doyen of Indian art. He discusses Norah Richards at some length in his autobiography.
"Usually, she would greet me with a khurpa in her hand in home-spun khadi kurta and churidar, her white curls covered with a veil on top of which she donned a straw hat. This was the pattern of her work-a-day dress, grey, or ochre brown in colour. A cotton string around her waist carried a whistle and a suspended pouch carried her spectacles, bunches of keys, pen and pencil and a writing pad and a watch. She would dig the soil of her vegetable garden, tend and water the plants herself.

"I used to feel amused at her idea of discipline and the method of its application to her servants. The work-time was divided between hukka-break, tea-break, rest-break and meals break. With the aid of an alarm clock in her pouch, she would blow her whistle and command: "Hukka pio, hukka pio", and then whistle again at the determined interval for their coming back to work. At the end of the day all her servants would retire to their homes leaving her completely alone to pursue her literary work, letter writing and reading. The little kerosene lamp would burn till after midnight and the tick-tack of her typewriter would begin before dawn." Sanyal continues, "'Mem' she was at the core of her heart and remained critical of the villagers fouling the fields and not following her example of digging pits for leafclosets and do her own scavenging and sanitation work. "Sooner than immediate" was the mould of her temperament and she could not tolerate untidiness.
Norah's contribution to Punjabi drama was duly recognised by Punjabi University, Patiala which awarded her an honorary doctorate. The museum of the university houses some of her rare belongings. During the later years of her life, Richards was deeply worried about the future of Woodlands and her large collection of literature and manuscripts. "She toyed with the idea of making a will. Confused in her mind, she made and unmade several."
Though sceptic about governmental control and administration, she offered the estate to the government of Himachal Pradesh, but received no response. Eventually, she left most of her estate and valuable collections to the care of Punjabi University, Patiala.
In the waning days of her life, she was dependent on her attendants for a meagre meal and glass of water. She was placed to rest on 3 March 1971. Her gravestone in Woodlands Retreat has these last words inscribed: "Rest Weary Heart – Thy work is Done."
References
1. A TRIBUTE: Lady Gregory of Punjab by Harcharan Singh, The Tribune, 1 March 2003.
2. Norah Richards Britannica.com.
• Excerpts from B. C. Sanyal's, The Vertical Woman, National Gallery of Modern Art, New Delhi, 1998 and other internet sources. (Compiled by Vipan Kumar courtesy: My Himachal.)
External links
• andrettapottery.com
• Andretta-A sanctuary of potters The Hindu