Part 4 of 4
The Koinange Story: (PANT, Apa – 'An Extended Family of Fellow Pilgrims' and 'An Unusual Raja')
Mbiyu Peter Koinange
Pant's connection with the Koinanges dates back to very soon after his arrival as he notes in several of his own books. In October 1948 through the efforts of S.G. Amin, who had just completed his two year term as EAINC President in August 1948 when he was succeeded by D.D. Puri, Pant was introduced to Peter Mbiyu Koinange, the eldest son of Senior Chief Koinange, Peter (Mbiyu) Koinange in October, 1948 at Githinguri in Kiambu District.
Apa Sahib speaks: (How the Pants became Koinanges)
"This miraculous 'extension to the family' into Africa was sudden and unexpected.
In Kenya and throughout East Africa, Senior Chief Koinange was recognized as a great leader. He was the senior most 'elder' of the Kikuyu, Wakamba and Nandi tribes, residing in the fertile Highlands of Kenya, at the foot of Mt. Kenya, bang on the Equator.
Senior Chief Koinange had four wives and innumerable children. His eldest son, born by the senior most wife, was Mbyu Peter Koinange.
Peter was a student of the great sociologist – anthropologist, Prof. Malinowsky of the London School of Economics. Jomo Kenyatta, the leader of the Mau Mau, was also in England then, and was a student of Malinowsky.
In 1947 Peter (Mbiyu) returned to Kenya and started to organize 'Independent' African Schools. 'Independent' because he did not ask for and he refused when offered, any grant from the Christian Missionaries or from the Govt. of Kenya. By 1949 Peter had organized throughout the Kikuyu land, over two hundred independent schools. The training college for the teachers of these schools was established at a beautiful spot, nearly 8000 ft, above sea level, the midst of the Highlands, with Mt. Kenya towering behind as a magnificent back drop.
It was at Githanguri that Apakaka and Akka first met Peter and his very charming first wife, Margaret. Peter had several more wives later on. It was Shivabhai Amin, one of the ex-Presidents of the East African Indian Congress, who took Apakaka and Akka there, in October 1948, to meet Peter Koinange.
Peter and Margaret made a great impression upon Apakaka and Akka by their simple, sincere friendliness, and their 'Africanism'. Both of them were proud of being African, and were obviously keen on African independence.
After this first meeting in 1948, Githanguri became a place for picnics and social and cultural get-togethers for Indians and Africans. Every important guest from India was taken to Githanguri to meet the 'real' people.
At one such social gathering, Apakaka and Akka met the Senior Chief. Later they were often invited to his Shamba, farm house.
Senior Chief Koinange was a dignified person of few words but great presence. During the innumerable political, economic and cultural discussions between Jomo Kenyatta, the great Kikuyu leader and the later President of Kenya, Peter, and Apakaka, the Senior Chief sat silently. It was not all clear whether he understood all that was said in English. But when asked a question or stated something, it was precise and to the point. The Senior Chief was a 'wise' person.
In 1950 Apakaka took Baba to visit Githanguri. He was given a grand reception in Githanguri, and later received by the Senior Chief Koinange at his Shamba where al Kikuyu, Wakamba, Nandi and Masai 'elders', nearly fifty of them, had assembled to meet Raja Bhawanrao of Aundh. Baba was then eighty-three years old.
Baba passed away soon afterwards in India (13thApril 1951), and Akka and Apakaka were in India for nearly four months. Almost immediately after their return to Nairobi, Peter came to visit them and passed on to them 'an invitation' from his father 'for tea' at his Shamba, with all members of the family, and friends.
So one cold, misty day in August 1951, Apakaka and Akka, along with Aniket and Aditi, Tatya (Inamdar), Vahini, Suryakant Patel and about ten other Indian friends and their families, arrived at the Shamba of the Senior Chief Koinange and were surprised to find a large gathering there of Kikuyu 'elders' and other important personages.
Before the party began, the venerable old senior chief Koinange made a speech, which was translated into English verbatim by his eldest son (he had twelve children from four wives). The senior chief said:
"I am welcoming this young man from India today, not as ambassador of a great country. I am welcoming him as a foreigner. This young man has just lost his father in India. God I am sure will take care of his soul, I am sure. I welcome Apa Pant now as my own son from today."
In front of this distinguished gathering Senior Chief Koinange official adopted Apakaka as his son, and ordered his family to respect his wishes and asked the assembled 'elders' to register the fact for all posterity. The senior chief Koinange ordered his children and brothers: "you have to give Apa and his family their rightful share in the land and forests whenever he claims it."
So I lost a father in India to find another one in Africa.
This story has been recounted elsewhere also. It was a grand experience to see the Pant 'tribe' being accepted into the Koinange family of Kenya. The family 'extended' into the African Hinterland".
This induction to the Koinange clan was consummated when in early 1952 through another ceremony in the Abardare mountain forest, where Pant was taken by Pio Gama Pinto at dead of the night, in true cloak and dagger manner. Pant recounts this episode in his publication; 'Undiplomatic Incidents' Protocol and Beyond:
"There were no greetings; no shake of hands; no one got up. Without a word, I sat down on an empty stool set in the middle of the hut. Near it, was a foul smelling skin of a white Columbus monkey, as also a panga, a sword like hatchet…. … The ceremony ended with a powerful drink, a brew of maize with strong herbs served in bamboo cups. I hoped that the burning in my throat would not be noticed these kind people. Pio Pinto came out of the darkness and rushed me back to Nairobi before I could pass out, feeling quite a martyr in the service of my motherland". (Pant, Apa)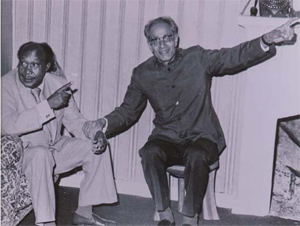 Koinange Apa Pant
Nazareth on Nehru: (Nazareth, JM - Brown Man Black Country)
John Maximian Nazareth was born in Nairobi in 1908, studied at St. Xavier's College, Bombay (1916-29) and graduated with first class honors and was awarded the St. Francis Xavier Gold Medal for best performance. Nazareth was called to the Inner Temple (193033) and was awarded the Special Prize of Council of Legal Education in Criminal Law (1931), the Poland Prize of the Inner Temple in Criminal Law (1939); the Profomo Prize of the Inner Temple (1932) and was called to the Bar (January 1933. After 1934 Nazareth enrolled as an advocate in the Supreme Court of Kenya, became president of the East African Indian National Congress (1950-52), served as Puisne Judge of the Supreme Court of Kenya (1953) and became president of the Law Society of Kenya (1954). Was elected Member of the Kenya Legislative Council for the Western Electoral Area (1956-60), president of the Gandhi Memorial Academy Society and Chairman of the Gandhi Smarak Nidhi Trustee at the University of Nairobi. He delivered the Gandhi Memorial Lectures at the Universirt of Nairobi (4thseries) the subject being TODAY'S CHALLENGE OF THE STUDENTS. He is the author of Brown Man-Black Country – On the foothills of Uhuru. Nazareth died in Nairobi in 1985 aged 77 years.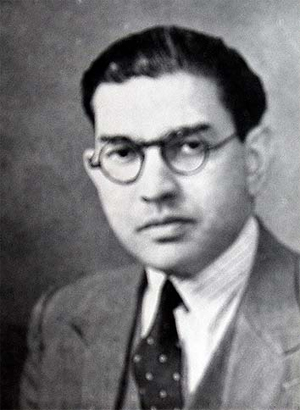 JM Nazareth
Regarding a reference made by Nehru when he designated Kenya Indians as 'Guests of the Africans', something that J.M. Nazareth took issue with. Here is what Nazareth wrote:
"at a huge meeting at Nyeri, which was addressed by the newly-elected President of the Kenya African Union, Mr. Jomo Kenyatta, one Mr. H.S. Gathigira read Pandit Nehru's message that drew attention to the part which called Indians the guests of Africans and expressed himself unable to accept the contention that either the Indian or the European had come to stay. "the time would come", he said, when they would have to get out and leave the African in full enjoyment of self-government." (Nazareth)
Further to this occurrence, Nazareth stated: "The Indian community strongly dissented from Nehru and was deeply critical of his references of Indians in Kenya as guests of the African". Furthermore Nazareth stated. "But Nehru's native, idealistic, tragic blindness to reality and the claims of ordinary humanity seemed to receive a warm welcome from the Africans. This reference to us as 'guest' carried obvious implications". (Nazareth)
The reader will appreciate the aspect of this digression from Apa Pant, only in part because there is a connection.
In August 1952 Nazareth made a visit to India, and although he held no political office he was able, with the assistance of Apa Pant who provided him with a letter of introduction, to secure an audience between Nehru. Nazareth wrote "Nehru when I met him at Delhi was good enough to give me something like 40 minutes of hard pressed time. He avoided all ostentation, going to the secretariat in a small car, a proceeding which in modern Africa, would be absolutely infra dig., inconceivable to most even minor M.Ps". (Nazareth) Nazareth wrote:
"Nehru listened to me attentively, but very quietly, almost impassively, with scarcely any interruption. The subject to which I devoted most of my time was his practice of referring to Indians in Kenya as "guests". Kenyatta, as I have said earlier, had taken up with alacrity and enthusiasm and not infrequently referred to the Indians in Kenya as "guests". I tried to convey to Nehru that Indians living in Kenya fell in two classes: those who had made their homes in Kenya and intended to remain there, and those who were birds of passage andcould rightly be referred to as "guests". I made it clear to him that he was doing Indians in Kenya a disservice lumping them all together and referring to them as guests". (Nazareth)
Angelo Faria, who had some personal interaction with JM Nazareth in the early 1960s and late 1970s, offered this reaction to Nazareth on Nehru:
The Nazareth episode bears some further reflection for several reasons. First, had Nazareth sought a letter of introduction to, and an appointment with Nehru, or was it Pant that suggested it? My own feeling is that Nazareth had felt very strongly on this issue – indeed, in the first page of his book published in 1981 there is a very poignant self-written poem titled: To the African: "No Guest am I". So it is reasonable to suggest that Nazareth must have sought it, and Pant may well have felt that given Nazareth's previous standing and Pant's own close connection with Nehru, it could not hurt and might even help. Second, Nazareth may have felt that he, a second generation Kenyan of Indian descent and the first local born President of the EAINC, could best marshal to an idealistic Nehru why his position was incorrect and what unintended use was being made of it by the Africans. Third, from Nazareth's own recounting he spoke fully for a self-admittedly long time of 40 minutes laying out the case in his no doubt precise lawyerly style that concealed substantial emotion, but that Nehru uncharacteristically just listened to him but kept his own counsel and made no comment at all. What should one make of this reaction? It is my sense that Nehru may have felt that Nazareth in his clearly narrower perspective and emotional state either could not or would not see the broader perspective from Nehru's and India's standpoint, and that there was thus no point to trying to convince him about it, much less attempting a rebuttal. We shall never know.
Peter Wright provides the following reflective evaluation on this episode as described Nazareth:
Guests of the Africans! This little fuss is an excellent indication of the racist attitudes which the British rulers were encouraging, nay imposing, on Kenya, not only upon the white invaders, who unfortunately did not see themselves as guests, but on the Indians too, and I am truly surprised that my friend, John Nazareth should have yielded to this. It was indeed excellent that Jawaharlal, as India's first prime Minister, should have emphasized that Indian immigrants were the guests of the indigenous Africans of Kenya. Had the British shown the same wisdom Kenya's, and Britain's subsequent history would have been far happier too. It is unfortunately true that the Indian community in general was probably in agreement with John Nazareth because they were primarily concerned with their own welfare and anxious not to offend the far more powerfully placed Europeans. But there was always a small Indian minority that was more courageous, people in India could be proud of. Apasaheb and I often discussed the Indian attitudes and were in full agreement with Jawaharlal's policies which Apa was doing his best to carry out. Jawaharlal was never offensive to the British and he did nothing to encourage anti-British movements, yet he was clearly in sympathy with all movements towards further justice and freedom for colonies. Readers can judge for themselves whether Nehru's or J.M. Nazareth's attitude regarding 'guests' was the wiser or the fairer! I think time has already told us!
On a separate note: My own impressions in East Africa were that many Europeans found both Apa and Nalini a very charming couple whom they liked and then, alas, increasingly distrusted, believing that they were in fact instruments of Indian imperialism striving to win over the considerable Indian immigrant population and make it an instrument of imperial ambition. Knowing both Nehru and Apa, I was aware that this was nonsense. On the other hand I was well aware of the major aim of both men which was to convince the Indian community that they were indeed guests, not of the British invaders but of the indigenous inhabitants, the African population and should never seek from the British rulers any special treatment or advantages that they did not simultaneously urge for the African population. I warmly supported this myself; but of course this did hit at the root of the local white ambition to dominate.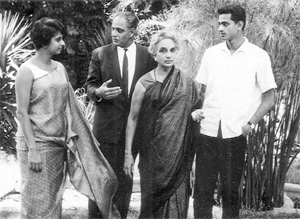 Apa and Nalini Pant
Pant on Pinto: (Pant, Apa - Undiplomatic Incidents) [extract]
Pio Gama Pinto was Independent Kenya's first political martyr, a socialist and freedom fighter dedicated to the cause of African Nationalism in Kenya. Sometime soon after 1949, Pinto became involved in local politics aimed at overthrowing colonialism. He turned to journalism and worked with the Colonial Times and Daily Chronicle. In 1954, 5 months after his marriage, he was rounded up in the notorious Operation Anvil and spent the next four years in on Manda Island with the so called "hard-core" Mau Mau. He was kept in restriction early 1958 until October, 1959 at remote Kabarnet. On his release he once more immersed himself in the struggle for Kenya's Independence and the release of Jomo Kenyatta. In 1960 he founded the KANU newspaper 'Sauti ya KANU' and later Pan African Press of which he subsequently became Director and Secretary. Pio Gama Pinto, a Goan Indian, an African patriot had been foully murdered in broad daylight by assassins who had sold their own conscience and their countrymen.
"Pio Pinto, an Indian who was deeply involved with the African freedom movement in Kenya and who knew all the important underground leaders, called one night to announce that the Kikuyu elders wanted to elect me as one of them. Elected elders are a feature of all African tribes, especially those with a strong democratic tradition such as the Kikuyu, Masia, Busaga, and Ankole. The Buganda too have elders but the Kabaka as their king ruled over them., though not even he could openly transgress the explicitly express advise of the elected elders.
To be asked to become a Kikuyu elder at the height of the Mau-Mau rebellion was, to say the least, quite astounding. As usual, not thinking of consequences, diplomatic or otherwise, of my action, I agreed.
Pio Pinto was quite a character. To look at, no one would have dreamt that he was a revolutionary. He stammered and stuttered when speaking his Goan English. The colonial authorities clearly ignored him. He was not thought to be a nuisance. It is unlikely that he was ever watched, or that there was a file on him with the Secret Police, whereas a platoon with a D.S.P. watched me continually, keeping incriminating official records. But what diminutive, brilliant, highly affectionate Pio Pinto did for India and for the Indian community in Kenya during those critical days of Mau-Mau rebellion can never be forgotten.
The South Africans, the colonial powers and even Israel would have liked the anger, frustration and hatred of the Mau-Mau to be diverted against India and the Indians. Serious and persistent attempts were indeed made to do so. Even the Church joined in the smear campaign, with sermons in Swahili and passion plays depicting Africans as criminally exploited by Indians.
Pio Pinto was largely responsible for having prevented the wrath of Mau-Mau from being vented on the Indian community. He had been able to enter the secret conclaves of freedom fighters unnoticed, and had he not won the trust of leaders such as Stanley Mathenge, Jomo Kenyatta, Senior Chief Koinange and Tom Mboya for his sound and clear advise, thousands of Indians may well have been murdered and their property looted. Nehru and later, Indira Gandhi, knew what Pio Pinto had done for the Indians and in those tumultuous days. After the independence of Kenya, when destiny's strange ways led to Pio being murdered in broad daylight for being a friend of Tom Mboya, the family sought refuge in India and later migrated to Canada. It is appropriate to offer homage to Pio Pinto – a great freedom fighter, a staunch friend, and a humanist". (Pant, Apa)
Peter Wright, a long-standing and close friend of Apa Sahib, offered this response on Pant on Pinto:
"Pio Pinto was a highly valued and dear friend of mine, a man with a very real mission -- justice and fairness above all for all Kenya Africans, in fact apart perhaps from Bildad Kaggia and his colleagues, the most ardent African patriot I met. He was indeed so devoted to his mission that he had little time to discuss personal or other matters. He was politically left-wing, a communist perhaps, but that was of minor importance; it was as a champion of freedom and justice that he excelled. Frankly some of Apa's comments quoted in what you sent me astonish me. I was never aware that Pio stammered or stuttered, and I knew him well, and I found no fault with his English. I do know that the Kenya intelligence authorities were watching him and were using John Miller to some extent to spy upon him; recently published intelligence reports make this clear. But it is surprising that Pio was not more harshly treated, although his years in detention were neither so gentle nor in any way justified! Apa's description of him as diminutive seems extraordinary to me. I never thought of him in those terms; to me his stature seemed normal and average. Brilliant he certainly was. What he really did for the Indian community I really have no idea. I believe he was an efficient paid secretary of the Kenya Indian Congress, but what impressed me more than anything else was that he gave his whole loyalty and every spare moment to the cause of freedom and justice for the Africans. Frankly I would like to learn much more of any efforts he made to serve the Indian community".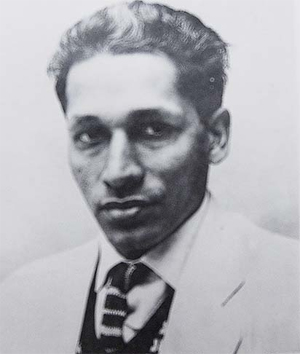 Pio Gama Pinto
Angelo Faria, who had some personal interaction with Pio Gama Pinto in the early 1960s before he was assassinated, offered this reaction to Pant on Pinto:
To view Pinto, as Pant apparently indicated later in his book with evidently a great personal affection, as a somewhat inarticulate Goan politician of slight build who can be credited with "preventing the wrath of Mau Mau from being vented on the Indian (sic) community" strikes me as, to say the least, somewhat curious on several counts. First, Pant's earlier view of his personality may have had some basis, given the substantial variance in their relative standings at that time. But based on a limited number of my own conversations with him several years later in the early 1960s after he had emerged from about 5 years in detention, Pinto's apparent soft-spoken style of speaking almost amounting to diffidence was a protective mask that he put on generally to draw out the other person without revealing his own stance; once he trusted the person unconditionally, he clearly became very clear, articulate and decisive. His wiry build resulted from years of serious training to become a top flight athlete. Second, one has only to read the six oaths that all Mau Mau adherents had to swear at their induction in order to realize that their sole objective was to recover ancestral Kikuyu lands form the Europeans by driving them out; there is absolutely no mention of Asians. Moreover, to the best of my knowledge, by late 1954 at the height of Mau Mau activities only 21 Asians had been murdered, none ritually, including a couple of members of a security team and the others mostly traders in the remoter rural areas of Central Province who were victims of straightforward robberies. Nothing in the details that I have seen released since about Mau Mau practices would suggest otherwise. In that sense, I believe Pant to be grossly overstating Pinto's importance relative to the fate purportedly not suffered by the Indian community. In retrospect, I often wondered if it could represent some form of a delayed mea culpa on Pant's part, if only because I feel confident that Pinto, who never saw himself as an Asian in such matters, would also never have subscribed to this characterization to describe the result of his efforts. Third, the reference to Tom Mboya is plainly incorrect, because it was well known that Pinto and Mboya were philosophically and organizationally rivals for the soul of the African independence movement. If, however, Pant had meant to refer to Pinto's connection with Odinga as a factor in his assassination, this makes the reference relatively more plausible. In this connection, I should perhaps point out that Wright by his own verbal admission to me when I met him in Seattle in 2006 had little day to day contact with Pinto before, and none whatsoever after his deportation in November 1952, but his views on Pinto's personality certainly ring true to me.
APA PANT Associations with Suryakant and Leela Patel:
Apa Sahib Pant in his publication 'An extended family or fellow pilgrims' writes about family and friends.
"Frankly, I have never accepted the view that relationships should be strictly restricted to a particular, limited group called father, mother, son, daughter, wife, husband, brother sister, uncle, etc. Yes, if you are born into a particular family you have some important duties and obligations towards this group, and those duties you must do diligently, joyfully and affectionately. If you do not perform those duties properly, you cannot go 'ahead' on the path of life.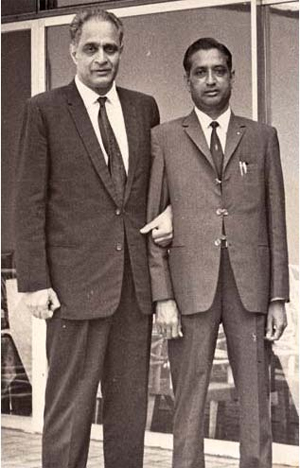 Suryakant Patel Apa Pant
Apasaheb remembers a fellow pilgrim in Kenya, Suryakant and Leela Patel who remained special friends of the Pants to very end of his life. Suryakant and Leela had shared a large and intimate part of their Pants lives during the whole period of their stay in Kenya , and even when the Pants returned to Kenya on visits in the 1970's and 1980's. Whether for picnics, journeys, meetings or visits of dignitaries, Suryakant was always there to organize and manage at the shortest possible notice, said Apa Sahib. Suryakant was born in Nairobi in 1920, studied in Bandhani Gujarat India and returned back to Kenya in 1939 help in his hardware business. He built a veritable business empire in Nairobi, covering real property and extending to many other spheres of commerce such as the timber, construction, and furniture making industries. Suryakant wrote: "the first African leader I met was Mr. Harry Thuku. He was one of my customers and we used to visit each other at home during the war period. He was not a politician at the time. Because of my association with the Pants I came into contact with other African leaders such as Jomo Kenyatta, Mbyu Koinange, etc. These contacts were lost during the emergency period, from between 1951 to 1961. However, after he was freed from detention, Jomo Kenyatta invited me to his Gatundu home, through our common friends Mr. Pio Gama Pinto and Dr. F.R.S. DeSouza. We all went to Gatundu and met Jomo Kenyatta. He requested me to find an accommodation in the city from where he could carry out his political activities. At the time nobody was willing to give him the premises. I could see his problem and offered him my premises Solar House which I had built in 1958 in the City Square. He used the premises until he became the Prime Minister in 1963……"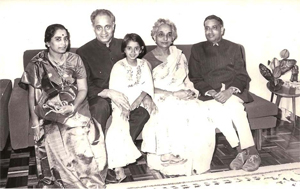 Suryakant Patel Leela Apa Pant
Suryakant Patel was president of Nairobi Seva Dal and a member of the reception committee which organized at the time of Dr. Radharkrishan's visit to Nairobi for the opening of the Mahatma Gandhi memorial academy Society, in July 1956. The closeness of the relationship between Suryakant and Apa Sahib, is shown in many ways, Suryakant recalls when Sri Apa Pant went to Bandhani (Suryakant's native place in Gujarat) to visit his father in his absence, showing his real love and affection for the family. Suryakant visited Aundh when Apa Sahib's father died. When Akka and Apakaka where contemplating the writings the story 'An extended Family or Fellow Pilgrims' and of their long friendship, they received as trunk-call from Suryakant's parents in Baroda, to tell them that Suryakant had suffered a 'massive' heart attack and passed away the night before on 3rdSeptember 1986. Apakaka wrote: " It was a terrible shock! For thirty-eight years Suryakant had been a 'brother' working together with Apakaka to remove suspicion, fear, anger, hate between individuals, races and nations in Africa, Europe and elsewhere"....
PANT on AUNDH and his (Father) Baba or BalaSahib (PANT, Apa - Mandala : An Awakening)
With the merger of the State of Aundh, its disappearance as a unit, what seemed to be my career had come to an end? For my wife Nalini, who had given herself to hospital work in the State, a career had now opened as a surgeon in Poona, where in 1947 we built ourselves a house. Aditi, our firstborn, was getting on for five, and Aniket was a crying, highly sensitive bundle of nerves just two years old. We packed our belongings and moved to Poona with the children, leaving the old wooden palace at Aundh that had been my birthplace and the base for my later adventures. It was the end of my life as a prince, and it was like leaving a sinking ship. The deepest wrench, the real agony, was to know that I was leaving my father, who had helped me to be myself, in his old age, in the hour of his loneliness and perhaps of his greatest need. The loss of his State which his family had ruled for three hundred years had been conveyed to him in the brusque manner of bureaucratic communication; nor was there any recognition of his services to free India by the lighting of a beacon in Aundh. Nobody offered him a post, a distinction, even a gesture of acknowledgement. His ego was depleted, and mine, which had sustained itself on him, had no base to function.
So why did I leave Aundh and forsake him in his eighty second year? What was the compulsion? I have been asking that question of myself for the last twenty-seven years without finding an adequate answer. If there is one it is probably to be sought in the fact that I, who for so long had seen him as the steady rock of continuity and confidence, the loving guide of my destiny, was in reality more lost than he. In his state of mental and emotional confusion, I could do nothing but be more confused and uncertain of myself. It was only when a new door was suddenly opened for me, with the unexpected summons to see Pandit Nehru, as Prime Minister of India, when he visited Bombay in 1948, that a sense of life and purpose flowed back into me. Did Nehru, as we sat on the lush lawn of Raj Bhavan, remember the dusty villages of Aundh and the fire of enthusiasm of 1941? I thought he did, and that this was in his mind in offering me a field of completely fresh activity as free India's first representative in Africa. And I thought also that my father would be pleased and proud, and somehow refreshed by what was opening for his son.
This feeling had a history. The Pratinidhi of our family title signified a viceroy. It derived from the act of Rajaram, the second son of the great Maratha hero Shivaji, in making one of our ancestors, Parashuram Trimbak, the first Pratinidhi of the Maratha Empire. When my grandfather Raja Rishi "Thorale" Maharaj Shrinivasrao Pant was compelled in 1848 to give up to the British the town of Karad, which had been the capital of the Pratinidhi's for a couple of centuries, he transferred his seat to Aundh, near the temple where he thenceforth performed his daily rituals and meditations. This Pratinidhi's great spiritual attainments, combined with service to his people, had strengthened my father's belief that the Pratinidhi's were somehow destined to be the worthy representatives of the whole of India. And as such my father, with his simple grace and dignity, often thought, felt and behaved. For my part I hoped and prayed that my appointment as the first "ambassador" of India in Africa might appeal to him as a natural fulfillment of his dream. He was still under the shock of what had happened, after all his sacrifice, to the State of Aundh. But I think there was happiness mixed with the sadness of parting when in July 1948 he came to Bombay to see me leave for Mombasa in the B.I.S.N. ship Khandala.
As the ship slowly ploughed its way for twenty-three days across the Indian Ocean, whatever thoughts I had of the mission ahead of me were coloured by my own limited experience and by the inspiration of Mahatma Gandhi. I was absorbed with the ideals and philosophy of his soul-force, the non-violence with which I had experimented in Aundh, and which I was convinced held the answer to all the problems, conflicts, tensions and exploitations that I might meet. The Indian spirit of friendship and the non-violent dynamic represented what I felt I should be carrying to the Continent of Dawn, the Africa that had provided the preliminary testing-ground of Gandhi's faith. The influences that had shaped me were contradictory in this sense, that my father, with all his respect and regard for the Mahatma, never had much time for the non-violent ethic. Indeed, he used to say openly that India had been damaged by the teachings of the Buddha and of the Jains. The true Indian tradition was represented for him by Shivaji, as a protagonist of the belief that evil must be courageously and sacrificially combated with material weapons. Since he held that the Gandhian way was a travesty of this tradition, it was nothing short of a miracle in my eyes that he had gone to meet the Mahatma in 1937, and had followed his advice regarding the new constitution for Aundh. In all the dejection and disappointment that had come to him later, I never heard him say that that advice had been wrong. But when he came to visit us in Nairobi in 1950, bringing with him my much loved stepmother, I could see that something had gone out of him. And in the following April I was called back to Bombay to watch him breathe his last in Room 9 of St. George's Hospital.
We took him back to Aundh, his head resting in his Rani's lap as she sat, red-eyed and tearless, in the back of the big black Chrysler. My nephew Bapusaheb, the son of my deceased brother and thus the heir to the empty title of Raja, was in the driving-seat. I knew that since I had left India for Africa I had "freed" myself from my father, in the way that we all must do, and that I was in that sense alone now and independent. But through the eight hours of that 220- mile drive to Aundh, over four escarpments of the Western Ghats and through dusty, familiar villages, I lived again the sight, the sound, the smell of thirty-nine years of my life with him. I suddenly felt myself as a three year o1d in the Rangachi Kholi, his painting-room, playing at his feet with the palette and the heavy brushes that smelt of turpentine, while he sat on his stool, with his tongue jutting out a little, carefully dabbing paint on the canvas. Life was such splendour of colours and smells and security and harmony. When he was pleased he would often sing softly to himself, and then wave after wave of sheer joy would overwhelm me. I felt like eating him up at such moments. As he lay dead in the back of the car I could hear his high baritone voice, singing and acting those Hari kirtans which he performed twice a year, taking up a moral and metaphysical theme from the epics, or perhaps from the life of Shivaji, and illustrating it with song, speech and story. On those days I used to be all excitement, tense with hope and expectation, wanting my father to move the audience to tears or laughter, piety or fervour. And when he did so, as usually happened, the cup of my pride and peace was full. The total experience of his unfailing trust, affection and care for me flowed through me on that last journey.
We reached Aundh at night, and laid him in a palanquin in the main temple. After the agony of those hours my stepmother broke down and wanted to offer herself as a Sati. It took me some time before I could dissuade her. Before dawn, singing and chanting, we took him to his favorite spot near the museum, half-way up the hill.
As the sun rose I set fire to the pyre of this great sun-worshipper, and his remains returned to the dust of Mother Earth, and to air, water and ether within an hour.
When the Dalai Lama and the Tibetan delegation crossed the Sikkim border in November 1956, they were welcomed by the Chogyal of Sikkim, Tashi Namgyal and the Indian representative in Sikkim, Apa Pant. For the following three months Apa Pant was in charge of organizing the Dalai Lama's journey through India, visiting pilgrimage places, but also enabling the Tibetan leader to solicit foreign support for his people under siege.

Some thirty years later

my mother presented me with a little book entitled 'Das Sonnengebet' (Sun Prayer).

I was just about to develop an interest for all things exotic, so I decided to give the seemingly simple yoga exercises a try. For several months I continued to practice the Surya Namaskars and then I must have moved on to something else that was equally exciting and new, but the flavors of discipline and sanity that came with performing a regular exercise stayed with me for much longer.

Just recently, when researching Jamyang Khyentse Chökyi Lodrö's students in Sikkim, I found that Apa Pant had not only been the highest Indian political officer in Sikkim at the time, but also that he was an ardent practitioner of the Surya Namaskar. This stirred my memory and I phoned my mother to send me the book. Unbelievably she still found it sitting on some dusty shelf.



Sure enough the same Apa Pant who had requested Jamyang Khyentse again and again for the ultimate instruction on how to meditate (as described in chapter 5 of Sogyal Rinpoche's Tibetan Book of Living and Dying) was the author whose instructions for yogic exercise I had followed with great curiosity many years before I even knew anything about Tibetan Buddhism.

-- Apa B Pant in Sikkim as Political Officer, by SIKKIM e.newsletter, edited by S K Sarda
This was indeed the end of an era. All of us, brothers and sisters and my nephew Bapusaheb, recognized it; but at the same time all of us felt the impulse to maintain in some way my father's personal mystique and the tradition that he had embodied. During the mourning period of forty days we had many discussions of how this could be done, and my cousin Balamaharaj was there to help. We had, I had, fantastically unrealistic dreams, resolving to meet at least once a year in Aundh to commemorate the passing of that Great Spirit. We wanted everything to be kept as it was the palace, the painting-room, the library, the museum, the temples. In that moment Bapusaheb, joined with us in memories and sorrow, promised everything. We initialed a family arrangement, drafted by Balamaharaj, about the disposable property, and as we all left it seemed to me that the Aundh of our memory and imagination would be preserved for ever. We even agreed to keep my father's precious films and slides (over five thousand of them) safely at Aundh and to look at them together from time to time when we met there.
Perhaps the dream would have faded of its own nature. But as it turned out, Bapusaheb went back on his promises, took to the bottle, and brought all ideas of perpetuating that private Aundh to ruin with himself. That which is indestructible, the spirit that broods over the temples at Aundh and at Kinhai, the village of our origin, has had a transcendental influence on all of us, wherever we may be: an influence so profound and powerful that any member of the family who breaks any of the significant traditions-you could call them the rules of the game—comes to destruction. This has been our experience for generations.
Jai Jagadamb!
Compiler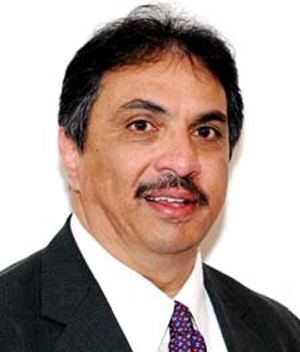 Benegal Pereira
Benegal Pereira was born and raised in Kenya during the height of the Mau Mau uprising and Pant's tenure as India's first Commissioner to East and Central Africa. Benegal migrated to the US in 1986 and is currently based in New Hampshire, USA. Through his own father's [Eddie Pereira] active interest and involvement with both Kenya and Indian independence political movements, Benegal has been able to recall vividly the tensions and racial divisions associated with the movement of the East African countries to full political independence. In 1998, he founded the internet East Africana forum, Namaskar-Africana, that has since attracted a worldwide participation of former East African Asians His avocation over a number of years has been collecting printed material on East Africa, born out of a love for his birthplace and what he believes is a largely untold story of the Asian contribution to the development of East Africa; as a result, he now possesses perhaps one of the world's largest private collections of books and materials devoted solely to this subject.
[www.namaskar-africana.com]
Bibliography
Faria, Angelo. Personal Communication . Washington, DC, USA : September 2007, 2007.
Offered a strictly personal perspective by connecting the dots, through evaluating the impact of external development on Pants role in EA that related to the evolution of the external political environment he has offered his personal view of the period of Pants the in East Africa, and has made the particular point.
Peter Wright. Bellevue, WA, USA: Oral Conversations, 2007.
Nazareth, John Maximian. Brown Man Black Country. New Delhi: Tidings Publications, 1981.
Pant, Apa. —.
A Moment in Time, India: Orient Longman, 1974. —.
Mandala : An Awakening, India: Orient Longmans, Ltd, 1978. —.
Undiplomatic Incidents, London: Sangam Books (India) Pvt. Ltd., 1987. —.
An Unusual Raja, Mahatma Gandhi and the Aundh Experiment. London: Sangam Books (India) Pvt. Ltd., 1989. —.
An Extended Family of Fellow Pilgrims, Bombay, India: Sangam Book (India), Ltd., 1990