Part 5 of 5
X. The Vision Revisited
The Queen said. "The rule is, jam to-morrow and jam yesterday—but never jam today."
"It must come sometimes to 'jam to-day,' " Alice objected.
"No it can't," said the Queen. "It's jam every other day: to-day isn't any other day . . . but there's one great advantage in it, that one's memory works both ways."
We are now in a round-about with three great avenues leading off to the future
1. Faculty housing, campus enlargement and enhancement
2. Development plans for endowments, buildings and landscaping
3. Building a true partnership between the recently established Beatrice Wood Center for the Arts and the Happy Valley School.
For over twelve years one housing plan after another has been considered and then elbowed aside by more urgent projects. The foundation has considered nearly half a dozen different architects or schemes and as many building sites. Until two years ago, no consensus had been reached. As Interim Director, David Anderson was a crucial factor in resolving the location dilemma. A commitment to "green" building was fast developing. The realization that all projects on the land should reflect a vision of protecting and nurturing the environment had finally taken hold. In this climate the search for the appropriate architects gained momentum.
Two professors at CalPoly, San Luis Obispo had formed a partnership called M:OME. Examples of their work, followed by their on-site presentation, achieved the long sought consensus for design. Likewise, site location was agreed upon by David Anderson and the trustees, all of whom were persuaded that faculty housing close to the campus reflected
the educational philosophy and sense of community intrinsic to the Happy Valley vision
. M:OME was retained to prepare a master plan, incorporating faculty housing, with several necessary classroom additions, music practice rooms, an art room atelier, a swimming pool and a new dining hall (See: Appendix H).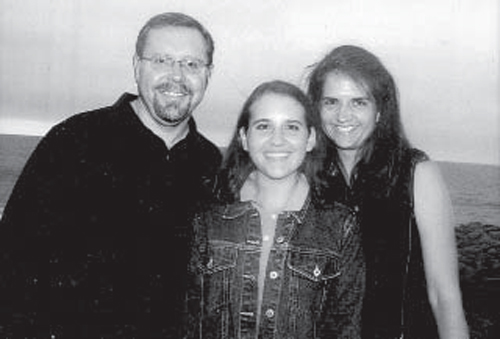 Matt Storey and Family
In order to implement these plans, along with the need for substantial endowment and increased faculty benefits, the foundation and school launched a serious effort to establish a Development Office with a Director of Development. The Santa Barbara Non- Profit Center was again consulted, as well as investigating the development departments of several private schools. Of three possible candidates, Matt Storey was chosen. He had a daughter in the school, a wife teaching in Oxnard and considerable experience fundraising for the YMCA. As space at the school was limited, the foundation elected to transform the garage at Logan House into a Development Office. Under Matt Storey's initiative, an active alumni committee was organized, lost alumni were found, and two alumni reunions took place within two years. The capital campaign goal was topped and willingness to give from all corners of the Happy Valley Community was ignited. There is a long and unending road ahead in this department but Matt Storey has made a significant beginning.
By summer of 2005, the five-year process of liquidating Beato's legacy was winding down. It had been an expensive process and the hope for a large reserve of bankable funds had not been realized. But a good basis for establishing a center for the arts had been created.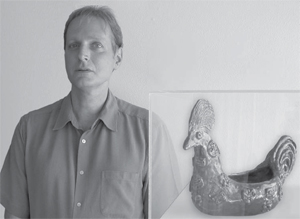 Kevin Wallace, Curator of the Beatrice Wood Center for the Arts
As if on cue, a talented young curator, Kevin Wallace, introduced himself to the foundation in autumn 2005. He offered to install, around the walls of her studio, a pictorial history of Beato and her connection to Happy Valley. This display was part of a current, about to close, exhibition of Beato's works that Kevin Wallace had arranged for the Craft and Folk Art Museum in Los Angeles. The value of Kevin's input in the process of transmuting from a largely sales operation to an educational and art facility was soon apparent. Under his guidance, a series of guest artists' exhibitions, workshops, and artist-in-residence programs was organized and running within a few months. A resident manager, Janat Dundas was engaged to oversee and implement the programs. And a vision statement was installed on the new center website.
"The Beatrice Wood Center for the Arts fulfills much of Annie Besant's original vision, as a place where arts and education are paramount. It is closely affiliated to the Happy Valley School that will benefit from and contribute to its activities. Aside from a regular exhibition schedule, there are artist workshops and performances. The Beatrice Wood Center for the Arts presents a continuum joining the artists, writers and others who shaped Happy Valley and the Happy Valley School and those who are working today, as well as a bridge between the International Art World and the local community."
True to this vision, the Beatrice Wood Center for the Arts has already been effective in bringing the world to Happy Valley and Happy Valley to the world. The noted Austrian Composer, Hans Joachim Roedelius, created a commissioned work for Happy Valley, and Roedelius traveled from Austria to give a rare live public performance on the terrace of the Center in May 2006.
The issue of greatest urgency in the past two years has been the search for a long-term new Head of School. After several meetings of the specially established Director Search Committee, the board concluded that once again professional guidance to this end was needed. The firm, Educational Directions, came highly recommended by another local school and the consultant assigned to Happy Valley, found a resonance in the Happy Valley vision and history that enabled him to produce a remarkable list of promising candidates. Eventually, through a complex arrangement of phone interviews and meetings involving all members of the committee, the list of candidates was reduced to three, all of whom visited the school for a day and a half. At this point the entire community of students, staff, faculty and parents became engaged in the process. The result was that the final choice for the new Head of School had 100% support from the Happy Valley community.
Paul Amadio brings to this job a background in areas much needed at Happy Valley: origins in the performing arts including extensive acting and directing in theater, experience in strategic planning, school financial consulting and admissions. He is young, vital, talented and brings with him a supportive and lovely family.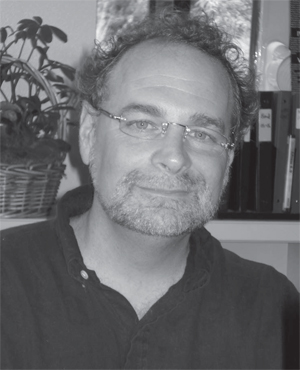 Paul Amadio, Head of Happy Valley School 2006
The Queen was right. In our effort to move forward on new fronts we must reflect the past onto the future, without becoming crystallized or impeded by it. In many ways, Happy Valley is closer to its origins than ever before. As Annie Besant envisioned, Happy Valley should seek perfection in the forefront of human endeavor. Our daily life can contribute to the process of awakening and re-awakening us to those aspects of existence that will lead toward a more humane culture – a culture that can appreciate the strange and different as well as the familiar.
XI. Down the Rabbit Hole
The Queen of Hearts, she made some tarts,
All on a summer day:
The Knave of Hearts, he stole those tarts
And took them quite away!
Five Years Later
All organizations have their ups and downs, and Happy Valley is no exception. There are paths we might better not have walked and people we might better not have met. But despite these often unsettling vicissitudes, our path has been guided by friends and trustees of the Happy Valley Foundation so as to leave the core of Annie Besant's vision intact and respected. This guidance has carried us through a warren of changes and choices, some fruitful – others problematic.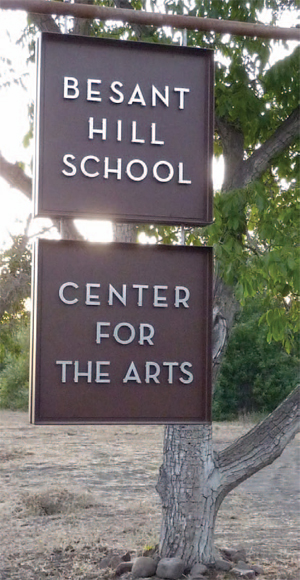 Besant Hill School: Center for the Arts
Among the more controversial changes, suggested in 2006 by the newly appointed Head of School, was to change the name of the School. To some, the idea of this change brought a loss of affinity with what had been for them, a life shaping institution. To others, the original name had been a source of embarrassment. These, the majority, prevailed and the onerous and costly process of name change began (even though the new Head of School who suggested it would soon be replaced.) Finally, after much ado, Besant Hill School of Happy Valley was chosen.
The Board took this as an opportunity to honor that person most responsible for the existence of Happy Valley, Annie Besant. As the Chairman of the Happy Valley Foundation explained: "Our primary concern was to find a name that best honored our past and our principles as formulated by the founders. Annie Besant had a vision in 1927, sitting on a hill overlooking the vernal pond, that the Happy Valley acreage was a place where the ideals she espoused could be fulfilled in the future; a place to establish an educational center that would nurture spiritual, artistic and intellectual growth as well as physical and mental well-being. She also knew that sustainable worldwide improvement in the human condition begins with the individual. She appointed trustees to further her vision of a non-sectarian foundation, 'without distinction of race, creed, sex, caste or color,' that she named The Happy Valley Foundation."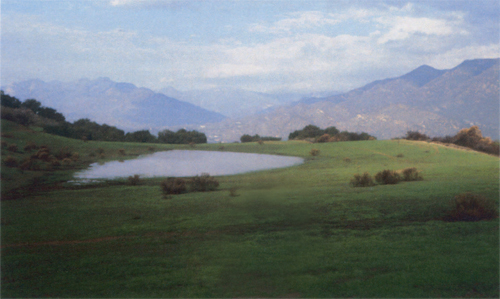 Happy Valley as Annie saw it. Photo: David R. White
XII. Wonderland
"Curiouser and Curiouser" said Alice
The Happy Valley Foundation Board of Trustees has, since its inception, referred to itself collectively as a "self-perpetuating" board; meaning, in the broad sense, that the board as a whole should be vigilant in sustaining Annie Besant's vision, and it should also renew itself by pursuing goals that would move it forward into a developing world. It has been the consensus that:
1. The board should remain small (usually about twelve trustees)
2. The various activities of the foundation should be fairly represented
3. The trustees should be chosen for their skills and ideals, not for their wealth.
These guidelines required a firm but gentle anchorage in that formative element of Happy Valley ideals, the interconnectedness that Annie Besant had described as the progression from family to tribe to nation to world as a foundation for true community and which Rosalind Rajagopal had found reflected in these lines of Edwin Markham
He drew a circle that shut me out
Heretic, rebel, a thing to flout.
But Love and I had the wit to win
We drew a circle that took him in.
A consistent thread through all the statements, visions, and hopes of the Happy Valley Foundation has been the importance of embracing our differences. As Aldous Huxley often said, "we should like each other not IN SPITE of our differences but BECAUSE of them."
Differences generate curiosity and as Alice found out – curiosity is the gateway to discovery.
***
In the next few years the Board would be faced with yet another change in the school's directorship. However, this time it had not far to look. Randy Bertin, with his wife and four little boys had come to Happy Valley in 2006 as assistant to the new Head. With his innate capability Randy had already shouldered much of the responsibility for administering the School. He was now well prepared to provide a sound transition in restoring financial stability and administrative integrity.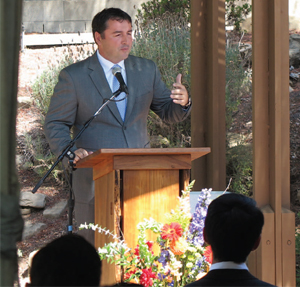 Randy Bertin, 2015 Besant Hill School graduation
In 2011, as the new Head of Besant Hill School, Randy moved forward on the Happy Valley Foundation's master plan with faculty housing, a swimming pool, and an impressive improvement in the campus' appearance. He travelled the earth in a successful effort to draw students from abroad. At present more than eighteen countries are represented in a student body of one hundred. Randy understands that all activities on Happy Valley should exist and act in a partnership, supporting, benefitting and enhancing each other. In his own words:
"Here, every member of the community contributes to each other so that his or her full potential and success can be reached . . . an educational environment that's centered on maximizing individual potential, intellectual curiosity, integrity and renewedopportunity."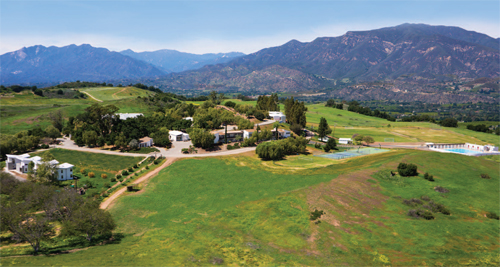 Aerial photo, school campus (far left: four new faculty houses – far right: new swimming pool). Photo: Jesse Kaplan
Each senior class reflects in its parting words, an intense appreciation of the love and community support that the School has offered: the beauty of the landscape, but above all the sanctuary that is extended to them as well as to the wildlife.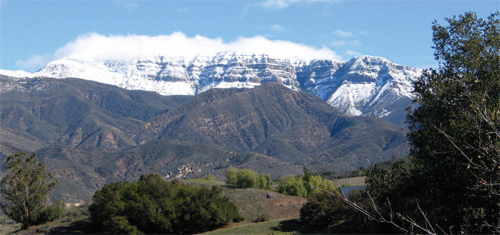 Snow on Topa Topa. Photo: Janat Dundas
***
In 2006 Happy Valley lost one of its dearest friends, Gladys Lacey, the widow of Franklin Lacey. Gladys had bequeathed to the Foundation a share of the Music Man, that immortal play that Franklin had co-written with Meredith Willson. From their long association with Happy Valley, the Laceys understood the difficulties in balancing financial prudence with the demands of developing new projects. While making her preferences known, Gladys left no restrictions regarding the use of Music Man income. This freedom allowed the Foundation to complete struggling projects and to start new ones that had always been hoped for but were seemingly out of reach.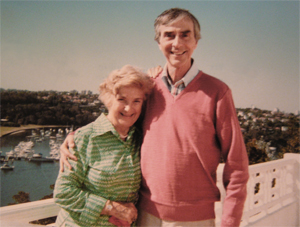 Gladys & Franklin Lacey
FINISHED AT LAST!

THE HAPPY VALLEY FOUNDATION AND THE BESANT HILL SCHOOL THANK YOU, OUR DEAR BENEFACTORS, FOR HELPING TO MAKE POSSIBLE THIS ART CLASSROOM.

IT HAS TAKEN SEVEN YEARS TO RAISE THE FUNDS AND IMPLEMENT THE PLANS FOR THIS ATELIER, WHICH FULFILLS A DREAM OF BEATO'S AND OF ALL WHO LOVED HER AND SHARED HER VISION FOR ART AT HAPPY VALLEY.

WITH GRATITUDE,

THE HAPPY VALLEY FOUNDATION BOARD OF TRUSTEES

BEATO ATELIER
***
Rosalind and Beato had built their adjacent houses on Happy Valley with a future Cultural Center in mind. Beato's house included display rooms and a ceramics workshop and it was her hope that her library and collection of international folk art would be utilized for education. Rosalind's house included a "great room" that could accommodate exhibitions, lectures, and chamber music.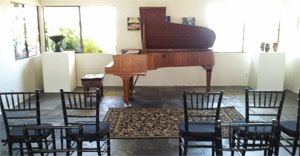 Lili Kraus' Steinway, donated to the Happy Valley Foundation by her daughter, Ruth Pope
Under the guidance and creative energy of founding director Kevin Wallace, the Beatrice Wood Center for the Arts was established as a branch of the Happy Valley Cultural Center; a manifestation of the vision of the founders, who saw the activities of the Happy Valley Foundation as a testing ground for its principles. The BWCA presents exhibitions, workshops, a children's art program and an intern program for graduate students.
As Director of the Center, Kevin is also mindful of partnership with the School. The Center offers Besant Hill students the opportunity to attend workshops and to plan exhibitions of their work in order to better relate to the role of the artist in today's environment.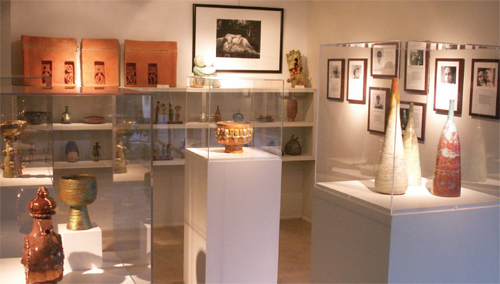 Beatrice Wood Center for the Arts Permanent Collection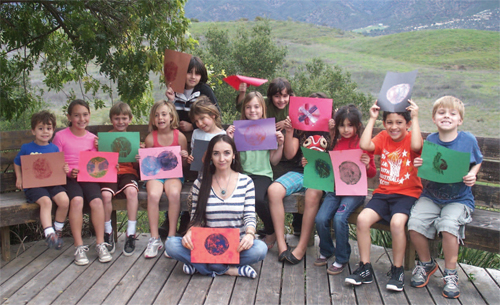 Children's Art Workshop
***
"It's a poor sort of memory that only works backwards," The Queen remarked.
Carl Jung reputedly found these words of Lewis Carroll supportive of his synchronicity theory: simply put – that some coincidences are independent of cause but meaningfully related. An occurrence one spring day in 2013 can well be identified as a meaningful coincidence.
A basic objective of the Foundation had been to provide a fertile environment committed to classical music. In the 1950s, Lili Kraus had spent time at the Happy Valley School giving intimate musical events as well as master classes. By the early '60s, she was no longer able to make this invaluable contribution. Over the next half century, except for a few independent events, a dedicated music program at Happy Valley remained hoped for but dormant.
Heidi Lehwalder was born in 1949 into a family of musicians and theosophists. Her uncle Austin Bee was for many years, Chairman of the Happy Valley Foundation. She had grown up hearing tales of Happy Valley from Uncle Austin who had also shared stories of Heidi's prowess with his fellow trustees.
At the age of nine Heidi made her debut as a performing harpist with the Seattle Symphony and soon after began studying with the great harpist, Carlos Salzedo. Over the next thirty years she performed as guest artist with sixty-five orchestras throughout the world. In 1988 she founded the Fredericksburg Festival of Arts and served as artistic director for twenty years. And then – she had a calling. Something was beckoning her to California.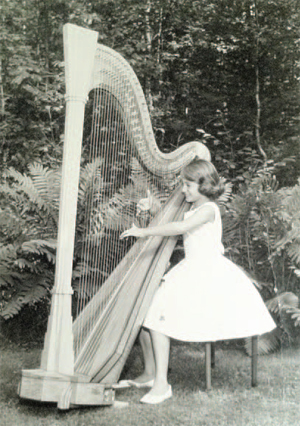 Heidi Lehwalder with the harp designed by her teacher Carlos Salzedo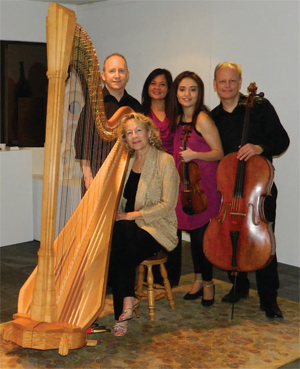 Heidi as Artistic Director of Chamber On The Mountain with the same Salzedo harp, and the Arianna String Quartet. Photo: Christine Gregory
It was immediately clear in the first meeting between Heidi, Jimmy, and Radha that there was a convergence of purpose – namely to offer the students of Besant Hill School the ineffable experience of classical music performances by outstanding young talents of multifarious origin, and to draw the community of Ojai closer to Happy Valley. With her experience and connections in this sphere, Heidi organized a concert series that would present at least five events a year.
The name – Chamber On The Mountain, came to Heidi as she climbed the mountains around Ojai with the sunset reflected off Topa Topa. She thought, "the same high level and beauty of music should match that magnificence."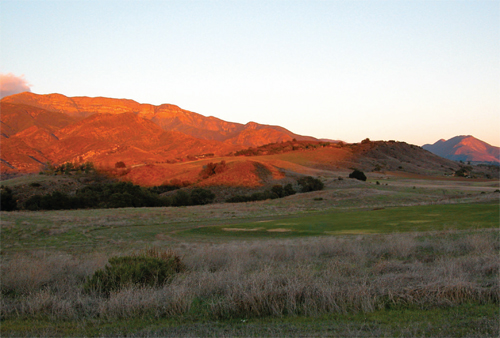 Sunset on Topa Topa
***
Annie Besant often observed "we have centuries in which to work." What would she have thought today, sitting on that hill above the vernal pond? She would see a thriving School, a blossoming Cultural Center and the beauty of protected acreage. There is awareness in all the Foundation's activities that it is as important how we build as what we build. And we hope she would find happiness in the still fragile but evident community that is emerging.
_______________
Notes:
1 From an announcement in The Ojai, by Annie Besant January 21, 1927 and later reprinted in The Theosophist, April, 1927.
2 From the diary of Frank Gerard, January 1923 to December 1931
3 Robert Logan later bought these fifteen acres and eventually gave them to HVF. The Casitas Water District condemned over three acres decades later and placed a large water tank there obliterating the well.
4 From the diary of Frank Gerard
5 Ibid
6 Arthur H. Nethercott, The Last Four Lives of Annie Besant, (University of Chicago Press, 1963) p.393
7 From the diary of Frank Gerard
8 The organizing Committee as announced in The Ojai: Dr. Annie Besant, president of the Theosophical Society; The Lady Emily Lutyens of London; Dr. John Ingelman (chiropractor & businessman) of Hollywood; Mr.Henry Hotchener of Hollywood; C.F. Holland (Attorney) of Los Angeles; Captain Max Wardall of Pasadena; D. Rajagopal of Eerde Castle, Holland; Mrs. George Porter of Chicago; Mr. Robert Logan of Philadelphia; Mr. Fritz Kunz of Ojai; Mr. Frank Gerard of Ojai; Mr. George Hall (Realtor) of Ojai; Mr. George B. Hastings of Buffalo; Mr. Louis Zalk (Businessman) of Duluth; Miss Mary Dodge of London; and,
Muriel, Countess De La Warr of London
9 From the diary of Frank Gerard
10 Ibid
11 Ibid
12 Ibid
13 Ibid
14 Ibid
15 Ibid
16 Annie Besant's Millennial Movement: Its History, Impact, and Implications Concerning Authority, Catherine Wessinger, Loyola University, New Orleans
17 Major Myers' dedication to Happy Valley would be reflected in his daughter Mary who was a 1957 graduate of Happy Valley School. She recently wrote these words. "[the school] enriched my life so much being exposed to those special people and their expansive ideas and lives… It changed my life as well, paving the way for my getting into a good college and… the work in art which has been so rewarding for me."
18 Annie Besant, "The Happy Valley Foundation," The Theosophist, August 1928
19 The correspondence referred to in this chapter resides in the minutes of the Happy Valley Foundation where it was entered by resolution.
20 Minute Book of the Happy Valley Foundation
21 Minute Book of the Happy Valley Foundation
22 Minute Book of the Board of Directors, Happy Valley School, November 1946. Below: notes of this meeting in Aldous Huxley's hand.
School founded autumn 1946

10 pupils.

Dormitories being built. In autumn 1947, 20 pupils. School will remain at this figure for at least a year, then may go to a maximum of 40 pupils.

The aim is to keep it small because the purposes of the school can only be achieved in such a small unit school.

(1) classes must be small, so that they may be an intimate relation between pupil and teacher. Also this permits more efficient intellectual teaching.

(2) Small total numbers permit better relation between pupils and teachers outside school hours. The aim is to develop well-balanced personality in which the full potentialities of the individual are developed to the full.

(3) Small total numbers permit of better health supervision. The physical side is held to be as important as the mental.
23 Minute Book of the Happy Valley Foundation
24 Minute Book of the Board of Directors, Happy Valley School, November 1950
25 Quoted and paraphrased by Trustee Jorge Uribe from the January 11, 1973 HVF minutes
26 This narrative is indebted for this and many of the following anecdotes and insights to Jorge Uribe who has to this date of writing served on the Happy Valley Foundation Board for the past thirty years.
27 Recently, Franklin's widow Gladys Lacey set up a trust in which she left their rights to the Music Man to Happy Valley. There is seldom a day when somewhere in the world, a theater is not lit up for a performance of this all-time popular musical.
28 Minute Book of the Happy Valley Foundation, May 20, 1966
29 The foundation received a bequest of $86,000 in 1971 from Robert Logan's secretary, Mabel Zimmers.
30 As stated by Helen Bee in a meeting of the Happy Valley Foundation, February 19, 1989
31 Average Walnut production per year
59 - 64 ( 5 years) $18,607
64 - 73 (10 years) $22,251
74 - 83 (10 years) $18,124
84 - 93 (10 years) $ 4,591
91 - 94 ( 5 years) $ 383
32 Financing details of the Campus Completion Project. The Happy Valley Foundation borrowed $147,000 for the new classroom and $600,000 for the completion of the $1,100,000 new dormitory (the balance was from donations). The classroom loan was to be paid back in four years and the dormitory loan in seven years. Since these loans were guaranteed by C.D.s for the corresponding amount, and therefore the bank was at no risk, Jimmy was able to negotiate the favorable interest rate on the loans of one and a half per cent above the prevailing C.D. rate, to be adjusted once a year. The principal and interest payments were well within projected income due to the increased student population available from the demographic bubble.
Appendix A: "The Guest Lecturer"

Presented at a school conference by Rosalind Rajagopal, Director, The Happy Valley School
The problem of the gifted student who falls into poor work habits in the average class environment can in part be resolved by the use of lectures and programs which stimulate him to extracurricular studies and projects. Without such stimulus it is sometimes difficult for the classroom teacher to encourage proper incentive, for with his exceptional intelligence he is already doing better work than the average without much effort. It may remain for a writer, an artist, an actor, a musician, a scientist, or a statesman to come from outside, and, by speaking or performing for the entire student body, to give the gifted child the exhilarating experience of true challenge and lofty example.
Of course, many exceptionally bright students are inspired to a self-reliant attitude by their own teachers, and the periodic guests merely provide direction and fresh impetus. In whatever manner the limiting concept of study as comparative and competitive is shattered, once it happens, the teacher is drawn along in the wake of inspiration as a resource person, providing the material and suggestions needed for extra research. The teacher may find that the speaker repeats things he has been saying all along, but somehow the guest says them in a fresh manner outside the class setting and they get across at last.
The outside speaker or performer, and there can well be one each week, should be himself, and not play down to a hypothetical student level. It is surprising how much of his performance will be understood by the entire student body (the best programs are suited in differing ways to all), but if even the gifted child cannot follow everything, he will often be stimulated to find that there is something which he does not understand readily.
The assembly is an exciting diversion for all students. It is one hour when they have no class worries, no responsibilities other than to be quiet. This creates a relaxed atmosphere in which the guest can operate for the best possible effect. If the program is announced the morning of each assembly day, the students will prepare themselves to enjoy it, to laugh at the feeblest jokes, and to strain to understand difficult material, even through a foreign accent. It is found that the youngest students enjoy a difficult program vicariously through the appreciation of the older ones; they appreciate the privilege of attending, and gain much from observing the personality and behavior of the guest.
The personality of the guest is an important factor for the older listeners as well. A colorful style, a seriousness of purpose, a willingness to have fun, and a well-known name all contribute to the effect which the program has on the students. For gifted child, the performance has the additional impact of pointing another possible way for him to develop, for he senses his exceptional capacities, and needs the highest possible concrete examples of what he can become.
Private schools can often get successful artists, writers, or musicians to teach once or twice a week, and to inject in this way a continuity of inspiration for the exceptional student, and indeed for all the students. Non-professional teachers, incidentally, often provide the stimulus needed in the school to shatter educational precedent for the ever unique case of the gifted child.
A student sometimes finds early in life that he has a facility in mathematics, or poetry, or music. Generally such a child has the capacity to develop in other directions also but his competitive situation requires that he shine only to a certain degree brighter than the others, and only in one or two fields. He may rely on his natural ability to carry him along and be quite lazy about exploring areas where he does not have complete confidence. It is therefore important that speakers and performers present a wide variety of material, and that the school be prepared to follow up that material according to needs expressed and sensed. At our school we have found that a latent appreciation for music is quite widespread among all young people. Although it is not easy to find musicians or musical groups who will appear without their usual fee, there are always professionals and talented amateurs who are sufficiently interested in the eager response of a young audience to give their services. The school can enrich its musical program by adding a good daily record concert in the morning assembly, and by recordings played during the lunch hour or in a class set aside for music appreciation. The students themselves can be drawn into the planning for these programs. The gifted child in particular will build a mature understanding of music, and incidentally, an interesting record collection, simply as the result of daily exposure to a wide variety of fine music from many cultures.
Experience shows that it is fairly easy to obtain speakers who will appear without charge, or with very small charge. Sometimes an administrator can even persuade a speaker to make a two or three hour trip, at the cost only of a stamp or a long-distance phone call. By keeping in touch with those speakers proven most stimulating and popular who may come from a distance or be on tour, and by holding an hour free each week, he is usually able to fit them into the school schedule at short notice.
Speaking before an alert student group, whose questions are sometimes keener than those from a comfortably adult audience, can be a rewarding experience for a speaker who recognizes the importance of
inspiring future leadership in a changing world. The school bears an enormous responsibility to discover ways to inspire this potential leadership
; and by planning frequent serious programs deliberately designed for this purpose, and by following up those programs as student needs require, it can meet some of the demands of our rapidly unfolding society.
Reprinted from "The Challenge of the Gifted," the Introduction to the 38th edition of the annual Handbook of Private Schools, Boston: Porter Sargent.
Appendix B: "Aun Aprendo" (I am still learning)

Commencement Address by Aldous Huxley
June 14, 1951
The Happy Valley School, Ojai, California
It seems at first sight rather paradoxical that the end of a scholastic year, the termination of a course of studies, should be called a 'commencement'. There are, of course,
good historical reasons for this -– reasons going far back into the medieval past
, to the time when candidates for the Master's degree engaged in the public disputation which qualified them to embark on the career of teaching. For years they had been at the receiving end of a scholastic education. Now, at long last, they were in a position to 'dish it out'.
This was the principium, or beginning
, of a new and, as the budding Masters fondly believed, a happier life. Hence our use of the word, 'commencement'.
It is good that the past should thus live on in the present
, reminding the members of each succeeding generation that they are not the first to face the problems of human existence -– that, after all, this sort of thing has been going on for quite some time. Education is an immemorial institution, and
it is very fitting that, in this brand new California, we should be commemorating
, albeit unconsciously,
the scholastic achievements of a distant past
. By ending its year on a commencement, Ojai is
paying tribute to Paris and thirteenth-century Oxford
, to Bologna and Cologne.
We see, then, that the word 'commencement' is
a legacy from the Middle Ages
. But, by a happy accident, it is also more than a reminder of man's earlier efforts to better himself. It is also a reminder that, in the educational process, there is, or at least
there should be, no end -– only a continuous transition, only a series of new beginnings
.
What looks like an end -– graduation from high school, graduation from college, graduation from post graduate school -– is always a commencement, is always the start of yet another phase in the never-ending educational process.
In the Prado at Madrid there is a very striking drawing by Goya. It represents an old, old man, bent double by age and infirmities, tottering along with the help of a staff. Under it is scrawled the caption: AUN APRENDO – "I am still learning".
Goya himself was one of those who went on learning to the very end. He was over eighty when he set himself to learn the newly invented technique of lithography. He mastered it so successfully that
his prints of bull-fighting are among the most brilliant
and powerful examples of the lithographer's art.
Goya was by no means the only great artist who went on learning to the very close of a long life.
Titian really got into his stride when he was about seventy
and, at ninety-nine, a few weeks before his death, remarked rather wistfully that he was just beginning to understand something about painting. In the course of a very long life
Verdi assimilated all the developments of nineteenth-century music, selected those which were best suited to his purposes, and wrote his greatest works after the age of sixty
. As a poet,
W B. Yeats set out as a rather arty exponent of the Celtic twilight
and ended as the master of a style, almost unique in modern English literature for its austere and yet splendid and pregnant conciseness.
Great poets, great painters and composers are uncommon. But fortunately there are
many fields besides that of artistic achievement
, in which men and women can go on learning. There are the fields of science and technology, the fields of history and sociology, the fields of artistic appreciation, of erudition, of education, and finally the supremely important fields of human relations, of
self-knowledge with a small 's' and of Self-knowledge with a large one
. AUN APRENDO. The process goes on from the cradle to the grave and, doubtless, beyond.
This is what can happen, what ought to happen. But, alas, in practice how very often it doesn't happen! In all too many cases life is not treated as a continuing process of education. In all too many cases men and women do not wish to go on learning. Instead they treat their last official commencement as the end of education, so far as they are concerned, and settle down to an existence as nearly static as they can make it -– the existence of creatures confined to ruts and grooves, and rejoicing in that confinement, bitterly resenting any break with established habit, and attempt to make them leave their rails and take to the open road. They are like
the young man of that ancient limerick
, the young man who... (pardon the expression)
.... said "Damn,
It is borne in on me that I am
A creature that moves
In determinate grooves;
I'm not even a bus, I'm a tram!"
And these people do not even say Damn. On the contrary, they delight in being streetcars rather than buses; they are proud of their incapacity for further education. In reality, of course, they are not incapable of education. For
when destiny goes to work
on them (
as it goes to work on most of us, sooner or later
) they are compelled to learn -– to learn with a vengeance, to learn in the most painful way possible. The learning process might have been a good deal less uncomfortable if they had prepared themselves for it by a voluntary course in human relationships, in self-understanding and in understanding of the world in which, whether we like it or not, we have to live.
Not long ago I visited a book-store on the fringes of the campus of a large university. The proprietor was a man who liked books, not merely as merchandise, but as things to read, to enjoy, to learn from. Taking me to his second-hand department, he showed me
rows and rows of the English poets and novelists, the essayists and dramatists
. All these, he told me, had been turned in by graduating students. There was a glut of these texts and my friend could pay very little for them. "Wouldn't you prefer to keep them?" he always asked. And the answer was always the same. "Thank heaven, we shall never have to read that sort of stuff again!" And so a four-dollar anthology of
the world's noblest verse would be turned in for the price of a hamburger.
The book-seller did good business; but his heart was sad. And so was mine. For here were boys and girls in their early twenties who had already decided to cut themselves off from one of
the main sources of continuing education
. The chances were that they were already closed and barricaded in many other directions.
Hardening of the arteries is a disease of later life. But
there is a mental sclerosis, a spiritual setting and hardening and clogging that strikes when its victims are in the prime of youthful vigor.
What is the cause of this and how is it to be prevented? Frankly, I do not know. And, so far as I am aware, nobody else knows. Does the fault lie with our methods of education? To some extent, no doubt, it does. But, in fairness to educators, it must be remembered that
some boys and girls emerge from college with minds completely open and receptive, and that they retain their mental elasticity, their desire and capacity for learning, unimpaired into extreme old age
. These individuals receive exactly training as is given to those who sell their books and decide to learn no more. This would seem to exonerate, at least in part, the current methods of education.
The mystery of premature hardening of the mental arteries would seem to be a special case of that more general mystery -– the mystery of temperament, of inherited constitution, of original sin
, as the theologians like to call it. But meanwhile something can be done to postpone the onset of the disease. A steady will to go on learning, an effort to remain open and elastic -– these will certainly be helpful. And so will a method of education aimed at encouraging such efforts and evoking such a will.
At the Happy Valley School we hope that we may have such a method. Our purpose is to teach our students
to wish to go on educating themselves.
And for our graduates our valedictory wishes
can be summed up in a single phrase:
May you go on learning!
Appendix C: Qualifications of Trustees
As adopted by board resolution, May 16, 1987
(1) Any prospective Trustee should be familiar with – or willing to become familiar with – the history of the Happy Valley Foundation, including the work and ideals of Dr. Annie Besant in securing the land and establishing the Foundation. In addition, the prospective Trustee should be genuinely interested in and sympathetic to Dr. Besant's vision for Happy Valley, as expressed in the article she wrote, published in THE THEOSOPHIST, April, 1927.
(2) As a result of familiarity with Dr. Besant's ideals and vision, the prospective Trustee should be motivated toward the creative and dynamic activation of that vision, in terms of the development of the land.
(3) The prospective Trustee should be familiar with, and interested in, the development of the Happy Valley School, since this is, at present, the chief activity sponsored by the Foundation.
(4) Inasmuch as the theosophical world view constituted the primary influence in Dr. Besant's life, at the time she raised funds for the purchase of the land, and inasmuch as it was members of the Theosophical Society- of which she was then president- to whom she turned in appealing for funds toward that purchase, the prospective Trustee should be familiar with and sympathetic to the theosophical worldview [sic] and with the aims and objectives of the Theosophical Society, which may be demonstrated by membership in some Theosophical Group, but need not be.
(5) The prospective Trustee should have some background, experience, or training in an area of significant value to the work of the Foundation.
(6) The prospective Trustee needs to be open to new ideas, willing to examine them fairly and impartially, also should be familiar with what may be called the "new age" scene, yet have a sense of discrimination regarding what aspects of the "new" may be appropriate for development at Happy Valley
in terms of its philosophical background
.
(7) The prospective Trustee should be able to attend meetings (at least annually), and contribute actively to the discussions and deliberations.
It is assumed that any prospective Trustee would be compatible with the other Trustees of the Foundation, would be a person of integrity and high ideals, an individual whose presence on the Foundation Board would be an asset to the Foundation.
***
The Theosophical World View
THE THEOSOPHICAL SOCIETY, while reserving for each member full freedom to interpret those teachings known as theosophy, is dedicated to preserving and realizing the ageless wisdom, which embodies both a world view and a vision of human self-transformation.
This tradition is founded upon certain fundamental propositions:
The universe and all that exists within it are one interrelated and interdependent whole.

Every existent being – from atom to galaxy – is rooted in the same universal, lifecreating Reality. This Reality is all-pervasive, but it can never be summed up in its parts, since it transcends all its expressions. It reveals itself in the purposeful, ordered, and meaningful processes of nature as well as in the deepest recesses of the mind and spirit.

Recognition of the unique value of every living being expresses itself in reverence for life, compassion for all, sympathy with the need of all individuals to find truth for themselves, and respect for all religious traditions. The ways in which these ideals become realities in individual life are both the privileged choice and the responsible act of every human being.
Central to the concerns of theosophy is the desire to promote understanding and brotherhood among people of all races, nationalities, philosophies, and religions. Therefore, all people, whatever their race, creed, sex, caste, or color, are invited to participate equally in the life and work of the Society. The Theosophical Society imposes no dogmas, but points toward the source of unity beyond all differences. Devotion to truth, love for all living beings, and commitment to a life of active altruism are the marks of the true theosophist.
Appendix D: Frank Gerard's Map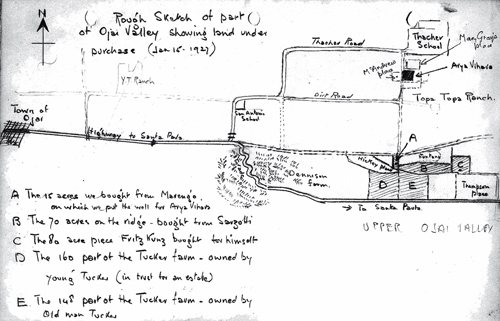 Rough Sketch of part of Ojai Valley showing land under purchase (Jan 15, 1927)

A. The 15 acres we bought from Marengo on which we put the well for Arya Vihara.
B. The 70 acres on the ridge, bought from Savzotti
C. The 80 acre piece Fritz Kunz bought for himself
D. The 160 part of the Tucker farm, owned by young Tucker (in trust for an estate)
E. The 148 part of the Tucker farm, owned by Old Man Tucker
Appendix E. Happy Valley Foundation Study Map 1981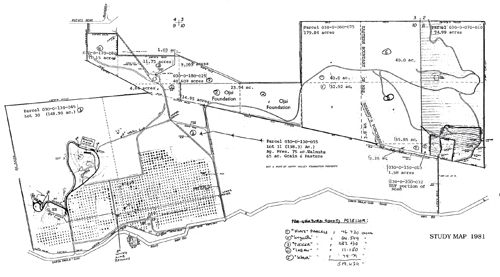 Appendix F. List of Happy Valley Trustees
Annie Besant, President 1930-1933
Louis Zalk 1930-1964 (President 1933-1964)
Robert Logan 1930-1956 (Vice President 1930-1956)
Sara Logan 1933-1938
George Hall 1930-1959
C.F Holland 1930-1938
Max Wardall 1930-1934
Devereaux Myers 1934-1940
George Ragan 1934-1959
William Mayes 1940-1947
Erma Williams (Zalk) 1940-1959
Rosalind Rajagopal 1943-1989 (Chair/Pres. 1965-1988)
James Moore 1949-1954
D. Rajagopal 1953-1958
Mima Porter 1953-1964
James Vigeveno 1956-1964
Byron Casselberry 1957-1963
Franklin Lacey 1959-1986 (HVS Director 1968-1970)
William Ross 1960-1968
Margot Wilkie 1960-1973
James Sloss 1960-1966 & 1989 → (Chair 1996 →)
Harriet Von Breton 1962-1968
Erna Lilliefelt 1965-1967
John Rupp 1965-1990
Joseph Lodge 1966-1971
Joseph Margon 1966-1971
Webster Cotton 1968-1972
Jorge A. Uribe 1968-2000 (Pres 1989-2000)
Nandini Iyer 1969-1986
Joseph Pollock 1970-1975
Peggy Kiskadden 1972-1974
Joy Mills 1973-2003
David Drapeau 1974-1975
Austin Bee 1974-2001 (Chair 1989-'93)
Emily Sellon 1974-1994
Michael Hathaway 1975-1977
Helen Bee 1979-1995
Diana Dunningham-Chapotin 1985-1992
John Kern 1985-2002
Raymond Neutra 1986→
Radha Sloss 1986→
Ken Tennen 1990-2003
Ann Brand 1992-2002
Paola Cohen 1993-2004
Anne Friend Thacher 1997→
Rolf Eriksen 1999-2002
Robert Sloss 2000→
Sandhya Jade Khurana 2001-2003
Rashmi Goel 2003-2005
Gerald Larson 2003→
Nicholas Schneider 2003→
David Anderson, tenure as Head of School 2004-2006
Josie Sutton 2005→
Paul Amadio tenure as Head of School 2006→
Appendix G. Happy Valley Cultural Center Events 2001–2005
March 2001: Lucifer's Child, by William Luce, based on Isak Dinesen's Africa Stories Performed by Daphne Field
November 2001: The Social Life of Jackals & the Wild African Ass, by Dr. Patricia Moehlman
December 2001: Criminal Law & Felons, by Judge Joseph Lodge
February 2002: What I've Learned About Life from Gardening, by horticulturist Raymond Sodomka
March 2002: A Violin/Dance Performance, by Malcom Watson
April 2002: Zen and Psychotherapy, by Dr. Joseph Bobrow
May 2002: Louise Nevelson and Georgia O'Keeffe, Helena Hale/One woman Theatre
September 2002: South Indian Classical Music, by Dr. L. Subramaniam, world acclaimed violinist
October 2002: Cutting Through to Freedom: a demonstration of Meditation & Martial Arts, by Michele B. Miki
November 2002: Faces of Change,Grass Root Reformers in the former Soviet Union, by Amanda Pope
February 2003: Local Marine Mammals, by Channel Island Naturalists and a Day of Whale Watching
March 2003: Artemesia Gentileschi: Of Lies and Truth, Helena Hale/One woman Theatre
April 2003: Vanessa Isaac and Hip Brazil Dance Company
October 2003: The Relational Self, by Dr. Susan Andersen, Professor of Psychology & Public Policy, NYU
October 2003: Lili Kraus Commemorative Concert, performed by Eugenio Urratia acclaimed Chilean pianist
December 2003: An Old Tale from India: The Dilemma of Violence & Non-Violence, by Professor Gerald Larson
January 2004: Love, Power and Transcendence, a dance/drama performed by Lark Batteau-Bailey
January 2004: Non-Violent Principles of Aikido and Sword Forms of Iaido, by Michele B. Miki
February 2004: Brave New World, HVS reading of Franklin Lacey's musical based on Huxley's novel
April 2004: Vanessa Isaac and Hip Brazil Dance Company, return
May 2004: Mary Cassatt Speaks, Helena Hale/One woman Theatre, followed by "high tea" on school lawn
November 2004: Waging Peace, Changing Self, Changing the World, by Dr. Joseph Bobrow, Zen teacher & Psychoanalyst
December 2004: A Joyous Concert of European Madrigals and Songs, Performed by the SBCC Chamber Singers
January 2005: Sharing the World With Wildlife, a lecture/discussion with M. Engebretson of Animal Protection Inst.
March 2005: The Sandman's Garden, Documentary Film by Arthur Crenshaw on the life and art of Lonnie Holley
Appendix H. M:OME Renditions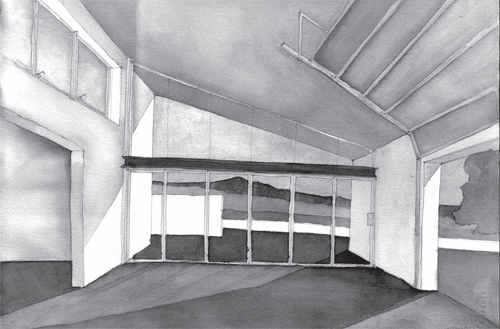 Beato Atelier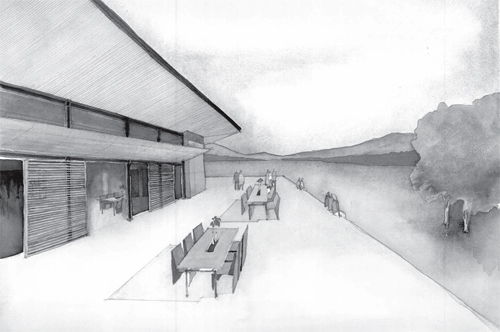 Dining Commons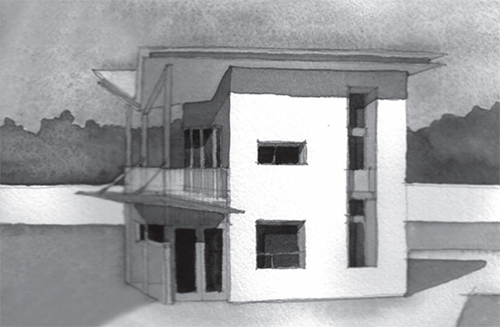 Student / Faculty Housing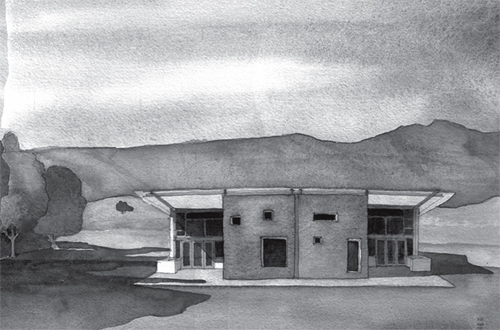 Family Faculty Housing
Index
A Adams, Mike 105
Adobe House 51, 59, 67, 106
Adyar (India)
Annie Besant died at 42
Theosophical Golden Jubilee, 1925 19
Amadio, Paul 122, 153
American Transcendentalists
lectures by Guido Ferrando 72
Anderson, David 118-120, 153
Arya Vihara 18
as Happy Valley School dormitory 75
Frank Gerard caretaker of 18, 21
orange ranch managed by Willie
Weidemann 69
residence of Krishnamurti and Nitya 17
top bananas visit 20
water supply 19
assembly/ theater
campus completion project,
donations for 109
assembly/theater
part of Paul Hoag's plan 104
Atlantic Richfield 91–93
Avasthology, World Institute of 88
B
Beatrice Wood Center for the Arts 121, 130
Beato Atelier 129
Bee, Austin 153
as ranch manager of the Happy Valley
Foundation 85
chairman of the Happy Valley
Foundation 102
death of, in 2001 117
instrumental in land purchase 91
meets Annie Besant 20
on Happy Valley Foundation Board 85
Bee, Helen 153
on Happy Valley Foundation Board 99
school board 101
Bennett, Ronald 79
Randy Bertin 126
Besant, Annie 13, 15, 17–20, 23, 26, 29, 31–33,
35, 37–42, 44–46, 49–50, 62, 72, 78, 83–88, 90–
91, 94–96, 102–103, 109, 111–112, 123-124, 125,
134, 135-136
background 15
death in India, 1933 42
description of by G.B. Shaw 23–24
description of Happy Valley, and vision 13
entourage and arrival in Ojai 1926 16–17
faith in future 95
further fulfillment of vision in Beatrice
Wood studio 95
guidelines for Happy Valley 46–47
ideas on education as Fabian Socialist 16
influence on Rosalind Rajagopal 49
last seen by Frank Gerard 34
parallels in Felix Greene's concept for
Happy Valley 56
relationship with
160
THE STORY OF HAPPY VALLEY
Krishnamurti 21, 23, 29–30
seeing and purchasing Happy Valley 29–
31
vision materialized 76, 78, 112
Besant Hill School 123-124
Blavatsky, H.P. 15–16, 24
terminology 49
Brand, Ann 141
Burr, Wallace 71, 79
C
Caldwell, Alice 79
Cameron, James 114
Casselberry, Byron 74
Chamber On The Mountain 134
Chumash, The
Happy Valley land sacred to 17, 51
Clark, Mary 90
Cohen, Paola 153
Cotton, Webster 152
D
The Divine Comedy
lectures by Guido Ferrando 72
Drapeau, David 153
Dundas, Janat 121
Dunningham-Chapotin, Diana 152
E
Emerson, Ralph Waldo
class about, taught by Guido Ferrando 81
Eriksen, Rolf 111, 153
F Ferrando, Guido, director of Happy Valley
School 72–82
G
Gerard, Frank 17, 42, 55, 91, 93, 123
and Happy Valley 19–22, 24–33
and Krishnamurti 22, 34
arrives in Ojai 17
at Arya Vihara 21
at Thacher School 18
comments on Annie Besant and "top
bananas" 20
comments on George Hall 32
editor of The Ojai 18, 31
Goel, Rashmi 153
Gorsuch, John 106
Greene, Elena 51–60, 64
teaching at Happy Valley School 79
Greene, Felix 51–67, 90
H
Halifax, Joan 97
Hall, George 24, 27, 30–33, 55, 123, 140
and Saro Vihara 40, 94
and the Greenes 54–56
defense of Happy Valley 63, 85
involvement in Happy Valley
purchase 24, 26–28, 31
letter to Zalk 64
opposition to Rosalind 49
Hall, Grace 40
Happy Valley, map of 136
Happy Valley Cultural Center 115, 130
Happy Valley Foundation 130
Hassall, Walter 73
Hathaway, Michael 153
Heard, Gerald 51
High Winds 90–91, 93
Hoag, Paul 94–95
Holland, C.F 152
Holland, C.F. 28–29, 40, 42, 44, 123
Hotchener, Henry 28–29, 123
Human Dimensions West 97
Huxley, Aldous 126
and founding of Happy Valley School and
as board member 72–73, 79
associated with Vedantist circle 51
comment on Rosalind 89
guest lecturer 87, 130–133
pacifist 47
I
Ingelman, John 28–29, 123
Isherwood, Christopher 51
Iyer, Nandini 153
161
K
Kellogg-Smith, Ogden 74
Kern, John 153
Kern Foundation 109
Kiskadden, Peggy 153
Khurana, Sandhya Jade 153
Kraus, Lili 80, 132, 134
Krishnamurti Writings, Inc. 46, 70
Krishnamurti, J. 16–17, 20, 33, 34, 38–39, 75,
86–87, 94
and founding of
Happy Valley School 71–73
as World Teacher 16, 18
departure from Theosophy 30, 34
granting use of Arya Vihara for school
dormitory 75
illness in 1946 75
Logan's view of 38
name involved in criticism of Happy
Valley Foundation 86
pacifist 47
Krotona 17–18, 24, 29
Kunz, Fritz 17, 123
and Happy Valley 18–27
problems with "top bananas" 25
LL
acey, Franklin 128, 152
Happy Valley Board and school
director 90
Meeting with Annie Besant 1926 90
Music Man 90
Lacey, Gladys 126, 128
Larson, Gerald 153
Leadbeater, Charles Webster 19–20, 30, 73
Lehwalder, Heidi 132-134
Lilliefelt, Erna 152
Lodge, Joseph 152
Logan, Deborah 113
Logan, Robert 24, 37–41, 43–46, 49–51,
57–58, 63, 72, 81, 86, 94, 98, 123, 152
a founder of the Happy Valley
Foundation 24–46
a founder of the Happy Valley
School 70–85
backing of Rosalind 49
death of, in 1956 85
pacifist 47
philosophic background 37–38
Logan, Sara 24, 26, 38–40, 152
death of, in 1939 42
faith in Rosalind 49
M
Mack, Katherine 106
Margon, Joseph 152
Mayes, William 42, 152
Mills, Joy 141
M:OME 120
Moore, James 152
Morgando, John and Wendy 106
The Music Man 126
Myers, Devereaux 42, 49, 124, 152
N Neutra, Raymond 104, 141
Nitya, brother of Krishnamurti 17–20
O
O'Gallagher, Liam 96–97, 115
Ojai Foundation 97
Ojai Valley School 49
Order of the Star 20, 25, 30, 46
P Pattee, Howard 82
Pollock, Joseph 141
Porter, Mima 152
RR
agan, Eleanor (Nell) 74, 79, 82
Ragan, George 42, 62–63, 78, 140
Rajagopal, D. 18–20, 21, 24–26, 39, 69, 75, 80,
91, 95, 123, 152
founding of Happy Valley School 72
Happy Valley Foundation trustee 90–91
in Ojai with Annie Besant 16, 18, 20, 25
pacifist 47–48
Index
162
THE STORY OF HAPPY VALLEY
Rajagopal, Rosalind (née Williams) 17, 18–
20, 26, 42, 48–50, 57, 63–64, 69–72, 75–76,
79, 82, 85, 88–89, 93–94, 98–100, 103, 106,
125, 130, 152
appointed director of the school 82
chair/president of the Happy Valley
Foundation 88
character of 49–50
death of, in 1996 113
discussions with other founders 72
influenced by Annie Besant 49
Ojai Valley School Board 71
on Happy Valley with Annie Besant 26
pacifist 47–48
real estate dealings 91–94
searches for new school director 89
setting up the school 74–76
withdrawing from the Happy Valley
Foundation 102–103, 106
Rheem, Robert 115
Rice, Dennis (formerly Rice-Leary) 100,
director of the Happy Valley
School 101, 118
Roedelius, Hans Joachim 121
Ross, William 152
Rupp, John 152
SS
aro Vihara (Logans' Ojai House) 94
Sellon, Emily 153
Schneider, Nicholas 153
Sloss, James 85, 106, 110, 133
Sloss, Radha (née Rajagopal) 71, 133, 153
Sloss, Robert 153
Star camp 33
Storey, Matt 120
Stuurman, Douwe 87
Sutton, Josie 153
T Tennen, Ken 105, 110, 153
Thacher School 18
Thacher, Anne Friend 153
Theosophical Society 15–17, 20–21, 38, 42, 84–
85, 123
Tree, Iris
pacifist, actress in Checkov group 47
Tucker 19, 26, 69, 85
U Uribe, Jorge A. 110, 117, 153
importance to the
Happy Valley board 85–86, 92
president and legal counsel 106
reorganizing School Board 101
VV
igeveno, James 152
Von Breton, Harriet 140
W Wallace, Kevin 121, 130
Wardall, Max 140
Watts, Alan 87
Weidemann, William 69, 91
Wellesly-Miller, Sean 97
Welton Beckett 86
Wilkie, Margot (formerly Morrow) 140
Williams, Erma (later Zalk) 42, 49, 56–57,
99, 140
Wood, Beatrice (Beato) 94–95, 111, 130
death of, in 1998
Y Yeomans, Edward 49, 71
Young, David 80, 82
ZZ
alk, Louis 33, 40–42, 44, 55–56, 59–62, 65,
67, 69–71, 76, 83, 85–86, 113, 123, 152
a founder of the
Happy Valley Foundation 37
a founder of the
Happy Valley School 72–78
death of, in 1964 88
instructive letter to
Happy Valley trustees 65–67
manager of Star camp 33
163
philosophic background 39
vis-à-vis the Greenes 51–67
Zalk Theater 114
Zimmerman, Jack 97
Index