Hisao Kimura
by Wikipedia
[Translated from French]
Accessed: 7/20/20
British-Indian intelligence reported that Kalimpong had an "extensive spy-network" by 1946 (SAWB, IB 1946, 4). We will probably never know about all the spies who operated in Kalimpong, but arguably the two most famous who appeared in Kalimpong were Gergan Dorje Tharchin, the editor of the Tibet Mirror, and Hisao Kimura, the "Japanese agent who disguised himself as a Mongolian pilgrim [… and] was recruited by the British Intelligence to gather information on the Chinese in Eastern Tibet" (Kimura 1990, book jacket). Tharchin had settled in Kalimpong and started his newspaper; with that he became of interest to the British, and also the Chinese, who tried to buy him.

-- Kalimpong: The China Connection, by Prem Poddar and Lisa Lindkvist Zhang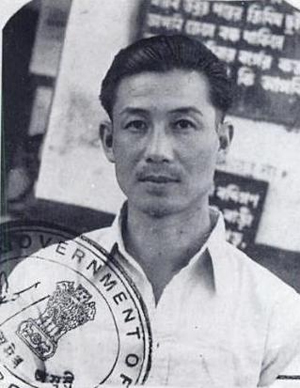 Hisao Kimura
Hisao Kimura in April 1950 in Calcutta, India.
Biography
Birth: 1922, Sasebo
Death: October 8 , 1989, Tokyo
Name in native language: 木村 肥 佐 生
Nationality: Japanese
Activity: Explorer
Hisao Kimura (木村 肥 佐 生, Kimura Hisao?); 1922 in Sasebo -October 8, 1989in Tokyo) is a secret agent, and Japanese Tibetologist. In Tibet, he took the name of Dawa Sangpo. A specialist in Central Asia, he became a university professor in Japan.
Biography
Hisao Kimura was born in 1922 in Sasebo, Nagasaki Prefecture in Japan.
In the early 1940s, at age 19, he crossed Mongolia and Tibet.
Hisao Kimura and Kazumi Nishikawa, another Japanese secret agent, did not reach Lhasa until after the end of World War II, in September 1945[1], [2]. In October 1945, Hisao Kimura went to Kalimpong, where he was recruited by the British spy services to find out the intentions of the Chinese by going to eastern Tibet. In 1948, back in Lhasa, he met Peter Aufschnaiter and Heinrich Harrer [3].

When Taktser Rinpoche [Thubten Jigme Norbu], the brother of the Dalai Lama whose caravan he had originally accompanied to Lhasa, came to Japan in the 1950s [for the 1952 conference of the Buddhist World Fellowship.] and was stranded for a time without a passport, it was Kimura who helped him, and the two became close friends [4].
On 13 February 1952,

Thubten Norbu

and his chaperone-cum-translator Robert Ekvall arrived at Foggy Bottom for a meeting with the new assistant secretary of state for Far Eastern affairs, John Allison. The reason for the tryst was the arrival of a secret letter from the Dalai lama addressed to his eldest brother.

Messages from the Tibetan leader had come before, but nothing like this. In marked contrast to the urgency of earlier communications, the Dalai lama was now subdued and measured. Four months after the Tibetan government had conceded on the seventeen-point agreement with Beijing, the monarch was now clearly hedging his bets. The Chinese were thus far being "correct and careful," he wrote, and he was determined to treat them in kind. As if to offset any perceived tilt toward Beijing, the letter instructed Norbu to maintain contact with U.S. officials and not allow for any "misunderstandings."

That Tibet's spiritual leader was writing in such pragmatic terms was not necessarily bad news at the upper echelons of the State Department. It had been senior department officials, after all, who had kept Ambassador Henderson at bay for so long. Now using the Dalai lama's own sentiments as cover, Allison had no need to apologize when he assured Norbu that the United States remained sympathetic but noncommittal. Allison went further, advocating that the United States not invite undue attention to Tibet by making any public statements.

Although Allison was effectively writing off Tibet, Norbu saw it otherwise. Judging from the pleasantries exchanged around the room, he logically concluded that the Americans concurred with the Dalai lama's approach. Offering thanks to Allison, he departed.

It would be another three months before Norbu was back in contact, this time offering a decidedly different spin on events in his homeland. Allegedly tapping his own private sources, he claimed that the Dalai lama was continuing with a long-term master plan to appear compliant with China's wishes while secretly organizing resistance against them. Tibetans in the capital, he claimed, had recently sworn oaths of allegiance to the Dalai lama and affirmed their opposition to the Chinese.

Hearing this news, State Department officials in Washington admitted that they had little ability to verify its validity. Norbu, after all, had a vested interest in making it sound as if his brother were playing the Chinese according to a clever script, not the other way around. Still, the department's China desk thought that there was enough circumstantial evidence indicating that the Chinese in Tibet were encountering difficulties. On the pretext that the United States should allow China to make further missteps, the desk counseled continued restraint from both public statements and attempts to contact persons in Tibet who might be making the first move toward organizing an anticommunist resistance. Taking a pen to the margin of the source text, Assistant Secretary of State Allison wrote, "I agree."

With those words, any residual thoughts of an activist Tibet policy by Washington entered into full remission. Plans to come to Lhasa's defense -- overtly or covertly, verbally or physically -- were shelved.

Norbu himself lost relevance; in short order he left Washington for a brief English course at Berkeley before traveling to Japan for the 1952 conference of the Buddhist World Fellowship. While in Tokyo, both Norbu's sponsorship by the Committee for a Free Asia and his Indian identification papers expired. In a telling rejection, his application for readmission to the United States was turned down, stranding the Dalai Lama's sibling in Japan as a gilded refugee...

After he had been unceremoniously dropped from CFA funding in 1952, both he and his servant, Jentzen Thondup, had become stateless refugees in Japan. Not until 1955, following repeated appeals channeled through Church World Services, did he and Jentzen finally get new Indian identity cards and U.S. visas. Settling in New Jersey, Norbu began to earn a modest income teaching Tibetan to a handful of students as part of a noncredited course at Columbia University.-- The CIA's Secret War in Tibet, by Kenneth Conboy and James Morrison
He became a professor specializing in Central Asia at the Tokyo University of Asia (in). He also helped Pema Gyalpo, representative of the 14th Dalai Lama, to come to Japan for medical care and Diplomacy Training of Tibetan refugees.
In 1967, Hisao Kimura met the Dalai Lama during his first visit to Japan. Takster Rinpoche [Thubten Jigme Norbu] who accompanies him presents it to him [5].
Falling seriously ill during a trip to Xinjiang in October 1989, he was repatriated to Japan where he died. A few months earlier he had finished his work in which he gave an account of his young years incognito across Asia.
Notes and references
1. Scott Berry (Alex McKay, editor), The Japanese in Tibet, in The History of Tibet - The Medieval Period: c.850-1895, Cornell University Press, 2003 (ISBN 0-415-30843-7) (limited overview online), ( p. 311).
2. Hisao Kimura, Scott Berry Japanese officer in Tibet: my ten years of travel in disguise, p. 4.
3. Hisao Kimura, Japanese agent in Tibet: my ten years of travel in disguise, as Told to Scott Berry, Serindia Publications, Inc., 1990, p. 196, (ISBN 0-906026-24-5).
4. Scott Berry, Monks, Spies, and a Soldier of Fortune: The Japanese in Tibet, Athlone Press, 1995, p. 328: "When Takster Rimpoche, the Dalai Lama's brother whose caravan he had originally accompanied to Lhasa, came to Japan during the 1950s and was stuck for some time without a passport, it was Kimura who helped him out, and the two became close friends."
5. Hisao Kimura, Scott Berry, Japanese Agent in Tibet: My Ten Years of Travel in Disguise, p. 217
Works
• Hisao Kimura, Scott Berry, Adventures of a Japanese spy in Tibet: my ten years incognito across Asia , translated by Michel Jan, ed. Payot & Rivages, 2005, ( ISBN 2-228-90026-5 and 9782228900263 )
• (en) Hisashi Mitsuyasu, Hisao Kimura, Wind wave in decay area , Publisher Port and Harbor Technical Research Institute , 1964
• Dalai Lama XIV , Hisao Kimura, Chibetto waga sokoku: Darai Rama jijoden , Publisher Chūō Kōronsha, 1989, ( ISBN 4-12-201649-5 and 9784122016491 )
• Hisao Kimura, Chibetto senkō jūnen , Publisher Chūō Kōronsha, 1982
External links
• Authority records: Virtual international authority fileInternational Standard Name IdentifierCiNiiNational Library of France ( data )University documentation systemLibrary of CongressNational Diet LibraryRoyal Netherlands LibraryCzech National LibraryWorldCat