Part 1 of 2
Luang Pu Sodh Candasaro [Luang Por Sodh] [Luang Pu Wat Paknam] [Phramongkolthepmuni] [Phra Mongkolthepmuni]
by Wikipedia
Accessed: 8/3/20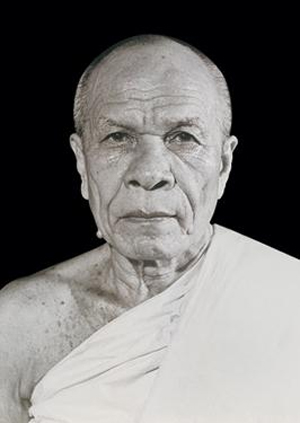 Luang Pu Sodh Candasaro
Other names: Luang Por Sodh; Luang Pu Wat Paknam
Personal
Born: October 10, 1884[note 1], Song Phi Nong, Suphanburi, Siam
Died: February 3, 1959 (aged 73), Bangkok, Thailand
Religion: Buddhism
Nationality: Thai
School: Theravāda, Mahānikāya
Dharma names Phramongkolthepmuni
Senior posting
Based in Wat Paknam Bhasicharoen, Thonburi, Thailand
Luang Pu Sodh Candasaro (10 October 1884 – 3 February 1959), also known as Phramongkolthepmuni (Thai: พระมงคลเทพมุนี), was
the abbot of Wat Paknam Bhasicharoen from 1916 until his death in 1959
.[note 2]
Wat Paknam Bhasicharoen (Thai: วัดปากน้ำภาษีเจริญ, RTGS: Wat Paknam Phasi Charoen) is a royal wat ('temple') located in Phasi Charoen district, Bangkok, at the Chao Phraya River. It is part of the Maha Nikaya fraternity and is the origin of the Dhammakaya tradition.

The Mahā Nikāya (literal translation: "great order") is one of the two principal monastic orders, or fraternities, of modern Thai and Cambodian Buddhism. The term is used to refer to any Theravada monks not within the Dhammayuttika Nikaya, the other principal monastic order. The Maha Nikaya is the largest order of Theravada Buddhism in Thailand and Cambodia, in Thailand taking up over 90% of the Buddhist monks in the country.

After the founding of the Dhammayuttika Nikāya by the then-monk Prince Mongkut in 1833, decades later all recognized monks not ordained in the Dhammayuttika order were considered to be part of the maha nikāya, the "great collection" of those outside the new Dhammayuttika fraternity. As such, most monks in Thailand belong to the Maha Nikāya more or less by default; the order itself did not originally establish any particular practices or views that characterized those adhering to its creed.

There were in reality hundreds of different Nikayas throughout the Thai areas that were lumped together as the "Maha Nikāya".

In Cambodia, a similar situation exists. The Dhammayuttika Nikāya was supposedly imported from Thailand in 1855, and those monks remaining outside the Dhammayuttika order were recognized as being members of the Maha Nikāya (Khmer: មហានិកាយ Mohanikay). A separate supreme patriarch for the Dhammayuttika Nikāya was appointed by King Norodom. The previous national supreme patriarch then became the titular head of the Cambodian Maha Nikāya.

In Thailand, a single supreme patriarch is recognized as having authority over both the Maha Nikāya and the Dhammayuttika Nikāya. In recent years some Maha Nikāya monks have campaigned for the creation of a separate Maha Nikāya patriarch, as recent Thai supreme patriarchs have invariably been drawn from the royalty-supported Dhammayuttika Nikāya, despite Dhammayuttika Nikāya monks making up only six percent of the monks in Thailand.

-- Maha Nikaya, by Wikipedia

It is a large and popular temple, supported by prosperous community members.

Wat Paknam was established in 1610, during the Ayutthaya period, and received support from Thai kings until the late nineteenth century. By the beginning of the twentieth century, the temple had become nearly abandoned and had fallen into disrepair. The temple underwent a major revival and became widely known under the leadership of the meditation master Luang Pu Sodh Candasaro, who was abbot there in the first half of the twentieth century.

-- Wat Paknam Bhasicharoen, by Wikipedia
He founded the Thai Dhammakāya school in the early 20th century.
As the former abbot of Wat Paknam Bhasicharoen, he is often called Luang Pu Wat Paknam, meaning 'the Venerable Father of Wat Paknam'. He became a well-known meditation master during the interbellum and the Second World War, and played a significant role in developing Thai Buddhism during that period.[6]
He is considered by the Dhammakaya tradition to have rediscovered Vijja Dhammakaya, a meditation method believed to have been used by the Buddha himself.
[7]
Dhammakaya meditation (also known as Sammā Arahaṃ meditation) is a method of Buddhist meditation developed and taught by the Thai meditation teacher Luang Pu Sodh Candasaro (1885–1959).[note 1] In Thailand, it is known as vijjā dhammakāya, which translates as 'knowledge of the dhamma-body'.

The Dhammakaya meditation method is popular in Thailand and other parts of Southeast Asia, and has been described as a revival of samatha (tranquility) meditation in Thailand.

The Dhammakaya tradition believes the method to be the same as the original method the Buddha used to attain enlightenment, which was lost and then rediscovered by Luang Pu Sodh in the 1910s.

The most important aspect of the meditation method is the focus on the center of the body, which leads to the attainment of the Dhammakāya, the Dhamma-body, found within every human being.

The Dhammakaya tradition believes the meditation technique leads to the attainment of Nirvana, and in advanced stages, can give the meditator various supernatural abilities, or abhiñña.

Dhammakaya meditation is taught at several temples of the tradition, and consists of a stage of samatha (tranquility) and vipassana (insight), following the structure of the Visuddhimagga, a standard fifth-century Theravāda guide about meditation. In the method, the stages are described in terms of inner bodies (Pali: kāya), but also in terms of meditative absorptions (Pali: jhānas).

Scholars have proposed several possibilities for the origin of the method, with the Yogavacara tradition as the likely source, as well as acknowledging that Luang Pu Sodh may have independently developed it through his own psychic experiences.

Dhammakaya meditation has been the subject of considerable discussion among Buddhists as to its authenticity and efficacy, and also has been the subject of several scientific studies...

In 19th and early 20th-century Thailand, public perception of the practice of Buddhism changed. Originally, Thai people saw meditation mostly as a personal and quite esoteric practice. In response to threats of colonial powers, the Thai kings and the reformed Dhammayut fraternity attempted to modernize Buddhism. Mahayana and Tantric practices were considered "devotional and degenerate", while the orthodox Theravada tradition as the more legitimate one with closed canonical scriptures.

The royal family of Thailand sought to reform Thai Buddhism with its ritualized and mystical practices, encouraging instead the direct study and adherence to the Pali canonical and commentarial texts. This was, in part, similar to the European Protestant tradition, reaching back to normative scriptures, in this case the 5th-century Visuddhimagga of Buddhaghosa. In this process, meditation tradition was devalued among monastics, as the study of scriptures was more valued. Thai temples in the Mahānikāya fraternity were forced to adjust to new reforms, including the meditation method used and taught. Education in Buddhist doctrine was standardized and centralized, and some local meditation lineages such as of Ajarn Mun gradually died out.

Meditation traditions responded by reforming their methods, and looking for textual support for their meditation system in the Buddhist scriptures, in an attempt to establish orthodoxy and survive. Meditation became less esoteric, as temple traditions and their local teachers adapted to this pressure for uniform orthodox meditation practice.

According to biographies published by Dhammakaya-related temples, the principles of Dhammakaya meditation were rediscovered by Luang Pu Sodh at Wat Botbon, in Nonthaburi Province sometime between 1915–1917. The tradition was started by Luang Pu Sodh Candasaro in the early twentieth century.

One night, after three hours of meditating on the mantra sammā araham, "his mind [suddenly] became still and firmly established at the very centre of his body," and he experienced "a bright and shining sphere of Dhamma at the centre of his body, followed by new spheres, each "brighter and clearer." According to Luang Pu Sodh, this was the true Dhamma-body, or Dhammakaya, the "spiritual essence of the Buddha and nibbana [which] exists as a literal reality within the human body," what became known as the attainment of the Dhammakaya, the eternal Buddha within all beings. The dhammakaya is Nibbāna, and Nibbāna is equated with the true Self (as opposed to the non-self).

-- Dhammakaya meditation, by Wikipedia
Since the 2000s, some scholars have pointed out that Luang Pu Sodh also played an important role in introducing Theravāda Buddhism in the West, a point previously overlooked.[8][9]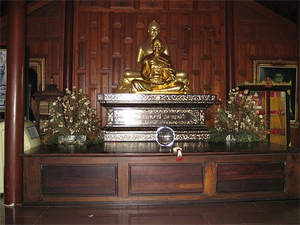 An image of Luang Pu Sodh at Wat Song Phi Nong, the temple at his birthplace
Biography

Early life
According to traditional biographies, Luang Pu Sodh was born as Sodh Mikaewnoi[note 3] on 10 October 1884 to a relatively well-off family of rice merchants in Amphoe Song Phi Nong, Suphan Buri, a province 102 kilometres (63 mi) west of Bangkok in central Thailand. His father was called Ngen and his mother Soodjai. When he was nine years old, he received his first schooling in the temple in his village, by his uncle who was a Buddhist monk. He therefore became familiar with Buddhism from an early age. He also showed qualities of being an intelligent autodidact.[8][10][11] Another habit of him was that he was compassionate towards animals. For example, he would not allow them to be in the sun too long or put them to work for too long.[12]
When Sodh's uncle moved to Wat Hua Bho, he took Sodh with him to teach him further. After a while his uncle left the monkhood, but Ngen managed to send Sodh to study with Luang Por Sap, the abbot of Wat Bangpla. This is where Sodh learnt the Khmer language. When he was 13 years old, he finished his Khmer studies there and returned home to help his father. Father Ngen ran a rice-trading business, shipping rice by boat from Suphanburi to sell to mills in Bangkok and Nakhon Chai Si District. At the age of 14, Ngen died, and Sodh had to take responsibility for the family business, being the first son. This affected him: thieves and other threats brought home to him the futility of the household life, and at the age of 19, he desired to be ordained as a monk.[13] One day he was particularly aware of the risk of thieves that might steal his rice and the crew being killed in the process, and he imagined what would happen if he would die that day. Then he took a vow that as long as he would survive his job, he would attempt to become ordained.[14] He had to take care of his family first though, and saved up enough money for them that he would able to leave them.[8][10] The biography of Wat Phra Dhammakaya says that he had to calculate the rate of inflation for this, and work harder than before, but finally managed to gather enough funds when he was 22 years old.[15] He left the family company in the hands of employees he trusted.[16]
Ordination
Sodh was ordained at Wat Songpinong in his hometown and was given the Pāli language monastic name Candasaro Phra (phra meaning 'monk, venerable') Sodh started to study meditation and scripture, as he came across a word in Pāli language which drew his attention: aviccāpaccaya ('the factor of ignorance'). He wanted to know the meaning of the word, but his local fellow monks could not answer his question. They recommended him to further his studies in Bangkok to find an answer, which is what he did, though his mother was unwilling to see him leave.[17]
In the area of Bangkok, Phra Sodh studied both under masters of the oral meditation tradition as well as experts in scriptural analysis, which was uncommon during that period.[18] He learnt about a broad range of things. He also learnt many traditional arts and lores that were taught in Buddhist temples in those days, including astrology and magical practices, but later devoted himself to meditation only.[19] In his autobiographical notes, he wrote that he practiced meditation every day, from the first day following his ordination.[20]
After his third year after monk's ordination, Phra Sodh traveled to many places in Bangkok to study scriptures and meditation practice with teachers from established traditions. He studied scriptures at Wat Pho, Wat Arun, Wat Mahadhatu, among others, and learnt about meditation during approximately 10 years (at eight temples, including Wat Ratchasittharam [th], Wat Pho and Wat Chakkrawat [th; de].[21] At Wat Ratchasittharam, he studied a visualization meditation method with Luang Por Aium, and experienced a development in meditation regarded as important. Buddhist Studies scholar Catherine Newell states that he perceived a sphere of light there in meditation, seen as a sign of progress in meditation,[22][note 4] but a traditional biography written in the time of Luang Pu Sodh states this perceived breakthrough occurred at a lesser known temple called Wat Lakhontham.[24] Buddhist Studies scholars Kate Crosby and Newell argue Wat Ratchasittharam to be crucial in Luang Pu Sodh's development, where he learnt practices of Yogavacara.[8][25]
In his first years as a monk, living at Wat Pho, he had difficulty obtaining food on traditional alms rounds, where monks go house to house looking for laypeople to offer them food. This hardship led him to resolve that he would one day build a kitchen for monastics, who would then enjoy convenience in the spiritual life.[26][27] During the same period, Phra Sodh persuaded his younger brother and novice (Thai: สามเณร, romanized: samanen) Samruai to join him at Wat Pho, which he did. However, in his fourth year as a monk, both Phra Sodh and his brother Samanen Samruai fell seriously ill because of smallpox. They went to a nearby hospital, and Phra Sodh recovered, but his brother did not. As a last resort, Phra Sodh brought his brother back home to Song Pi Nong to recover there, but to no avail: Samanen Samruai died, 18 years old. Before the two got ill, Phra Sodh had a dream that someone offered a bag of sand to them as a gift. He ate one handful of sand from the bag, but his brother ate two.[19]
Development of Dhammakāya meditation
See also: Dhammakaya meditation § The samatha stage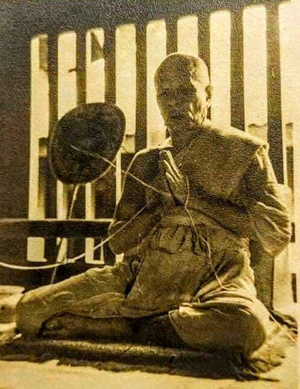 Luang Pu Sodh chanting a text after the meal
Although Phra Sodh had studied with many masters, and had mastered many important Pāli texts, he was not satisfied. He withdrew himself in the more peaceful area of his hometown twice. Some sources state he also withdrew himself in the jungles to meditate more, but Newell doubts this.[4][28]
In the 11th rains retreat (vassa) after his ordination, in 1916, he stayed at Wat Botbon at Bangkuvieng, Nonthaburi Province. Wat Botbon was the temple where he used to receive education as a child.[29] As seen from Luang Pu Sodh's autobiographical notes, he reflected to himself that he had been practicing meditation for many years and had still not understood the essential knowledge which the Buddha had taught.[20]

Thus, on the full-moon day in the 10th lunar month of 1916, he sat down in the main shrine hall of Wat Botbon, resolving not to waver in his practice of meditation. He meditated for three hours on the mantra sammā araham, which means "righteous Absolute of Attainment which a human being can achieve."[30] Then "his mind [suddenly] became still and firmly established at the very centre of his body," and he experienced "a bright and shining sphere of Dhamma at the centre of his body, followed by new spheres, each "brighter and clearer."[30] According to Luang Pu Sodh, this was the true Dhamma-body, or Dhammakāya, the "spiritual essence of the Buddha and nibbana [which] exists as a literal reality within the human body,"[30][4][31] and the true Self (as opposed to the non-self).[32][note 5] According to Mackenzie, "Luang Phaw Sot sought to relate his breakthrough to the Satipaṭṭhāna Sutta. He interpreted a phrase which is normally understood as 'contemplating the body as a body' as 'contemplating the body in the body'[30].

Convinced that he had attained the core of the Buddha's teaching, Phra Sodh started a new chapter in his life, which marked the start of Dhammakāya meditation as a tradition.[4][31] Phra Sodh devoted the rest of his life to teaching and furthering the depth of knowledge of Dhammakāya meditation, a meditation method which he also called Vijjā Dhammakāya, 'the direct knowledge of the Dhammakāya'. Temples in the tradition of Wat Paknam Bhasicharoen, together called the Dhammakaya tradition, believe that this method was the method the Buddha originally used to attain enlightenment, but was lost 500 after the Buddha passed away.[34][4]
The event of the attainment of the Dhammakāya is usually described by the Dhammakaya tradition in miraculous and cosmic terms. For example, it is mentioned that heavy rains preceded the event.[35]
Life as an abbot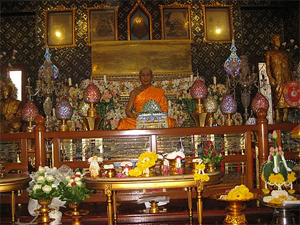 Statue of Luang Pu Sodh Candasaro at Wat Paknam Bhasicharoen, placed above his coffin.
Phra Sodh spent much time teaching. Even when he was still at Wat Pho, he would teach Pāli language in his own monastic cell to other monks and novices.[1] He had also restored an abandoned temple in his hometown Song Phi Nong and set up a school for Buddhist studies for lay people in Wat Phrasriratanamahathat in Suphanburi. He enrolled for the reformed Pāli examinations, but did not pass. He did not enroll again, even though he was a more than capable scholar: he believed that having obtained an official Pāli degree, he might be recruited for administrative work in the Saṅgha (monastic community), which he did not aim for.[8][36] Phra Sodh recalled that if he had passed, it would have been detrimental for his meditation practice. Newell suggests that he may have failed the exam on purpose in response to ongoing monastic reforms.[8][37]
Nevertheless, because of his work, he was noticed by leading monks in the Saṅgha.[38] Still
in 1916, Somdet Phuean, the monastic governor of Phasi Charoen and one of Phra Sodh's teachers, appointed Phra Sodh as a caretaker abbot (Thai: ผู้รักษาการเจ้าอาวาส) of Wat Paknam Bhasicharoen
, then located in Thonburi.[39] Somdet Phuean did not want Phra Sodh to travel around without belonging to a single temple, and having a position as a caretaker abbot would connect Phra Sodh's life to one.[40] Initially, Somdet Phuean appointed Phra Sodh for a temporary position of only three months, to which Phra Sodh reluctantly agreed. However,
shortly after Phra Sodh had installed himself in Wat Paknam, Somdet Phuean gave him the full position of abbot.
To make it impossible to leave the job, in 1921, Somdet Phuean gave an honorary title to Phra Sodh that was connected with the position: "Phrakhru Samanadham-samathan".[41] However, Phra Sodh is usually referred to as "Luang Por Sodh" or "Luang Pu Sodh".
In 1916, Thonburi was not part of Bangkok yet, and had no bridge to connect it to Bangkok.[8] Wat Paknam looked neglected, with grass growing on the buildings, and only 13 monks lived there.[42] Wat Paknam faced social and disciplinary problems, and required a good leader.[1] Luang Pu Sodh promoted and enforced strict monastic discipline.[3][43]

He was able to change Wat Paknam Bhasicharoen, a temple that was almost vacant, into a temple with hundreds of monks, a school for Buddhist studies, but also a government-approved primary school with a mundane curriculum, and a kitchen to make the temple self-sufficient.[1][44] Apart from monastic residents, the kitchen would also provide food for all the lay visitors of the temple.[45]
The fact Luang Pu Sodh was able to provide for his monks and novices through a kitchen was a feat at the time, when most monastics would have to rely on alms. Later, after Luang Pu Sodh's death, Phra Thammathassanathon, then abbot of Wat Chana Songkhram, admitted that this achievement made him want to know more about Luang Pu Sodh and keep in contact with him.[40]
Wat Paknam became a popular center of meditation teaching.[8] Luang Pu Sodh emphasized the development of people more than construction:[46] besides developing a large community of monks in the temple (in 1959, 500 monks, the highest in Thailand at the time),[47] he also set up a community of mae chis (nuns), with separate monastic cells and meditation rooms. Mae chis played an important role in Wat Paknam's propagation of Buddhism.[48]

In the first period, Luang Pu Sodh's work was not appreciated by the monastic governor of the village, some other monks and many lay people who, according to biographies, formerly ran illegal businesses within the temple and did not appreciate Luang Pu Sodh changing the temple. Once he was even shot at, though not hurt.[49]
[note 6] Luang Pu Sodh had such a strong relationship with the temple, that he hardly ever left it. He seldom accepted invitations that involved accommodation outside the temple.[43] He became known for his motto "We monks should not fight back, neither flee, and we will win each time".[51]
Soon after his appointment as temporary abbot, he was appointed fully as abbot of Wat Paknam, where he remained until his death in 1959.[7] For his life and work he was given monastic and royal honorific names, that is Phrakhru Samanadham-samathan (in 1921), Phrabhavanakosolthera (in 1949), Phramongkolratmuni (in 1955), and finally Phramongkolthepmuni (in 1957).[52][53][54] The last three royal titles were given late, due to the fact that the temple was not under royal patronage, and therefore received less attention from the royal family than other temples.[55][56][note 7]
Teaching meditation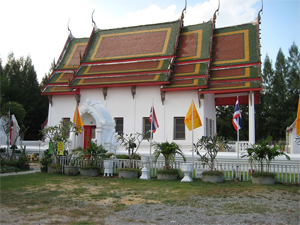 The Ubosot hall of Wat Bot Bon
During a ministry of over half-a-century, Luang Pu Sodh taught Dhammakāya meditation continuously, guiding meditation every Thursday and preaching on Buddhism on Sundays and uposatha days. Luang Pu Sodh would distribute an introductory book about meditation to practitioners.[57]
At first, the Dhammakāya meditation method drew criticism from the Thai Saṅgha authorities, because it was a new method.[58] Discussion within the Saṅgha led to an inspection at Wat Paknam, but it was concluded that Luang Pu Sodh's method was correct.[31]

In teaching meditation, Luang Pu Sodh would challenge others to meditate so that they might verify for themselves the benefits of Dhammakāya meditation. He organized a team of his most gifted meditation practitioners and set up a 'meditation factory of direct knowledge' (Thai: โรงงานทำวิชชา). These practitioners, mostly monks and mae chis, would meditate in an isolated location at the temple, in shifts for 24 hours a day, one shift lasting for six hours.[59][60] Their "brief" was to devote their lives to meditation research for the common good of society.

In the literature of the Dhammakāya tradition many accounts are found about Dhammakāya meditation solving problems in society and the world at large. Dhammakāya meditation was—and still is—believed to bring forth certain psychic powers (Pali: abhiññā), such as travelling to other spheres of existence, and reading people's minds.[61][62] Publications describe that Dhammakāya meditation was used during the Second World War to prevent Thailand from being bombed. Luang Pu Sodh also used meditation in healing people, for which he became widely known.
[58][63][64] An often quoted anecdote is the story of Somdet Puean, the abbot of Wat Pho, who, after meditating with Luang Pu Sodh, recovered from his illness.[65] An important student in the meditation factory was Maechi Chandra Khonnokyoong, who Luang Pu Sodh once described as "first among many, second to none" in terms of meditation skill, according to the biography of Wat Phra Dhammakaya.[66]
Death
In 1954, Luang Pu Sodh made an announcement that he would die soon, and instructed his students to continue their duties without him, especially to propagate Dhammakāya meditation.[43][67] A year later, he began to suffer from a disease and his condition became less and less stable.[40] In 1956, he was diagnosed with hypertension and spent some time in a military hospital.[68] He complained little and was in good spirits, eventually dying in peace on 3 February 1959 in Wat Paknam.[40] His body was not cremated as was common, but embalmed, so that after his death people would still come to see his coffin and support Wat Paknam.[8]
Legacy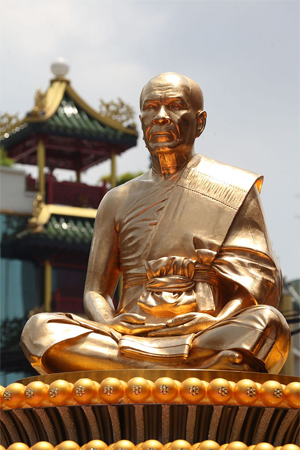 Golden statue of Luang Pu Sodh Candasaro, as used in a ceremony organized by Wat Phra Dhammakaya
Besides meditation, Luang Pu Sodh promoted the study of Buddhism as well. In this combination
he was one of the pioneers in Thai Buddhism.[69] In 1939, Luang Pu Sodh set up a Pāli Institute at Wat Paknam, which is said to have cost 2,500,000 baht. Luang Pu Sodh financed the building through the production of amulets, which is common in Thai Buddhism. [70] The institute became the most modern educational institute in Buddhism for that time.
[40] The kitchen which he built was the fulfillment of an intention which he had since his first years at Wat Pho, when he experienced difficulty in finding food. It also resulted in monks having more time to study Buddhism.[8]
Luang Pu Sodh took part in the construction of the Phutthamonthon, an ambitious project of Prime Minister Phibun Songkhram in the 1950s. The park was built to host the 2500 Buddha Jayanti celebrations.


Phutthamonthon (Thai: พุทธมณฑล, pronounced [pʰút.tʰā.mōn.tʰōn]; also spelled Buddha Monthon; from Sanskrit Buddha Máṇḍala, 'Buddha's sphere') is a Buddhist park in the Phutthamonthon District, Nakhon Pathom Province of Thailand, west of Bangkok. It is highlighted by a 15.87 m (52 ft) high Buddha statue by Corrado Feroci, which may be the tallest free-standing Buddha statue in the world.



The park was created in 1957 (the year 2500 in the Thai Buddhist Era) on the basis of an idea of Thailand's prime minister, Phibunsongkhram.

The park covers an area of about 400 hectares, which in traditional Thai units is 2500 rai. Construction started 29 July 1955, and the park was inaugurated on the Vaisakh Bucha day, 13 May 1957.

-- Phutthamonthon, by Wikipedia
Judging from
the chapel at the centre of the Phutthamonthon, dedicated to Luang Pu Sodh and Dhammakāya meditation
, as well as the amulets Luang Pu Sodh issued to raise funds for the park, Newell speculates
Luang Pu Sodh assumed a significant role in building the park and had an important relation with PM Phibun [Prime Minister Phibun Songkhram].
[71]


Field Marshal Plaek Phibunsongkhram (Thai: แปลก พิบูลสงคราม [plɛ̀ːk pʰí.būːn.sǒŋ.kʰrāːm]; alternatively transcribed as Pibulsongkram or Pibulsonggram; 14 July 1897 – 11 June 1964), locally known as Marshal P. (Thai: จอมพล ป.;[tɕɔ̄ːm.pʰōn.pɔ̄ː]), contemporarily known as Phibun (Pibul) in the West, was a Thai military officer and politician who served as the Prime Minister of Thailand and dictator from 1938 to 1944 and 1948 to 1957.

Phibunsongkhram was a member of the Royal Siamese Army wing of Khana Ratsadon, the first political party in Thailand,...



Khana Ratsadon (Thai: คณะราษฎร, pronounced [kʰā.náʔ râːt.sā.dɔ̄ːn]; meaning 'People's Party') was

a Siamese group of military and civil officers, and later a political party, which staged a bloodless coup against King Prajadhipok's government and transformed the country's absolute monarchy to constitutional monarchy on 24 June 1932.

In 1927, the Kingdom of Siam was under the absolutist rule of the House of Chakri, under King Prajadhipok, Rama VII. Under his reign, the nation experienced troubles stemming from an archaic government confronted with serious economic problems and threats from abroad, the British and French Empires. The country was also experiencing a dramatic social change as the urban and middle classes of Bangkok were starting to grow, slowly demanding more rights from their government, criticizing it as ineffective. These changes were mostly led by men, civilians and military, who had graduated or travelled abroad. They wanted to transform Siam into a modern country along the lines of a Western democracy.

In February 1927, a group of seven Siamese students, later known as the "promoters", met at a hotel on the Rue Du Sommerard in Paris and founded what would become Khana Ratsadon. For five days they met and proposed arguments for and against various aspects of the movement, the men were:

1. Lieutenant Prayoon Pamornmontri (Thai: ร.ท. ประยูร ภมรมนตรี), Army officer, formerly of King Vajiravudh's Royal Guards
2. Lieutenant Plaek Khittasangkha (Thai: ร.ท. แปลก ขีตตะสังคะ), later Luang Phibulsonggram, Army officer, student, School of Applied Artillery, France
3. Lieutenant Thatsanai Mitphakdi (Thai: ร.ต. ทัศนัย มิตรภักดี), Army officer, student, French Cavalry Academy
4. Tua Lophanukrom (Thai: ตั้ว ลพานุกรม), scientist studying in Switzerland
5. Luang Siriratchamaitri (Thai: หลวงสิริราชไมตรี), diplomat, officer at the Siamese Embassy in Paris
6. Naep Phahonyothin (Thai: แนบ พหลโยธิน), law student studying in England
7. Pridi Banomyong (Thai: ปรีดี พนมยงค์), law student studying at the Institut d'Études Politiques de Paris

The revolutionaries made Pridi Panomyong their president and termed themselves the "promoters" (Thai: ผู้ก่อการ; RTGS: Phu Ko Kan).

Praditmanutham (Thai: หลวงประดิษฐ์มนูธรรม) was a Siamese/Thai politician and professor.[2]:13 He was a Thai Regent, prime minister and senior statesman of Thailand; he also held multiple ministerial posts.

He was a leader of the civilian wing of Khana Ratsadon, founder of University of Moral and Political Sciences and Bank of Thailand.

Born to a poor family of farmers in Ayutthaya Province, he nonetheless received good education. He became one of the nation's youngest barristers in 1919, at the age of nineteen. In 1920, he won scholarship to study in France, where he graduated from University of Caen with a master's degree, and completed his doctorage from University of Paris in 1927. In the same year, he co-founded Khana Ratsadon with the same-minded Siamese overseas students. After returning to Siam, he worked as a judge, judicial secreteriat, and professor.

In the aftermath of 1932 Siamese Revolution, he played an important role in drafting two of the country's first constitutions, and proposed a socialist economic plan. The stark reaction to the plan made him briefly self-exiled. He then took many ministerial posts in Khana Ratsadon's governments. His significant contributions include, but not limited to, modernizing of Thai legal codes, laying foundation for the country's local government system, negotiation to cancel unequal treaties with the West, and tax reform.

He then diverged from Plaek Phibunsongkhram after his tendency for dictatorship, he was made a reagent during 1941 to 1945, a post deemed powerless, and leader of domestic Free Thai Movement during World War II.

His move to legitimate Phibun's [Plaek Phibunsongkhram] declaration of war against the Allies proved fruitful and after the war, the King revered him as a senior statesman.

He became a Prime Minister for a brief period in 1946. His political opponents painted him as the mastermind behind the assassination of King Ananda Mahidol. The coup in 1947 cost him his political power. An attempt to stage a counter coup in 1949 was failed and he continued to live in exile since. He died in Paris, France in 1983.

His ash was brought to Thailand in 1986.

His image ranged from a anti-monarchist democrat to a republican. His branding as a communist and a mastermind of a King's death was a political dirt which his opponents continued to weaponize even after his death. However, he won every libel lawsuit in Thailand filed against those who advertise it.

He became a symbol of resistance against military dictatorships, as well as a symbol of liberalism, and Thammasat University. The centenary of his birth was celebrated by UNESCO in 2000.

-- Pridi Banomyong, by Wikipedia

The party determined a sixfold objective which was later called the "Six Principles" (Thai: หลักหกประการ; RTGS: Lak Hok Prakan), as follows:

1. To maintain the supreme power of the Thai people.
2. To maintain national security.
3. To maintain the economic welfare of the Thai people in accordance with the National Economic Project.
4. To protect the equality of the Thai people.
5. To maintain the people's rights and liberties, insofar as they are not inconsistent with any of the above-mentioned principles.
6. To provide public education for all citizens.

To achieve these goals, the party determined that they must overthrow, using force if necessary, the present government and the system of absolute monarchy and turn the Asian kingdom into a modern constitutional monarchy. Most of the members were students educated abroad, mostly in the United Kingdom and France.

When the group returned to Siam, they enlisted members from among the army and navy, the merchant class, civil servants and others. Their membership eventually reached 102, separated into four main branches. These included the civilians, led by Pridi Banomyong; the navy, led by Luang Sinthusongkhramchai; the junior army officers, led by Major Phibulsonggram; and finally the senior officers, led by Colonel Phot Phahonyothin.

-- Khana Ratsadon, by Wikipedia



and a leader of the Siamese revolution of 1932 transforming Thailand from an absolute monarchy to a constitutional monarchy. Phibun became the third Prime Minister of Thailand in 1938 as Commander of the Royal Siamese Army, established a de facto military dictatorship inspired by the Italian fascism of Benito Mussolini, promoted Thai nationalism and sinophobia,...



Anti-Chinese sentiment or Sinophobia (from Late Latin Sinae "China" and Greek φόβος, phobos, "fear") is a sentiment against China, its people, overseas Chinese, or Chinese culture. It often targets Chinese minorities living outside of China and involves immigration, development of national identity in neighbouring countries, disparity of wealth, the past central tributary system, majority-minority relations, imperial legacies, and racism.

-- Anti-Chinese Sentiment, by Wikipedia





and allied Thailand with Imperial Japan in World War II.

Phibun launched a modernization campaign known as the Thai Cultural Revolution that included a series of cultural mandates, changing the country's name from "Siam" to "Thailand", and promotion of the common Thai language.

Phibun was ousted as Prime Minister by the National Assembly in 1944 and replaced by members of the Free Thai Movement until

returning to power in the Siamese coup d'état of 1947 led by the Coup Group.





Thailand's Coup Group was composed of powerful military officers who planned and carried out a coup d'état in November 1947. Their prestige and influence were quickly enhanced by Field Marshal Plaek Phibunsongkhram's return to politics. They would however outlast him and dominate Thai politics for the next two decades. Most would eventually receive high ranks, becoming generals and field marshals.

The Coup Group consisted of approximately forty junior army officers led by a small number of commanding officers, many of whom had been forced into retirement by Pridi Phanomyong at the end of the Second World War—men with little other than conspiracy to keep themselves occupied.

The coterie's leading members were Field Marshal Sarit Thanarat, commander of the Bangkok-based First Division, Police General Phao Siyanon, the powerful chief of police, Field Marshal Phin Chunhawan, Phao's father-in-law, the politically prominent Lieutenant-General Kat Katsongkhram, and Marshal of the Royal Thai Air Force Fuen Ronnaphakat, the air force's combat-experienced commander.

-- 1947 Coup Group (Thailand), by Wikipedia





Phibun aligned Thailand with anti-communism in the Cold War, entered the Korean War under the United Nations Command, and abandoned fascism for a façade of democracy.

Phibun's second term as Prime Minister was plagued by political instability and was subject to several attempted coup d'etats to remove him including the Army General Staff plot in 1948, the Palace Rebellion in 1949, and the Manhattan Rebellion in 1951. Phibun attempted to transform Thailand into a electoral democracy from the mid-1950s, but was overthrown in 1957 and entered exile in Japan where he died in 1964.

Phibun is the longest serving Prime Minister of Thailand to-date at 15 years and one month.

-- Plaek Phibunsongkhram, by Wikipedia
According to the biography by Wat Phra Dhammakaya, Luang Pu Sodh did not endorse "magical practices" that are common in Thai Buddhism, such as fortune-telling and spells for good luck. He did, however, often heal people through meditation, and Luang Pu Sodh's amulets were—and are still—widely venerated for their attributed powers.[55][72]