Antoine Polier
by Wikipedia
Accessed: 8/31/20
In 1781–82 Antoine-Louis-Henri Polier, a Swiss Protestant who served in the English East India Company's army until 1775, had had copies of the Vedas made for him at the court of Pratap Singh at Jaipur. Polier's intermediary was a Portuguese physician, Don Pedro da Silva Leitão… Jai Singh had assembled a substantial collection of manuscripts from religious sites across India, and in the time of his successor Pratap Singh the library had contained the samhitas of all four Vedas in manuscripts dating from the last quarter of the seventeenth century…

Polier records that he had sought copies of the Veda without success in Bengal, Awadh, and on the Coromandel coast, as well as in Agra, Delhi, and Lucknow and had found that even at Banaras "nothing could be obtained but various Shasters, [which] are only Commentaries of the Baids"…

It is perhaps significant that it was in a royal library, rather than in a Brahmin pathasala, that Polier found manuscripts of the Vedas. But the same is not true of the manuscripts acquired in Banaras only fifteen years later by Henry Thomas Colebrooke, during the period (1795–97) when he was appointed as judge and magistrate at nearby Mirzapur…

I cannot conceive how it came to be ever asserted that the Brahmins were ever averse to instruct strangers; several gentlemen who have studied the language find, as I do, the greatest readiness in them to give us access to all their sciences. They do not even conceal from us the most sacred texts of their Vedas.

The several gentlemen would likely have included General Claude Martin, Sir William Jones, and Sir Robert Chambers. These were all East India Company employees who obtained Vedic manuscripts (Jones from Polier) in the last decades of the eighteenth century.

Why was it so much easier for Polier, Colebrooke, and others to obtain what it had been so difficult for the Jesuits and impossible for the Pietists?...-- The Absent Vedas, by Will Sweetman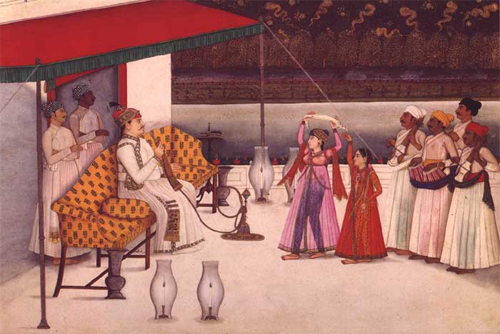 Colonel Antoine-Louis Henri de Polier
Col. Polier's Nautch (Lucknow, c.1780), painted by Mihr Chand
Born: 1741m Lausanne
Died: 7 February 1795, France
Occupation: Engineer
Spouse(s): three
Children: three
Colonel Antoine-Louis Henri de Polier (1741–1795) was a Swiss adventurer,...
Adventurer: a person who enjoys or seeks adventure; a person willing to take risks or use dishonest methods for personal gain

; "a political adventurer"; a financial speculator.

-- Adventurer, by Google
art collector, military engineer and soldier who made his fortune in India in the eighteenth century. He was the father of Count Adolphe de Polier.
Early life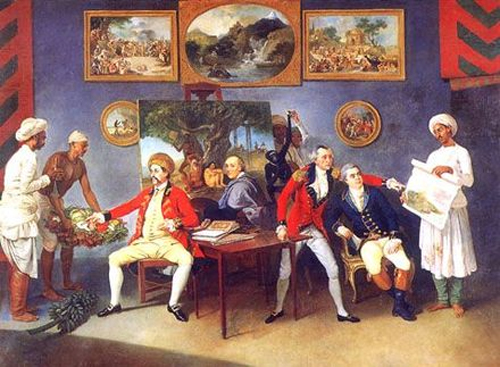 Antoine Polier, General Claude Martin, John Wombwell, assay master, and Johann Zoffany, the painter, surrounded by servants and Polier's art collection.
Antoine-Louis was born in Lausanne[1] from a French Huguenot family who emigrated to Switzerland in the mid 16th century to escape the wars of religion.
He was the youngest son of Jacques-Henri de Polier and his wife Jeanne-Françoise Moreau. He later learned Hindi and Persian.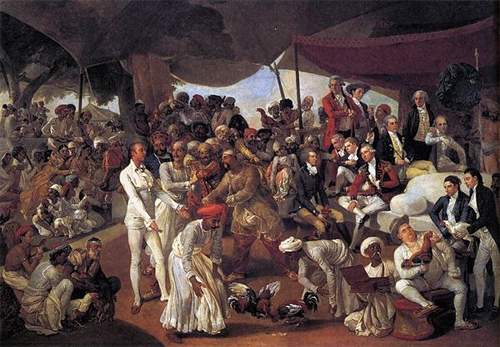 Colonel Mordaunt's cockfight by Johann Zoffany[2]
Antoine Polier was an engineer from Lausanne who supported the military adventures of Robert Clive and later became a rich trader and loyal supporter of the British Raj administration in Calcutta. He devoted his free moments to collecting rare manuscripts in Sanskrit, Persian and Arabic. Many were sent back to France to augment the growing collection in the Royal Library.
France was now the center for the study of ancient Indian languages and its 'orientalism' spread to Germany in the early 1800s as Europe began to show a keen interest in early Indian-Persian-Zoroastrian origins.[1]
In India, he had two Indian wives, Jugnu and Zinat,[3] one senior and one junior and three (or possibly, four) children who were all baptized in Calcutta. He acquired a large art collection and became rich working for the Indian royalty. In 1788 he left his Indian wives with his loyal companion and fellow enlightened adventurer, Claude Martin,[3]
and settled in France with an unfortunate timing as he arrived in time for the French revolution. Having purchased a chateau and taking a French wife and two children, Charles de Polier and Adolphe de Polier. He was assassinated in Avignon on February 9, 1795, in the terror that followed the French revolution.[4]
Legacy
His collection of miniatures are in Berlin.
See also
• Claude Martin
References
1. Maya Jasanoff, 'Edge of Empire: Conquest and Collecting on the Eastern Frontiers of the British Empire, 1750-1850' Fourth Estate
2. Colonel Mordaunt's Cock Match circa 1784-6, Terry Riggs, October 1997, Tate.org.uk, accessed April 2010
3. A Man of the Enlightenment in 18th Century India: The Letters of Claude Martin, 1766-1800. Retrieved 2007-05-17.
4. William Dalrymple 'Antoines Junior Bibi' Sept 27 2002 Timesonline accessed July 2007
Further reading
• A European Experience of the Mughal Orient: The I'jaz-i Arsalani (Persian Letters, 1773–1779) of Antoine-Louis-Henri Polier - Translated with an introduction by Muzaffar Alam and Seema Alavi. Pub.Oxford University Press ISBN 0-19-564980-X
Jean-Marie Lafont, Indika. Essays in Indo-French Relations 1630-1976. New Delhi 2000. [An extremely useful book outlining French activities in India during Polier's time] ISBN 81-7304 278 0