Part 4 of 4
Grenada, Airport '83: Reagan's Big Lie
by Clarence Lusane
The Reagan administration and western mass media have unleashed a tidal wave of negative propaganda against Grenada in recent months, a well orchestrated onslaught of innuendos and spectacular lies.
From the bellicose speeches of President Reagan and nearly every high official in his administration to the front pages of the U.S.'s largest newspapers, Grenada has been insulted, maligned, and misrepresented.
• November, 1982, Vice-President George Bush, speaking before a Miami conference on the Caribbean, stated that Grenada's economy was bankrupt and the government was repressive.
• On February 22, 1983, in a speech before Florida Republicans, Deputy Assistant Secretary of Defense for Inter-American Affairs Nestor Sanchez accused Grenada of being a surrogate of Cuba.
• In the USIA's March, 1983 publication, Soviet Military Power, Defense Secretary Caspar Weinberger claimed that the Grenadian government was engaged in a rapid military buildup.
• On March 9th, Weinberger told
the Voice of America
that military assistance from Cuba and the Soviet Union to the tiny island of Grenada had no other explanation than a projection of Soviet power in the region.
• On March 10th, President Reagan charged that Grenada was building a superior naval base.
• On March 14th, Under-Secretary of Defense Fred Ikle displayed aerial photos of the "Soviet-Cuban presence" in Grenada to the Senate Foreign Relations Committee.
• On March 23rd, in a televised statement, Reagan again referred to a rapid military buildup in Grenada and its threat to U.S. oil supply routes.
Going far beyond the economic and diplomatic obstacles erected after the March 1979 revolution, the U.S. government and its media allies have embarked on a sustained and hysterical campaign against the entire Grenadian people.
In the past, administration and press assaults against Grenada focused on the usual human rights and press censorship bogeys. Additionally, in the last year the U.S. government accused the People's Revolutionary Government (PRG) of turning the island into a military base for Cuban and Soviet armed forces.
At the heart of this media bombardment was the attempt to demonstrate the propaganda line that the new international airport being constructed at Point Salines with the aid of Cuban workers was really to be used as a refueling station for Soviet-built Cuban jets. From this perverse logic came the desired conclusion that the airport (and Grenada) threatened the national security of the U.S.
For U.S. military and political leaders the airport is a "cocked pistol." In his March 23rd speech before
the National Association of Manufacturers
,
Reagan said as much. He argued that Grenada was building naval stations, air bases and army barracks to be used by "the enemy." Their goal, he said, was to tie down U.S. armed forces in defending the southern border if the Soviets attacked Western Europe.
The Caribbean is our fourth border, he said.
Nestor Sanchez echoes his boss's sentiments. In a February 27, 1983 Washington Post article, he is quoted as saying that "The Cubans are constructing air and naval facilities there that far exceed the requirements of the tiny island."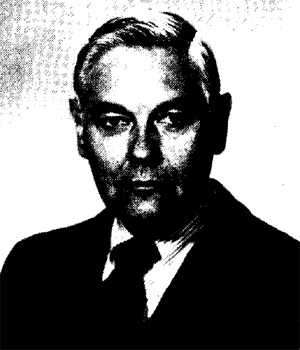 Nestor Sanchez, a spy for 28 years, now concentrating his efforts against the Caribbean and Latin America
Sanchez, a former CIA intelligence officer with a long history of organizing covert operations in Latin America and the Caribbean, helped to coordinate the bungled
Bay of Pigs invasion
and years of secret attacks on Cuba from Florida. In 1965, he was sent to Venezuela for counterinsurgency work and then on to Guatemala to crush the military advances of the Revolutionary Armed Forces (FAR). One of his proteges during that period was Efrain Rios Montt, now the psychotic president of Guatemala.
In 1981, Sanchez was also stationed in Madrid, Spain and then in Colombia. (See CAIB No. 4.) After 28 years as a CIA officer, he was named to his current position. A strident anti-communist, he still has close ties to the leadership of the counter-revolutionary Cubans operating out of Miami, often speaking at their gatherings.
The Truth About the Airport
Most of the U.S. press has accepted without challenge the fiction that the Grenadian airport is a Soviet-Cuban military base. But as we shall prove, the holes in this story are big enough to fly a B1 bomber through.
The tourist dependent economy of Grenada suffered under the pre-revolutionary regime's refusal to construct an airport which would adequately accommodate tourist flights. The current airport, built in 1943, is only 5,255 feet long -- too short to handle large commercial jets. Most tourists come to the Caribbean in large, wide-bodied passenger planes like DC-10s, Lockheed 1011s and Boeing 747s, which require runways from 8,000 to 10.000 feet. Grenada's new planned runway will be 9,000 feet, the same as that of the airports on Antigua, Aruba, and St. Lucia. It will be smaller than that of Barbados (11,000) and Trinidad (10,900). The old airport has no night landing facilities and is an hour and a half from St. George's, the capital. Surrounded by mountains and water, the old airport is not expandable. Over the years studies by Canadian, British, French and Grenadian engineers and by the World Bank all concluded that a new, modern and large international airport was essential to stimulating Grenadian economic development.

The Reagan administration claims that the airport is a Cuban-Soviet project for airlifting Cuban soldiers for battle in Africa. As the Grenadians have pointed out, this is a total fabrication. First, the Cubans already use the International airport in Barbados on their way to Europe and Africa. And Barbados remains one of the U.S.'s closest allies in the Caribbean. Second, aid for building the airport has come from all quarters. At least 16 countries are participating with finances or material. Libya, Algeria, Iraq and Syria have donated $50 million in cash; Venezuela has furnished $1.3 million in loans, a half-million gallon gasoline storage tank, and 10,000 barrels of diesel oil; Cuba has supplied 300 skilled technicians and engineers, heavy equipment, explosives, cement, and steel. The Soviet Union is not involved at all.

Although the U.S. refused to give any aid whatsoever two U.S. firms have been awarded over $11 million in contracts by the Grenadian government for engineering, architectural, and dredging services. One company has 30 American technicians on the island. Canadian and British firms are also involved in the airport construction.
Without a doubt, however, the principle support for the airport comes from the Grenadian people. The entire population, ranging from the conservative Chamber of Commerce to the radical trade unions, recognize the benefits promised by the airport.
Reagan attempted to paint the airport project as secret and clandestine in his television plea for his defense program on March 23. He intimated that the U.S. was forced to take covert aerial photos from spy planes to find out what was going on. Crying crocodile tears, he claimed he regretted that he had to release these "classified" photos but he felt that the public needed to know the "truth." This is exactly the type of theatrics, misleading slander, and distortion of the reality of Grenada that has characterized the Reagan administration since it came to power.



The airport, far from being a hidden, barbed-wire operation, is a focal point for tourists and Grenadians alike. On weekends Grenadians come from all over the island to the airport site to picnic, tours of the site are conducted regularly, and there are no restrictions on photo or film taking.
Purpose of the Attacks
If the airport is in reality no threat to the U.S. then the question has to be raised why the U.S. has slandered it so vehemently.
The PRG believes that the airport is simply a pretext on which the U.S. has built its plans for the destabilization of Grenada.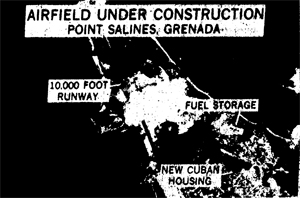 Plans to destabilize Grenada began under the Carter administration, within months of the revolution.
Operations against Grenada escalated after the PRG supported the Soviet intervention in Afghanistan and increased its ties and solidarity with Cuba.
According to the Washington Post of February 27, former and current government officials said that Carter approved propaganda measures against Grenada, but was opposed to other covert actions.
Headlines connecting Grenada and Cuba began appearing soon after the revolution and travel agents were encouraged by the U.S. State Department to warn tourists not to visit "unsafe" Grenada. In Grenada itself, several mysterious fires destroyed buildings in the heart of the tourist area, one of them the main tourist office.

Other destabilizing steps were taken during the Carter administration, including denial of military and economic aid and attempts to block relief funds from the OAS after devastating torrential rains battered Grenada in January 1980.
Needless to say, propaganda against the revolution increased significantly with the advent of the Reagan era.
The American Security Council Foundation, a far-right supporter of Reagan, released a film entitled "Attack on the Americas" in January 1981. It attempted to portray Grenada as the newest surrogate of Soviet expansionism in the Caribbean and Central American region. Mutilated corpses in El Salvador -- actually persons murdered by right-wing death squads -- were intercut with provocative photos of Maurice Bishop and Fidel Castro.

The film was shown most recently in Washington, D.C. on March 22, 1983 on station WHMM, a Howard University-owned TV station. For the Reagan administration, this station was an excellent choice for anti-Grenadian propaganda because its audience is almost exclusively Black American, African, and Caribbean, the communities which have been the most supportive of the Grenadian revolution in the U.S.
Howard University's familiar relationship with the Reagan administration has caused some controversy and concern in the past. George Bush has spoken at a Howard graduation ceremony and Ronald and Nancy Reagan have both been honored by the school. Further, one of Grenada's sworn enemies, Stanley Cyrus, taught at Howard and used it as a base for his counter-revolutionary activities. (See CAIB No. 10.)
In June 1981 the U.S. International Communications Agency (which recently reverted to its original name,
the U.S. Information Agency
) helped to sponsor a conference to coordinate more systematic media attacks against Grenada. One of the seeds planted at this conference bore fruit on Sunday, September 27, 1981.
On that day, all of the Eastern Caribbean's major newspapers published identical front page editorials condemning the PRG. Progressive journalists in the region immediately denounced the editorials and linked them to the Caribbean Publishers and Broadcasters Association (CPBA), a CIA-influenced group. The CPBA is linked to the Inter-American Press Association (IAPA), the organization with CIA links that planned and coordinated the attacks used by the right-wing papers El Mercurio in Chile and the Gleaner in Jamaica to destabilize the governments of Salvador Allende and Michael Manley.

During this same period, there appeared in Grenada a new publication calling itself the Grenadian Voice. After learning that the shareholders had met with suspected CIA personnel, the PRG shut the paper down. The government's suspicions were confirmed when CPBA protested the loudest and the longest.
Other major articles against the PRG began to appear in the U.S. media. One piece in the September 17, 1982 issue of
National Review, William Buckley's widely read right-wing magazine, attempted to sketch Grenada as a Cuban-controlled puppet. The article, "The Castroization of Grenada," was filled with inaccuracies and slurs.
The CIA Plans
The extent to which the CIA's plans to destabilize Grenada had developed were revealed in the Post article referred to above.
In the summer of 1981, the CIA had drawn up a detailed scheme to destabilize the government of Grenada politically and economically. The proposal, presented to the Senate Intelligence Committee, was "to cause economic difficulty for Grenada in the hopes of undermining the political control of Prime Minister Maurice Bishop."
Reportedly the Committee rejected the operation. One member, Senator Lloyd Bentsen (D-Tex.), responded to the proposal by saying, "You've got to be kidding." While the Committee has supported some of the greatly expanded covert actions proposed by U.S. intelligence agencies under the Reagan administration, they claim to have thrown out the most blatant and harebrained ones.
Although the Committee was quick to insist (naively, it would seem) that the CIA was out of the business of overthrowing governments, it admitted that it did sanction the CIA to "cause a little economic trouble, a little publicity and give aid to opposition groups."

This is a remarkable admission because it has been precisely those tactics which have been used to overthrow and destabilize governments. A "little economic trouble" in Chile under Allende meant choking the economy to the point where the country literally came to a halt.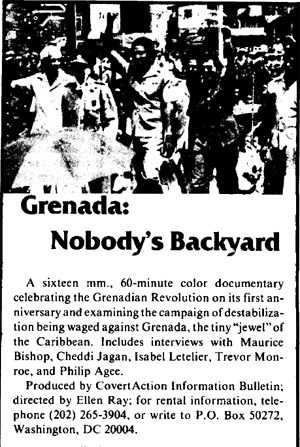 Grenada: Nobody's Backyard

A sixteen mm., 60-minute color documentary celebrating the Grenadian Revolution on its first anniversary and examining the campaign of destabilization being waged against Grenada, the tiny "jewel" of the Caribbean. Includes interviews with Maurice Bishop, Cheddi Jagan, Isabel Letelier, Trevor Monroe, and Philip Agee.

Produced by Covert Action Information Bulletin; directed by Ellen Ray; for rental information, telephone (202) 265-3904, or write to P.O. Box 50272, Washington, DC 20004.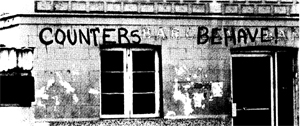 Maney's government in Jamaica was brought down in part due to the "little publicity" assistance given to the right-wing newspaper, the Gleaner. The Gleaner's daily fabrications and misinformation -- much of which was written at CIA headquarters in Langley, Virginia -- undermined confidence in the government and Manley's capacity to lead.
Finally, "aid to opposition groups" has often taken the form of arms, as in Angola or Nicaragua. CIA gun shipments to UNITA via South Africa and Zaire were made for the express purpose of toppling the MPLA-led government of Angola. Arms to the murderous ex-National Guardsmen of Somoza is causing terror and mayhem on the borders of Nicaragua today.
Already Grenada has been the target of economic troubles in the form of aid blocking, of negative propaganda via the Grenadian Voice, and of false statements from the establishment media here in the U.S. and throughout the region.
As to "aid to opposition groups," signs are becoming clearer every day that anti-PRG Grenadians are active and organizing in the U.S. Administration officials have admitted that they have been approached by expatriate Grenadians soliciting support in their efforts to overthrow the PRG. These officials did not elaborate on their responses.
The Grenadian government, however, feels that military attack hacked by the CIA may be imminent. In a radio speech to the nation on March 3, 1983, Prime Minister Bishop stated that the PRG had uncovered fresh evidence of a plot to overthrow the government. He cited several facts discovered by the Grenadian intelligence services to support this contention. They included:
1. More frequent meetings by counter-revolutionaries in recent times to iron out their differences.
2. Discovery of the name and background of the main CIA case officer in charge of the operation.
3. Identity of the main base of the operation on a neighboring island.
4. Uncovering the approximate number of men involved, the approximate number and type of weapons they have and the kind of logistical support they hope to receive.
It has also been noted by the Grenadians that
during the fourth anniversary of the revolution in mid-March, NATO forces were conducting intimidating military maneuvers in the region. According to U.S. Admiral Robert Watkins, 36 U.S. ships, 6 British ships, one Dutch ship, 300 aircraft and 34 patrol vessels were involved in the maneuvers. Watkins stated that "the construction of an airfield in Grenada for use by Soviet planes" was one reason why the maneuvers were being conducted.

As a result of this genuinely felt threat from the U.S., Grenada has been on military alert since late March. As Prime Minister Bishop has said, when the big U.S. says its national security is threatened by the tiny island of Grenada, whose population is only 110,000 and whose size is roughly twice that of Washington, D.C., it is time for serious concern. Bishop also pointed out that Grenada is the only popular revolution which has not yet had a physical attack.

"It is clear the time has come," he said.
The Fight Back
Besides going on military alert, Grenada has taken several other actions to counter the Reagan assault. It has dispatched Foreign Minister Unison Whiteman to the U.S. to speak with and gather support from the progressive community. He has spoken in New York, Washington and other areas of the country to expose the truth about what is really happening in Grenada and the potential danger that the Reagan administration poses to the revolution. Grenada has also sent telegrams and letters to the United Nations, Congress and the White House putting forth its commitment to discuss the situation while at the same time not relinquishing its right to choose its own path of development and friends.
The real threat that Grenada poses to the U.S. is as a model of what can be accomplished by a society that concentrates on the progressive peoples of the world. In the face of economic and political aggression from the U.S., Grenada has managed to grow economically each year since the revolution (5.5% in 1982). Grenada's unemployment has already dropped from the 49% figure existing under the U.S.-supported Gairy dictatorship to 14% under the PRG.
Similar results have been achieved by other progressive governments in the region since their revolutions.
Instead of building military bases in the area as the U.S. has charged, what is actually being built is a new future for the Caribbean and Central America that promises regional cooperation, self-determination and forward progress.
Finally, it is quite true that there is one military base that is a threat to the security of the region and that needs to be removed.
That base is the one maintained by the U.S. in Cuba at Guantanamo Bay
.
***
The Journalist Spy
As the articles which follow demonstrate,
journalists working for the CIA have paid us house calls on occasion.
Philip Agee's memory and well organized files helped him to identify the heavily censored document he received under the Freedom of Information Act and led to the article which follows -- an article which was written before the death of its subject but submitted to and cleared by the CIA's publications review board shortly afterwards. Ken Lawrence presents some additional research on the late, friendly journalist.
A Friendly Interview
by Philip Agee
Summer of '74 was going to be relaxation at last. After four years of struggle in four different countries, I'd finally finished
my book
. Publication was months away, and we took a small cabin in a Cornish hamlet alongside a lovely river leading out to Falmouth Bay. It was a time for sailing, bird-watching and walks along the cliffs.
But in early July my name and book project came out with the Senate's report on its Watergate Investigation. Suddenly we were swamped with press and television crews, our idyll and anonymity shattered. In the coming weeks and months I saw them all, never refused still another interview, and only in the case of Robert Moss did I ask for questions in writing.
Still, I wondered how many journalists the CIA would send. Still fresh was the memory of the young American "underground" journalist who, along with an attractive female "student," had befriended me two years earlier in Paris -- only to turn out months later to be CIA spies.
In October, on returning from a trip, a letter was waiting for me. Another American journalist, a free-lancer named Robert Deindorfer, wanted an interview. I wrote him back, giving possible dates, and thought no more about it. Eventually he telephoned, and on the afternoon of November 16 he arrived with wife and young son in tow. He was writing a book for Random House, or so he said, and wanted to know
what I knew about Mossad
. I knew of a botched attempt to kidnap the Riga SS chief who had escaped to South America -- he was murdered in the attempt -- and I told him about it.
Deindorfer did little to control his hyper-active kid who climbed onto the roof of our landlord's house and started breaking the slates -- which I eventually paid to have repaired. But what was truly memorable about the visit was Deindorfer's glib stupidity combined with an exaggerated, gushy affability. He was a caricature of the "hale fellow, well met," the eternal sophomore at the class reunion. I remember how, through knowing glances alone, Angela, my two sons and I went into uncontrollable fits of laughter, tears and all -- but at him, not at his jokes.
Unknowingly, Deindorfer gave us one of those special family expressions. For years afterward, a flubbed tennis shot was a "Deindorfer;" when somebody did something stupid, you pulled a "Deindorfer;" or when someone worthy of ridicule came around. he was a "Deindorfer" although nobody ever quite equaled our visitor of that day.
I never saw him again, but a couple of years ago a curious document came my way through my FOIA lawsuit. It was a letter to Angus Thuermer, the CIA's press spokesman in the mid-1970's. The writer's name, return address, and half the letter were censored, but I had a clue. In the "Dear Angus" letter the writer described himself as a "half-assed writer temporarily adrift in the U.K." He went on: "I spent a couple of hours with your rogue agent Philip Agee, just this last weekend, out in his humble digs in Cornwall. He's a nice enough guy personally, of course, but do spare me these tiresome pro-Third World fanatics who desperately want to dismantle not only the CIA but, more important, the whole system of western capitalism. Dear God .... "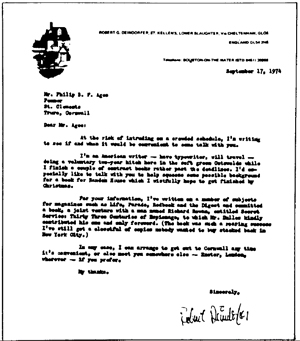 Robert G. Deindorfer, et Kellens, Lower Slaughter, _____
England
September 17, 1974

Mr. Philip B.F. Agee
___
St. Clements
_____

Dear Mr. Agee:

At the risk of intruding on a crowded schedule, I'm writing to see if and when it would be convenient to come talk with you.

I'm an American writer -- have typewriter, will travel -- doing a voluntary two-year hitch here in the ___ green Ostswelde while I finish a couple of contrast books rather past the deadlines. I'd especially like to talk with you to help squeeze some possible background for a book for Random House which I wistfully hope to get finished by Christmas.

For your information, I've written on a number of subjects for magazines such as Life, Parade, Redbook and the Digest and committed a book, a joint venture with a man named Richard __, entitled Secret Services: Thirty Three Centuries of Espionage, to which Mr. Dulles kindly contributed his one and only foreword. (The book was such a roaring success I've still got a ___ of copies nobody wanted to buy stacked back in New York City.)

In any case, I was arrange to get out to Cornwall any time it's convenient, or else meet you somewhere else -- Emeter, London, wherever -- if you prefer.

My thanks.

Sincerely,
Robert Deindorfer
Something rang a bell. I got out my old correspondence files, and found Deindorfer's original letter asking me for the interview, along with my reply to him and his note of appreciation after his visit. Placing the "Dear Angus" letter under his letter to me, the engraving of his Gloucestershire cottage and the lines of the letterhead fit perfectly with censored portions of the "Dear Angus" letter. And in his second letter to me, as in his "Dear Angus" letter, Deindorfer used that wonderful figure "hitting the spacebar" to describe the writer's trade.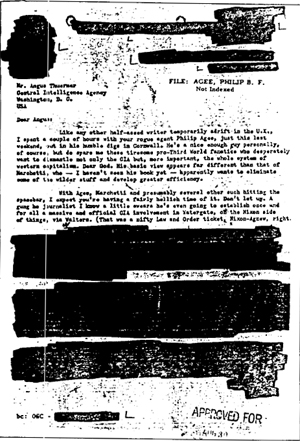 [DELETE]

[DELETE]

[DELETE]

[DELETE]

[DELETE]

[DELETE]

[DELETE]

[DELETE]

[DELETE]

[DELETE]

FILE: AGEE, PHILIP B.F.

Not Indexed

Mr. Angus [MacLean] Thuermer

[Office of the Director]

Central Intelligence Agency

Washington, D.C.

USA

Dear Angus:

Like any other half-assed writer temporarily adrift in the U.K., I spent a couple of hours with

your rogue agent Philip Agee

, just this last weekend, out in his humble digs in Cornwall. He's a nice enough guy personally, of course, but do spare me these tiresome pro-Third World fanatics who desperately want to dismantle not only the CIA but, more important, this whole system of western capitalism. Dear God. His basic view appears far different than that of

Marchetti

, who -- I haven't seen his book yet -- apparently wants to eliminate some of the wilder stuff and develop greater efficiency.

With Agee, Marchetti and presumably several other such hitting the spacebar, I expect you're having a fairly hellish time of it. Don't let up. A gung ho journalist I know a little swears he's even going to establish once and for all a massive and official CIA involvement in Watergate, on the Nixon side of things, via Walters. (That was a nifty Law and Order ticket, Nixon-Agnew, right.

[DELETE]

[DELETE]

[DELETE]
After putting it together I called Deindorfer several times at his cottage, but it was years after his visit and I got no answer. I wanted to ask him if the London Station had sent him out to interview me and what was in the censored paragraphs. I wanted to ask him if he'd been paid by the CIA for the interview. And, of course, I wanted to ask him what else he'd done for the CIA and for how long. I still wonder.
***
Death Overtakes a Spy
by Ken Lawrence
Just as we were preparing a number of hard questions to ask Robert G. Deindorfer, came news of his death on March 26.
Though never exposed during his lifetime,
Deindorfer was a spy for the CIA.
According to the New York Times, the 61-year-old author and public relations executive had been a reporter for the United Press and a manager of the New York Stock Exchange's magazine, newspaper feature and book department.
He had done public relations work for the City of New York, the Institute of Life Insurance, and the Foundation for Full Service Banks. At the time of his death he was with the Financial Service Group of Carl Byoir & Associates, an international public relations firm.
The Times left out a lot about Deindorfer, who also wrote under the names Jay Bender, Jay Dender, and Robert Greene. He had taught journalism at New York University and had
served as a consultant to the Peace Corps
.
He also had written several books on a variety of topics ranging from professional football and fishing to country life in England and espionage.
The New York Times didn't mention that Deindorfer was a member of the CIA's "old boy" network, although a hint of this has been on record for some time.
In an introduction to the 1967 edition of Secret Service: Thirty-Three Centuries of Espionage, former CIA Director Allen Dulles wrote that Deindorfer was well qualified to complete the revision of Richard W. Rowan's book after that author's death because of his "accurate and objective sense of perspective."
Until recently, the precise measure of his accuracy and objectiveness lay hidden in CIA files, but a tiny portion was revealed in the uncensored fragment of the document released to Philip Agee under the Freedom of Information Act.
Deindorfer was a friend of Angus Thuermer, once a reporter for the Associated Press and later the CIA's press liaison. After the events described above, Thuermer orchestrated the media disinformation campaign against Agee and this magazine's predecessor, the old CounterSpy, falsely holding them responsible for the 1975 assassination of Richard Welch, the CIA's station chief in Athens. It may have been Thuermer himself who dispatched Deindorfer to spy on Agee while he was living in England in 1974.
At the time of his meeting with Agee, Deindorfer was listed in Contemporary Authors with "two books on espionage" in progress, but to our knowledge these have not been published.
In 1977 Agee and a colleague, journalist Mark Hosenball, were issued deportation orders by then British Home Secretary Merlyn Rees for reasons that to this day remain secret. Agee and Hosenball, together with other journalists, had published articles about state security and intelligence in a number of magazines, and it is clear that intelligence agencies on both side of the Atlantic were eager to silence them. One may safely presume that the censored contents of Deindorfer's report, denied to Agee, to us, and to our readers, were long ago shared with the British secret intelligence service MI-6, and very likely became part of the secret brief in the proceedings against Agee.
As Agee notes, we had hoped to ask Deindorfer a number of things: How long had he been doing this sort of work? Was this an exceptional assignment or was it routine for him? And so on. Unfortunately death overtook him just as we were preparing to call.
Robert G. Deindorfer has taken many secrets to his grave.
***
News Notes

The "Poet" Cop
On his release from a Cuban prison in October 1982, Armando Valladares was hailed as a hero by western media and the Right. During his internment, Valladares complained of being tortured and mistreated by his Cuban jailers. His punishment was so severe, he claimed, that he had lost the use of his legs and was unable to walk. His supporters were therefore quite embarrassed when they met him with a wheelchair at the Madrid airport and he walked off the plane looking healthy.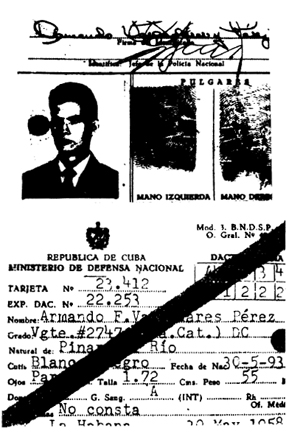 Valladares's May 1958 ID cards identifying him as Vigilante [Vgte.] number 2747 --

a Batista cop

.
Valladares has been characterized as a "poet" and "artist" of deep religious conviction by the press. In fact, he was actually a police officer in the Batista regime. The honors that he received were for his work as a cop and never as a poet. He was not arrested after the revolution first came to power, but was later jailed when he was caught red-handed in a plot to overthrow the new revolutionary government.
***
Beirut: Frontline Story
Beirut: Frontline Story, by Selim Nassib with Caroline Tisdall, photographs by Chris Steele-Perkins, is an exceptionally useful book that has just been published. It is an eyewitness, hour-by-hour account of last summer's war in Lebanon from the siege to the massacre, with excellent maps and illustrations. It costs $6.95 plus $1.00 for postage from Africa World Press, P.O. Box 1892, Trenton, NJ 08608.
***
NSA Listens In On Canadian Journalist
In the last issue, we reported on
the Defense Intelligence Agency
's spying on the Royal Canadian Mounted Police, Canada's intelligence service. Now it seems that
the National Security Agency
has got into the act. Don Sellar, a Washington correspondent for the Canadian paper Southam News, has evidence that at least one of his stories has been intercepted by U.S. intelligence.
Last year, he had written a hard-hitting series of articles on secret missile testing deals between the U.S. and Canadian governments. Imagine his surprise when he found himself in the strange position of being congratulated by a friend about a story he had called in but which had not yet been published. His friend claimed that he had been shown a transcript of the unpublished story by U.S. officials. Apparently, these officials thought that Sellar's friend was leaking information about the secret talks.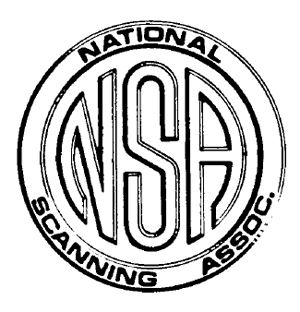 The NSA had no comment when confronted with the charge of intercepting journalistic and (no doubt) diplomatic messages. Reportedly, the Canadian government has drastically reduced the amount of information going into its Washington Embassy via phone and other electronic devices since the story broke. It has reverted to the slower, but more "secure" diplomatic pouch.
***
Jamaican Newspaper Shut Down
The Jamaica Daily News was closed down on April 21 by Prime Minister Edward Seaga. The immediate reason given for shutting the paper's doors was financial insolvency. Much of the debt was owed to the Commodity Trading Company, a government-owned enterprise.
The Daily News had been owned by the government since 1977 when Michael Manley was in power. When Seaga became Prime Minister in 1980, the paper's workers made an offer to buy it which was refused. A restructuring plan proposed by the workers was also denied.
On April 20, the paper went into receivership. The employees learned of the situation over the government's Jamaica Broadcasting Corporation. All the workers were fired except 30 who were to prepare a financial report. The entire editorial department was dismissed, including Ben Brodie, president of the progressive Press Association of Jamaica. With the closing of the Jamaica Daily News, Jamaicans are for the first time left with only one daily newspaper. That paper is the right-wing, CIA-supported Daily Gleaner.
The response by media workers in Jamaica has been militant. The PAJ passed a resolution to start an international campaign and a series of national actions to protest the closing. Messages of solidarity have poured in from progressive journalists in Suriname, Grenada, and other parts of the Caribbean, as well as from the International Organization of Journalists.
In Jamaica, the fired employees and their supporters are picketing the plant where the paper is located. In addition to getting statements of solidarity from the Workers Party of Jamaica and Manley's Peoples National Party, picket organizers have also met with the former Prime Minister.
This incident stands in sharp contrast to the report issued in March by the CIA surrogate Inter-American Press Association. The report summarized press freedom in 26 nations in the Caribbean and Latin America, a region thoroughly dominated by U.S.-backed right-wing dictatorships. After noting that there was "no" freedom of the press in Haiti, the progressive governments of Suriname, Nicaragua, and Cuba, received the harshest criticism.
Now Available
DEADLY DECEITS
My 25 Years in the CIA
By Ralph W. McGehee

Ralph McGehee spent 25 years in the CIA, much of it as a case officer in southeast Asia. He saw the folly of the Vietnam War and argued, to no avail, with the likes of William Colby.

This is his timely story of how the CIA distorts reality to conform to the political line coming from Washington.

This 250-page book, with an appendix, a glossary, and a detailed index, will be published February 1. Order your copy now.

Also available from the publisher:

White Paper? Whitewash!

by Philip Agee and Warner Poelchau on the CIA and El Salvador.

Sheridan Square Publications, Inc.

P.O. Box 677

New York, NY 10013

Please send me

[ ] copies of Deadly Deceits, hardcover, at $14.95 plus $1.75 postage and handling.

[ ] copies of Deadly Deceits, paperback, at $7.95 plus $1.50 postage and handling.

[ ] copies of White Paper? Whitewash! hardcover, at $12.95 plus $1.75 postage and handling.

[ ] copies of White Paper? Whitewash!, paperback, at $6.50 plus $1.50 postage and handling.

Don't Delay ....

Send Your Order Now!

Name and Address:

_____

_____

_____

Zip
***
The CIA Legend
by Ken Lawrence
Lies, and deceit have been the hallmark of the Central Intelligence Agency since its inception.
The late Frank Wisner, the CIA's Deputy Director for Plans (the Directorate for Plans was the old name for the clandestine service) was proud of his "Mighty Wurlitzer," as he called his worldwide propaganda and disinformation network.
In 1976 the House Select Committee on Intelligence (Pike Committee) reported that media and propaganda projects were probably "the largest single category of covert action projects undertaken by the CIA."
There have always been prominent journalists who would help out, and some who justify publishing official lies as news.
Former CBS diplomatic correspondent Marvin Kalb (now with NBC) once wrote, "Lying is a legitimate part of the defense mechanism of the administration, and the reporter goes along with it when in his opinion it is in the national interest."
[Ray Hiebert, ed., The Press in Washington (Dodd, Mead: New York, 1966), page 162.]
The Senate Select Committee on Intelligence (Church Committee), reporting later in 1976, found two "reasons for concern" with the CIA's use of journalists. One was the problem of "fallout" [blowback] -- "the potential, inherent in covert media operations, for manipulating or incidentally misleading the American public. "The second was that all U.S. journalists and media would be discredited as the relationship between the CIA and some of them became known. The committee expressed no concern for the foreign victims of CIA lies.
[Few U.S. writers have devoted sufficient attention to this concern. One of the best discussions is contained in Vitaly Petrusenko, A Dangerous Game: CIA and the Mass Media (Interpress: Prague, n.d. [1977]), available from Imported Publications, 320 West Ohio Street, Chicago, Il 60610.]
In his recent book, Deadly Deceits: My 25 Years in the CIA, Ralph W. McGehee has shown that "the American people are the primary target audience of [the CIA's] lies," not simply an unfortunate, incidentally affected group.
Yet, despite all the disclosures of the past seven years more than 1,000 books published by the CIA, a quarter of them in English; 400 journalists on the CIA's payroll; clandestine relationships between the CIA and the very largest and most influential U.S. media followed by vocal and sustained protest, there has been no significant reform.

Former President Jimmy Carter has admitted in his memoir Keeping Faith (p. 509) that, even during the period of the "Turner guidelines" (CIA Director Stansfield Turner's directive that appeared to prohibit the clandestine use of journalists), CIA operatives were masquerading as journalists in Iran with his approval.

In a sworn statement last year, CIA Director William Casey told how journalists were used before Turner's guidelines were issued:
"Some, perhaps a plurality, were simply sources of foreign intelligence: others provided cover or served as a funding mechanism; some provided nonattributable material for use by the CIA, collaborated in or worked on CIA-produced material or were used for the placement of CIA-prepared material in the foreign media; others assisted in nonmedia activities by spotting, assessing or recruiting potential sources or by handling other agents, and still others assisted by providing access to individuals of intelligence interest or by generating local support for U.S. policies and activities. Finally, with respect to some of these individuals, the CIA simply provided informational assistance or requested assistance in suppressing a media item such as a news story."
Today, all that is required to continue these practices is Casey's judgment that there is "an emergency involving human lives or critical national interests."
How can the Agency manage to continue to flout the strong opposition of the public, important sectors of the press, and the Congress?
One answer is found in the CIA legend, itself one of the Agency's most successful media operations. This is the oft-repeated story of great, yes legendary, accomplishments of the CIA in its heyday. Whatever shortcomings there may have been, so the tale goes, you have to give the CIA its due; the methods may be dirty, but they are outweighed by the good the CIA does. And what could be better than a true life spy story of worldwide importance to take the wind out of critics' sails? That's the stuff of the CIA legend.
The greatest exploit of the CIA's legendary derring-do was the clandestine acquisition of Nikita Khrushchev's speech to the 20th Communist Party Congress in Moscow in 1956 and its subsequent publication. Friends and critics alike have been virtually unanimous in heaping accolades on CIA Director Allen Dulles and his spies for a major espionage accomplishment. [Critics who have taken one or another version of this story at face value, and thereby themselves have contributed to the myth, include David Wise and Thomas B. Ross in The Invisible Government and The Espionage Establishment. Victor Marchetti and John Marks in The CIA and the Cult of Intelligence, and William R. Corson in The Armies of Ignorance. ]

The story of how the CIA got "Khrushchev's secret speech," internally contradictory in many respects, is almost wholly false. If true, it would actually be an example of a colossal breakdown in intelligence, not a success at all. The plot of this legend, like any other good folk tale, changes according to the audience, the time or place it's told, and who's telling it, so it's never easy to be certain which story is intended as the official one.
In his book The Craft of Intelligence, Allen Dulles wrote:
An intelligence "document hunt" was instituted, as the speech, never published in the U.S.S.R." was of great importance for the Free World. Eventually the text was found but many miles from Moscow, where it had been delivered. It was necessary in this case for headquarters to alert many kinds of sources and to make sure all clues were followed up. I have always viewed this as one of the major coups of my tour of duty in intelligence. Since the text was published in full by the State Department, it also was one of the few exploits which could be disclosed as long as sources and methods of acquisition were kept secret.
In that final sentence Dulles is blowing smoke in our eyes, because, while many CIA "successes" had been widely reported by the time of his claim, official policy was neither to confirm nor to deny them.
Besides, there has been a long parade of leaks concerning the alleged source of the document, again serving the needs of propaganda, not truth.
In his memoir Honorable Men: My Life in the CIA, William Colby relates a debate over what to do with the Khrushchev speech once it had been obtained:
The more conspiratorial elements of CIA, led by the counterintelligence experts, saw it as the basis for an operation to spread confusion and deception among the Communists of the world. As one move in this program they turned to the Italian station [Colby was stationed in Rome at the time] and its press outlets to plant a copy of it sourced in Italy, with subtle variations in the original text to increase suspicions and backbiting among Communists. But before it was published, more politic heads prevailed (among them Ray Cline, as an analyst looking at the over-all impact it could have on world political trends), and Allen Dulles delivered the true text to The New York Times. It is clear that the political approach was right, and that the speech marked a watershed in the appeal of the Soviets to other peoples throughout the world, unblemished by doubts as to how an obscure Italian publication might have obtained such a document, or as to the accuracy of its text.
Aside from continuing his feud with James Jesus Angleton ("counterintelligence experts"),
Colby too is blowing smoke.
One widely circulated rumor held that Italian Communist Party leader Palmiro Togliatti had sold a copy of the speech to the CIA for a large amount of money, undoubtedly intended to discredit Togliatti among Communists. In Secrets, Spies and Scholars Cline claimed the CIA had paid "a very handsome price" for the text, while Angleton told The New York Times, "There was no payment."
In addition, Angleton has led some writers, including William Corson, to the conclusion that the CIA obtained it from Israeli intelligence sources "which, giving the Israelis their due, probably included a deep-cover European communist." Angleton was the head of the CIA's Israeli desk as well as the counterintelligence chief.
Last year Iser Harel, former head of Israel's Mossad, complained to the Daily Ma'ariv that Mossad had never been given credit for having obtained the speech and having supplied it to the CIA. Once a myth has been launched successfully, everyone involved wants to be its hero, it seems.
There is a variety of other published accounts of the source.
Wise and Ross wrote
that "a certain high Yugoslav official" almost was persuaded. "But then he thought better of it, and backed off."
Marchetti and Marks report
it came from "an Eastern European communist official," as does Peer da Silva in Sub Rosa: The CIA and the Uses of Intelligence. Andrew Tully in CIA: The Inside Story, says a Moscow functionary named Andrei "was in a position when he had the opportunity" to give the speech to his CIA handlers -- complete with lurid tales of a "dead drop" (a bench slat in Gorky Park), "live drop," "safe house," "cut out," and most conspiratorial meetings in the lobby of the Bolshoi Ballet Theater. In The Secret War, Sanche de Gramont says it was "smuggled out of Poland by a CIA agent." This is clearly material for a thriller.
The truth, however, is both more obvious and more prosaic, though it has the distinct disadvantage, from the CIA's point of view, of not enhancing the Agency's image in the world of espionage.
In those days Dorothy Healey was an important leader of the Communist Party U.S.A. She recalls that on April 28, 1956, the late Eugene Dennis, then the party's general secretary, had his political secretary read the speech aloud to a meeting of the party's national committee at the Jefferson School in New York -- a building permanently bugged by the FBI and CIA, as Healey points out. There was no need whatever for any of the international cloak and dagger business. [Healey's account is confirmed in Joseph R. Starobin, American Communism in Crisis, 1943-1957 (University of California Press: Berkeley and Los Angeles, 1972, 1975).]
Nevertheless the legend is endlessly recycled. Some months ago William Safire included it in a column, suggesting that the CIA had tampered with Khrushchev's text, perhaps to shore up Angleton's version of the story.
Healey says, however, that nothing in the published version differs from the text she heard at the Jefferson School meeting.

Now a new intelligence myth is undermining the credibility of the legend: occasionally one good tale must yield to another. This one is the FBI's attempt to recoup its reputation in the espionage field.
For almost 20 years the FBI has been trying to find ways to link the government of Cuba to the assassination of President John F. Kennedy, but until recently only rightwing propagandists considered that account worth repeating.
Supposedly J. Edgar Hoover sent an undercover agent codenamed "Solo" -- a leading member of the Communist Party U.S.A. -- to interview Fidel Castro in early 1964. "Solo" reported that Castro said Lee Harvey Oswald had told Cuban consulate officials in Mexico City of his intention to kill Kennedy. Castro denied this to the House Select Committee on Assassinations, and the committee believed him. "On balance, the committee did not believe that Oswald voiced a threat to Cuban officials. However reliable the confidential source ["Solo"] may be, the committee found it to be in error in this instance."
Unwilling to abandon this disinformation campaign, an FBI source gave historian David J. Garrow, author of The FBI and Martin Luther King, Jr. from "Solo" to Memphis, the identity of "Solo" and an account of his background and recruitment. This, in turn, gave the FBI a renewed opportunity to promote the "Cuba connection" to the JFK assassination on an ABC television special with revitalized credibility, since the identity of "Solo" had been disclosed in Garrow's 1981 book, sharply critical of the FBI.
Garrow identified "Solo" as two brothers, Morris Childs, one-time editor of the Daily Worker, and his brother Jack: Morris was the important one. (Oddly, in a small book with 82 pages of reference notes, one fourth of the total, there is no documentation for the allegation. Since Morris Childs is evidently still alive and hasn't come forward to refute Garrow, however, it seems reasonable to accept Garrow's description of him as a high-level undercover FBI operative since 1951.)
Although release of the "Solo" identity has failed so far to breathe new life into the FBI's anti-Castro campaign, it has permanently, perhaps fatally, wounded the CIA legend. Morris Childs traveled so frequently to the Soviet Union that he was colloquially dubbed "the ambassador" by leaders of the Communist Party. Healey doesn't recall whether he was personally present when the Khrushchev speech was read to the party leadership, but he certainly would have had access to it, and very likely before the rest of them heard it.
So much for secret sources in Moscow, Poland, Yugoslavia, or Italy. So much for the wizardry of Israel's Mossad and the genius of spymaster James Angleton. So much for the CIA legend. If the intelligence agencies were doing their job at all, they got the text of Khrushchev's speech from a microphone surveillance in New York or from "Solo" in Chicago.
What, then, is the CIA legend made of?
Lies and deceit, like everything else the CIA stands for.
Bound Volume

The library quality, buckram bound volume of CovertAction Information Bulletin is ready for immediate shipment. This is a very limited edition, containing original copies of issues Number 1 through 12, plus the complete index. There are less than 100 copies remaining. Order now; for CAIB individual subscribers, $45; for CAIB institutional subscribers, $55; all others, $65. Postpaid in the U.S. or surface overseas. For airmail overseas, rates are as shown for Dirty Work 1.
Bound Volume: The new cloth covered, library quality hardbound volume of Covert Action Information Bulletin is now available. This contains original copies of Numbers 1 through 12, plus the complete index, all bound together in a handy reference copy. The price, postpaid in the U.S., is: $45 for CAIB individual subscribers: $55 for CAIB institutional subscribers; and $65 for libraries and other institutions.
Dirty Work: The CIA in Western Europe: The first of this series of exposes lists at $24.95: CAIB subscribers may order it from us for $12, including surface postage anywhere; for overseas airmail, please add $X. $14. or $20 (see note).
Dirty Work 2: The CIA in Africa: The second in this series lists at $29.95: CAIB subscribers may order it from us for $20, surface postage included. For overseas airmail, please add $6. $10. or $14 (see note).
All back issues are available from CAIB (although Number 1 and Number 6 are available only in photocopy). (Microform versions are available from University Microfilms. 300 N. Zeeb Ave., Ann Arbor, MI 48106.) Highlights of issues are noted below. Please note extra charges for institutions and for foreign orders.
Number 1 (July 1975): Agee on CIA: Cuban Exile Trial: Consumer Research in Jamaica.

Number 2 (October 1978): CIA Recruiting Diplomats: Researching Undercover Officers: Double Agent in CIA

Number 3 (January 1979): CIA Attacks Bulletin: Supplement B to Army Field Manual: Spring on Host Countries

Number 4 (April-May 1979): U.S. Spies in Italian Services: CIA in Spain: Recruiting for Africa: Subversive Academics: Angola

Number 5 (July-August 1970): U.S. Intelligence in Southeast Asia: CIA in Denmark. Sweden. Grenada.

Number 6 (October 1979): U.S. in Caribbean: Cuban Exile Terrorists: CIA Plans for Nicaragua: CIA's secret "Perspectives for Intelligence."

Number 7 (December 1979-January 1980): Media Destabilization in Jamaica: Robert Moss: CIA Budget: Media Operations: UNIIA: Iran.

Number 8 (March-April 1980): Attacks on Agee: U.S. Intelligence Legislation: CAIB Statement: Zimbabwe: Northern Ireland.

Number 9 (June 1980): NSA in Norway: Glomar Explorer: Mind Control: Notes on NSA.

Number 10 (August-September 1980): Caribbean: Destabilization in Jamaica: Guyana: Grenada Bombing: Antigua and Dominica: The Spike: Deep Cover Manual.

Number 11 (December 1980): Right-Wing Terrorism: South Korea: KCIA: Portugal: Guyana: Caribbean: AFIO: NSA Interview.

Number 12 (April 1981): U.S. in El Salvador and Guatemala: New Right: William Casey: Mozambique Spy Ring: Mail Surveillance

Number 13 (July-August 1981): South Africa Documents; Namibia "Solution;" Mercenaries and Gunrunning; The Klan; Globe Acro; Angola: Mozambique; BOSS: Central America: Max Hugel: Mail Surveillance.

Number 14-15 (October 1981): Complete Index to Numbers 1-12: Review of Intelligence Legislation. CAIB Plans: Extended Naming Names

Number 16 (March 1982): Green Beret Torture in El Salvador: Argentine Death Squads: CIA Media Operations: Seychelles: Angola: Mozambique: Klan Karibbean Koup Attempt: Nugan Hand.

Number 17 (Summer 1982): History of Biochemical Warfare: Current CBW Plans: Cuban Dengue Epidemic: Scott Barnes and the Yellow Rain Fabrications: Mystery Death in Bangkok.

Number 18 (Winter 1983): The CIA and Religion: "Secret" War in Nicaragua: Opus Dei: The Miskitu Case: Evangelicals in Guatemala: The Summer Institute of Linguistics: World Medical Relief: The CIA and BOSS: Torture in South Africa: Vietnam Defoliation.
Subscriptions (one year):
Name and Address:
[ ] U.S., indiv., $15.
[ ] Can. Mex., indiv., $20.
[ ] Lat. Am. Eur., indiv. $25.
[ ] Other, indiv. $27.
[ ] Institutions must add $5.
[ ] Back issues: #1,6,18,19: $3; #14-15: $5: all others $2.50. Institutions, add $.50 each. Outside North America, add $1.50, $2.00, or $2.50 per copy (see note).
Specify numbers:
[ ] DWI, $12
[ ] Overseas air, $10
[ ] DW2, $20
[ ] Overseas air, $8
Note Re Overseas Airmail: The three quoted figures arc for: I) Central America and the Caribbean: 2) South America and Europe; 3) all other.
Total Enclosed: $ (Please, U.S. Funds Only.)
Mail to: Covert Action Information Bulletin, P.O. Box 50272, Washington. DC 20004.
Name and Address:
_____
_____
_____
_____
Subscriptions will commence with next issue.